March, 14, 2011
3/14/11
10:45
AM ET
This is the second in a series of items revisiting relatively recent NFL trades involving first-round draft choices in the slots NFC West teams occupy this year.
The ongoing NFL lockout prevents trades involving players, but teams can still trade draft choices. Primarily for that reason, I've excluded from consideration trades involving picks and veteran players.
The seventh pick boasts a colorful recent history featuring three of the four teams currently in the NFC West. My apologies in advance if any of these trades revive painful memories.
The pick:
Seventh overall
Held by:
San Francisco 49ers
Most recent trade involving only picks:
2008. The
New England Patriots
sent the seventh and 164th choice to the
New Orleans Saints
for the 10th and 78th selections. This trade was close to even on paper, according to the
draft-value chart
. The seventh and 164th choices add up to 1,526.8 points. The 10th and 78th selections add up to 1,500. The Saints used the seventh choice, which
originated with San Francisco
, for defensive tackle
Sedrick Ellis
. They drafted guard
Carl Nicks
with the 164th choice. New England came away with linebackers
Jerod Mayo
(10th) and
Shawn Crable
(78th).
Bill Walsh, Mike Holmgren and the 2001 draft:
The
Seattle Seahawks
were one year away from joining the NFC West when the Walsh-run 49ers acquired the seventh overall choice from Holmgren's Seahawks. The value chart agreed with the deal. Seattle gave up picks worth 1,516 points for picks worth 1,533.6 points, a wash. The 49ers drafted defensive end
Andre Carter
in the seventh slot and defensive tackle Menson Holloway at No. 191. The Seahawks drafted receiver Koren Robinson ninth, fullback
Heath Evans
82nd and center
Dennis Norman
222nd. Carter, Evans and Norman remain active for different teams. Robinson flamed out prematurely. Holloway never played.
Mamula, Sapp and the 1995 draft:
The
Philadelphia Eagles
moved up five spots to draft linebacker Mike Mamula seventh overall. This was bad move for the Eagles even if Tampa Bay hadn't drafted defensive tackle Warren Sapp with one of the picks from Philly. The Bucs did get Sapp, however, and Mamula didn't last. The trade-value chart says the Eagles gave up picks worth 1,946 points for picks worth 1,730 points. Philadelphia got the 72nd pick, used for defensive tackle Greg Jefferson, who became a starter. Beyond Sapp, the Bucs received the 43rd choice, used for safety Melvin Johnson, and the 63rd choice, used for guard Shane Hannah. Johnson became a starter.
The Bryant Young deal:
The Los Angeles Rams were in full retreat during the 1994 draft. Having already traded back two spots into the seventh overall slot, they moved back eight more spots to No. 15 in a deal that helped the 49ers' defensive line. San Francisco used the seventh choice for Young, who became a second-team all-decade selection for the 1990s. The Rams landed the 15th choice, used for durable offensive tackle Wayne Gandy, plus the 56th (defensive end Brad Ottis) and 100th (linebacker Ernest Jones) picks. The trade chart says the Rams gave up 1,500 points for picks worth 1,490 points -- pretty much a wash. Gandy was a starter in 14 of his 15 NFL seasons.
The price of an elite cornerback:
The 49ers could be in the market for a cornerback with the seventh overall choice this year. They'll be fortunate to fare as well as the
Washington Redskins
fared in the 1999 draft when they moved up five spots to No. 7 and drafted
Champ Bailey
. Chicago commanded the 12th (quarterback
Cade McNown
), 71st (receiver
D'Wayne Bates
), 106th (linebacker
Warrick Holdman
) and 143rd (tackle
Jerry Wisne
) choices, worth 51.5 points more than the seventh choice on the value chart. The Redskins also threw in a third-rounder in the 2000 draft (tight end
Dustin Lyman
). Quality trumped quantity in this exchange, something the 49ers will have to weigh if one of the top cornerbacks is available in the seventh slot this year.
Moving on up:
Cleveland sent the seventh and 37th choices in the 2004 draft to Detroit for the sixth pick, which the Browns used for tight end Kellen Winslow. The Lions drafted receiver Roy Williams seventh and linebacker Teddy Lehman at No. 37. The value chart says the Browns spent 2,030 points to receive a pick worth 1,600 points. The 430-point difference equated to the 47th overall choice. A decade earlier, Indianapolis sent the seventh and 83rd choices to the Rams for the fifth pick, a wash on the value chart. The Colts took linebacker Trev Alberts fifth. The Rams kept dealing.
January, 28, 2011
1/28/11
9:58
PM ET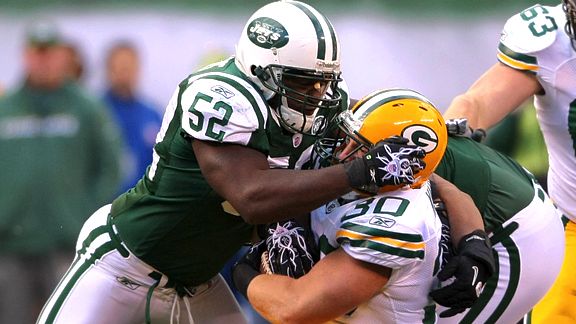 Alan Maglaque/US PresswireFree-agent linebacker David Harris has led the Jets in tackles each of the past two seasons.
New York Jets
general manager Mike Tannenbaum held a news conference Friday to wrap up the 2010 season and address several issues moving forward.
Some highlights with my thoughts:
The Jets probably won't re-sign any of their players before the collective bargaining agreement expires March 4.
This probably is the most prudent approach. The Jets would benefit from knowing the new salary cap structure rather than simply guessing on whether or not their players will fit under it. Teams also would prefer to know how free agency will be determined under the next CBA. Right now, we can't say for sure who will be restricted or unrestricted or what veteran minimum salaries will be.
Tannenbaum hopes to keep all three free-agent receivers: Braylon Edwards, Santonio Holmes and Brad Smith.
I'm skeptical the Jets can pull it off. All are coming off big years, and it will be difficult to match all offers from other teams. But if the Jets can pull it off, the happiest man in the organization will be
Mark Sanchez
. Tannenbaum declined to speculate on whether or not the Jets would be interested in a post-prison
Plaxico Burress
.
Free-agent inside linebacker David Harris "remains a top priority for us."
Harris, to me, is the most important free agent for the Jets. It's much easier to find a receiver in free agency than a stud linebacker such as Harris. He has led the Jets in tackles each of the past two seasons and makes all the on-field defensive calls. I highly doubt the Jets let him get away.
[+] Enlarge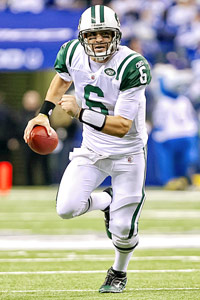 Icon SMIMark Sanchez has the second most starts in the AFC East, but who will he be throwing to next season?
Brian Schottenheimer will be back as offensive coordinator.
I realize some Jets fans are disgusted with Schottenheimer's play-calling in the AFC Championship Game, but he's a gem. Deep back-to-back runs into the postseason with a raw quarterback is a major accomplishment. And let's not forget he had the Jets humming with
Brett Favre
at quarterback until Favre's right arm started falling apart in 2008.
Sanchez will get "a couple of opinions" on his injured throwing shoulder before deciding if he'll have surgery.
The Jets don't want to cut on their quarterback unless they have to. But the sooner they make a decision, the better so Sanchez can begin the rehab process. One of the overlooked traits Sanchez has developed in his two years is toughness. He has taken quite a few shots in the pocket and on the run, but he stays on the field.
Tannenbaum expects LaDainian Tomlinson and Jason Taylor to be on the 2011 roster.
Tomlinson and Taylor are under contract, but the Jets could release them. Tomlinson lost effectiveness as the season wore on, but he can be a quality backup for
Shonn Greene
and adds value in the passing game as a receiver and in blitz protection.
Taylor clearly is nearing the end of the line
, and he knows it. But he wasn't a liability and provided leadership Tannenbaum said was "really hard to quantify."
First-round draft choice Kyle Wilson's future is "one of our paramount objectives for the offseason."
The day the Jets drafted Wilson 29th overall, head coach
Rex Ryan declared Wilson would be their nickelback
and a great punt returner. Even with
Darrelle Revis
absent all summer because of a contract dispute, Wilson couldn't seize the opportunity and fell behind
Drew Coleman
on the depth chart. Tannenbaum cited inconsistency as Wilson's biggest problem.
Right tackle Damien Woody and fullback Tony Richardson probably won't be back.
Tannenbaum didn't make those statements, but that's what I read between the lines. Woody turned 33 during the season and recently underwent Achilles surgery. He also missed games with a knee injury.
Wayne Hunter
or
Vladimir Ducasse
could take over for him. The Jets cut Richardson before the season and brought him back. They also have fullback
John Conner
waiting in the wings.
Vernon Gholston sounds like a goner.
The sixth overall pick in 2008 was a healthy scratch in the playoffs. Tannenbaum diplomatically said the Jets "are going to see if there's anything else to try, but he has been given his share of opportunities, and it could be time to move on." Move over
Mike Mamula
.
February, 24, 2010
2/24/10
1:06
PM ET
INDIANAPOLIS -- Over the next few days, Mike Mamula and
Vernon Gholston
will be mentioned in tandem as prime examples of how the NFL scouting combine can send teams off beam.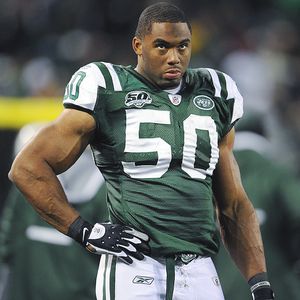 Rich Kane/Icon SMIA strong combine workout prompted the Jets to draft Vernon Gholston at No. 6 in 2008.
Mamula was the original combine-induced false phenom. The Boston College pass-rusher tested off the charts in 1995 and caused the overexcited
Philadelphia Eagles
to draft him seventh overall. Mamula lasted six seasons and remains the poster boy for the dangers of combine giddiness.
Gholston, selected sixth overall by the
New York Jets
two years ago, often gets compared Mamula -- workout warriors who soared up the draft board but didn't perform up to their gaudy measurements.
But with the 2010 combine upon us, here is my plea to end this link immediately.
It's unfair to Mamula.
Gholston -- and Jets fans -- would be ecstatic if he had stats that resembled Mamula's. After two seasons, Mamula started all but three games and registered 13.5 sacks, four forced fumbles, four fumble recoveries and a touchdown.
Gholston has been deactivated for as many games as he has started -- three. He has made 3.5 fewer solo tackles than Mamula had sacks through two seasons. Gholston made one solo tackle as a rookie and nine last year.
Rex Ryan made Gholston a pet project. Neither the extra attention nor the opportunity created when
Calvin Pace
was suspended the first three games helped.
In case you were wondering, Mamula, who missed all of 1998 with a knee injury, finished with 31.5 sacks, eight forced fumbles, six recoveries and one interception -- certainly not the type of production the Eagles expected when they picked him well ahead of Warren Sapp,
Ty Law
and
Derric
k
Brooks
, but a far better career than what Gholston projects.
March, 24, 2009
3/24/09
11:02
PM ET
Posted by ESPN.com's Tim Graham
DANA POINT, Calif. -- One of the most incredible stats from last season: Prized New York Jets pass rusher Vernon Gholston, the sixth pick in the draft, recorded one solo tackle.
Of the 23 Jets who made a tackle, Gholston finished with the fewest. He also had four assists, giving him a grand total of five tackles. He, of course, had zero sacks.
While a single season is too soon to label any player a bust, Jets fans certainly are cynical about Gholston.
Jets coach Rex Ryan, however, isn't afraid to bang Gholston's drum.
"For whatever reason, the young man maybe never played up to expectations, but there's a reason that he was taken as high as he was," Ryan said over breakfast Tuesday morning at the NFL owners' meeting at the St. Regis Hotel.
"I believe in the young man. I think you're going to see this kid really come into his own this year."
Perhaps Ryan can figure out a way to unlock Gholston's potential and save him from becoming known as another Mike Mamula, a scouting combine phenom who looked good in a tank top but couldn't perform on Sundays.
Ryan previously spent 10 seasons on the Baltimore Ravens' staff, helping to mold them into one of the NFL's elite defenses.
"The thing I've really been impressed with about Vernon is that he's been there almost every day," Ryan said. "When nobody else was in the building, he was in there, lifting weights and everything else.
"He's ready to come out and, believe me, it's in there. We all know it's in there. But it's my job to get this guy playing at a high level by any means necessary, and that's what we're going to do."
Gholston, listed at 6-foot-3 and 264 pounds, left Ohio State after his junior season, when he set a Buckeyes record with 14 sacks.
"It's just a matter of letting him know what we expect of him and letting him roll," Ryan said. "All I want is everything he's got. That's all I want. Nothing more.
"It's funny because I heard the same things about [Ravens defensive tackle] Haloti Ngata when he came out of college, that he took plays off and things like that. I don't hear anyone saying that now."

NFL SCOREBOARD
Thursday, 9/11
Sunday, 9/14
Monday, 9/15
WEEKLY LEADERS