May, 9, 2014
May 9
6:13
PM ET
NASHVILLE, Tenn. -- The Titans have had a couple quality mauling offensive tackles during their time in Tennessee.
[+] Enlarge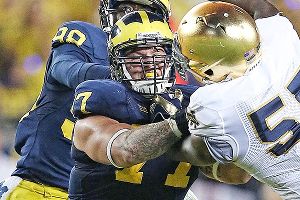 Leon Halip/Getty ImagesThe Titans' Mike Martin said he's confident that Taylor Lewan, his former teammate at Michigan, won't present the team with any off-field issues.
Jon Runyan and David Stewart were right tackles who didn't have the feet and movement skills that make new first-round pick
Taylor Lewan
a left tackle.
The nasty streak in Lewan is akin to what Runyan and Stewart brought. And it's something the Titans may need to monitor.
While it makes Lewan a quality offensive lineman, it may have also contributed to him allegedly threatening to rape a classmate at Michigan and face three misdemeanor charges stemming from a campus fight.
"You have to have a certain mentality on the field if you're going to be that physical guy because people are going to challenge you," said Runyan, now a United States Representative from New Jersey's 3rd district.
Runyan knows Lewan as the two both played for the Wolverines. The second-term Congressman
spoke to The Midday 180
in Nashville on Thursday.
"You've got to basically do your stuff, you've got to take your shots in there at them, and push them around a little bit and truly just be a jerk on the field. But you can't live in society like that because you'll wind up being locked up. So you've got to be able to have the ability to turn it on and off and I really think the really good players, the people who are going to ply, a lot of the time have that ability and I think Taylor has it."
Lewan agreed with Runyon's idea.
"There is no doubt about it, there is a way you need to act on the field and there is a way to act off the field," he said. "There is a time and a place for everything. Personally, as far as my personality goes, it's really easy to judge me as one of those guys based on how I play football, because that's how most of the public sees me. As just a football player. But off the field, I'm not the guy I'm perceived to be."
As a player, Lewan said he felt he had to walk a line at time where he made it clear he would protect his quarterback. He admits to overstepping it at times during his college career.
"Yeah, I'm going to do some things here and there," Lewan said. "Obviously you never want to put the team in a position to lose or hurt us in any way but if I have to be that guy that steps in when a quarterback is getting hit and maybe tossed around a little more than he should, then I am definitely willing to be that guy."
One of Lewan's new teammates is an old Michigan teammate. Defensive lineman
Mike Martin
was drafted by the Titans out of Michigan in the third round in 2012.
"He's a Grade A guy and you don't have to worry about anything with him off the field, I can say that for sure," Martin said. "I saw him grow and I know for sure firsthand."
I also spoke to two NFL GMs about the Titans' selection of Lewan.
One said the he liked the tackle and the red flags were "not major."
Said the other: "That guy has so much value at that spot it was a no-brainer"
November, 20, 2013
11/20/13
11:10
AM ET
NASHVILLE, Tenn. -- For this installment of "Survey Says" I asked Titans, "What's the worst pain you've ever felt?"
Defensive tackle Antonio Johnson:
"My ACL injury, I would say. In 2007, my rookie year. It was excruciating. It felt like hell. Painful, very painful, I would say the first couple days coming out of surgery, when they have to bend it, fresh out of surgery, The bending of the knee trying to get the flexion back, that's the most painful thing I ever felt. I wouldn't wish it on my worst enemy. Coming out of surgery it was just that throbbing feeling, like it's got a heart in it."
Guard Chance Warmack:
"I dislocated the ring finger on my left hand in the Auburn game. I had to play with it for two games, the Georgia game and the Notre Dame game. It never had a chance to heal properly. I buddy-taped it. I remember the Georgia game, it kept popping out, we had to keep popping it back in. It felt like my finger was going to fall off. I was blocking with four fingers."
Wide receiver Nate Washington:
"I was playing basketball and I got hit in the eye and my eye was open so the guy actually moved my eyeball a little bit. I had a patch on my eye for about two weeks. I was 20, 21 years old. It was excruciating pain. I did not know it would hurt like that, I couldn't open my eye for about two weeks. Black eye, eyeball was red. Worst football injury was a hip pointer, because you can do absolutely nothing. No loud talking, no sudden movements, no sneezing, no coughing. I've broken bones before but hip pointer is the most immobilizing nagging thing. But the eye was worse."
Linebacker Akeem Ayers:
"My appendix, this year, right before the season started. That s--- was terrible. It was kind of like a sharp, endless pain type of deal. This was there for about 12 hours, just non-stop until it was taken out. It was like a knife and some punches at the same time.
[+] Enlarge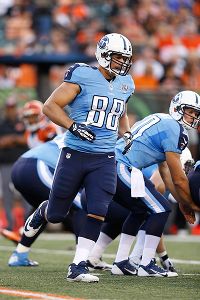 AP Photo/Joe RobbinsCraig Stevens said his broken rib was "the most excruciating pain I've ever felt."
Guard Andy Levitre:
Getting pleurisy. It's an inflamed lung, so every time you breath, it feels like you are getting stabbed in your chest, but it's your lung rubbing up against your rib cage. I feel like that's the most painful thing I ever had, it was in college. I had it for a few days and it bough me to tears, it was that bad. It was insane. I couldn't take full breaths. That was bad. I ended up going to the ER. I tried to tough it out for a few days and then I just couldn't take it anymore."
Tight end Craig Stevens:
"When I broke my rib, by far the most pain ever. Two years ago we were playing Cleveland and
Eugene Amano
came and landed with his knee right here (points to left side of his torso.) I couldn't get up or anything and then it kind of clicked back in and I was like, 'Yeah, it's not so bad.' Then I ran down there and I actually made a tackle and fell on the ground. I couldn't get up. For about a week, it was the most excruciating pain I've ever felt. I couldn't move. I would lay down and I couldn't get up, I needed help to get up, that's how bad it was. It eventually healed. It would heal and I would play with it and re-break it before it had a chance to really heal up. Every time I re-broke it, it was like I'd go back to square one with that pain. After about four weeks of re-breaking it, I took a game off, then I started feeling better."
Tight end Delanie Walker:
"Probably when I broke my jaw two years ago against Seattle. Dec. 24. After the morphine wore off, that's when it was worse. The flight was two hours, and that's about when it wore off. That's when I felt it. It just felt like someone was kicking me in the mouth nonstop, over and over. Took me three weeks to recover. I played in the NFC Championship Game."
Cornerback Coty Sensabaugh:
"Probably when I broke my leg in high school. I broke my fibula, I had to have surgery. It was a 10 on a scale of 1-10."
Defensive tackle Mike Martin:
"When my shoulder came out. Kind of came in, came out, slipped a little bit in college, my senior year against Illinois. I was going to tackle Juice Williams, get a sack and my linebacker came and hit the back of my shoulder, slipped it out, it was horrible. It reverberated all through my body, it felt like it was going through all my limbs, that's how bad it was initially."
October, 6, 2013
10/06/13
9:03
PM ET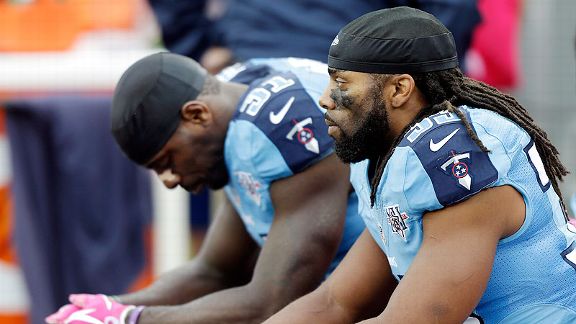 AP Photo/Wade PayneBernard Pollard (31) has been critical of the league's protection for quarterbacks but offered a calm assessment of the call that changed the game against Kansas City.
NASHVILLE, Tenn. -- Fans were outraged. The Twitterverse bemoaned the call. The LP Field crowd booed the officials the rest of the game.
On a third-and-5 from the Tennessee 44-yard line,
Kansas City Chiefs
quarterback
Alex Smith
scrambled to the right sideline. It looked like he was heading out of bounds. Middle linebacker
Moise Fokou
made sure Smith went out, launching and putting a shoulder into Smith that drew the flag.
Instead of fourth-and-3 the Chiefs got the two yards on the scramble and 15 more for unnecessary roughness. Five plays later, the Chiefs had retaken the lead for good en route to a
26-17 victory
that kept them undefeated and dropped the Titans to 3-2.
Outspoken Titans strong safety
Bernard Pollard
has been critical of the league's protection for offenses and quarterbacks. Pollard -- a guy who recently said the NFL should pull defenses off the field, let offenses play against air and see what the television ratings would be like -- would surely offer a strong objection to a crucial unnecessary roughness call against a teammate, right?
"It's a gray area," Pollard said. "It's something I think needs to be corrected in the rules, because it's hard for us as defensive players. Having said that, look at the situation we were in. You've got to let that go. The guy was two yards shy. But we make mistakes. That hurt us, when you keep drives going with penalties."
Fokou was less sure it was wrong, but wasn't defensive about it either.
"The officials felt what I did was probably a penalty," he said. "I'll have to go back and look, I feel like our sideline thought it wasn't. It's one of those things, when you're battling and playing hard, going full speed, things happen."
"I thought I was in a good position, you just never know. … You try to defend every blade of grass. When I looked at it, I thought he was still in. I left my feet and I don't know how to stop mid-air."
In his post-game press conference Titans coach
Mike Munchak
said he thought Smith was in bounds and Fokou was trying to make sure he didn't get a first down. There are inconsistencies in the way it's called, Munchak said, but the Titans know the boundary call is going to be closely inspected and the team has to be smart there.
I talked to Pollard, Fokou, defensive tackles
Mike Martin
and
Jurrell Casey
, cornerback
Alterraun Verner
, safety
George Wilson
, left tackle
Michael Roos
and Rob Turner about the call.
All but one of those eight basically said the call is to be expected and a defender has to avoid it.
"We've just got to be better at playing smarter football," Martin said. "When it comes down to plays like that, you can't leave it in the referee's hands."
"They are going to call that pretty much every time," Roos said. "They have to, they protect the quarterback. That's unfortunate. It is the way it is. At some point in our season I'm sure we'll get a call like that in our favor. That's the way it goes."
Munchak has spoken to his team on multiple occasions about the body language involved in getting called for penalties -- both by the player that gets whistled and by the victim. There are times when a player is on the verge of committing a hold or is committing one, where he can let go, not really impact the play and earn more benefit of the doubt.
Verner felt referee Bill Voinovich was left too much room for interpretation.
"We discuss that if it's close the referee could or could not call it," Verner said. "Of course I am going to say that Smith was still in, but it was one of those that was close. So the referee had a decision to make. It could have gone either way."
Only Turner spelled out a real case against the call, and he did so in a calm, understanding way, not in an angry, my-team-got-screwed manner.
"Alex Smith was trying to accumulate a first down," Turner said. "When he hit him, he didn't lead with the head, he led with the shoulder. He didn't target the head. Alex had not stepped out of bounds when he made contact. Now he hit him as his foot came down, but again, he was trying to get a first down.
"I'm not going to sit here and criticize the ref. From my viewpoint, what I saw on the replay, I thought it as a questionable call. ... I don't feel like he did anything wrong on that, he made a good play playing within the rules."
If Chiefs linebacker
Derrick Johnson
hit
Ryan Fitzpatrick
in a similar fashion, I suspect the Titans would have felt it worthy of a penalty.
I've never been a world-class athlete chasing a quarterback to the boundary in an NFL game at full speed with a major first down at stake. Still, I'd propose a strong push or shove is going to ensure the quarterback goes out of bounds and significantly reduce the risk of a penalty. Stay on your feet, keep your head up and hit him with an extended arm, not even a shoulder.
If you do that and the call goes against you, they'll be a lot more than public outcry to back you.
Give the crew gray area, it's going to go to the quarterback's side. Grumpy fans need to come to terms with that. It's pro football circa 2013.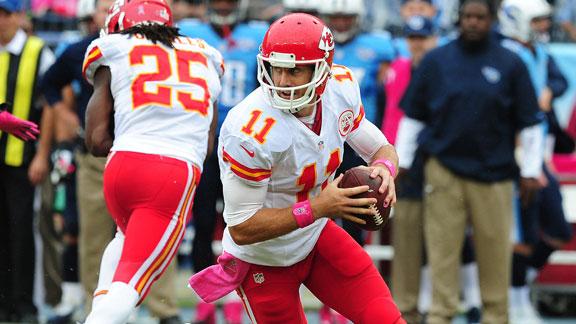 August, 25, 2013
8/25/13
1:36
AM ET
NASHVILLE, Tenn. -- If you're going to post two duds and a stellar game in the preseason, it's best if the stellar game comes in Week 3, the traditional dress-rehearsal week.

That's what the
Tennessee Titans
got Saturday night at LP Field in a
27-16 victory
over the
Atlanta Falcons
.
The defense gave up too much on the Falcons' first three drives but held strong in the red zone and surrendered a total of six points. The run defense still has room to improve, allowing 4.5 yards per carry to
Steven Jackson
in the first half.
But things got better overall as the game went on, with five sacks of
Matt Ryan
and much better shedding of blocks, hitting and tackling.
The headline, however, was provided by young quarterback
Jake Locker
.
He finished up the first half plus one series with a very solid line: 11-for-13 for 133 yards and a touchdown with a 134.9 passer rating. He was sacked three times and lost a fumble. He threw the ball well and had people catching the ball better for him but for a drive-killing
Taylor Thompson
drop of a pass thrown a touch behind the tight end.
The mandatory preseason disclaimer: It was a meaningless game against a team that went deep into the playoffs last season but was only 24th in overall defense and 23rd against the pass. Now, two of the Falcons' top three cornerbacks are rookies --
Desmond Trufant
and
Robert Alford
.
Locker's bad moments came on the move or under pressure.
On a third-and-7 from the Titans' 35, he didn't seem quite aware enough and should have been sacked but shrugged out of a blitz. He rolled right and turned to run for a pretty easy first down. But linebacker
Joplo Bartu
hit him -- and the ball -- as he went down and jarred it loose; safety
Thomas DeCoud
recovered it.
Beside the fumble, Locker was helpless on two sacks -- one that came from super-quick pressure past right tackle
David Stewart
, one on which he was pinned in on both sides and taken down as the middle closed in.
In the third quarter, the first-team offense's lone drive stalled when Locker saw pressure and put his head down rather than feeling the pressure and trying to do something against it.
The positive far outweighed the fumble and the sacks, however.
"This is the first week that we've actually put in a game plan. We'd been running base stuff the first two weeks," offensive coordinator Dowell Loggains said. "So I think that probably helped a little bit. It helped open up the play-action a little bit and helped Jake.
"I was probably too conservative early on, and once I let him go, he played really well."
It was a very encouraging night for the quarterback. If the Titans could freeze him right here and put him in practice on Wednesday, Sept. 4, in preparation for the season opener at Pittsburgh, I think they might.
I've done some reporting and I've learned, exclusively, that such freezing is not an available option.
[+] Enlarge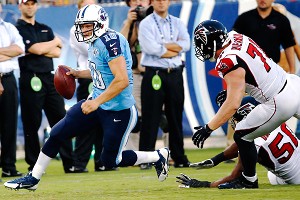 AP Photo/John RussellTitans QB Jake Locker ran three times for 22 yards in addition to his 133 yards through the air.
Some other thoughts:
Run defense still an issue:
Jackson took 10 first-half carries 45 yards.
Defensive tackle
Jurrell Casey
, who's healthy and playing very well, didn't like learning those numbers.
"We want to hold guys to 2 yards a carry. One or 2 yards a carry," Casey said. "We don't want to give up nothing more than that because then it makes it too hard, a game where they can just pound it down your throat. In order to get to the quarterback, you've got to stop them on the run on first and second downs."
See more about the run defense in
this video
.
Even having allowed more rushing yards than they'd like, the Titans' pass rush was excellent, with five sacks of Ryan and six overall. Casey had 1½;
Derrick Morgan
,
Mike Martin
and
Kadarron Anderson
had one each.
Moise Fokou
,
Karl Klug
and
Kamerion Wimbley
each had half a sack. Nice distribution.
Double barrel:
Chris Johnson
looked solid in gaining 65 yards on 11 carries with a nice 20-yard sprint to the right sideline on the Titans' first touchdown drive.
Earlier, on the Titans' second possession, Johnson got the ball on first and second down, gaining 7 yards and then 2. Tennessee sent
Shonn Greene
on to replace Johnson, and Greene did just what the Titans brought him in to do: find 3 yards to convert the third-and-1.
I asked Johnson if he envisioned that being the way things are going to work.
"I don't know," he said.
Another not-smart hit by Bernard Pollard:
In the Titans' first preseason game, Pollard put his head down and hit a Redskin heading out of bounds. That got him a $10,000 fine. In the Titans' second preseason game, he twice got beat on third-and-long, failing to make tackles in situations when he should have. Against Atlanta, on the Falcons' very first drive, he unnecessarily jumped in late on a tackle of
Julio Jones
and drew another personal foul penalty.
Ankle sprains:
The Titans announced that both receiver
Nate Washington
and running back Greene didn't finish with the first team because of ankle sprains. Washington said his was actually a right foot injury that wouldn't cost him time unless the Titans were super cautious; Greene said his was really existing ankle soreness and not serious.
Good red zone defense after allowing the Falcons to get there too easily:
The Falcons marched into the red zone on their first three drives but wound up with three field goal attempts and only six points.
"They got down there way too easy," Casey said. "We let them get explosive plays -- big passes, things like that. We can't allow that. When they got down there, we did our job by not letting them get in the end zone. That was one of our goals this week -- stopping them in the red zone, and we did that."
Making a case:
Receiver
Michael Preston
is not going to outrank any of the five receivers ahead of him, but he could be making himself a guy the Titans have to keep as a sixth, and I am hard-pressed to believe he is not one of the team's 53 best football players.
Preston had three catches for 68 yards from
Ryan Fitzpatrick
, with a 56-yard bomb setting up
Justin Hunter
's short TD catch before he hauled in a 6-yard touchdown catch of his own later on.
I wrote about
Preston at work
on Friday.
"He's a really good player. He's been doing that day in, day out at practice," Loggains said. "He made a big statement for his case to be on this football team again tonight."
Verner and Turner:
Cornerback
Alterraun Verner
and center
Rob Turner
started and did nothing that should dent them as the favorites to be named the starters at their respective spots.
Verner was flagged for two penalties against Jones -- a pass interference on a short pass into the middle and an illegal contact on a longer throw. I thought the first one was a good play on a ball Ryan threw a bit behind Jones. Later, Jones beat Verner, who didn't touch him near the line, on a 42-yard play up the right side. Jones is going to make plays against a lot of corners.
And while
Tommie Campbell
came in early enough to have a couple chances against Jones and wasn't victimized in a similar way, he didn't do anything that should change the Titans' leanings.
Battle vs. Parmele:
I thought
Jackie Battle
was getting a bit too much hype heading into the game. He was running better than
Jalen Parmele
, but special teams will be a huge factor in one of them winning the No. 3 running back job. I was told before the game, however, that he's close to Parmele on special teams. Battle got a game-high 13 carries for 41 yards. Parmele didn't get one. Advantage Battle.
Referee change:
Ed Hochuli was the ref in the first half, but by design, the game turned over to Wayne Mackie in the second half. He's typically a field judge. The league is looking for opportunities to get people experience. Mackie communicated well when he had to use his microphone.
But Mackie was buzzed to review Alford's interception of Fitzpatrick on a throw intended for Hunter. There was absolutely no reason for replay assistant Roger Ruth to buzz Mackie to review that play except to give him practice at it.
And whether the league needs to get a guy game experience or not, two teams, a crowd and a TV audience should not be subject to an unneeded challenge for such purposes.
Pending cuts?
The first round of cuts come Tuesday, when the Titans have to get from 90 to 75. Healthy guys who don't play in the third preseason game are typically being kept from getting hurt, because a team can't cut an injured player.
Healthy Titans who didn't play in this game were receiver
Justin Hilton
, defensive end
Nigel Nicholas
, guard
Oscar Johnson
, tackle
Barry Richardson
, tight end
Martell Webb
and receiver
Rashad Ross
. It'll be a surprise if any of them are on the roster Tuesday evening.
May, 28, 2013
5/28/13
5:24
PM ET
The
Tennessee Titans
have their first three OTA sessions in the next three days, and Friday's is the first open to the media.
Tinkering, particularly on defense, will be well underway by then.
[+] Enlarge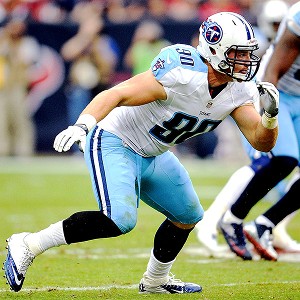 Jerome Miron/USA TODAY SportsTennessee defensive end Scott Solomon will get some work at strongside linebacker.
Media and fans shouldn't go crazy when they hear what some players will be working on as part of different packages, and as coach Mike Munchak, defensive coordinator Jerry Gray and senior defensive assistant Gregg Williams begin to get more complete assessments of what guys can, and cannot, do.
I just talked with Titans coach Mike Munchak:
"The big thing is, especially on defense, don't get to caught up with who's doing what and where," he advised me. "We have enough numbers in a lot of spots, I think you are going to see a lot of guys moving around. We may be doing different things because of packages. As we start competing and with Gregg here now we start to see who works well together, who can do certain things. See what possibilities we can have with certain packages based on who we're playing on offense and what they do receiver-wise."
I asked him for some examples of what that tinkering might look like.
Defensive end Scott Solomon will get some work at strongside linebacker, where he could ultimately see some time if he's comfortable there when Akeem Ayers moves forward to do some work as a rush end.

Defensive tackle Karl Klug may play some end, but it won't be a simple move from 4-3 tackle to 4-3 end, he'll work more like a 3-4 end would in some special, varied fronts. But don't conclude the Titans are becoming a 3-4 because of it.

Starting ends Derrick Morgan and Kamerion Wimbley very much remain the starting ends, but they may not always be on the field at the same time as coaches see who works best together on each side of the pass rush. I presume Ayers will be a factor there, as will some ends who may be more early down run-stoppers who can save some wear and tear on the team's best rush ends.
As for injuries ...
Right tackle
David Stewart
, interior offensive lineman
Eugene Amano
and safety
Robert Johnson
will not be participating at the start of OTAs as they continue to recover from injuries. (I believe Amano will be cut once his arm and knees are healthy.)
Several others will be limited or will start slow and be eased in: Linebacker
Zach Brown
(shoulder), guard
Andy Levitre
(who had a knee cleaned out after the season), Morgan, safety
Markelle Martin
(back) and defensive tackle
Mike Martin
(knee).
Middle linebacker
Colin McCarthy
, who recently rated himself as 80 percent, is good to go, Munchak said.
April, 23, 2013
4/23/13
12:51
PM ET
Chance Warmack
would be my number one target here. But the Alabama guard didn't last in our scenario. I don't think the Titans like
Jonathan Cooper
the same way.
Floyd
With
Dion Jordan
,
Star Lotulelei
,
Dee Milliner
, Warmack and
Barkevious Mingo
all gone, the great value here looks to be Florida defensive tackle
Sharrif Floyd
.
Interior defensive line isn't a pressing need. The Titans signed
Sammie Hill
as a free agent and they like
Jurrell Casey
a lot.
Mike Martin
played in every game as a rookie while
Karl Klug
suffered a second-year dip.
But they can make room for Floyd, a versatile interior player who can stop the run and get push into the backfield that will help the entire front.
I think the odds of Floyd being available at No. 10 are very remote, though.
If the Dolphins don't bowl over the Raiders with a trade for No. 3 the way James Walker did on Miami's behalf here, I think Floyd could go third to Oakland.
1. KC:
Luke Joeckel
, OT, Texas A&M
2. JAC: Dion Jordan, DE, Oregon
3. MIA:
Eric Fisher
, OT, Central Michigan (Trade)
4. PHI: Star Lotulelei, DT, Utah
5. DET:
Lane Johnson
, OT, Oklahoma
6. CLE: Dee Milliner, CB, Alabama
7. ARI: Chance Warmack, G, Alabama
8. BUF:
Cordarrelle Patterson
, WR, Tennessee
9. NYJ: Barkevious Mingo, OLB-DE, LSU
10. TEN: Sharrif Floyd, DT, Florida
Follow the draft as it continues,
right here
.
January, 28, 2013
1/28/13
3:49
PM ET
Mel Kiper Jr. looked back on the 2012 NFL draft and his grades and offers a revised mark to every team in
this Insider piece

.
Let's look at what he said about the AFC South.
Texans

Summary:
"Each of the first six players drafted by the Texans managed to contribute in at least some form in 2012, something you can't overlook for a team that went 12-4 and didn't need major personnel additions to get there. … We can't say there's a certain star anywhere in this draft, but the Texans added some immediate help and depth to what was already a pretty solid roster. If one of the wide receivers becomes something more, the draft will look better in the years to come."
Post-draft grade:
B
New grade:
B
My thoughts:
They didn't need immediate help at many spots, so first-year impression isn't as significant as it is with the three other teams. There is lots of promise in the class, but we'll have to wait on receiver
DeVier Posey
, who tore an Achilles in the playoff loss in New England.
Colts

Summary:
"I don't know if [Andrew] Luck proved very good earlier than we expected -- he had the second-highest grade I've ever given a quarterback in 34 years -- but it was certainly true that he found some chemistry with all the rookie offensive additions. T.Y. Hilton, Coby Fleener, Dwayne Allen and even LaVon Brazill played significant roles in the passing game, and Vick Ballard proved he's a capable starter at running back. … [F]actor in all the rookie contributions and the historic leap in performance for a team that was 2-14 in 2011, and you have an incredibly successful weekend to look back on."
Post-draft grade:
A-
New grade:
A
My thoughts:
A group that produced and is a big part of the foundation going forward. It gives Colts fans hope that Ryan Grigson will be able to repeat the winning formula. Can he do as well on defense as he did on offense?
Jaguars

Summary:
"Regardless, until the QB situation becomes a positive in Jacksonville, the fact that
Russell Wilson
was taken by Seattle five picks later (than punter
Bryan Anger
) will be an ongoing punch line. That said, I can't revise history and say I was banging the desk calling for them to take Wilson. Jacksonville needed to upgrade its pass-catching situation first and then find some help in the pass rush.
Justin Blackmon
got off to a slow start, but the No. 5 overall pick finished the year leading all rookies in both catches (64) and receiving yards (865), and did that without any sparkling play at QB."
Post-draft grade:
C
New grade:
C+
My thoughts:
No matter how good Anger is, new general manager David Caldwell has an extra hole to fill in a complete rebuild because Gene Smith made that pick. Caldwell would kill to need a punter as opposed to a right tackle, I guarantee it. They needed pass rush help badly and second-rounder
Andre Branch
provided nothing.
Titans

Summary:
"…Zach Brown was a solid if unspectacular linebacker who ended up starting 12 games for the Titans. He figures to hold down the starting role heading into 2013.
Mike Martin
did a pretty good job as a rotational defensive tackle, and showed an ability to penetrate and aid the pass rush. This draft created some early roster help, but after a season looks light on upside. Better QB play might be the difference, as (Kendall) Wright still has a chance to be a major contributor at wide receiver as he develops."
Post-draft grade:
C+
New grade:
C
My thoughts:
They got good contributions out of their top four guys, and they all look ready to take on more in their second seasons. I think this is a draft class that will make contributions for some time.
October, 11, 2012
10/11/12
10:26
AM ET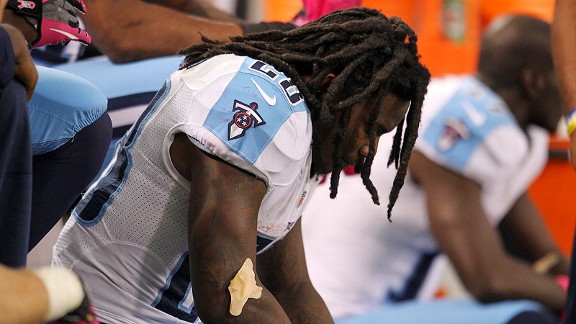 Brace Hemmelgarn/US PresswireChris Johnson hasn't been the playmaker he advertised himself as when he signed his big extension.
NASHVILLE, Tenn. -- Only the insanely optimistic with an up-close view tabbed these Titans to make the playoffs.
And it hardly took a giant cynic to foresee a bad start given their schedule.
But with a 1-4 record, giving up 36 points, 424 yards and 35 minutes, 10 seconds of possession time per game while ranking 30th in rushing offense after an offseason promising major gains for
Chris Johnson
?
The struggling Titans are on display Thursday night as Tennessee hosts the
Pittsburgh Steelers
.
Barring a sudden turnaround, a national audience is about to learn what the Nashville area and Titans opponents have come to know well: This is a team with serious issues.
Let's look at some …
Mixed messages:
Defensive coordinator Jerry Gray said last week his guys had been playing too timidly and he wanted to see more aggression.
How, exactly, are the defensive backs to feel charged up and aggressive when Gray's scheme is one of the very things helping produce tentative play? You're not exactly telling your guys you have a great deal of confidence in them when everything is about not getting beaten by big plays, and when so many plays start with corners well off receivers and safeties a mile deep.
Yeah, coach, I'll go make a big hit -- so long as I can make it to the ball before the offense is back in the huddle.
Nowhere near the same page:
With a heavy dose of
option routes
in the passing offense, the Titans are very reactive on offense. Offensive coordinator Chris Palmer believes unless you've got absolute premium weapons, you have to be that way.
But it sure seems like he should be able to steer things to certain people more often if he thinks they might ignite the offense, which has been flat outside of a monstrous afternoon in a Week 3 victory over Detroit.
Here's the example that sticks out right now.
Backup quarterback
Matt Hasselbeck
, playing for the injured
Jake Locker
last Sunday in Minnesota, said after a 30-7 loss that
Jared Cook
needs to be more involved early on. The tight end could barely find words in a radio interview when asked about the communication lines with coaches about getting more involved. Palmer said there were times early against the Vikings when the Titans could have gotten Cook the ball and they didn't, and that going forward they need to.
Seems like a giant circle there. Everyone wants him to get the ball, but he's not getting it.
Why not? Sit down and solve it. Script plays that make it happen, and call them.
An inability to generate pass pressure:
The pass rush was insufficient last year, and it needed to be the primary focus during the offseason.
The Titans addressed it at two levels, signing pricey veteran
Kamerion Wimbley
when he was released by Oakland in a cost-cutting move and hiring Keith Millard as a pass-rushing coach who would work with players on the defensive line and beyond.
The early results have been terrible.
The Titans have seven sacks. Only three teams have fewer.
The only player with more than one is rookie defensive tackle
Mike Martin
.
Fearing the big play and knowing he lacks talented players in coverage, Gray is reluctant to add people to the rush. According to ESPN Stats & Information, the Titans have blitzed on just 32 plays this year, less often than all but four teams.
[+] Enlarge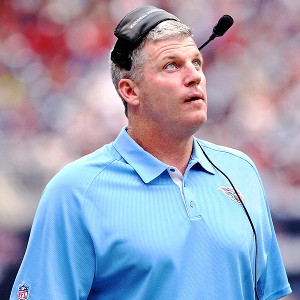 Troy Taormina/US PresswireWill closing practices to the media help Mike Munchak and the Titans improve on last season's 6-10 mark?
Too much belief:
After yet another blowout dropped them to 1-4, coach Mike Munchak was adamant about making no changes to his staff or his lineup.
Look, it's admirable to say you want to stick with the plan. It's more admirable to show a willingness to change the plan. Munchak is coming across as stubborn.
Even if he doesn't entirely mean it, wouldn't it be better received by those both inside and outside the team's facility if Munchak said he will leave no stone unturned in an effort to fix things, that he will tinker as a result of any suggestion if he thinks it might enhance the team's chance to win?
Munchak seems to be expecting the same buy-in he had as a rookie head coach who didn't have an offseason with his team because of a lockout.
Counting the preseason, Munchak's been at the helm for 29 games now. The personnel he signed off on is certainly lacking. Are the Titans' struggles all his fault? No, but the longer the team slides, the more Munchak's methods will come under question.
Knowing your job:
Munchak's main message at the start of his tenure in 2011 was that everyone in the organization needed to know his job and do it.
I feel certain Titans defenders know they are supposed to tackle, yet they don't do it. And while I don't advocate public flogging, there are no consequences we can see. Certainly none that have produced better tackling.
That's a player failure first. But once it becomes an issue, coaches have to get it fixed, and they've failed to do so. Same with the lousy run game -- which should be right in Munchak's wheelhouse.
During Jeff Fisher's lengthy tenure as a players' coach, it was virtually impossible for a veteran starter to lose a job.
Munchak is a players' coach, too. While he enforces discipline more universally than Fisher did, he's proving as unwilling as Fisher to send a message to a player through reduced playing time.
That ties directly into the next two points as well.
Absent leadership:
Johnson is a good player when things are going well. Safety
Michael Griffin
can be, too.
Recent long-term contracts for both made them centerpieces of this team, but did not change their stripes.
Johnson believes the line has to play well for him to influence games. Griffin has proven he's at his best when he's surrounded by talent and when there is a big pass rush in front of him. With or without that environment he's a follower, not a leader. But he's been put in a leadership position.
Were they wise signings by Mike Reinfeldt and the man he promoted to succeed him as general manager, Ruston Webster? It's easy now to say no. Another big piece of Johnson's giant salary gets guaranteed in the spring. The Titans will have to bail before that.
A lack of accountability:
Johnson says over and over he's only as good as his offensive line, but there are backs of much lesser stature showing a much better feel for how to get a yard when the line blocks for none or how to get two when the line blocks for one.
He sold himself as not just a running back, but a playmaker, when he got a contract extensive after a lengthy camp holdout in the summer of 2011. He easily ranked as one of the league's most underpaid players in his first three seasons. He easily ranks as one of the most overrated in his fourth and so far in his fifth.
But this "playmaker" won't admit he's fallen into bad habits, might have got carried away with the stardom that came with great success or let the money change him. It's become easier to read him as more upset about his lack of yards than the Titans' lack of wins.
It's OK for a guy who sees a lot of the ball to have some selfishness in him. It's actually one of the qualities that can help make a guy good. When he's not good, however, he needs to make some adjustments to his game, and his mindset.
What do you say, CJ?
September, 21, 2012
9/21/12
4:49
PM ET
August, 14, 2012
8/14/12
12:15
PM ET
NASHVILLE, Tenn. -- Like everyone in the NFL, the 2011 Titans were hurried together.
Unlike most other teams, they were hurried together by a new coaching staff.

Mike Munchak's coordinators -- Jerry Gray on defense and Chris Palmer on offense-- had to show patience and restraint. They brought exciting new ideas to Nashville, but they weren't able to implement much of them in the wake of the lockout. The personnel could only be revamped so much, but more importantly they didn't have much time.
No offseason, no organized team activities and no minicamps meant sticking mostly to basics.
Now, they say, after a full offseason together, they'll show us far more.
Whether
Matt Hasselbeck
or
Jake Locker
is at quarterback, we'll see Palmer implement run-and-shoot concepts while using two tight ends or a fullback. He'll look to regularly threaten teams deep with what can be a great compliment of pass-catchers:
Kenny Britt
(presuming he's healthy and available),
Nate Washington
, rookie
Kendall Wright
,
Damian Williams
,
Chris Johnson
,
Jared Cook
and
Taylor Thompson
.
If the evolution into more of a passing offense pans out, Johnson should get more space when he takes a handoff, and that should help him rebound from a disappointing 2011 season. He's looked better after participating fully in the Titans' offseason activities for the first time.
Defensively, Gray is looking to allow some players to excel in narrow roles in specific situations.
Akeem Ayers
, for example, should get to show off his rush skills by lining up as an end in a special rush package. Ideally, free safety
Michael Griffin
will play more in center field, where he's best.
Do Palmer and Gray have enough people to do what they want? And does what they want to do work? Progress seemed steady in the first couple weeks of camp, but there are still questions to answer.
THREE HOT ISSUES
The quarterback battle:
It hasn't drawn the spotlight one might have expected, because
it's friendly
and doesn't pit good versus evil on any level.
The Titans drafted Locker eighth overall in 2010 to be their starter -- for a long time, they hope. It's not a matter of if he gets into the lineup, but when. If he can take advantage of game situations to show improved accuracy and make plays from the pocket as well as on the move, Locker certainly has a chance to displace Hasselbeck now. He was better by at least a bit in the preseason opener and will start the second game Friday night at Tampa Bay.
But the team feels it's going to compete for a playoff spot now, and the younger, less experienced quarterback comes with a learning curve. If coaches feel Hasselbeck has a mastery of the offense and is playing effectively, it might be difficult to make the switch heading into an opening month that looks very challenging.
[+] Enlarge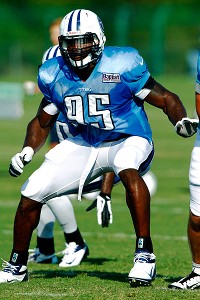 AP Photo/Wade PayneLinebacker Kamerion Wimbley looks to be an asset on the field and in the locker room.
The pass rush:
Everything the Titans' defense wants to do can blossom out of a more productive pass rush. Gray came to the team determined to beef up the D and get back to run-stopping basics. The Titans certainly want to maintain that theme, but they need a better pass rush to go with it.
They hired Keith Millard to coach not a position but a skill: rushing the passer. I like the concept, but Millard was in Tampa last year and they were a bad pass-rush team. It also has to make you wonder a bit about the pass-rush education defensive linemen were getting from position coach Tracy Rocker.
Kamerion Wimbley
looks like a potential difference-maker, but the other projected/expected starter at end,
Derrick Morgan
, is hardly locked in as a threat yet. He's been working behind 2011 practice-squader
Pannel Egboh
recently.
The interior includes very intriguing rush guys in
Karl Klug
and rookie
Mike Martin
, and has some depth. Ayers is slated to scoot up and work as an end in some nickel situations, perhaps shifting Morgan inside. However, what hear about Ayers' versatility and what I see from him don't match up yet.
Britt:
A suspension under the personal-conduct policy is looming for Britt after a DUI arrest at a military base. He has not shown he's learned from mistakes and turned into a better decision-maker. And he's still on the physically-unable-to-perform list, recovering from a torn anterior cruciate ligament suffered early last season and subsequent cleanup procedures. When healthy and available, Britt is an absolutely tantalizing receiver who can make everyone else's matchups more advantageous.
His recent rehab work makes him look close to ready. His recent meeting with the commissioner makes us expect an announcement soon about some time on the shelf. Once that's over, he has to settle down and show up every week while not giving the team cause for concern when he's away from the facility.
REASON FOR OPTIMISM
One big reason the Titans didn't think cornerback
Cortland Finnegan
was worth the money he got as a free agent from St. Louis is that his brand of professionalism didn't match up with the team's. Finnegan was beyond feisty at times, and a surly mood and an ego that prompted him to leave the team for a day during camp in 2011 in a contract dispute weren't things the Titans could overlook.
Know what to do and do it. That's Munchak's basic requirement of his players. In guard
Steve Hutchinson
and Wimbley, the Titans added two more standard-bearers of a message other players should continue to respect and respond to.
REASON FOR PESSIMISM
Estimating who will be good and who won't in advance of a season is fraught with peril, but it's hard not to do. Look at the Titans' first four games and it's hard not to foresee trouble. The Patriots visit on opening day; any game against Bill Belichick and
Tom Brady
is a major challenge. Then a trip to San Diego, where the Titans have long struggled. Detroit brings burgeoning quarterback
Matthew Stafford
to Tennessee before the Titans travel to Houston to face the division favorite.
With their current questions, it's hard to envision the Titans ripping off a good start against that early schedule. But the league's unpredictability is its best feature, so the quality of that four-pack is not written in permanent marker.
OBSERVATION DECK
The Titans have invested a lot of time and energy into Rusty Smith, and I don't doubt they like their third quarterback. It'll be hard to justify a roster spot for him, though. Third quarterbacks are a luxury, and both Locker and Hasselbeck should be on the team in 2013.

Johnson seemed to be back to form in practices, but it's hard to gauge running backs in practices. He was awful in limited action in the preseason opener at Seattle, failing to press the hole and appearing completely disinterested in the passing game, where he had two drops. That was enough to officially put him back in the "major concern" department for me.

Dave Ball contemplated retirement after dealing with another concussion last year. He had another early in camp and is likely fading on the depth chart while missing time. Egboh should be the third end, and guys like rookie Scott Solomon and veterans Leger Douzable and Keyunta Dawson give the Titans some alternatives.

[+] Enlarge

Jim Brown/US PresswireRookie Mike Martin helps with pass rushing depth -- and could yet displace veteran Shaun Smith.

Beau Brinkley is in line to be the long-snapper. The rookie right end out of Missouri takes over for veteran Ken Amato, who was not re-signed after filling the role since 2003. So far, so good for Brinkley, who's been invisible through camp and a preseason game, which is what you want from a guy in that role.

Martin, a third-round pick from Michigan, has gotten some work with the first team and figures to be another piece in a talented group of interior linemen. Though he gives up nearly 20 pounds to Shaun Smith, he could help knock the veteran off the roster. Smith has worked hard at becoming more of a penetrator and turned quiet rather than being the boisterous guy of last season, but his changes may have come too late. The Titans brought him in last year as they tried to get bigger, but had to know he was a space-eater who wasn't programmed to get into the backfield the way they want tackles to.

If Britt is healthy and somehow avoids suspension for his off-field transgressions, he certainly should be an opening-day starter. But if Britt isn't available, I won't be surprised if Williams is ahead of first-round pick Wright against the Patriots on Sept. 9 at LP Field. Williams has become increasingly assertive and knows what to do, while Wright could need some time to bring an expanded repertoire onto the field.

Cook is the more explosive receiver, so he gets talked about. But the Titans' other top tight end, Craig Stevens, is underrated. He's a good blocker who may not have receiver speed, but can get open and make some catches when called on.

Weakside linebacker Will Witherspoon is a quality veteran guy in the locker room. But he comes and goes as a playmaker. Second-round pick Zach Brown brings tremendous speed. I don't think he'll dislodge Witherspoon from the job at the start. He may earn a role in covering tight ends like Rob Gronkowski, Antonio Gates, Brandon Pettigrew and Owen Daniels -- players the Titans will be game-planning against in their first month. Tennessee has had some major issues recently covering top tight ends.

The Titans have a find in cornerback Jason McCourty, who is going to be good as their lead guy and will help reshape the tone of the defensive backs meeting room. I actually feel better about him and Alterraun Verner as the team's starting cornerbacks than I do about Griffin and Jordan Babineaux as the safeties. My suspicion is that good offenses are going to find plays down the middle of the field.
April, 28, 2012
4/28/12
3:51
PM ET
NASHVILLE -- The NFL draft is often an exercise in weighing production against potential.
In the scales of that debate over
Taylor Thompson
, the Titans went heavily with potential.
The Titans traded up 10 spots with Miami and spent pick No. 145 in the fifth round on Thompson from SMU. In an offense that didn't use tight ends, he played defensive end.
Now the Titans will look to develop a guy who hasn't regularly played the position since high school. The Titans fell in love with Thompsonat a no-name all-star game and a pro day.
They insisted his athleticism, enthusiasm and intelligence will quickly offset the lack of college experience at the position. At 6-foot-6 and 260 he ran a 4.58 40 on the watch of Titans scout Jon Salge.
"As far as a receiving tight end, I think he's uncanny," offensive coordinator Chris Palmer said. "… I don't think it's four years behind. There are no bad habits."
Are there good habits from not playing?
Palmer said Thompson had 10 visits.
"It's not like we're the only one who saw the acorn," he said.
In a conference call, Thompson spoke very confidently about his ability to play tight end in the NFL.
Mike Munchak said the Titans thought Thompson would be gone in the third round. The lack of blocking experience would be virtually the same even with a guy who has played tight end in college, Munchak said, because spread offenses are all the rage and few players do in college what will be asked of them in the NFL.
"He's not going to fail," Munchak said.
Thompson will rate as the Titans second receiving tight end behind Jared Cook. They also have a quality blocker in Craig Stevens. Veteran Daniel Graham, added last year, is due a $2 million base salary this year and will now likely not get to it.
Tennessee has made five picks. Two areas regarded as needs have not been addressed: interior offensive line and defensive end.
Munchak said the Titans are not in dire need on the offensive line, downplayed visits by veteran centers early in the free agency period and hit a theme he used after getting the job: "We have guys we can win with."
He also said the team planned on getting at least one defensive lineman and third-round tackle
Mike Martin
took care of that.
April, 28, 2012
4/28/12
12:54
AM ET
By
Paul Kuharksy
| ESPN.com
Nose tackle
Mike Martin
should pressure veteran
Shaun Smith
for playing time, and could ultimately push Smith off the roster. Tennessee nabbed Martin in the third round, 82nd overall.

Martin
"Mike Martin is what you want in a nose tackle," general manager Ruston Webster told Nashville media. "He is tough as nails. He is a grinder. He doesn't mind doing the dirty work and brings the kind of mentality that we want on our defense."
Like
Karl Klug
, a successful pass rushing DT from last year's draft, Martin has wrestled and said it helps him operate in close quarters.
"I'm a guy that the whistle is going to have to be blown three or four times for me to stop on the play," Martin said. "I think that (Ndamukong) Suh plays that way, he's got a heck of a motor and I just want to be that guy who can prove that he has that motor in the NFL. I feel like that is what I relied on in college. When guys would quit on a play or just decided not to finish, I was going to finish and I was going to make a play because of that."
I was (too) hard on
Zach Brown
, the second-round linebacker. I like the sound of Martin.
Still, the Titans are due for a defensive end.
February, 23, 2012
2/23/12
11:21
AM ET
Most of the NFL world is in Indianapolis for the scouting combine. We'll be keeping tabs on things up there from a distance.
Tampa Bay coach Greg Schiano and Carolina coach Ron Rivera are scheduled to speak to the media later this afternoon. We'll bring you highlights of what they have to say. This will be only the second time Schiano has spoken to the media since his hiring. Now that he's had some time to get settled in, we may get updates on the future of
Ronde Barber
and some official word on where Schiano stands on filling out his staff of assistant coaches.
No word yet if New Orleans coach Sean Payton or Atlanta coach Mike Smith will meet with the media. As we wait for things to develop in Indianapolis, let's take a look at
another mock draft
. This one is from Charlie Campbell.
He has the Bucs taking LSU cornerback
Morris Claiborne
at No. 5. Just about every mock I've seen has the Bucs taking either Claiborne or Alabama running back
Trent Richardson
. I can see the Bucs going either way if all things are equal between those two players.
At No. 9, Campbell has Carolina taking LSU defensive tackle
Michael Brockers
. That's the trendy pick for the Panthers right now. But let's see if the combine workouts change anything.
The Saints and Falcons don't have first-round picks, but Campbell's draft goes four rounds deep. With the 55
th
overall pick, he has the Falcons selecting Virginia defensive end
Cam Johnson
. That makes a lot of sense on the heels of the news that
John Abraham
isn't
likely to re-sign
with Atlanta.
Campbell also has the Saints taking a defensive lineman at No. 59. He has them taking Michigan defensive tackle
Mike Martin
. I think the Saints also could be looking for a defensive end here, but Martin makes sense because he can generate some pressure from the middle of the defensive line.