July, 25, 2011
7/25/11
7:39
PM ET
When
Kris Jenkins
announced his retirement last week, I wrote about how I liked that the former defensive tackle for the Panthers and the Jets
always said what was on his mind
.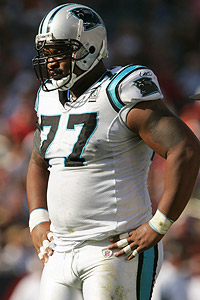 Brian Bahr/Getty ImagesKris Jenkins spoke his mind about the Carolina Panthers' fans, owner Jerry Richardson, receiver Steve Smith and former defensive end Julius Peppers among other topics on a Charlotte radio station.
Well, we've got an audio example of that. Jenkins did a
radio interview
with Charlotte's WFNZ on Monday morning and, holding back absolutely nothing, revealed the real reason why he retired, reflected on his time with the Panthers and had some praise and criticism of former coaches and teammates.
Jenkins said he's been in a custody battle for years. He said he currently has primary custody of his oldest son and feared that a return to football might clear the way for him to lose custody.
"I can get back on the field,'' Jenkins said. "I don't think that's the issue. I've always said family comes first.''
I urge you to listen to the interview in its entirety (and tell me Jenkins doesn't have a future in broadcasting), but let's run through a few of the highlights.
"How much time do we have?" – when asked if he was too outspoken for the John Fox regime.

"We just didn't find a way to mesh." – on Fox.

"I got to the Jets and I said, 'Fox was full of it.'"

"When you're out here, you're a robot. That was the biggest thing." – on what he said was a corporate environment in Carolina.

"The fans here are wishy-washy sometimes." -- on Carolina fans.

"That was where it got past personal for me." – on his claim that team officials tried to tell him what he could and could not do on the field.

"I like Julius. Julius was not a people person. If you understood that about him, it saved you a whole lot of trouble with other stuff." – on former teammate Julius Peppers.

"You decided to be an owner." – on owner Jerry Richardson.

"With him, it was a love-hate relationship. There's not a more passionate guy out there going out to play wide receiver." – on Steve Smith.

"He likes to pick on people that don't deserve it." – more on Smith.

"You can't beat the crap out of your teammates." – more on Smith.

"You're dealing with hand puppet Mike Minter and you're dealing with hand puppet Mike Rucker." – on two retired teammates, who Jenkins said were telling coaches and ownership about off-field behavior.

"What is wrong with what I did? Whether it's Bank of America or Wachovia, and your boss starts throwing crap at you, you're either going to take it or you're going to stand up for yourself." – on why he wanted out of Carolina.

"Do not assume my brother and I have the same personality." – on if he'd tell his brother, Cullen, a free agent, not to sign with the Panthers.
May, 3, 2011
5/03/11
1:15
PM ET
The ESPN.com
Power Rankings for safeties
are out and there's not an NFC South player in the top 10.
Not a big surprise there because safety might be one of the division's weakest positions (where have you gone John Lynch and Mike Minter?). There is a guy who I think has enormous potential and could end up being a top-five safety in a year or two. That's New Orleans'
Malcolm Jenkins
.
He finished in a tie for 15th place in the voting. I put him on my ballot (at No. 9) and would have had him much higher, but Jenkins has only one full season as a starter and he needs to go out and do it for another season or two before he really can jump to the top of the list. Jenkins wasn't completely ignored by the other voters. John Clayton and Tim Graham also had him near the bottom of their top-10 lists.
Apparently, Graham and Clayton also are members of the
Roman Harper
fan club. He's the other New Orleans safety and Graham and Clayton actually ranked him ahead of Jenkins. I didn't put Harper on my ballot. Although I think he's a quality safety and better than a lot of New Orleans fans give him credit for, I just don't see him as a top-10 safety.
I didn't see any others as I looked around the division. If Tampa Bay's
Tanard Jackson
had played a full season last year, I suspect he might have been on my ballot. But Jackson drew a one-year suspension last September. Until he gets back on the field, in Tampa Bay or anywhere else, and shows he still can play, he's not getting near my ballot.
April, 30, 2010
4/30/10
12:55
PM ET
CHARLOTTE, N.C. -- The Panthers just finished their first minicamp practice. My main assignment is to write a column on rookie quarterback
Jimmy Clausen
and I'll get started on that momentarily.
But, first, I wanted to give you some quick observations from the morning session.
Cornerback
Richard Marshall
was the only player of note not in attendance. Marshall is a restricted free agent and is seeking a long-term contract. Linebacker
Thomas Davis
, also a restricted free agent, took part in practice, marking a significant step in his recovery from an injury that forced him to miss much of last season.
I chatted with general manager Marty Hurney on the phone the other day and he kept saying, "We are young." I believed him, but the full magnitude didn't really hit me until I saw the Panthers on the practice field. There really are just a handful of guys still on this team from when I covered the Panthers in my newspaper life. Still having trouble adjusting to seeing other guys wear the numbers
Mike Minter
and
Mike Rucker
used to wear. The Panthers only have four guys on the roster who are 30 or older. One of those is kicker
John Kasay
and another is punter
Jason Baker
.
There were some blue lines painted on one of the practice fields. Not sure exactly what that's about. Might be for some soccer use. Or maybe they're there to keep receiver
Dwayne Jarrett
straight on his routes.
Quarterback
Matt Moore
talked to the media for the first time since the Panthers drafted Clausen. Moore said all the right things, but I think it's fair to say he doesn't appear to be thrilled by the pick.
All right, I'm going to get to work on the Clausen column. I'll be back with that this afternoon and I'll have some notes from Carolina's second practice later on.
February, 19, 2010
2/19/10
12:00
PM ET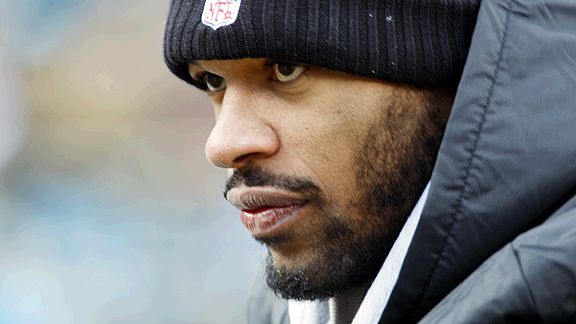 AP Photo/Nell RedmondEven after eight seasons in Carolina, Julius Peppers remains a mystery to many who follow the team.
When
Julius Peppers
first came to Charlotte back in 2002, the key to the city was under his doormat. The deeds for two states were waiting in his mailbox.
The home-grown kid was going to own both of the Carolinas and be the first true superstar to play for the
Carolina Panthers
. It would be almost like Michael Jordan getting drafted by the former Charlotte Hornets instead of the Chicago Bulls.
So what the heck is happening now? Why does it look as if the man who was supposed to be the King of the Queen City and the Count of the Carolinas is about to walk away from a franchise and a fan base that so wanted to embrace him? Why does it look like the Panthers are willing to sit back and watch the best player they've ever had go?
If you could answer those questions with one statement or even point to a single issue, this wouldn't be happening because it could have been resolved. The curious case of Peppers and the Panthers is beyond complicated. Sure, football and money are involved. But it goes way deeper than that. The divorce that appears about to happen if the Panthers don't put the franchise tag on their defensive end before Feb. 25 and let him become a free agent also involves emotions, personalities and a marriage that never was as close to being perfect as it looked on paper.
Blame can flow both ways on this and it's not accurate to say either side is entirely right or entirely wrong. But it is fair to say they both were flawed and maybe this pairing was doomed from the very start.
Let's start with Peppers. If you don't know him, don't feel bad because, basically, nobody knows him. Since the day he walked in the door of Bank of America Stadium, his teammates, coaches and team employees have tried to figure him out. They never have.
I covered Peppers on a daily basis for The Charlotte Observer from the day he was drafted until I left for this space right after the 2007 season. I saw and talked with Peppers many times, but the truth is I've had deeper conversations with my cat.
Peppers is a mystery wrapped in the body of a pass-rusher. He came in as an extremely shy and quiet kid. The only difference in that now is he's no longer a kid. He's 30 and, although he went on a Charlotte radio station recently and said he didn't want to stay with the Panthers, nobody knows what it is he really wants. Nobody really has been able to crack that one.
NFL SCOREBOARD
Thursday, 10/23
Sunday, 10/26
Monday, 10/27