November, 4, 2012
11/04/12
7:19
PM ET
SEATTLE -- Thoughts on the
Seattle Seahawks
' victory over the
Minnesota Vikings
at CenturyLink Field in Week 9:
What it means:
Seattle
improved to 5-4 overall
, 5-1 outside the division and 4-0 at home. The victory kept the Seahawks on pace for a winning record if they can continue to win their home games. Rookie quarterback
Russell Wilson
continued trending in the right direction with three touchdown passes and heady scrambles. His recent performances suggest a bright future for Seattle even as its once-formidable defense sprung additional leaks. The Seahawks are alone in second place behind San Francisco in the NFC West.
What I liked:
Wilson came out firing with two first-quarter touchdown passes, building upon his recent improved play. The Seahawks opened up the playbook early, including when they had receiver
Sidney Rice
throw to tight end
Zach Miller
for a 25-yard gain. Wilson's three first-half scoring passes helped Seattle take a 20-17 halftime lead despite having no answer for Vikings running back
Adrian Peterson
.


Wilson took one sack after taking zero on 35 drop backs at Detroit last week. Offensive lines tend to get credit and blame for sack numbers, but quarterbacks play a critical role, too. Wilson is showing a very good feel for the pocket. He turned at least one sure sack into a short gain Sunday. Wilson ran the four-minute offense effectively to help close out the game.
Marshawn Lynch
topped 100 yards rushing for the third game in a row. He continued to break tackles and overcome missed blocks. Lynch gives the offense attitude. He should have an easier time if Wilson continues his recent improvement.
Seattle's pass defense was effective, particularly considering how well Minnesota was running the ball.
Jeron Johnson
,
Bobby Wagner
,
Bruce Irvin
,
Leroy Hill
and
Greg Scruggs
had sacks or half-sacks. Irvin roughed up Vikings quarterback
Christian Ponder
in the second half. Ponder was limping after that play. The second-year quarterback did not hurt the Seahawks much with his scrambling.
The Seahawks held Ponder to 2.9 yards per pass attempt. They sacked him four times and picked him off once.
Brandon Browner
's diving interception was the catch of the game.
Earl Thomas
narrowly missed another shot at picking off Ponder.
What I didn't like:
Seattle's once-fearsome run defense continued to struggle. The Seahawks entered this game ranked 19th in yards per carry allowed over their previous three games. They promptly allowed a 72-yard run to Peterson on the Vikings' first drive. Peterson had 144 yards by halftime. And when he scored on a 4-yard run in the second quarter, Seattle's defense had allowed 28 points in its last 28 minutes of clock time. Peterson had more yards rushing than Seattle allowed during its first three games combined.
Seattle had an extra point try blocked in the first half. Coach Pete Carroll, who admittedly botched a replay challenge against Detroit last week, lost a questionable second-half challenge in this game. Running back
Robert Turbin
and receiver
Jermaine Kearse
dropped passes.
Moffitt's role:
John Moffitt
started at left guard after the Seahawks named
James Carpenter
inactive. There had been some thought Moffitt might start at right guard, where he started previously. Moffitt got backed up and lost his helmet to blow up a short-yardage run in the first half. Moffitt later helped clear the way for Lynch's 23-yard run to the 9-yard line with 5:30 left in the third quarter. Moffitt also helped clear the way for Lynch's 3-yard scoring run later in the drive.
Injury watch:
K.J. Wright
, the Seahawks' starting strongside linebacker, left the game in the first quarter after suffering a concussion.
Mike Morgan
replaced him.
The Seahawks lost center
Max Unger
, their best offensive lineman this season, to a hand injury in the third quarter.
Lemuel Jeanpierre
replaced him. Unger returned to the game after undergoing X-rays.
The Vikings lost receiver
Percy Harvin
to a leg injury in the third quarter. Harvin had just returned after a hamstring injury had forced him to the sideline. Harvin was injured when Wagner tackled him on the perimeter. Harvin returned the game, but he was limping and did not pose the same threat from that point forward.
What's next:
The Seahawks are home against the
New York Jets
in Week 10.
August, 24, 2012
8/24/12
11:00
PM ET
Looking back on three things discussed here before the Seattle Seahawks' preseason game Friday night at Kansas City (they led 44-7 in the fourth quarter when I filed this):


1. Russell Wilson's efficiency.
The rookie quarterback led Seattle to three field goals and three touchdowns on his first six possessions. Wilson played another series with the backups. That one included a 40-yard strike to
Terrell Owens
before the drive ended with a missed 51-yard field goal. Wilson completed 13 of 19 passes for 185 yards and two touchdowns. He ran twice for 58 yards, including once for a 31-yard gain on third-and-7.
This had to be enough for Wilson to emerge as the favorite to start on a night when
Matt Flynn
sat out to rest a sore throwing elbow. If not, what more did Wilson need to do?
Update:
After the game, coach Pete Carroll indicated he would not name a starting quarterback at this time.
Wilson got receiver
Sidney Rice
involved early. He ran the two-minute offense effectively before halftime. Wilson connected on downfield throws with Owens,
Braylon Edwards
,
Kellen Winslow
,
Anthony McCoy
and
Golden Tate
. Winslow and
Charly Martin
caught scoring passes. Wilson completed passes covering 40, 32, 25 and 21 yards.
Wilson did miss McCoy over the middle on a second-and-15 play, but otherwise, he was mostly on the mark. Seattle had to like what it saw from Wilson and two other rookies, right guard
J.R. Sweezy
and running back
Robert Turbin
. Sweezy's aggressive run blocking stood out. Turbin ran with power and also showed surprising speed in pulling away from Kansas City linebackers to break a 25-yard scoring run. Turbin carried 14 times for 93 yards.
With Flynn out,
Tarvaris Jackson
made his 2012 exhibition debut, taking over late in the third quarter.
2. WRs revisited.
Edwards looked good again. Owens struggled until making an improbable overhead catch while putting on the brakes along the sideline. Owens resembled a man slipping on a banana peel. The play required skill and concentration. Teammates cheered loudly along the sideline after the catch.
Earlier, Owens could not make a catch when defended well along the right sideline. He missed another chance on a third-down pass thrown slightly behind him, but a penalty for roughing the passer kept the drive going for Seattle.
Golden Tate held onto a contested ball for a 14-yard gain, and his 92-yard punt return for a touchdown was most impressive.
3. Pass-rushers.
Rookie
Greg Scruggs
collected a sack early. Seattle held
Matt Cassel
to 4.9 yards per pass attempt, pressuring him occasionally without collecting sacks.
The Chiefs converted five times on third down during a 17-play, 80-yard touchdown drive against Seattle's starting defense.
Mike Morgan
and
Cordarro Law
did collect sacks for Seattle later in the game.
August, 3, 2011
8/03/11
12:51
PM ET
RENTON, Wash. -- NFL training camps aren't what they used to be now that players have secured day-spa treatment from coaches under the new labor agreement.

Still, teams aren't practicing in slippers and robes ... yet.
Earl Thomas
, the
Seattle Seahawks
' second-year safety, did go through a recent practice -- make that a walk-through, just to be safe -- wearing a visor that also would have served him well standing over a Titleist. Several teammates wore ball caps.
None of this shocks the system for Seattle.
Coach Pete Carroll ran a player-friendly camp last year as well, giving the team full days off from practice. But the veterans who lauded Carroll's approach in 2010 aren't around to celebrate it this year. And therein lies the biggest difference for the Seahawks this summer.
For the first time since 2000, quarterback
Matt Hasselbeck
isn't around to offer the insights and asides that made him mandatory viewing at Seahawks camp. Middle linebacker
Lofa Tatupu
, leader of the defense since 2005, also is gone. Other veterans I polled during the inaugural Camp Carroll are also elsewhere --
Lawyer Milloy
,
T.J. Houshmandzadeh
and
Olindo Mare
among them.
This day has been coming for a while. The Seahawks are getting on with their lives, untethered from what came before.
THREE HOT ISSUES
[+] Enlarge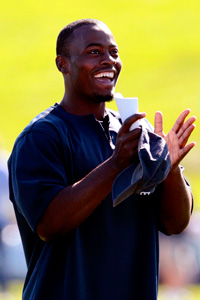 AP Photo/Elaine ThompsonTarvaris Jackson should be familiar with the Seahawks' offense since he spent five seasons with new coordinator Darrell Bevell.
1. Why Tarvaris Jackson?
The Seahawks decided it was time to move on from Hasselbeck before they had a long-term replacement lined up. Once that decision was made, the team targeted Jackson because he and the Seahawks' new offensive coordinator, Darrell Bevell, had spent five years together. Once Jackson was signed, Carroll wasted little time endorsing him as the starter. Three possible explanations come to mind. One, Jackson knew the offense. Two,
Charlie Whitehurst
hadn't asserted himself as a leader during offseason workouts when Hasselbeck was without a contract for 2011. Three, a quick endorsement gave Jackson a confidence boost following a rough run in Minnesota. There's a feeling that maybe, just maybe, Brad Childress did not give Jackson the best chance to succeed with the Vikings.
2. Who will lead the defense?
Tatupu's release following six seasons with the team leaves the defense in transition. Tatupu was instinctive and adept at getting teammates lined up properly. His play had deteriorated through injuries, but Tatupu had three Pro Bowls and a Super Bowl on his résumé. He was the defensive leader. Carroll pointed to linebacker
David Hawthorne
, pass-rusher
Chris Clemons
and defensive end
Red Bryant
as heirs. He named Thomas and strong safety
Kam Chancellor
as well. "I'm not worried about it," Carroll said. "There's a lot of very strong character kids on that side of the ball, particularly."
3. Does Whitehurst have a future?
It's tough to see him emerging in Seattle. The decision to go with Jackson even though rules prevented him from practicing right away said plenty about Whitehurst's status on the team. Whitehurst has been running the first-team offense while Jackson waits to become eligible under rules for players with new contracts. Everyone knows he's the backup even though there was never any competition. It's a tough situation for Whitehurst. Still, getting to work with the starters provided an opportunity to impress. It has not happened. Whitehurst's contract runs through the 2011 season. If Whitehurst doesn't show more as camp progresses, it's fair to wonder whether the team would consider bringing in a cheaper veteran.
BIGGEST SURPRISE
Signing Zach Miller in free agency.
Miller was on the Seahawks' radar when free agency opened. Assistant head coach/offensive line Tom Cable had high praise for Miller from their days together in Oakland. But the Seahawks never expected Miller to remain available so deep into the signing period. After a while, the Seahawks began to view Miller the way they would view a talented prospect falling to them in the draft. They felt compelled to pursue Miller with a strong offer. The Raiders made a push to keep Miller, but Seattle came through with a five-year, $34 million contract featuring $17 million in guarantees. Having Cable and former Raiders guard
Robert Gallery
in Seattle helped the Seahawks get this deal done. The team emerged from free agency with a 25-year-old Pro Bowl player.
BIGGEST DISAPPOINTMENT
Extending the lockout (sort of).
Carroll has bristled every day over the rules preventing newly signed players from practicing before Aug. 4, only one week before Seattle's exhibition opener at San Diego. Jackson,
Sidney Rice
and Gallery are among the key additions who were forbidden from participating in practices or even workouts with the team. The situation was tough for teams throughout the league, but Seattle felt challenged more than most because the team has undergone so much roster turnover. Seattle also has quite a few new coaches on the offensive side of the ball, including Bevell, Cable and quarterbacks coach Carl Smith. Going a week without getting key starters onto the field didn't make any sense from a football standpoint.
OBSERVATION DECK
[+] Enlarge

AP Photo/Elaine ThompsonRussell Okung has shown no signs of the injuries that nagged him last season.

The ankle injuries that slowed left tackle Russell Okung as a rookie last season haven't been a problem so far. Okung appears exceedingly smooth. He rides out defenders effectively during pass-rush drills, sometimes even driving them to the ground. He's a threat to flatten defenders in the running game. Another recent first-round pick on the line, James Carpenter, has made a positive first impression at right tackle early in camp. He's thick and massive. He plays with an edge. He's going to start in Week 1.

Rookie right guard John Moffitt projects as a starter, but he could need time to develop. That was my impression watching Moffitt in drills. Of course, it's not fair comparing Moffitt to Okung or Carpenter. Those guys were first-round picks. Moffitt was a third-rounder. Having youth on the line is a good thing overall. Getting the 31-year-old Gallery into the lineup is critical, however. Gallery has been serving as a coach on the field during practices. He knows Cable's blocking schemes and is already proving valuable as a resource. Durability is a concern for him.

Seattle is finished with the big-ticket purchases in free agency. The team could still add veterans at linebacker and kicker. The team lacks experience in the secondary as well. Marcus Trufant and Kelly Jennings are the only cornerbacks on the team with more than one start. Going young sounds great during the offseason, but throwing untested corners onto the field against veteran quarterbacks isn't very appealing when the games start counting. The Seahawks face Ben Roethlisberger, Matt Ryan and Eli Manning in the first five weeks of the regular season.

Strong safety Jeron Johnson and three linebackers -- Mike Morgan, K.J. Wright and Malcolm Smith -- are among the rookies impressing Seattle early in camp. Another rookie, safety Mark LeGree, is getting a chance to play safety when Thomas, the starter at free, shifts to cornerback against slot receivers. Carroll alluded to such an arrangement during the draft. One more rookie, Pep Levingston, has impressed in early one-on-one pass-rush drills. A defensive tackle at LSU, Levingston projects as an end with Seattle. He's leaner than I had anticipated, an advantage in pass-rush drills.

Seven of the 11 cornerbacks on the roster are at least 6 feet tall. Three are 5-foot-11 and one is 5-10. The biggest, Brandon Browner, goes 6-4 and 221 pounds. Impressive? Perhaps, but only three of the 11 have started an NFL game, and none of the three with starting experience stands taller than 5-11.

Size is a theme throughout the roster. Mike Williams, Rice and fellow receiver Kris Durham are at least 6-4.

The Seahawks might need to find more touches for Leon Washington if they hope to get sufficient return on their investment in him. New rules governing kickoffs figure to diminish the value of Washington and other top returners.

Seattle's front office trusted its coaches during free agency. Just about every free-agent addition has ties to a Seahawks staff member. Miller and Gallery played for Cable in Oakland. Jackson and Rice played for Bevell in Minnesota. Defensive tackle Alan Branch was an exception. Seattle added him after failing to land a defensive tackle in the draft. Ideally, Branch would be a backup. He could start for Seattle at three-technique, with Brandon Mebane moving to nose tackle. Branch will also back up Bryant at five-technique.

For the second year in a row under Carroll, the Seahawks are piping hip-hop beats and mixes into practices. A disc jockey stands behind two turntables near the front corner of the practices fields. "Halfway home and my pager still blowin' up, today I didn't even have to use my A.K. I got to say it was a good day ..." Hearing those lyrics from Ice Cube during a recent practice, I couldn't help but wonder what Chuck Knox would think of the arrangement. Did I mention times have changed in the NFL? Just a little.
July, 26, 2011
7/26/11
3:52
PM ET
The
Seattle Seahawks
announced contract agreements with 19 undrafted rookies Tuesday.
I've sorted them by position group for quick scanning.
As noted, Seattle needed multiple quarterbacks in the short term to get through practices before the league year begins Aug. 4. Rookies can practice immediately. Veterans with contracts that expired following the 2010 season must wait until Aug. 4 before practicing under terms of their new contracts.
Josh Portis and Zac Lee give Seattle two young arms for camp.
Portis comes to Seattle with NFL roots. His cousin,
Clinton Portis
, has rushed for 9,923 yards in nine NFL seasons. Lee played for Nebraska and bounced back from arm surgery to address an injury suffered during his junior season. He
worked out
for NFL teams, including the
San Francisco 49ers
, but was not drafted.
Portis and Lee are both on the shorter side for NFL quarterbacks, measuring under 6-foot-3. Both ran the 40-yard dash in about 4.6 seconds.

NFL SCOREBOARD
Thursday, 12/18
Saturday, 12/20
Sunday, 12/21
Monday, 12/22
WEEKLY LEADERS