December, 23, 2011
12/23/11
1:30
PM ET
»
NFC Final Word
:
East
|
West
|
North
|
South
»
AFC
:
East
|
West
|
North
|
South
Five nuggets of knowledge about Week 16:
On pace to be rushing king:
No Jaguar has ever led the NFL in rushing, but
Maurice Jones-Drew
is atop the leader board now with 1,334 yards. He needs 239 rush yards in his final two games to top Fred Taylor's franchise single-season record set in 2003 — and is just 57 yards off his career best of 1,391 from 2009. He carried 24 times for 97 yards in the Jaguars' 16-14 Week 1 victory Tennessee at EverBank Field. Jacksonville came into the season talking about monitoring Jones-Drew so he'd still be close to full strength at the end. He's taken a very heavy load and is still going strong.
[+] Enlarge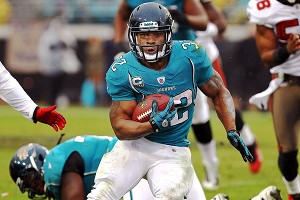 Kim Klement/US PresswireMaurice Jones-Drew is closing in on some milestones -- and maybe an NFL rushing title.
Four times 1,000:
Titans running back
Chris Johnson
needs 70 yards to reach 1,000 for the season. He topped 1,000 yards each of his first three NFL seasons. In careers that began since 2000, only four players have had four 1,000-yard seasons in their first four NFL years:
Adrian Peterson
,
Clinton Portis
,
LaDainian Tomlinson
and Jamal Lewis. Johnson's been very inconsistent this year, with more bad than good. He averaged 3.0 yards per rush in his past two games and 7.5 yards per rush in the two games before that.
Trouble to mull:
The Texans come out of their second consecutive loss with a couple big issues, but none that outranks their dwindling scoring production. Since
Matt Schaub
went down, Houston is averaging 17.2 points in five games. With Schaub, that number was 27.3. Although the defense can handle some dropoff, 10 fewer points per game dramatically slices the margin for error. If the Texans have a bad defensive drive like they did at the end in Indianapolis, they might not survive it -- in the finale against the Titans or in their first playoff game a week or two later.
Riding a wave:
The Colts are peaking late with two victories in a row. Even if they win Jan. 1 in Jacksonville, the late surge won't mean that a healthy
Peyton Manning
will fix everything. A big finish shouldn't wash away all the concerns that became obvious during the 0-13 start, but it might make a case for the survival of the defensive system and perhaps for Mike Murphy to remain in place as the coordinator.
Also:
The Jaguars need to win one of their final two games to avoid matching the worst record in franchise history. They were 4-12 in 1995, their first season in NFL. …
Blaine Gabbert
's Total QBR of 20.4 is the league's lowest. … The Titans can be eliminated from playoff contention this week -- most simply with a loss and either a Bengals or Jets win or tie. … The Jags have six sacks in their last five games, which is one more than the Titans have had in the same span. Veteran Tennessee quarterback
Matt Hasselbeck
handles pressure better than rookie Gabbert will.
December, 18, 2011
12/18/11
8:07
PM ET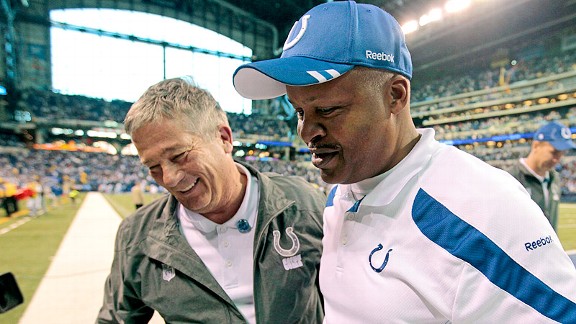 AP Photo/Darron CummingsThe Colts avoided a winless season by taking down the Tennessee Titans with strong defense.
INDIANAPOLIS -- The
Indianapolis Colts
were excited, but not overly so. They smiled and patted each other on the back, but hardly lit victory cigars.
They didn't seem to struggle with finding just the right tone in enjoying their first win of the season Sunday while keeping it in context too.
After toppling the
Tennessee Titans
27-13
, they know a 1-13 record is hardly something to be proud about when you are a franchise used to winning the AFC South. But it sure tops 0-14.
They were clearly pleased to know a bottoming-out season minus a contribution from
Peyton Manning
wouldn't take them so far as just the second winless mark since the league started playing a 16-game regular season in 1978.
"It's a great relief," defensive end
Robert Mathis
said. "It just feels good to get a victory."
"Nobody wants to go 0-16," receiver
Reggie Wayne
said. "It was good for us to go out and get a win. It was great for us to win at home. Hopefully it's contagious. Hopefully we can win these next two games which are division opponents and we'll go out and have some good drinks at the end of the year and hope for a better one next year."
The defense keyed the victory. It took the ball away from Tennessee three times, including a
Jacob Lacey
interception stolen from
Chris Johnson
that was returned 32 yards for a touchdown that made it 17-6. The Titans' last five possessions from there ended like this: punt, fumble, interception, touchdown and turned over on downs.
The Titans certainly made a mighty contribution to the result. Starting quarterback
Matt Hasselbeck
said one big theme during the week was that a sack and a fumble caused by
Dwight Freeney
or Mathis would be one way to lose. So the game plan called for a lot of quick throws to make sure the ball was out of the quarterback's hand early.
That was misguided. Most opponents this season diffused the pass rushing duo in a much more effective way: By taking a lead that made the Colts have to deal with the run rather than key on the pass, by forcing a struggling offense to try to find big plays to catch up and inevitably make mistakes.
The Colts came into the game as just the second team in league history to go eight full games without holding a lead. The Titans allowed them to move ahead 3-0 in the first quarter and 10-6 in the third. From there, Indianapolis built with a confidence rarely shown this season.
Titans coach
Mike Munchak
said the Colts were "making us throw the ball underneath."
His team is hardly world beaters, but it's been consistently better than the Colts this season and beat them 27-10 in Nashville on Oct. 30. A team with playoff possibilities against a winless one shouldn't be dictated to. It should be dictating.
Instead, even though they weren't necessarily big leads, the Colts thrived off of being ahead.
"You don't have to gamble nearly as much, you don't have to get into too many man coverage situations," coach Jim Caldwell said. "You can make them just kind of dump the ball and drop it underneath and try to break down and tackle in bounds and keep that clock running."
I think Colts vice chairman Bill Polian overstated when he said in the three weeks since defensive coordinator Larry Coyer was fired and replaced by linebacker coach Mike Murphy that Murphy and the defensive staff "got this team flying again."
But the defensive tackles got a consistent push and the coverage of receivers and tight ends by an injury-depleted secondary was generally tight.
After it was over, the Titans talked of being lifeless from the start and the Colts talked of having some bounce.
"I never would have expected us to come out and look like they were the team that was going to the playoffs and we were the team that was 0-13," Munchak said. "That can't be."
Now Munchak faces a decision on whether to stick with Hasselbeck or turn to rookie
Jake Locker
while the Colts turn their attention to their two other division opponents.
Wayne said it was a big deal not to get swept in the season series by Tennessee. The Colts have already lost to Houston and Jacksonville as well, and finish the season with rematches.
Can they find a couple more wins to savor? Can they find them with just 82 passing yards the way they found this one?
"It's been a year since we've won," Freeney said, exaggerating slightly. The Colts last won on Jan. 2.
"Regardless of whether it's one or 10 or whatever, whenever you can win in this league, it means a lot. You definitely can't take it for granted. This year you're really sure you can't."
December, 2, 2011
12/02/11
1:30
PM ET
»
NFC Final Word
:
East
|
West
|
North
|
South
»
AFC
:
East
|
West
|
North
|
South
Five nuggets of knowledge about Week 13:
Keep away:
The Bills are an excellent turnover team -- they've gotten 16 picks and recovered six fumbles this season. And they make a habit out of turning turnovers into points.
Matt Hasselbeck
has had a lot of balls tipped at the line this season, and those are the kinds of passes that can turn into big plays. Although the Titans won't want Hasselbeck to be overly cautious a week after surviving four giveaways in a win over Tampa Bay, they won't get away with a similar performance.
[+] Enlarge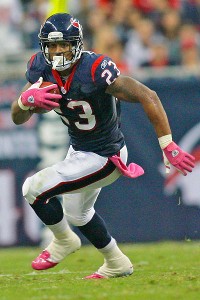 Brett Davis/US PresswireDespite Atlanta's stout run defense, the Texans will likely lean heavily on Arian Foster and the ground game Sunday.
Run-stoppers:
Although the Texans will ask
T.J. Yates
to make some throws to keep the Falcons honest, they will want to base their offense on handoffs to
Arian Foster
and
Ben Tate
. The Falcons' rush defense, however, ranks second in rushing yards allowed per game at 83.5. They have not allowed a 100-yard rusher since
Jonathan Stewart
had 133 for the Panthers in Week 14 of last season. That's 14 straight games without allowing a 100-yard rusher.
Outscored:
The Colts are the eighth team to start the season 0-11 since the NFL went to a 16-game schedule in 1978. Should the Colts lose in New England, they would become the sixth team to start 0-12. The 1986 Colts lost their first 12 and still wound up with three wins. These Colts have been outscored by 177 points. The only team to get outscored by more points in its first 11 games over the last 30 years was the 2008 Rams. Will Mike Murphy make much of a difference as the new coordinator of Indianapolis' besieged defense? How will Indy look to defend the very dangerous tight end
Rob Gronkowski
? To have any chance of staying close, they'll need to find a way to slow him.
Tough sell:
The combined win percentage of the Chargers and Jaguars entering this game is .318 (7-15). According to Elias, it's the worst combined win percentage for two teams entering a "Monday Night Football" game this late in a season since the Ravens (4-9) and Packers (3-10) met in Week 15 of 2005. So it's not a game with playoff implications. But two bad teams could be evenly matched and provide a close game. Jacksonville's got some new life with a coaching change, and San Diego is still dealing with the pressure on Norv Turner, who appears destined to be fired. After a week of huge change, the Jaguars really need to come out riled up and start big.
Bonus nuggets:
San Diego quarterback
Philip Rivers
has thrown 10 interceptions this season as a result of an over- or underthrown pass, the most off-target interceptions in the NFL. Jacksonville's inexperienced corners,
Will Middleton
and
Ashton Youboty
could benefit from that … Yates is the fifth quarterback in the last 25 years to take over a team on a winning streak of five games or more.
Caleb Hanie
lost for the Bears last year,
Bill Musgrave
lost for the Broncos in 1996, Jason Garrett won for Dallas in 1993 and
Doug Flutie
won for Chicago in 1986 … With a win Sunday against the Colts,
Tom Brady
would break a tie with Johnny Unitas and move into sole possession of sixth place on the all-time regular season wins list by a starting quarterback with 120.
February, 3, 2010
2/03/10
12:39
PM ET
FORT LAUDERDALE, Fla. -- Add Colts linebackers coach Mike Murphy to the team's injury report. He is wearing a boot on his right foot.
I asked him what happened, so I will let him do the talking from here:
"I cracked the non-weight-bearing bone in my ankle. I was walking home with chicken wings and stepped off the edge of my walk and fell into the bushes on Friday and cracked my ankle. There was ice on the side. I didn't drop the chicken wings though. And the guy that I was with had another batch. Instead of picking me up, he took my chicken wings in the house, then they came back to get me. I ate a couple of wings and put some ice on it.
"The next day when I got up and had to crawl to the bathroom I said, 'I think maybe I better go see the trainers.' I've just got to wear a boot and I'm probable. As long as I can get my pants on, I'm OK."
Murphy said he already knows never to stand near a first-down marker, and that while the linebackers aren't giving him any grief, he's also not getting any sympathy.
"When they get hurt, you don't ask them, you just expect them to go," he said. "So they're expecting me to do the same. I'll be there. I won't be moving fast though."