September, 29, 2014
Sep 29
9:40
PM ET
GREEN BAY, Wis. -- No one had to tell the
Green Bay Packers
where their run defense was ranked after Sunday's win over the
Chicago Bears
.
"I'm aware what the numbers are," coach Mike McCarthy said Monday. "Nobody likes it."
The Packers' run defense went from bad (27
th
in the league) before Sunday to the worst.
[+] Enlarge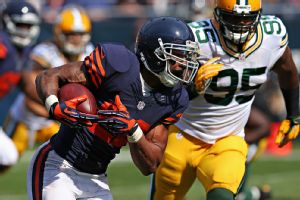 Jonathan Daniel/Getty ImagesFacing the Green Bay Packers' last-place rush defense was a pick-me-up for a previously struggling Chicago Bears rushing attack.
After giving up 235 yards rushing -- the third-highest total since Dom Capers took over as defensive coordinator in 2009 -- the Packers found themselves dead last in the league, allowing an inexcusable 176.0 yards per game, through Sunday's Week 4 games.
Lest you thought the Bears were a rushing juggernaut, you should know this: Before Sunday, they ranked 32
nd
in the league in rushing yards per game.
"Give Chicago credit, offensively they did some really good things," McCarthy said. "They played well. They're a good offense. But giving up that much yardage, there's no excuse for that. We understand that. But there are things we can definitely work on and improve on."
There's not much time to do it this week. The Packers will hold only one practice, on Tuesday, during
an abbreviated week
in advance of Thursday's game against the
Minnesota Vikings
, who, by the way, rushed for 241 yards in a win over the
Atlanta Falcons
on Sunday.
When Capers was hired following the 2008 season, his directive was to fix a run defense that finished 26
th
in the NFL that year. The next season, Capers' unit led the league in rushing defense. Since then, they have not finished a season ranked better than 14
th
in that all-important category.
"I think fundamentally, since day one of my football career, my coaches have always said, 'Stop the run,'" Packers safety
Micah Hyde
said Monday. "That's just something you have to do in football because if you getting ran all over, then you can get [gashed] throwing it. So you stop the run, you can switch things up from there and make it a one-dimensional game, and that's always easier on a defense. That's just what we try to do. We weren't successful yesterday. That's evident, but we can build off the positive things."
You can question the Packers' decision to eschew two of their bulky defensive linemen --
Ryan Pickett
, who was out of football until he signed last week with the
Houston Texans
, and the still unsigned Johnny Jolly -- or blame part of the problem on the injury to nose tackle
B.J. Raji
(who is on injured reserve), but McCarthy and several players insisted on Monday that they still have the right kind of personnel to stop the run.
"We've done it before," defensive tackle
Mike Daniels
said.
Not this year.
In order so far, the Packers' opponents have put up rushing yardage of 207 (Seahawks), 146 (Jets), 115 (Lions) and 235 (Bears).
"I don't think anybody disagrees with our approach," McCarthy said. "We're utilizing our players, we're playing to our players' strengths. Everything we've adjusted is in the best interest of our players."
Capers tried something new against the Bears, using 6-foot-4, 332-pound rookie
Mike Pennel
(the team's biggest defensive linemen) for the first time. The rookie was credited with two tackles.
"We're just growing together," Pennel said. "We're learning. The vets are keeping us on our technique and everything. A lot of people hitting us with a lot of different things. We just have to trust in our coaching and we'll get better at it."
September, 21, 2014
Sep 21
12:10
PM ET
DETROIT -- With the
Detroit Lions
' secondary in tatters, the
Green Bay Packers
should be able to move the ball through the air if they can protect quarterback
Aaron Rodgers
.
Bulaga
Having right tackle
Bryan Bulaga
should help that.
Bulaga was declared active for Sunday's game at Ford Field after missing last week's game against the
New York Jets
because of the knee injury he sustained in Week 1 at the
Seattle Seahawks
. In Bulaga's absence,
Derek Sherrod
allowed three sacks in six quarters of action.
On Friday, Bulaga appeared to be on track to play despite being
listed as questionable
for the second straight week.
The Lions are not only without safety
James Ihedigbo
but also may have to use
Danny Gorrer
, who was signed by the Lions this week, as their third cornerback behind starters
Rashean Mathis
and
Darius Slay
. They also promoted cornerback
Mohammed Seisay
from the practice squad Saturday.
Packers cornerback
Casey Hayward
, who also was listed as questionable because of a glute strain, will be available for the game. However, that does not necessarily mean he will have a role on defense. Last week against the Jets, the Packers went with
Davon House
as their No. 3 cornerback in the nickel package over Hayward.
For the second straight week,
Jamari Lattimore
will start at inside linebacker for the injured
Brad Jones
(quadriceps).
With only 52 players on the roster after they placed outside linebacker
Andy Mulumba
(torn ACL) on injured reserve Friday, the Packers had only six inactives for Sunday's game. Mulumba's injury opened the door for rookie outside linebacker
Jayrone Elliott
to be active for the first time.
Here are the Packers' inactives:
September, 2, 2014
Sep 2
11:15
AM ET
GREEN BAY, Wis. – It goes against everything you probably think run defense is about in the NFL.
Smaller cannot be better.
Not in a world of 325-pound offensive linemen, 250-pound fullbacks and 230-pound running backs.
But after watching their 1,000 pounds of girth on the defensive line last season fall from a top-five run defense at the midway point of last season all the way to 25
th
by end of the year, the
Green Bay Packers
are trying a different approach.
[+] Enlarge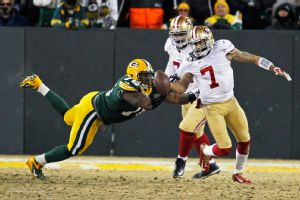 Matt Ludtke/AP ImagesMike Daniels moves into a starting role this season after posting 6.5 sacks in 2013.
With that kind of decline, the Packers could not stand pat. So they let two of their three starters from last year – 338-pound
Ryan Pickett
and 325-pound
Johnny Jolly
-- leave after their contracts expired. Both remain out of football. They planned to surround their 337-pound nose tackle B.J. Raji with a pair of lighter, more athletic defensive ends in
Datone Jones
(285 pounds) and
Mike Daniels
(305).
And then they lost Raji to a season-ending torn biceps in the preseason.
So the defensive line the Packers will take into Thursday's opener at the
Seattle Seahawks
has an average weight of 309.4 pounds. Last year's defensive line averaged 314.3 per man. This year, the Packers have just one 330-plus pounder, undrafted rookie backup nose tackle
Mike Pennel
(332 pounds).
"You look at the type of guys in which we have this year as opposed to years past, it's … I wouldn't say smaller, but I would say it's a more active, faster, more aggressive D-line as well as linebacker group," Packers outside linebacker
Clay Matthews
said. "So we feel good about it."
The early returns suggest the Packers might be on to something, although it's always dangerous to make any assumptions based on the preseason. However, with the exception of a 40-yard run by Oakland's Maurice Jones-Drew, who broke three tackles on the play, the Packers' defensive starters did not have much trouble shutting down the run when they played in the first three preseason games.
"People have tried to run the ball on us in the preseason, and we've done a nice job against that," Packers defensive line coach Mike Trgovac said. "Some of the teams we played -- Oakland, Tennessee and St. Louis -- they were not fancy. Oakland, especially, was a power team. I think we'll be OK there."
The Seahawks might be the better judge of that.
The defending Super Bowl champs ranked fourth in the NFL in rushing yards per game (136.8) last season, which is nearly what the Packers allowed per game last season. And the Seahawks' featured back,
Marshawn Lynch
, breaks tackles by the handful.
The Packers go into that game with a new nose tackle -- free-agent pick
Letroy Guion
(315 pounds) replaces Raji in the starting lineup -- but perhaps defensive coordinator will play even less of his base 3-4 defense than he did last season, when he used it just 24.8 percent of the time.
The alternative would be to use just two down linemen. Either way, the Packers will be smaller and lighter up front than last season.
"It makes me laugh when people say we're smaller," Jones said. "We're not small.
Josh Boyd
and I are both 6-4, 290 pounds. That's not small at all. Those are two big defensive ends. I wouldn't necessarily say we're smaller. I would just say we went away from the 330-pound defensive linemen and went to a more traditional guy. A lot of people don't see that, but it's not like we're a small defensive line so we can't play the run."
August, 30, 2014
Aug 30
8:35
PM ET
GREEN BAY, Wis. --
Clay Matthews
and
Julius Peppers
started calling him "The Sackmaster" after his three-sack performance against the
St. Louis Rams
on Aug. 16.
The
Green Bay Packers
' trainers dubbed him "Shakespeare" because they said all he does is make plays.
And then in Friday night's preseason finale,
Randall Cobb
and
Eddie Lacy
dubbed him "LeBron" after he had to come out of the game because he started to cramp up.
By Saturday, you could just call Jayrone Elliott an NFL player, and that would be just fine with him.
[+] Enlarge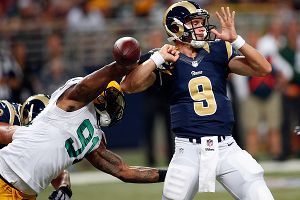 AP Photo/Scott KaneGreen Bay Packers linebacker Jayrone Elliott finished the preseason with five sacks.
The outside linebacker from Toledo was one of two undrafted rookies to make the Packers' roster. Defensive tackle
Mike Pennel
of Colorado State-Pueblo was the other.
When cut-down day came and went without a phone call from anyone in the Packers' personnel department, Elliott reported for the scheduled team meeting at 2 p.m., and it was all business. After three hours of meetings, Elliott had no plans to celebrate his new status as a bona fide NFL player.
"No, I've got a game Thursday, so tomorrow is our Wednesday," Elliott said Saturday evening. "We've got to get ready for Seattle."
Elliott likely solidified his spot on the Packers' roster with his fifth sack of the preseason on Friday against the
Kansas City Chiefs
. No one in the preseason recorded more sacks than the Packers' 6-foot-3, 255-pound rookie outside linebacker.
If he needed one last push, it came against the Chiefs.
Unlike his previous four sacks which came against backups who got released in the final cuts, Elliott had no trouble making plays against a starter. Working against the Chiefs' top right tackle
Donald Stephenson
, Elliott used a power move to sack
Chase Daniel
in the first quarter. One play earlier, Elliott showed his versatility by using a speed move to beat Stephenson to the inside. The third-year pro, who has 14 regular-season starts in his first two seasons, had no choice but to hold Elliott, and he was flagged for it.
There were times when Elliott wondered whether this day would come. He got only six snaps in the preseason opener and eight the next week.
"A couple of times it crossed my mind, because I thought I was doing everything I can to find some reps, and then some days you wouldn't get any reps," Elliott said. "Some days I got down on myself, but there were certain veterans that helped me pick my head up, guys like
Jarrett Boykin
,
Andy Mulumba
and
Morgan Burnett
. So I just had to stay around the vets as much as possible and keep my spirits up."
He tweeted
that Saturday was like his draft day and posted
a video on Instagram
, but then it was back to business after briefly contemplating his journey and thinking back to earlier this offseason, when most veterans around the locker room did not even know his name and
called him by his uniform number 91
.
So what's next for Elliott?
"The same thing that got me here," he said. "Just go out every day and try to better myself and become a smarter football player. I know it seems like I made it, but you can still be cut at any time. You've still got to attack every day like it's your last, and you've still got to have that same chip."
August, 26, 2014
Aug 26
3:00
PM ET
GREEN BAY, Wis. -- It often takes an injury or an unusually poor preseason showing for a
Green Bay Packers
draft pick to get cut at the end of his rookie training camp.
Take last year's class as an example. Of the 11 players picked, eight made the opening-day roster.
The three who did not – fourth-round pick
JC Tretter
plus seventh-rounders Charles Johnson and
Kevin Dorsey
– all had injury issues. Tretter missed all of camp because of a broken ankle that forced him to start the season on the physically unable to perform list, while Johnson and Dorsey battled injuries throughout the offseason. Johnson played in only two preseason games, while Dorsey played in only one. Johnson landed on the practice squad before the
Cleveland Browns
signed him, and Dorsey spent the season on injured reserve.
With that in mind, here's a look at where things stand for each member of general manager Ted Thompson's 2014 draft class heading into Thursday's preseason finale against the
Kansas City Chiefs
, plus the undrafted rookies who could be on the verge of winning a roster spot:
Ha Ha Clinton-Dix, S (first round)
: After a slow start to training camp, Clinton-Dix has found himself around the ball more often of late. He has three interceptions during practices this summer, which ties safety
Sean Richardson
for the camp lead. However, it looks like he won't unseat second-year pro
Micah Hyde
for a starting job. That means Clinton-Dix likely will play only in the dime (six defensive back) package to start the season.
Davante Adams, WR (second round)
: Early in camp, Adams was pushing
Jarrett Boykin
for
the No. 3 receiver spot
but inconsistent play derailed that. Meanwhile, Boykin has overcome a slow start to secure that spot. If Adams can refine his route running and shore up his hands, he could still make a push for more playing time as the year goes on.
[+] Enlarge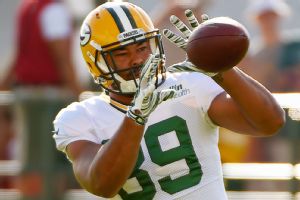 Benny Sieu/USA TODAY SportsRookie Richard Rodgers is in line to be the Packers' starting tight end.
Khyri Thornton, DE (third round
): Much like fifth-round defensive end
Josh Boyd
last season as a rookie, it's been a big adjustment for Thornton. Thompson has never cut a third-round pick coming out of his first training camp, but Thornton might have trouble getting on the field early in the season. Playing mostly against second- and third-stringers in preseason games, Thornton has just one quarterback hurry and no sacks or hits in 81 snaps, according to ProFootballFocus.com. Boyd was inactive for six of the first eight games last season. Thornton could follow a similar path.
Richard Rodgers, TE (third round)
: Without much fanfare, Rodgers appears to have won the starting job over veteran
Andrew Quarless
and up-and-comer
Brandon Bostick
(who went down with a foot injury in the second preseason game). However, Bostick almost certainly would have been the tight end in two-minute situations and likely will be when he returns next month. Rodgers' blocking has to catch up to his pass-catching ability.
Carl Bradford, LB (fourth round)
: It doesn't matter how the Packers spin the
last-minute decision to switch
Bradford from outside to inside linebacker this week, that's a tell-tale sign that they're concerned he may never be able to be a productive pass-rusher off the edge. Thompson has not cut a fourth-round rookie since receiver Cory Rodgers in 2006, but Bradford has been just as disappointing. If he makes it, it's solely because they're not ready to give up on him yet.
Corey Linsley, C (fifth round)
: This was supposed to be a redshirt season for him, but
the knee injury to Tretter
last week means Linsley might be the most important rookie on the team when the Packers open the regular season in Seattle. His responsibility as the starting center, even if it's only until Tretter returns, is far greater than what any other member of this draft class faces. Physically, he looks the part, but his mental errors have hampered him.
Jared Abbrederis, WR (fifth round)
: The former Wisconsin standout almost certainly would have made a strong push for the No. 5 or 6 receiver spot if not for a torn ACL in the first week of camp. He also would have had a chance at the kick return job but instead will spend his rookie season on injured reserve.
Demetri Goodson, CB (sixth round)
: The former college basketball player at Gonzaga who then played three years of football at Baylor has struggled mightily in coverage despite obvious athleticism. He sustained a concussion in last Friday's preseason game against the Raiders, leaving his status his doubt.
Jeff Janis, WR (seventh round)
: Still raw and unschooled in the complexities of the Packers' offense, Janis' speed can't be ignored, which is why Thompson likely will keep him on the roster. After his impressive 34-yard, catch-and-run touchdown in the second preseason game, it's likely a team would claim him before the Packers could sneak him through to the practice squad.
Undrafted rookies with a chance
: Defensive tackle
Mike Pennel
of Colorado State-Pueblo is a virtual lock to make the roster after B.J. Raji's season-ending injury, while outside linebacker Jayrone Elliott (who is tied for the NFL preseason lead in sacks with four) might be only one more good showing away from joining him on the 53.
August, 25, 2014
Aug 25
6:15
PM ET
GREEN BAY, Wis. -- The
Green Bay Packers
signed
Letroy Guion
this offseason because they liked what he showed during his six seasons with the
Minnesota Vikings
.
Guion
If they're going to keep him on their roster, it might have to be for the same reason.
The 6-foot-4, 315-pound defensive tackle finally made his practice debut on Monday after missing nearly the entire training camp because of a hamstring injury he sustained the week before camp opened. His return coincided with the final full-pads practice of camp, and it's not a given he will play in Thursday's preseason finale against the
Kansas City Chiefs
. Between now and then, the Packers will hold only one more practice -- Wednesday's light, day-before-the-game session.
"We'll take another step further at Wednesday's practice in getting some more reps and keep progressing," Packers coach Mike McCarthy said Monday. "It'd be foolish to throw him out there and give him a full load."
The Packers don't have much invested in the 27-year-old, who was a backup in his first four seasons before starting 28 games combined in 2012 and 2013. The only guaranteed money they gave him came in the form of a $100,000 signing bonus.
But with
the season-ending injury
to nose tackle
B.J. Raji
, Guion suddenly became a much more important player.
"It's always an urgency when a man goes down," Guion said. "It makes me have to step up, having to be that guy. So I'm going to take all my steps forward to do what I've got to do to get prepared."
In Guion, the Packers have a rare veteran option on a defensive line that without Raji features only one player who has made a start for the Packers. That's third-year pro
Mike Daniels
, a projected starting defensive end who in his first two years has made one start.
"That's good to have that veteran presence," said Daniels, who also could be an option to move to nose tackle. "[The] guy's been doing this for going into his seventh year; obviously had some success. He's played some very good, tough football. He's a tough, strong guy. We could use that."
Guion and undrafted rookie
Mike Pennel
are the only two true nose tackles the Packers have without Raji. Second-year pro
Josh Boyd
, who replaced Raji after his injury against the
Oakland Raiders
on Friday, played almost exclusively at defensive end last year as a rookie. However, Boyd played nose tackle in college at Mississippi State for two years before moving to end.
"You know, I've always been a guy who could play pretty much all the positions," Boyd said. "So it really doesn't matter. The best place they need me is where I'll play. So I'm very comfortable with anything."
August, 23, 2014
Aug 23
3:25
PM ET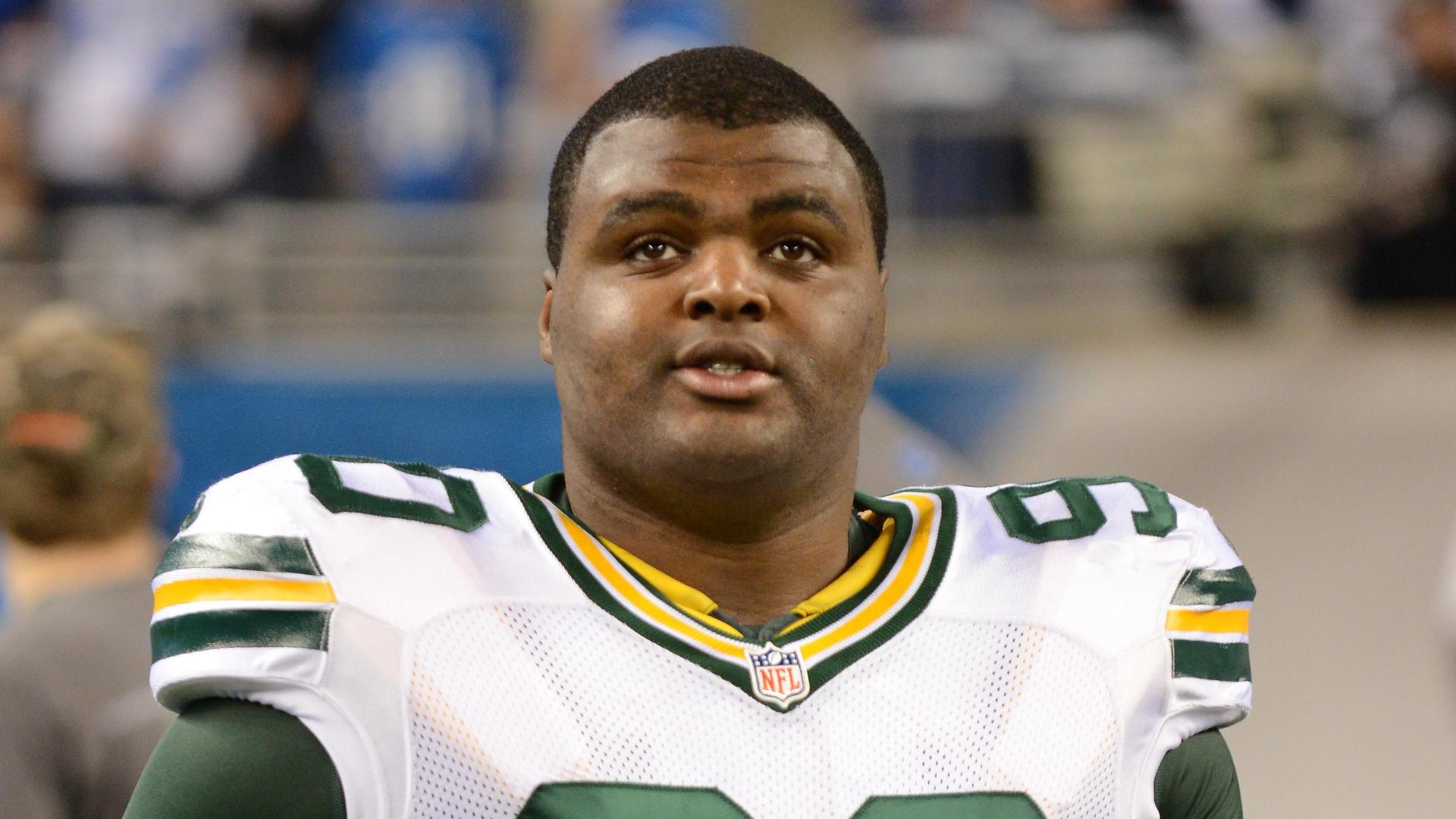 GREEN BAY, Wis. -- The immediate reaction when a player gets hurt is to bring back an aged veteran to replace him, but the
Green Bay Packers
should -- and likely will -- resist that temptation.
Raji
General manager Ted Thompson would have a couple of those options to replace starting nose tackle
B.J. Raji
, who has a torn right biceps and learned on Saturday that he
will miss the entire season
.
But don't look for the Packers to bring back
Ryan Pickett
, who teamed with Raji on the defensive line the past five seasons. The same is likely the case for
Johnny Jolly
, who was the third member of the starting defensive line in Green Bay last year.
Both Pickett and Jolly are out of work and available, but neither fits what the Packers want to do on defense this season. Defensive coordinator Dom Capers aspires to be quicker across the front line, which means they have to get younger. Pickett will turn 35 in October, while Jolly turned 31 in February. Also, Jolly is coming off a neck injury that required fusion surgery.
A year after the Packers started a three-man defensive line that combined to weigh 1,000 pounds -- with Raji at 337, Pickett at 338 and Jolly at 325 -- this season they planned to pair Raji with
Mike Daniels
(305) and
Datone Jones
(285).
The Packers signed former
Minnesota Vikings
backup
Letroy Guion
to play behind Raji, but Guion has yet to practice because of a hamstring injury.
That leaves former fifth-round pick
Josh Boyd
, who replaced Raji after his injury on Friday against the
Oakland Raiders
, as the most likely replacement. It would mean the starting defensive front would feature a pair of second-year players (Boyd and Jones) and a third-year pro (Daniels). The Packers also are high on undrafted rookie
Mike Pennel
, who likely would have made the team even before Raji's injury.
While the Packers lose a starter in Raji, he's not a full-time player. Last season, Capers used his base 3-4 defense on just 252 of 1,015 snaps (24.8 percent). Raji was slated to see some playing time in the nickel package, but Daniels and Jones are the primary duo in that package. Raji would not have played at all in the dime defense.
For Raji, the injury comes at the worst possible time. The 28-year-old former first-round pick signed just a one-year, $4 million contract this offseason with the hope that he could improve his stock with a strong season and parlay that into a bigger deal next offseason.
August, 16, 2014
Aug 16
7:10
PM ET
Green Bay Packers
quarterback
Aaron Rodgers
wanted to stay healthy, and he wanted to lead a touchdown drive.
He did both in his preseason debut Saturday afternoon in St. Louis.
In fact, Rodgers nearly had two touchdown drives, but his second was wiped out by a penalty.
After sitting out the preseason opener at the
Tennessee Titans
a week earlier, Rodgers completed 11 of 13 passes for 128 yards and one touchdown (a 3-yarder to
Randall Cobb
on a classic Rodgers play in which he moved out of the pocket to buy more time). On Rodgers' second -- and final -- series, he thought he had a 10-yard touchdown pass to
Jordy Nelson
on a comeback route, but it was called back because of a penalty on left tackle
David Bakhtiari
, forcing the Packers to settle for a field goal.
Rodgers led a pair of 12-play drives and when he came out, the Packers had a 10-0 lead and
went on to a 21-7 victory
over the
St. Louis Rams
at the Edward Jones Dome. The Packers evened their preseason record at 1-1 heading into Friday's game against the
Oakland Raiders
at Lambeau Field.
Here are some other thoughts on the Packers' second preseason game of the season:
August, 9, 2014
Aug 9
12:00
PM ET
The
Green Bay Packers
(0-0) and
Tennessee Titans
(0-0) open the preseason Saturday night at LP Field in Nashville, Tennessee. Here are three things to watch:
1. Quarterback play
:
Aaron Rodgers
won't
play much on Saturday
-- he did not last preseason, either -- in part because coach Mike McCarthy wants to take a long look at his backup quarterbacks. If
Scott Tolzien
is going to supplant
Matt Flynn
for the No. 2 job -- or convince McCarthy and GM Ted Thompson to keep three quarterbacks -- then he needs to perform better in the preseason games than he has in the first two weeks of practice. Tolzien has improved as camp has gone on, but to date he probably has not done enough to make the Packers think he's a better option than Flynn, who has proven he can win games as a backup in Green Bay. Whichever quarterback wins the job, the Packers feel like they are in a much better position behind Rodgers than they were a year ago, when they brought in Vince Young to compete with Graham Harrell and B.J. Coleman. A year later, all three of those quarterbacks are out of the league.
2. Rookie reactions
: There will be first-game jitters and mistakes, McCarthy and his staff know that about their rookies, so they're not going to complete their report on any player based on the preseason opener. But the coaches would like to see how some key players take what they have been doing on the practice field into the games. Can first-round pick
Ha Ha Clinton-Dix
make the big plays that were lacking from the safeties last season? Can second-round receiver
Davante Adams
get over the drops and continue his push for the No. 3 spot? Will third-round tight end
Richard Rodgers
take another step toward winning the starting job? All will get chances, especially Clinton-Dix, who may start given the absence of
Morgan Burnett
(oblique strain). Said McCarthy: "I'm looking for players to jump out. I want someone to jump out and do exactly what they're supposed to do with the energy and the efficiency that you say, 'Hey, I gotta get ready [because] I'm going to have more opportunities.'"
3. Undrafted gems
: You might not know much about guys like
Carlos Gray
,
Mike Pennel
,
Jayrone Elliott
and
Joe Thomas
but if they continue to play like they have in practice, then you just might become more familiar with them. So far, those four have been the standouts of the undrafted rookie class. Gray and Pennel could challenge for a roster spot on the defensive line, while Elliott has made plays from the outside linebacker position and Thomas from the inside backer spot. The Packers have a history of
doing well with undrafted free agents
. In the past four seasons combined, they have had 13 of them on their Week 1 roster.

NFL SCOREBOARD
Thursday, 12/18
Saturday, 12/20
Sunday, 12/21
Monday, 12/22