August, 1, 2014
8/01/14
12:00
PM ET
OXNARD, Calif. -- At one point Mike Pope made a list of all the drills he has had his tight ends do over 32 years in the NFL, and it totaled 478.
"I can't remember all of them because I'm getting a little bit older," said the 72-year-old Pope, "but they're just common sense more than anything else."
[+] Enlarge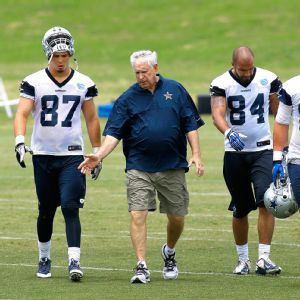 Paul Moseley/Fort Worth Star-TelegramMike Pope is not afraid to make his tight ends run through unconventional drills.
Like throwing ice water at shirtless tight ends, wearing a helmet? Like having the tight ends wearing swim goggles to cut down on their peripheral vision? Like having tight ends attempt to catch passes with a bag over their helmets? Like having tight ends catch a pass, draped over another tight end while a third tight end is holding down his feet? Like having the tight ends do a duck walk with a medicine ball? Like having the tight ends toss a ball in the air, turn and catch a pass from Pope and then catch the ball they tossed in the air?
Who thinks of this stuff? Pope does. He said he has no interests outside of football.
"No, I don't take credit for them," said Pope, who joined the Cowboys' staff in the offseason. "You see something in the game and say, 'How can I make a drill out of that?' A lot of them are things like end zone drills and you just see something happen and a player has to do something out of the extraordinary to make a catch, make a play. How does he do it? He's off balance, he's on one foot somebody has got him by the shirt. He's trying to run and he can't run. You just see those in the game and then you just come out here and put them together. It's not that hard."
James Hanna has figured out the "why" behind the drills, so he has not responded with, "We are doing, what?"
"He wants us to think about coming from the ground, that's why we do the duck walk stuff, like raising up as opposed to reaching out," Hanna said. "That's how you get in bad position."
The receiving drills are all about concentration. Most of the catches by tight ends are contested. They have to battle a linebacker or safety in tight coverage.
"There's someone always knocking us around, particularly when you get the credentials that a Jason Witten has," Pope said. "You think they're just going let him run down and catch the ball? I don't think so. We want to get them on our schedule if they do."
He admits the ice-water drill is more about the fun he gets from dousing his players.
"But we put that camera up real close and one of the things I really concentrate on teaching and getting them to understand -- because they don't really believe it -- that when the ball comes, when something really abnormal happens they flinch," Pope said. "They temporarily close their eyes. It's an instinct. It's uncontrollable. So hitting them with the ice water, they all flinch. I told them all, I said, 'If I bet you your car, you'd all be walking,' because that ice water hits them and it's such a shock to their body. Any of those things that you can do to try to distract them -- so anything you can do -- is a decent drill."
He does not tell the tight end what's coming, but by now they know it will be something strange. Pope said there have never been any complaints in his career, from Pro Bowlers like Mark Bavaro, Ben Coates, Jeremy Shockey and Stephen Alexander to players like Martellus Bennett, whom he coached with the Giants in 2012, to his current crew.
"They look at me like I'm Hannibal Lecter or something like that," Pope said. "But now, they get the gist of it." Training camp is young. Pope has plenty more left in his repertoire. "It's a lot of stuff I've never done before, but I've reflected a little bit on it and it seems like pretty practical stuff," Hanna said. "So that's good."
June, 4, 2014
6/04/14
12:03
PM ET
IRVING, Texas --
Jason Witten
didn't need to be at Monday's organized team activity.
His son had surgery in the morning, and the OTAs are voluntary. Plus, Witten has a resume complete with nine Pro Bowls and a
Dallas Cowboys
' franchise record 879 catches.
[+] Enlarge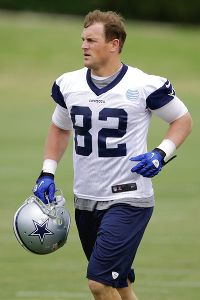 Tony Gutierrez/AP PhotoVeteran tight end Jason Witten takes part in Dallas Cowboys' team drills during Monday's OTAs.
But once he knew his son was fine, Witten drove to Valley Ranch and showed up a little late for the workout. While teammates went through individual drills, Witten warmed up off to the side. By the time team drills began, he was ready.
He wanted to be there not just to improve as a player under the early June sun, but to show his teammates how important the game is to him.
"This time of year you go back to the fundamentals," Witten said. "As an offense you run the basic plays and as an individual player you go back to the basics of what the fundamentals are and it's going to allow you to be better. I've taken a lot of pride in doing those really well. And this time of year you can tighten it up even more."
Playoff success fuels Witten more than catches. Only
Tony Gonzalez
has more catches by a tight end in NFL history, but Witten would trade it all in to win more.
That's why he won't miss an offseason workout, an OTA or a minicamp practice. That's why he will fight the coaches who want him to take a day off in training camp next month.
He is on his sixth position coach with Mike Pope taking over for Wes Phillips. He is on his sixth playcaller in Scott Linehan. There is a new energy brought by changes with coaches who see things a little differently.
"I think with Scott it's been neat to see just his ideas and his view on things," Witten said. "Obviously I've got a lot of respect for him and the success he's had in this league, so being around him is good. Then obviously coach Pope, new ideas and new ways to kind of dive into my world and make me a better player. That's been really good and coming to work every day in finding ways to even be better than what you've done before."
From the outside, Pope and Linehan had a great appreciation for Witten. Now on the inside, the appreciation has grown.
"You think of tight ends and he's like the first guy that comes to my mind as far as the position goes," Linehan said. "He's an every-down player. You don't see that so much. There are a few guys in this league that never come off the field at the tight end position. He's been kind of the one that set the standard, set the bar, so to speak, in this league the last 10 years or so."
Where Linehan would need two, sometimes three tight ends to handle the role in previous spots, he can use Witten in the slot, on the line, in pass protection, as the front-side blocker or as the back-side blocker in the run game and even some fullback.
"He knows everything that you would ask a tight end to know but more," Linehan said. "I mean he's like a quarterback at tight end. He knows all the nuances of the run game. He knows the protections better than anyone. I just think so much of that is him making it that important. ...You can tell he made it his business to know as much as he needed to know."
Witten uses the other tight ends in the league, such as
Antonio Gates
,
Rob Gronkowski
,
Jimmy Graham
, and
Vernon Davis
, to push himself to continue to be at the top of his game.
"I want to try to compete with those guys the best I can," Witten said.
Witten turned 32 last month. He is entering his 12th season. He knows the years are running out, but he thinks more about his hand placement for a block than he does retirement at this point.
"I think more than anything you get in that routine, you feel confident in what you can do and how you can practice and prepare," Witten said. "I'd rather leave it all out there than say I still had some gas in the tank."