NFL Nation:

Mike Sando's MVP Watch
January, 2, 2013
1/02/13
1:00
PM ET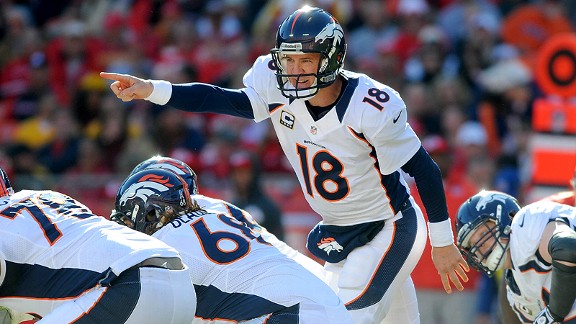 Denny Medley/US PresswireIn his first season in Denver, Peyton Manning has thrown for 4,659 yards and 37 touchdowns.
Peyton Manning
's 11-week run atop the MVP Watch list wasn't going to end after the
Denver Broncos
quarterback closed the season with 304 yards and three touchdowns during a 38-3 victory.
Manning completed 79.3 percent of his passes while finishing with his highest single-game Total QBR score (98.7) in the five-year history of the quarterbacking metric.
And if recent history holds, Manning will emerge as a five-time MVP when the Associated Press reveals the winner one day before the Super Bowl. The four previous season leaders in Total QBR became MVPs, including Manning twice.
Ballots are due Thursday. I am not among the voters.
Manning stands as a clear MVP choice, in my view, based on how his play has affected the Broncos' chances for winning.
Quarterbacks are more important to game outcomes than players at other positions.
Passing trumps running
in the NFL. What stands as a horrible game for a QB -- say, 110 yards on 20 attempts -- would qualify as a top-flight effort for a runner.
Minnesota's
Adrian Peterson
would get my vote as the top offensive player or as the most impressive player after topping 2,000 yards rushing for a playoff team. No player in the NFL was more compelling to watch this season, at least from this angle.
But there is a reason QBs keep winning the award. They're more valuable.
Playing the NFL's fourth-easiest schedule certainly helped Manning this season. That might have come into play if the Broncos struggled to pull out victories this season. Instead, they won each of their final 11 games by at least seven points. They earned a first-round playoff bye, meaning they've already gotten as far in the playoffs as the 8-8 Broncos advanced last season.
December, 26, 2012
12/26/12
11:00
AM ET
Matt Ryan
has charged up the MVP Watch list after two sensational performances helped his
Atlanta Falcons
clinch home-field advantage in the NFC playoffs.
Ryan's seven touchdown passes against the
New York Giants
and
Detroit Lions
earned him a meaningless game in Week 17. That should enhance Ryan's MVP credentials, but with nothing on the line, the Falcons could wind up resting starters to some extent. It's tougher maintaining momentum when the parachute has already been deployed.
Ryan
Ryan is the only member of our MVP Watch with a meaningless game on the schedule. His Falcons face the
Tampa Bay Buccaneers
, who have allowed 29 touchdown passes, second only to New Orleans (31) this season. Ryan completed a season-high 81.3 percent of his passes for 353 yards and a touchdown against Tampa Bay in Week 12.
Ryan's development has allowed the Falcons to flourish as more of a pass-oriented team. Their identity has changed. This is now Ryan's team, not a team that tries to grind it out on the ground. Ryan has 4,481 yards passing and 31 touchdowns. He ranks third behind
Peyton Manning
and
Tom Brady
in Total QBR. He's one of five qualifying quarterbacks with a passer rating in triple digits.
Why not Ryan for MVP? Pat Yasinskas answered that question on the NFC South blog.
Check it out
.
December, 19, 2012
12/19/12
11:01
AM ET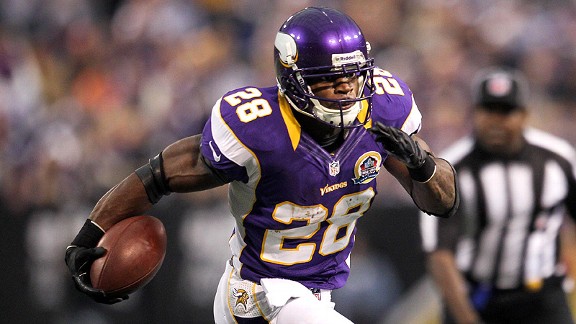 Brace Hemmelgarn/US PresswireVikings running back Adrian Peterson has averaged 164.1 yards per game over his past eight games.
Adrian Peterson
is making our weekly MVP discussion more compelling all the time.
The
Minnesota Vikings
' ligament-defying running back has rushed for 212, 210, 182, 171, 154, 153, 123, 108 and 102 yards in games this season. His total for those nine games would rank 11th among single-season totals over the past five years. His 1,812-yard total through 14 games this season already ranks 19th in NFL history.
Peterson, who suffered torn anterior cruciate and medial collateral ligaments in his left knee last Christmas Eve, would top my list for most impressive player in the NFL this season. He would get my vote for comeback player of the year.
Yet, if the Vikings could trade Peterson for a top quarterback, they would be getting superior value in return. That is a primary reason quarterbacks continue to fill the top three spots in MVP Watch this week.
Peyton Manning
,
Tom Brady
and
Aaron Rodgers
upgrade their teams in ways even the greatest running back could not. That is the nature of the NFL.
I reach out to colleagues each week before compiling this list. This time, our NFC North man, Kevin Seifert, advocated Peterson for the No. 2 spot behind Manning. He
explains his position further on the NFC North blog
. AFC South counterpart
Paul Kuharsky takes a different tack
, noting that Tennessee's
Chris Johnson
commanded zero MVP votes while topping 2,000 yards rushing in 2009.
"If Johnson wasn't worthy of a single vote just three seasons ago, what's changed to make Peterson a bigger contender this year?" Kuharsky asks. "And considering the season
J.J. Watt
is having, if the Texans' defensive lineman can't win it, I'm left wondering if, when and how a defender will ever win it again."
The more we learn about how games are won and lost in the NFL, the more we realize quarterback play is the key. As great as Peterson has been, the Vikings have generally
won and lost
based on how quarterback
Christian Ponder
has played.
Perhaps the "V" in MVP is carrying too much weight. Are we really talking about pure value, or should MVP honors simply go to the player posting the best season?
December, 12, 2012
12/12/12
11:11
AM ET
Five of our eight NFL divisional bloggers think
Peyton Manning
stands as the favorite for league MVP through Week 14.
Two of the bloggers favoring
Tom Brady
have something in common: Both were at Gillette Stadium for Brady's four-touchdown performance during a 42-14 victory over the previously 11-2
Houston Texans
on Monday night. Sometimes, seeing in person is believing.
"Peyton Manning's comeback story is amazing," AFC South blogger Paul Kuharsky said, "but Brady's been a small notch better in my eyes."
Those eyes saw firsthand what Brady wrought against the Texans' defense. Our AFC East blogger, James Walker, was there as well.
Brady posted his fifth game of the season with a Total QBR score in the 90s. Only Manning has more of them (seven).
Ben Roethlisberger
,
Eli Manning
,
Joe Flacco
,
Robert Griffin III
and
Russell Wilson
are next with three apiece.
Brady has 29 passing touchdowns, three rushing touchdowns and only four picks.
"I will go with Brady," AFC North blogger Jamison Hensley said. "Manning is a better story, but Brady's spectacular year shouldn't be downgraded because of it."
The gap between the elder Manning and Brady might be small, but the gap between those two and everyone else continues to grow. Manning (82.4) and Brady (80.6) have a commanding lead over
Matt Ryan
(73.7) for the QBR lead. They are on pace to post the sixth and seventh full seasons in the 80s since 2008. Manning has done it twice previously, Brady once.
"I'll go with Peyton Manning," NFC South blogger Pat Yasinskas said. "John Fox has an elite quarterback for the first time in his career and that could mean a Super Bowl title for the Broncos."
Manning's Broncos have won eight in row after winning eight games all last season.
"Brady did this last year too," NFC East blogger Dan Graziano said. "And the year before. Last year's Broncos were 8-8. This year's may be the best team in the league. Valuable."
What makes an MVP candidate? NFC North blogger Kevin Seifert and I will discuss that subject during our "Inside Slant" podcast later Wednesday. You'll be able to find it at
the Podcenter
. First, let's take a look at the MVP Watch list through Week 14.
ESPN Stats & Information contributed to this item.
December, 5, 2012
12/05/12
12:00
PM ET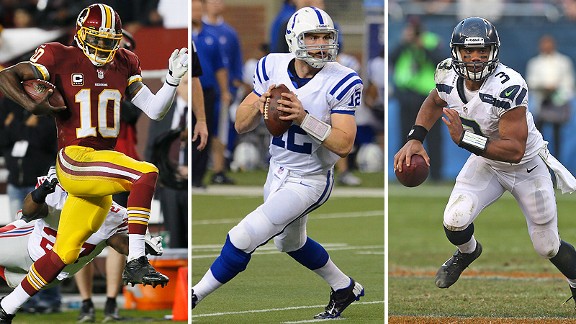 USA Today Sports Images, Getty ImagesRobert Griffin III, Andrew Luck and Russell Wilson are redefining expectations for rookie quarterbacks.
Waves are still rippling through the NFC West blog from
our Tuesday discussion
comparing
Russell Wilson
to
Andrew Luck
against seven common opponents.
The touchdown-to-interception ratios in those games jumped off the page: 16-1 for Wilson, 13-12 for Luck.
Wilson shares four common opponents with
Robert Griffin III
, the other top rookie quarterback this season. Griffin has fared better statistically against St. Louis, Minnesota, Carolina and Dallas than Wilson did against those teams. The difference was 80.3 to 55.7 in Total QBR and 97.1 to 88.3 in NFL passer rating. However, Wilson came away with a 3-1 record in those games, compared to 2-2 for Griffin. Each played two of the four on the road.
Perhaps by now you know where this is headed. I've listed all three rookies on the MVP Watch list for the way they have played in making their teams relevant. All three carried their teams to impressive victories in Week 13. They're not among the MVP Watch leaders, but they deserve secondary consideration for their importance to their teams.
Luck and Griffin have appeared here previously. Both arrived as highly drafted franchise saviors. They've been asked to carry their teams from the beginning. And they've done it with relatively little support from their defenses. They are redefining expectations for rookie quarterbacks. Wilson is shattering all reasonable expectations for a third-round draft choice.
Here are a couple of ways Luck, Griffin and Wilson are performing counter to expectations:
Luck: Luck hasn't put up the flashy traditional passing stats, but he ranks sixth in QBR for several reasons. Even though Wilson and especially Griffin are better known for their mobility, Luck actually leads all NFL quarterbacks in expected points added through scrambles and designed rushes. He has 22 total touchdowns. Of course, he also ranks tied for second in pass attempts, one measure of how much Indianapolis relies upon him.

Griffin: Griffin leads the NFL in completion percentage, passer rating and yards per attempt on throws traveling 10-plus yards past the line of scrimmage. Doug Clawson of ESPN Stats & Information has done some charting off the All-22 video to identify one variable linked to Griffin's success on these throws. Kevin Seifert and I will discuss Clawson's work during our "Inside Slant" podcast later Wednesday.

Wilson: Those watching from afar might think Wilson has done much of his damage from outside the pocket, where his lack of height would not be a limiting factor. Wilson actually has a much higher QBR score (77.4 to 60.8) and a slightly higher passer rating (95.2 to 95.1) when throwing from inside the pocket than from outside it. He has completed 154 of 238 passes with 14 touchdowns and seven picks from inside the pocket. He has completed 47 of 79 passes with five touchdowns and one pick from outside the pocket. Wilson has also had only five passes batted all season, below the 6.9 average for qualifying quarterbacks and well below league leaders Brandon Weeden (15), Luck (15) and Andy Dalton (14).
With that, let's move on to the full MVP Watch list. We've got fresh faces in the bottom three spots. That meant there wasn't room this week for
Arian Foster
or
Marshawn Lynch
. Both obviously continue to play vital roles for their teams. We'll see them on the list again in the future, most likely.
ESPN Stats & Information contributed to this item.
November, 28, 2012
11/28/12
1:00
PM ET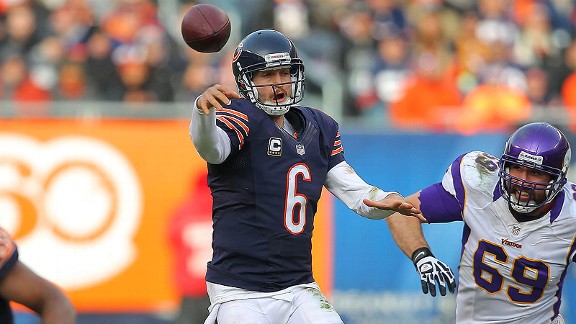 Dennis Wierzbicki/US PresswireDoes Chicago Bears quarterback Jay Cutler have a case for being in the MVP conversation? The numbers don't necessarily back it up.
The
Chicago Bears
have a 13-2 record in
Jay Cutler
's past 15 starts.
They have a 1-6 record in the games he has missed during that time.
That has to make Cutler a prime candidate for MVP Watch, right? His presence must mean everything for the Bears. We all know quarterbacks are usually the most important players on their teams. And we've all heard about what a gunslinger Cutler can be with that strong arm and defiant nature.
"MVP! MVP! MVP!"
Now comes the hard part: proving Cutler is indeed such a key player for the Bears.
Let's take a closer look at the Bears' 1-6 record without him.
That record includes a defeat at San Francisco this season. Cutler wasn't going to stop
Aldon Smith
from getting 5.5 sacks. He wasn't going to stop
Colin Kaepernick
from lighting up the Bears' defense. He wasn't going to win a game the Bears lost 32-7 without him.
Cutler missed the final six games last season, five of them losses. Running back
Matt Forte
missed the final three-plus games. Having Cutler available probably would have enabled the Bears to finish better, but Chicago wasn't going to win at its usual clip without Forte. Lots of starting quarterbacks improve their teams' chances for winning relative to what a backup would provide. That doesn't make them MVP candidates.
The one game Chicago won without Cutler during the 1-6 stretch in question came during Week 17 last season, against Minnesota. The Bears picked off three passes from Joe Webb and Christian Ponder, returning one for a touchdown.
In 2010, the Bears won the lone game Cutler missed, defeating a horrendous Carolina team on its way to winning the
Cam Newton
sweepstakes. Bears backup
Todd Collins
threw four picks in that game. Forte carried 22 times for 166 yards. The Bears won 23-6.
Doesn't exactly enhance those MVP credentials for Cutler, does it?
Neither do the stats.
Cutler ranks 20th in Total QBR at 50.4 this season; 50 is average.
Tom Brady
is in the low 80s. Pro Bowl-caliber quarterbacks usually score in the mid-60s or higher. Cutler ranks a distant third
among NFC North quarterbacks
by this measure. He isn't all that far ahead of Minnesota's
Christian Ponder
(47.7).
Cutler ranks 26th in NFL passer rating at 81.1, which is below the 86.9 figure covering every pass thrown in the league this season. He has 13 touchdowns and 11 interceptions.
But Cutler comes through in the clutch, right? Yes and no.
Cutler has a 92.9 QBR score (out of 100) on 16 fourth-quarter plays when the score was within eight points. That ranks second to MVP Watch leader
Peyton Manning
and right ahead of St. Louis'
Sam Bradford
. That's fine, but all 16 of those plays were against the Rams and Panthers. Cutler completed 10 of 14 passes with no touchdowns. He also rushed twice for 20 yards in those situations.
To further explore the clutch theory, I filtered ESPN's charting database for higher-leverage situations, defined as those when play results have above-average impact on win probability.
It's a more complicated way to measure what the vernacular calls clutch situations, but the math is sound. Ten years of charting information says teams are either more or less likely to win based on the results for each play. Some situations are more pivotal than others.
Cutler's QBR score falls to 44.4 with two touchdowns, five picks and 14 sacks in higher-leverage situations, meaning situations when the stakes were above average. That compares to a 63.3 QBR score with four touchdowns, one pick and nine sacks in lower-leverage situations.
Overall, Cutler has three touchdowns, six picks and a 47.0 QBR score in one-score games, defined as those when the margin is within eight points.
Perhaps someone else can build the MVP case for Cutler. I'd like to hear it.
November, 21, 2012
11/21/12
12:31
PM ET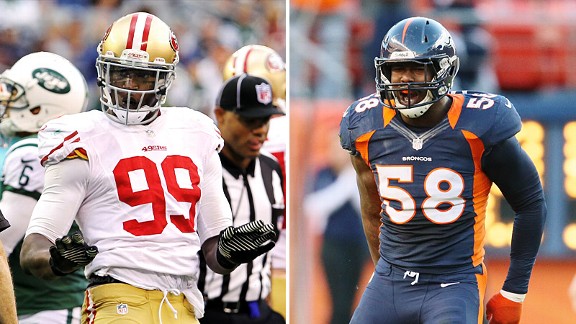 US Presswire, Icon SMIAldon Smith, left, and Von Miller have moved into the MVP discussion with dominant play.
No defensive player has won MVP honors in the NFL since Lawrence Taylor following the 1986 season.
The 2011 draft is doing its part to change the trend. That draft has produced the top three sack leaders in the NFL through Week 11.
J.J. Watt
, who has been on our MVP Watch list nine times in 12 weeks, trails only
Aldon Smith
and
Von Miller
among NFL sack leaders to this point in the season. Denver made Miller the second overall choice in 2011. San Francisco made Smith the seventh pick. Houston took Watt 11th.
That is a great pass-rushing draft.
Smith has a league-leading 15 sacks after setting a "Monday Night Football" record with 5.5 against Chicago. Miller ranks second with 13 sacks after collecting three for Denver against San Diego.
I've added Smith and Miller to the MVP Watch list heading into Week 12. They have combined with Watt for 39.5 sacks this season. It's still unlikely any of them will taken down the top quarterbacks in the MVP race, but they are doing their best on the field.
November, 14, 2012
11/14/12
12:00
PM ET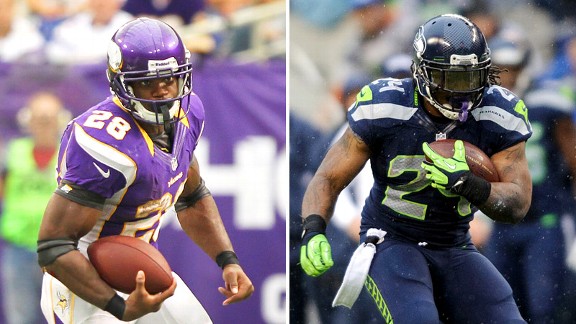 US PresswireMinnesota's Adrian Peterson, left, and Seattle's Marshawn Lynch are the first two running backs to eclipse the 1,000-yard mark this season.
Running backs
Adrian Peterson
and
Marshawn Lynch
have become regulars on the MVP Watch list not only for the yards they gain, but also for how they gain them.
Ranking 1-2 in rushing yardage sets them apart. The fact that they also lead the NFL in yards after contact is telling, too.
Two weeks ago, Peterson gained 111 of his 182 yards against Seattle after defenders made contact. More recently, Lynch gained 52 of his 124 yards after the
New York Jets
made contact with him. And by making contact, we're not talking about brushing up against one another. Defenders have to affect runners for the yardage to count.
"Contact for our purposes must slow the ball carrier down, or it must be a play in which the defender had a legitimate chance at tackling the ball carrier but is unable to due to a juke move or stiff arm," ESPN's game-tracking guide reads.
Peterson averages 2.8 yards per rush after contact, easily the most in the NFL among players with at least 100 rushes through Week 10. Lynch is at 1.9, same as
Frank Gore
and just ahead of
Steven Jackson
(1.8).
Side note:
New Orleans Saints
quarterback
Drew Brees
came close to appearing on the list this week. He has the numbers and could be a week away if the Saints can get to .500 or better for the season.
November, 7, 2012
11/07/12
11:50
AM ET
How nice of
Peyton Manning
to throw a couple of interceptions last week, just to change up things.
The
Denver Broncos
quarterback had posted a 14-1 ratio of touchdowns to INTs over his previous five games. His odds for winning a fifth MVP award now appear considerably shorter.
Manning, in leading the Broncos to their third consecutive victory, became the first player all season to toss more than one INT and still emerge from a game with an NFL passer rating north of 105.
This is his fourth consecutive week atop the MVP Watch list.
We're 10 weeks into this and have listed 32 players at various points.
Tom Brady
is the only player to appear on the list every week.
Aaron Rodgers
and
Matt Ryan
have made it nine times.
Eli Manning
(eight), Peyton Manning (eight) and
J.J. Watt
(seven) are the only other players to appear more than five times.
Forty percent of the list turned over from last week.
Eli Manning,
Tim Jennings
,
Ben Roethlisberger
and
Alex Smith
get the week off.
Andrew Luck
and
Josh Freeman
make their first appearances.
Charles Tillman
and
Marshawn Lynch
are back after one-week absences.
The top four spots remain unchanged.
October, 31, 2012
10/31/12
10:47
AM ET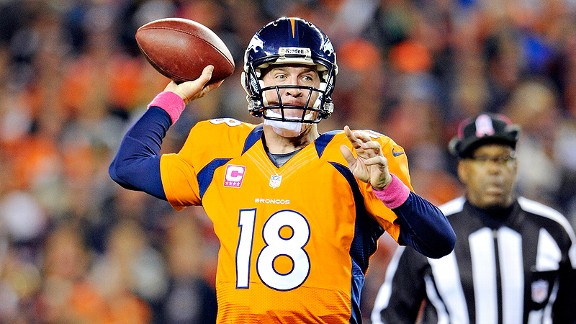 AP Photo/Greg TrottDenver quarterback Peyton Manning has thrown three touchdown passes in four consecutive games.
Let's just say some were a bit skeptical upon seeing
Peyton Manning
atop the
MVP Watch list
a week ago.
"I totally disagree," wrote a colleague who shall
remain nameless
.
Looks like Manning might be staying awhile in the No. 1 spot.
The
Denver Broncos
' 36-year-old quarterback posted another statistical gem Sunday with 305 yards, three touchdowns and no interceptions during a 34-14 victory over New Orleans. He leads the NFL in Total QBR (82.5) and NFL passer rating (109.0).
Manning thus became the second player in NFL history to reach 300 yards passing and three touchdowns in four consecutive games during one season.
Steve Young
did it five consecutive games during the 1998 season. That info comes from Elias Sports Bureau.
Terrell Davis
won MVP honors for his 2,008-yard season back in 1998, a reminder that a few strong weeks in a row does not secure the hardware automatically. But with Manning and the current Broncos facing the NFL easiest schedule from this point forward, we have a midseason favorite, at least.
Note: ESPN Stats & Information contributed to this item.
October, 24, 2012
10/24/12
11:00
AM ET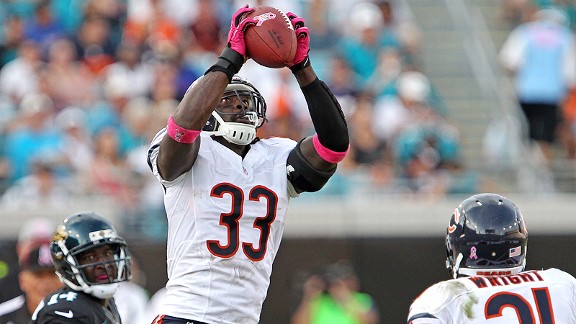 John J. Kim/Getty ImagesChicago Bears cornerback Charles Tillman makes his first appearance on our MVP Watch list.
The
Chicago Bears
have owned one of the NFL's best records, backed by a dominant defense. They haven't had an obvious MVP candidate.
How about
Charles Tillman
?
The 10th-year cornerback earned Pro Bowl honors for the first time last season. He
blanketed
the
Detroit Lions
'
Calvin Johnson
during a 13-7 victory Monday night.
With two forced fumbles against the Lions, Tillman has 32 for his career. That ranks tied for third since Tillman's rookie season (2003) and the most for a defensive back, according to the Bears. Tillman has two picks and scored on both.
Tillman is playing very well. He's playing for a dominant defense. His team is winning. He makes the MVP Watch list this week, his first appearance.
Tillman joins MVP Watch mainstay
J.J. Watt
as the only defensive players to appear on the list this season.
Lawrence Taylor
was the most recent defensive player to win the Associated Press version of the award. He won following the 1986 season.
Note: ESPN Stats & Information contributed to this item.
October, 17, 2012
10/17/12
12:00
PM ET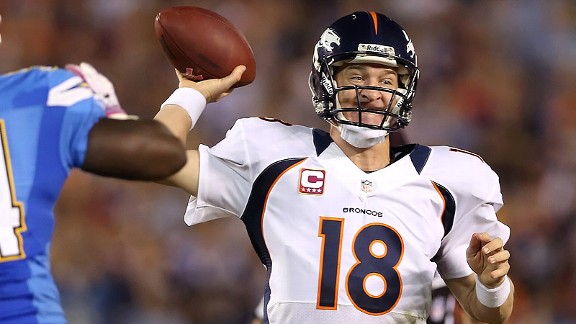 Jeff Gross/Getty ImagesPeyton Manning and the Denver Broncos enter their bye week in first place in the AFC West.
Peyton Manning
and the
Denver Broncos
have played the fifth-toughest schedule in the NFL to this point, defined by opponents' won-lost percentage (.588).
They have what stands as the easiest remaining schedule by the same measure (.339).
Manning's MVP credentials should only improve as the Broncos, blessed with a Week 7 bye to tune up their passing game, better their 3-3 record as the season plays out. Those MVP credentials aren't exactly hurting at present, either. The comeback Manning led from a 24-0 deficit to beat San Diego on Monday night had a defining feel to it. Denver looks like the AFC West favorite. Manning has moved atop our MVP Watch list.
"In a stunning 30-minute whirlwind, Manning (who thrust himself into the MVP race Monday night) and his improving Broncos scored 35 unanswered points to shock San Diego,"
Bill Williamson wrote
.
Manning has a league-high 984 yards over his past three games. He has nine touchdowns with one interception over that span. He's looking more like a four-time MVP than an aging player trying to regain past form following career-threatening neck surgeries.
October, 10, 2012
10/10/12
11:45
AM ET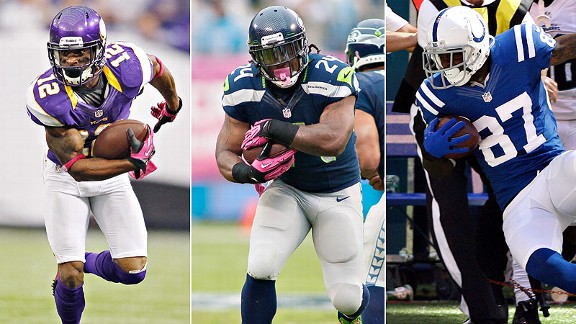 US PresswirePercy Harvin, Marshawn Lynch and Reggie Wayne are on our list for the first time this season.
Three non-quarterbacks are making their 2012 MVP Watch debuts.
Minnesota's
Percy Harvin
, Seattle's
Marshawn Lynch
and Indianapolis'
Reggie Wayne
did not suddenly become excellent players. They've been strong producers. The fact that their teams have nine combined victories through Week 5, up from 12 all last season, makes their contributions more meaningful.
"Show me a better player in the NFL right now that's doing more for his team," Vikings linebacker
Chad Greenway
said about Harvin
after Minnesota's latest victory
. "You just can't find one."
While the Vikings were improving to 4-1, Wayne's Colts were shocking the
Green Bay Packers
to reach 2-2, matching their victory total for 2011. Wayne was the catalyst. As
Paul Kuharsky pointed out
, Colts quarterback
Andrew Luck
averaged 10.6 yards on 20 attempts when targeting Wayne in that game, compared to 4.3 yards on 35 attempts targeting other players.
Lynch nearly appeared on the list a week ago, but the Seahawks were coming off a 19-13 defeat at St. Louis. Coach Pete Carroll is leaning heavily on Seattle's defense and ground game to carry the team while rookie quarterback
Russell Wilson
develops. Lynch keeps delivering. He has 1,449 yards rushing in the Seahawks' past 14 games, most in the NFL by 155 yards.
October, 3, 2012
10/03/12
11:08
AM ET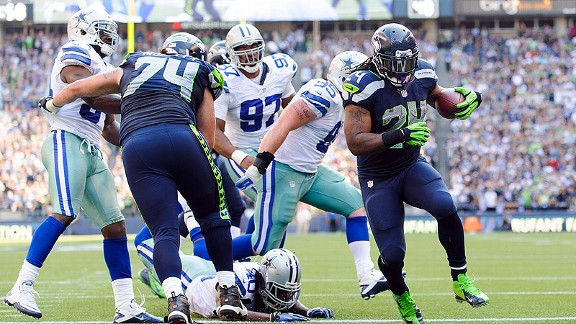 Steven Bisig/US PresswireDespite leading the league in rushing, Marshawn Lynch hasn't been able to crack our MVP Watch list.
The NFL's leading rusher,
Marshawn Lynch
, came oh-so-close to landing on the MVP Watch list this week.
It was striking, however, that his dominant rushing performance in Week 5 failed to produce a victory over St. Louis. The Seahawks ran the ball almost at will in that game, but without a marginally productive passing game, they fell short.
That is the way of the NFL and probably explains why no running backs appear on the list this week.
Arian Foster
ranked fourth heading into opening week.
Jamaal Charles
appeared at No. 9 last week after topping 200 yards rushing. No other running backs have appeared on the list at any other time. That wasn't by design. It has just worked out that way.
Sixteen quarterbacks, two receivers and two defensive players have appeared. We've had nearly as many referees as running backs, with Ed Hochuli making a just-for-fun appearance before the NFL and its officials finally settled their labor impasse.
Lynch has a good shot at appearing next week, particularly if the Seahawks win. He's facing a Carolina defense that has allowed a 100-yard rusher for three games running. Lynch has eight 100-yard games since Week 9 last season, most in the NFL by two games.
Editor's note: ESPN Stats & Information contributed to this item.
September, 26, 2012
9/26/12
11:15
AM ET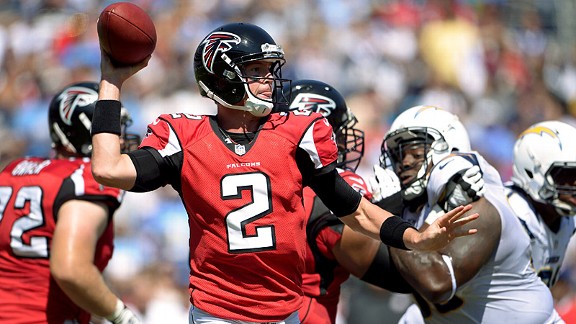 Donald Miralle/Getty ImagesMatt Ryan has thrown three touchdown passes in two of Atlanta's three games this season.
One quarterback stands tallest in production, results and overall value heading into Week 4.
He's our MVP Watch leader for the second week in a row.
Matt Ryan
and the
Atlanta Falcons
already own convincing victories over
Peyton Manning
's
Denver Broncos
(27-21) and
Philip Rivers
'
San Diego Chargers
(27-3). Games against Carolina and Washington over the next two weeks pit Ryan against two other high-profile quarterbacks in
Cam Newton
and
Robert Griffin III
, respectively.
Carson Palmer
,
Michael Vick
,
Tony Romo
,
Drew Brees
(twice),
Eli Manning
and
Matthew Stafford
remain on the Falcons' schedule.
Matchups between teams featuring top quarterbacks aren't always main events, of course. The NFL has increasingly become a game of high-stakes power plays off the field: the lockout, the
New Orleans Saints
' bounty scandal, concussion lawsuits and even officiating.
The ongoing power play between the NFL and its regular officials has vaulted longtime referee Ed Hochuli onto the MVP Watch list. Consider it a protest vote after replacement officials upstaged recent prime-time games featuring
Tom Brady
,
Joe Flacco
,
Aaron Rodgers
and the
Seattle Seahawks
' swarming defense. Hochuli is no longer president of the NFL Referees Association. Scott Green has that distinction at present. Few would recognize Green if we ran his mug shot, so Hochuli gets the call. He's one replacement fans wouldn't mind seeing again.