NFL Nation:

Mike Sheppard
June, 28, 2012
6/28/12
11:42
AM ET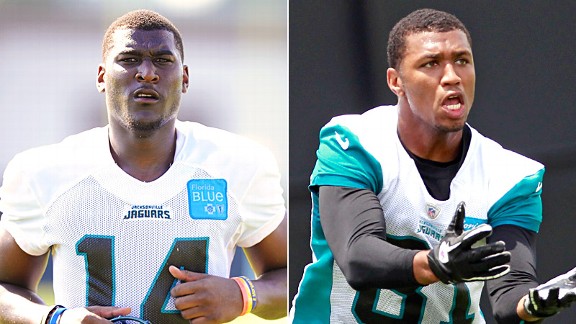 Getty Images/AP PhotoJustin Blackmon, left, and Laurent Robinson will learn from one of the most experienced receiver coaches in the game.
Jerry Sullivan spent the position period of the Jaguars' offseason practices running slow-motion routes.
Put your foot in the ground, like this. Drop your hips, like this. Don't round the corner, like this.
Although free-agent addition
Laurent Robinson
and No. 5 overall draft pick
Justin Blackmon
are the most visible guys the Jaguars brought in to fix some serious problems at wide receiver, the guy who is coaching them in a show-don't-tell style may prove just as significant.
Mike Mularkey had Sullivan atop his wish list for the job, but didn't even call him. Sullivan, who will turn 68 on July 14, was retired.
"I didn't reach out to him, he actually reached out to me," Mularkey said. "I thought he was retired. Gene Smith and I discussed him initially and I said, 'I think he's out of the loop.' Just by chance I was driving home one of those first weekends after I was hired here and there's a text: 'Hey Mike, I'd like a chance to work with you and Brat [offensive coordinator Bob Bratkowski] -- Jerry S.'
"So I called Gene and said, 'I don't know if this is the Jerry S. you and I talked about, but I am going to call and find out.' And it was. He had a couple other options, too, and I am glad he chose this one."
A year earlier, when Mularkey interviewed in Tennessee but lost out to Mike Munchak, Mularkey had texted Sullivan about wanting him if he got the Titans' job. The link was set.
This time, Sullivan was in Atlanta training
Brian Quick
for the scouting combine. Sullivan sent that text, got invited to interview and after about three hours said it was easy for him to sign up to be part of Mularkey's staff despite an opportunity in Arizona, where he could have worked with another receiver he's close with from work during the lockout,
Larry Fitzgerald
.
The year before, with little job security as he formulated his final staff, Jack Del Rio wound up with an under-qualified receivers coach in 2011.
Things were such a struggle for Johnny Cox that when Del Rio was fired and Mel Tucker took over as interim coach, he fired Cox and shifted quarterbacks coach Mike Sheppard to receivers.
During the lockout, Robinson worked with Sullivan in Minnesota.
[+] Enlarge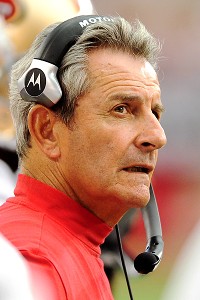 Mark J. Rebilas/US PresswireJerry Sullivan is looking forward to the challenge of developing Jacksonville's receiving corps.
"He kind of helped me get over the hump and get into my breakout year [in Dallas]," Robinson said. "Having the opportunity to learn from him every day is going to be huge for me and the other wide receivers. He's a great coach, probably the best receiver coach in the NFL. He felt like he could contribute and help turn this thing around."
Sullivan may be approaching 70, but he carries the energy of a far younger man onto the practice field, where he's exacting. As he instructs his guys, he leaves little to the imagination, banging home points he's clearly hit in the meeting room and addressed on the field before.
In May, not having spent long with his new charges, he already seemed to have a feel for who needed pushing and who needed stroking, offering different things to different players.
He'll be expected to squeeze production out of Robinson and Blackmon. He will also try to rebuild
Mike Thomas
, who ranked too high a year ago but can be a good third guy. He will attempt to help promising second-year man
Cecil Shorts
get over what appears to be game-day stage fright. He will aim to develop a gem or two -- perhaps undrafted rookie
Mike Brown
from Liberty.
"I like the challenge that belies me, I'll put it that way," Sullivan said. "I look forward to it. We've got a lot of young guys who've got a lot to learn, but I'm excited about their attitude and we've just got to put one foot in front of the other going up the mountain. Some days you slide a step. Some days you gain two steps. ...
"It'll be a well-rounded group if everybody gets to where they need to be. We've got a ways to go. That's a common phrase around the league, I know. Nobody wants to put themselves out there. My whole thing is the group needs to improve to be NFL caliber to win games."
His biggest message in the offseason may have been this: When you run routes against NFL cornerbacks, you're in control or they are.
"You're either hearing elevator music, or you're hearing Guns & Roses," Sullivan said. "If you're hearing Guns & Roses, you're probably not going to be successful. You want to be nice and smooth and calm and in control of how you do it."
In helping the Jaguars' receivers, Sullivan will be helping quarterback
Blaine Gabbert
, and that's the biggest job for everyone connected to this offense.
"They can be more confident in that he knows what they are going to do and how they are going to do it," Sullivan said. "I think that's huge. I think he's a young kid that's got a nice arm. He's obviously been maligned, unfairly I think. If we do our job and play at a good NFL level, we'll help him be better and we'll help the team be better.
Said Gabbert of Sullivan: "His knowledge of the game is going to help not only the wide receivers, but the quarterbacks, the offense and the entire team."
Thomas got a lot of attention early in the offseason when he said Sullivan was super-regimented and the group probably needed that.
The new assistant certainly endorsed the signing of Robinson and the drafting of Blackmon.
If they are good, we could be back here saying he's as important of a new position coach who has landed in the division.
"Jerry's been everything I thought he'd be with these guys: very detailed, very demanding," Mularkey said. "Plus, being a former coordinator, I always like to have those kind of guys in the room.
"His drive is still there. There is no way he could sit at home in the living room."
March, 30, 2011
3/30/11
6:59
PM ET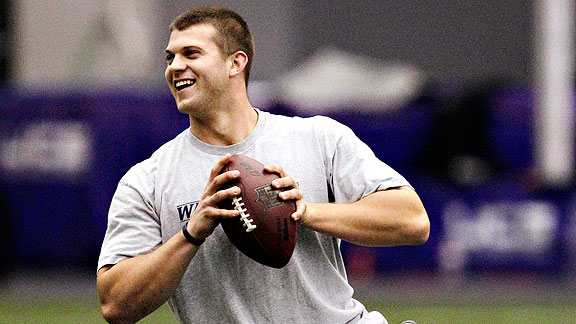 AP Photo/Elaine ThompsonWashington quarterback Jake Locker didn't appear to do anything to hurt his draft status at his pro day on Wednesday.
SEATTLE -- The guest list for
Jake Locker
's pro day at the University of Washington offered up a few surprises.
Former
Seattle Seahawks
running back
Shaun Alexander
, in town on business, dropped by the Dempsey Indoor facility. Former NFL officiating czar Mike Pereira, in town for a meeting related to his role as interim head of Pac-10 officials, also attended.
Former Washington quarterbacks Warren Moon, Damon Huard, Brock Huard (working for ESPN), Hugh Millen, Cary Conklin and Sonny Sixkiller were there.
The quarterback-needy
Tennessee Titans
sent a large contingent featuring vice president of player personnel Ruston Webster, offensive coordinator Chris Palmer and pro scouting director Lake Dawson. Keith Gilbertson (
Cleveland Browns
), Randy Mueller (
San Diego Chargers
), Bob Ferguson (
Indianapolis Colts
) and Mike Sheppard (
Jacksonville Jaguars
) were among the former Seahawks staffers in attendance.
The Seahawks' current decision-makers and most of their coaches drove over from team headquarters, no surprise given the proximity and coach Pete Carroll's ties to Huskies coach Steve Sarkisian, his former USC assistant.
But if the Seahawks' division rivals have any interest in Locker, they hid that interest quite well. The
Arizona Cardinals
and
San Francisco 49ers
did not send representatives, to my knowledge. They certainly did not have any high-profile staffers in attendance. That comes as a bit of a surprise given their obvious needs at quarterback and Locker's potential availability early in the second round, if he slips outside the first.
"I never read anything into which teams attend pro days," Locker's agent, David Dunn, said on the field following the workout. "I've had too many players selected by teams that weren't at pro days or didn't even visit with players."
Fair enough, but teams generally pay closer attention to quarterbacks. The 49ers sent Jim Harbaugh to
Blaine Gabbert
's pro day at Missouri. Cardinals coach Ken Whisenhunt ran Auburn's
Cam Newton
through various throws at a recent workout.
"With quarterbacks, you want to be able to touch and feel and see how they are as people as well as athletes and players," Dunn said.
Locker was not the only Washington prospect performing for scouts, but he was the main draw. He did nothing obvious to damage his draft stock during the workout. He completed all but a couple of passes while showing fluidity in his drops and a short delivery, according to scouts who agreed to speak in general terms and not for attribution.
"I've never nitpicked a guy like I've nitpicked Locker," one of them said. "The guy is a winner, and at the end of the day that has to count for something."
Locker has been working with former NFL quarterback Ken O'Brien to bring his hand over the top more quickly when delivering the ball.
The controlled environment was set up to make him look good. No NFL coaches or personnel people asked Locker to perform unscripted throws. They watched Locker zip the ball with ample velocity and accuracy most of the time, save for a couple high throws that his overworked wide receiver, D'Andre Goodwin, snatched away from his body.
"I'm focusing on the fluidity of the drop, getting my feet in the right spot and just bringing the hand over the top as quickly as I could, rather than dragging my hand," Locker said afterward. "I have a tendency to do that sometimes. I want to bring my hand over the top and really point that finger at my target. I have been spinning the ball a lot better and it's been coming off my hand a lot better."
Locker's relatively low completion percentage at Washington and his inexperience running a pro-style offense have raised questions about his readiness for the NFL. Can he read defenses? Can he throw accurately and on time from the pocket? To what degree did a weak offensive line and receiving corps hamstring him in college?
I've heard differing opinions from scouts as to how well Locker would fit with the NFC West teams that need quarterbacks (Seattle, Arizona and San Francisco).
"A lot of people seem to have him pinpointed to Seattle at No. 25, but I don't think that makes any sense at all," Matt Williamson of Scouts Inc. said. "It works for people who do not know the X's and O's of it all. At 25, he has some value. He went to school in that area. It is easy to say that is a good fit, but I think Seattle is going more and more to a pure West Coast offense, and Locker doesn't fit the West Coast offense at all."
The Cardinals pick fifth and the 49ers pick seventh, earlier than Locker is expected to come off the board. Seattle is one of the few quarterback-needy teams picking later in the first round, when Locker figures to become a more likely selection.
"Jake seems to be an acquired taste," Dunn said. "The more you watch him on film, the more that you are around him, the more you like him."
How well Locker would fit with the Seahawks could hinge on the degree to which Williamson is right in his assessment of how Seattle's offense will evolve.
New coordinator Darrell Bevell comes from the Andy Reid/Mike Holmgren branch of the West Coast offense, a branch that relies more heavily on short, precise passes. Before Bevell replaced Jeremy Bates, the Seahawks had been running Mike Shanahan's version of the West Coast system featuring more quarterback movement, hard play-action fakes and deeper throws requiring greater arm strength.
Carroll, who attended the workout Wednesday, has said the Seahawks do not plan to significantly diverge from the system they ran last season. But it's plausible to think that Bevell's background could steer them away to some degree.
"You do have to be a precise passer in a Bill Walsh, traditional West Coast offense," Rob Rang, senior analyst for NFL Draft Scout, said from the Dempsey Indoor facility. "But I like any offense that is going to use Jake Locker's mobility as an asset rather than just keeping him pinned in that pocket. If you can use his legs as a weapon, that is where he has been his most accurate. He made significant improvements in his accuracy from the so-called pocket in this workout, but at the same time, his strength remains throwing on the move."
Rang said he would draft Locker in the first round as long as the team in question has a veteran starter in place.
I stood next to Moon, the retired Hall of Famer, throughout the workout. Moon said he sees the NFL game evolving to favor quarterbacks with mobility. Life for traditional pocket passers is getting tougher, in his view. Locker's athleticism and scrambling ability separate him from most prospects. He has run the 40-yard dash in 4.52 seconds, a time that holds up against those posted by some wide receivers. But quarterbacks must also succeed as pocket passers to make it in the NFL.
"Locker is pretty accurate outside the pocket," Williamson said, "but as far as going 1-2-3 and getting it out, having good footwork, hitting a guy in stride, he is terrible. I don't see that fit at all. I do not think he is going to be the precise passer Harbaugh is looking for, either. I can see someone like Arizona being really interested in him in Round 2. They might like a more 'toolsy' guy, like a
Ben Roethlisberger
."
Williamson sees Locker appealing to a coach such as Shanahan, who might see Locker as a cross between
Jay Cutler
and
Jake Plummer
, two quarterbacks Shanahan coached in Denver. That's the type of quarterback Seattle was seeking when Jeremy Bates was coordinating their offense. It's the type of quarterback the Seahawks might still value if Bevell installs the type of system Carroll has favored previously.
"I don't know in the NFL right now if people run different offenses," Sarkisian said. "It's so much of a copycat league and everybody runs so many things that are similar that it's hard to say that New England is different than Pittsburgh that is different than Seattle that is different from the Chargers. They all have their focal points, but at the end of the day, there are a lot of similarities. Things will be tailored for him [Locker], like they are for every quarterback, but I just think he fits in as an NFL quarterback."
February, 24, 2011
2/24/11
3:50
PM ET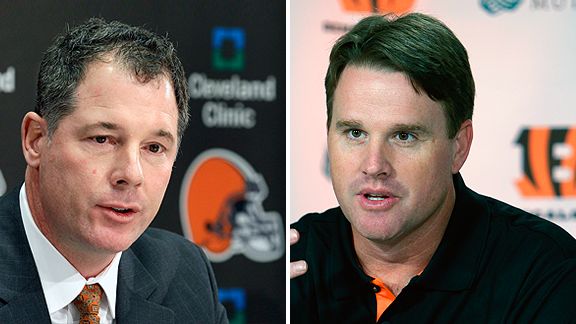 AP PhotoPat Shurmur, left, and Jay Gruden are two of the new faces in the AFC North.
The offseason has just begun, but the coaching carousel has been spinning for all four teams in the AFC North.
Often the struggling teams make significant coaching changes, and that was the case with the
Cincinnati Bengals
(4-12) and
Cleveland Browns
(5-11). But playoff teams like the
Baltimore Ravens
(12-4) and even the Super Bowl runner-up
Pittsburgh Steelers
(12-4) also experienced some turnover on their staff.
Here is a look at each change and what it means for the division:

Cleveland Browns
In:
Head coach Pat Shurmur, defensive coordinator Dick Jauron and a new staff.
Out:
Former head coach Eric Mangini, former defensive coordinator Rob Ryan and former offensive coordinator Brian Daboll.
What happened?
Mangini entered this past season on the hot seat and went 5-11 for the second consecutive year. There were a lot of philosophical differences between Mangini and Browns president Mike Holmgren. So when the team wasn't winning, it made for an easy decision to go in a different direction. Enter Shurmur, who was a surprise hire for Cleveland. Shurmur has no prior head-coaching experience and wasn't on the radar of other teams. The Browns have pretty much cleaned house and hired a new staff, which includes Jauron and veteran defensive assistant Ray Rhodes.
Analysis:
Last year, Holmgren was dumbfounded by some of the things the Browns were doing, particularly on offense. But Holmgren and Shurmur share many of the same views, which will give Holmgren more say in what goes on, and I think being on the same page is important for any team. The Browns are one of the few teams this year that will change both their offense
and
defense. Cleveland will go to a West Coast offense under Shurmur, who did not hire an offensive coordinator and will call the plays. The Browns also will switch to a 4-3 defense, which is something they haven't run since 2004. Shurmur is taking on a lot of responsibility as a rookie head coach and de facto offensive coordinator, which raises some concerns. Cleveland hopes veteran coaches like Jauron and Rhodes will take care of the defense, giving Shurmur one less thing to worry about. In terms of personnel, the Browns have a lot of work to do. They need better receivers on offense if they plan to pass more and playmakers at defensive end to run a 4-3 scheme.

Cincinnati Bengals
In:
Offensive coordinator Jay Gruden, receivers coach James Urban.
Out:
Former offensive coordinator Bob Bratkowski, former receivers coach Mike Sheppard.
What happened?
Changes were inevitable for Cincinnati's coaching staff this season. There was a lot of unrest among players internally who didn't like the scheme on offense. The Bengals entered the season with playoff aspirations but had an abysmal four-win campaign. Quarterback
Carson Palmer
was so unhappy that he demanded a trade after the season. Receivers
Terrell Owens
publicly criticized the coaching staff several times and starting tailback
Cedric Benson
said he was not returning if Bratkowski was still the offensive coordinator. Bratkowski was let go and later hired by the
Atlanta Falcons
, and Sheppard went to the
Jacksonville Jaguars
. Gruden, a former UFL head coach and the brother of former NFL coach Jon Gruden, was hired as offensive coordinator, and Urban was taken as receivers coach from the
Philadelphia Eagles
.
Analysis:
Cincinnati will be the second team in the division implementing a West Coast offense. Gruden also says he wants to make sure Cincinnati has a power running game, which is needed in this division. When the Bengals were at their best in 2009, they ran the football effectively and played tough defense. Cincinnati went away from that last year and had an awful season. How Gruden's offense translates from the UFL to the NFL remains to be seen. Cincinnati also has to handle a lot of personnel issues. Will Palmer retire? If so, who will be the new quarterback? Should the team trade
Chad Ochocinco
? Will Benson return? Cincinnati will have a very busy offseason trying to figure out these questions before putting together its new offense.
January, 11, 2009
1/11/09
11:09
PM ET
| | |
| --- | --- |
| | |
| | Greg M. Cooper/US Presswire |
| | ESPN's Chris Mortensen is reporting that Patriots offensive coordinator Josh McDaniels will be hired as the new head coach of the Denver Broncos. |
Posted by ESPN.com's Tim Graham
The New England Patriots are in the market for an offensive coordinator.
ESPN's Chris Mortensen is reporting the Denver Broncos have reached terms with Josh McDaniels, who called the plays for Tom Brady during New England's record-setting 2007 campaign and guided career backup Matt Cassel to 11 victories in 2008.
It might be a shock for Broncos fans to have a whippersnapper running their team after so many years of continuity under Mike Shanahan.
But McDaniels leaving the Patriots is no surprise. The 32-year-old graduate of Division III John Carroll, the same school that produced Don Shula, is one of the hottest NFL assistants of the past couple years.
Who will replace McDaniels in New England?
Patriots Nation fretted when Charlie Weis left for Notre Dame after the 2004 season, but everything worked out despite McDaniels being an unknown to anybody outside of Ohio, where his father is a prep coaching legend.
The Patriots officially went without an offensive coordinator in 2005, but McDaniels ran the show as quarterbacks coach. He assumed the title in 2006.
Belichick hasn't overseen many offensive coordinators. Weis and McDaniels are the only two he has worked with in New England.
Belichick didn't have an offensive coordinator his first three seasons as head coach of the Cleveland Browns.
The main offensive minds were quarterbacks coach Gary Tranquill (now out of the game) and running backs/tight ends coach Steve Crosby (now special teams coordinator for the San Diego Chargers).
Mike Sheppard (now receivers coach for the Cincinnati Bengals) was on Belichick's staff for three years. Sheppard has been a coordinator for the Chargers, Buffalo Bills and New Orleans Saints and in the college ranks at Kansas and Cal.
If the Patriots were to look internally, as they did last time they needed an offensive coordinator, the first logical place would be the quarterbacks coach. That was McDaniels.
Two assistants on Belichick's staff have offensive coordinator experience.
Tight ends coach Pete Mangurian was the Atlanta Falcons coordinator in 2003.
Receivers coach Bill O'Brien was the coordinator at Georgia Tech in 2001 and 2002 and at Duke in 2005 and 2006.
Who do you think the Patriots will pursue?