NFL Nation:

Mike Tannebaum
December, 12, 2010
12/12/10
9:26
PM ET

EAST RUTHERFORD, N.J. -- The New York Jets have struggled to make plays on the field. Apparently, they've resorted to trying to make them on sideline.

CBS Sports replays showed Jets head strength and conditioning coach Sal Alosi stick his knee out and lean toward the field to trip Miami Dolphins gunner Nolan Carroll, who was running down the sideline to cover a punt with 3:11 left in the third quarter Sunday.

Carroll crumpled to the turf with a knee injury. Dolphins trainers tended to him on the field during the commercial break. He limped off the field under his own power and eventually returned to the game. The Dolphins won 10-6.

"They're cheaters," Dolphins inside linebacker Channing Crowder said. "They do what they do. They cheat. They talk junk. But we beat the hell out of them today.

"I wish they'd tripped me. I'd have broken that old man's leg. I didn't see anything. He stuck his leg out and tripped him? He should be ashamed of himself. A grown man from the coaching staff? That's high character."

Alosi is a 33-year-old former Hofstra linebacker who joined the Jets as a strength and conditioning intern in 2001. He worked for the Atlanta Falcons before returning to the Jets in 2006.

Alosi, in a statement released by the Jets, said he apologized to Carroll and Dolphins head coach Tony Sparano before they departed the stadium. Alosi also expressed his sorrow to Jets owner Woody Johnson, general manager Mike Tannenbaum and head coach Rex Ryan.

"I made a mistake that showed a total lapse in judgment," Alosi said in the statement. "My conduct was inexcusable and unsportsmanlike and does not reflect what this organization stands for.

"I accept responsibility for my actions as well as any punishment that follows."

Before he met with Alosi, Sparano told reporters he would forward video evidence of the shameful incident to the NFL for a review.

"There was a player down on the sideline, and that's not good," Sparano said. "We're trying to take care of players in this game."

Dolphins defensive end Kendall Langford said of the trip: "That was bad. Unfortunately, he had to do that, and he really could have hurt Nolan. He could have ended his career with that. I think maybe somebody needs to do something about that as far as the league goes. I think he should get fined. We get fined for illegal stuff. Why can't the coaches?"

Upon seeing a photo of Alosi's trip, Dolphins inside linebacker Karlos Dansby railed for a suspension or even a permanent dismissal.

"That is dirty," Dansby said. "That is so dirty, man. Come on, man. That needs to be on Monday night [on ESPN segment] 'Come on, man.' Check this picture out. Freeze-frame it. Come on, man. No. 1, by far. That's dirty, low down. That's sad.

"Four games? The rest of the season? Suspend him, man. Get him up out of there. He's got to go, bringing down a whole organization like that. That's sad. You don't do a man like that."

Alosi also better be careful the next time he travels to Florida. Carroll's mother is the lieutenant governor-elect.

Carroll is a rookie cornerback, drafted in the fifth round out of Maryland. He had an interception in the first quarter to set up a field goal to give the Dolphins a 3-0 lead.
September, 22, 2010
9/22/10
2:54
PM ET
New York Jets
receiver
Braylon Edwards
has released a statement through the club regarding Tuesday morning's arrest for drunk driving.
"I would like to apologize to my family, my fans, Mr. [Woody] Johnson, Mike Tannenbaum, Rex Ryan and my teammates. I will respect the process that is in place and will fully cooperate with the league.

"I am truly happy to be a member of the New York Jets, and I hope I have the opportunity to retire here. I now have to regain the trust of my teammates, the organization and the fans."
September, 21, 2010
9/21/10
9:47
AM ET
Two nights after
Braylon Edwards
turned in one of his best performances as a New York Jet, he embarrassed them.
Edwards was
arrested for drunken driving
early Tuesday morning. The
New York Post reported
Edwards' Range Rover was pulled over at 5:15 a.m. for having overly tinted windows. According to the Post, Edwards scored a .16 on a breathalyzer test.

Edwards
Edwards had helped the Jets overcome a tumultuous week in which the organization was accused of being too undisciplined. The NFL investigated a highly publicized incident with a female reporter, a situation for which Jets owner Woody Johnson publicly apologized. Then they had a 15-flag loss to the
Baltimore Ravens
on opening night.
In Sunday's feel-good victory over the
New England Patriots
, he caught five passes for 45 yards and a touchdown. He converted some critical third downs and caught a two-point conversion. He abused Patriots cornerback
Darius Butler
to the point Patriots coach Bill Belichick removed Butler from the game.
Now this.
The Jets could bench Edwards and probably would be wise to do so in light of indications the organization lets its players get away with too much.
The NFL also could suspend Edwards if he already is in their substance-abuse program, which we would not know after the first offense because it's confidential for first-time offenders. The second offense carries a four-game suspension.
Jets receiver
Santonio Holmes
is halfway through his four-game suspension for violating the NFL's substance-abuse policy, a sentence handed down when he was with the
Pittsburgh Steelers
.
"We are very disappointed in Braylon's actions this morning," Jets general manager Mike Tannenbaum said. "The Player Protect program is in place for our organization to prevent this situation. Braylon is aware of this program and showed poor judgment.
"We are reviewing the information with the league and will impose the appropriate disciplinary measures."
The Player Protect program provides rides for players when they've had too much to drink or find themselves in a bad situation.
Next up for the Jets are the
Miami Dolphins
at Sun Life Stadium. The Dolphins are 2-0 and swept the season series over the Jets last year.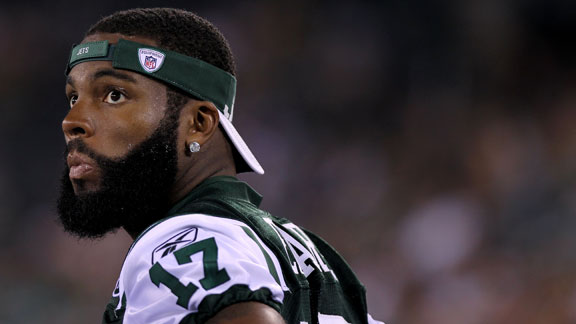 April, 22, 2010
4/22/10
11:10
PM ET
[+] Enlarge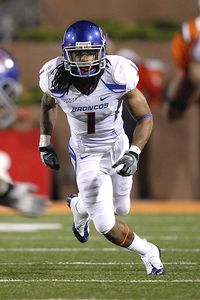 Joe Robbins/Getty Images Wilson will probably play nickel back in the Jets' backfield.
In what might be the biggest shocker of the first round,
New York Jets
general manager Mike Tannenbaum refrained from getting in on all the trades and stayed put, taking Boise State cornerback Kyle Wilson with their originally assigned 29th pick.
Why the Jets took him:
As Bill Belichick showed when the
New England Patriots
selected Devin McCourty with the 27th pick, cornerbacks are a precious commodity, and Jets coach Rex Ryan values them more than most.
Where Wilson fits:
Looks like he'll see most of his action at nickel back because the Jets have potentially the NFL's best starting cornerback duo in
Darrelle Revis
and
Antonio Cromartie
. Last year's nickel,
Donald Strickland
, was cast adrift in free agency.
Scouts Inc. says:
Makes a quick transition out of back-pedal. Breaks on the ball extremely well and closes quickly when receivers make a catch in front of him. However, lacks elite recovery speed and struggles to recover when gets caught in a trail position. ... Displays good short-term memory loss and can bounce back after getting beaten. Shows good anticipation of routes in zone coverage. Does a nice job of mid-pointing the high-low route concepts working near the sideline. However, needs to do a better job of getting head turned around in time to locate the ball.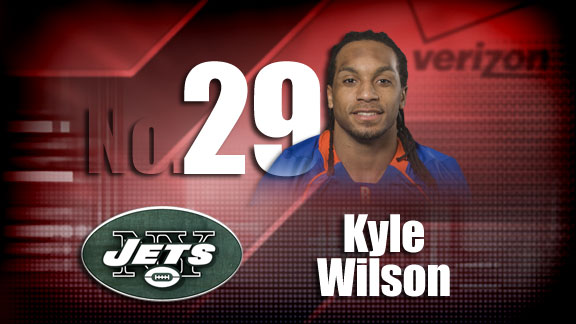 March, 24, 2010
3/24/10
12:24
PM ET
ORLANDO, Fla. -- I wonder if the New England Patriots sent the NFL a thank-you note for breaking up the draft into three days.
On April 22, the first round will take place in prime time and stand alone, the next step in the evolution of the NFL draft as an event. The first round is special, and the league wanted to treat it as such by separating it from the rest of the process.
"We think moving it to prime time on Thursday night is just going to expose it to a much wider audience," NFL commissioner Roger Goodell said Wednesday at the annual owners meetings. "We think it's going to be a terrific thing for our fans. We're excited about it."
The new format also should invigorate trade talk before the second round begins April 23 because general managers and coaches will have several hours to review their updated draft boards and plot their next maneuver.
The Patriots, the only club with three second-round picks, will be awaiting calls.
As ESPNBoston.com's Mike Reiss points out, the
three-day draft has improved the Patriots' leverage
.
"I'm sure there will be some interest in those picks," Belichick said Tuesday during a coaches media breakfast at the NFL owners meetings. "I can't imagine [otherwise] because that's usually the way it is, when you have multiple picks after the draft just stopped at a point and you've restarted."
The New York Jets wound up with Iowa running back Shonn Greene last year because they had all night to contemplate it. Last year's draft ended after two rounds, and Greene still was available.
Jets coach Rex Ryan, vice president of college scouting Joey Clinkscales, senior personnel executive Terry Bradway and general manager Mike Tannebaum debated their next move and decided to trade up, snagging Greene with the first pick of the second day.
"I think the emotion dies down and you sleep on it," Jets general manager Mike Tannenbaum told Reiss. "We decided we'd make one call to Detroit because of the value he had on our board, and if the price was right, we would go ahead and do it."
Belichick is interested to see how the new format will stimulate interest and creativity.
"I don't know whether that will happen or not," Belichick said. "I think it's certainly a possibility because historically that's been the way it's gone. To move up you have to give up something, and it's a question of whether there are teams that want to do that.
"I've been sitting there before thinking, 'If we could just get anything for this -- a case of beer, a gift certificate -- we'd gladly trade this pick.' But there are no takers. You just never know how that's going to go."
December, 10, 2008
12/10/08
1:50
PM ET
Posted by ESPN.com's Tim Graham
With three games to go, the New York Jets already have doubled their win total from last year.
But if they don't make the playoffs, their season will be considered a failure.
| | |
| --- | --- |
| | |
| | Kyle Terada/US Presswire |
| | After a five-game winning streak, Eric Mangini and the Jets have dropped their last two games. |
Turnaround, schmurnaround. The Jets established an awesome standard over a torrid seven-game stretch, but two disconcerting losses have them on the cusp of panic heading into Sunday's game against the Buffalo Bills at the Meadowlands.
Super Bowl proclamations have given way to renewed skepticism about Jets management and head coach Eric Mangini. Fans are expressing sentimental regret over Chad Pennington's departure.
"I don't want to say I'm hitting the panic button," said Jets linebacker and captain David Bowens, "but the leaders need to step up."
The Jets' front office spent lavishly on free agents in hopes of barging into a New York sports consciousness so occupied by the Giants and Yankees.
Jets general manager Mike Tannenbaum executed daring trades for quarterback Brett Favre and nose tackle Kris Jenkins, each transforming the dynamic of the offense and defense.
But an AFC East title? A Super Bowl?
Although that might have been the intention, nobody thought it actually could happen.
Then the Jets ripped off five straight wins and took six out of seven. They popped the defending AFC champion New England Patriots and undefeated Tennessee Titans -- perhaps the most significant back-to-back regular-season road wins in franchise history.
The Jets won five in a row, six of seven and hadn't lost in regulation time since September.
Expectations went from "Get outta here" to "Hey, now, wait a minute ..."
Jets fans were introduced to the bold possibilities. Their team was referenced in reverential tones by every NFL commentator on the planet. A mouth-watering Jets-Giants dream Super Bowl matchup became the hot topic.
And in the span of two weeks the Jets and their fans were swatted back to earth.
Now they can't figure out what has gone wrong.
Increased expectations bring exaggerated pressure. Pundits already are wondering who will replace Mangini and Favre if the Jets don't make the playoffs.
NFL SCOREBOARD
Sunday, 2/2
WEEKLY LEADERS