NFL Nation:

Mike Wallace contract
August, 28, 2012
8/28/12
5:00
PM ET
This comes as no surprise: Steelers wide receiver
Mike Wallace
believes he'll be ready mentally and physically for the season opener at Denver, which is 12 days away.
Whether he can accomplish this is the challenge.
In his first interview with the media since ending his lengthy holdout, Wallace said he expects to be tired after the first couple of practices because it takes time to get into football shape. "But I will be ready when it's time to go Sunday night against Denver," he said.
Wallace has missed two months of offseason workouts in the spring and skipped the three-week training camp this summer. To stay in shape, he's been working with a personal trainer in Florida.
"I'm not worried about it [being ready for the opener] at all because I have good teammates and they'll get me ready going against the defense," he said. "As far as conditioning-wise, we have two weeks until the game. I've been working out. I've been doing some really good conditioning. It's not really gong to be a problem."
August, 28, 2012
8/28/12
1:00
PM ET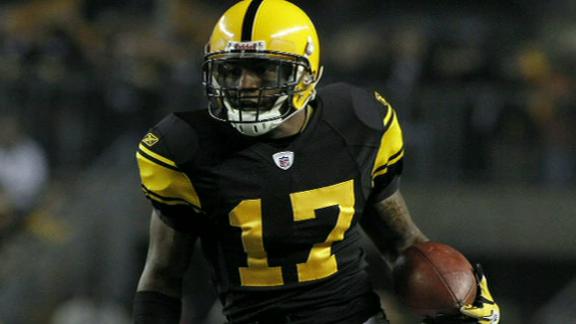 Wide receiver
Mike Wallace
reported to the
Pittsburgh Steelers
on Tuesday after missing all of the offseason workouts and training camp practices. But Wallace should be on the field in the season opener at Denver because he can make an impact in the game.
I'm not suggesting you should draft Wallace in the second round of your Fantasy draft. I'm not even predicting he'll get over 50 yards receiving in Week 1.
What I do know about is Wallace's speed. He won't be as comfortable in Todd Haley's playbook as
Antonio Brown
because he walked into the Steelers facility 12 days before the regular season kicks off for Pittsburgh. Still, Wallace knows how to run one route, the one where he goes straight down the field and flies past defenders. As coach Mike Tomlin has put it, Wallace is "a threat to take the top off a defense at any time."
Others don't see Wallace making much of a difference early in the season. ESPN's
Jerry Rice
said on SportsCenter that there's "no way" Wallace will be ready to make an impact in the season opener after missing all that time. Rice even suggested it could take Wallace four to five games to do so.
Even Wallace would have to acknowledge that he would've improved his chances of making an impact if he showed up last week and got a few snaps in a preseason game with the starting offense. But he didn't want to play in a preseason game. He sees his big paychecks when the regular season begins. It's selfish, but it's within his rights as an unhappy restricted free agent.
It's just hard to agree with the assessment that there's "no way" Wallace will make an impact. He needs to get in football shape (some believe holdouts injure themselves when they try to push themselves early), and he needs to get acclimated to Haley's system. But Wallace is still catching passes from
Ben Roethlisberger
, the same quarterback who has helped him catch over 1,000 yards and average 18.5 yards per reception over the past two seasons.
There is hope that Wallace will be able to pick up Haley's offense quickly. He was given a playbook during his absence. And tight end
Anthony Becht
, who played under Haley in Kansas City in 2011, said he learned Haley's offense in seven days. "Just a matter of how smart the guy is," Becht wrote
on Twitter
.
Wallace doesn't need to be the Wallace from the first half of last season to make an impact against Denver. When he lines up, everyone in the Broncos' secondary will know where he is. The attention put on Wallace opens up the underneath routes for Brown and the running lanes for
Isaac Redman
. For the past four months, Wallace has served as a distraction to the Steelers. Now, it's time for him to serve as a distraction for opposing defenses.
August, 28, 2012
8/28/12
12:11
PM ET
Disgruntled wide receiver
Mike Wallace
has ended his 1,000-day holdout (OK, maybe it's been a little over 100 days) and has reported to the Steelers.
Yes, it's finally happened. I swear. You don't believe me? ESPN's Josina Anderson has
a picture of Wallace
entering the Steelers' facility. Sure, it looks like one of those Facebook pictures of your friend's kid going to his first day of school. Nevertheless, this means WallaceWatch 2012 is officially over.
Wallace is expected to speak to reporters after practice, even though he technically can't practice. Under the new collective bargaining agreement, he can't take part in full-team drills for a few days, which means he can't suit up for the preseason finale. Funny how that worked out. He will be available to play when the regular season begins and his weekly $158,000 checks start coming in.
August, 21, 2012
8/21/12
2:13
PM ET
WallaceWatch 2012 apparently is about to end. Wide receiver
Mike Wallace
will end his holdout and report to the Steelers this weekend, sources told the
Pittsburgh Post-Gazette
.

Wallace
In my opinion, he's reporting one week too late. On his current timetable, Wallace will still be able to play in the Sept. 9 season opener. But if he had reported immediately after the Steelers broke camp -- which clearly makes the point that he's unhappy -- Wallace gives him a chance of being more effective in the season opener.
If he shows up and signs his $2.7 million tender Sunday, Wallace has 13 days to get in football shape and up to speed with the playbook before the games really count. I could see Wallace making this sort of play if this was the same system he's played in his entire NFL career.
But this is an entirely new playbook. He should know that because the Steelers gave him one this spring. Preseason has been a feeling-out process for quarterback
Ben Roethlisberger
and the entire offense. Even though Wallace's most effective routes are just running past cornerbacks downfield, it will take time for Wallace to adapt to the offense.
Although Wallace's return has been long expected (ESPN NFL Insider Adam Schefter reported Wallace would be there for the opener), having an arrival date is good news for the Steelers. Wallace could have sat out the first 10 games of the season and still accrued a full season by playing in the final six games of the regular season, which would have made him eligible for unrestricted free agency next offseason.
August, 14, 2012
8/14/12
10:27
AM ET
Mike Wallace
's holdout could be coming to an end shortly.
Wallace, the Steelers' leading receiver, is expected to report to the team before the regular season begins, according to ESPN NFL Insider
Adam Schefter
. This doesn't guarantee that Wallace will be catching passes in Week 1 -- Schefter prefaced this with "he always could change his mind" -- but this is the first indication that Wallace is not planning to extend his holdout into the regular season.
Wallace, who has yet to sign his $2.7 million restricted free-agent tender, only needs to be on the roster for six weeks to be eligible for unrestricted free agency next season. So, there was always a chance he could repeat what
Vincent Jackson
did in 2010 and sit out the first 10 games of the regular season.
ESPN's John Clayton predicted Wallace will return to the Steelers before the start of the regular season in
his weekly mailbag
because Wallace will lose $159,000 each week in salary.
According to Clayton, the Steelers are offering a five-year contract worth more than $50 million. Wallace wants around $11.5 million per year.
The Steelers have the upper hand on Wallace for at least the next two seasons. Pittsburgh can keep him as a restricted free agent in 2011 and a franchise player in 2012 for a grand total of $13 million. An average of $6.5 million is a good value when you consider the team is offering $10 million per season.
Talks on a long-term contract with the Steelers won't resume until Wallace reports back to the team. That's why it makes sense for Wallace to do this sooner rather than later.

NFL SCOREBOARD
Thursday, 9/18
Sunday, 9/21
Monday, 9/22
WEEKLY LEADERS