September, 12, 2013
9/12/13
7:30
PM ET
EARTH CITY, Mo. -- Rams defensive end
Robert Quinn
impressed just about everyone with his three-sack, two forced fumble performance against the
Arizona Cardinals
in week 1. Everyone, that is, except defensive line coach Mike Waufle.
Waufle leads the Rams' band of quarterback-chasing brothers by always keeping his eye on the next play, the next practice or the next game. When his linemen reach a goal, he sets the bar higher.
[+] Enlarge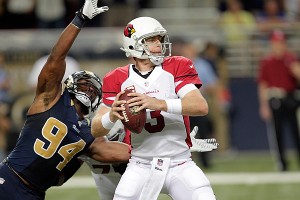 AP Photo/Tom GannamRams defensive end Robert Quinn showed his considerable upside in Week 1 against Arizona.
When a player like Quinn dominates a game and wins NFC Defensive Player of the Week honors, Waufle is proud but far from satisfied.
"It was a good day at the office, a good start," Waufle concedes.
Perhaps in part because he knows better than anyone what Quinn's true upside is as the end enters his third season, Waufle wants to do everything possible to push Quinn to reach it.
When the Rams drafted Quinn with the 14
th
pick in the 2011 NFL draft, they knew they were getting a fast-twitch player who would instantly be one of the best pound-for-pound athletes on the team. They also knew they were getting a player who hadn't played college football in 2010 and was going to be a bit of a project.
Quinn did just fine in his first two seasons, posting 15.5 sacks, but his pure speed and athleticism were enough to hit those marks.
So, with the help of Waufle and his fellow linemen, Quinn has set about looking to find ways to add more moves to his repertoire.
"I have been trying to incorporate more of an inside move, working on chops, stuff like that and just diversifying to be a better pass-rusher," Quinn said. "That way offensive linemen don't just have to focus on one thing. You have to be a master of all, which is tough to do, but that's our job to do so we work at our craft, try to get better each week."
Even in Quinn's award-winning performance against Arizona and left tackle
Levi Brown
, Quinn showed glimpses of a more diverse skill set, but still won each of his three sacks by using his speed to bend the edge.
On the first sack, the Rams rushed four and Quinn used his hands to quickly knock away Brown's attempts to engage. Quinn then quickly gets around the edge and chops down on Arizona quarterback
Carson Palmer
's arm to come up with a sack and a forced fumble.
On sacks two and three, fellow defensive ends
William Hayes
and
Eugene Sims
lined up in the middle and bookend
Chris Long
was in his usual spot opposite Quinn. A pure speed rush around the edge allowed Quinn to blow past Brown, who barely touched him on his way to the quarterback.
Out of those three sacks, the best sign for the Rams moving forward could actually be the two forced fumbles. The Rams had 10 forced fumbles in 2012, tied for 24
th
in the league and recovered four, which was second to last.
Quinn said he has made it a point to work on his version of the tomahawk chop. He said the coaching staff preaches to go for the arm instead of the ball because it offers a greater surface area to target and can have the same effect.
"The most important thing is coach Fisher wants us to get turnovers," Waufle said. "He wants us to get that ball out and we were able to accomplish that. We have got to be better at what we do, and the consistency factor has to be great to help our team."
Beyond the sacks and fumbles, the best sign of progress for Quinn might have come in the third quarter when Brown shaded him to the outside and Quinn used his left arm to knock Brown away as he rushed to the inside. The play didn't result in a sack, but it did draw a holding penalty on Brown and showed Quinn's developing understanding of how to take advantage of what one move can do to set up another.
"I'm one of the smaller [defensive] ends in the league, so I am not going to try to lift up a 300 pound tackle all the time," Quinn said. "You have got to mix it up, incorporate different things, think outside the box and keep your opponent off balance. That way he can't focus on one thing. Once you get him off balance, you are the aggressor now on what you decide to do and have him reacting to you. You have got to set the tone early, but definitely you can't do one thing over and over again, because people will adjust to it."
In his young career, Quinn now has two three-sack games, both against Arizona with tackle D'Anthony Batiste and Brown as the primary victims. Waufle is quick to point out that even though Quinn had six sacks in those games, that also implies they blocked Quinn on a large number of plays, also.
The next step for Quinn is to continue to improve against the run and use his developing moves to consistently beat some of the league's elite tackles. He'll see plenty this season with two dates against San Francisco's
Joe Staley
and Seattle's
Russell Okung
, and another game against Houston's
Duane Brown
, among others.
Waufle mentions words like precision and timing as areas Quinn can still improve, but he says it's important not to rush Quinn into trying to do too much too soon.
"He's a young player so he's developing a number of things, but you only take one thing at a time," Waufle said. "You don't want to try to give him a whole handful and be a jack-of-all-trades and a master of none. He's working on specifics and getting better. He still has a lot of work to do."
February, 22, 2013
2/22/13
4:11
PM ET
INDIANAPOLIS -- Jeff Fisher and Gregg Williams are long-time friends.
Or perhaps they were long-time friends.
[+] Enlarge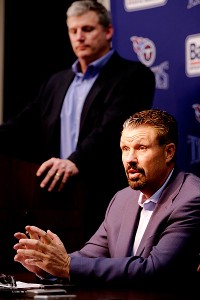 AP Photo/Mark HumphreyGregg Williams, a new senior assistant/defense for the Titans, and Jeff Fisher have a distant friendship at this point in time.
The coach of the
St. Louis Rams
said at the combine that he has not spoken to Williams since the NFL reinstated the assistant. Williams recently completed a year-long suspension for what commissioner Roger Goodell judged to be his role in a pay-for-injury program in New Orleans.
Williams is now senior assistant/defense in Tennessee where he previously worked with Fisher.
Fisher fired Blake Williams, Gregg's son, after the season in St. Louis and made it clear he had moved on from Gregg Williams, the man he brought to St. Louis in 2012 to be his defensive coordinator.
Friday, Fisher said that decision didn't come after the season, but during it.
"I made that decision well-before the season ended, that we wanted to go a different direction," Fisher said. "It probably wouldn't have been as easy had we not had the assistants that we did on the staff. But when you're talking about Dave McGinnis and Chuck Cecil, then coach (Mike) Waufle, you've got guys who have coordinated. I'm very fortunate to have gotten Frank Bush, who has also coordinated.
"We just felt like we wanted this to be the Ram defense so we're moving a little different direction than from what Gregg's philosophies are."
That's a tidy answer. But if all that defensive coordinator experience helped make Williams expendable, it seems a bit odd none of those coaches were named defensive coordinator. Instead Fisher recently hired Tim Walton as his new coordinator. Walton previously coached defensive backs for Detroit under another former Fisher assistant, Jim Schwartz.
Fisher expressed no ill will toward Williams. And I wouldn't expect him to publicly.
"I'm very happy that it worked out the way it did," Fisher said. "I believe Gregg can help the Titans and help coach (Mike) Munchak and of course Jerry Gray. The other side of that is that they can help him, to reestablish himself back in the league."
We have no idea how Williams feels about Fisher at this point, either.
But when the Titans introduced him, Williams trumpeted how important it was for him to work with people he knows, like Munchak and Gray.
Well, he knows Fisher, too.
June, 21, 2011
6/21/11
1:23
PM ET
This week's Power Rankings took a gander at the
NFL's best up-and-coming assistant coaches
.
To define the list, ESPN.com's panel of division bloggers decided we would concentrate on assistants who have never been head coaches (we didn't count interim tags) and are approaching their shot to run a staff.
Here's my ballot:
Rob Ryan, Cowboys defensive coordinator
Russ Grimm, Cardinals offensive line coach
Dirk Koetter, Jaguars offensive coordinator
Bill O'Brien, Patriots offensive coordinator
Rob Chudzinski, Panthers offensive coordinator
Perry Fewell, Giants defensive coordinator
Brian Schottenheimer, Jets offensive coordinator
Winston Moss, Packers inside linebackers coach
Mike Waufle, Raiders defensive line coach
Pete Carmichael, Saints offensive coordinator
Ryan topped my ballot for two reasons. First, he's a great defensive coach. Second, his twin brother's success with the
New York Jets
is pushing Rob Ryan even closer and closer to consideration.
In sorting out my list, my dominant criterion was becoming a head coach soon. Grimm has interviewed for jobs, reportedly been close to landing a couple and is highly thought of around the league. If Las Vegas posted odds on the next assistant to become a first-time head coach, Ryan and Grimm would be at the top of the list.
I was one of only three panelists to vote for O'Brien at all. AFC South blogger Paul Kuharsky listed him fifth. NFC North blogger Kevin Seifert ranked him eighth.
A high ranking for O'Brien simply is playing the percentages. Bill Belichick coordinators always seem to get an opportunity to be a head coach, and O'Brien certainly is making his mark. A coordinator appointment from Belichick is the ultimate sideline blessing these days.
Tom Brady
's not a bad reference either.
O'Brien did more than just pick up where Josh McDaniels left off. O'Brien oversaw a restructuring of the Patriots' offense from a shotgun-spread style to a two tight-end approach. He also prevailed in a battle of wills with
Randy Moss
and then directed the Patriots' offense to great things without him.
June, 21, 2011
6/21/11
1:05
PM ET
Power Rankings turn to an important, relatively unknown bunch this week: assistant coaches.
But we're not ranking the top 10 assistant coaches, we're ranking the top 10 up-and-coming assistant coaches. Who are guys who have not been head coaches before (interim stints didn't disqualify anyone) who we expect will ultimately be patrolling the sideline in the primary headset?
It's an interesting list that has a lot of debatable votes. For example, I didn't vote for Giants defensive coordinator Perry Fewell, who wound up No. 1.
I explain why in
Kevin Seifert's piece
unveiling the overall rankings (and here's
the column
relating to it all). I also make the case for Jacksonville offensive coordinator Dirk Koetter, who got my third-place vote and finished fifth overall.
Considering that I am on record selecting Koetter as my head coach if I assembled a staff from the AFC South pool of coaches, including the four head coaches, my vote should be no surprise. Indications were he was great in his interview with Denver, and only John Fox's prior experience got him the job ahead of Koetter.
He was the No. 1 selection for agent Bob Lattinville, who represents a lot of coaches and put together
a top 10 list for me
.
Here's my ballot, which I remind you counted just one-eighth of the overall result:
Rob Ryan
Winston Moss
Dirk Koetter
Greg Olson
Bill O'Brien
Darren Perry
Brian Schottenheimer
Rich Bisaccia
Mike Zimmer
Mike Waufle
June, 21, 2011
6/21/11
1:00
PM ET
The AFC West didn't play much of a role in this week's Power Rankings where we looked at the top 10 up-and-coming assistant coaches.
We were looking for assistants who could soon be head coaches in the NFL. Coaches who have been interim head coaches were eligible; former full-time coaches, however, were not eligible.
No current AFC West assistant made the list. Former
San Diego Chargers
assistant Rod Chudinski was ranked fourth. He left the Chargers earlier this year to become Ron Rivera's offensive coordinator in Carolina. Rivera was the Chargers' defensive coordinator until the Panthers hired him as head coach in January, so, I guess there was an AFC West feel on the list.
Oakland Raiders
defensive line coach Mike Waufle received some votes and he finished in 13th place. I ranked Waulfle in 10th place. I really like the way Oakland's defensive line developed under his guidance last season. To a man, his defensive linemen swear by Waufle. He's definitely a coach to keep an eye on.
I didn't vote for any other AFC West assistant. The other current AFC West assistant to receive votes was new San Diego special teams coach Rich Biasaccia. He was in 15th place. Biasaccia is well respected and is expected to instantly help the Chargers' weak spot. But I want to see him in action first before I give him a top-10 vote.
January, 23, 2010
1/23/10
10:31
PM ET
ESPN's Adam Schefter is reporting
that the Raiders will keep Tom Cable as coach.
[+] Enlarge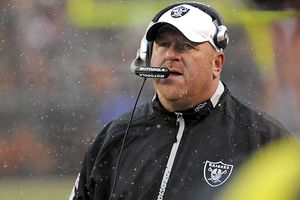 Jason Miller/US PresswireThe Raiders say they have not made a decision on coach Tom Cable's future, but rumors are swirling.
The Raiders say a decision has not been made.
I wouldn't be shocked at all if the Raiders do announce that Cable will be brought back. It has seems to be heading that way for the past couple of days.
There has been a staff addition – the team hired defensive line coach Mike Waufle on Friday -- and had an interview with Baltimore quarterbacks coach Hue Jackson for offensive coordinator. I think a Cable-Jackson pairing could be good for Oakland.
Cable would be relieved of play-calling duties and allowed to concentrate on the bigger picture. That may help this inexperienced NFL head coach. Jackson has a strong history with quarterbacks, so maybe
JaMarcus Russell
would have a chance to develop.
There are positives in this development if that's what Oakland announces.
Again, it looks like this saga may be over. I look forward to the Raiders' announcement and will be ready to analyze it further when they make it official.
October, 31, 2009
10/31/09
12:17
PM ET
Posted by ESPN.com's Matt Mosley
Defensive ends
Justin Tuck
and
Osi Umenyiora
get a lot of attention, but the mainstay of the Giants' defensive line since '06 has been defensive tackle
Barry Cofield
. He was taken in the fourth round out of Northwestern in '06 and he immediately became a starter. In his four years with the club, he's started all but one game. On Friday, the Beast had an opportunity to spend about 15 minutes on the phone with Cofield.
Barry, you guys aren't used to two-game losing streaks. What's this feel like?
Cofield:
There are certain expectations around here and we don't handle losing too well. It's not a normal thing to be dealing with, and on top of that, we're going to Philly. I know you've written about last season's phone incident [with
Donovan McNabb
] and it's not like that's the most respectable thing a guy can do. But it's not like we need that for motivation. We're always going to want to kill Donovan McNabb -- even if he's the nicest guy in the world.
| | |
| --- | --- |
| | |
| | Larry French/Getty Images |
| | Barry Cofield is looking forward to Sunday's matchup with the Eagles in Philadelphia. |
Because of your close proximity to the Eagles, does this rivalry mean even more to you?
Cofield:
I think [the defensive line] puts the Cowboys and the Eagles in the same category. I've played against the Eagles eight times in three years, so I'm pretty familiar with them. We know each other's schemes really well so you can just go out and play.
The Eagles have added some weapons to their offense. Do you see Andy Reid doing anything different than in the past?
Cofield:
Andy Reid's still the braintrust. We'll see a lot of different formations and it's a team that has a lot of gadgets. But you're right, they have some new faces. They're exceptionally fast and they've also made a lot of changes up front.
Jon Runyan
and
Tra Thomas
were nasty guys. They were the cornerstones of that offense. Runyan was a mauler and some people thought he was dirty. Now they have a smaller guy in [Winston] Justice and converted tight end in
Jason Peters
on the left side.
How important will it be to get Chris Canty and Michael Boley back on the field?
Cofield:
We look really forward to getting those guys back, but I really don't know when it will happen. [Tom] Coughlin doesn't tell us because he probably doesn't want me to leak it to guys like you.
Have you spent a lot of time preparing for the Eagles' Wildcat formation?
Cofield:
They ran it with [Brian] Westbrook last year, so we've seen some of it before. We've gone back and studies some of the plays they ran in the preseason. If they don't use [the Wildcat] this week, they're
not
saving it for anyone else. This is the game you'd want to do it all.
What's the most important thing in mind when facing a quarterback like Donovan McNabb?
Cofield:
With McNabb, you have to get him to the ground. You pretty much have to treat him like a running back and it's important to wrap up his legs and drag him to the ground. If you don't, he's strong enough to shake tackles.
Have you guys gone back and looked at that '07 game where Winston Justice had so much trouble against Umenyiora?
Cofield:
Definitely. Our position coach Mike Waufle had breakdowns that go all the way back to '04. They have a new wrinkle here and there, but they still have their bread and butter. We don't focus so much on entire games. We look back at a lot of plays. But to get back to Justice, he's definitely come into his own since that '07 game.
What do you make of the Eagles' fans?
Cofield:
They are some of the rudest fans that you'll meet. But they're almost some of the most passionate. We've had our team bus egged, we've been flipped off and we've seen some bare [rears]. It's a different kind of atmosphere, that's for sure.
Mosley:
I know you think the Beast spends too much time praising Tuck, so I'm glad you were able to join us for a few minutes.
March, 1, 2009
3/01/09
10:43
AM ET
Posted by ESPN.com's Matt Mosley
The New York Giants hosted two unrestricted free agents Saturday -- and ended up signing both. We've already talked about linebacker Michael Boley, but later in the evening the Giants signed former Seahawks defensive tackle Rocky Bernard.
The Bernard negotiation took longer than Boley's, but it didn't come close to breaking down. Cowboys defensive end Chris Canty was having dinner with Giants defensive line coach Mike Waufle when Bernard's deal was completed. The Giants would love to have Canty, but he's asking for somewhere in the $8 million per year range.
Giants general manager Jerry Reese isn't going to bite on that deal. And I'm not sure Canty would be a great fit in the Giants' defense. He wouldn't be able to do much damage from the edge, and I think he may be a little overrated as a run stuffer. He has impeccable character, though, and I'm sure Bill Parcells and Al Groh are in Tom Coughlin's ear about him.
Is there any way he ends up back in Dallas? I wouldn't bet on it.

NFL SCOREBOARD
Thursday, 12/18
Saturday, 12/20
Sunday, 12/21
Monday, 12/22
WEEKLY LEADERS