September, 30, 2013
9/30/13
4:05
PM ET
LAKE FOREST, Ill. –
Chicago Bears
coach Marc Trestman said on Monday that he is unsure if rookie linebacker
Jon Bostic
will be disciplined by the NFL for the hit he delivered to
Detroit Lions
wide receiver
Kris Durham
as he lay on the ground following an onside kick with 43 seconds left to play in the Bears' 40-32 defeat at Ford Field on Sunday.
Bostic
"I did not see it, I really didn't see it," Trestman said. "I haven't heard about it and I haven't heard from the league about it. We'll see what happens the next couple of days."
Bostic was not penalized by the officials, but the hit upset Lions coach Jim Schwartz who referenced the incident during his postgame news conference on Sunday.
"Kris Durham made a couple big plays at the end, probably no bigger than recovering the last onside kick," Schwartz said. "He took a big shot for it, too. We talk a lot about player safety and he's lying prone on the ground and is getting himself up and takes a helmet right to the back and we don't get any call there. It's a little hypocritical to talk about player safety when we allow that to not get called. Kris toughed it out, and he had to hold onto that ball and he did. He did a nice job today"
The NFL fined Bostic $21,000 in August for lowering his head and making forcible contact with a defenseless
San Diego Chargers
wide receiver, Mike Willie, during a preseason game at Soldier Field. Bostic appealed the fine.
August, 27, 2013
8/27/13
3:20
PM ET
The
San Diego Chargers
got down to the 75-man roster limit Tuesday by putting three players on injured reserve, ending their seasons.
They are receivers
Mike Willie
(knee) and
Dan DePalma
(shoulder) and fullback
Chris Gronkowski
(ankle). Not much was separated from any of these players in 2013.
Meanwhile, U-T San Diego reports rookie linebacker
Manti Te'o
is out of the walking boot that he had worn since getting hurt in the preseason opener Aug. 8. The team is hopeful Te'o can start Week 1.
August, 21, 2013
8/21/13
10:22
PM ET
Earlier Wednesday,
we discussed the hit
that has cost
Chicago Bears
linebacker
Jon Bostic
$21,000 in NFL fines. As you recall, Bostic hit
San Diego Chargers
receiver
Mike Willie
with the top of his helmet to dislodge a potential completed pass.
In live action, the hit looked like countless others we've witnessed in football and seen celebrated on highlight shows and by NFL Films. But the NFL found Bostic in violation of
Rule 12, Section 2, Article 7 (b2),
which bars a player from "lowering the head and making forcible contact with the top/crown or forehead/'hairline' parts of the helmet against any part of the defenseless player's body."
[+] Enlarge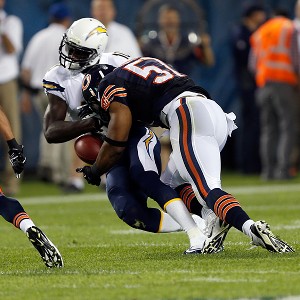 AP Photo/Scott BoehmLeading with his shoulder would have made this Jon Bostic hit legal, an NFL executive said.
Because the ruling doesn't pass our amateur smell test, I thought it was fair to relay a response from the NFL's vice president of officiating, Dean Blandino.
In this NFL Network appearance
, Blandino was asked what Bostic should have done differently to ensure it was a legal hit under NFL rules.
Here is what Blandino said:
"The Bostic hit is illegal because he used the crown of his helmet to deliver a forcible blow to the body of the receiver. For this hit to be legal, he has to get the helmet to the side and use the shoulder to deliver the blow, or hit the receiver with his head up. Those are the two techniques that we are trying to get back in the game. So using the crown to deliver the blow to the body, that is a foul when you're talking about a hit on a defenseless player."
As we discussed earlier, the NFL is moving away, with all available speed, from anything resembling contact with or to the head. Instead, as Blandino said, it would prefer players hit with the shoulder. If leading with the head is unavoidable, the player must have his head up so that contact is to the face and with the facemask rather than the crown of the helmet. Welcome to the new world order.
August, 21, 2013
8/21/13
11:11
AM ET
I cringed and started worrying after the third or fourth time I saw
Jon Bostic
's highlight-reel hit last week. Would the collision between Bostic, the
Chicago Bears
' rookie middle linebacker, and
San Diego Chargers
receiver
Mike Willie
surface as the first example in 2013 of the NFL's continued emphasis against head-to-head contact?
The answer appears to be yes, based on a tweet from teammate
Lance Briggs
that reported
the NFL fined Bostic $21,000
for the play. (The fine has since been confirmed by ESPN and other outlets.)
When you watch the replay in the video above, you see Willie reaching for a short slant pass and begin the process of catching it when Bostic launched a perfectly-timed hit to dislodge the ball. If you slow it down frame by frame, you see that the top of Bostic's helmet made contact with the bottom left side of Willie's helmet. No penalty was called.
[+] Enlarge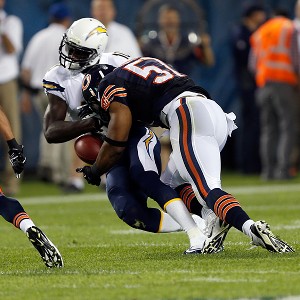 AP Photo/Scott BoehmJon Bostic was fined $21,000 Wednesday for his hit on San Diego Chargers wide receiver Mike Willie.
In sum, it's a play we've all seen countless times in NFL games. Many of them have been celebrated by NFL Films. But in 2013, and forever more, it is the type of contact the NFL wants to at least appear to be discouraged.
The NFL instituted new rules this year barring contact with the crown of the helmet, but in this case, it used one of its previously established rules to hand out the fine.
Rule 12, Section 2, Article 7 (b2)
renders this action to be illegal: "Lowering the head and making forcible contact with the top/crown or forehead/'hairline' parts of the helmet against any part of the defenseless player's body."
We can argue until we're blue in the face about whether Bostic lowered his head or if his head was simply tilted downward in a form tackle position when contact occurred. You can also question whether "defenseless position" was originally contemplated for a receiver reaching for a pass when both feet are on the ground. In this case, Willie took two steps before Bostic hit him. It wouldn't have been outrageous to call the play a catch and fumble.
But as we've discussed before, that ship has sailed. The conversation is over. At last count, more than 4,000 former NFL players are suing the league for concussion-related issues. Head safety is the league's top priority, legally and otherwise, and you can expect more aggressive interpretations of its rules moving forward.
Briggs later tweeted his disgust that the NFL fined Bostic but that the low hit on
Miami Dolphins
tight end
Dustin Keller
, which ruptured multiple knee ligaments, has gone unpunished. So goes the world we live in, like it or not. It's cheaper, for both the league and its players, to take out a player's knees than to hit him in the head. There is no going back now.
August, 21, 2013
8/21/13
9:25
AM ET
CHICAGO –
Chicago Bears
rookie middle linebacker
Jon Bostic
is apparently lighter in the wallet after the crushing preseason hit he put on
San Diego Chargers
wide receiver
Mike Willie
last week at Soldier Field.
Bears' starting weakside linebacker
Lance Briggs
tweeted on Wednesday morning from his Twitter account (@LanceBriggs), "Shaking my head moment. NFL fines Jon Bostic 21K for his clean hit against the Chargers."
Briggs went on to Tweet, "Bostic's s hit illegal. Hit on
Dustin Keller
. Legal."
Keller, a tight end for the
Miami Dolphins
, suffered a season-ending knee injury in the preseason on a low tackle by
Houston Texans
safety
D.J. Swearinger
. The hit is legal by NFL standards.
Bostic's targeted Willie's chest region on a short pass to the right on the third play of the third quarter that was ruled incomplete last week in the Bears' 33-28 victory over the Chargers. Bostic was not flagged on the play.
The rookie out of Florida is scheduled to earn a $405,000 base salary in 2013 in addition to a $1,246,036 signing bonus. He can appeal the fine.
Bostic has been working as the Bears' No. 1 middle linebacker since veteran
D.J. Williams
suffered a calf injury at the beginning of training camp.
August, 31, 2012
8/31/12
9:45
PM ET
Click
here
for the complete list of
San Diego Chargers
' roster moves.

Most significant move:
The Chargers cut former starting fullback (and special-teams ace)
Jacob Hester
and fellow running back
Edwin Baker
, a seventh-round pick. The Chargers will go with the likes of
Ronnie Brown
,
Le'Ron McClain
, Jackie Battle and
Curtis Brinkley
early in the season if starter
Ryan Mathews
(broken clavicle) can't play in the first couple of games. It was a no-brainer that the team kept kicker
Nate Kaeding
over
Nick Novak
. Kaeding, who was replaced by Novak after tearing his anterior cruciate ligament in Week 1 last year, was better than Novak in camp and in the preseason.
Onward and upward:
The Chargers cut undrafted rookie quarterback
Jarrett Lee
. The team was high on him, but once again, the team is going with just two quarterbacks: starter
Philip Rivers
and backup
Charlie Whitehurst
. Lee is a likely candidate for the practice squad. I can see receiver
Mike Willie
being put on the practice squad as well. He has potential, but he lacked consistency. I could see Baker as a practice-squad candidate as well. I'd think Hester will get looks elsewhere because of his special-teams availability. Longtime defensive tackle
Jacques Cesaire
could potentially get looks as the season progresses; there is always a need around the league for a veteran big man. If the Chargers get in a bind, I could see them turning the popular Cesaire, who was a locker-room favorite.
What's next:
Because of injuries, expect the Chargers to look for help at cornerback, tackle, safety and perhaps receiver and running back. Because left tackle
Jared Gaither
and several cornerbacks are hurt, San Diego could be on the lookout for players who could actually be active in Week 1 at Oakland. One player I fully expect San Diego to target is cornerback
Drayton Florence
. He'd fit right in as a nickel. Denver cut Florence on Friday. He is a former Charger and San Diego tried to sign him before he went to Denver.

NFL SCOREBOARD
Sunday, 2/2
WEEKLY LEADERS