NFL Nation:

Minneosta Vikings
March, 15, 2013
Mar 15
11:35
AM ET
The
Oakland Raiders
continued their theme of adding young starters on defense in an attempt to rebuild the team.

Oakland has signed Chicago linebacker
Nick Roach
. He is 27 and he is versatile. He was a strongside starting linebacker, but he played in the middle for Chicago when
Brian Urlacher
was hurt. He is considered to be an average player, but he will help Oakland as the starting middle linebacker. The reportedly cap-strapped Raiders gave Roach a multi-year deal worth $3 million to $4 million a year.
Oakland just signed Cleveland's
Kaluka Maiava
. He started several games at weakside linebacker for the Browns.
I expect the Raiders' starting linebackers will be Roach, Maiava and second-year player
Miles Burris
. This group is not great, but it has a chance to grow together (Roach is the oldest of the group) and that is what Oakland needs -- youth and stability.
Philip Wheeler
left for a big deal in Miami and former first-round pick
Rolando McClain
is expected to be cut. Oakland also signed defensive tackle
Pat Sims
(Bengals) and defensive end
Jason Hunter
(Broncos). All of these players are decent, inexpensive players.
Meanwhile, another Raider has left the team creating another hole. Running back
Mike Goodson
has signed with the Jets. There is a hole behind starter
Darren McFadden
, especially considering the team is planning on moving
Taiwan Jones
to cornerback.
Goodson, acquired in a trade with Carolina for guard
Bruce Campbell
last year, had 331 yards on 35 carries. Oakland will need to find a backup either in a weak free-agency class or with one of their five draft picks. While Oakland is making some signings, it still has plenty of needs.
It could lose another player. Defensive end
Matt Shaughnessy
is visiting Arizona. He has visits on tap to Tennessee and Philadelphia, according to ESPN's Adam Schefter. He could help the Raiders, but he fell out of favor late in the season.
In other AFC West notes:
The Chiefs are talking to Minnesota guard
Geoff Schwartz
.
New England is visiting with Colts pass-rusher
Dwight Freeney
. He is an option for Denver if it releases
Elvis Dumervil
. That decision is expected later Friday.
The Jets are looking at San Diego pass-rusher
Antwan Barnes
.
March, 14, 2013
Mar 14
11:35
AM ET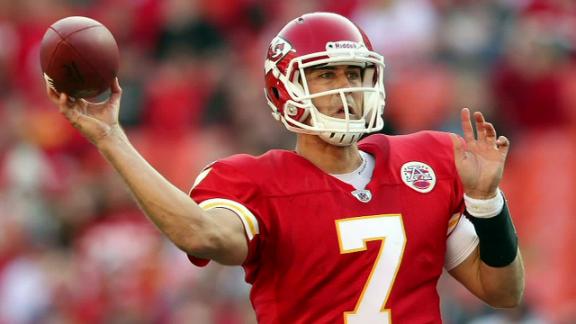 This has been a foregone conclusion for months, so the cheering from Chiefs fans in Kansas City may be somewhat muted.
But make no mistake; this is not a sad day in Kansas City.
Matt Cassel
is officially a former Chief as the team cut him Thursday morning. Again, no surprise here. The Chiefs agreed to trade for
Alex Smith
to be the new starter weeks ago. But Cassel's time in Kansas City actually expired last season when he was replaced by
Brady Quinn
.
The once-hopeful franchise quarterback bottomed out in 2012, and his failure to become the Chiefs' answer was a primary reason general manager Scott Pioli was jettisoned after the season.
Cassel was Pioli's first big pickup in 2009. The two had success together in New England. Cassel became hot when he played well in 2008 as an injury replacement for
Tom Brady
. Cassel did play well in Kansas City in 2010 as he led the team to the AFC West title, but he did little to progress following that season. In 2012, he was a turnover machine (12 interceptions) and he seemed to lose his teammates' confidence.
A nice guy off the field (he once
alerted a Kansas City neighbor to escape her burning home
), Cassel just didn't seem like he could lead his team, and he became the center of the fans' disdain. It was a national story when right tackle
Eric Winston
(who was cut last week) passionately ripped some fans who he accused of cheering when Cassel went down with a concussion. All the negative attention was nothing new for Cassel, as he once was booed at a Major league Baseball All-Star event in Kansas City last summer.
The new Kansas City regime truly had no intention of keeping Cassel, but he was kept around in a futile attempt to get a late-round draft pick for him. When that dream ended, Cassel was cut.
He will get some looks as a backup with Minnesota, Tampa Bay and Arizona, all teams who have been mentioned as possible destinations.
As for Kansas City, Cassel's tenure will be nothing but memories of a failed experiment.
July, 27, 2011
7/27/11
1:40
AM ET
Let's look at some early morning notes before we gear up for another busy day Wednesday. You know, later today.
The San Diego Union Tribune reported the Chargers cut linebacker Jyles Tucker and receiver Buster Davis and that linebacker Antwan Applewhite will soon join Tucker on the outside. Tucker was given a contract extension three years ago and the Chargers thought he would become a premier pass rusher. But he couldn't stay healthy. That's been the case with Davis, a former first-round pick. It's been expected that he will be cut. The moves will be made official Thursday.
Now that San Diego that has signed Takeo Spikes, Green Bay inside linebacker Nick Barnett likely is out of the picture there. Barnett could attract interest in Kansas City, though.
Here are San Diego's 19 undrafted free agents: Arizona C Colin Baxter, Texas Tech LB Bront Bird, Auburn DE Mike Blanc, Arkansas CB Ramon Broadway, Maryland WR Adrian Cannon, South Carolina FB Patrick DiMarco, Georgia LB Darryl Gamble, TCU DT Kelly Griffin, Washington T Cody Habben, Kansas State CB Stephen Harrison, Cincinnati WR Vidal Hazelton, Oklahoma WR Cameron Kenney, Minnesota-Duluth RB Isaac Odim, Colorado WR Travon Patterson, Boston College DE Damik Scafe, Whittier WR Giovanni Stanley, Baylor TE Brad Taylor, Oregon T Bo Thran and Wisconsin QB Scott Tolzien.
November, 3, 2008
11/03/08
12:55
PM ET
Posted by ESPN.com's Kevin Seifert
We just touched down back in NFC North territory -- everyone can rest easier now, I'm sure -- and we'll try something a bit different with today's Black and Blue feature. Since we're getting a bit of a late start, and you've probably caught up with the news of each division game by now, I wanted to give you a sampling of how some columnists viewed the festivities.
We'll start in Chicago, where no one was encouraged about the likely quarterback transition from Kyle Orton to Rex Grossman. Rick Telander of the Chicago Sun-Times:
If the Bears didn't have a quarterback problem, they wouldn't know what to do. If the world gives them lemonade at that position, they will find a way to make lemons. And so just before halftime of their 27-23 win over the neutered Detroit Lions at Soldier Field, the Bears saw their quarterback legacy, their birthright to always be screwed up at the helm, enter quietly from the north end of the lakefront stadium. It came in the form of a green, six-wheeled, motorized cart, the one with the little black tires and bright yellow rims and the flat-bed just behind the driver's seat. Into this cart was deposited Kyle Orton, the Bears' rising quarterback for the last seven games, the quiet former backup with the patchy neckbeard who had been doing so well as a new starter.
Count Eric Olson of the Northwest Herald among those who fears a Grossman tenure of any length:
Grossman's not incompetent. He's just scary to watch because it's well-known that he can uncork a bad throw at any time. With Orton, that was less of a concern, and that also was a relief.
On the other side of the press box, Detroit-area columnists were debating the Lions' decision to sign quarterback Daunte Culpepper. Michael Rosenberg of the Detroit Free Press:
The Lions are 0-8, or as I like to think of it, Halfway to Nowhere. And with the Cincinnati Bengals finally winning for the first time all season, the Lions are alone on their desert island. They are the only winless team in the league and they have a quarterback controversy. I swear, sometimes I think they exist purely for the benefit of sports columnists. Incumbent quarterback Dan Orlovsky said he isn't thinking about Culpepper's arrival, which is like Barack Obama saying he isn't thinking about the election.
Bob Wojnowski of the Detroit News thinks the Lions should look everywhere for help:
For the current regime -- executive vice-president Tom Lewand, GM Martin Mayhew, coach Rod Marinelli -- there's nothing wrong with trying everything. This also could be further indication that some combination of that group might return next season. This is the third major move -- trading Roy Williams and placing Jon Kitna on injured-reserve were the other -- the regime has pulled off since Matt Millen's firing, with eyes on the future.
In Minnesota, Jim Souhan of the Star Tribune notes how several of the Vikings' recent big-ticket acquisitions -- defensive end Jared Allen, receiver Bernard Berrian, safety Madieu Williams, tight end Visanthe Shiancoe -- played key roles in Sunday's 28-21 victory over Houston:
Maybe the Vikings are jelling. Maybe they just had a good day. Either way, whatever success they've had this season stems from Zygi Wilf's willingness to stretch his wallet.
Tom Powers of the St. Paul Pioneer Press celebrated Williams' return from a neck injury.
Yes, it's nerve-wracking to see a fellow come back from a neck injury and then play football with no helmet. For example, late in the third quarter with the Vikings up by a touchdown, Williams leapt high while covering Kevin Walter in the end zone. There was a big tangle, and they landed in a heap. Williams wound up with a key interception, but no helmet. That was rolling around several feet away. Fortunately, his head was not in it.
In Nashville, Tenn., Mike Vandermause of the Green Bay Press-Gazette and Tom Oates of the Wisconsin State Journal were impressed with how angry the Packers were about their loss. Vandermause:
But there was at least one encouraging sign in the aftermath of the Packers' red-zone failures, costly turnovers, dropped interceptions, misguided passes and boneheaded penalties. In the wake of a bitter defeat, there was no finger pointing or grumbling about what could have or should have been. Instead, a roomful of dejected players seemed willing to accept responsibility for their actions. While it doesn't change the painful 19-16 loss on the scoreboard, it bodes well for the second half of the season.
The most encouraging thing about Sunday's game wasn't that the Packers held up physically against the Titans or that their defense dominated at times or that they gained almost 400 yards on offense despite having to reshuffle their line at the 11th hour. No, the most encouraging sign was that they were really ticked off that they didn't leave Nashville with a victory. They thought they were the better team before, during and, yes, even after the game. If you're wondering where this 4-4 season will go from here, then those are all good things. They are all signs that this team finally has its collective helmet screwed on straight after muddling through the first half of the season with uneven performances filled with hard-to-fathom mistakes.
July, 21, 2008
7/21/08
8:05
AM ET
Posted by ESPN.com's Kevin Seifert
What? Could one whole day have passed without an update in the Brett Favre saga? It appears as though both sides rested Sunday, at least publicly, in anticipation of a key week for the Green Bay Packers. So we'll take our cue and go Favre-less ourselves -- for now -- in this edition of Black and Blue all over.
NFL SCOREBOARD
Thursday, 12/5
Sunday, 12/8
Monday, 12/9
WEEKLY LEADERS