August, 12, 2010
8/12/10
12:09
PM ET
ESPN.com NFL Power Ranking
(pre-camp): 1
ANDERSON, Ind. -- They could have made a bid at an undefeated regular season and their hopes for a Super Bowl win were snuffed out by an onside kick and an untimely pick.
So it should concern the rest of the AFC South that the 2010
Indianapolis Colts
appear to be better than last year's version.
They get two high-quality players, who were injured for most of last year, back in safety
Bob Sanders
and receiver
Anthony Gonzalez
. The Colts added a third edge rusher and a blocking tight end in the draft.
"Coach [Jim] Caldwell wants us to be a consistent team and not one that plays really well one week and not one that goes into a slump the next couple of games and then comes back,"
Peyton Manning
said. "I think we have been pretty consistent. Our offseason work, our execution and our attention to detail in training camp make a difference.
"But what has happened in the past doesn't guarantee you anything for this 2010 season. We have some new players, new coaches and it is up to us to go out and form the identity of his team and to go out and try to win games this season."
THREE HOT ISSUES
[+] Enlarge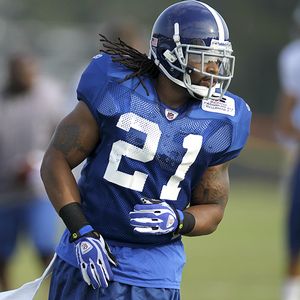 AP Photo/Darron CummingsBob Sanders doesn't plan on changing his style to avoid injuries. "It's a physical game," he said. "I make tackles."
1. Can Sanders stay on the field?
The thing that makes him so good is the same thing that makes him so injury prone. He throws himself around like a torpedo, and suffers the consequences. He's upbeat and happy right now to be spending his time on the field and with coaches and teammates instead of in the training room with medical staff.
"I don't think you can put yourself in less danger on the field," Sanders said when I asked if there was any way he could be less reckless to try to preserve himself. "We're football players so we're going to be physical. It's a physical game. I make tackles. You just never know what's going to happen. You just have to play your best, hope for the best, I pray and put it in God's hands and just try to do my job."
When he's out there, he'll be more creative than when we last saw him playing consistently. Second-year defensive coordinator Larry Coyer is much more willing to blitz than Ron Meeks was.
As good as
Melvin Bullitt
's been as Sanders' replacement, Sanders is a game-altering presence when he's out there. Sanders is making plays in camp. If he's out there, the Colts' defense could be fantastic.
2. Will offensive line changes amount to an upgrade?
Left guard
Ryan Lilja
was let go, so at least one spot will be filled by someone new.
Tony Ugoh
looked like the early choice, but he's been pulled back to tackle to work for the injured
Charlie Johnson
, so
Jamey Richard
is in play. Richard might shift to center while
Jeff Saturday
recovers from a knee scope, which could open the door for rookie
Jacques McClendon
, if he's healthy, or someone like
Jaimie Thomas
.
The talent pool now includes McClendon and tackle
Adam Terry
, but there was no overhaul. Pass protection combined with Manning's ability to get the ball out quick meant few sacks, but the team needs to run better for balance. Short-yardage bugaboos have been a factor in season-ending losses the past two years.
New offensive line coach Pete Metzelaars has a chance to make minor alterations that could have a bearing, and a quality-blocking tight end like
Brody Eldridge
could even help revive the once bread-and-butter stretch play.
[+] Enlarge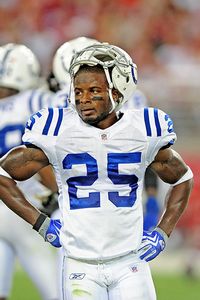 Mark J. Rebilas/US PresswireSecond-year cornerback Jerraud Powers had 66 tackles, a forced fumble and an interception during his rookie season.
3. Will secondary depth hold up?
Bill Polian purged the roster of some injury-prone corners, then saw third-round pick
Kevin Thomas
go down shortly after the draft with a serious knee injury.
Kelvin Hayden
,
Jerraud Powers
and
Jacob Lacey
should be a fine top three, but if one gets hurt,
Deshea Townsend
or
Marcus McCauley
, who were available recently, could be the next option.
If the Colts have to go that deep down the depth chart, their pass rush will be even more vital. But how many teams would love for the fourth cornerback to be a primary issue heading into a season?
BIGGEST SURPRISE
It's hard to find them with a very low-key team that drafts and grooms the bulk of its players. Polian's harped on short-yardage failures, but then the team didn't add a sure fire starter to the line with
Andy Alleman
(already gone), Terry and McClendon.
BIGGEST DISAPPOINTMENT
Before the Colts could start to sort things out, injuries dictated they move offensive linemen around. Saturday is out 2-6 weeks after a knee scope, and Johnson and McClendon are sidelined. It would have been nice to see Metzelaars have a full deck for a long stretch in order to best hold competitions and compare and contrast players. The sooner they resolve the lineup and start to build cohesion, the better. Now it's probably going to be later than would be ideal.
OBSERVATION DECK
[+] Enlarge

AP Photo/Darron CummingsExpect more surprises out of Larry Coyer's defense this season.

In Year 2 of Coyer's tenure as defensive coordinator, I expect the Colts will be more exotic with an occasional surprise look or package -- perhaps most often utilizing their depth at safety where Sanders, Antoine Bethea and Bullitt make for three starting-caliber players.

While the defensive line shows fantastic speed and strength, Mitch King looked the least smooth during the drill in which linemen weave through blocking dummies, turn a corner and try to strip a quarterback. For those excited about him, an adjusted timetable might be advisable.

As the punter and kickoff man, Pat McAfee is electric. But teams in the market for a kickoff specialist might want to keep an eye on Garrett Lindholm, who looks like he can regularly put the ball in the end zone.

Powers carries himself exceptionally well. During a break in one practice, as most guys went to the cool-down tent or took themselves out of football mentality for a minute, he picked the brain of Reggie Wayne. Powers already has become a media favorite, too.

Manning could make good money if his only job was to put on clinics about how to best loft red-zone passes to the pylons in the back corners of the end zones.

Joseph Addai knows what he's doing on every play, and Donald Brown is smart enough to follow his lead, though Brown doesn't shine in pass protection one-on-ones versus linebackers. The Colts will be just fine if the line can block for the runners, and maybe even if it can't. Brown's had more than a year to get pass protections down. If that keeps him off the field any this year, it's no one's fault but his.

Better didn't mean great for the interior defensive line in 2009. Daniel Muir and Antonio Johnson continue to improve, and Fili Moala will make for a third 300-pounder in there. He appears to be comfortable and ready to contribute.

The Colts haven't emphasized the return game and, at times, it's felt almost like they de-emphasized it. But undrafted rookie Brandon James is a miniature speedster who is in position to win at least the punt-return job. He could give Manning and the offense a short field once in a while.

John Chick, who joined the Colts from the Canadian Football League, could win the fourth defensive end spot if he shows a good learning curve and durability.
May, 5, 2009
5/05/09
8:24
AM ET
Posted by ESPN.com's Paul Kuharsky
Pete Prisco's post-draft power rankings: Colts three, Titans seven, Texans 12, Jaguars 24.
Houston Texans
Indianapolis Colts
Jacksonville Jaguars
Tennessee Titans
May, 1, 2009
5/01/09
8:32
PM ET
Posted by ESPN.com's Paul Kuharsky

NASHVILLE -- Nineteen Titans rookies practiced twice Friday. The second session was open to the media and held in the practice bubble because it was pouring outside.
With such limited numbers it was far easier to get impressions of skill guys than linemen or, say, fourth-round linebacker Gerald McRath, the lone player at his position.
Even these early impressions do not mean a lot given the context, so please don't get overly excited about any of this.
Here then are five quick observations and notice of one more to come:
1. Receiver Kenny Britt looked the part of a first-rounder, carrying himself with confidence, breaking down comfortably and making several nice catches. Jeff Fisher called "Rutgers vs. Rutgers" on the final play of a passing period and Britt lined up against college teammates Jason McCourty, a sixth-round pick.
Quarterback Alex Mortensen threw it up in the back left corner of the end zone from 12 yards and Britt did just as advertised -- he went up and got it with a twisting, acrobatic catch. It was the sort of grab the Titans rarely got last season.
Alas, it was incomplete, as Britt came down with one foot out of bounds.
"Last year it would have been good," Fisher said of college's one-foot rule.
2. Third-round tight end Jared Cook looks very much like a receiver.
Fisher said he could envision Cook adding 15 to 20 pounds to his 6-5, 246-pound frame. Cook's arms are very long and he ate up over-matched seventh-round safety Nick Schommer in a few one-on-one chances. In combination with Britt, the Titans sure look to have upgraded their quotient of go-up-and-get-it pass catchers.
3. Fifth-round running back Javon Ringer was not well-served by getting No. 3 on his uniform. It makes him look very narrow. He said he hasn't seen what he looks like in it yet, but laughed about it after practice, saying he definitely aspires to a two-digit number, hopefully in the 20s.
4. Sixth-round receiver Dominique Edison made a couple nice catches in one-on-ones by coming back to the ball and going to the ground to collect passes.
5. Third-round cornerback Ryan Mouton is almost fully recovered from a hamstring injury, but coaches told him to be smart and he didn't do much at full speed.
That left room for McCourty to take the lead in some instances, and he looked comfortable doing so. He said the attention Britt drew as a prospect definitely increased opportunity for him to make his case to NFL scouts. McCourty has nice size and looked to transition into and out of his backpedal and break on balls well.
Undrafted rookie defensive tackle Mitch King gets a blog entry of his own. Look for it soon.
April, 27, 2009
4/27/09
12:54
PM ET
Posted by ESPN.com's Paul Kuharsky
Rick Gosselin's draft analysis: Houston A-plus, Indianapolis C, Jacksonville C, Tennessee C.
Peter King likens Connor Barwin to Mike Vrabel, likes Fili Moala, is fine with tackle-tackle with the Jaguars' first two picks and isn't big on Kenny Britt but likes Sen'Derrick Marks.
Houston Texans
Brian Cushing formulated a plan to play in the NFL when he was in third grade, says Dale Robertson.
Gary Kubiak said there isn't anything mentally that James Casey won't be able to handle, writes Megan Manfull.
The Texans never got around to drafting a big back to go with Steve Slaton, writes John McClain. He's got a list of 12 undrafted rookies, and it includes two backs.
McClain explains the rationale for each of the Texans' picks.
Lance Zierlein's thoughts on Cushing and Barwin.
Alan Burge's review of what the Texans did.
Indianapolis Colts
The Colts addressed manpower issues, says Mike Chappell.
Bill Polian said Curtis Painter won't beat out Jim Sorgi for the backup job as a rookie, writes Chappell. That means the Colts are prepared to carry three quarterbacks.
Jim Irsay says the Colts won't redo their stadium deal, writes Robert Annis.
John Oehser breaks down Donald Brown.
Final thoughts on Dominic Rhodes from Oehser. Polian said the Colts never heard from Rhodes' agent. This confuses me. If Polian was interested in Rhodes, he would have dialed out, no?
A pick-by-pick review from Oehser.
Jacksonville Jaguars
The Jaguars look to a short and fast playmaker from the Pac-10 again, writes Vito Stellino.
Gene Frenette gives the Jags a B-minus.
Auspicious morphed into suspicious for the Jaguars from Day 1 to Day 2 of their first draft under new general manager Gene Smith, writes Michael C. Wright.
Cole Pepper looks at it pick-by-pick.
Pepper finds video highlights of Jags' picks.
Derek Cox was hardly alone as a non-combine player getting drafted relatively high, writes Gosselin.
Tennessee Titans
Kenny Britt and Sen'Derrick Marks visit Titans' HQ, writes Gary Estwick.
Jim Wyatt's look at Day 2 of the Titans' draft.
The folks at The Tennessean grade the draft.
Tennessee's first undrafted rookies included Michigan defensive tackle Mitch King and Northwestern (La.) State receiver Dudley Guice.
David Climer says the Titans are comfortable outside BCS conferences.
Joe Biddle considers how the draft will impact the AFC South.
Wyatt doesn't expect the Titans to pull the franchise tag from Bo Scaife, but even before Tennessee drafted Jared Cook a long-term deal for Scaife didn't look like it was happening.
Terry McCormick's review of the Titans' work.

NFL SCOREBOARD
Thursday, 8/21
Friday, 8/22
Saturday, 8/23
Sunday, 8/24