March, 16, 2011
3/16/11
2:30
PM ET
You have to give the AFC North division credit for having multi-talented athletes.
While
Baltimore Ravens
safety
Tom Zbikowski
is
boxing professionally
again and already has one knockout this offseason,
Cincinnati Bengals
receiver
Chad Ochocinco
is
taking up professional soccer
. He will get a four-day tryout with Sporting Kansas City of the MLS.
Although this might come off as a publicity stunt -- and to some degree it is -- Ochocinco has always had a love and appreciation for soccer. He talks about it all the time on Twitter and occasionally in the locker room during football season. I've also seen videos where Ochocinco has some nifty soccer moves.
Whether Ochocinco is good enough to play soccer at the pro level remains to be seen. Sporting Kansas City said they will evaluate where Ochocinco stands after a four-day trial.
With the NFL experiencing a lockout, players like Zbikowski and Ochocinco are free to participate in any activities they wish until a new collective bargaining agreement is reached. Both players have key roles for their respective AFC North teams. So the Ravens and Bengals will keep their fingers crossed that no injuries occur.
June, 10, 2010
6/10/10
2:45
PM ET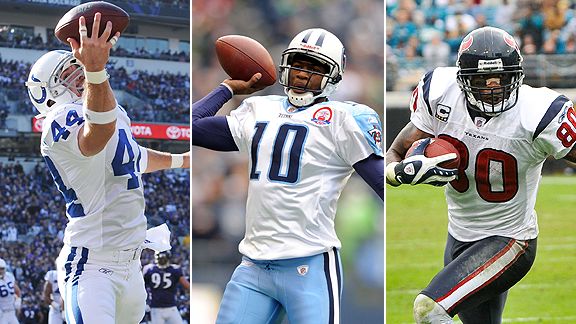 US PresswireWhich of these AFC South stars -- Dallas Clark, Vince Young or Andre Johnson -- would make the best soccer goalie?
A while ago on Facebook, regular reader and contributor
Nathan Cherolis
posed an interesting question for downtime in the NFL with the World Cup approaching.
It went something like this: If you could take one guy from each AFC South roster to train intensively for one year to be a World Cup goalkeeper, who would it be?
I called on soccer coaches who are familiar with the four NFL teams we're working with for some input. And while they didn't choose any shockers, I thought some of the rationale and conversation was interesting.
I also had a chance to speak with two of the chosen ones about how they feel they'd do.
So if you're anticipating the opening matches Friday and the US-England game Saturday as I am, here's a little football/futbol post for entertainment purposes only.
Dominic Kinnear of the Houston Dynamo of Major League Soccer is the lone top-level professional coach at work in our territories.
He's familiar with the Texans and the Colts, and said he'd pick Houston receiver
Andre Johnson
("He's got incredible hands, and plucking balls out of the air is a necessity") and Indianapolis tight end
Dallas Clark
("Same thing, incredible hands, brave, not afraid to get hit going through traffic").
"I don't think it would be that far off because these are great athletes," he said. "A lot of goalkeepers now are great athletes first. You look at the guy who plays for the United States, Tim Howard, the one thing that people marvel about with him -- especially in England [where he plays for Everton] -- is how good of an athlete he is.
"On the athletic side as far as shot stopping, timing of coming out to collect crosses, I don't think it would take too long for those guys, because it's kind of the same thing they do. They are big guys, they are going through traffic. Having a bit of contact in the air when they are catching the ball, it happens all the time. So I don't think the timing of that would be that difficult for them."
NFL SCOREBOARD
Sunday, 2/2
WEEKLY LEADERS