NFL Nation:

Moss claimed by Titans
November, 5, 2010
11/05/10
9:47
AM ET
Just how much can the addition of
Randy Moss
help
Chris Johnson
and the Titans' running game?
The Titans provided some pre-bye week quotes Thursday when they had a closed practice and no media availability. And almost all of them mentioned it.
A sampling: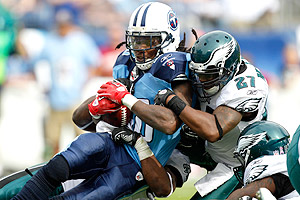 AP Photo/Brian GarfinkelChris Johnson hopes the addition of Randy Moss will mean fewer defenders focusing on him.
Johnson:
"That's a guy we grew up watching. We named jump balls after him. When somebody goes up and gets one, it's named after him. We call it 'getting a Moss.' So I'm very excited about the situation, to play with a guy like that, and I'm very excited that he'll back some of those guys out of the box. I know for a fact they can't put all those guys in the box with that guy out there."
Left tackle Michael Roos:
"I think it's going to be great to have Randy here, a player of his caliber, expertise and experience. It should definitely help our offense, especially in the running game, being able to take away some extra guys in the box from C.J."
Free safety Michael Griffin:
"You are going to have to keep a safety over and one-on-one with him. You just hope that he comes in and can help this team out and we can continue to move forward."
ESPN Stats & Info's Next Level research says Johnson's been super-effective out of three-wide formations this season, but that there have not been too many of those plays.
With two or fewer wide receivers on the field, Johnson has 155 carries for an average of 3.9 yards a rush and seven touchdowns.

With three or more wide receivers on the field, Johnson has 23 carries for an average of 5.3 yards and one touchdown.
With Moss in and
Kenny Britt
(hamstring) out, the Titans can still go three-wide with Moss,
Nate Washington
and one of three slot options --
Justin Gage
, if they want to go back to the old, or
Damian Williams
or
Lavelle Hawkins
if they want to stick with the new.
I'd love to see them line up with Moss, Washington and Williams to spread the field on a larger share of plays when they intend to hand it to Johnson.
I'd also like to see them throw it to Johnson more. He's second on the team with 22 catches, but only has 90 yards. That's a 4.1-yard average as compared to a 10.1-yard receiving average a year ago.
One AFC personnel man told me this is an area in which Moss can really have an influence.
"When we played them last year, they would get the receivers down the field and then let Chris check-release," he said. "If your defense has guys over the top of Moss, that takes a guy out of the box. So now all off a sudden if you're operating under the same principles and this guy is stretching the field, the check down is much more isolated and he gets the ball in space.
"And if you're running the sprint draw, taking your guys and running them down the field, you set up the throw and then you offset the back and hand it to him on the draw. They've had success with that. And now when you've got a vertical threat like Moss it affects the defense."
Johnson's presence can certainly also help Moss.
Vince Young
has been great overall this season with play-action passes (thank you CJ) with a 151.2 passer rating on just 29 attempts.
But since 2008, Titans wide receivers have only two more catches out of play-action that Randy Moss has by himself in the same span:
Moss has 43 catches for 862 yards and eight touchdowns on balls that average 20.9 yards in the air.

Titans wide receivers have 45 catches for 878 yards and four touchdowns on balls that average 17.1 in the air.
November, 3, 2010
11/03/10
6:38
PM ET
The
St. Louis Rams
watched every snap
Randy Moss
played for New England and Minnesota this season.
The team ultimately concluded Moss has "plenty left" to offer an NFL offense, but the "timing" and "situation" weren't right to claim Moss off waivers from the Vikings.
That was the word Thursday from general manager
Billy Devaney via 101ESPN St. Louis
.
Devaney resisted giving details. He indicated the Rams did speak with people who had worked with Moss this season, including even athletic trainers.
Left unsaid: whether Moss was amenable to playing for the Rams, whether Moss' salary was a significant factor, whether the team thought Moss might negatively influence team chemistry, etc.
November, 3, 2010
11/03/10
5:44
PM ET
My first question about
Randy Moss
as a Titan was: Will Jeff Fisher be able to
handle him
?
My second is: How long does Moss last with his fourth team in his fifth fresh start?
The presumption when he got (back) to Minnesota was he'd fall in line for a good while, give things a chance to work as he restored his name and to make the people who stuck their necks out for him, Brad Childress and
Brett Favre
, look good.
He lasted all of four games before Childress made the decision to concede a mistake and classified Moss as "
a programmatic non-fit
."
The Titans have a far more functional organization right now than the Vikings do. Moss should fare better in a setting with a more established coach and a franchise that, having sacrificed nothing to get him, could cut him quickly with little backlash if it's clear things won't work.
Still, an egg timer gets flipped here.
How long does Moss give the Titans to feed him the way he needs to eat -- both on the field, and at the team buffet?
They have a bye this week and play at Miami on Nov. 14 before hosting Washington on Nov. 21 and then playing three in a row in the AFC South at Houston and against Jacksonville and Indianapolis.
If offensive coordinator Mike Heimerdinger and quarterback
Vince Young
can't get the ball to Moss against the Dolphins or the Redskins, does the receiver remain eager to work for them against the Texans?
If
Chris Johnson
breaks a cut-back run, will Moss be downfield blocking as the Titans expect their receivers to do, or will he have taken a play off and actually cost the offense potential yards?
Will he be in the locker room after those games to answer questions about any issues like every guy on Fisher's team is after every game? Or will all those other guys be left to talk about him?
To ensure the Titans don't have to race against that egg timer, Heimerdinger would be wise to draw up a very determined game plan for the Dolphins game. I don't think dictating double-teams for Moss and then taking what Miami's defense is willing to give will suffice.
To get things moving in the right direction as quickly as possible, I'd force-feed.
Quick screens, medium crosses, red zone fades, deep balls, jump balls. Force the issue and Moss is a lot more likely to get on board and stay on board. Show the organization's traditional patience, and hold your breath.
An egg timer and an hourglass are the same thing on a different scale.
Think about sands through the hourglass, and you know what
soap opera
follows.
November, 3, 2010
11/03/10
5:29
PM ET
The Titans just sent out a news release with brief comments on the waiver claim of
Randy Moss
.
General manager Mike Reinfeldt: "We are always looking for ways to improve our roster. Randy is obviously a Hall of Fame player and has the ability to be a difference-maker for our offense."
Head coach Jeff Fisher: "We had an opportunity to upgrade our offense, and Randy has been a tremendous threat wherever he has been. We will bring him up to speed as quickly as possible."
November, 3, 2010
11/03/10
5:07
PM ET
Over the years,
Randy Moss
has been explosive.
When it came time for 21 NFL teams to claim him on waivers, he was plutonium.
The
Miami Dolphins
were among the teams to pass on Moss, who eventually was claimed by the
Tennessee Titans
at No. 22 in the order. The Titans reportedly were the only team to submit a claim.
The Dolphins were 18th in line. Two NFL executives I spoke with immediately after Moss found his third home in four weeks were surprised the Dolphins didn't pull the trigger, but expressed understanding over a reluctance to add such a toxic player to their locker room.
Many Dolfans were hopeful Moss would be a catalyst for their sputtering offense. The Dolphins have the second-fewest touchdowns in the NFL. Moss and
Brandon Marshall
on opposite sides of the field would give
Chad Henne
a long-ball option and defensive coordinators migraines.
Instead, the Dolphins decided to stand pat.
November, 3, 2010
11/03/10
4:47
PM ET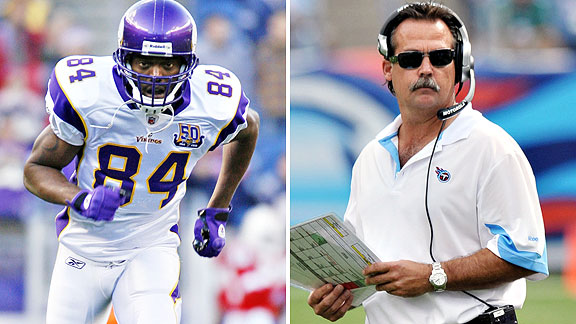 US PresswireIf Jeff Fisher can handle Randy Moss, the veteran receiver could help Tennessee make a playoff run.
The
Tennessee Titans
passed on
Randy Moss
in the 1998 draft (when they were the Tennessee Oilers), choosing
Kevin Dyson
at No. 16 instead.
Twelve years later,
the Titans have been awarded Moss
based on their waiver claim, according to Adam Schefter. They were 22nd in line based on the current standings, and no one ahead of Tennessee made a move for the receiver who was just released by the Vikings.
The move could mean the Titans aren't comfortable waiting on
Kenny Britt
, who's out for what Jeff Fisher said will be "an extended period of time" after suffering a hamstring injury Sunday in a loss at San Diego.
I was part of the group that talked to Jeff Fisher after the Titans' bye week practice Wednesday and he was evasive about Moss, talking about how he doesn't get into hypotheticals but conceded the obvious about 1998.
"Our personnel department decided that Kevin Dyson was a better fit," he said. "Randy has had a terrific career. He's a Hall of Fame receiver. You don't always make the right decision. The draft is an imperfect science. We've had No. 1s that haven't panned out for us before."
Early in the day Fisher did consider hypotheticals on the "Dan Patrick Show," and said part of a Moss arrival would be accompanied with a clear conversation about how the Titans' locker room works and the expectations for him to fit into it.
Titans backup quarterback
Kerry Collins
, who played for one year with Moss in Oakland, said before the claim came to light that he thought Moss would be a big addition.
"I never had a problem with the guy -- he was professional, respectful, he was a team guy," Collins said. "I think a lot of the stuff that you see and hear gets overblown. The guy speaks his mind. He's very truthful with what he says and that doesn't always play well. He was a great teammate, and I never had a problem with him."
The personnel department clearly decided that Moss can help and Fisher and offensive coordinator Mike Heimerdinger surely believe that Moss can help in the big-play department by getting open for deep stuff from
Vince Young
and, in turn, backing people off
Chris Johnson
.
I suspect a ticking clock also helped sell the move to one very important person.
Owner Bud Adams had to sign off on the claim, and I imagine he bought the idea that a best-case scenario with Moss could be a Super Bowl run.
Adams is 87 years old and has talked about how he wouldn't be around much longer and would love for the Titans to win the franchise's first Super Bowl before he's gone.
If Jeff Fisher can handle Moss, maybe he does provide that boost. If he can't, maybe a team with a reasonably good shot at the playoffs halfway through the season gets thrown off course by a giant distraction.
The Titans don't have another media availability scheduled until next week to discuss it. Bye week or not, it's likely Fisher will emerge a lot sooner than that now.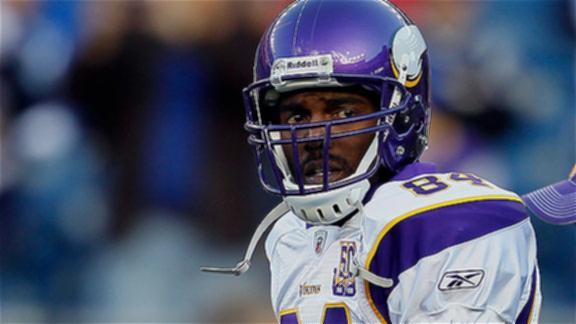 November, 3, 2010
11/03/10
4:44
PM ET
News
the 5-3
Tennessee Titans
landed
Randy Moss
means no team in the NFC West submitted a waiver claim for the former
Minnesota Vikings
receiver.
The move makes some sense for Tennessee because the Titans have a Week 9 bye to get Moss acclimated to their offense.
The
St. Louis Rams
and
San Francisco 49ers
also have Week 9 byes. The Rams in particular have a need at receiver. Why wouldn't either claim Moss? Why wouldn't any team from the NFC West take a chance on Moss?
Rams coach Steve Spagnuolo suggested his team was "doing its homework" on Moss.
That homework could have included finding out through back channels whether Moss would be receptive to joining the team. Other teams that passed on Moss could have been doing the same thing.
Moss can be a high-maintenance player anyway. Working with an unwilling Moss would have been more trouble than it was worth. ESPN's Adam Schefter says
Moss wanted to play for the Titans
and I'm sure that played into Tennessee's thinking.
The Titans still have two games against Houston and two against Indianapolis. Those games remain weeks and months away. Moss could play a role in the Titans winning those games and the AFC South, should his addition go to plan.
November, 3, 2010
11/03/10
4:21
PM ET
Randy Moss
is no longer an NFC North (blog) player.
He's now the blog property of my AFC South colleague, Paul Kuharsky.
The
Tennessee Titans
were
awarded Moss on waivers Wednesday
. They will assume the remainder of Moss' contract. The Vikings still are out a third-round draft pick.
You might recall that in 2001, Moss opened a conference call with Titans beat writers by saying, "What up, Tennessee?"
That's all I got.