NFL Nation:

Most Valuable Player
December, 23, 2012
12/23/12
1:47
AM ET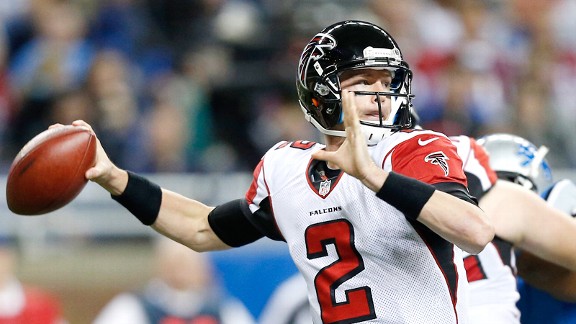 AP Photo/Rick OsentoskiMatt Ryan again demonstrated his value to the Falcons with another sparkling performance.
DETROIT -- Quite unintentionally, the
Atlanta Falcons
made the strongest case yet for
Matt Ryan
's Most Valuable Player award candidacy Saturday night.
Ryan did his part by completing 25 of 32 passes for 279 yards and four touchdowns in a
31-18 victory
against the
Detroit Lions
at Ford Field.
But this isn't a story about numbers. It's a story about how Ryan is the dominant force for the first team in the NFL to win 13 games this season.
That was obvious from the start as the Falcons put the game in Ryan's hands early, and Atlanta seemed on the way to a blowout. It became even more obvious in the fourth quarter when the Falcons put the game back in Ryan's hands and made sure they clinched home-field advantage throughout the playoffs.
"They're not talking about him, but he's my MVP,'' Atlanta linebacker
Sean Weatherspoon
said. "Who's playing better than him? In my mind, nobody. I'd definitely vote for him.''
Peyton Manning
,
Tom Brady
and
Adrian Peterson
are getting all the attention when it comes to MVP talk. But maybe Weatherspoon has a point.
Why not Ryan for MVP?
For the moment, he's the best player on the only team to win 13 games this season, and isn't it all about winning? He tied Steve Bartkowski's franchise record for touchdown passes in a season (31) and he's at or on his way to career highs in every statistical category.
But, again, this isn't about numbers. It's about how valuable Ryan is to the Falcons, who, once and for all, need to realize they aren't the same old Falcons. And coach Mike Smith and offensive coordinator Dirk Koetter need to realize they should stop even attempting to be anything close to the same old Falcons.
Let's be honest. Running back
Michael Turner
has had a wonderful run with Atlanta, but his days as the backbone of the offense are long gone. The Falcons are a pass-first team now, and Smith and Koetter need to lose the stubborn streak that's prompting them to force a running game that just isn't there anymore.
They almost learned that the hard way against the Lions.
After Ryan played a nearly flawless first half (15 of 16 for 184 yards and three touchdowns) and led Atlanta to a 21-6 halftime lead, the Falcons took the ball out of Ryan's hands in the third quarter.
They got conservative and tried to force feed Turner at the start of the third quarter. That got them nowhere, and it almost got them into deep trouble. The Lions followed a three-and-out by Atlanta with a touchdown. Early in the fourth quarter, a Detroit field goal cut the lead to 21-16 and all the momentum seemed to shift to the Lions at a time when
Calvin Johnson
was chasing (and, eventually, breaking)
Jerry Rice
's record for receiving yards in a season.
But that's when the Falcons put the game back into Ryan's hands and he made his case for MVP. On a drive that featured only two runs by Turner, Ryan led the Falcons on an 11-play, 77-yard drive that was capped by a touchdown pass to backup tight end
Michael Palmer
.
"Matt made some big time throws on that drive,'' Smith said. "That's what he's been doing all season.''
The people who vote for MVP should look long and hard at that drive, and so should Smith and Koetter. Ryan is the reason the Falcons are 13-2.
"There's a lot of politics that come along with being MVP and things like that,'' said Atlanta receiver
Roddy White
, who caught Ryan's first two touchdown passes and finished with eight catches for 153 yards. "But the guy has been here five years and he's won a lot of games. Come on. He's won 13 already this year and put us into this position going into the playoffs. And his numbers are up there with everybody else's. I don't see anybody else out there that's better than him.''
Neither do I. But White's got a point about the politics. Brady and Manning have won Super Bowls. Ryan hasn't even won a playoff game. The reality is Brady or Manning or Peterson, who's putting up huge rushing numbers, probably will win the MVP this season, no matter what Ryan does.
But there's a way Ryan can get more heavily involved in the conversation in the future. There also is a way for Smith to stop everyone from talking about what he and Ryan have yet to do.
That would be to go out and win a playoff game.
"This is a different team from last year or two or three years ago,'' White said. "Our players are more mature. I think we're ready to go.''
They'll only be ready and they'll only be a different team in the postseason if Smith and Koetter grasp the fact that they're not going to get anywhere with the running game. They need to grasp the fact that this team can only go a long way if it's riding Ryan's arm.
The Falcons can win in the playoffs, maybe even the Super Bowl, if they just let Ryan go out and play like an MVP.
November, 7, 2012
11/07/12
11:00
AM ET
»
NFC Midseason Teams
:
East
|
West
|
North
|
South
»
AFC
:
East
|
West
|
North
|
South
All four division teams have played eight games, so that means it's time for our All-NFC South midseason team.
Before we roll out the chart, let's talk about a few significant matters that came up in choosing this team.
In recent years, the
New Orleans Saints
have dominated every time we've done any sort of midseason, postseason or preseason all-star team. That's not the case this time, and there's a very good reason for it. The Saints no longer are dominating the NFC South – or much of anything outside the controversial news headlines. Not even
Drew Brees
, the best player in NFC South history, made the team. How could he? Atlanta's
Matt Ryan
is undefeated and is mentioned in every conversation for most valuable player. Also, when it comes to the rest of the team, how each team is faring factored heavily into who made the team. You'll notice this team includes quite a few Falcons.
Speaking of the Saints, you'll notice they don't have a single defensive player on the team. I gave a lot of thought to including middle linebacker
Curtis Lofton
, who has been perhaps the only bright spot on the New Orleans defense. Lofton has done his job and been as solid as he can be. But I just couldn't bring myself to include anyone from a defense that has a shot at being -- statistically -- the worst in NFL history.
As long as we're on the subject of linebackers, this was the toughest position to pick on the entire team. Atlanta's
Sean Weatherspoon
was an automatic choice. After that, I put Lofton in a group with Tampa Bay's
Mason Foster
and rookie
Lavonte David
and Atlanta's
Stephen Nicholas
, then I agonized for a bit. I chose Nicholas, partly because the Falcons are undefeated but mostly because he's a player who has always had good athleticism and was always in place to make big plays in the past. But, this year, Nicholas is actually making the big plays. After that, it came down to a brutal choice between David and Foster. I like everything about David and think he could be a regular Pro Bowler. But I'm going with Foster because I get the feeling the Tampa Bay coaching staff has been more than pleasantly surprised with his huge jump from a confused rookie to a second-year player who is running the defense.
Speaking of the Bucs, I included guard
Carl Nicks
even though he went on injured reserve after seven games. Nicks won't be on the end-of-season All-NFC South team, but I'll take what he did in seven games over what any other guard in the division has done in eight games.
While we're on the topic of offensive linemen, let's talk about center. There's no question Carolina's
Ryan Kalil
is the best center in the division, maybe in the entire NFL. But he went on injured reserve early. That's why I'm going with Atlanta's
Todd McClure
. The veteran might have seen better days, but he still is playing at a pretty high level.
When you look at the chart below and see Atlanta left tackle
Sam Baker
on it, don't laugh. I know he has had his problems in the past, but he is having a very solid season and his team's record helps. I also went with Carolina's
Jordan Gross
as the other tackle. He made it by only the slightest of margins over Tampa Bay's
Donald Penn
. But part of it is that Gross deserves a lifetime achievement award, plus I needed to get a little Carolina representation on the team.
Speaking of Carolina, some of you might not be happy that defensive end
Charles Johnson
isn't on the team. He has decent numbers, but he hasn't been as consistent as a guy who is making a pile of money should be. I went with Atlanta's
John Abraham
because he's flat-out better than Johnson, and I took Tampa Bay's
Michael Bennett
as the other defensive end because he's been much more consistent than Johnson and is doing that while making the NFL's minimum salary.
Finally, let's talk about the secondary. This one took some thought because Carolina's
Chris Gamble
is on injured reserve and my policy of no Saints on the defense eliminated New Orleans'
Jabari Greer
. That left me little choice at cornerback. I went with Atlanta's
Dunta Robinson
, who has been better than he was the past couple of years, and teammate
Asante Samuel
, who might no longer be great but clearly isn't in steep decline. Tampa Bay safety
Ronde Barber
is 37, but he also clearly isn't in any sort of decline in his first season after switching from cornerback. Barber was an easy choice. The other safety spot wasn't easy. It came down to Atlanta's
William Moore
and
Thomas DeCoud
, who both are having very nice seasons. I went with DeCoud because he has made a few more big plays.
Now, on to the NFC South midseason team:
October, 11, 2012
10/11/12
1:00
PM ET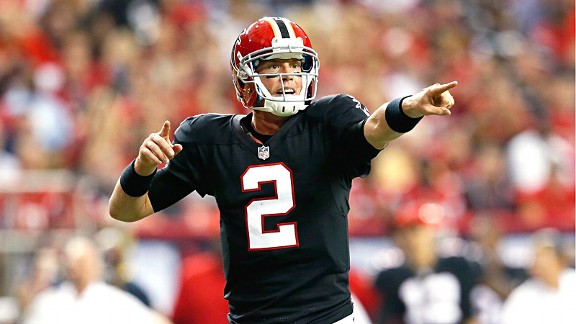 Kevin C. Cox/Getty ImagesThe Atlanta Falcons should make Matt Ryan the highest-paid player in the NFL.
Everything I've seen out of
Matt Ryan
this season makes me think it's his turn.
No, I'm not saying it's Ryan's turn to win the Super Bowl, although it might be. I'm not even saying it's time for Ryan and the
Atlanta Falcons
to win a playoff game, although I think they probably will.
I'm simply saying it's time -- or soon will be -- for the Falcons to make Ryan the highest-paid player in the NFL.
The fifth-year quarterback is blossoming. People are talking about him as the
early favorite for MVP
. It makes sense on a football level. It also makes sense on every level the Falcons are all about.
They preach continuity. They preach character. They also want a new stadium around 2017.
Go ahead and give Ryan a contract for a dollar more than the five-year, $100 million deal New Orleans'
Drew Brees
signed in the summer. And do it fast.
The undefeated Falcons have a bye after Sunday's home game against Oakland. If general manager Thomas Dimitroff is half as smart as I think he is -- and I think he's very smart -- he'd use that week to work out an extension for Ryan.
I know that may not be realistic or possible. Ryan is a private and focused guy, and he probably wouldn't want the distraction of a new contract in the middle of the season.
But the Falcons shouldn't wait too long to pull this off. If Dimitroff hasn't done so already, the day after the Falcons wrap up their season, he should be on the phone to agent Tom Condon about a deal that will wrap up his quarterback for the next five or six years.
[+] Enlarge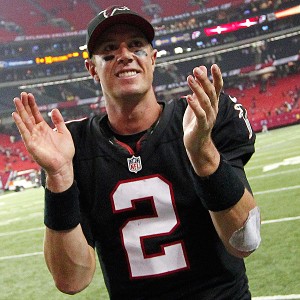 AP Photo/John BazemoreFalcons quarterback Matt Ryan is off to an MVP-type start to the season, and that could mean a big contract.
Ryan's contract runs through 2013, but there is no way the Falcons should let him get any closer to free agency. Just look at how the waiting game didn't translate into on-field success for Brees and the Saints. It even divided New Orleans fans.
Speaking of Brees, you might argue my point that Ryan should get a larger contract. I understand that. Yeah, Brees has won a Super Bowl. So has
Peyton Manning
, who has the second-biggest contract at $19.25 million per year. To date, Ryan hasn't won anything, except for a lot of regular-season games.
But Condon, who also represents Brees and Manning, is going to argue that Ryan deserves more money. That's Condon's job. But it's also a valid point.
Brees was 33 when he signed his new deal. Manning was 35, coming off neck surgery and since has turned 36. To some degree, the Saints and Broncos were paying for what Brees and Manning did in the past.
Ryan is only 27. He has been paid nicely under the terms of his rookie deal, which was for six years and $63.7 million.
But it's easy to make the case that Ryan deserves more because he still has so much upside. He has been showing it every week, and the Falcons know it.
They finally have made this Ryan's team. Under new offensive coordinator Dirk Koetter, the Falcons have become much more of a passing team. They're letting Ryan throw deep and, although critics once said that wasn't a strength, he's thriving.
Fans in Atlanta are more excited about the Falcons than they ever have been. Owner Arthur Blank knows he has a good thing going with Ryan, Dimitroff and coach Mike Smith. Blank has visions of a new retractable-roof stadium in downtown Atlanta and you can bet he envisions it packed every Sunday.
The way to make sure that happens is to stay ahead of the curve. Lock up Ryan before his play drives up the price tag even more.
Sure, it's complicated any time you talk about a contract for a franchise quarterback. But this one doesn't have to be as complicated as most. The Falcons know they want Ryan for the long haul, and he seems very comfortable with the organization and the city. Condon has established the high end of the market with Brees and Manning.
Dimitroff and Condon have a good relationship -- they got Ryan's rookie deal done in May 2008, back at a time when rookie deals didn't get done until July, August or September. There's no real reason why a new Ryan deal couldn't be done at any time.
And, although it's important, let's not get too caught up in the salary cap. The Falcons aren't flush with cap space. They already have $114 million committed toward 2013, which would put them roughly $10 million below the cap. That's not including next year's rookie class or any of their own free agents they want to keep (
Brent Grimes
and
Sam Baker
?).
But Ryan already is scheduled to count $12 million against the 2013 cap, and that number could go up if the quarterback meets some not-likely-to-be-earned incentives in his current contract.
There's plenty of room to get a deal done even before we begin speculating after the season that defensive end
John Abraham
(scheduled to count $6.25 million against the 2013 cap) could retire or that running back
Michael Turner
($7.5 million for next season) could be gone or playing for a lot less.
But you don't even need to think too much about the likes of Grimes, Baker, Abraham or Turner at this point. If a new deal for Ryan is structured properly, his cap figure could even drop for next year. Brees' cap hit for this year is only $10.4 million.
This prospective deal really is all about Ryan. He's a quarterback just entering his prime, and that drives his value so high that Blank may have to open his retractable wallet.
But that would be worthwhile because it would secure Ryan, the future of the Falcons, until he's at the age when Brees and Manning were getting paid largely for past deeds.
December, 26, 2011
12/26/11
11:58
AM ET
NEW ORLEANS -- The Saints are focused solely on their "Monday Night Football'' game with the
Atlanta Falcons
right now. A victory will give them the NFC South title.

But fans and media have been getting ahead of the game and comparing the Saints to the
Green Bay Packers
and New Orleans' quarterback
Drew Brees
to Green Bay quarterback
Aaron Rodgers
. There's also been a fair amount of debate about which of those quarterbacks should win the Most Valuable Player award.
Well, the looking down the road continues. In this
Insider post
, Chris Sprow goes into great detail about how well Brees has played in the past six games. He says that if Brees continues playing the way he has been, the Saints can beat the Packers, even if it's in the NFC Championship Game in Lambeau Field.
He then points to several other reasons why the Saints might be better than the Packers, including the New Orleans defense and the continued emergence of
Jimmy Graham
.
December, 23, 2011
12/23/11
12:18
PM ET
Colleague Ashley Fox has
a column
that says New Orleans quarterback
Drew Brees
is a worthy candidate for the Most Valuable Player award. If that sounds familiar, it should. I wrote
a column
that made a similar point just about a month ago.
Before Packers' fans start shouting, Fox and I both make it pretty clear that Green Bay's
Aaron Rodgers
will win the award. We're not saying Rodgers is unworthy of the award. He absolutely is worthy. He's had a great season and so have the Packers.
But the point Fox and I are making is that Brees at least belongs in the conversation. He's on the verge of shattering Dan Marino's record for passing yards in a season (5,084). And the Saints are 11-3. The Packers were undefeated until Sunday, but their loss at Kansas City takes away one strong argument for Rodgers.
He no longer is playing for an undefeated team. He's playing for a great team and so is Brees. Both quarterbacks are having great seasons. Neither would be a bad choice.
But the reality is Rodgers will win the award. He plays for the Packers. Green Bay might officially be the NFL's smallest market and New Orleans isn't far behind. But, unofficially, the Packers are a national team with a huge profile and lots of history.
The Saints' national profile has grown in recent years, but they don't have the lore of the Packers. That pretty much guarantees Rodgers will win the MVP, but Brees definitely belongs in the conversation.
December, 7, 2011
12/07/11
1:12
PM ET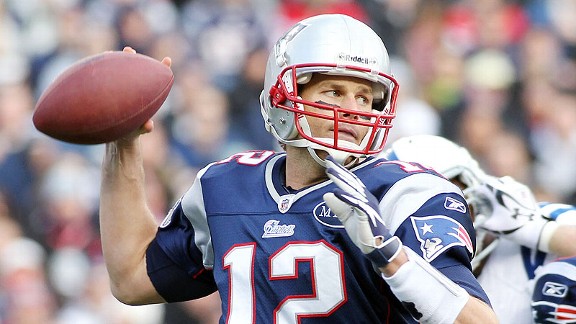 Stew Milne/US PresswireNew England quarterback Tom Brady has thrown 10 touchdown passes and zero interceptions during the Patriots' four-game winning streak.
No. 12 deserves the NFL's Most Valuable Player award this season. But it's not who you think.
Contrary to popular belief,
Green Bay Packers
quarterback
Aaron Rodgers
is not this year's MVP. That distinction, for the second straight year, should go to
New England Patriots
quarterback
Tom Brady
.
Now, before you roll your eyes, open your mind and hear me out.
Brady won the award last year during New England's 14-2 run, and he deserves to be just the second back-to-back MVP since 1998. This is not to discredit Rodgers, who is having a tremendous season. But sometimes numbers and hype get in the way of what the Most Valuable Player award, by definition, actually means.
The award is meant for the player who is the
most important to their team
. Let that sink in, because this is a key element to this debate.
Rodgers has been lights out and putting up great numbers for undefeated Green Bay (12-0). But what happens if you take Rodgers off the Packers? They won't be 16-0, but the defending Super Bowl champs would still keep the ball rolling with highly touted backup
Matt Flynn
and make it to the playoffs.
Green Bay has enough stars on offense (
Greg Jennings
,
Jermichael Finley
,
Donald Driver
,
Jordy Nelson
) and big-time playmakers on defense (
Clay Matthews
,
Charles Woodson
,
B.J. Raji
) to win plenty of games without Rodgers. I think Green Bay could even win the NFC North this year without Rodgers, considering the
Chicago Bears
(7-5) lost quarterback
Jay Cutler
, the
Detroit Lions
(7-5) are inconsistent and the
Minnesota Vikings
(2-10) stink.
In contrast, consider this: Where would the Patriots be without Brady?
With the NFL's worst-rated defense and no true superstars on the roster minus Brady, some believe New England would be similar to the
Indianapolis Colts
(0-12) this year without
Peyton Manning
. I'm not ready to go that far. But New England certainly would have a losing record.
Little-known backup
Brian Hoyer
or rookie quarterback
Ryan Mallett
have virtually no chance of getting this Patriots team to the playoffs. New England is too weak in other areas and couldn't afford poor play at quarterback.
And please do not point to what happened in 2008. That Patriots team had a top-10 defense and was much more balanced. Quarterback
Matt Cassel
is a former Pro Bowler who led the Patriots to 11 wins. Cassel was way more advanced and developed than Hoyer and Mallett.
The "Brady factor" in New England is clearly stronger than the "Rodgers factor" in Green Bay.
Without Brady, the Patriots would be challenging the
Buffalo Bills
(5-7) and
Miami Dolphins
(4-8) for third or fourth place in the AFC East this season. I'm sure
New York Jets
head coach Rex Ryan would be happy about that.
For those who want to focus only on the numbers, Brady's statistics are right on Rodgers' heels. In fact, Brady (3,916) has thrown for more yards than Rodgers (3,844) and is on a faster pace to eclipse
Dan Marino
's single-season passing record of 5,084 yards.
Also, Brady has thrown for 10 touchdowns and zero interceptions in the past month. Brady hasn't thrown a pick since Nov. 6. Rodgers has two interceptions the past three weeks.
The coach of the year award often doesn't go to the coach with the most victories. The award usually goes to the coach who overcomes the most hardship and does more with less. That is why
San Francisco 49ers
coach Jim Harbaugh will most likely get the nod this year over Green Bay counterpart Mike McCarthy.
Just like McCarthy probably will not win the coach of the year, Rodgers should not be the MVP this season. The cupboards are very full in Green Bay, and neither faced much hardship in their quest for an undefeated season and another Super Bowl title.
Brady is doing more with far less talent around him and is much more valuable to New England's success.
So forget that other guy wearing No. 12. Brady is this year's MVP.
November, 29, 2011
11/29/11
2:13
AM ET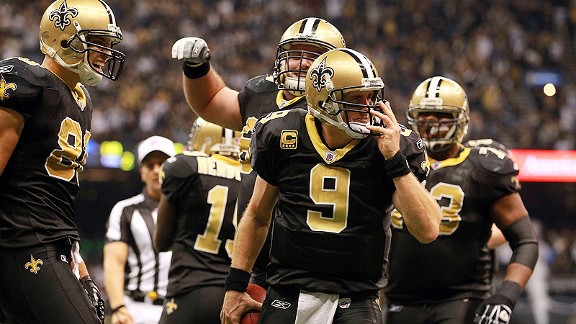 Ronald Martinez/Getty ImagesDrew Brees had 363 passing yards, four touchdowns and rushed for another score against the Giants.
NEW ORLEANS -- Maybe the reason
Drew Brees
is such a good quarterback is because he can see things the rest of us can't.
Take the case of Monday night's
49-24 victory
by the
New Orleans Saints
against the
New York Giants
at the Mercedes-Benz Superdome. It looked to be about as close to a perfect performance by a quarterback as there has ever been.
Brees threw for 363 yards and four touchdowns. He also ran for a touchdown, perhaps the most spectacular run of a career that hasn't included a lot of runs. But the most impressive stat of all might have been that the Saints had 577 yards of total offense (the second-highest output in franchise history) without a 100-yard rusher or receiver and without a sack.
Raise your hand if you've ever witnessed that before.
Didn't think so. It sure looked like perfection.
Instead of celebrating, though, Brees was ripping himself apart -- and apologizing to Michael Jordan -- for not doing enough.
"I'm always hard on myself,'' Brees said. "I expect perfection. I just know deep down there are some things I still need to work on.''
Really? What's left to work on when you've put 49 points on the board and spread 25 completions among seven different receivers?
"He is his own worst critic and he is as hard on himself as anyone else could possibly be,'' New Orleans coach Sean Payton said. "The time he's been in our system, we're on Year 6 now, and he's throwing the ball with great rhythm and anticipation.''
But let's stop the tap dancing and the personal critiques. Let's get right to the truth.
Brees has been a very good quarterback for a long time. But he now is playing better than he ever has. He should be a candidate for Most Valuable Player.
Go ahead and start the chants for
Aaron Rodgers
. I get it and there's no doubt Rodgers is having a tremendous season. But I think Brees is having every bit as good a season as the Green Bay quarterback. Maybe better, and I am not alone.
"Aaron Rodgers is on an undefeated team and obviously that means a lot,'' New Orleans right tackle
Zach Strief
said. "Aaron Rodgers is an absolutely great quarterback, no doubt. But, is anybody playing better than Drew Brees right now? Probably not.''
No, definitely not. Brees is on a roll that has him on pace to break Dan Marino's record for passing yards in a single season (5,084 in 1984). On his current pace, Brees would finish with 5,366 passing yards. He's also got the Saints off to an 8-3 start and alone atop the NFC South.
Yeah, the Packers defeated the Saints in the season opener and Rodgers and Green Bay have kept right on winning. No knock on Rodgers, but he's got a great team around him. So does Brees, but name another true superstar on the New Orleans roster?
I don't think there's one besides Brees. He's surrounded by a bunch of good players, who he makes even better. If he wasn't hitting running back
Darren Sproles
and tight end
Jimmy Graham
on underneath routes against the Giants, he was throwing downfield to
Devery Henderson
,
Marques Colston
and
Lance Moore
.
Could Brees end up as the MVP?
"He's in that conversation,'' said Colston, who had six catches for 78 yards. "As long as we keep winning, he's got to stay in that conversation.''
Colston came into the NFL in 2006, the same year Brees arrived in New Orleans. Colston has seen Brees in games and practices. They went to an NFC Championship Game in their first year together and won a Super Bowl in the 2009 season. Brees became only the second quarterback ever to throw for 5,000 yards in 2008.
"Drew Brees is even better now than he's ever been,'' Colston said. "The crazy thing is that we long ago came to expect great things from him. But he's taken it to an even higher level. Heck, that touchdown run he had, I've never seen out of him.''
Ah, yes, the touchdown run. If you haven't seen it, check the highlights. It came with 5:48 left in the third quarter. That's when Brees dropped to throw, tucked the ball, ran and dove across the goal line.
Shades of
Tim Tebow
from a guy who's never been known as a runner.
"When he's throwing the football, you would say he's very decisive,'' Payton said. "On that play, you could say the same thing.''
Brees was decisive on the run that gave the Saints a 35-10 lead. He even was decisive on what he attempted to do next, although that was the one moment of the night where Brees wasn't perfect and that's where the apology to Jordan came in.
After scoring, Brees made a run for the goalposts. His plan was to dunk the ball over the post, in the same manner he used to imitate Jordan's dunks on a shorter-than-regulation basketball rim when he was growing up.
"I was a little more tired than I thought I would be,'' Brees said. "I didn't quite get the oomph and I turned it into more of a finger roll. I apologize to Michael Jordan.''
But Brees didn't have to apologize for anything else. Heck, Brees is so good that he forces Payton to defy every coaching handbook that's ever seen. When the Saints got the ball back at their own 12-yard line with 1:09 left in the first half, Payton didn't call for handoffs to run out the clock. He turned Brees loose. The Saints went straight down the field and scored on a pass to Moore with 40 seconds left in the half and a 21-3 lead.
"It's that confidence that players around have in him and, obviously, we have in him,'' Payton said.
In the locker room after the game, his teammates were still in awe.
"It's weird to say this,'' Strief said. "You play with lots of guys through the years and every guy you play with you can remember him having a bad game at some point. I can honestly say I've never seen Drew Brees have a bad game. What he did tonight was simply amazing. He just keeps getting better and better.''
"He's the only quarterback I've really played with in the NFL,'' Colston said. "But I look around at other quarterbacks and I just can't imagine a better quarterback than Drew Brees.''
Or a better MVP candidate.
February, 2, 2009
2/02/09
12:13
AM ET
Posted by ESPN.com's Pat Yasinskas
TAMPA, Fla. -- Santonio Holmes got the automatic invitation and Ben Roethlisberger got an at-large bid.
The Pittsburgh wide receiver and quarterback will be part of a parade at Walt Disney World's Magic Kingdom late Monday morning, a Disney spokesperson said.
Holmes will continue the tradition of Super Bowl Most Valuable Players going to Disney World or Disneyland right after the game. But he'll have company. The Disney spokesman said an invitation also was extended to Roethlisberger and the quarterback accepted.
The exact time of the parade is subject to when Roethlisberger and Holmes arrive after the 90-minute drive from Tampa to the Orlando area. But the spokesman said the parade will start sometime around 11 a.m.
NFL SCOREBOARD
Sunday, 2/2
WEEKLY LEADERS