August, 27, 2012
8/27/12
10:01
AM ET
The Steelers announced their 15 moves to get down to the 75-player limit. Unlike the Ravens, the Steelers aren't going with an undrafted rookie at kicker, waiving
Daniel Hrapmann
.
Of those who were cut, the biggest name was safety
Myron Rolle
, a former Rhodes Scholar. He was a sixth-round pick by the Titans in 2010 and was cut by Tennessee before the 2011 season began.
Here are the other players waived by the Steelers: LB
Ryan Baker
, DT
Mike Blanc
, WR
Paul Cox
, CB
Andre Freeman
, LB
Mortty Ivy
(injury-waived), OL
Kyle Jolly
, LS
Matt Katula
, TE
Jamie McCoy
, CB
Walter McFadden
, TE
Justin Peelle
, WR
Juamorris Stewart
, DT
Kade Weston
and WR
Jimmy Young
.
Teams must get down to 53 players by 9 p.m. Friday.
August, 24, 2011
8/24/11
11:29
AM ET
After a decade or so of making it a point to stay out of the public eye,
Carolina Panthers
owner Jerry Richardson suddenly has become a media darling.
It started right before the end of the NFL's lockout, when Richardson opened up to reporters at a league meeting. And it hasn't stopped. Richardson's been talking a lot and that's wonderful because he's a fascinating man with lots to offer.
The latest example comes in
this interview
of Richardson and
Dallas Cowboys
owner Jerry Jones did with Charlie Rose of PBS. Richardson often comes across as the bright and witty guy he is.
He repeatedly calls Jones "Coach."
"He wants to be a coach,'' Richardson said, echoing an observation many fans and media members have made about Jones through the years.
Richardson was insightful as he talked about the labor negotiations and admitting how hard it was to give up hopes of going to an 18-game regular season and talking about the collaborative effort it took to get a deal done.
Richardson also was brutally honest when asked about the chances of Charlotte hosting a Super Bowl and admitting the city and surrounding region don't meet all the NFL requirements.
"We don't qualify for the hotels yet,'' Richardson said. "Yet.''
But Richardson also walked into some gray area when talking about his predraft interview with No. 1 overall pick
Cam Newton
.
Richardson asked Newton if he had any tattoos or piercings. The quarterback said no.
"We want to keep it that way," Richardson said he told Newton.
I'll leave it up to you to decide if Richardson has the right to ask those questions. But, remember, there have been reports in recent years about college prospects like
Dez Bryant
and
Myron Rolle
being asked questions that might have been even more intrusive. I'll also leave it up to you to decide if Richardson has the right to tell Newton to "keep it that way." I've seen plenty of other Panthers with tattoos through the years.
Richardson's going to draw some criticism for asking Newton those questions. I just hope he realizes that comes with the territory when you open yourself up to the media. There's good and bad that can come with that. I just hope Richardson doesn't hear only the criticism and decide to go back into the bunker for the next decade.
September, 5, 2010
9/05/10
5:25
PM ET
Roster and practice-squad news so far Sunday:
Indianapolis Colts
Signed quarterback
Tom Brandstater
, defensive end
John Chick
, receiver
Brandon James
, defensive back
Mike Newton
and receiver
Blair White
to the practice squad.
Jacksonville Jaguars
Were awarded defensive tackle
Landon Cohen
off waivers from the
Detroit Lions
. Released offensive lineman
Paul McQuistan
.
Signed offensive tackle
Daniel Baldridge
, tight end
Mike Caussin
, receiver
John Matthews
, and defensive tackle Kommonyan Quaye to the practice squad.
Tennessee Titans
Were awarded linebacker
Tim Shaw
from the
Chicago Bears
and linebacker
Patrick Bailey
from the
Pittsburgh Steelers
off waivers. Released linebackers
Stanford Keglar
and running back
LeGarrette Blount
.
Signed defensive lineman
Hall Davis
, receiver
Dominique Edison
, cornerback Pete Ittersagen, center
Kevin Matthews
, safety
Myron Rolle
and linebacker
Patrick Trahan
to the practice squad.
August, 23, 2010
8/23/10
11:09
PM ET
NASHVILLE, Tenn. -- Midway through the exhibition schedule (the NFL just loves that word), the Titans got the AFC South's first win, beating the Arizona Cardinals
24-10 on Monday
.
Which means nothing, of course.
But some of this might.
[+] Enlarge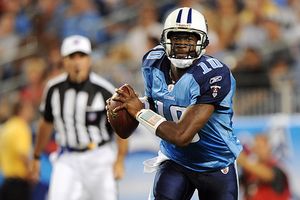 Don McPeak/US PresswireVince Young completed 9 of 13 passes for 128 yards and also ran once for 10 yards on Monday.
Vince Young was efficient, but can still stand some polish:
His big completion to a wide open
Craig Stevens
came off his back foot. He also had a pump-fake fumble (though he recovered it and ran for a first down) and a bad, low throw for
Nate Washington
into double coverage at the goal line that fell incomplete. Those all amount to the sort of things he needs to clean up. When things go well for him, he not only survives such circumstances but turns them into positive plays as he did on the first two of those three plays against the Cardinals.
Back to form?:
I thought veteran safety
Chris Hope
played fast. He made a quick stick on tight end
Stephen Spach
after a short reception on a third-and-long, and on a blitz from the left side he got in on a tackle of
Tim Hightower
, who was running to the other side.
Running back pecking order:
Javon Ringer
was the first backup in on offense, playing with the first team. He's earning increased faith from his coaches and it seems as if he's the guy who will take a few snaps off Chris Johnson's plate. He can run inside, gain a tough yard and function as a pass outlet. Don't rush to imagine those carries going to
LeGarrette Blount
, especially since
Samkon Gado
was ahead of Blount as the third back and ran for two TDs.
Disruptive forces:
Jason Babin
continues to impress me with his fast get off and his ability to get into the backfield. Against the Cardinals he was the first to get into the backfield on a couple run plays.
Jason Jones
, meanwhile, beat starting right guard
Reggie Wells
for back-to-back knockdowns of
Derek Anderson
.
Still not sold:
Michael Griffin
, who tackled poorly a year ago, whiffed on
LaRod Stephens-Howling
on a first-half kick return leaving
Myron Rolle
to clean things up after a bigger gain. Griffin has got to do better in such circumstances.
Compounding a mistake:
Kenny Britt
got a hand on the pass to the right sideline from
Kerry Collins
and could have caught it. Ticked at himself that he didn't, he kicked the ball after it fell incomplete, drawing a delay of game penalty. I think that sort of thing is helping slow his path into the starting lineup.
Head of the line:
Offensive line depth is a big question.
Mike Otto
and
Fernando Velasco
were the first two subs, replacing left tackle
Michael Roos
and right guard
Jake Scott
, respectively. Zero regular season starts between the two primary backups isn't a huge confidence boon for an offense.
Nondescript:
Damian Williams
didn't distinguish himself with first-half chances in the kicking game. But the rookie return man didn't mess up either, and considering how the Titans are starting from zero at the spots after last year, that's not nothing.
Marc Mariani
's 60-yard kickoff return midway through the fourth quarter was great, but came against far lesser players.
July, 1, 2010
7/01/10
1:00
PM ET
»
NFC On the Radar
:
East
|
West
|
North
|
South
»
AFC
:
East
|
West
|
North
|
South
A player, coach or issue that should be on your radar as training camp approaches.
[+] Enlarge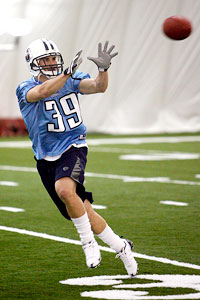 Joe Murphy/Getty ImagesTennessee 2009 seventh-round draft pick Nick Schommer will be vying for a roster spot in 2010 at safety.
A seventh-round pick for the
Tennessee Titans
out of North Dakota State in 2009,
Nick Schommer
spent last year on the practice squad. Defensive coordinator
Chuck Cecil
didn't get a great look at him because of an injury.
Though he was listed at 6-0, 201, I remember thinking he didn't have an NFL safety's build during training camp. He certainly didn't have good body language.
But Cecil said Schommer shined as the Titans wrapped up OTAs. Schommer got some time with the second team when
Donnie Nickey
got married. But he hurt a hamstring in the second-to-last practice.
If Schommer reports healthy and can stay that way, he could make the team ahead of a guy much more well known -- 2010 sixth-round pick
Myron Rolle
, the Rhodes Scholar. The Titans also selected
Robert Johnson
in the fifth round.
Chris Hope
and
Michael Griffin
, each a 2008 Pro Bowl selection, slipped badly in 2009. The Titans need to develop contingency plans and solidify the depth.
"Nick needs to be ready to go," Cecil said. "If he stays healthy and plays the way we think he's capable, then there might be a spot for him… He's totally unknown and during OTAs he couldn't do the thing that he's best at -- hitting is his calling card. He used to knock himself out all the time. He's my kind of guy."
April, 29, 2010
4/29/10
4:10
PM ET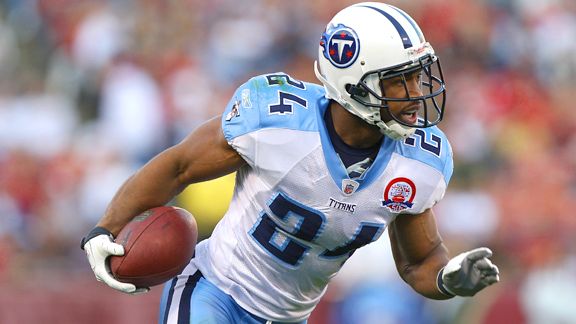 Jed Jacobsohn/Getty ImagesCoaches were concerned that Chris Hope may have prepared too much last season.
NASHVILLE, Tenn. -- As is often the case,
Chris Hope
was among the last Titans off the field after Thursday's practice. He'd set up some cones and worked with some defensive backs after the session ended, but even as he left the field he wasn't finished.
With hand gestures and footwork examples, he talked second-year safety
Nick Schommer
through a technique all the way to the walkway to the locker room.
That sort of devotion is what made Hope such a valuable addition to the Titans in 2006, when he was brought in from Pittsburgh as a free agent. It's what helped him earn a Pro Bowl spot in 2008 -- one of three members of the secondary to earn the honor.
Working just as hard, maybe harder, he was also in the middle of the defensive backfield's brutal drop-off in 2009. The league's ninth-best pass defense plummeted to 31st.
Hope was still a constant, but he didn't qualify as the same steadying presence in a group that featured some injury replacements and was going against opponents who had more time to find targets downfield.
"I didn't play consistently at a high level every game," Hope said. "Not the big year that I expected from myself and not the big year coming off the Pro Bowl season. When you lose, a lot of things get pointed out. I'm a professional about it. Every year I try to find something to get better at.
"The numbers are considerably close, but the game isn't about numbers, it's about how effective you are every Sunday and wins. …I feel like I played well enough to win every Sunday, but I didn't have those big spectacular plays and those consistent big hits that I was looking for coming into the season."
Defensive coordinator
Chuck Cecil
looks back on Hope's year and has come to a conclusion that he said he never has reached before as a coach.
Hope may have studied too much and gone into games overprepared.
"I don't even know how to say this without it sounding wrong, but I think it was almost to the point of being counterproductive because he was so prepared," Cecil said. "I think it became a situation where he was studying it so hard and so much, and putting in so much time that he was assuming when he saw something that he knew what the play was. Rather than just playing football and playing what happened, he was playing what was supposed to happen."
"…As far as what you tell him? 'Hey, don't study so much. Play ball.'"
Hope didn't completely agree with that assessment, and said he didn't have any plans to change his preparation style.
But he did say he found himself watching things unfold last year and sometimes felt helpless.
"It's sometimes frustrating, because you know what's coming, you know what's going to happen, you know you can make the play and you're not in position to make the play," he said.
"Sometime you may tweak your assignment or tweak your alignment a little bit. When you're a playmaker, and you're one of the leaders of the team you get a little frustrated. That was more of the problem than anything."
Cecil is one of several people in the organization who credit Hope with changing the tone of the defensive back meeting room and setting standards for work ethic and preparation for young players like
Cortland Finnegan
,
Michael Griffin
and
Vincent Fuller
.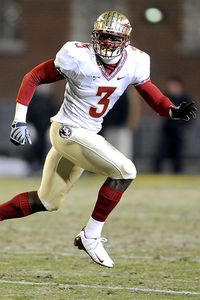 G Fiume/Getty ImagesRhodes Scholar Myron Rolle could learn a lot from Chris Hope.
The next time the veterans are on the field for an OTA the rookies will be mixed in. They'll include safeties
Robert Johnson
and
Myron Rolle
, a Rhodes Scholar the team may be viewing as Hope's eventual replacement.
It can be an awkward stage of a guy's career when he's in position to help train his successor, but Hope will be a guy who handles it gracefully.
"If I'm here to teach those guys how to play and get to be a professional, I embrace that," he said. "I feel like I owe it to the game. I didn't get here on talent alone."
Still, he believes he's got three to five years left, and he's determined not to fall into a trap he thinks hurt him in 2009.
With Finnegan and Griffin also coming off Pro Bowl years, Hope said he backed off, placing friendships ahead of football. It's a mistake he pledges he won't make again.
"We were experienced, we were all friends," he said. "Sometimes the leader had to take the bad side, and I didn't want to do that. I regret not doing it now. This year I will be more prominent and not really worry about friends and friendships as much as success and the growth of guys. I took a lot of pride in seeing Griff grow into one of the best safeties in the league and I feel like I kind of let him down."
Hope will turn 30 on Sept. 29, a number that's becoming a flashing warning light for teams no matter the position. He's got two years left on the six year-deal he signed when he came to Tennessee after helping the Steelers win a Super Bowl.
"Father Time is undefeated, he gets everybody," Cecil said. "I think Chris has been around long enough to understand that. His professionalism is almost unmatched. It's not a discussion that you have. But it's something that sooner or later everybody comes to understand."
Hope said he knows Kobe Bryant can still do a lot of what LeBron James does, but that the Laker now picks his spots.
"[Bryant] chooses when it's time to put the dagger in someone," he said.
Titans coach Jeff Fisher mentioned the possibility of giving Hope days off during the season next year. Hope said he'll pass on those. To glue a secondary together, to press guys to do the extra work, to train Rolle in the intricacies of the job, Hope needs to be on the practice field.
For Cecil to get him back to reacting to football as it unfolds rather than as it should unfold based on what he's seen on film, Hope will want to be in uniform.
April, 25, 2010
4/25/10
10:17
AM ET
Mel Kiper's draft
grades are in
.

Here's my standard draft grade disclaimer. Yes, grades before a guy sets foot on an NFL practice field are a silly concept. Still, they are what a huge percentage of fans will be looking for Sunday. So here are my notes from Kiper's Insider file.
Texans
He calls first-round corner
Kareem Jackson
"a predictable, safe pick" and said
Ben Tate
looks even better as a value at 58 considering Minnesota traded up to take
Toby Gerhart
at 51. Sixth-rounder
Trindon Holliday
"could be the next
Dante Hall
." Even seventh-rounder
Dorin Dickerson
"has promise at tight end if he can add strength." (The Texans are going with him as a wide receiver to start.) "Nothing amazing, but plenty of promise."
Kiper's grade: B
Titans
No end has the "polish and versatility" of
Derrick Morgan
and he fills the hole left by
Kyle Vanden Bosch
. He questions
Damian Williams
' speed, and while he likes
Rennie Curran
, he called him "a slight reach" in the third. And "between math whiz
Alterraun Verner
and Rhodes Scholar
Myron Rolle
, they'll have the smartest secondary in football if both stick."
Kiper's grade: C+
Colts
He likes
Jerry Hughes
but thought Pat Angerer was a reach in Round 2 and "could have been around even at that No. 94 slot where Indy picked
Kevin Thomas
." He rates Thomas a risk because of injury history. In general, nothing flashy. "But I'm never going to believe Bill Polian won't prove me wrong on at least one of these guys."
Kiper's grade: C
Jaguars
Kiper calls GM Gene Smith's second draft disappointing, starting with the over-valuing of
Tyson Alualu
at No. 10. "To take a guy you could conceivably get 15 to 25 slots later, you're cheating yourself not just out of sixth- and seventh-round guys, but potentially a late second- or third-rounder. You have to know not just the pick, but the relative value." Of the Jags' six picks, only Alualu rated in Kiper's Top 100.
Kiper's grade: D
April, 24, 2010
4/24/10
6:02
PM ET
»
NFC draft analysis
:
East
|
West
|
North
|
South
»
AFC
:
East
|
West
|
North
|
South
We had big names (
Jerry Hughes
,
Myron Rolle
) and no names (
Scotty McGee
,
Shelley Smith
) in 32 draft picks in the AFC South.
We also had an incoming veteran (
Kirk Morrison
to Jacksonville) and outgoing underachievers (
LenDale White
and
Kevin Vickerson
out of Tennessee).
Everyone's on the phone hoping to land more in the form of undrafted free agents, but they're feeling good too. Needs they had on Thursday have been washed away over three days, and minicamps where rookies will be fitted for uniforms and yelled at by position coaches for the first time will soon arrive.
Best moves
The Titans and Colts both wanted a productive defensive end, both sat still at their first round pick and both had a talented player who fits them fall in their laps.
Derrick Morgan
's got multiple connections with defensive line coach Jim Washburn, and the love fest is on. After losing the high-motor, classy Kyle Vanden Bosch as a free agent, the Titans look to have landed a young version of KVB.
Bill Polian said the Colts have been looking for an extra end for seven years. First-rounder Hughes from TCU looks almost too good to be true in terms of matching up a skill set with a Colts' model for a position. He couldn't have landed in a better spot, playing with and learning from Dwight Freeney and Robert Mathis.
Riskiest move
Tyson Alualu
at No. 10 caused a big stir and raised questions about the Jaguars' inability to move down. The defensive tackle would likely have still been available later, and the 11th, 12th and 13th picks all got deals right after their selection.
Gene Smith went very heavy on small schools and low profile programs -- Central Arkansas, Murray State, Southern Illinois and James Madison. But it's Alualu, more than anyone, that will make or break his regime's reputation. Will the scouts who shook their heads and dropped their jaws at the pick be surprised and revise their opinion or be proven right?
[+] Enlarge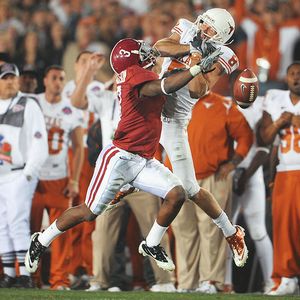 Chris Williams/Icon SMIJackson didn't miss any time with injuries as a three-year starter for Alabama.
Most surprising move
They are touting the championship pedigree of first-round cornerback
Kareem Jackson
from Alabama, but
Kyle Wilson
and
Devin McCourty
were still on the board. If Jackson doesn't pan out well for a team thin on talent at corner, they could regret the decision.
I think the Texans had really settled on
Ryan Mathews
being the guy and may not have recovered after San Diego jumped all the way up to 12 to get him. They had plenty of time to recover and re-examine, but went with Jackson, who was rising on a lot of boards as they draft drew near. There is a gaping hole he needs to help fill, and there will be a lot of second guessing if he doesn't -- particularly if Wilson and/or McCourty play big.
File it away
Based on their conference call media conversations and the inclusion of a math whiz from UCLA (
Alterraun Verner
), a Rhodes Scholar from Florida State (Rolle) and an Ivy League defensive tackle from Brown (
David Howard
), the Titans drafted a smart class.
It'll be a wonderful thing in meeting rooms and interview sessions. And there shouldn't be a lot of kids confused when they first dig into the playbook. But if the brains don't translate into the games, it won't matter.
April, 24, 2010
4/24/10
4:20
PM ET
NASHVILLE. Tenn. -- Bill Bradley told him not to get fat. Pat Haden said be ready to be treated like the locker room's Supreme Court Justice.
Florida State safety
Myron Rolle
got advice from a couple other Rhodes Scholar athletes before he headed for Oxford, passing on a final year of college football.
After he was drafted in the sixth round at No. 207 by the
Tennessee Titans
, he shared some of the details in a conference call with reporters who follow the Titans.
He did his best to eat well while following a training plan set forth for him by Tom Shaw. And when he joins the Titans for minicamp work next weekend, he'll accept that his new teammates may ask him to be the "absolute arbiter" of any in-house dispute.
As for the idea that skipping a year to be a Rhodes Scholar created some questions about his football commitment, an absolutely ridiculous line of thinking in my eyes, he said:
"I had a lot of options, to go to medical school, to get (another degree) at Oxford, to enter politics now or keep my foundation going strong. There are so many different avenues I can take right now. The fact that I choose football, something that academics and people in the education realm, can't really understand, I think shows my testament. I gave up a lot, I sacrificed a lot in my Rhodes Scholarship experience, to stay in shape, to make sure I was ready for this moment right here."

"When my classmates were frisking at the pubs at 1:30 in the morning or traveling to different parts of the EU, I was working out, training, going to sleep, resting my body and making sure I was ready to compete. I love this game, I love this sport, I want it to be my vocation for the next 10 years."
Does that fire you up? It certainly worked on me.
February, 28, 2010
2/28/10
5:19
PM ET
INDIANAPOLIS -- The AFC North blog is wrapping up its four-day tour of the NFL combine.
Here are seven closing notes and observations on the division:
[+] Enlarge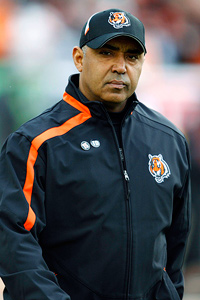 Frank Victores/US PresswireMarvin Lewis led the Bengals to the AFC North title in 2009.
January, 29, 2010
1/29/10
1:00
PM ET
You could make an argument that all four NFC teams are approaching the 2010 with a significant need at safety.
So where should our teams look? On Thursday,
we noted
Nebraska's
Larry Asante
for his apparently strong work during Senior Bowl practices in Mobile, Ala. Via
Twitter
,
@cgoldberg13
suggests an alternative: Former Florida State safety
Myron Rolle
, who was out of football last year while studying at Oxford University as part of his Rhodes Scholarship.
If you have an Insider subscription, you can read Todd McShay's evaluation of Rolle
here
. Among other things, McShay wrote that teams want to know how serious Rolle is about playing football.
Over on
si.com
, Tony Pauline wrote that Rolle was one of the most surprising players this week during Senior Bowl practices.
Pauline added: "Rolle certainly did not look like someone who has not played football in over a year. He never embarrassed himself on the field. In fact by weeks end he was making plays and playing at a higher level than many of his teammates."
At Florida State, Rolle was known more for his physicality than his coverage skills. At 223 pounds, he would be a pretty big safety in the NFL. As the draft evaluation process continues, I'll be interested to see if he projects as a full-time safety or a hybrid player.