NFL Nation:

Naaman Roosevelt
August, 31, 2012
8/31/12
10:05
PM ET
Click
here
for a complete list of
Buffalo Bills
' roster moves.

Most significant move:
The Bills kept four quarterbacks on their roster -- sort of. Buffalo retained backup
Tyler Thigpen
to be the emergency quarterback behind starter
Ryan Fitzpatrick
and No. 2 quarterback
Tarvaris Jackson
. This is surprising because the Bills worked the versatile
Brad Smith
extensively at quarterback this offseason. But it appears the Bills aren't fully comfortable with Smith as the No. 3 quarterback at the moment. Another significant move decision was to release three productive wide receivers.
Marcus Easley
,
Naaman Roosevelt
and
Derek Hagan
were all competing for the No. 2 receiver role behind starter
Steve Johnson
. Different receivers made plays at different times, but no one in this trio really stepped up to claim a starting role. It turns out Buffalo parted ways with all three and will stick with
Donald Jones
as the starter opposite Johnson. But cutting Easley, Roosevelt and Hagan certainly affects Buffalo's depth at wide receiver.
Onward and upward:
Perhaps the player cut by the Bills who will be most sought after in free agency will be defensive tackle
Dwan Edwards
-- a solid player who could be a starter on some teams. But Buffalo has two stud defensive tackles in
Marcell Dareus
and a now-healthy
Kyle Williams
. The Bills would've liked to keep Edwards, but chances are his salary was too much for the role Buffalo had in mind for him in 2012. Edwards should have no problem finding a new team. Solid defensive tackles are hard to find.
What's next:
The Bills' starters are set. This is a team that spent a lot of money and resources in free agency and the draft to put together a roster to try to compete with the
New England Patriots
in the AFC East. The only question now is depth. Does Buffalo have enough quality backups to sustain through injuries? That will be the focus as the team scans the waiver wires this weekend.
August, 18, 2012
8/18/12
9:35
AM ET
The
Buffalo Bills
played their second preseason game Friday night against the
Minnesota Vikings
. Minnesota
won the game, 36-14
.


Here are some notes and observations:
What I liked:
Buffalo's got plenty of plays from their "other" wide receivers. No. 1 receiver
Steve Johnson
had just one catch for seven yards. But the big question is who will step up after Johnson? Several receivers made their case against Minnesota, including third-round pick
T.J. Graham
. The rookie led the Bills with 69 yards, including a nice 64-yard catch where Graham showed his speed.
Donald Jones
also had a 31-yard touchdown catch from quarterback
Ryan Fitzpatrick
in the second quarter, and
Naaman Roosevelt
led Buffalo with six receptions. The receiver group showed improvement against the Vikings.
What I didn't like:
I don't like the slow starts from Buffalo. This is a group that is much improved on paper and wants to compete for the playoffs. However, the early returns from the starters have not been stellar. Vikings second-year quarterback
Christian Ponder
had his way with Buffalo's first-team defense. Ponder carved up the Bills and was 10-of-13 for 136 yards and a touchdown. Minnesota led 10-0 after the first quarter, and Buffalo's offense didn't do much until the second quarter. It's only the preseason, but Buffalo needs to begin developing a more aggressive, winning mindset. The Bills can't assume they can just turn it on against the
New York Jets
in Week 1.
Young moving head:
Vince Young
had an important and solid performance against Minnesota that most likely moved him ahead in the race to be the No. 2 quarterback. Young led all Bills quarterbacks by going 8-of-14 for 123 yards. His counterpart,
Tyler Thigpen
, was 8-of-15 for 56 yards and an interception. The Bills probably will keep just one of these players and make
Brad Smith
the third quarterback.
Sacks for DTs:
The best part of Buffalo's starting defense Friday was its two tackles. Both
Kyle Williams
and
Marcell Dareus
recorded sacks with the first-team. This pair will be important in getting a push up front against the run and pass. Williams and Dareus showed a glimpse of what they can do together against Minnesota.
What's next:
The Bills will return to Ralph Wilson Stadium next week to face the
Pittsburgh Steelers
. It will be an important, third preseason game for both teams to get ready for the regular season.
September, 30, 2011
9/30/11
4:03
PM ET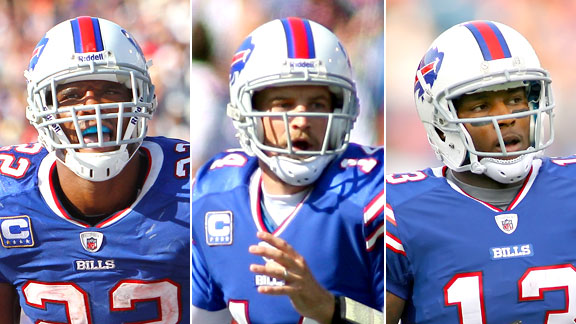 Getty ImagesFred Jackson, Ryan Fitzpatrick and Steve Johnson have the Bills leading the NFL in scoring.
ORCHARD PARK, N.Y. -- The NFL's highest-scoring offense may be found Buffalo, but it was hatched in Pittsburgh.
In the mid-1990s,
Buffalo Bills
head coach Chan Gailey was a wide receivers coach for the Steelers. Gailey realized he had a deep and talented group and convinced Pittsburgh -- primarily a running team -- to use more four-receiver sets.
"We kind of evolved to it, to be honest with you," Gailey said. "Ron Erhardt was the offensive coordinator and we had four really good players. We had
Ernie Mills
,
Andre Hastings
, and
Charles Johnson
and
Yancey Thigpen
. So we said 'How can we get them on the field at the same time?'"
The concept helped lead the Steelers to the Super Bowl after the 1995 season. Sixteen years later, Gailey's spread offense is tearing up the NFL once again. The Bills lead the league in scoring with 113 points in three games. Buffalo (3-0) averages 37.7 points per game, is third in total offense and is the only undefeated team in the AFC.
Now, instead of
Neil O'Donnell
, the Bills have fast-rising quarterback
Ryan Fitzpatrick
. Thigpen's role as the No. 1 receiver in Gailey's offense is filled by Buffalo's
Steve Johnson
. Charles Johnson and Hastings are replaced by
Donald Jones
and
David Nelson
. Receiver
Naaman Roosevelt
, tight end
Scott Chandler
and tailback
C.J. Spiller
share time as Buffalo's fourth receiver.
Even Kordell "Slash" Stewart, who was used on trick plays by Gailey and Pittsburgh's staff, is comparable to Bills receiver/quarterback/returner
Brad Smith
. But so far Buffalo
hasn't used many trick plays
.
Gailey's system thrives on several core principles. First, by lining up with four receivers, Buffalo is able to "expand the defense." Buffalo's alignment forces defenses to spread out. It creates bigger seams and makes it easier for the quarterback to read defenses and recognizes blitzes.
Fitzpatrick, a Harvard graduate, is one of the smartest quarterbacks in the league. He's done a great job of reading defenses pre-snap and changing routes and protection. It's led to Fitzpatrick's fast start and earning
AFC Player of the Month
honors. He's thrown for 871 yards and nine touchdowns in three games.
"When he's confident, on top of his game and hot, he's really hard to deal with," Matt Williamson of Scouts Inc said of Fitzpatrick. "I don't know if that's going to keep up for 16 games. But he's on fire right now. He's at the pinnacle of his game."
Buffalo's spread also takes defenses out of its comfort zone. Every base defense in the NFL has three or four linebackers. The Bills, with three and four receivers, create tough choices. If opponents stay in their base defense, they have to cover wide receivers with linebackers. If opponents go away from their base defense, some of the better, front-seven players are taken off the field. That makes it easier to run the football. Bills tailback
Fred Jackson
is fourth in the NFL in rushing yards (303).
It's a Catch-22 opponents have yet to figure out.
"Oakland stayed in a lot of base and we exploited that," Jones said. "David in the middle, if they're going to keep a linebacker on him, that's a mismatch all day. Kansas City did the same thing.
"That's why we do it: To see what the defense is going to do. Are they going to bring in extra corners, or are they going to stay base? We're going to exploit it, whatever it is."
Buffalo's offense works because it defies stereotypes. With spreads, typically you think of big plays in the passing game but also a lot of sacks and struggles running the ball. Fitzpatrick has been sacked just once this season, and Buffalo is fourth in the league in rushing. The Bills average 5.6 yards per carry.
One of the secrets of Buffalo's success has been its receivers' blocking downfield. Buffalo is second in the NFL with six runs of 20 yards or more.
"This is what we tell our receivers: 'Do you want the running back to block the protection when you're running a route so you can catch a pass?'" Gailey explained. "If you do, then when he's running the ball, you block for him because we're in this thing together."
Gailey's selfless team concept is working for the Bills. Buffalo usually sends four receivers out on passing plays, and it's Jackson's responsibility to block the extra rusher.
"I don't know if there's a better pass-protecting back in the league with what he does," Fitzpatrick said. "The fans and everybody watching the game, they see his runs, they see what he does after the catch, but that's the thing that nobody really talks about and that's what makes him one of the most complete backs in the game.
"He's taken on defensive lineman, he's taken on defensive ends and he's storming linebackers. Whatever it is, he's the best I've played with in terms of picking up blitzes. There are no stats for that."
The success of Buffalo's offense has permeated the entire team.
Veteran Bills kicker
Rian Lindell
has seen a lot of bad offenses in his eight seasons in Buffalo. He provided some insight into how this year's offense has changed things.
"I have a kicking shoe that's tighter, so I don't wear it all game," Lindell said. "It used to be, I would wait until we get to midfield or in field-goal range until I put it on. Now, if we get the ball on our own 20, 25 or 30, I say, 'I better put the shoe on. It might be a couple plays and I have to get warmed up.'"
This Bills believe they can score with anyone. They proved it in a 34-31 shootout victory against New England. The Bills fell behind 21-0 in the first half and became the first NFL team to overcome deficits of 18 or more points in back-to-back weeks. Buffalo trailed by 21-3 at halftime of a 38-35 victory over Oakland in Week 2.
The offense is clicking because players better understand the system, Gailey said. In 2010, Gailey's first year in Buffalo, the Bills were ranked No. 25 offensively. The Bills got off to a horrendous 0-8 start but finished the second half of the season 4-4. The Bills are 7-4 in their last 11 games.
Surprisingly, Buffalo's offensive playbook is not huge, players say. Gailey puts an emphasis on keeping things manageable. He believes that if everyone knows exactly what he's doing, the plays will work and it's easier to hold players accountable.
Many question whether the Bills, a four-win team in 2010, have the staying power to remain in contention. Much of it rests on this offense's ability to perform at a high level over 16 games.
Through three weeks, Buffalo is on pace to score 602 points this season. That would break the NFL record set by the Patriots (589) in 2007.
"I don't know if we'll set records this year," Gailey said. "But it'd be nice if we did."
May, 18, 2011
5/18/11
11:47
AM ET
At some point, the unlikely collection of NFL teammates struck somebody as unusual, and they began to sort out who the highest draft pick was.
Together last month for a mini passing camp near quarterback
Ryan Fitzpatrick
's home in Arizona, eight
Buffalo Bills
players laughed about their long-shot backgrounds.
Sophomore receiver
Marcus Easley
was the closest thing to a bonus baby, and he was a fourth-round draft choice with zero NFL games. So who was next in line? Backup quarterback
Levi Brown
was the answer, a seventh-round pick last year, 209th overall, and unable to make the roster out of training camp.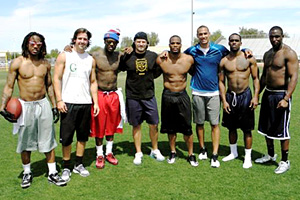 Courtesy of David NelsonBills players (L to R) Naaman Roosevelt, Levi Brown, Steve Johnson, Ryan Fitzpatrick, Fred Jackson, David Nelson, Donald Jones and Marcus Easley pose for a picture following a workout last month.
Wide receiver
Steve Johnson
went 224th, Fitzpatrick 250th. Running back
Fred Jackson
and receivers
David Nelson
,
Donald Jones
and
Naaman Roosevelt
weren't drafted at all.
"This is testament of who we are as a group," Nelson said Tuesday night from his home in Dallas. "We all believe in each other. We all push each other. We all compete with each other. We know we're against the odds. We're a bunch of guys nobody gave a chance to."
The Bills have a couple first-rounders in their offense who didn't attend the workouts. Running back
C.J. Spiller
and receiver
Lee Evans
are important components, but it's impressive to consider such a big contingent of overlooked players making up a team's offensive core.
Nelson and the rest of that gang can speak with a little more conviction about their futures in Buffalo now. When they gathered for some casual workouts, there was plenty of doubt about the direction of the offense.
The drafted hadn't taken place yet and the Bills owned the third and 34th selections. There was considerable talk about a quarterback being a serious option. If Auburn star
Cam Newton
still were on the board, then could the Bills pass him up? Missouri quarterback
Blaine Gabbert
might've been a possibility, and it was anybody's guess who would still be on the board in the second round.
"I'm sure Fitz was bracing for something," Jackson said Tuesday of the pre-draft mood. "Everybody had to be."
One thing was for sure among the Bills' players: They were rooting for the front office to stand pat at quarterback.
"We've been talking about it as a receiver group for a while," Nelson said. "We were hoping that they would stay away from quarterbacks in the draft because we have all the confidence in the world in Fitz and what he can do. We like the direction we're headed in with him."
The Bills gave their offensive players a major vote of confidence last month. Of their nine draft choices, only two play offense. They drafted Clemson tackle
Chris Hairston
in the fourth round and North Carolina running back
Johnny White
in the fifth round.
The Bills will acquire more offensive players whenever free agency dawns. General manager Buddy Nix has said they will sign another quarterback, but the club sent a strong message about Fitzpatrick's standing when they didn't draft one.
"They showed they have a lot of faith in Fitz," Jackson said. "Me and my teammates all have a lot of faith in him, too. We're excited about that. I'm looking forward to working with him and trying to build on what we did last year and making that playoff push."
Fitzpatrick and Jackson will enter the 2011 season with substantially more juice than they had last summer. Both of them were considered backups.
"You have to say that it had some kind of affect on us," Jackson said. "We weren't on the same page when we got in the lineup, but that's part of the game, and we have to adjust.
"It does hurt to not get the reps, but as long as you mentally prepare like you are the No. 1 guy, you can hit the ground running. Hopefully, now we can get those reps and go into this season as the No. 1 guys and put this team on our shoulders and make some plays."
[+] Enlarge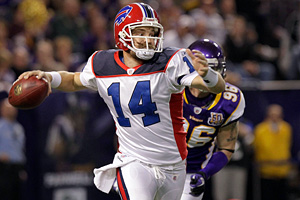 Nick Laham/Getty ImagesThe Bills are confident in Ryan Fitzpatrick's ability to lead the team.
Fitzpatrick won over the Bills' locker room and much of their fan base last year.
Trent Edwards
' presence had worn thin everywhere. The man known as Captain Checkdown was uninspiring at best. He was frequently injured and rarely showed a hint of nerve.
New head coach Chan Gailey backed him in the beginning. Edwards took most of the offseason reps and was named the No. 1 quarterback when training camp opened. Edwards started all four preseason games.
Fitzpatrick, Brown and
Brian Brohm
fought over the scraps. Fitzpatrick attempted 23 passes before the season.
Asked at the NFL scouting combine in February if he regretted those decisions, Gailey replied, "Shoot, yeah. If I knew then what I know now, I wouldn't have done that."
At 0-2, the Bills made an abrupt change. They waived Edwards.
Fitzpatrick was a jolt to the huddle, to the Ralph Wilson Stadium crowd, to the community. He grew a bird's-nest beard and called himself the Amish Rifle. He wore his wedding ring during games. He actually threw the ball downfield.
He made the games entertaining again, even the defeats. Fans forgave him for occasional reckless interceptions.
Jackson was in a similar situation despite rushing for more than 1,000 yards the previous season.
He was in a crowded backfield with
Marshawn Lynch
and hotshot rookie Spiller and didn't start the first four games, carrying the ball 20 times for 87 yards through the first quarter of the season.
When the Bills traded Lynch for a 2011 fourth-round draft choice and a conditional 2012 sixth-round pick, the door opened for Jackson again.
"Right now, I feel like I'm the No. 1 guy and C.J. will come in and get a lot of plays," Jackson said. "I feel like I'm going to be the guy that's carrying the load and has got to make that running game go.
"I'm sure C.J.'s working hard and will [have] the opportunities as well, but I just got to shoulder the load and take the pressure of Fitz and make us a balanced offense. I want to be that guy."
Spiller generated preseason buzz for rookie of the year honors, but he had a disappointing campaign (283 rushing yards and no touchdowns, 157 receiving yards and one touchdown) and still has much to prove.
Jackson rushed for 614 yards in the second half of the season, tying with
Ray Rice
for sixth in the NFL in that span. The running backs ahead of them were
Arian Foster
,
Jamaal Charles
,
Maurice Jones-Drew
,
Chris Johnson
and
BenJarvus Green-Ellis
. Nice company.
The Bills ranked 25th in total offense, 18th in run offense and 24th in pass offense. Not too swift compared to the rest of the NFL.
But all of their best offensive superlatives in 15 categories (points, first downs, yards, etc.) happened Oct. 24 or later. The same can be said about individual player superlatives aside from Fitzpatrick's 71.4 completion percentage in Week 3 against the
New England Patriots
.
The Bills obviously found enough there to make a commitment, and the players aren't crying for help. They're thrilled the group will stay together.
"We did some good things on offense last year," Jackson said. "We feel like if we could get back on the field healthy and get another crack at this thing, we'll continue to have some success."
November, 27, 2010
11/27/10
2:08
PM ET
The
Shawne Merriman
experiment in Buffalo can officially be ruled a failure.
[+] Enlarge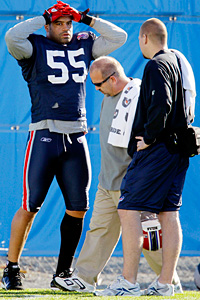 AP Photo/David DupreyShawne Merriman limped off the field with a leg injury shortly after opening his first practice with Buffalo.
The Bills couldn't make the 26-year-old outside linebacker their reclamation project. They placed him on injured reserve Saturday along with linebacker
Keith Ellison
.
The move is a lose-lose for the Bills and Merriman. The club wasted roughly $1.7 million in salary on a player who didn't play a down. Merriman, meanwhile, cemented his reputation as injury-prone and didn't generate any precious game film needed to show the rest of the NFL what he could do to secure a nice contract next year.
Merriman injured his leg about 15 minutes into his first Bills practice. The
San Diego Chargers
waived him last month because he was damaged goods, battling knee and calf problems that kept him from regaining his All-Pro form.
Merriman was a Pro Bowler in each of his first three NFL seasons, accumulating 39.5 sacks. He recorded only four sacks since the end of the 2007 season.
I asked Bills coach Chan Gailey on Wednesday at what point would it become counterproductive to put Merriman on the field, when the most he could play would be five games and the Bills seem to be gaining momentum with players who definitely will be part of the organization's future.
"First of all, you've got to take into consideration if a guy is healthy enough," Gailey replied. "In his case, is the guy healthy enough to get on the field? Second of all, if you get good players you've got to try to use them. To be honest with you, I don't care when it is. You've got to use good players, and he's proven that he's been a good player in years past.
"So if it comes to that, if it gets down to the last couple games, I think it's better to know and to let him play and for us to know what he can do in our defense than it is not to know and always be in question."
The Bills might get a compensatory draft choice for their trouble, but the fact Merriman's season ended as it did doesn't bode well for the quality of the pick. The compensatory formula is closely guarded, but we do know a significant factor is how valuable the departing player's contract is. Playing time and postseason awards also are considerations, and not every player lost or signed is covered by the process.
Of course, the compensatory system could be altered under terms of the new collective bargaining agreement anyway.
Saturday's roster move had a positive local twist to it. One of the players summoned from the practice squad was undrafted rookie receiver Naaman Roosevelt, a Buffalo native who played for the University at Buffalo. Also promoted was linebacker
Thomas Williams
.

NFL SCOREBOARD
Thursday, 9/18
Sunday, 9/21
Monday, 9/22