NFL Nation:

Napoleon Harris
April, 12, 2010
4/12/10
9:31
AM ET
The Jets' trade for Steelers receiver
Santonio Holmes
should remove them from the list of teams with potential interest in Broncos receiver
Brandon Marshall
.
That could be a welcome development for Seattle, the only team that has visited with Marshall this offseason.

Marshall
The price the Jets paid for Holmes -- only a fifth-round draft choice -- reflected the Steelers' eagerness to part with Holmes, a troubled player entering the final year of his contract. How badly do the Broncos want to trade Marshall?
The NFL executives Denver Post reporter Jeff Legwold polled recently all thought
Marshall would wind up in Seattle
for less than a first-round pick in return, unless the Redskins showed interest and the Broncos were OK making a deal with their former coach, Mike Shanahan. The Redskins are already lacking draft capital, however, and that makes their candidacy seem unlikely.
The Steelers probably had more urgency to deal the troubled Holmes given
the public-relations hits
Pittsburgh has taken this offseason. Holmes and Marshall were both 2006 draft choices, Holmes in the first round and Marshall in the fourth. Marshall has produced at a high level more consistently, topping 100 receptions and 1,000 yards in each of the past three seasons. But Holmes has averaged an additional 4.0 yards per reception (16.3 to 12.3), and the disparity was even greater in 2009 (15.8 to 11.1). Both have had off-field issues.
Of course, the price one team pays for a receiver doesn't always affect what another team can get for one.
The Ravens recently paid third- and fourth-round choices to Arizona for receiver
Anquan Boldin
and a fifth-rounder. The Eagles traded receiver
Reggie Brown
to Tampa Bay for a 2011 sixth-rounder. In 2006, the Seahawks paid a 2007 first-rounder to New England for
Deion Branch
. In 2005, the Vikings sent
Randy Moss
to Oakland for linebacker
Napoleon Harris
and draft picks, including the seventh overall choice. A couple of years later, the Patriots acquired Moss for a fourth-round choice.
It's an upset if Seattle pays more than a second-rounder for Marshall unless additional teams show interest.
January, 19, 2010
1/19/10
2:38
PM ET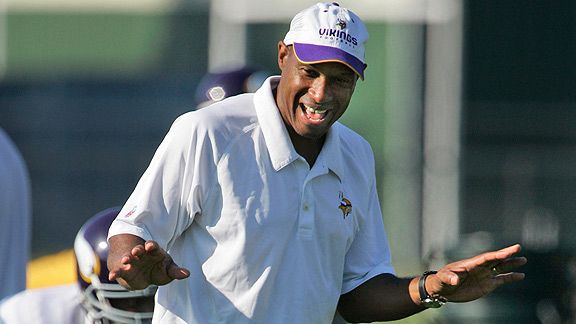 AP Photo/Nati HarnikLeslie Frazier has overseen some of the league's best defensive units.
On Sunday, Minnesota coordinator Leslie Frazier's defense produced the most dominating performance of the NFL playoffs. Monday, rumors emerged that Frazier had been passed over for another head coaching job -- the seventh such instance in the past three years.
And on Tuesday it
became official
: Buffalo hired coaching retread Chan Gailey to replace the fired Dick Jauron. Frazier interviewed two weeks ago for the job, but the Bills reportedly preferred a candidate with an offensive background. Unless another job opens this offseason, Frazier will remain the NFL's most qualified head-coach-in-waiting.
In a league that covets hot coordinators, it's difficult to understand why Frazier has yet to take that final step. He has overseen a defense that finished among the NFL's top 10 for consecutive seasons, the first time that's happened for the Vikings in nearly two decades, and has classic head-coaching credentials with Super Bowl championships as a player (Chicago, 1986) and assistant coach (Indianapolis, 2006).
Former Colts coach Tony Dungy, in fact, is said to consider Frazier his
likely head coach
if he re-joins the NFL as a team president. Until then, however, the Bills' loss is the Vikings' gain. Frazier said recently he has too much on his plate to be either disappointed or to be anticipating his next opportunity.
"I'd like to get a third ring," he said, "and it's not hard for me to move on beyond that. It's not hard at all. I promise you. These opportunities are so rare in the National Football League for players and coaches and for me. Just to be in this situation and know that we're just a couple games from reaching our goal as a team, no, it's not hard."
Frazier will spend Tuesday crafting a game plan for the NFC Championship Game, one he hopes will slow down New Orleans the way his team dismantled Dallas last Sunday. The Vikings' "Maul of America" defense (
Thanks!
) held the Cowboys to a season-low in points (three), yards (248) and first downs (16) in a 34-3 victory at the Metrodome.
While Frazier works out those details, let's take a moment to understand how he's impacted the Vikings' run to the brink of Super Bowl XLIV.
Subtle scheming
Sometimes I think the perception of Frazier's role gets diminished in the star power of Minnesota's personnel. The Vikings, after all, have an elite defensive line and, when healthy, one of the league's best cornerbacks in
Antoine Winfield
.
And it's true: Frazier makes no attempt to be a mastermind schemer, the type that plays a 4-3 one week and a 1-5 the next. The Vikings mostly employ Cover 2 in the back end and occasionally mix in a blitz. This season, according to ESPN Stats & Information, the Vikings sent at least one additional pass-rusher on 30.1 percent of their defensive snaps. That figure was the 10th-lowest in the NFL.
"The key is small menu, big understanding [from players]," coach Brad Childress said. "That is the thing we pride ourselves on."
Still, Frazier's strategic fingerprints can be seen if you look closely enough. Last season, he made a subtle change in the way his defensive backs lined up pre-snap during a game at Arizona. The shift befuddled Cardinals quarterback
Kurt Warner
, who threw an interception, took four sacks and finished with a 78.9 passer rating in the Vikings' 35-14 victory.
Against the Cowboys, Frazier extended the Vikings' time window for getting lined up before the snap to enhance their ability to disguise coverages. According to several players, Cowboys quarterback
Tony Romo
repeatedly waited for the Vikings to "show" before typically snapping the ball in frustration and panic. Romo committed three turnovers in the game.
"Our coaches did a great job of getting us ready for this game," Winfield said. "We knew what they were going to do more than [the other way around]."
Assisting the head coach
Childress made Frazier his assistant head coach in 2008 after he made positive impressions during job interviews with Miami and Atlanta. That title is typically ceremonial, but Childress leans on Frazier for advice and counsel more than you might realize.
When the Vikings were having trouble signing a veteran quarterback to pair with
Tarvaris Jackson
two years ago, Childress honed in on the nearly-retired
Gus Frerotte
. Before pursuing him, however, Childress asked Frazier to evaluate game tape to determine whether Frerotte's arm strength made him a viable candidate for the job. Frazier concurred, and Frerotte led the Vikings to an 8-4 record as a starter last season.
Childress and Frazier can occasionally be seen huddling on the sidelines prior to a significant game management decision. And when Childress was recruiting
Brett Favre
last spring, he
sent Frazier to Mississippi
for a quiet one-on-one meeting with Favre. It isn't often that a defensive coordinator gets involved in signing free agent quarterbacks, but at the time Frazier said: "It was to answer any questions he had, and for him to hear from a different voice, that wasn't offensive-oriented and could come at him from a different slant and try to convey to him a different message."
Handling adversity
The Vikings were the NFL's sixth-ranked defense in each of the past two years despite losing middle linebacker
E.J. Henderson
to season-ending injuries. Frazier navigated the loss by elevating a backup (
Napoleon Harris
in 2008,
Jasper Brinkley
in 2009) but shifting play-calling duties to outside linebacker
Ben Leber
.
Winfield, meanwhile, missed six games because of a sprained foot and was not 100 percent upon returning last month. After watching Winfield struggle to chase receivers for two games, Frazier made the difficult decision to shift him to nickel back and use
Benny Sapp
as his starter on the outside.
It all came together Sunday at the Metrodome, where the Vikings defense turned in a performance better than any other this season.
"We've had some good outings on defense," Frazier said. "But the setting and the scenario made this the best. … A lot of things went right. You want it to go right another week, and then another week, and then we'll be some pretty happy dudes."
Head coach or otherwise.
November, 10, 2008
11/10/08
7:51
AM ET
Posted by ESPN.com's Kevin Seifert
It looks like the continuing deficiency of Chicago's defense will get quarterback Rex Grossman off the hook in the Windy City postmortem this week. Grossman didn't deserve sole blame for the Bears' 21-14 loss to Tennessee, but usually he is a victim of the pile-on factor.
No, those who covered Sunday's game directed their aim pretty squarely at the defense, which stopped the Titans' running game only to get torched by a Kerry Collins-led passing attack.
We'll let Mike Mulligan of the Chicago Sun-Times set the table:
The better hypothetical question is what Grossman might have done against the Bears' defense. That unit seems to make every quarterback look like a world-beater. Take Tennessee's Kerry Collins, who enjoyed his best game of the season by miles. Collins passed for 289 yards (he hadn't throw for 200 in seven previous starts), had two touchdowns (he only had three on the year and never more than one in a single game) and produced a 108.7 passer rating -- not bad for a guy who has been at 72.9 for the season and just 73.3 for his career. Collins produced his highest passer rating in a game since he was starting for Oakland against Tennessee back in 2004.
David Haugh of the Chicago Tribune suggests that Bears coach Lovie Smith needs to drop his glass half-full approach and admit his defense has serious flaws:
There was nothing flattering about holding a team with two quality running backs to 20 yards on the ground, not when it played right into the Titans' adjusted game plan. Sorry, but Tennessee abandoning its running game to throw 41 passes was not a compliment to the Bears' defense. It was an insult.
We'll touch more on the Bears defense later Monday in our much-anticipated "Three answers" feature. Continuing around the NFC North after Week 10:
November, 9, 2008
11/09/08
8:59
PM ET
Posted by ESPN.com's Kevin Seifert
MINNEAPOLIS -- Adrian Peterson found the appropriate word Sunday to describe his feelings after botching a fourth-quarter play he had lobbied hard for.
"Sick," Peterson said.
Then he found the appropriate qualifier.
| | |
| --- | --- |
| | |
| | Bruce Kluckhohn/US Presswire |
| | Vikings running back Adrian Peterson scored the game-winning touchdown against Green Bay. |
"I was sick for the moment."
Indeed, the illness didn't last long. Inspired by his earlier failure, Peterson single-handedly carried the Vikings to the winning touchdown in their 28-27 victory over Green Bay. Peterson touched the ball on five of Minnesota's six plays on its final drive, finishing with a 29-yard touchdown run that put his team ahead for good with 2:30 remaining.
A few minutes earlier, Peterson had sprinted toward Vikings coach Brad Childress during a timeout. Trailing 24-21 at the 9:31 mark, the Vikings faced a fourth-and-1 from their 41-yard line. Childress initially sent out punter Chris Kluwe -- a reasonable decision, considering the line of scrimmage and the time remaining -- but pulled him back after Peterson implored him to go for it.
Peterson, however, fumbled on the ensuing carry, leaving the Packers in position for a field goal that gave them a six-point lead.
"It was tough," Peterson said. "First of all, talking coach into going for it. And then actually having the first down. And then fumbling. ... But we made big plays when we needed to, and that's what it came down to."
But Childress and offensive coordinator Darrell Bevell never thought twice about entrusting Peterson with the ball on the final drive. His score pulled the Vikings (5-4) into a first-place tie with Chicago in the NFC North while handing the Packers (4-5) their fifth loss in seven games.
"The one thing that's great about Adrian is he is a competitive son of a gun," Bevell said. "You can tell from the way he runs."
Peterson finished the game with 225 all-purpose yards, including 192 in the ground, and now leads the NFL with 1,015 yards on the season.
"He's always got the eye of the tiger," Childress said. "It doesn't make any difference. That's what you love about him. You talk about corners having short-term memory and we grind on him. ... But he's so hyper-competitive. It kills him. [He] drops the ball on the ground, but you just know you're going to get it from him every time you hand it to him. And he wants to win, badly. He doesn't care how."
The Vikings were in position for Peterson's heroics in part because of a remarkable display from defensive end Jared Allen. Playing with a restrictive harness on his right shoulder and a pain-killing injection coursing through his body, Allen sacked Packers quarterback Aaron Rodgers for a safety and inspired a dominant pass rush that limited Green Bay to 110 net yards passing.
Allen was considered doubtful for the game as late as Saturday, but he woke up Sunday with limited swelling and a strong desire to test out the shoulder in pre-game warmups. The injury is considered a third-degree sprain, the most serious category.
"You can't make a grade three any worse," Childress said.
So Childress gave him the go-ahead to try, and Allen -- who signed a six-year, $74 million contract in the offseason -- said he felt a strong sense of obligation to play against a division rival.
"This is what I love to do," Allen said. "I think it's more of a pride issue [when you think of] some old-time players. Guys like Jack Youngblood playing with a broken leg, guys with busted noses and arms and shoulders, and I kind of think of myself as an old-school player.
"That's really the reason I [did] it. Hopefully one day, I'll inspire somebody: 'He toughed through it and played and stuff like that.' And to show people that we're not all about the money. At least I [am that way]. I do this because I love to go out there, I love to compete, play my guts out there and have games like this, this feeling."
The injury was particularly uncomfortable at the start of the game, Allen said, and Childress asked him on several occasions if he wanted to continue. Eventually, he said, "adrenaline kicked in." But by my count, there were at least at least two plays when Allen was unable to extend his right arm when he was otherwise in position to tackle Green Bay tailback Ryan Grant.
Afterward, I asked Allen how high he could lift his right arm. Demonstrating with the left -- apparently soreness had set in on the right -- he raised it parallel with his shoulder.
"Hey, if I sack them, I don't have to worry about batting balls down," Allen said, laughing.
Allen's shoulder certainly didn't affect his speed, and on the safety he simply sprinted past Packers left tackle Chad Clifton. Overall, Allen was credited with a sack, a tackle behind the line of scrimmage and one quarterback hurry. Film review might ultimately give him partial credit this week for another sack on a play where he and teammate Brian Robison simultaneously converged on Rodgers.
Clifton and the Packers had shut down the Vikings' pass rush in the team's Sept. 8 season opener, allowing Rodgers to complete 18 of 22 passes. Sunday, however, the Vikings rattled Rodgers from the start, sacking him four times and hurrying him on six other plays. Vikings defensive coordinator Leslie Frazier blitzed his linebackers extensively, getting sacks from Chad Greenway and Napoleon Harris.
Rodgers acknowledged he "took some shots" after throwing for a season-low 142 yards.
"Today was probably a combination of us not doing our fundamentals the way we know how to," Rodgers said, "and me probably holding the ball too long. They did a great job, and you have to give them credit."
Rodgers looked uncharacteristically rattled for large stretches of the game, most notably when he fumbled into the end zone in the second quarter. Rodgers grabbed the ball, but instead of trying to run the ball to safety, he wildly threw the ball toward the sideline.
Although tight end Tory Humphrey was in the vicinity, officials ruled intentional grounding -- for the first of two safeties on the afternoon -- because of what they termed an "unnatural" throwing motion.
"With us getting a couple of safeties on him, I think we did rattle him," Vikings safety Darren Sharper said. "The one thing about that is that he's the kind of quarterback that even if he does get rattled, he finds a way to bounce back. He made some good throws. Good thing we kept the pressure on him all day long."
The Packers nevertheless had a chance to win after taking over possession at their 41-yard line with 2:15 remaining. But after narrowly missing an interception on their first play, the Packers called consecutive running plays while allowing the clock to wind down.
Ultimately, Green Bay coach Mike McCarthy left himself with a 52-yard field goal attempt for place-kicker Mason Crosby. Although Crosby had converted two of three attempts this season from at least 50 yards, he was wide right on Sunday's attempt.
Afterward, McCarthy faced a series of questions about the decision to let the clock wind down without pushing farther downfield. Ultimately, it seemed McCarthy did not want to risk a sack pushing him out of field goal position altogether. On a third-down-and-7 before the field goal attempt, Rodgers checked down to receiver Donald Driver for a three-yard reception.
Even Childress said he was "surprised" to see Packers run the ball and added: "I like my chances with my run defense when people get into two tight ends and want to pound the ball for positioning."
Said McCarthy: "I was fine from the distance that we kicked it from. We were being smart there with our play selection but still we were trying to get the first down."
The loss was McCarthy's first to the Vikings in five games since he and Childress assumed their respective jobs. Vikings owner Zygi Wilf presented Childress a game ball afterward. Childress would be wise to cut that pigskin in half. One end should go to Peterson and the other to Allen.
November, 1, 2008
11/01/08
11:07
AM ET
Posted by ESPN.com's Kevin Seifert
Green Bay quarterback Aaron Rodgers' contract extension will help set the groundwork for another NFC North quarterback who seems on the verge of cashing in.
Chicago quarterback Kyle Orton, who has compiled a 91.4 passer rating in leading the Bears to a 4-3 record, has a similar situation as Rodgers. He has one more year remaining on his deal and has only recently emerged as a potential long-term answer at the position. And as Brad Biggs of the Chicago Sun-Times points out, Orton and Rodgers have the same agent in David Dunn.
The market for young established quarterbacks is pretty well set now, so there is no rush from the Bears' perspective to complete a deal with Orton. And with former starter Rex Grossman still on the roster as the backup, there's an argument to be made that negotiations with Orton would be best saved for the offseason.
Regardless, it seems safe to say that Orton is next on the NFC North's priority list of quarterback contracts.
Continuing around the division:
October, 18, 2008
10/18/08
11:13
AM ET
Posted by ESPN.com's Kevin Seifert
Chicago linebacker Brian Urlacher was one of at least two NFL players who were fined $20,000 for verbally abusing officials during a game last weekend. (St. Louis center Richie Incognito was the other. Denver cornerback Dre Bly, meanwhile, was fined $20,000 for criticizing officials in media interviews.)
Urlacher and Incognito were both penalized 15 yards during the game, but it's somewhat jarring to know a player can be fined more for showing disrespect to an official that he can be for tackling a player by his facemask -- which could cause serious injury. And because there are only a handful of people who can hear what the abusing player said, officials obviously get a high level of discretion.
NFL officials receive constant abuse from coaches and players, most of which goes unnoticed publicly because the audio isn't captured for television broadcasts. And we can't say for sure that these fines represent a new trend because the NFL only publicizes them when asked specifically by media members.
All that said, it's hard not to draw a connection between the fines and a series of high-profile officiating gaffes we've witnessed this season. Officials have a tough job, and perhaps the NFL is giving them a little cover right now.
On to the rest of the NFC North on this Saturday morning:
October, 17, 2008
10/17/08
8:30
AM ET
Posted by ESPN.com's Kevin Seifert
The last time Minnesota tailback Adrian Peterson visited Soldier Field, he blew up for 224 yards and three touchdowns. In his return Sunday, however, an entirely different dynamic will be at play.
Peterson enters this game with a case of fumble-itis. He lost a pair of fumbles in last Sunday's 12-10 victory over Detroit and has already matched his 2007 season total by losing three this season. The only NFL tailback with more is Cincinnati's Chris Perry with five.
The Bears, of course, are one of the league's best teams at stripping the ball and their five forced fumbles in 2008 ties them for sixth in the NFL.
Speaking this week to Minnesota reporters, Peterson said he has been "careless" with the ball and knows the Bears will test him to see if he is paying more attention.
"Sometimes you kind of hit yourself upside the head, realize that you need to stop being careless with the ball," Peterson said, according to Kelsie Smith of the St. Paul Pioneer Press. "It was kind of like a little wakeup call."
Overall, Peterson has three 100-yard games this season and ranks third in the NFL with 563 yards.
Continuing around the NFC North this morning:
October, 16, 2008
10/16/08
7:54
AM ET
Posted by ESPN.com's Kevin Seifert
Linebacker Napoleon Harris returned to Minnesota in a late-night transaction Wednesday and should be in uniform for practice Thursday, the second ex-Vikings linebacker to sign with the team this week. Sean Jensen of the St. Paul Pioneer Press and Judd Zulgad of the Star Tribune have details.
Harris and Dontarrious Thomas have re-fortified the team's depth after injuries to E.J. Henderson (toes) and David Herron (ankle, head). (This summer, backup Heath Farwell was lost for the season because of a knee injury). It also wouldn't be surprising if either Harris or Thomas starts at middle linebacker Sunday at Chicago; the Vikings' other option there is special teams player Vinny Ciurciu.
Harris was originally scheduled to visit Detroit first after Kansas City released him Tuesday, but the Vikings represent a better option on many levels. Harris' best seasons in the NFL have come under Vikings linebacker coach Fred Pagac, who also coached Harris in Oakland, and his best NFL season came in 2006 when the Vikings moved him to middle linebacker.
Minnesota officials opted not to re-sign him during the offseason, instead sliding Henderson to the middle. But Harris knows the Vikings' defense well enough that he can be more than an emergency pickup. The Chiefs obviously were down on Harris, deactivating him for every game this season, but the Vikings can't afford to be picky right now at one of the most important defensive positions.
Continuing around the NFC North:

NFL SCOREBOARD
Sunday, 2/2
WEEKLY LEADERS