January, 16, 2014
Jan 16
8:11
AM ET
NASHVILLE, Tenn. -- The Titans' secondary was good last year, so defensive backs coach
Brett Maxie
should have been retained.
[+] Enlarge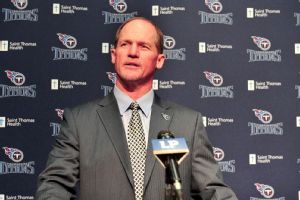 Frederick Breedon/Getty ImagesLet's give Ken Whisenhunt the benefit of the doubt before judging the moves he made regarding the Titans' coaching staff.
The Titans special teams were bad last year, so special teams coach Nate Kaczor and his assistant, Steve Hoffman, should not have been retained.
That's the popular thinking for at least a portion of Titans fans who are vocal on Twitter.
It's overly simplistic and incorrect.
I thought Maxie and assistant secondary coach Steve Brown did a good job last season.
Ken Whisenhunt kept Brown but let Maxie go.
Maybe he loved Maxie's work but has someone else in mind. Maybe he didn't like Maxie's work. Maybe a coaching colleague he trusts told him something about Maxie and something different about Brown. Maybe Ruston Webster gave him different reviews of the two. Maybe he's got a list of secondary coaches he covets and thinks a new guy working with a holdover will maximize the secondary's chances to do its best.
There are a number of factors that could have come into play. Whisenhunt's not going to spell them out for us.
The same is the case with regard to keeping Kaczor and Hoffman.
It's at least a partial endorsement of their work.
Tennessee's special teams were a problem last year, though things settled down when a quality returner,
Leon Washington
, fell into their lap late in the season.
But while those guys were heard, they weren't ultimately responsible for
Darius Reynaud
starting out as returner or
Devon Wylie
holding the job for a bit. Look higher up the Titans organizational chart for blame there -- to
Mike Munchak
and Webster.
As for silly, side-spinning, tee-less onside kicks ...
Perhaps Kaczor brought the idea to the table. But the head coach is the guy responsible for the team using it. Munchak, and any head coach, holds veto power and ultimate responsibility.
Whisenhunt is a smart coach who's respected around the league and arrives with six years as a head coach on his resume.
He's taken in some info and decided to keep the special teams assistants who were in place.
Rather than immediately call it a crazy move, how about we wait and see how they do given another chance?
---
The list of assistants and their fates, per Jim Wyatt of The Tennessean:
Retained:
Steve Watterson, assistant head coach/strength and conditioning; Steve Brown, assistant secondary coach; Sylvester Croom, running backs; Steve Hoffman, assistant special teams;
Shawn Jefferson
, wide receivers; Nate Kaczor, special teams.
Let go:
Dowell Loggains, offensive coordinator; George Henshaw, tight ends;
Bruce Matthews
, offensive line; Brett Maxie, secondary; Chet Parlavecchio, linebackers;
Dave Ragone
, quarterbacks; Tracy Rocker, defensive line.
Contract not renewed:
Jerry Gray
, defensive coordinator; Gregg Williams, senior assistant/defense;
Keith Millard
, pass rush.
TBA*:
Jonathan Gannon, defensive assistant/quality control; Arthur Smith, offensive line/tight end assistant.
* Wyatt says they are retained for now, but the new offensive coordinator will have a say in what direction the team goes.
January, 3, 2014
Jan 3
8:07
PM ET
NASHVILLE, Tenn. --
Mike Munchak
returned Friday evening to the Music City, but the
Tennessee Titans
issued statements from president/CEO Tommy Smith and general manager Ruston Webster saying things are not yet resolved regarding the coach's job status.

Munchak
"I said all along that we would review every aspect of the football operations at the conclusion of the season -- in early January," Smith said. "Today I sat down with Ruston and Mike and we discussed every coach and player on the roster. We had good discussions, but no final decisions were made."
Said Webster: "The three of us met all day today in Houston. We had a good conversation in regards to the team and moving forward. Nothing final has been decided at this point, but we hope to have a decision soon."
Jim Wyatt of The Tennessean reported that Munchak will return, saying after the statements were released that Munchak
has conditions
but is expected to meet them.
I interpret that as meaning Munchak will sacrifice part of his staff to retain his job.
Jerry Gray
has an expiring contract, but when his phone rings he's likely to be told he won't get a new deal. Munchak should be trying to promote Gregg Williams to the defensive coordinator post, but Williams is also about to become a coaching free agent.
Others who might be in trouble: offensive line coach
Bruce Matthews
, Munchak's best friend and fellow Pro Football Hall of Famer; linebackers coach Chet Parlavecchio; special-teams coach Nate Kaczor; defensive line coach Tracy Rocker; and pass rush coach
Keith Millard
.
I wrote previously about some of them
being at risk
.
I fully believe Dowell Loggains is safe if Munchak is back. The last thing the Titans need is a third offensive coordinator in three years for young quarterback
Jake Locker
.
If staff changes are the primary conditions for Munchak's return, the easy part may be firing assistants. Hiring quality replacements while heading toward a lame-duck season will be difficult. And there is no indication at all that Smith will consider an extension for Munchak.
January, 2, 2014
Jan 2
8:21
PM ET
NASHVILLE, Tenn. -- Per Jim Wyatt of The Tennessean, Titans coach
Mike Munchak
is "still in limbo."

Munchak
"Discussions continue in-house, but no decision made and could still go either way,"
Wyatt tweeted
before suggesting that Munchak will have to be willing to make changes on his staff in order to stay.
A contract extension is not in play, per Wyatt. That makes staff changes difficult. It's easy to boot someone. It's not as easy to replace him as a lame-duck coach, which is what Munchak will be. He'll only be able to offer one-year deals to new staff members, unless he can give them deals longer than his own.
Who might general manger Ruston Webster and/or president and CEO Tommy Smith believe should go?
I agree with Wyatt that one easy upgrade would be to allow the only defensive coordinator Munchak has had,
Jerry Gray
, to go. Gray's contract is up and Munchak has preached accountability but seems to have held Gray to a different standard. If senior assistant/defense Gregg Williams, who also has an expiring contract, would take a one-year deal and a promotion to coordinator that should be the move.
The linebackers and special teams units were among the team's worst in the team's 7-9 season.
Linebackers coach Chet Parlavecchio is a high-energy guy and a good teacher. But his linebackers didn't produce.
Like Parlavecchio, special teams coach Nate Kaczor was just elevated to his post after the 2012 season. His group settled down after
Leon Washington
fell into the team's lap. But decisions before that with returners
Darius Reynaud
and
Devon Wylie
were poor.
Another group that did not play the way the team projected it to was the offensive line. Munchak and offensive line coach
Bruce Matthews
are fellow Pro Football Hall of Fame offensive linemen and the closest of friends. Matthews moved to Nashville to take over Munchak's old position when Munchak got the top job in 2011. Munchak is an Oilers/Titans institution, but so is Matthews.
Matthews and Parlavecchio easily rate as Munchak's two closest friends on the staff.
I am sure Munchak would fight hard for those three or any other assistant he feels may be put in a scapegoat role.
Munchak made changes to his staff, to his lineup and to some policies in advance of this season saying if he was going to go down, he wanted to go down his way.
With a year left on his contract, if he wants to stay in place he may have to be willing to go down in 2014 with something that rates as a bit less than his way if Webster and/or Smith force change.
Or, that change may include more than a few assistants. It may include Munchak himself.
November, 15, 2013
11/15/13
12:28
PM ET
A review of four hot issues from the
Tennessee Titans
' 30-27
loss
to the
Indianapolis Colts
at LP Field:
Foku
Missing Fokou:
When linebacker
Moise Fokou
hurt his knee Oct. 13 at Seattle, some of us believed the Titans might be better off with
Colin McCarthy
plugged in at middle linebacker. It's not as though McCarthy's been terrible, but three of the four games without Fokou have been run-defense disasters -- 153 yards to San Francisco, 160 to St. Louis and 137 to Indianapolis. (There was a 54-yard game against Jacksonville, too.) Getting Fokou back might not be the answer, but this was a better defense when he was running it.
Special teams:
Of all the moves Mike Munchak made, firing Alan Lowry might have been the biggest. Current special teams coach Nate Kaczor isn't making the mistakes, and his units have been hard-hit by the injuries, but the Titans have been far more likely to commit a gaffe on special teams than produce a play. Every team in the league should have a guy they can call up from the practice squad who can field kicks and punts and secure the ball.
Devon Wylie
's kick return fumble -- which was the result of him bumping into a teammate -- was an absolute killer.
Fitzpatrick
Third and short:
I'm fine with the Titans' willingness to throw in an unconventional situation. They converted an early third-and-1 with a 12-yard pass to
Delanie Walker
. But the second time they faced third-and-1, when they were running the ball well,
Ryan Fitzpatrick
threw incomplete for
Kendall Wright
to stall a drive after just three plays. Shouldn't a team trying to create a we-can-run-when-we-want MO at least allow for the possibility of running it by not going with the empty backfield? They went empty on a third-and-2 a bit later, and converted thanks to a roughing call against
Robert Mathis
.
Covering Coby Fleener:
The tight end wound up with eight catches for 107 yards and was a key to the Colts' win. The Titans have been far better against tight ends this season than the past couple years, mostly because safety
George Wilson
's been part of the dime and three-safety nickel packages. Wilson played one snap on defense, and the Titans defended Fleener with base and regular nickel personnel. The three top cornerbacks, free safety
Michael Griffin
and strongside linebacker
Akeem Ayers
were all involved in tackling him.

NFL SCOREBOARD
Thursday, 8/21
Friday, 8/22
Saturday, 8/23
Sunday, 8/24