June, 30, 2010
6/30/10
12:30
PM ET
Notable players:
QB
Jim Kelly
, RB
Thurman Thomas
, WR
Andre Reed
, WR
James Lofton
, C
Kent Hull
, DE
Bruce Smith
, OLB
Cornelius Bennett
, OLB
Darryl Talley
, ILB
Shane Conlan
, CB
Nate Odomes
, ST
Steve Tasker
.
[+] Enlarge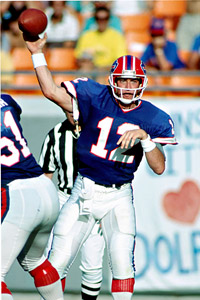 US PresswireJim Kelly threw 24 touchdown passes and just nine interceptions in 1990.
Analysis:
The
Buffalo Bills
went to an unprecedented four straight Super Bowls in the 1990s and lost them all.
Buffalo's best shot was its first, and not merely because it came down to a last-second field goal attempt that went wide right. That squad was its most complete on both sides of the ball.
The 1990 Bills are known as one of the best teams not to win the Super Bowl. Their 13-3 record is tied for the best in franchise history. They ranked first in scoring offense and sixth in scoring defense. Kelly led the NFL in passer rating, Thomas led in yards from scrimmage and Smith was voted defensive player of the year.
The Bills rolled through the regular season. They went undefeated at home and seemed to be surging down the homestretch. They outscored their first two playoff opponents 95-37, but went up against the NFL's best defense when they met the
New York Giants
in the Super Bowl.
The Bills led the Giants by nine points in the second quarter and held a two-point lead in the fourth quarter. But the Bills trailed by a point when Scott Norwood lined up from 47 yards away for what would have brought Buffalo its first major championship. The kick sailed wide of the upright.
Most impressive win:
The Los Angeles Raiders went into the AFC Championship Game at Rich Stadium with only four losses while allowing an average of 16.4 points. The Bills annihilated the Raiders 51-3 with the help of six interceptions. The score was 41-3 at halftime.
Norwood not to blame:
Did Norwood really choke? To claim he did is to suggest a successful kick was probable. The fact is, Norwood never had made a field goal longer than 49 yards in his six NFL seasons. That meant 47 yards was about the limit of his range. He made 6 of 10 attempts from 40-plus yards that season. The fateful attempt also was on grass, a surface he was kicking on for only the fourth time.
Honorable mention
1964:
The Bills won their first of back-to-back AFL championships with a squad that ranked first in total offense and defense. They outscored opponents by an average of 11 points a game.
1991:
The Bills rebounded from their "Wide Right" heartbreak, repeating their 13-3 record and reaching the Super Bowl again. They scored at least 34 points nine times.
1993:
Buffalo won the AFC championship a fourth straight time. The offense ranked sixth in total yards, while the defense ranked fifth in yards allowed and had a league-high 47 takeaways.
April, 28, 2010
4/28/10
7:23
PM ET
NFC West teams must be hoping the 35 players they drafted last week aren't hooping it up before minicamps.
My thoughts Tuesday: "I'm always a little surprised to hear NFL players talk about getting out on the basketball court. The risk for a serious ankle or knee injury would seemingly be too great, particularly playing against lesser athletes. Sounds like the Rams don't have to worry about (Sam) Bradford tearing up his knee on the hardwood."

Appearing on ESPN.com Wednesday: "Denver Broncos All-Pro left tackle Ryan Clady tore his patella tendon playing basketball, two league sources told ESPN NFL Insider Adam Schefter. Clady has told people he will miss three months, according to the sources."
Seems like there's enough risk in football without taking chances playing another sport in the offseason. If you've played much basketball at any level, you've probably injured an ankle or knee, or had your teeth knocked out or a nose broken. It just happens. This is a tough break for Clady and the Broncos, but no surprise under the circumstances.
Former Bills and Seahawks cornerback Nate Odomes famously suffered a severe knee during a charity basketball game in 1994. He missed the next two seasons and played only seven more games the rest of his career. A Bengals player suffered a
torn Achilles' tendon
playing basketball this offseason.
As Ricky Watters once said, "For who? For what?"