NFL Nation:

Nate Washigton
September, 26, 2011
9/26/11
5:10
PM ET
Titans fans are panicked as they consider the team's options in the wake of the news that wide receiver
Kenny Britt
tore up his knee against Denver and is lost for the season.

Should the team contact
Terrell Owens
? Turn back to
Randy Moss
? Bring back
Justin Gage
?
Jim Wyatt reports
the Titans do have plans to work out
Buster Davis
and, if he doesn't sign with a team he promised to visit first,
Donnie Avery
. Titans beat writers tweeted from Mike Munchak's news conference that the coach said that Moss and Owens are not likely to get a look but that Gage is a possibility.
Davis, Avery or Gage wouldn't jump into the team's rotation. The Titans expect
Nate Washington
,
Damian Williams
,
Lavelle Hawkins
and tight end
Jared Cook
to take on more.
Washington has been excellent the past two weeks.
It's a bit ironic.
In Pittsburgh, he excelled as a scramble option for
Ben Roethlisberger
. The Titans saw him as a great fit for
Vince Young
, presuming they'd work the same sort of magic on freelance plays. But it never really panned out and Washington was wildly inconsistent in his first two seasons in Tennessee, dropping far too many passes.
Now, playing with a more conventional pocket passer in
Matt Hasselbeck
, Washington has found something different. He's had at least six catches in all three of the Titans' games so far, with a total of 21 receptions for 258 yards and a touchdown. He's earning the trust of receivers coach Dave Ragone, offensive coordinator Chris Palmer and Hasselbeck.
It's one thing being the No. 2 receiver when a top-level threat such as Britt is drawing attention. Now the Titans need Washington to show he can continue to produce while ranking as the top guy.
It's not an ideal scenario. But it looks a lot better than it did before the Munchak regime got started.
September, 18, 2011
9/18/11
8:29
PM ET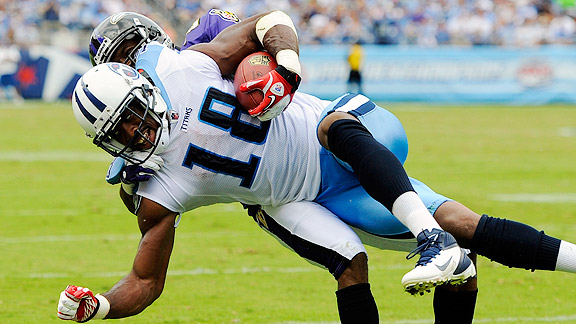 AP Photo/John RussellKenny Britt had 135 yards and a score as Tennessee put up 358 passing yards against Baltimore.
NASHVILLE, Tenn. -- The search for ways to open things up for
Chris Johnson
is ongoing.
The
Tennessee Titans
are a team that is usually about the running back and the run blocking. They are a team that brought in
Randy Moss
a season ago, not so much because he might make big plays, but because he might move a safety out of the box. They are a team now coached by a Hall of Fame offensive lineman who's spoken of being driven by the run.
They are a team that was something else entirely on Sunday.
In a surprising
26-13 win
over the
Baltimore Ravens
Sunday at LP Field, the Titans were a precise, big-play passing team -- a description that qualifies as sweet music to fans who have long craved the dynamic in Music City.
As Johnson managed 2.2 yards a carry and got booed,
Matt Hasselbeck
showed great accuracy against one of the league's toughest defenses. He said during the week there were plays to be made in the secondary. His line gave him the time to make them. He didn't get sacked and he passed for 358 yards (30-for-42, 71 percent).
Seven times he hit on pass plays longer than 15 yards, with
Kenny Britt
as the centerpiece. Britt pulled in receptions of 37, 28 and 16 yards en route to a 135-yard game with a touchdown.
After a troubled offseason, Britt missed the bulk of training camp and the preseason with a hamstring issue. So he and Hasselbeck are still learning each other.
The receiver said the two were 75-80 percent in sync after the Baltimore game and projected it could jump to 95 percent this week. He said Hasselbeck told him during the course of the game, "Once I know what you're doing all the time, we'll be great at it."
A week after he killed the Titans' chances at a late win with an awful interception, Hasselbeck's accuracy keyed the team's first win of the season.
"I think they had really good coverage most of the day," Hasselbeck said. "I played with a guy that always used to say there is no coverage for the perfect throw. It's funny, but it's true. When you're playing a great defense, you've got to have great accuracy.
"And they weren't easy catches. [
Jared Cook
's] catch was a diving catch, Kenny's catch down the middle took a lot of courage,
Nate Washington
had some courageous catches,
Lavelle Hawkins
stepped up with some courageous catches. It was as much them as anything."
So Hasselbeck wasn't afraid of that tight coverage getting to his throws?
"Oh, I was afraid," he said, laughing. "But what are you going to do? I had to throw it."
On Britt's longest reception, he slowed and turned to face the pass as he caught it, then navigated the left sideline as he completed his spin. Cook also turned back to get a 33-yard catch, falling to the ground as he pulled it in. In each situation, if the Titans hadn't caught it, the ball would have fallen harmlessly incomplete.
"Matt was actually trying to put it in a perfect place where I could go get it," Britt said, before talking specifically about turning to go get balls. "It's by design. We've been working on that for at least two to three weeks now since I've been back from my hamstring injury."
Britt was called to Roger Goodell's office to discuss a trouble-filled offseason but avoided any suspension for transgressions during the lockout. The Titans want him to be a central figure in what they do -- one of three dynamic playmakers along with Johnson and Cook.
But it can be difficult to count on him because over the course of his first two seasons he often got dinged and could lose focus.
Now he's got a new veteran quarterback, a new rookie quarterback (
Jake Locker
), a new head coach (Mike Munchak), a new offensive coordinator (Chris Palmer) and a new position coach (Dave Ragone).
All of them are relying on his continued emergence.
Britt's wife and daughter are now in Nashville and he's indicated he won't be spending a lot of time in New Jersey, where most of his troubles arose. If healthy and consistent, with an accurate quarterback throwing to him, Britt may well jump to elite receiver status soon.
The Ravens praised Hasselbeck's precision.
His 358 passing yards were the most the Titans have ever had in 20 matchups against the Ravens and the fourth most Baltimore has yielded over the past five seasons.
"Kenny's covered and he makes a great throw," Titans quarterback coach Dowell Loggains said. "Matt was deadly accurate today."
Baltimore isn't going to give up a lot of running yards. Other teams that are able to slow Johnson should pay for it if Hasselbeck can find Britt, Washington and Cook the way he did Sunday.
"We feel like we have enough weapons with No. 8 on offense that we can do some things that we haven't been able to do in the past," Loggains said. "This is what we should be able to do."
May, 14, 2009
5/14/09
12:03
PM ET
Posted by ESPN.com's Paul Kuharsky
We have, can and will argue about whether a highly drafted 300-plus pound defensive tackle is going to change things for the Colts defense and whether he marks the start of any philosophical change for a unit operating under a new coach and coordinator.
But no matter where we come out on it, there is no doubt that Indianapolis thinks it's upgraded at defensive tackle and that second-round tackle
Fili Moala
may just be the AFC South's rookie on the hot seat.
If he can garner the attention of multiple blockers and make running up the middle against the Colts tougher, his trickle-down effect could be as big as any first-year player in the division even if it's not as apparent as Donald Brown's rushing yards or the catches for Kenny Britt in Tennessee.
The Colts haven't revamped at linebacker, but if Moala and fourth-round interior lineman Terrance Taylor upgrade the Colts' interior defense, life could get a lot easier for players like Philip Wheeler, Gary Brackett and Clint Session, smaller linebackers whose paths to success will be built around being freed up and using their quickness.
Indy did fine last season with what it had. But Moala can help make things easier for a lot of people. And he warranted the 56th pick in the draft by Bill Polian, who's hardly made a habit of drafting interior linemen, better yet with his most valuable picks.
I acknowledge this is an easy category to plug virtually any draft pick into, especially a first-rounder. They all come into the league with expectations they will alter a position group. We could make the case for 14 or 15 different guys.
In my thinking, Houston linebacker Brian Cushing qualifies as the first runner-up. He should start from the outset and is expected to help fortify a front seven that's been an issue as the Texans have been unable to get over the 8-8 hump. If he doesn't upgrade the linebacking corps from opening day, we'll be asking a lot of questions about why not.
For the Jaguars, I expect good things quickly from Eugene Monroe and Eben Britton, but if the veteran offensive linemen are healthy and free-gent addition Tra Thomas' transition is smooth, the top two picks don't have to be big factors right from the start. The hot seat guys are third-rounder Terrance Knighton, a defensive tackle the team needs to make a strong showing to help re-establish its defensive personality, and Derek Cox, the third-round defensive back the team traded next year's second-rounder to acquire when many other teams had him rated much lower.
For the Titans, who had no overwhelming draft class need, it's first-round receiver Britt. The Titans are deep and lost only two starters, and have veterans who should be able to help fill the Albert Haynesworth void. In tandem with free-agent addition Nate Washington, Britt is expected to help make the Titans a more explosive team that can find a big pass plays to go with a solid run game. But he doesn't have to be effective immediately for the Titans to be successful.

NFL SCOREBOARD
Thursday, 12/18
Saturday, 12/20
Sunday, 12/21
Monday, 12/22
WEEKLY LEADERS