NFL Nation:

Nathan Vasher
January, 13, 2012
1/13/12
1:30
PM ET
»
Divisional Final Word
:
Saints-49ers
|
Broncos-Patriots
|
Texans-Ravens
|
Giants-Packers
Three nuggets of knowledge about Saturday's Saints-49ers divisional game:
[+] Enlarge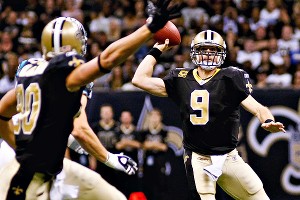 Derick E. Hingle/US PresswireNew Orleans QB Drew Brees has recorded 18 TDs and two interceptions in playoff games.
Cracking the code on Brees:
The 49ers led the NFL in turnover differential at plus-28 this season. They tied for second in interceptions with 23.
Carlos Rogers
,
Dashon Goldson
and
Tarell Brown
have combined for 16. But in Saints quarterback
Drew Brees
, the 49ers are facing the all-time record holder for consecutive postseason passes without a pick. Brees' streak is at 215 pass attempts and counting. This stat, provided by the NFL, seemed improbable. The Saints lost to Seattle in the wild-card round a year ago, after all. But the numbers are even better than the 215-attempt streak would indicate. Brees has 13 TD passes without an interception in his past five playoff games. He has 18 TDs with two INTs in eight career playoff games. Brees last threw a postseason pick during a Jan. 21, 2007 defeat at Chicago. Detroit missed a couple chances in the wild-card round.
About the contrasts in style:
The Saints' 626-yard total against the Lions last week exceeded by 41 yards the 49ers' combined yardage totals for their games against Dallas (206), Seattle in Week 1 (209) and Baltimore (170). Fortunately for the 49ers, the Saints will not have the Dallas, Seattle or Baltimore defenses on their side. The Saints allowed 18 touchdowns in 18 red zone possessions against Green Bay, Chicago, Carolina (Week 5), Tampa Bay (Week 6), Indianapolis, St. Louis and Detroit (wild-card round). Those shortcomings proved critical in defeats to the Packers, Bucs and Rams. The 49ers' red zone touchdown percentage bottomed out during a six-game stretch with only three TDs in 18 such possessions. The 49ers need to build on recent improvement in that area by featuring
Vernon Davis
and their ground game.
If it comes down to a kicker:
We've broken down
this
matchup
from
the
major
angles
. Special teams are another consideration. The 49ers have dominated in that area most of the time. Their kicker,
David Akers
, made the most of the team's red zone issues, setting a league record for field goals in a season. The 49ers battled high-scoring teams to close finishes. If it happens again, the kickers could prove decisive. We know about Akers. He was sensational amid
trying circumstances
. The Saints' kicker,
John Kasay
, has been around, too. He broke into the league with Seattle in 1991. Kasay has made a higher percentage outdoors (14 of 16) than indoors (14 of 18) this season. Those numbers correlate with Kasay's totals on grass (13 of 15) and turf (15 of 19). Kasay has made a higher percentage when the Saints were trailing (7 of 7) than when they were leading (17 of 21). He has made 4 of 6 kicks in fourth quarters, and both misses were from 50-plus yards. Kasay, 42, has made 1 of 4 tries on the road from 50-plus yards. He has attempted two kicks from 40-49 yards in tie games, missing both.
April, 15, 2011
4/15/11
1:10
PM ET
We continued this week to see more layers of possibility dropped on the
Detroit Lions
' path in the first round.
Speculation about the knee injury
of Clemson defensive end
Da'Quan Bowers
added another possible player (and position) to the mix.
But for me, it will all come back to where we started: Cornerback. Sometimes we can overthink these things. If you're sitting at No. 13, with the depth chart the Lions have, and one of the draft's top cornerbacks is available, wouldn't the decision be easy?
In a mailbag plea,
BWin of Fort Lauderdale, Fla.,
was approaching apoplexy amid the possibility that the Lions could pass on Nebraska cornerback
Prince Amukamara
in favor of an offensive lineman or any other position: "OL is next year's need!"
There is nowhere close to a guarantee that Amukamara will be available at No. 13. But it's worth noting that in their most recent mock drafts, ESPN analysts
Mel Kiper
and
Todd McShay
had Amukamara available at No. 13 and gave him to the Lions.
Barring a stunning slide of a top-5 player at another position, Amukamara should be a relatively easy decision for the Lions at No. 13. If he's off the board, they would be justified in considering other positions.
Easy? Yes, that's what I wrote. The Lions aren't just thin at cornerback. They really don't have a single established starter under contract.
Chris Houston
will probably be a free agent in some form when the lockout ends.
Alphonso Smith
showed some promise during a 10-game starting stint last season but can hardly be counted on at this point. The only other in-house option is veteran
Nathan Vasher
, who has four interceptions for three teams over the past four seasons.
As the chart shows, the Lions had one of the NFL's worst defenses last season when they used five defensive backs. We know their pass rush was pretty effective, so I think it's fair to question the depth and skill of their cover people during long stretches of last season.
I'm sure we'll touch on this topic again before the April 28 draft. But I agree with BWin. Unless there is something the Lions know about Amukamara that we don't, he seems their most logical choice.
September, 4, 2010
9/04/10
7:55
PM ET

Check
here
for a full list of San Diego's roster moves.
Biggest surprise:
If there was surprise cut it was
Nathan Vasher
. The cornerback was supposed by a key backup. But San Diego definitely kept enough defensive players. Of the 53 players on the roster, 29 of them are defensive players. San Diego kept 21 offensive players and three specialists. San Diego has 10 linebackers and 11 defensive backs. The team kept four receivers. That is a very low number. However, all four receivers on the roster –
Malcom Floyd
,
Legedu Naanee
,
Buster Davis
and newly acquired
Patrick Crayton
-– will be active on game day. Veteran
Josh Reed
was cut.
No-brainers:
The Chargers kept both fullbacks,
Mike Tolbert
and
Jacob Hester
. Both players are very valuable. San Diego kept two undrafted rookies, linebacker
Brandon Lang
and tackle
Ryan Otterson
. Both players were good in training camp and provide depth at key positions.
What's next:
San Diego could look at help at receiver and tackle. The team is officially without holdouts
Vincent Jackson
and
Marcus McNeill
. Jackson could still be traded, and McNeill could still show up to the team. But, for now, it looks like San Diego is heading to the regular season without both Jackson and McNeill, and without any solution in sight. Jackson is essentially going to miss six games because of an NFL suspension and a roster exemption list San Diego put him on. McNeill is facing a three-game wait because he is also on the roster exemption list.
April, 2, 2010
4/02/10
12:00
PM ET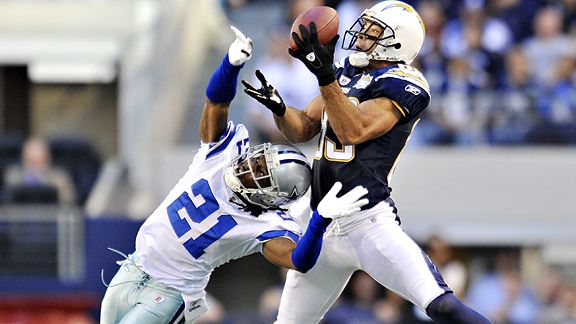 AP Photo/Michael ThomasReceiver Vincent Jackson is one of five players key to San Diego's future success.
There is no question San Diego has lost more personnel than it has gained as it attempts to rebound from a shocking playoff loss and stay among the elite teams in the AFC. Many Chargers fans worry the team has taken a step backward and could lose its grip as the four-time defending AFC West champion.
Among the departed: Running back
LaDainian Tomlinson
(cut and signed with the Jets), cornerback
Antonio Cromartie
(traded to the Jets), special-teams ace
Kassim Osgood
(free agent/Jacksonville), defensive tackle
Jamal Williams
(cut, signed with Denver) and tight end
Brandon Manumaleuna
(free agent/Chicago).
I don't think the losses are as devastating as they appear on paper and San Diego will not take a dramatic step backward. With the right moves in the rest of the offseason, I think the Chargers will reaffirm themselves as the top team in the AFC West. Here's why:
All of the players who left are replaceable:
None of the players who left were top-level performers on last year's 13-3 team.
Tomlinson is a legend and will be missed, but his performance last year was not memorable. He had a career-low 730 yards, he didn't have a 100-yard rushing game and the Chargers were ranked 31st in the NFL in rushing. An upgrade was needed.

Cromartie was a Pro Bowl player earlier in his career because he was an interception magnet. However, his interceptions have declined dramatically, he had issues in coverage and he was a major liability in the run game.

Third-year pro Antoine Cason will not be a big downgrade from Cromartie in coverage and he should help in ways Cromartie didn't. Cason, the Chargers' top pick in 2008, is a smart player who is trusted by his teammates. He is a ball hawk and doesn't shy from run support. He has some work to do, but he won't be a liability.

Williams missed all but one game last season with a triceps injury. The Chargers were moving on anyway.

Osgood will be missed on special teams, but his departure isn't a devastating blow. He was a very good role player, but became too expensive for the Chargers to keep. It's time for another player to step up and become a difference-maker on special teams. The Chargers will survive this loss.

Manumaleuna is a fine blocking tight end, but he is not a player San Diego will be lost without. He was a role player.
The team is keeping its best players:
Many San Diego fans complained the Chargers haven't been active in free agency. That is not accurate. The team has been very aggressive -- in keeping its own players. No team had as many key decisions to make in restricted free agency.
In the end, San Diego put the high tender of first- and third-round picks on receivers
Vincent Jackson
and
Malcom Floyd
, linebacker
Shawne Merriman
, left tackle
Marcus McNeill
and running back/return man
Darren Sproles
.
Unlike the group of players who left, these five players are essential to the team's future success. San Diego made the right decision to make it virtually impossible for another team to sign any of these players.
The team is prepared to improve in the draft:
The Chargers will be adding new talent this year.
San Diego's top two pressing needs are nose tackle and running back. San Diego is in position to find quality new starters in the draft at both positions.
In one of the shrewdest offseason moves, San Diego acquired the No. 40 pick in the draft when it traded No. 3 quarterback
Charlie Whitehurst
to Seattle. San Diego gave up the No. 60 pick. It also got Seattle's third-round pick next year.
San Diego now has the No. 28 and No. 40 picks in this month's draft, giving it great drafting power. Both the nose tackle and running back classes are deep, so San Diego should get two good players. The additional picks also give the Chargers greater flexibility. They could decide to package the picks and move up in the first round to get a top nose tackle or running back.
No matter what happens, the Chargers will get better through the draft. By the time the 2010 season starts, San Diego will be just as good as it was at the end of 2009.
April, 1, 2010
4/01/10
1:00
PM ET
»
NFC Stock Watch
:
East
|
West
|
North
|
South
»
AFC
:
East
|
West
|
North
|
South
Falling

Greener pastures.
Chicago released cornerback
Nathan Vasher
after three consecutive sub-par seasons. No team wanted to see him rebound more than the Bears, who gave him a $28 million contract extension before the first of those three seasons. But Vasher never regained his 2006 form and the Bears finally gave up on him. It didn't take long, however, for another team to grow convinced things would be different with them. That team was San Diego, which boasts two of Vasher's former coaches on its staff. Chargers defensive coordinator Ron Rivera and secondary coach Steve Wilks each held similar positions with the Bears. The Chargers have minimal risk in the investment, but you wonder if they actually watched the film of Vasher's play over the past three years. Rivera and Wilks are good coaches, but as they say, the eye in the sky doesn't lie.
Rising

Jim Schwartz, Detroit head coach:
As he enters his second year with the Lions, Schwartz knows the healthy thing to do would be to
lower his blood pressure
a bit during games. The Lions have a long way to go and are going to present him plenty of temper-inducing moments in the short term. But to his credit, Schwartz realizes that's easier said than done. The worst thing he could do is begin accepting below-standard play. Schwartz said he will calm down once the team gets "the way we need [it] to be." That should be a good thing for the Lions and their fans.
March, 26, 2010
3/26/10
1:02
PM ET
»
NFC Under-The-Radar
:
East
|
West
|
North
|
South
»
AFC
:
East
|
West
|
North
|
South
»
Draft Watch
:
Biggest needs
(2/17) |
Busts/gems
(2/24) |
Schemes, themes
(3/3) |
Recent history
(3/10) |
Needs revisited
(3/17) |
Under-the-radar needs
(3/26) |
History in that spot
(3/31) |
Draft approach
(4/7) |
Decision-makers
(4/14) |
Dream scenario/Plan B
(4/21)
Each week leading up to the NFL draft (April 22-24), the ESPN.com blog network will take a division-by-division look at key aspects of the draft. Today's topic: Under the radar needs.
Chicago Bears

Chicago has addressed its defensive line, offensive backfield and tight end position this offseason. The urgency is not quite as severe at two other positions, but they nevertheless could both use an influx of talent. One is cornerback. The Bears figure to return
Charles Tillman
and
Zack Bowman
as starters, and they signed free agent
Tim Jennings
as a potential nickel back last week after releasing
Nathan Vasher
. But Jennings shouldn't be considered a lock to play in the nickel, and the Bears seemed to stop trusting
Corey Graham
as a cover man last season. They could use more cornerbacks. The same goes for left guard, where the Bears seem likely to vacate 2009 starter
Frank Omiyale
and move him to right tackle. The Bears could use some additional options at left guard so Omiyale has the green light to focus on tackle.
Detroit Lions

With
DeAndre Levy
set to start at middle linebacker, the Lions don't have much depth behind outside linebackers
Julian Peterson
and
Ernie Sims
. Peterson will be 32 when training camp begins, and the Lions will need to identify a successor soon. Like the Bears, the Lions would help themselves by adding some extra bodies to the mix at left guard. Last year's rotation didn't work. And as long as we're talking about under-the-radar needs, we might as well include a placekicker.
Jason Hanson
is coming off a relatively down year, having missed seven of his 28 field goals, and will turn 40 in June. This is hardly a top need for the Lions, but perhaps they could identify Hanson's eventual successor late in the draft.
Green Bay Packers

Although some might consider the situation more urgent, I believe safety is an under-the-radar need for the Packers. Earlier this month,
Nick Collins
signed a three-year extension. Fellow starter
Atari Bigby
is a restricted free agent who hasn't signed his tender, but the bottom line is the Packers can retain his services for 2010 if they want. If you have two young starters under contract, the need can't be too severe. I can't see the Packers taking a safety high in the draft. Meanwhile, given all of their recent struggles in finding a long-term answer at punter, it might not be a bad idea to look in that direction as well.
Minnesota Vikings

The Vikings added two new starters to their offensive line last season, center
John Sullivan
and right tackle
Phil Loadholt
. But coach Brad Childress noted at the owners meeting that some of his other starters, including left tackle
Bryant McKinnie
and left guard
Steve Hutchinson
, were approaching a decade in the league. This might not be the year, but eventually they will need to identify both players' successors. In 2010, at the very least, the Vikings need someone to take over the reserve role played so well by
Artis Hicks
, who signed with Washington in free agency. Hicks has been the top backup at all non-center positions for most of the past four years.
March, 23, 2010
3/23/10
8:26
AM ET
ORLANDO, Fla. -- The Ford family doesn't always attend the annual NFL owners meetings, but this week, Detroit vice chairman Bill Ford Jr. has represented ownership. He also spoke to local beat reporters for the first time since suggesting in 2008 that he would fire former general manager Matt Millen
if it were up to him
.

Millen was fired days later. On Monday, Ford offered a resounding endorsement of the Lions' new direction under general manager Martin Mayhew and coach Jim Schwartz.
Ford called Mayhew "the most prepared guy I've been around" and added: "It is the early stages. Early with Martin, early with Jim. But the early returns are, I think, very good. And I know my father's [William Clay Ford] very pleased with both of them."
Here is coverage from the
Detroit News
,
Detroit Free Press
and
Mlive.com
.
Continuing around the NFC North:
March, 18, 2010
3/18/10
9:15
AM ET
Upon seeing the news that Chicago cut cornerback
Nathan Vasher
quickly got the AFC South Blog thinking about his potential to fit in this division.
The Texans and Titans are cornerback needy, but it's the Colts who rank as the best fit for him based on what the very smart Matt Williamson of Scouts Inc. told me Thursday morning.
"Don't love him. He isn't real fast and he isn't real big. Two problems for a CB. The Bears didn't do a real good job of getting after the QB this past season, but Vasher also didn't play all that well either. He is more of a short-area quickness guy, which was a pretty good fit with the Cover 2, but not as much in Tennessee or Houston. He was much more productive early in his career -- on very good defenses -- and probably inflated his name value more than his true play now indicates. He also has missed a lot of time with injuries, which could have directly led to his overall play falling off."
The Colts do need secondary depth after a purge that saw
Marlin Jackson
,
Tim Jennings
,
T.J. Rushing
and
Aaron Francisco
all become free agents after Indy didn't tender them as restricted. Jackson signed in Philly where he's going to convert to safety. Jennings signed in Chicago, where he's surely part of the reason the Bears felt OK about parting with Vasher.
NFC North kingpin Kevin Seifert says the release came
a year too late
and that Vasher, who was productive early in his career, was already an "inferior player" at the end of 2008.
It will be interesting to see where he lands.
November, 1, 2009
11/01/09
11:29
AM ET
Posted by ESPN.com's Kevin Seifert
APPLETON, Wis. -- I rolled into my makeshift NFC North headquarters late on Halloween night, just as a citywide costume party appeared to be under way. I couldn't tell whether I was on College Ave. or Bourbon St. as I weaved through the revelers. That's living -- and it's only the start.
I imagine at least some of those partygoers have already migrated up to Lambeau Field for today's showdown between Green Bay and Minnesota. I'll be up there soon as well. As I like to say, I'll see what I see and write when I write upon arrival.
For now, let's take a quick spin through Sunday morning coverage in the division:
Ed Werder on how Brett Favre and the Vikings are preparing for Favre's return to Lambeau.
April, 1, 2009
4/01/09
6:29
PM ET
Posted by ESPN.com's Bill Williamson
We enlisted several members of our NFL blog network to break down what it would take to win the Jay Cutler sweepstakes and get him from Denver.
| | |
| --- | --- |
| | |
| | Dale Zanine/US Presswire |
| | What will it take to win the Jay Cutler sweepstakes? |
The Broncos have announced to the football world they will pursue trading Cutler. Several teams are expected to make offers. Here is a look at what it might take to get Cutler:
Carolina Panthers: It's a very long shot because a move like this would be out of character for John Fox and Marty Hurney. But they could package disgruntled defensive end Julius Peppers with a draft pick for a shot at Cutler. -- Pat Yasinskas
Chicago Bears: The No. 18 and No. 84 overall picks, cornerback Nathan Vasher and quarterback Kyle Orton. The Bears could get this done without including a third team. -- Kevin Seifert
Cleveland Browns: The Broncos would need either quarterback Brady Quinn or Derek Anderson in any type of package that could require a three-team trade and draft picks for the Browns. Pro Bowl defensive tackle Shaun Rogers would be a tremendous sweetener, but Cleveland probably is not that desperate when everyone knows Denver must get rid of Cutler. -- James Walker
Detroit Lions: The No. 1, No. 33 and No. 82 overall picks. Plus, a third team to get Denver a quarterback to replace Cutler. The Lions aren't likely to be willing any players considering their personnel shortcomings. -- Kevin Seifert
Minnesota Vikings: Their No. 22 and No. 54 overall picks, tailback Chester Taylor or defensive end Ray Edwards, and a third team to help Denver get a quarterback in return. Edwards might appeal to the Broncos more than Taylor, who has low mileage but will turn 30 in September. -- Kevin Seifert
New York Jets: They might need help from a third team to swing a deal for Cutler, especially if the Broncos require a seasoned quarterback in return. The Jets have only six draft picks, including the 17th overall pick. Another possibility could include future draft considerations, such as next year's first-rounder. -- Tim Graham
San Francisco 49ers: I don't know if the Broncos would do it for the 10th overall choice, given that Denver probably wants a quarterback in return. But that is what the 49ers have to offer. -- Mike Sando
Tampa Bay Buccaneers: The Bucs don't have a lot of ammo after trading away a second-round pick for Kellen Winslow. They might have to package this year's first with next year's to have any shot. -- Pat Yasinskas
Washington Redskins: It would take Jason Campbell and the No. 13 overall pick to get in the conversation. The Redskins aren't going to do it, though. Not quite ready to give up on Campbell. -- Matt Mosley
November, 10, 2008
11/10/08
1:22
PM ET
Posted by ESPN.com's Paul Kuharsky
Back from Chicago, sorry for the late start.
Just read everything I could on the AFC South and now invite you to do the same.
Houston Texans
The Texans were pathetic in losing to the Ravens, writes John McClain. Gary Kubiak tried to take the blame, but you've got to like what Chester Pitts said: "I'm tired of coaches shouldering the blame for players."
Richard Justice said he saw an alarming lack of heart and resilience and wonders about the job security of defensive coordinator Richard Smith.
Sage Rosenfels' month as a fill-in for Matt Schaub started miserably, says Dale Robertson.
Houston's defense didn't hold up against the Ravens and Gary Kubiak expected more, says Megan Manfull.
John McClain blogs that he was an idiot to pick the Texans over the Ravens and that the Texans are a joke.
Andre Johnson is cooling off.
Indianapolis Colts
The Colts converted turnovers into points to beat the Steelers, writes Phil Richards.
Thanks to a gritty performance, Indianapolis is back in line for a title run, opines Bob Kravitz. Also, Marvin Harrison looks to be going through the motions.
Kravitz' report card includes an A+ for run defense.
Perseverance paid off, says Mike Chappell.
Reggie Wayne's big day included two catches of tipped balls, writes Chappell.
Ben Roethlisberger takes the blame for the Pittsburgh loss, says Phillip B. Wilson.
Indy leaned on defense to win in Pittsburgh, says Jarrett Bell.
The Colts played like a desperate team, says Vic Carucci of NFL.com.
Jacksonville Jaguars
Reggie Hayward said the win in Detroit was the Jaguars' first complete game of the year, writes Vito Stellino.
Gene Frenette's report card includes an A for coaching.
For at least one Sunday, the Jaguars rushing offense gets on track, says Michael C. Wright.
In all, 10 Jaguars were fined as a result of the John Henderson-Andrew Wentworth fight in last week's Jacksonville-Cincinnati game.
The Lions helped cure the Jaguars' sack woes, too, as they got seven, according to Wright.
Fred Taylor passes 11,000 yards with one of his idols, Barry Sanders, watching, says Mark Snyder.
Tennessee Titans
The Titans are sitting on cloud 9-0, writes Jim Wyatt.
David Climer considers the undefeated Titans with help from Bears cornerback Nathan Vasher, who said: "They don't look like a dominant team. But they keep winning games. You've got to respect them for that."
Don Banks wonders how you stop the Titans now that they have proved they don't have to run to win.
Alex Marvez offers his take on the Titans' ability to adapt.
Brandon Jones looked pretty good for a team that takes a lot of heat about its receivers, says Gary Estwick.
Fullback Ahmard Hall lamented a goal line fumble in The Tennessean's notebook.
The Titans defense settled down after an early drive by the Bears, according to Estwick.
Climer's four downs.
Wyatt's report card. How often do you see an F in a win? The rushing offense certainly deserved it.
Pittsburgh's loss helps the Titans as they look to secure homefield in the playoffs, says Terry McCormick.
The Bears didn't measure up to Tennessee, says Mike Downey.
After bagging a six-pointer hunting on Friday, Kerry Collins threw two six-pointers against the Bears, says Mike Dodd.
September, 19, 2008
9/19/08
8:20
AM ET
Posted by ESPN.com's Kevin Seifert
This morning, Minnesota Vikings officials are poring over owner Zygi Wilf's first public comments since an 0-2 start led to the benching of quarterback Tarvaris Jackson.
I did the same, reviewing Sid Hartman's interview with Wilf in the Star Tribune for any sign that something newsworthy could be on the horizon. But other than admitting the Vikings "blew it" last Sunday against Indianapolis, Wilf kept his comments pretty positive.
The most interesting quote came near the end. (Call it the upright pyramid style of journalism.) Wilf said the Vikings still have a team that can win the NFC North and he placed huge significance on the outcome of Sunday's game against Carolina:
"[T]here is no question in my mind that this team has the capability, has the talent, has the character, has the team that can win the division. There [have been] two tough games [against] two tough teams. I think everyone knows what their responsibility is and how important it is that [Sunday] it's as important a game as we can ever have. I'm very confident they're going to step up and win it."
I don't think we're anywhere close to the "or else" stage. But it will be instructive to watch how the Vikings' ownership group reacts this season after making a considerable financial commitment during the offseason. In fact, Wilf and his investor partners pumped just under $20 million of their own money into the franchise this spring -- known as a "capital call" in business terms -- to provide the cash necessary to acquire defensive end Jared Allen.
Elsewhere in the NFC North this morning:
September, 18, 2008
9/18/08
8:02
AM ET
Posted by ESPN.com's Kevin Seifert
The Chicago Bears aren't shedding much light on receiver/kick returner Devin Hester's mysterious rib injury.
Multiple media outlets have reported Hester suffered some sort of strain at Carolina. Tests revealed no broken bones, according to the reports, and it seemed likely he would play Sunday against Tampa Bay.
Hester, however, was nowhere to be seen during practice Wednesday and coach Lovie Smith would only say: "Game time, if he's ready to go, he'll be on the field."
In the meantime, Danieal Manning worked on kickoff returns Wednesday and rookie Earl Bennett was one of the punt returners, according to Brad Biggs of the Chicago Sun-Times. Nathan Vasher is another possibility as a punt returner.
Hester hasn't missed a game since joining the Bears in 2006, and for a team that relies so heavily upon its special teams for scoring, his availability is the biggest issue of the week.
Elsewhere around the NFC North this morning:

NFL SCOREBOARD
Thursday, 9/18
Sunday, 9/21
Monday, 9/22
WEEKLY LEADERS