NFL Nation:

new coaches 072513
July, 25, 2013
7/25/13
12:15
PM ET
A look at what to expect as the Jacksonville Jaguars begin the Gus Bradley era:
[+] Enlarge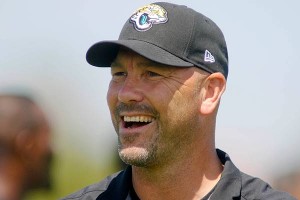 Phil Sears/USA TODAY SportsKeeping the energy up and grooming a long-term answer at QB ranks high on Gus Bradley's to-do list.
Biggest change to expect:
When I visited the Jaguars during minicamp, many players talked to me about how the new staff wants and cares about their input. That doesn't mean players will be drawing up game plans or schemes. But this group will feel like it can offer feedback to Bradley and his assistants and be heard and taken seriously. That's a giant thing for players -- it raises the stakes of a buy-in and will pay dividends for this regime. Also, look for more man coverage by the secondary and more zone-blocking in the run game.
What success would look like:
We've seen bad teams make a big jump in just one year with a new coach in place. They've typically inherited or acquired more talent and a better quarterback situation than Bradley has. I think this team will feel better about itself, has more young upside, will show improvement and will win a handful of games that mess up the seasons of other teams. Five or more wins would be a success. Finding/developing a quarterback would be a gigantic success.
High energy:
Plenty of new coaches enter jobs with high energy. But Bradley has an incredible bounce about him and it's contagious. A young roster with a lot of unproven stars will feed off that, and how can it be anything but healthy? Bradley knows it's a big job that will not allow for impatience. Energy won't wane when things don't go well. It's simply not in his makeup to let down or mope. He's not set on the team adopting his personality. He wants it to form its own. It's inevitable, however, that his strongest trait trickles down to some degree.
More or fewer wins?
The Jaguars were 2-14 last season and drafted second overall only because Kansas City won the top spot on a tiebreaker. These Jaguars will have some bad Sundays and no matter how smart they play, the talent gap between them and many of the teams on their schedule will be too big to overcome. But in his rookie season as their coach, Bradley is almost certain to put more notches in the win column than Mike Mularkey did a year ago.
July, 25, 2013
7/25/13
12:00
PM ET
A look at what to expect as the Philadelphia Eagles begin the Chip Kelly era:
Biggest change to expect:
Speed. Kelly's Eagles want to do everything fast. They don't want to waste time with silly formalities like huddling or relaying the play to the offense through the quarterback. They have coaches whose job it is to flash hand signals from the sideline between plays so that everybody can get it at once while they're lining up. Kelly wants his quarterback to get the ball out of his hands quickly and move on to the next play. The goal will be to run more offensive plays per game than any other team in the league, by a lot, and to confuse and exhaust opposing defenses so that the Eagles can be the stronger and more effective team in the fourth quarter. However good or bad they are in 2013, the Eagles should at least be a lot of fun to watch.
[+] Enlarge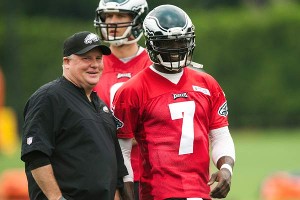 Howard Smith/USA TODAY SportsChip Kelly will need a quarterback that can effectively run his high-octane offense.
What success would look like
: On offense, it would come with big rushing (and likely big receiving) numbers for running back
LeSean McCoy
and more than you might think for backup
Bryce Brown
. Kelly's offense is likely to work through the run game, and he has the talent in the backfield to pull that off. If the Eagles' quarterback doesn't have to throw downfield a lot, that'll be because they're controlling the game's tempo with the run, and it'll make Kelly very happy. On defense, success would show up in the turnover department, where the Eagles came up with a league-low 13 takeaways in 2012. It's going to take some time for a lot of the holdover players to adjust to the new defensive scheme, and the coaches seem to understand that. But they have talented, athletic players all over that front seven, and if they're emphasizing turnovers this year and putting people in a position to force them, obviously that number should go way up.
Decisions, decisions:
Kelly isn't likely to name a starting quarterback any time soon, mainly because he doesn't have to, but in part because he doesn't have any great options. Veteran
Michael Vick
is the most likely candidate, but he's no sure thing to beat out second-year man
Nick Foles
, and rookie
Matt Barkley
could get into the mix as well. It's entirely possible that all three of those guys start at some point in 2013. The quarterback conundrum remains the most vexing one Kelly has on the eve of training camp, because it's hard to imagine his high-octane offense working if he doesn't come up with a quarterback who can reliably run it. This will be the dominant Eagles storyline of the next month.
More or fewer wins?
I say they win more, because they won only four last year and four is a really low number. If nothing else, Kelly should be able to keep the players more interested and invested in the second half of the season than a lame-duck Andy Reid was in 2012. I expect growing pains, especially on defense, and I don't expect this team to contend right away. But I'd be surprised if the Eagles were picking fourth in the draft again next spring. Reserving the right to change my mind as we get closer to the season, right now I'll say they win six.
July, 25, 2013
7/25/13
12:00
PM ET
A look at the Kansas City Chiefs as they begin the Andy Reid era:
Biggest change to expect:
This will be a professional, well-prepared squad. Andy Reid's tenure in Philadelphia may have ended poorly, but there is no denying Reid is a top-level coach. His 14-year era in Philadelphia was mostly successful: He is known as a strong leader and as a coach who knows how to run a program. Expect Reid to stick with what worked for him in Philadelphia. He will run his version of the West Coast offense. He likes to throw more than run, but he will not waste star running back
Jamaal Charles
. Charles will get his carries, but expect Reid to find a happy medium and use Charles as a receiving weapon out of the backfield. Defensively, Reid is showing flexibility and keeping the Chiefs in their 3-4 defense. Reid has a good staff and he has added Brad Childress and Chris Ault as consultants. Preparation is paramount in Reid's approach.
[+] Enlarge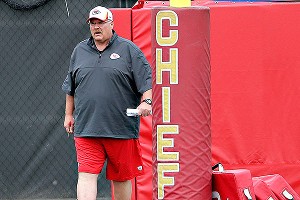 AP Photo/Charlie RiedelExpect the biggest changes for the Chiefs under Andy Reid to come on offense.
What success would look like:
If the Chiefs make a big improvement in 2013 under Reid, it will be because of the offense. The Chiefs' offense has been lacking in recent years (particularly in the passing game). Reid is an offensive specialist and has had a lot of NFL success. The key is new quarterback
Alex Smith
. Reid has always liked Smith, who was the best quarterback available in the offseason. Smith is a smart, controlled quarterback who should fit in well in Reid's offense. Smith will not be asked to do too much and will be given the opportunity to do what he does best. The Chiefs failed in the past because quarterback
Matt Cassel
was a turnover machine. If Reid can direct Smith to play clean football, this offense has a chance to score a lot of points, and in turn, win a lot of games.
Burned out or re-energized?
Reid will be watched closely in his first season in Kansas City. Many league observers thought Reid should have taken a year off after his long Eagles tenure ended. His son died last summer and it was an emotional last few years in Philadelphia. Yet, Reid said many times he felt the need to start fresh immediately. Friends say he is refreshed and energized. Time will tell.
More or fewer wins?
The bar is not set high at all. Romeo Crennel's team went 2-14 last season. Reid's team should easily surpass that total. If all goes right, the Chiefs could contend for a wild-card spot.
July, 25, 2013
7/25/13
12:00
PM ET
A look at what to expect as the Buffalo Bills begin the Doug Marrone era:
[+] Enlarge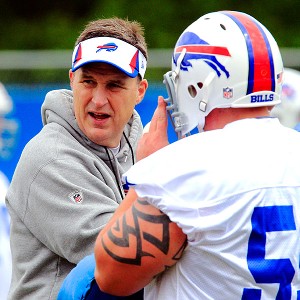 Kevin Hoffman/USA TODAY SportsQuestions at quarterback could make for a rocky first season in Buffalo for Doug Marrone.
Biggest change to expect:
The most significant changes Marrone brings from Syracuse in replacing the fired Chan Gailey are his schemes. Buffalo is a team in major transition in 2013. Marrone is installing a new defense, a new offense and will start a new quarterback. Marrone comes to Buffalo with an offensive pedigree. He runs an up-tempo, K-Gun style that puts a lot of pressure on the defense. However, with questions at quarterback surrounding
Kevin Kolb
and
EJ Manuel
, it may not be in Marrone's best interest to speed the game up for four quarters. There will be times when Marrone must adjust and slow the game down in order to hand the ball to his best offensive player: tailback
C.J. Spiller
. Gailey made the mistake of ignoring Spiller in the past. Marrone would be wise not to make the same error. Defensively, Marrone handed the group over to former
New York Jets
defensive coordinator Mike Pettine. Buffalo will be very aggressive and blitz-heavy, which is needed after last year's meager performance under former defensive coordinator Dave Wannstedt.
What success would look like:
This is a grace-period year for Marrone. Expectations are low in Buffalo, and most view the Bills as a third-place team in the AFC East behind the
New England Patriots
and the up-and-coming
Miami Dolphins
. Buffalo had playoff aspirations last year after making big-money acquisitions such as
Mario Williams
. But that quickly blew up in the Bills' face during a disappointing 6-10 season. Buffalo has the NFL's longest non-playoff streak and has not made the postseason since 1999. If Marrone could win seven or eight games in Year 1, that would be considered a success.
AFC East struggles:
One of the biggest issues with Buffalo's previous regime was the inability to win in the division. The Bills were 4-14 against AFC East competition in the past three seasons under Gailey. Marrone must change that trend for Buffalo to turn things around. Marrone and the Bills can make a statement right away with a home game in Week 1 against AFC East rival New England.
More or fewer wins?
The Bills have good talent in certain areas. As long as the quarterback play isn't a complete abomination, Buffalo can win more than six games in 2013. As I mentioned earlier, the Bills on paper look like a seven- or eight-win team. But much of their success will come down to the consistency of Kolb or Manuel at quarterback. They must play well and manage the game on a weekly basis in order for the Bills to be consistent.
July, 25, 2013
7/25/13
12:00
PM ET
A look at what's to come as the Chicago Bears begin the Marc Trestman era:
Biggest change to expect:
Trestman is an offensive guru with a strong foundation in the original West Coast scheme. Surely his thinking has changed and evolved over the years, but generally speaking, he will work hard to make the Bears a quicker, higher-tempo offense. He'll ask quarterback
Jay Cutler
to take shorter drops and release the ball quickly, minimizing the impact of the pass rush. As a result, the Bears are emphasizing the importance of their interior line and probably will have two new starting guards this season in addition to new left tackle
Jermon Bushrod
. The Bears have had many incarnations of offense over the years, but if Trestman is successful, none of them will have looked like this.
[+] Enlarge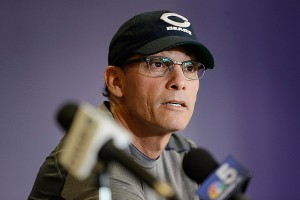 AP Photo/Nam Y. HuhThe Bears hope Marc Trestman can get the most out of QB Jay Cutler for a more explosive offense.
What success would look like:
General manager Phil Emery interviewed almost exclusively offensive-minded coaches after firing Lovie Smith, so it's clear there is an organizational mandate to improve the offense. Elevating Cutler's performance is a big part of that goal. So more than anything, the Bears want to see their offense become more explosive and in a sustainable, long-term way. At the same time, it will be important to maintain the defensive and special teams edges the Bears had under Smith. If they regress, any offensive improvement will be negated.
Personality:
Much has been made of Trestman's professorial personality and his regular use of self-help terms such as "self-actualize." How will someone who talks that way identify with today's NFL players? Would Bears players be better off with a more traditional fire-and-brimstone coach? It's worth noting that while they are different people, Trestman and Smith share one important common trait: They are low-key and consistent. More than anything, that's what players want from their coach. They don't want to be left guessing what the coach thinks or wondering how to interpret moods.
More or fewer wins?
Fewer. The Bears won 10 games last season, and it would be almost unfair to expect more in 2013, given the transition. That said, a 10-win season is certainly within reach, based on the talent on this team.
July, 25, 2013
7/25/13
12:00
PM ET
A look at what to expect as the Cleveland Browns begin the Rob Chudzinski era:
Biggest change to expect:
It's hard to pinpoint the biggest change. Since Chudzinski -- the only new head coach in the AFC North -- was hired, few aspects of the Browns have remained the same. The team will look completely different in every phase of the game. On offense, Chudzinski and coordinator Norv Turner favor a downfield passing attack, which is the exact opposite of the West Coast attack under former coach Pat Shurmur. Defensively, the Browns will go from a 4-3 defense to a more attacking 3-4 under coordinator Ray Horton, who blitzes more often than most. And on special teams, Cleveland will replace two Pro Bowl specialists in kicker
Phil Dawson
and returner
Josh Cribbs
. It's been a major overhaul in terms of attitude and philosophy.
[+] Enlarge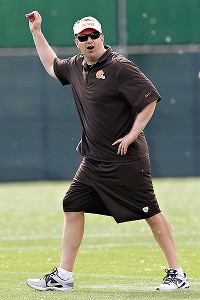 AP Photo/Tony DejakBrowns fans will see scheme changes on offense and defense under new coach Rob Chudzinski.
What success would look like:
Getting the offense on track. When owner Jimmy Haslam introduced Chudzinski as his new head coach, he spoke about how the Browns will score more points. Putting together a functional offense has been a struggle since Cleveland returned to the NFL in 1999. In 14 seasons, the Browns have ranked 23rd or worse 13 times and finished among the bottom four offenses eight times. The Browns have the talent -- offensive tackle
Joe Thomas
, center
Alex Mack
, running back
Trent Richardson
and wide receiver
Josh Gordon
-- to field a much more respectable offense. It would be a setback if the Browns can't score more than 18.9 points per game, which was last year's average.
Question that needs an answer:
Who is the quarterback of the future? This has been a question the Browns have been asking for years. Even though Chudzinski hasn't named a starting quarterback,
Brandon Weeden
is expected to hold on to that job for a second season. Weeden has the big arm that Chudzinski wants out of his quarterback. But Chudzinski isn't married to Weeden because it was the old regime that drafted the 29-year-old quarterback. The Browns have to figure out if Weeden is their franchise quarterback this year. If not, they'll use a first-round pick on another quarterback next year.
More or fewer wins?
More. This isn't really going out on a limb because they won only five games last season. The Browns, though, were better than their record indicated. Five of Cleveland's losses were by seven points or fewer. The Browns often hurt themselves because of Shurmur's conservative style. Chudzinski is the exact opposite, emphasizing an attacking mindset on both sides of the ball. If nothing else, the Browns will be more exciting to watch this season.
July, 25, 2013
7/25/13
12:00
PM ET
A look at what to expect as the Arizona Cardinals begin the Bruce Arians era:
[+] Enlarge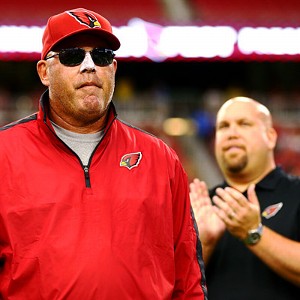 Mark J. Rebilas/USA TODAY SportsNew coach Bruce Arians and GM Steve Keim, right, have given the Cardinals' roster a major overhaul.
Biggest change to expect:
The Cardinals, the only NFC West team with a new coach, were going to be better on offense this season even if they had retained the previous coaching staff. They have a chance to be much, much better with a more competent quarterback (
Carson Palmer
) and upgraded personnel on the offensive line.
The scheme will change

as well even though Arians shares Pittsburgh roots with predecessor Ken Whisenhunt. Arizona will no longer play with a fullback, explaining why the team traded
Anthony Sherman
, who had been a draft pick from the Whisenhunt era. The offense will put greater emphasis on deeper pass routes.
What success would look like:
Larry Fitzgerald
smiling again. Running backs healthy enough to average better than 3.1 yards per carry. Defensive coordinator Todd Bowles picking up where Ray Horton left off.
Daryl Washington
restoring the team's confidence in him.
Tyrann Mathieu
making his mark on the field, not off it.
Patrick Peterson
returning a punt for a touchdown again. Palmer reviving his career with a healthy Freddie Kitchens coaching him. Avenging 58-0.
Protecting the nest:
Winning at home is where it starts for the Cardinals. They lost home games to Buffalo, St. Louis and a by-then-struggling Chicago team last season. The 2013 home schedule won't be easy with playoff teams such as Seattle, San Francisco, Houston, Indianapolis and Atlanta scheduled to visit. Two visiting teams with losing records last season, St. Louis and Detroit, also could be tough. There is simply no realistic way to compete without winning at home, however.
More or fewer wins?
"More" is the answer reflexively given how bad the Cardinals were while falling from a 4-0 start to 5-11 last season. We figured Palmer could be
worth another three victories
over last season if he played about as well as he did with Oakland. Arians and general manager Steve Keim have turned over much of the roster, however, so we're still getting a feel for this team. I'm looking forward to visiting Cardinals training camp at University of Phoenix Stadium beginning Sunday.
July, 25, 2013
7/25/13
12:00
PM ET
A look at what to expect as the San Diego Chargers begin the Mike McCoy era:
Biggest change to expect:
McCoy is a mystery because he became a head coach for the first time at age 40. But from his days as an offensive coordinator and from watching and listening to him, I expect a very straightforward approach. McCoy is a buttoned-up guy who will not be Mr. Rah-Rah. But he is highly detail-oriented and his new players seem to like him. McCoy is known for adjusting to his talent. Remember, as Denver's offensive coordinator, McCoy scrapped the Broncos' entire offense at midseason in 2011 to adjust to
Tim Tebow
at quarterback. The risk resulted in a division title and a playoff victory. One NFL head coach recently told me it was the greatest in-season coaching move he'd ever seen. McCoy said flexibility will be crucial in every facet as he begins this journey with the Chargers; his approach will be dictated by what his players do best. So there will be a learning process in San Diego as the McCoy era gets going.
[+] Enlarge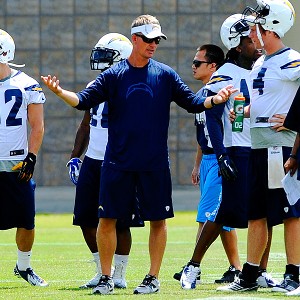 Christopher Hanewinckel/USA TODAY SportsNew Chargers coach Mike McCoy has a reputation for adjusting to the talent around him.
What success would look like:
The Chargers are going to stay the same on defense, where John Pagano remains coordinator. If they are going to make a move from last season's 7-9 record, it will come due to more success on offense. That's why McCoy was hired -- the Chargers believe he is the man to get the unit on the right track. Norv Turner was a fine offensive mind, but he just couldn't sustain success as a head coach, and the Chargers definitely needed a new approach. I think the Chargers will be refreshed by a new leader and I expect McCoy to have more success with in-game decisions than Turner.
All about the quarterback:
The focal point for McCoy in 2013 will be getting more out of signal-caller
Philip Rivers
. After playing at a high level, Rivers' play dipped the past two seasons, with turnovers a particular issue. Not all of Rivers' problems are on him, however. The talent level on San Diego's offense has cratered, and the offensive line has been ravaged by injuries. But Rivers does need some fixing. That's why McCoy was hired: He has had great success with quarterbacks. And the new head coach is on the record as saying Rivers will have a big year in 2013 -- something the Chargers are counting on.
More or fewer wins?
This is a difficult team to try to pin down. The talent level is better in some areas than it was during the 7-9 campaign in 2012, but there are still big questions on the offensive line and in the secondary. I think this is the beginning of a good era in San Diego, but I wouldn't be surprised if the Chargers stay in the seven- or eight-win range.
July, 25, 2013
7/25/13
12:00
PM ET
We're taking a league-wide look at the impact new head coaches will have on their teams. The NFC South doesn't technically have a new coach, but a familiar face will be back from a long absence. Let's take a look at how the return of Sean Payton from a season-long suspension will affect the Saints.
[+] Enlarge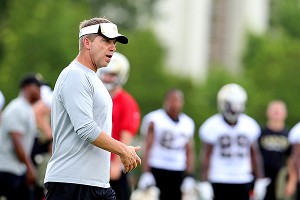 Chuck Cook/USA TODAY SportsHow much the defense improves may dictate the results in Sean Payton's return as Saints coach.
Biggest change to expect:
Interim coaches Joe Vitt and Aaron Kromer did as well as they could under some incredibly difficult circumstances. But Payton has said that watching the Saints last season was like watching children with a babysitter. Things weren't run exactly the way Payton runs them. He'll be back in control, and that means he'll have his eye on everything, so there should be a lot more order.
What success would look like:
The whole world knows the offense is going to be good as long as
Drew Brees
is at quarterback. But the defense needs to be markedly better than it was a year ago when the Saints ranked No. 32 in the league. The organization and its fans have come to expect double-digit wins. That will only happen if new coordinator Rob Ryan can get more out of the defense.
Don't forget the running game:
Payton has said he wants more out of the running game this year.
Darren Sproles
and
Pierre Thomas
will have roles. But I think this is the year the Saints start to really use
Mark Ingram
. A first-round pick in 2011, Ingram was underutilized in his first two seasons. He has the ability to run between the tackles, control the clock and take some of the pressure off the defense.
More or fewer wins?
The Saints will play enough defense to get to 10-6 and into the playoffs.
NFL SCOREBOARD
Thursday, 10/2
Sunday, 10/5
Monday, 10/6