NFL Nation:

NFC Biggest Stars
July, 14, 2011
7/14/11
12:00
PM ET
»
AFC Future Stars
:
East
|
West
|
North
|
South
»
NFC
:
East
|
West
|
North
|
South
A look at the players I expect to be the most dominant in the NFC North from 2014 to 2016:
As you know by now, ESPN.com invited readers this week to
collaborate on a future Dream Team of NFL players
. Projected target: The 2014-16 seasons. I wasn't among the experts who winnowed the list of nominations, and I'm fully aware that some deserving young NFC North players didn't make the cut.
My assignment for this post isn't to rectify those omissions. Rather, I need to list the division players I project as the most dominant three years from now. We obviously can't account for injuries, future draft picks or free agency movement, so we will cull from our burgeoning list of young stars.
Sorry, fans of the
Chicago Bears
and
Minnesota Vikings
. I refused to pick a player from each team just to be polite. The players all came from one NFC North pool. In alphabetical order:
Greg Jennings and Calvin Johnson, Green Bay Packers and Detroit Lions receivers (tie):
Call it a cop-out if you want. I've consistently maintained I would take the present-day Johnson over the present-day Jennings because of his freaky and unique skills for the position. But in three years? While I think both players will still be highly productive, Johnson has a greater capacity for physical deterioration over time. But in 2014, he'll only be 28. Jennings will be 30. It's a draw.
[+] Enlarge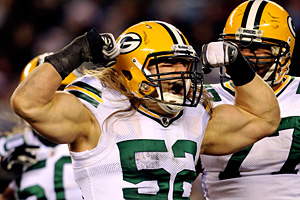 Al Bello/Getty ImagesClay Matthews has notched 23.5 sacks in his first two seasons in the league.
Clay Matthews, Packers linebacker:
We know this: Matthews is off to one of the best career starts of any pass-rushing linebacker. He had 17 sacks in his first 20 NFL games and overall has 23.5 in his first two seasons. You might wonder what will happen if Matthews loses a bit of speed or wears down physically, but I'll take my chances that he will still be in pretty good shape in his sixth NFL season. He'll be 28 in 2014.
Aaron Rodgers, Packers quarterback:
Put simply, Rodgers' first three seasons as a starter have been as productive as any quarterback currently enshrined in the Pro Football Hall of Fame. At the start of the 2014 season, he'll be 30 and presumably in the wheelhouse of his career. At that point, Rodgers might have outlasted
Tom Brady
,
Peyton Manning
and
Drew Brees
, presumably ascending to the figurative mantle of the game's top quarterback.
Ndamukong Suh, Lions defensive tackle:
It's hard to bet against a player who was one of two rookies -- ever -- to record 10 sacks as a rookie defensive tackle. Suh is a physical specimen who works hard at his conditioning and figures to be surrounded by talented players for several years. He'll be 27 in 2014 and should still be one of the NFL's most disruptive interior playmakers.
Honorable mention:
Bears offensive tackle
Gabe Carimi
; Lions safety
Louis Delmas
; Vikings receiver
Percy Harvin
; Packers tight end
Jermichael Finley
, whom I passed over because of his contract uncertainty; Lions tight end
Brandon Pettigrew
; Packers nose tackle
B.J. Raji
; Packers guard
Josh Sitton
; Lions quarterback
Matthew Stafford
; Packers cornerback
Tramon Williams
, who will be 31 in 2014. As for the NFC North's top two runners of today,
Adrian Peterson
and
Matt Forte
, I questioned the impact of three more seasons on the traditionally short-lived career of a running back.
July, 14, 2011
7/14/11
12:00
PM ET
»
AFC Future Stars
:
East
|
West
|
North
|
South
»
NFC
:
East
|
West
|
North
|
South
A team-by-team look at the players I expect to be the most dominant in the NFC East from 2014 to 2016.
As it pertains to our Dream Team of Tomorrow project, it's an oddly stacked little division we have here in the NFC East. The star quarterbacks of today will all be in their mid-30s by the time 2014 dawns, which means the prime years of
Eli Manning
,
Tony Romo
and
Michael Vick
probably will be behind them. The guys we're looking for, when we speculate on who will dominate from 2014-16, are the young guys -- mainly players who are in the first three or four years of their careers right now.
In the NFC East, that seems to mean receivers.
Dez Bryant
in Dallas,
Hakeem Nicks
in New York,
DeSean Jackson
and
Jeremy Maclin
in Philadelphia -- the division's emerging young wideouts, could represent a bumper crop of future stars at the position. We have some offensive linemen -- guys such as
Trent Williams
and
Tyron Smith
-- who are loaded with talent but still too young to really project. We have some running-back talent, especially in Philly and New York. And players like
Brian Orakpo
,
Nate Allen
and
Prince Amukamara
appear ready to lay the groundwork for future success.
[+] Enlarge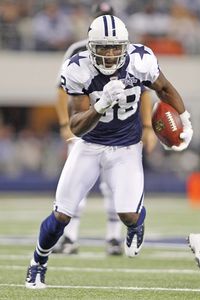 AP Photo/James D SmithDez Bryant has the talent to become one of the NFL's best receivers.
With that in mind, here's a look at one player from each team I'm picking for the Dream Team of Tomorrow.
Dez Bryant, Dallas Cowboys wide receiver
: Yeah, yeah, insert shopping mall joke here. Fact is, this guy's got as much pure talent as any young wideout in the division. And if you read that list two paragraphs back, you know I'm not saying that lightly. If he can stay healthy, stay out of trouble and refine his skills as an NFL route-runner, Bryant can be the kind of star that makes other stars stop what they're doing to watch him play. He's got a fine quarterback in Tony Romo and only
Miles Austin
and tight end
Jason Witten
in front of him in line for catches in Dallas as of now. And he's already a game-changer on special teams. So the opportunity is there, and all the pieces are in place. It's up to Bryant to make it happen.
Hakeem Nicks, New York Giants wide receiver
: Nicks is already one of the best and most reliable wideouts in the NFL, and he's got just two years in. He's 23 years old right now, which means he'll play the 2014 season at age 26. In the meantime, he'll have been Eli Manning's No. 1 receiver in the Giants' pass-heavy offense and had enough skill-position talent around him (
Ahmad Bradshaw
,
Steve Smith
,
Mario Manningham
, etc.) to have put up big-time numbers. His physical gifts are clearly substantial, and they aren't going anywhere between now and 2014.
LeSean McCoy, Philadelphia Eagles running back
: Why McCoy and not the Giants' Ahmad Bradshaw? Well, because I picked Nicks for the Giants, and because I think McCoy has a better chance to hold up over the next three-to-six years. Not only is he already a reliable focal point of the Eagles' offense, he gets to be that in a way that doesn't wear him down. They don't run him between the tackles excessively. They don't ask as much of him in pass protection as the Giants do of Bradshaw. And they have enough other offensive weapons that he doesn't get overworked. McCoy has the talent, and the chance to make it to 2014 as a relatively unscathed 26-year-old back.
Brian Orakpo, Washington Redskins linebacker
: The switch to the 3-4 defense in Washington is likely to make Orakpo a star, especially now that he's got a year of it under his belt and will start to be surrounded with more complementary pieces. He'll be 28 at the start of the 2014 season, which is a little bit older than the rest of the guys on this list. But he's already got 19.5 sacks in his first two years, so his learning curve is fairly advanced. By 2014, he'll be one of the better-recognized sack artists in the entire league.
NFL SCOREBOARD
Sunday, 2/2
WEEKLY LEADERS