NFL Nation:

NFC South top 25
July, 31, 2012
7/31/12
11:01
AM ET
If I had to pick just one player who has stood out most during my training camp tour so far, Atlanta's
Julio Jones
would be the easy choice.
In each of the practices, I saw the second-year receiver make several spectacular plays. Let's keep in mind that he was going up against some big-name cornerbacks in
Brent Grimes
,
Dunta Robinson
and
Asante Samuel
. On at least two plays, I saw Jones use athleticism to beat Grimes, who many Falcons will point to when you ask them to name their most athletic player.
[+] Enlarge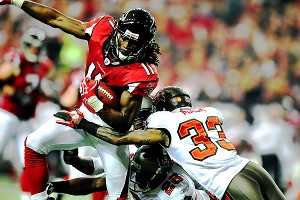 Grant Halverson/Getty ImagesAtlanta receiver Julio Jones has shown flashes of star potential this offseason.
This shouldn't come as a total surprise from Jones, who caught 54 passes for 959 yards and eight touchdowns as a rookie, despite sitting out three full games and missing parts of others.
"In my mind, he missed five and a half games,'' coach Mike Smith said. "If you extrapolate his numbers out, it's a monster year. We know he's going to impact the game.''
But not everyone thought Jones had a great rookie season. There was a notable exception.
"I did all right,'' Jones said. "I could have done so much better. I was coming off the foot surgery and I couldn't really work out in the offseason. My whole core was weak, and coming out here and running full speed and my hamstring kind of gave way.''
Like all rookies last season, Jones was at a disadvantage because the lockout eliminated offseason programs. Even in the players-only workouts, Jones' foot limited the time he could spend working with quarterback
Matt Ryan
.
Jones had a full offseason this time around, and wide receiver is a position where there often is strong improvement from the first year to the second. Throw in the fact that Jones didn't have any injuries to deal with during the offseason, and we might have the reasons why he's playing so well in camp.
"I'm out here and stronger than ever,'' Jones said. "It's so much easier when you're not tired. You can come out here and really focus. Everything has just been so much easier this time around.''
But Jones' fast start to training camp might not be simply because he's healthy and a player's second training camp always is easier than what he goes through as a rookie. Ryan said there's another important factor at work.
"I think it's a lot of myself understanding exactly how good he is and having a better feel for his gait, for his speed and for his ability to go up and make some plays when the ball is in the air,'' Ryan said.
Yep, Ryan said even he didn't realize last year just how talented Jones is. The quarterback is just grasping that now, which begs the question -- how good can Jones be?
"I think he can be one of the very best in the league, for sure,'' Ryan said. "His talent is off the charts. His speed and burst and power is as good as anybody's. I think his understanding of defenses is continuing to improve. I think that, as he gets better with that, there's no telling how good he can be.''
I felt like I took a little bit of a leap when I ranked Jones No. 11 in my projections for the
top 25 NFC South players
in 2012 a few weeks ago, especially when I put him ahead of guys like teammate
Roddy White
, Tampa Bay's
Vincent Jackson
and New Orleans'
Marques Colston
. All three of those guys have been around for a while and have put up bigger numbers than Jones did as a rookie.
Again, I was projecting when I did the top 25. After what I saw out of Jones in camp and what I heard from his coaches and teammates, I no longer slightly question if Jones' ranking was too high. In fact, I'm wondering if I should have placed him in the top 10.
June, 15, 2012
6/15/12
12:35
PM ET
Starting Monday, we'll be counting down my list of the top 25 NFC South players for 2012. We'll roll out one player each week day and that will help carry us up to the time when things get busy again just before training camp.
Over the next few weeks, you'll see who made the top 25. But let me take this opportunity to tell you who will not be on the list. When I first started the project, I jotted down the name of every player I thought had any shot at the top 25. That first list contained 45 names, so I began cutting it down.
In the first round of cuts, New Orleans safety
Roman Harper
, Atlanta kicker
Matt Bryant
, New Orleans punter,
Thomas Morstead
, Carolina tight end
Greg Olsen
, Tampa Bay left tackle
Donald Penn
, Atlanta cornerback
Dunta Robinson
, Tampa Bay cornerback
Ronde Barber
and Atlanta cornerback
Asante Samuel
came off the list. If this had been based on lifetime achievement, Barber and Samuel easily would have made the team. But this is based on how I think players will perform in 2012. Barber and Samuel still will be productive, but they're nearing the ends of their careers. Robinson hasn't been special since joining the Falcons and there's nothing special about Harper. Olsen's a good tight end, but he's not the best in the NFC South. Bryant and Morstead are very good at what they do, but after looking at my initial list, I decided not to include punters and kickers on the final list.
After that, I still had 11 players to trim and that wasn't easy. I went back and forth on a pair of rookies -- Tampa Bay safety
Mark Barron
and Carolina linebacker
Luke Kuechly
-- that I think have a chance to make instant impacts. But, ultimately, I left them off and there will be no rookies on this team. Let's see them on the field before we anoint them. Also not making the final cut were Atlanta tight end
Tony Gonzalez
, Carolina left tackle
Jordan Gross
and Atlanta defensive end
John Abraham
. They fall into the same category as Barber and Samuel. They've been great players, but they're on the downside of their careers. I wanted to get a defensive tackle on this team, but in the end, that didn't happen. Atlanta's
Corey Peters
and Tampa Bay's
Gerald McCoy
got consideration, but I didn't see either as a top-25 player.
Guard was a tough position and New Orleans'
Ben Grubbs
and Tampa Bay's
Davin Joseph
came very close to making the team. But they didn't because they're not on the same level as the two guards that made the team. The final cut was Carolina cornerback
Chris Gamble
. That was a very difficult call because you can certainly make a case that Gamble belongs in the top 25. But he just missed out on this list.
NFL SCOREBOARD
Sunday, 2/2
WEEKLY LEADERS