NFL Nation:

NFC Stock Watch 2010 Week 10
November, 17, 2010
11/17/10
12:30
PM ET
By
Matt Mosley
| ESPN.com
»
NFC Stock Watch
:
East
|
West
|
North
|
South
»
AFC
:
East
|
West
|
North
|
South
FALLING
1. Jim Haslett, Washington Redskins defensive coordinator:
So he had an extra week to prepare for
Michael Vick
, and
that's
what he put on the field? I know Vick was brilliant in that game, but it never looked like the Skins had a chance against the Eagles' offense. The transition to the 3-4 hasn't gone smoothly. Haslett's group had an embarrassing performance. That was a failure to compete on every level. You can't just hang what happened on the offense turning the ball over several times.
2. The New York Giants' secondary:
I started to pick on
Terrell Thomas
and
Corey Webster
, but you can't let the safeties off the hook. Cowboys quarterback
Jon Kitna
and rookie wide receiver
Dez Bryant
embarrassed the Giants throughout the game. And I'm not sure where celebrated safeties
Antrel Rolle
and
Kenny Phillips
were Sunday. They did not do a good job of adjusting to the Cowboys' scheme. It looked like Jason Garrett caught Giants coordinator Perry Fewell flat-footed Sunday in the Meadowlands. Now, the Giants have to play against Vick and his talented group of wide receivers. If the Giants lose in Philly, we'll be making comparisons to last season's collapse in the second half of the season. Bryant was simply too athletic for Thomas and Webster to handle. And then the safeties made mistakes that led to touchdowns as well.
3. Donovan McNabb, Redskins quarterback:
He's believed to be the first player to end up on the "Falling" list two days after signing a $78 million contract extension. McNabb was in a funk from the opening drive. He struck back for a few moments in the second quarter, but for the most part, he didn't give his offense a chance to succeed. McNabb finished with three interceptions, one of which was returned for a touchdown. Eagles cornerback
Dimitri Patterson
read McNabb's eyes throughout the game and had an easy time breaking on the ball. Should a 33-year-old quarterback who's had a lot of success in this league be telegraphing so many of his passes? It was a sad performance on what should've been a great evening for him. Now, we'll see if he can bounce back.
RISING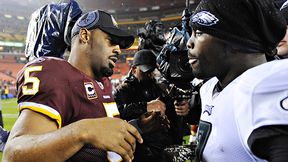 AP Photo/Nick WassDonovan McNabb and Michael Vick are moving in different directions on the Stock Watch.
1. Michael Vick, Philadelphia Eagles quarterback:
I'm not sure there's anything left to be said. The man had one of the greatest nights in NFL history for a quarterback. He toyed with the Skins' defense throughout the evening while throwing for four touchdowns and running for two more. I believe Vick is the best player in the NFL right now. He'll face a frustrated Giants team that has a history of knocking out quarterbacks. Vick refuses to slide, but he may want to step out of bounds occasionally against the Giants because they'll be gunning for him.
2. Bryan McCann, Dallas Cowboys cornerback:
He made the play of the game against the Giants when he picked off an
Eli Manning
pass and raced 101 yards to give the Cowboys a 16-3 lead in the first half. The Cowboys were sick when they weren't able to sneak him onto the practice squad before the season. Now, the
Baltimore Ravens
have to have a similar feeling after giving up on him so quickly. SMU is starting to crank out NFL talent again. And I think McCann's going places.
3. Jon Kitna, Cowboys quarterback:
Dez Bryant is getting a lot of the credit for the Cowboys' stunning 33-20 win in the Meadowlands on Sunday, but it was Kitna pulling the trigger on those passes. He executed the game plan brilliantly in throwing for 327 yards and three touchdowns. He averaged 14.9 yards per completion, which is pretty remarkable for a guy who was checking everything down when he first took the field last month.
November, 17, 2010
11/17/10
11:15
AM ET
»
NFC Stock Watch
:
East
|
West
|
North
|
South
»
AFC
:
East
|
West
|
North
|
South
FALLING
1. Adrian Wilson, Cardinals SS.
We've all seen the Cardinals' Pro Bowl strong safety have bad moments here or there. His dominance around the line of scrimmage doesn't always serve him as well in coverage. I've just never seen Wilson flustered so frequently over such an extended period. It's getting to the point where opposing quarterbacks can simply target whichever player Wilson appears to be covering with expectations that good things will happen for the offense. Wilson's frustration has been obvious through his body language. He can't get a break, either. The one-armed reception Seattle's
Mike Williams
made against him over the middle Sunday provided fitting punctuation on a difficult day.
2. Bill Davis, Cardinals defensive coordinator.
The Cardinals have allowed 407, 507 and 490 yards in their past three games. They have allowed more points than any team in the league. They are missing tackles left and right. The defense appears to have no confidence, no killer instinct and poor fundamentals. Younger players such as
Greg Toler
and
Calais Campbell
appear to be regressing.
3. Alex Smith, 49ers QB.
An injury forced Smith to the sideline, where he has watched the 49ers' offense flourish without him. It's possible Smith has played his last down for the 49ers. His contract expires after this season and Smith hasn't done enough to win over management.
RISING
[+] Enlarge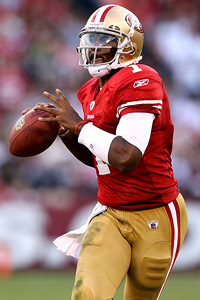 Ezra Shaw/Getty ImagesTroy Smith has guided the 49ers to victories in consecutive starts.
1. Matt Hasselbeck, Seahawks QB.
A few more performances like the one Hasselbeck turned in against Arizona will force the Seahawks to address his contract situation. Hasselbeck passed for 333 yards without an interceptions in his best showing of the season. He'll need to get
Russell Okung
back in the lineup at left tackle, particularly against stronger defenses. Protecting Hasselbeck becomes more important after the quarterback suffered a concussion two weeks ago and cracked bones in his left wrist Sunday.
2. Troy Smith, 49ers QB.
Two victories in two starts would have sufficed. How Smith led those victories has sent his stock surging. Smith's big-play ability has been the difference, separating him from Alex Smith and giving the 49ers renewed hope in the unsettled NFC West race. The 49ers have not committed a turnover since Troy Smith became the starter. To be fair, they committed only one in the two games before Troy Smith replaced Alex Smith, and
David Carr
was responsible for that one.
3. Mike Williams, Seahawks WR.
Williams' stock has experienced wild swings in recent weeks. His 11-catch, 145-yard effort against Arizona re-established him as one of the two top receivers in the division this season. Williams has won contested throws even more impressively than
Larry Fitzgerald
this season.
November, 17, 2010
11/17/10
10:18
AM ET
»
NFC Stock Watch
:
East
|
West
|
North
|
South
»
AFC
:
East
|
West
|
North
|
South
FALLING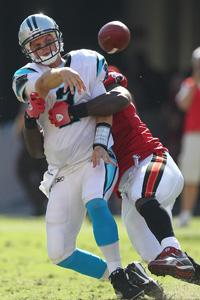 AP Photo/Margaret BowlesCarolina QB Jimmy Clausen has had a mostly disappointing rookie season in Carolina.
1. Jimmy Clausen, Panthers quarterback.
He made some positive plays and looked almost competent against Tampa Bay. But the rookie suffered a concussion near the end of the game and it appears as if the Panthers are preparing to go without him and start fellow rookie
Tony Pike
against Baltimore on Sunday. Clausen's having a rough first season and it just keeps getting rougher.
2. Harry Douglas, Falcons wide receiver.
Atlanta coaches and officials thought this would be a breakout year for Douglas, but it hasn't been anything close to that. He largely has been a nonfactor. Douglas has been playing the slot in recent weeks and that's where the Falcons thought he would excel, but he's remained very quiet.
3. Jerry Richardson, Panthers owner.
If Richardson looked at all the empty seats in Raymond James Stadium, it should have made him think hard about the future of the Panthers. If things don't change quickly, he could be staring at a lot of empty seats in Bank of America Stadium next year.
RISING
1. Tampa Bay general manager Mark Dominik and his scouting staff.
The Bucs started seven rookies, including all three seventh-round picks, and also played five other rookies in Sunday's victory against Carolina.
2. Michael Jenkins, Falcons wide receiver.
He's one of those underrated guys who doesn't do a lot of flashy things. But Jenkins had a big catch late in the victory against Baltimore and, since his return from injury, his presence as a role player has made the entire Atlanta offense better.
3. Gerald McCoy, Buccaneers defensive tackle.
He hasn't dominated yet, but there are signs the first-round pick is catching onto things. He's coming off his best game. He had five tackles, batted down a pass and forced a fumble against Carolina.
November, 17, 2010
11/17/10
10:00
AM ET
»
NFC Stock Watch
:
East
|
West
|
North
|
South
»
AFC
:
East
|
West
|
North
|
South
FALLING
1. Interest in Minnesota:
The
Minnesota Vikings
are 3-6 and aren't likely to make the playoffs. They're returning to the Metrodome for a home game against the rival
Green Bay Packers
, and there have been some questions about the reception coach Brad Childress and the rest of the team will get. I'm guessing it will be tamer than you might expect. This season's disappointment has gone on long enough, and I'm guessing Vikings fans who actually come to the game won't muster much venom. Second, I'm guessing there will be even more Packers fans in attendance than usual. I've been amused at how many of them have organized in favor of Childress keeping his job, for obvious reasons. The Twitter page @savechilly is especially creative.
2. Optimism in Detroit:
It's amazing how quickly sentiment can change around an NFL team. Two weeks ago,
Detroit Lions
fans were riding higher than they had in years, anticipating a potential upset of the
New York Jets
. The Lions led for much of that affair before losing quarterback
Matthew Stafford
(shoulder) and the game in overtime. A week later, it seems legions of fans and media are questioning the job performance of coach Jim Schwartz and general manager Martin Mayhew. As we've discussed before, the Mayhew-Schwartz record since the start of the 2009 season is abysmal. In fact, it's now 4-21. But the worst thing the Lions could do now is panic and start over. Mayhew and Schwartz deserve three years to funnel the improvements they've made into the team's won-loss record.
3. Average age in Green Bay:
The Green Bay Packers' decision to waive cornerback
Al Harris
and place right tackle
Mark Tauscher
on injured reserve robbed them of two key veterans. Tauscher has been asked to travel with the team and participate in meetings, but as
Rob Demovsky of the Green Bay Press-Gazette
and
Jason Wilde of ESPNMilwaukee.com
have pointed out, the Packers are a much younger team now. They have only six players older than 30. The good news is that the Packers' locker room leadership had already shifted toward quarterback
Aaron Rodgers
. Cornerback
Charles Woodson
is also a calming presence.
[+] Enlarge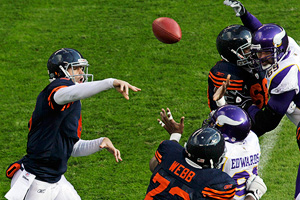 AP Photo/Charles Rex ArbogastJay Cutler managed to stay upright Sunday thanks to the help of an improved offensive line.
RISING
1. Chicago Bears offensive line:
This group was the target of frequent criticism for the league-high 32 sacks the Bears gave up through the first half of the season. Some of it was deserved, and some was convenient. Regardless, I think we can all agree that Sunday marked a breakthrough performance. Although the Vikings' pass rush has fallen off this season, the Bears should be recognized for the time they gave quarterback
Jay Cutler
. There isn't really a way to measure it other than to say it was substantial. Cutler was sacked only once and completed 63 percent of his passes. He joked Tuesday that he wasn't sore from the game because he was hardly hit. Kudos to a maligned unit for stepping up in a big game.
2. Bryan Bulaga, Green Bay Packers right tackle:
The decision to place Tauscher on injured reserve means Bulaga, originally drafted as the Packers' left tackle of the future, will be expected to at least finish out the year as their right tackle. Bulaga has made a surprisingly smooth transition to the role -- not because he was deemed incapable, but because the shift in sides is usually as difficult as a swap between tackle and guard. Bulaga has done both this year, working first at left tackle, then at left guard and now at right tackle. It's not clear where his long-term future rides, but to this point he's held down an unfamiliar spot for a first-place team.
3. Israel Idonije, Chicago Bears defensive end:
There has been some discussion that Idonije's production this season is purely a result of
Julius Peppers
arriving to play on the other side. I'm sure it has helped, but Idonije beat a number of blocks on his own in Sunday's 27-13 victory over the Vikings. Among other plays, Idonije dropped Vikings tailback
Toby Gerhart
for a 1-yard loss during a key third-quarter sequence in the red zone.