NFL Nation:

NFC Stock Watch 2010 Week 13
December, 8, 2010
12/08/10
1:16
PM ET
By
Matt Mosley
| ESPN.com
»
NFC Stock Watch
:
East
|
West
|
North
|
South
»
AFC
:
East
|
West
|
North
|
South
FALLING
1. Mike Shanahan, Washington Redskins head coach:
The Redskins were so dreadful against the
New York Giants
on Sunday, it's hard to single out a player. So let's just go with the head coach this week. Shanahan made the decision to suspend
Albert Haynesworth
for the final four games for conduct detrimental to the team. But Haynesworth's conduct last week really wasn't anything new. The Redskins coach let this thing go too far in the first place. This guy had no business still being on the roster.
2. Albert Haynesworth, Washington Redskins defensive tackle:
When you get suspended for the final four games because you apparently refused to participate in certain defensive packages, I think you've earned a spot on the "falling" list. But hey, at least Haynesworth gave the Skins those 6.5 sacks in his 20 games.
3. Donovan McNabb, Washington Redskins quarterback:
OK, I better single someone else out. McNabb was victimized by several drops and the lack of any semblance of a running game. But he still makes too many mistakes in the pocket. The Giants forced six turnovers in this game. When the Skins had a chance to trim the lead to 28-14, McNabb fired an awful pass into the end zone that was easily intercepted by
Terrell Thomas
. You can't pin this mess solely on McNabb, but the quarterback deserves some of the blame.
[+] Enlarge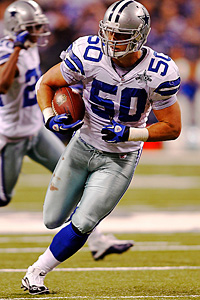 AP Photo/James D. SmithSean Lee returned one of his two interceptions Sunday for a touchdown.
RISING
1. Sean Lee, Dallas Cowboys linebacker:
You're starting to see why the Cowboys were so thrilled to land him in the second round of the draft. The former Penn State star was named the NFC defensive player of the week after grabbing two interceptions against
Peyton Manning
and the Colts. He'll probably take over as the full-time starter next season.
2. Mat McBriar, Dallas Cowboys punter:
The Australian punting phenom has quietly put together a Pro Bowl season. He leads the league in net punting at 41.9 yards per kick and he's also at the top in gross at 48.2. Normally I don't put much stock in gross average, but it's pretty remarkable that McBriar's sitting there at 48.2 when he has so many of those purposefully short end-over-end punts from close to midfield that cause opponents to field the ball near their 10-yard line. He's the best punter in the game by a long shot this season. Keep that in mind when you're filling out your Pro Bowl ballots this holiday season.
3. Devin Thomas, New York Giants wide receiver:
Thomas was brilliant against his former team Sunday. He downed a punt at the 5-yard line, made a nice tackle on speedster
Brandon Banks
and then partially blocked a punt that traveled 8 yards. And I'd also like to give a nod to
Brandon Jacobs
for his powerful performance against the Skins. He rushed for 100 yards and two touchdowns on eight carries. I'd say that's pretty efficient.
December, 8, 2010
12/08/10
1:00
PM ET
»
NFC Stock Watch
:
East
|
West
|
North
|
South
»
AFC
:
East
|
West
|
North
|
South
FALLING
1. Troy Smith, 49ers QB.
The 49ers have lost two of their past three games after winning Smith's first two starts. Smith's play has fallen off quite a bit. Tight end
Vernon Davis
could have helped Smith by holding onto the deep pass he dropped against Green Bay, but the overall offensive consistency hasn't been there. The 49ers have converted only 29.5 percent of their third-down chances in five games with Smith at quarterback.
2. Dominique Rodgers-Cromartie, Cardinals CB.
The Cardinals expected more from their young Pro Bowl cornerback. Rodgers-Cromartie expected more as well. He has been critical of his own play. His stock fell further Sunday when officials flagged Rodgers-Cromartie for a procedural penalty. Rodgers-Cromartie had drawn an interference penalty deep down the field while working as a wide receiver. The penalties offset, depriving the Cardinals of a long gain.
3. Leon Washington, Seahawks returner.
An 84-yard punt return would generally pump up a player's stock value, but not in Washington's case. Carolina punter
Jason Baker
tripped up Washington short of the goal line after Washington began celebrating prematurely. Washington also muffed the kickoff to open the second half, forcing Seattle to take over at its 4. The Panthers even sacked Washington when the team attempted to execute a halfback pass. Washington's stock value remains high overall, but it took a hit Sunday.
RISING
[+] Enlarge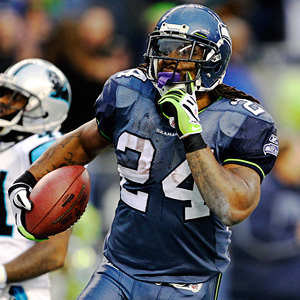 Joe Nicholson/US PresswireMarshawn Lynch rushed for three touchdowns in Sunday's win over Carolina.
1. Marshawn Lynch, Seahawks RB.
Three rushing touchdowns gave Lynch a boost just when it appeared as though the Seattle running game would never get out of neutral. Lynch finished the game with 83 yards, his second-highest total of the season. His 22-yard scoring run in the fourth quarter put away Carolina.
2. Alex Smith, 49ers QB.
The 49ers are giving Alex Smith one final chance to make a positive impression heading into the offseason. Nine touchdowns and three interceptions over the final four games would give Smith the same totals he amassed last season: 18 touchdowns and 12 interceptions in 11 games. Smith went 5-5 as a starter last season. He's 1-6 this season.
3. Josh Brown, Rams K.
There were other candidates worthy of consideration in this spot, including Brown's former teammate in Seattle,
Lofa Tatupu
. Brown was the choice after making all four field goal tries during a 19-6 victory over the Cardinals. Brown's consistency had wavered this season. He had missed from inside 30 yards for the first time in his career. He had missed twice from 30 to 39 yards, a first for Brown in one season. Making all four against Arizona, including one from 52 yards, should give Brown a boost heading into the final four games.
December, 8, 2010
12/08/10
12:03
PM ET
»
NFC Stock Watch
:
East
|
West
|
North
|
South
»
AFC
:
East
|
West
|
North
|
South
FALLING
1. John Abraham, Falcons defensive end
. Overall, he has bounced back nicely from a rough 2009 season. Abraham has nine sacks and should get back to double digits after having only 5.5 last year. But Abraham wasn't a factor at all in Sunday's victory against Tampa Bay. He didn't even get near quarterback
Josh Freeman
. When a quote sheet was distributed in the press box after the game with words attributed to Abraham, a sports writer cracked, "Oh, so John Abraham actually was here today?'' If the Falcons really are going to go deep in the postseason, they need Abraham to show up consistently.
2. Kellen Winslow, Buccaneers tight end.
There's an old saying in the NFL that big players step up in big games. Well, Sunday's game with Atlanta was the biggest game Tampa Bay has had in several years. Winslow's probably the biggest individual name on Tampa Bay's roster. But he produced only three catches for 26 yards.
3. The grass at Raymond James Stadium.
The NFL Players Association does an annual survey about the best playing fields in the NFL. Raymond James Stadium has won most years and never has been ranked worse than second. However, you wouldn't have guessed any of that by looking at the field Sunday. With the University of South Florida playing a game there Saturday night, the field took a beating. When the Bucs and Falcons got going, there was as much dirt and mud showing as grass and some players were having trouble cutting. Might be time to put a little more space between college and NFL games in the stadium.
[+] Enlarge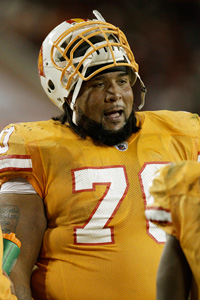 AP Photo/Chris O'MearaBucs tackle Donald Penn kept Falcons pass-rusher John Abraham at bay Sunday.
RISING
1. Donald Penn, Buccaneers offensive tackle
. He was the player largely responsible for Abraham never getting near Freeman. When Penn signed a huge contract in the offseason, a lot of people thought the Bucs had overpaid for a very ordinary left tackle. The reality now is that Penn's having a season that makes him a legitimate candidate for the Pro Bowl. He easily has been the NFC South's best tackle this season.
2. Tyson Clabo, Falcons offensive tackle
. He plays right tackle, which isn't the glamour position. But in a contract year, Clabo has been steadily excellent. He's another player who deserves Pro Bowl consideration.
3. Robert Meachem, Saints wide receiver
. In Sunday's victory against Cincinnati, he caught only three passes, but they went for 106 yards. That's 35.3 yards per reception. Meachem's day was highlighted by a 52-yard touchdown. He has become a true deep threat for the Saints and probably should start getting a few more passes thrown his way.
December, 8, 2010
12/08/10
10:06
AM ET
»
NFC Stock Watch
:
East
|
West
|
North
|
South
»
AFC
:
East
|
West
|
North
|
South
FALLING
1. Rigidity in Minnesota:
Joe Webb
was originally drafted as a receiver and, even after being moved to quarterback, opened some eyes during the preseason as an open-field runner. But the
Minnesota Vikings
buried him as their No. 3 quarterback after trading
Sage Rosenfels
and apparently never considered using him as a playmaking specialist until last week against the
Buffalo Bills
. Webb returned the opening kickoff 30 yards and was expected to get some work on offense as well before he was sidelined by a hamstring injury. Still, credit goes to the Vikings for trying to utilize a bottom-of-the-roster asset.
2. Faith in the Chicago Bears:
I'll admit I wasn't sold on the Bears early in the season, but when a team wins nine of its first 12 games, it's hard to find much to criticize. It's true the Bears have an unenviable final-quarter schedule that includes home dates against the
New England Patriots
and
New York Jets
, along with road games against the Minnesota Vikings and
Green Bay Packers
. But so do the Packers, with whom they're competing for the NFC North title. I don't know if the Bears will win the division or not, but the national consensus that they're due for a fall seems based more on emotional projections than facts. End rant.
3. Brad Childress, former Minnesota Vikings coach:
It's not necessarily fair to kick a man when he's down, but watching the Vikings play their first two games under interim coach Leslie Frazier has been illuminating. The energy level and elevated performance, especially on defense, has confirmed players gave up on Childress this season. While part of the responsibility lies with the players, it's still striking to see the attitude adjustment that seemed immediate upon his departure.
[+] Enlarge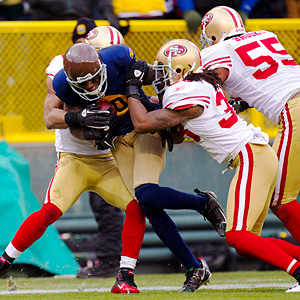 Jeff Hanisch/US PresswireDonald Driver refused to go down en route to this touchdown Sunday against San Francisco.
RISING
1. Donald Driver, Green Bay Packers receiver:
I'm going to go out on a limb and say that Driver's injured quadriceps is feeling better. His 61-yard scoring play in Sunday's victory over the
San Francisco 49ers
was the highlight of the weekend in the NFL. It was Driver's first touchdown since Week 4 and suggested that he is ready to begin stretching the field again as the Packers launch into their final playoff push. Before Sunday, Driver had gone almost two months without a reception longer than 17 yards.
2. Cliff Avril, Detroit Lions defensive end:
With teammate
Kyle Vanden Bosch
(neck) sidelined, Avril picked up the slack by recording three sacks against the Bears. He now has six sacks in the past four games he has played and a career-high seven for the season. Many of us wondered to what extent Avril would benefit with three new teammates next to him in Vanden Bosch,
Ndamukong Suh
and
Corey Williams
. I think we've found out the answer.
3. Jared Allen, Minnesota Vikings defensive end:
A sack against the Bills brought Allen's total to 8.5 on the year. He has had at least one sack in each of the Vikings' past five games, due in part to a one-on-one session he had with Frazier. During the meeting, Frazier showed Allen video evidence of the difference between his approach this season and last season. According to Frazier, Allen was surprised at how different he looked. Consider it an effective appeal to personal pride.

NFL SCOREBOARD
Thursday, 9/18
Sunday, 9/21
Monday, 9/22
WEEKLY LEADERS