NFL Nation:

NFC Stock Watch 2010 Week 7
October, 27, 2010
10/27/10
1:54
PM ET
»
NFC Stock Watch
:
East
|
West
|
North
|
South
»
AFC
:
East
|
West
|
North
|
South
FALLING
Drew Brees, quarterback, Saints.
Let's make it clear that Brees isn't suffering anything close to the meltdown we saw out of
Jake Delhomme
in Carolina the last two years. And let's make it clear that injuries and some poor play around him are having an impact on Brees. That said, let's be real honest and face the fact that Brees isn't playing nearly at the same level he did in last year's march to the Super Bowl or even like he did in his 5,000-yard passing season in 2008. Something is amiss with Brees. He's talented enough that things can click into overdrive at any time, but, to this point in the season, something just hasn't been right.
Pierre Thomas, running back, Saints.
In a pregame report on Fox, it was said that the Saints were unhappy with Thomas' approach to recovering from the ankle injury that's had him sidelined. There's no reason to doubt this report because if you know anything about the behind-the-scenes logistics on this one, you know the word had to come straight from coach Sean Payton or general manager Mickey Loomis. They're the guys who call the shots in New Orleans and their unhappiness with Thomas doesn't bode well for his long-term future.
New Orleans' offensive line.
This was one of the team's strengths last year and a lot of people said in the preseason the Saints might have the league's best offensive line. It hasn't been anywhere close to that. Brees is getting too much pressure and there hasn't been much consistency in the running game.
RISING
[+] Enlarge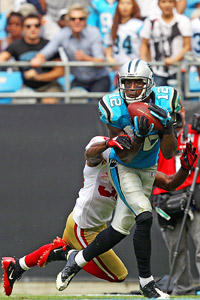 Streeter Lecka/Getty ImagesDavid Gettis hauled in two TD catches against the 49ers.
David Gettis, wide receiver, Panthers.
Since Carolina won a game, we're going to make sure we take the rare opportunity to get one of the Panthers in the "rising'' category. Against San Francisco, he had eight catches for 125 yards and two touchdowns. A sixth-round pick, Gettis is doing more than earlier picks
Brandon LaFell
and
Armanti Edwards
. In an otherwise dismal season, Gettis has been a bright spot.
John Abraham, defensive end, Falcons
. A lot of people were ready to write the veteran off after a 2009 season in which he had only 5.5 sacks. But the Falcons thought Abraham would bounce back and it turns out they're right. He had two sacks on Sunday and that gives him six already this season. With a bye week to rest up, Abraham looks like he's got a real shot to get back to double-digit sacks.
LeGarrette Blount, running back, Buccaneers.
The undrafted rookie had 11 carries for 72 yards and brought life to a running game that hadn't had much early in the season. Although veteran
Cadillac Williams
likely will remain the starter, Blount's performance means he's going to get a lot more playing time. Every good team needs two quality running backs and the Bucs have found one in Blount.
October, 27, 2010
10/27/10
1:49
PM ET
»
NFC Stock Watch
:
East
|
West
|
North
|
South
»
AFC
:
East
|
West
|
North
|
South
FALLING
1. Max Hall, Cardinals QB.
Completing 4 of 16 passes before suffering a concussion knocked down Hall's stock considerably even though this was only his second NFL start. Hall struggled in the wet, windy conditions at Qwest Field. He looked better against New Orleans two weeks earlier and he'll need to look better against Tampa Bay in Week 8. At least he won't have to worry about wrapping his small hands around a cold, wet football.
2. David Carr, 49ers QB.
The 49ers have given
Alex Smith
five-plus seasons to prove himself as a legitimate NFL starting quarterback. They gave Carr six games on the bench and 13 pass attempts against Carolina before deciding he wasn't the answer against Denver in Week 8. Carr is earning more than $3 million per season from the 49ers. One question: Why?
3. Tim Hightower, Cardinals RB.
Hightower ran hard and ran effectively against Seattle, but he lost a fumble for the third time this season and the seventh time in his last 20 games. The Cardinals' margin for error is too slim to tolerate regular turnovers. Hightower could lose his starting job as a result.
[+] Enlarge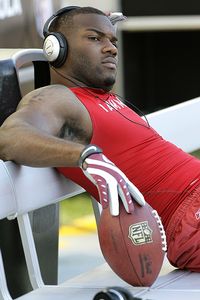 AP Photo/Charles Rex ArbogastRunning back Beanie Wells should see increased playing time in Arizona.
RISING
1. Mike Williams, Seahawks WR.
Twenty-one receptions over two games would pump up the stock for just about any wide receiver. Williams has become a force on third down. He has nine third-down receptions, eight for first downs, during the Seahawks' recent victories over Arizona and Chicago.
2. Troy Smith, 49ers QB.
Smith figured to get playing time at some point once the 49ers knew Alex Smith would miss games. But right away? The 49ers like what Smith offers in the leadership department and they've got nothing to lose at this point. Offensive coordinator Mike Johnson worked with Smith in Baltimore. Will the rapport help on game days?
3. Beanie Wells, Cardinals RB.
The Cardinals haven't named Wells their starter for Week 8, but he stands to benefit from lost playing time for Hightower. Wells did not find much running room against the Seahawks, but the Cardinals know he can run the ball. They need to see him make strides in other areas. Wells did make an exceptional catch on a pass out of the backfield.
October, 27, 2010
10/27/10
1:13
PM ET
By
Matt Mosley
| ESPN.com
»
NFC Stock Watch
:
East
|
West
|
North
|
South
»
AFC
:
East
|
West
|
North
|
South
FALLING
1. Wade Phillips, Dallas Cowboys head coach:
I didn't have room to mention every player on defense, so their coordinator will have to do. The Cowboys had a 20-7 lead over the
New York Giants
after
quarterback
Tony Romo
left the game. Phillips basically needed his highly ranked defense to win the game for him. What followed over the next two quarters was an embarrassing performance. Phillips tried to blame it on all those three-and-outs from
Jon Kitna
and the offense, but we all know better. The Cowboys' defense disappeared at the worst possible moment.
2. Ellis Hobbs, Philadelphia Eagles cornerback:
Titans wide receiver
Kenny Britt
burned Hobbs and rookie safety
Nate Allen
throughout the second half. Hobbs was still backpedaling when Britt was racing past him for big plays. We'll never know why defensive coordinator Sean McDermott didn't do more to help Hobbs in this game. But hey,
Asante Samuel
and
Quintin Mikell
shut down
Nate Washington
on the other side. The sight of those two players bracketing Washington in the fourth quarter was quite ridiculous based on what was actually going on at the time. I still haven't heard a reasonable explanation from McDermott for his approach to stopping Britt.
3. Chris Gronkowski, Dallas Cowboys fullback:
When you blow a blocking assignment that leads to your star quarterback being knocked out for a couple months, you deserve some recognition. Gronkowski was apparently so anxious to catch a pass that he forgot to check for incoming linebackers such as
Michael Boley
, who had a clean shot at Romo.
[+] Enlarge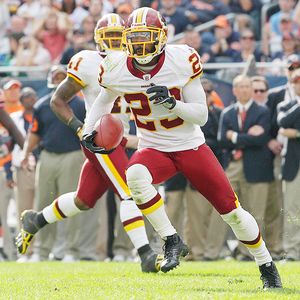 AP Photo/Charles Rex ArbogastDeAngelo Hall recorded four interceptions in Sunday's win.
RISING
1. DeAngelo Hall, Washington Redskins cornerback:
Earlier in the week, Hall and defensive coordinator Jim Haslett reportedly had a dispute while watching film of a loss against the Colts. Maybe they should try that more often. Hall was brilliant against
Jay Cutler
and the
Chicago Bears
with four interceptions, one of which he returned 92 yards for a touchdown.
2. Albert Haynesworth, Washington Redskins defensive tackle:
Obviously it was his best performance of the season against the Bears. His one-man goal-line stand against Cutler completely changed the game. And Haynesworth also picked up a sack. He was the most dominant defensive player in that game Sunday. Haslett's done a nice job of getting him in situations that remind him of his Titans days.
3. Hakeem Nicks and Steve Smith, New York Giants wide receivers:
Nicks and Smith overwhelmed the Cowboys' defensive backs. I've been saying this might be the best trio of wide receivers (
Mario Manningham
's the third) in the league, and they certainly lived up to that type of billing Monday. Smith's acrobatic catch across the middle in the first half set the tone for the rest of the game. And Nicks has become one of the most dangerous receivers in the league after the catch. Now, if they could both stop tipping balls ...
October, 27, 2010
10/27/10
10:06
AM ET
»
NFC Stock Watch
:
East
|
West
|
North
|
South
»
AFC
:
East
|
West
|
North
|
South
FALLING
1. Qualifications for linebacker in Detroit:
The Lions signed free agent
Bobby Carpenter
during their bye last week. This week, it's possible he'll be in their starting lineup because of
Zack Follett
's neck injury. Much is left to be decided this week during practice, and Carpenter has more pedigree than the average player you sign off the street in midseason. But the bottom line is he flamed out as a 2006 first-round draft choice for the
Dallas Cowboys
and made it through only five games this season with the
Miami Dolphins
before being released. When a player walks in your door one week and has a chance to start the next, you know your depth at the position is far from adequate.
2. Tolerance for interceptions in Minnesota:
Last summer, the Vikings signed the quarterback who has thrown more interceptions than any other in NFL history. They were the beneficiaries of a one-year aberration in 2009;
Brett Favre
threw seven in what was the best season of his career. But what they've gotten this year -- 10 in six games -- is closer to Favre's career-long habit. The big problem for 2010 is not the interceptions, but the fact that Favre has made less big plays to even out the mistakes. Still, no one in the Vikings organization, from coach Brad Childress on down, should be complaining at this point. If you're not going to tolerate the occasional (or even somewhat frequent) head-scratching throw, then Favre wasn't the right quarterback to bring in.
3. Numbers on the Detroit Lions' injury list:
The Lions emerge from their bye with the likelihood that two key players who have missed most of the season will return. Quarterback
Matthew Stafford
(shoulder) and linebacker
DeAndre Levy
(ankle) are on pace to play Sunday against the
Washington Redskins
. Hopefully, we'll get a chance to see Stafford play the Lions' final 10 games and observe the progress for ourselves that the team has suggested he made in the offseason. Levy will help settle down a position that has been in disarray, but it's critical for the future of the franchise to get a better handle on where Stafford is and how far he might be able to take it.
RISING
1. Tramon Williams, Green Bay Packers cornerback:
How confident are the Packers in Williams' ability to hold down this position? We got two big clues last week. First, the Packers didn't seem compelled to rush back former starter
Al Harris
from the physically unable to perform (PUP) list for Sunday's game against the Vikings. Second, it was Williams -- and not All-Pro
Charles Woodson
-- who was matched up most frequently against Vikings receiver
Randy Moss
. Williams helped hold Moss to three catches for 30 yards, and overall has been the best cover corner on the Packers' roster this season. That's right. From a coverage standpoint, at least, Williams has surpassed Woodson.
[+] Enlarge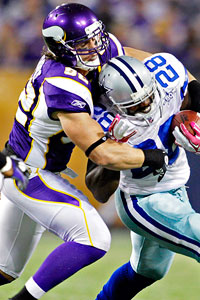 Bruce Kluckhohn/US PresswireChad Greenway has spent more time this season in opposing teams' offensive backfields.
2. Chad Greenway, Minnesota Vikings linebacker:
Greenway has always run up high tackle totals, but I think close observers would note he has taken his game to a higher level in 2010. In the past, I've noted that Greenway's tackle totals didn't often include many of the game-changing plays that big-time linebackers make. But this season, Greenway has made more plays behind and close to the line of scrimmage than I've ever seen from him. He already has seven tackles for a loss, one behind his career high for an entire season. Three of them came Sunday night against the Packers, and on a fourth play he stopped
Brandon Jackson
for a 1-yard gain and forced a fumble. Greenway leads the Vikings with 65 tackles through six games and might be on track for Pro Bowl recognition.
3. Interception totals in Chicago:
Quarterback
Jay Cutler
held himself to three over the Bears' first six games, causing some of us to wonder whether he had put behind his irrational gun-slinging habits. Oops. Four second-half interceptions Sunday against the Washington Redskins, all to cornerback
DeAngelo Hall
, reaffirmed that Cutler's self-destruction gene is still active and operating. The quarterback isn't always fully responsible for every interception, and FOX analyst Troy Aikman blamed Bears receivers for two of them during the live broadcast. But this was Cutler's third four-interception start in his first 22 games with the Bears. Sacks are one thing. As with Favre, we're willing to tolerate some interceptions if they're balanced with a requisite number of big plays. But Cutler now has 33 interceptions during his short Bears career. It will be impossible to consider him a long-term franchise quarterback at that pace.