NFL Nation:

NFC Stock Watch 2010 Week 8
November, 3, 2010
11/03/10
2:07
PM ET
»
NFC Stock Watch
:
East
|
West
|
North
|
South
»
AFC
:
East
|
West
|
North
|
South
FALLING
Carolina's offensive line.
Back at the start of the season, this was supposed to be a strength. This group still has left tackle
Jordan Gross
, guard
Travelle Wharton
and center
Ryan Kalil
. Right tackle Jeff Otah has been out with an injury all season. Should his absence really make that much difference? Apparently, it has.
DeAngelo Williams
and
Jonathan Stewart
have been very ordinary running backs because they have no holes to run through.
Steve Smith, wide receiver, Panthers.
Smith criticized himself harshly after Sunday's loss to St. Louis and said he played one of the worst games of his career. He had at least two drops. The guy still is an enormous talent, but Carolina's quarterback problems have helped him to have a very mediocre first part of the season.
Cadillac Williams, running back, Buccaneers.
Williams still has been the ceremonial starter the last few weeks. But with
LeGarrette Blount
putting up huge numbers, that's not going to last much longer. Williams is a favorite of the coaching staff and fans and he should be. His comebacks from injuries have been inspirational. But he'll be a role player going forward. Blount's going to be the feature back.
RISING
[+] Enlarge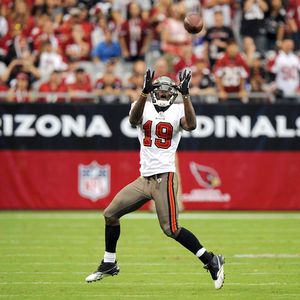 Harry How/Getty ImagesMike Williams had four catches for 105 yards and a TD against the Cardinals.
Mike Williams, wide receiver, Buccaneers.
This rookie wide receiver was a fourth-round pick, but he's playing like a first-round choice. He's coming off his first 100-yard game and he is Josh Freeman's go-to receiver. This combination should be together for a long time.
Marques Colston, wide receiver, Saints.
Colston's season started off slowly and fans were wondering what was wrong. But Colston has re-emerged as a big part of the offense the last couple games and nobody's happier about that than quarterback
Drew Brees
.
Sedrick Ellis, defensive tackle, Saints.
A first-round pick in 2008, Ellis took some criticism his first two years. He was hurt a lot. But he has stayed healthy this season and is making some big plays in the middle. Aside from Atlanta's
Jonathan Babineaux
, I don't think there's a better defensive tackle in the NFC South.
November, 3, 2010
11/03/10
1:04
PM ET
»
NFC Stock Watch
:
East
|
West
|
North
|
South
»
AFC
:
East
|
West
|
North
|
South
FALLING
1. Ken Whisenhunt, Cardinals coach.
The Cardinals' handling of the quarterback situation appears questionable, at best, now that
Derek Anderson
and
Max Hall
are racking up interceptions. Whisenhunt probably bet too much on both of them in the big picture when he benched and released
Matt Leinart
. He bet too much on Anderson in Week 8 when he called a fourth-and-2 pass play from the Tampa Bay 3-yard line while trailing by a touchdown late in the first half. Arizona got no points and lost by three. It's tough to blame Anderson or Hall for meeting outside expectations.
2. Mike Williams, Seahawks WR.
Williams' stock was surging in recent weeks even though he ranked among the league leaders in dropped passes. The one Williams dropped inside the Oakland 5-yard line Sunday was particularly costly. Seattle trailed 13-0 at the time and the team would get no points from the drive. Williams took responsibility for the drop, another sign he's on the right track overall. He played through a bruised knee and did make a 27-yard grab late in the game, but it was his only reception after making 21 over the previous two games.
3. Olindo Mare, Seahawks K.
Mare had made 30 consecutive field-goal tries before missing from 51 and 29 yards against the Raiders. Seattle normally might have gone for it on fourth-and-1 from the Oakland 33, but only 20 seconds remained in the first half and Seattle, down 10-0, needed points. The score was still relatively close (13-0) when Mare's attempt from 29 yards missed wide left.
RISING
[+] Enlarge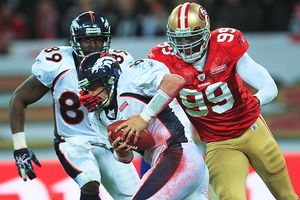 Chris McGrath/Getty ImagesManny Lawson has collected an interception and two sacks and has forced a fumble this season.
1. Manny Lawson, 49ers OLB.
Lawson
wanted a new contract
before the season. He's playing like a guy who deserves one. Lawson had three tackles, one sack, two quarterback hits, one pass defensed and one forced fumble during the 49ers' 24-16 victory over the
Denver Broncos
in Week 8. Coach Mike Singletary: "There's a light that has gone on for him." Lawson appears to be playing more instinctively, allowing his considerable athletic skills to shine through.
2. Steve Spagnuolo, Rams coach.
Getting to the bye with a 4-4 record stands as no small achievement after the Rams won three games in their previous two seasons. This team has taken on Spagnuolo's personality: tough, resolute, resilient. The consistency isn't quite there and the Rams haven't learned to finish games on the road, a potential problem given the remaining schedule. But the arrow is pointing up.
3. Steve Breaston, Cardinals WR.
Inside linebacker
Gerald Hayes
deserved some consideration here after scoring on a fumble return in his first game off the physically unable to perform list, but Arizona allowed 154 yards rushing. Breaston, playing in his first game following knee surgery, caught eight passes for a career-high 147 yards. He proved he could make big plays even when the Cardinals have quarterback issues.
November, 3, 2010
11/03/10
1:03
PM ET
By
Matt Mosley
| ESPN.com
»
NFC Stock Watch
:
East
|
West
|
North
|
South
»
AFC
:
East
|
West
|
North
|
South
FALLING
[+] Enlarge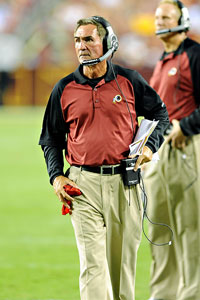 G Fiume/Getty ImagesMike Shanahan has offered various explanations for benching Donovan McNabb in the fourth quarter of the Lions game.
1. Mike Shanahan, Washington Redskins head coach:
If you're going to knee-cap your starting quarterback with the game hanging in the balance, at least come up with a plausible explanation. Once Shanahan realized that suggesting
Rex Grossman
knew the two-minute offense better was demeaning to
Donovan McNabb
, he tried to switch to a "cardiovascular endurance" argument Monday. He's really made a mess of this thing, so for one week, he surpasses Wade Phillips on this list.
2. Wade Phillips, Dallas Cowboys head coach:
It's almost like owner Jerry Jones is punishing Phillips by continuing to send him out to news conferences to represent the team. Jones should've fired Phillips several weeks ago, but now he's being stubborn about the decision. Phillips will eventually have to pay the price, but it was his players who quit on him once this season got out of control.
3. Alan Ball, Dallas Cowboys safety:
You hate to single anyone out since so many Cowboys players have been awful, but Ball's been especially bad this season. It's time for Phillips or whoever is in charge (Jerry?) to bench this man. He has no business starting against the
Green Bay Packers
on Sunday.
RISING
1. Jon Runyan, former Philadelphia Eagles right tackle:
We try to avoid politics on this blog at all times, but let's congratulate the former Eagles great who defeated an incumbent in New Jersey to become U.S. Congressman Jon Runyan. He's been a devoted reader of this blog and we exchanged text messages this very morning. Since the Redskins and Cowboys were so awful Sunday, it seems only appropriate to lead off our "Rising" list with Runyan.
2. Brandon Banks, Washington Redskins return specialist:
The rookie out of Kansas State kept the Skins in the game against the Lions with some remarkable kickoff and punt returns. His 96-yard kickoff return for a touchdown gave the Redskins the lead in the fourth quarter. He single-handedly put the Skins in position to score 17 points Sunday. Give this man a few plays in the offense.
3. The Giants and Eagles:
They sat home and watched the Cowboys and Redskins lose. Both teams are set up to make a nice run in the second half of the season. The Giants need to remember how badly they faded in the second half of last season. The Eagles have always been better in the second half of the season under Andy Reid, so they should have plenty of confidence.
November, 3, 2010
11/03/10
10:25
AM ET
»
NFC Stock Watch
:
East
|
West
|
North
|
South
»
AFC
:
East
|
West
|
North
|
South
FALLING
1. Accountability in Minnesota:
Nearly 48 hours after deciding to waive receiver
Randy Moss
, the
Minnesota Vikings
have yet to produce any sort of explanation. Coach Brad Childress released a statement Monday night saying the move was in the best short- and long-term interests of the team but offered no reasons and no acknowledgment of the third-round draft pick wasted in this debacle. Childress is scheduled to speak to reporters Wednesday at about 12:30 p.m. ET, so perhaps he will shed some light then. During a Tuesday radio interview, however, Childress said that discussion should remain "in-house." I'm always amused by professional sports teams who consider themselves public trusts when they want hundreds of millions of taxpayer dollars for new stadiums -- but a private business when it comes to discussing the football decisions their fans care deeply about. Playing your financiers for fools is never good business.
[+] Enlarge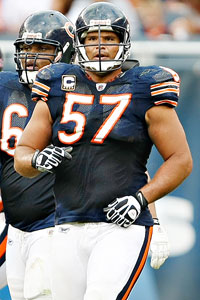 Scott Boehm/Getty ImagesOlin Kreutz is the only Bears offensive lineman in the same position he was when camp broke.
2. Job security along the Chicago Bears' offensive line:
When they return Sunday from their bye week, the Bears are expected to have their fifth different combination of linemen since the season started. Some of the changes have come because of injury, but some have come as the result of lineup tinkering that is probably best suited for training camp. Against the
Buffalo Bills
, the Bears are expected to have
Chris Williams
and
Roberto Garza
at guards, with
Frank Omiyale
and
J'Marcus Webb
at tackles. Only center
Olin Kreutz
will be in the same position he was when camp broke. Barring injury, don't the Bears have to stick with this group for sanity's sake?
3. Attendance at Ford Field:
The
Detroit Lions
had some 23,000 empty seats Sunday at Ford Field for Sunday's 37-23 victory over the
Washington Redskins
, their first non-sellout of the season. I'm not one to make a value judgment on whether people should pay hundreds of dollars to attend a three-hour football game. But I will say it should now be obvious the Lions have their most interesting team in recent memory, one that continues to lead the NFC in average points per game and has already won two of its first three home games of the year. I'll be interested to see whether the general optimism around the Lions translates into better ticket sales as the holiday season approaches.
RISING
1. Defensive intelligence in Green Bay:
Credit is due many areas of the
Green Bay Packers
' operation for Sunday's 9-0 victory at the
New York Jets
, but it would be hard for anyone to surpass the praise due defensive coordinator Dom Capers. With a mishmash of personnel in each position group, Capers found a way to notch the NFL's first shutout in 2010 and the Packers' first road shutout since 1991. Among many areas, Capers proved willing to utilize every bit of new nose tackle
Howard Green
's 360 pounds to close the gaps in his run defense. Green didn't join the Packers until late last week, but Capers immediately had a realistic package for him ready to go.
2. Matthew Stafford, Detroit Lions quarterback:
Stafford bounced back from an early interception to throw four touchdown passes Sunday. We made a big deal about his interception total last season, so it's only fair that we point out he has thrown only one in his first 60 passes of the 2010 season. More importantly, Stafford displayed the gumption you want out of any rising quarterback, calmly throwing a go-ahead touchdown pass to receiver
Calvin Johnson
on fourth down in the fourth quarter. It will be fun to see how he matches up Sunday against another young gun of the 2009 draft, New York Jets quarterback
Mark Sanchez
.
3. Steel prices in Minnesota:
There shouldn't be much supply remaining after quarterback
Brett Favre
seemingly bought it all up and used it for armor in the Vikings' 28-18 loss to the
New England Patriots
. Favre's performance has largely been overshadowed by the Moss mess, but I thought he played his best game of the year despite two fractures in his left foot. And I still can't believe how lucid he was during a postgame news conference, about an hour after he appeared nearly unconscious following a fourth-quarter chin shot. He's the Bionic Man, although with inflation the cost has gone from
$6 million to $16 million
.