NFL Nation:

NFC Stock Watch 2011 Week 2
September, 20, 2011
9/20/11
1:00
PM ET
»
NFC Stock Watch
:
East
|
West
|
North
|
South
»
AFC
:
East
|
West
|
North
|
South
FALLING
1. Twitter sanity:
A cynic might suggest sanity is rare in social media, no matter what the topic. But I thought things got particularly silly Monday afternoon after the
Green Bay Packers
announced Pro Bowl safety
Nick Collins
(neck) will
miss the remainder of the season
. Two of the more rampant pleas/suggestions were to 1) Move cornerback
Charles Woodson
to Collins' spot and 2) Sign veteran
Darren Sharper
. While Woodson might one day finish his career at safety, to me it's a ludicrous idea to move him now. Cornerback is a far more important position than safety and Woodson still plays it well, even if he's not among the top two or three cover men in the game anymore. Sharper, meanwhile, is 36 and didn't seem himself with the
New Orleans Saints
last season after undergoing microfracture surgery on his knee. Would general manager Ted Thompson sign a veteran off the street, even one with Packers ties, to replace an injured starter? Didn't we learn the answer to that question in 2010?
2. Minnesota Vikings defense:
Most of the preseason concern around the Vikings centered on the offense, which was undergoing a scheme change and a quarterback transition on a short timetable. While the offense has had its difficulties in the first two weeks, the more alarming trend has been a defense that has collapsed in the second half of both games; the Vikings have given up a total of 41 points after halftime. It's true that Pro Bowl defensive tackle
Kevin Williams
was serving a suspension over that period, but the Vikings haven't had any answers for halftime adjustments and their coverage in the secondary has been vulnerable at best. This is a veteran-laden group that should have more savvy than it has shown.
3. Chicago Bears offensive structure:
I thought we all agreed last year that the Bears were best suited as, at the very least, a balanced offensive team. Personnel questions on the offensive line, as well as the single-blocking required of linemen in coordinator Mike Martz's scheme, all but demanded a steady diet of running plays. We also know that Martz occasionally veers from what he knows is best, as he did Sunday at the Superdome. He called for a pass on 52 of the Bears' 63 plays in a 30-13 loss to the Saints. So in this case,
I blame coach Lovie Smith
at least as much as Martz. Smith needs to be a stronger in-game ballast to Martz's pass-happy instincts.
RISING
[+] Enlarge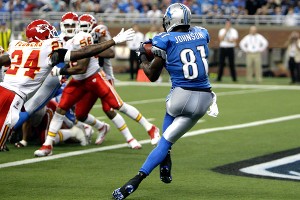 AP Photo/Paul SancyaThis 1-yard touchdown reception by Calvin Johnson put Sunday's game out of reach.
1. Aggressiveness in Detroit:
The Lions have demonstrated swagger and style along with significant substance en route to their 2-0 start. Two plays in particular stood out in Sunday's 48-3 victory over the
Kansas City Chiefs
. The first was quarterback
Matthew Stafford
's decision to fire downfield on a third-and-24 play in the second quarter, hitting rookie receiver
Titus Young
for 43 yards to ultimately set up a field goal. The second came in the third quarter as the Lions faced a fourth-and-goal at the Chiefs' 1-yard line. The Lions were holding a comfortable 20-3 lead late in the third quarter, but coach Jim Schwartz elected to put the game further out of reach. Turning down an easy field goal, Schwartz left Stafford on the field to throw a touchdown pass to receiver
Calvin Johnson
. Some have interpreted that decision as a desire to run up the score. I saw it as Schwartz teaching his team how to put opponents away.
2. James Starks, Packers running back:
Many people get hung up on who starts NFL games. But starts don't always equate to playing time and production. By the latter measures, Starks has become the Packers' unquestioned No. 1 running back even though
Ryan Grant
has been on the field for the first play in each of their first two games. As
Jason Wilde of ESPNMilwaukee.com
points out, Starks played more than twice as many snaps in the Packers' 30-23 victory over the
Carolina Panthers
. It has been obvious for some time that the Packers want his size and power on the field as often as possible. To date, Starks has 142 rushing yards on 21 carries. Grant has 65 yards on 15 carries. The best news: For the first time in a many years, the Packers have a legitimate 1-2 punch in the backfield.
3. Percy Harvin fan club
: After tailback
Adrian Peterson
, Harvin is the Vikings' most dynamic playmaker and their best chance for an easy touchdown. So I fully understand and endorse the incredulity expressed by
Tom Pelissero of 1500ESPN.com
, who tracked Harvin's snaps in the Vikings' Week 2 loss to the
Tampa Bay Buccaneers
. Harvin was on the field for less than half (30 of 65) of the Vikings' offensive plays, according to Pelissero. Included in that group were only three of 14 plays in the red zone. I'm sure the Vikings have their reasons, but I would love to hear them. I thought the Vikings were limiting Harvin's turns as a kickoff returner to maximize his turns on offense. Clearly, that hasn't been the case. At this point, how can the Vikings afford to keep Harvin off the field?
September, 20, 2011
9/20/11
1:00
PM ET
»
NFC Stock Watch
:
East
|
West
|
North
|
South
»
AFC
:
East
|
West
|
North
|
South
FALLING
1. Quarterbacks, like flies.
Serious injuries to the
Dallas Cowboys
'
Tony Romo
and the
Philadelphia Eagles
'
Michael Vick
have called into question the status of each star quarterback for this week's games, potentially leaving those teams in the hands of
Jon Kitna
and
Mike Kafka
for key divisional matchups. The ability of the offensive lines in Dallas and Philadelphia to protect their quarterbacks was a question mark going into the season, and whenever they can get back on the field it's going to be important for them to be better protected from hits than they have been so far.
2. Giants' secondary
. Sure, they won the game on "Monday Night Football" against the Rams, but the Giants certainly didn't inspire any confidence along the way. Tom Coughlin must be hoping his brief benching of
Aaron Ross
inspires Ross to play better, because they need more from him. He may be overexposed as a starter, but the Giants don't have a better option, at least until
Prince Amukamara
is back. And even once that happens, Amukamara will be a rookie who hasn't practiced and has a screw in his foot. Ross has to play like an NFL starter or the Giants will continue to give up yards downfield.
3. Tony Romo bashing.
Does any player inspire more extreme opinions than the Cowboys' quarterback? A week ago, everybody was wondering if they'd ever win another game with goofy, clumsy Tony at quarterback. This week, he leads a comeback with broken ribs and he's a super tough guy everybody loves. Surely, this will swing back and forth between these two extremes for the rest of the season and perhaps Romo's career. But step back and look at the overall numbers, and it's easy to calm down and realize the Cowboys have a special talent playing quarterback for them. Sunday only helped prove that again.
RISING
[+] Enlarge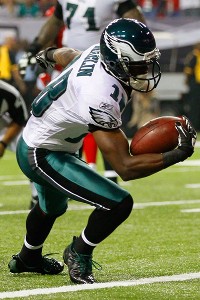 Kevin C. Cox/Getty ImagesNow fully healthy, WR Jeremy Maclin has the tools to have a career season in 2012.
1. Jeremy Maclin
. Yeah, sure, he dropped the pass that would have extended the game late and given the Eagles a chance to win. But it also would have been his 14th catch of the game, and he had 171 receiving yards. After a quiet Week 1 that followed all of the health concerns he had in the offseason, people wondered if Maclin could be the impact guy the Eagles needed him to be in the passing game. But he clearly answered those questions with a dazzling Sunday night performance.
2. Rex Grossman and the Redskins' offense.
One week can be a fluke. Two weeks gets your attention. And yeah, it was against a weak Arizona defense, but what jumps out at me is the efficiency with which the Redskins' offense runs. Grossman is spreading it around to six, seven, eight different receivers. They have depth at running back to support
Tim Hightower
if he wears down, as he did after a heavy first-half workload Sunday. And everybody seems invested in making the thing work with no egos. The schedule remains pretty soft for the Redskins for much of the year, and if Grossman can stay away from mistakes (or keep his head and recover from them as well as he did Sunday), this offense could be one of the surprises of the league.
3. Dan Bailey.
The Cowboys' rookie kicker had a rough start to the game, missing a 21-yard field goal attempt. But he hit the big one at the end of regulation to tie it and the chip shot to win it in overtime. Anything that helps the Cowboys' confidence in their kicking game is a good thing for Dallas, especially as it looks as if they could be playing these heart-stopping affairs all year -- or at least until they're fully healthy, whenever that may be.
September, 20, 2011
9/20/11
1:00
PM ET
»
NFC Stock Watch
:
East
|
West
|
North
|
South
»
AFC
:
East
|
West
|
North
|
South
FALLING
1. Matt Bosher, punter/kickoff specialist, Falcons.
The rookie has struggled mightily. But at least for the moment, it appears as if the Falcons will stick with him. They invested a draft pick in Bosher, so they may be willing to give him the benefit of the doubt. But this team can't afford too many more 18-yard punts like the one Bosher had Sunday night. If things don't straighten out quickly, he could be gone.
2. Thomas Davis, linebacker, Panthers.
This one's tragic. Davis tore his ACL for the third time in less than two years. He's a great player and an outstanding locker room guy. But Davis' contract is structured so that the Panthers have the right to exercise an option for the remainder of the deal on the first two days of the 2012 league year. There's an $8 million bonus tied to that option. I can't see any way the Panthers pick up that option now.
3. Thomas DeCoud, safety, Falcons.
Atlanta started veteran
James Sanders
in DeCoud's place Sunday night. That came after DeCoud had struggled throughout the preseason and in the season opener. He still got some playing time against the Eagles, but didn't do anything outstanding. Sometimes benching a young player can serve as a wakeup call. But if Sanders is a steady influence in the secondary, DeCoud might just fade away.
RISING
[+] Enlarge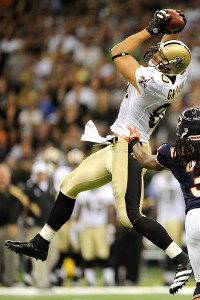 Stacy Revere/Getty ImagesJimmy Graham provides a big target for quarterback Drew Brees.
1. Peria Jerry, defensive tackle, Falcons.
During the preseason, the Falcons talked a lot about how they had seen bursts of explosiveness from their first-round pick in 2009. Jerry's career had been stalled by a knee injury in his rookie season. But we all got to see one of those bursts Sunday night. He blew past a blocker and hit
Michael Vick
before he could hand off. Jerry's hit forced a fumble that defensive end
Ray Edwards
picked up and returned a long way to help set up an Atlanta touchdown.
2. Jimmy Graham, tight end, Saints.
He had six catches for 79 yards against the Bears. With top receiver
Marques Colston
out with an injury, Graham is giving the Saints a presence in the middle of the field. He also is showing incredible raw athletic ability and should only get better as his first season as a starter goes on.
3. LeGarrette Blount, running back, Buccaneers.
After barely using Blount in the opener, the Bucs kept him involved against the Vikings. He carried 13 times for 71 yards and two touchdowns. Just imagine what this guy could do with 20 or 25 carries.
September, 20, 2011
9/20/11
1:00
PM ET
»
NFC Stock Watch
:
East
|
West
|
North
|
South
»
AFC
:
East
|
West
|
North
|
South
FALLING
1. San Francisco 49ers secondary.
Three spots weren't enough to process all the falling stock within the division this week. I have requested and received special permission to expand the "falling" section. Nothing in the division failed quite so spectacularly as the 49ers' pass defense against Dallas. Blaming individuals in the secondary can be tricky without knowing specifics about coverages. I'll point to the secondary in general for allowing three touchdowns to
Miles Austin
and a backbreaking 77-yard reception to the little-known
Jesse Holley
in overtime. Tough way to lose.
2. Ray Horton, Arizona Cardinals defensive coordinator.
The Cardinals have allowed more yards through two games than any team in franchise history since at least 1940. Sure, they're learning a new system and breaking in young cornerbacks, but that was the plan. Horton expected significant improvement this season. He
put it this way
back in July: "The things we need to work on are very correctable. If we're not markedly improved, I'd be shocked. Not surprised, but shocked if we're not one of the better defenses in the league."
3. St. Louis Rams backups:
Cadillac Williams
, subbing for the injured
Steven Jackson
, dropped an ill-fated screen pass from
Sam Bradford
against the Giants, then mistakenly thought the play was dead. The Giants'
Michael Boley
returned the loose ball for a touchdown. Bradford took responsibility for getting pressured into throwing the ball backward, but Williams should have been aware the play was live. Williams, whose stock rose with a strong rushing performance in Week 1, gained 36 yards on 13 carries Monday. Another Rams backup, rookie receiver
Greg Salas
, muffed a punt against the Giants and could not handle a third-down pass. He required X-rays after the game for an unspecified injury.
[+] Enlarge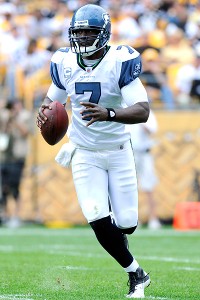 AP Photo/Don WrightTarvaris Jackson has been more effective in his career when he's a threat to run the ball.
3a. NFC West self-esteem:
All four division teams lost in embarrassing fashion. The Cardinals allowed 455 yards to Rex Grossman and the
Washington Redskins
. The 49ers blew a 24-14 fourth-quarter lead. The
Seattle Seahawks
were shut out at Pittsburgh. The Rams slopped their way through the team's first Monday night appearance since 2006, falling to the
New York Giants
. At least one NFC West team will likely win in Week 3. Arizona visits Seattle.
3b. Tarvaris Jackson, Seahawks quarterback.
Coach Pete Carroll was right when he said the Seahawks' problems against Pittsburgh went far beyond the quarterback position. It's also reasonable to expect a quarterback to spark his team from time to time. Jackson, once a threat as a scrambler, has so far abandoned that aspect of his game. He needs to show more against Arizona in Week 3.
3c. Chansi Stuckey, Cardinals receiver.
Stuckey lost a fumble when the Cardinals were trying to mount one final drive with a chance to get into field goal range during a one-point game at Washington. Last season, when Stuckey was with Cleveland, he lost an overtime fumble while the Browns were driving toward a potential winning field goal.
3d. Brandon Browner, Seahawks cornerback.
Browner had problems in coverage against the Steelers'
Mike Wallace
and will need to bounce back against
Larry Fitzgerald
and the Cardinals in Week 3.
RISING
1. Danario Alexander, Rams receiver:
Three catches for 122 yards and a touchdown against the Giants validated the highest expectations for Alexander. He was the only Rams player on offense to show game-changing ability as a playmaker.
2. Beanie Wells, Cardinals running back
. The Cardinals got their ground game going in the second half against Washington, with Wells leading the way. This was as physical as Wells has run in some time and exactly what Arizona needs from him. Wells had 93 yards rushing on only 14 carries and was in position for much bigger numbers if Arizona's defense could have gotten off the field more readily.
3. Robert Quinn, Rams defensive end.
The Rams' first-round draft choice made his regular-season debut against the Giants and played more extensively than I had anticipated. Quinn had one sack and gained valuable experience.
NFL SCOREBOARD
Sunday, 2/2
WEEKLY LEADERS