NFL Nation:

NFC Stock Watch 2011 Week 5
October, 11, 2011
10/11/11
1:00
PM ET
»
NFC Stock Watch
:
East
|
West
|
North
|
South
»
AFC
:
East
|
West
|
North
|
South
FALLING
1. Help for Jay Cutler, Chicago Bears quarterback:
At some point, you wonder if Cutler is on the road to being the next
David Carr
, a player so battered by opposing pass rushes -- mentally and physically -- that his game is forever altered. Cutler hung in as best he could Monday night against the
Detroit Lions
, but you wonder if he fully trusts the players around him.
Michael C. Wright of ESPNChicago.com
reported that Cutler has concerns about his offensive line and receivers. We'll touch on this more in the Bears' Free Head Exam later Tuesday, but after watching Monday night's game, I wouldn't blame Cutler if he has some concerns.
2. Mistakes by Aaron Rodgers, Green Bay Packers quarterback:
Rodgers is completing an NFL-high 71.7 percent of his passes and has thrown two interceptions in 129 attempts, fewer than any quarterback with more than 83 attempts. And most notably, he is pushing the ball downfield, as evidenced by his average of 9.6 yards per attempt, tied for highest in the NFL. You don't need me to tell you that Rodgers is playing at a high level, but it's quite amazing to think no one is playing more aggressively with fewer mistakes.
3. Concentration in Chicago:
There is no other way to attribute a stunning nine false starts for a veteran team in one game, but that's what the Bears did Monday night. Left tackle
J'Marcus Webb
had three of them, but the Bears can't possibly hold him accountable in a meaningful way because their personnel is so thin right now. Who could they replace Webb with, if even to send a message?
Frank Omiyale
has been benched in consecutive games for poor play at right tackle. Rookie
Gabe Carimi
is recovering from a knee injury. The Bears and offensive line coach Mike Tice are once again left to make chicken salad from the leftovers. Or something like that.
RISING
1. Jahvid Best, Detroit Lions running back:
Remember when Lions coach Jim Schwartz said he fantasized over Best's potential when he was drafted in 2010? This was the kind of fantasy Schwartz was imagining: A scatback rolling up 172 all-purpose yards on 16 offensive touches in a key divisional game. Best had exceeded 70 rushing yards only once in his NFL career before Monday night. But his breakout total of 163 yards against the Bears will add a layer to the game planning of opposing defensive coordinators for weeks to come.
[+] Enlarge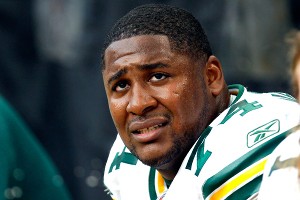 AP Photo/Charles Rex ArbogastMarshall Newhouse was called on Sunday night when Chad Clifton was lost to injury.
2. Marshall Newhouse, Packers offensive lineman:
A few weeks ago, no one knew for sure if Newhouse could play at all on the NFL level. Sunday night in Atlanta, Newhouse handled the exceedingly difficult job of flipping from right to left tackle in the middle of a game after
Chad Clifton
's hamstring injury. The Packers have drafted college left tackles in the first round of each of their past two drafts (
Bryan Bulaga
and
Derek Sherrod
), so it will be wild if Newhouse ends up taking Clifton's place for a substantial part of the 2011 season.
3. Passions in Minnesota:
The Ramsey County Charter Commission could decide as early as Tuesday whether to place a stadium financing referendum on the November 2012 ballot. The county is being asked to contribute $350 million in new taxes to the
Minnesota Vikings
' stadium project, and some opponents are calling for the issue to be opened to the voting public. The referendum would likely scuttle the project altogether if you assume voters won't choose to raise their own taxes. In the end, a legal battle likely would be initiated to determine whether the charter commission has the final authority on this matter or if the state legislature can reverse the decision. In the meantime, the clock will tick toward the February 2012 expiration of the Vikings' lease at the Metrodome.
October, 11, 2011
10/11/11
1:00
PM ET
»
NFC Stock Watch
:
East
|
West
|
North
|
South
»
AFC
:
East
|
West
|
North
|
South
FALLING
1. Mike Smith, coach, Falcons.
For the first time since his arrival in 2008, Smith truly is taking heat and getting questioned. It's deserved. The Falcons were supposed to be a Super Bowl contender, but they're 2-3. You look at the roster and there's plenty of talent. That's when you start looking at the coaching. Smith has defended the play calling of both coordinators and said he ultimately is responsible for everything. He's right about that. It's time for Smith to decide if his system might need some tweaking on both sides of the ball. If he stays stubborn and conservative, he runs the risk of becoming what John Fox was in his later years in Carolina.
2. Josh Freeman, quarterback, Buccaneers.
He remains a marvelous talent with all sort of potential. But the Bucs went out to San Francisco and scored only three points. That should never happen when you've got a quarterback like Freeman. His teammates certainly deserve a large part of the blame. But, so far, Freeman really hasn't gotten into the same rhythm he was in last year. He's already thrown six interceptions -- the same amount he threw all of last season.
3. Matt Ryan, quarterback, Falcons.
Much like Freeman, Ryan's not playing the same way he did last season -- or the two seasons before that. He came out hot Sunday night, but didn't do much of anything after the first two drives. That shows the ability is there and it makes you wonder about how the Falcons are using Ryan. It's time to take the gloves off this guy and simply let him go out and do what he does best.
RISING
[+] Enlarge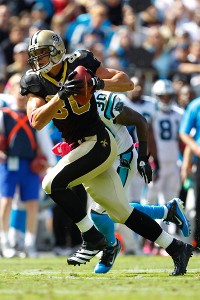 Bob Donnan/US PresswireTight end Jimmy Graham has topped 100 receiving yards in each of his past three games.
1. Jimmy Graham, tight end, Saints.
This guy now has three straight games in which he's had 100 or more receiving yards. You can see coach Sean Payton and quarterback
Drew Brees
putting more trust in Graham each week and he's getting better every time out. How long before we start talking about Graham as the NFL's best pass-catching tight end? He's already in the conversation.
2. DeAngelo Williams, running back, Panthers.
It wasn't too long ago that people were saying Williams was washed up and
Jonathan Stewart
should take over as the featured back. Sunday's performance by Williams showed that time hasn't come. He rushed for 115 yards on just nine carries. There's plenty left in Williams' tank. The Panthers would be wise to continue getting him more involved. Rookie quarterback
Cam Newton
is off to a wonderful start, but he's only going to get better if the running game can take some of the pressure off him. The Panthers need Williams involved in the offense. Other than receiver
Steve Smith
, he's the team's next option as a big-play threat.
3. Patrick Robinson, cornerback, Saints.
The first-round draft pick from a year ago is making an impact in his second year. He intercepted Newton on Sunday and has held onto the starting job even after
Tracy Porter
returned from injury. Sound familiar? Just like
Malcolm Jenkins
, New Orleans' first-round pick in 2009, Robinson didn't do much as a rookie, but is becoming a very solid starter in his second season.
October, 11, 2011
10/11/11
1:00
PM ET
»
NFC Stock Watch
:
East
|
West
|
North
|
South
»
AFC
:
East
|
West
|
North
|
South
FALLING
1. The Giants' run game.
The Giants are 13th in the NFL in rushing attempts, so it's not as though they don't want to run the ball anymore. They're just not doing it well. New York is 28th in the league in rush yards per game (83.8) and 31st in the league in yards per carry (3.2). Those are dreadful numbers for a team that has
Ahmad Bradshaw
and until this past week had the bruising
Brandon Jacobs
in the backfield with him. The Giants' inability to generate consistency in the run game is one of the things that kept the Seahawks in Sunday's game, and it's clear that Tom Coughlin, the coaching staff, the offensive line and everyone in the organization is baffled and frustrated about why it's been so hard for the Giants to find running room. You'd like to think they could get it going this week against the Bills, who rank 29th against the run, but they've already played the Eagles (who rank 30th) and the Rams (32nd), so it's not as though they've been facing tough run defenses all year.
[+] Enlarge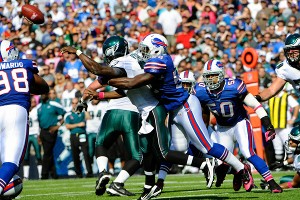 Richard Mackson/US PresswireMichael Vick has regressed this season, holding the ball too long and making poorer decisions.
2. Michael Vick.
We're seeing real regression here. The stories last year were about his development as a quarterback, and how the issues that kept him from fulfilling his potential in Atlanta were being worked and educated out of him by Andy Reid and the Eagles' coaching staff. But while he's clearly capable of putting up spectacular numbers when he actually finishes the game, Vick is holding the ball too long, forcing throws into coverage, making poor decisions and generally doing the same things he was accused of doing when he was a young player. He seems to once again be relying on his athletic ability to get it done, and his mistakes are outweighing his successes. No, the four interceptions Sunday weren't all his fault, but they weren't his only bad throws, either. Entering this season, the key question about Vick was whether he would continue to treat the quarterback position as a craft he needed to work to hone and improve. He doesn't appear to be doing that, and he's 1-6 in his last seven games dating back to last year's big December comeback in the Meadowlands.
3. Andy Reid.
The walls are closing in on the longtime Eagles coach, and if Philly loses in Washington this Sunday it's hard to see a way back for this year's team. Reid, whose record during his tenure in Philadelphia has been exemplary, has already been the target of much fan criticism for his failure to win a Super Bowl despite that record. If this season's team continues to plummet toward rock-bottom the way the Cowboys did last year, the Eagles could be facing a major overhaul in the offseason.
RISING
1. Cowboys health.
Top receivers
Miles Austin
and
Dez Bryant
both practiced Monday. The secondary looks as though it's back to full strength with the projected return of
Orlando Scandrick
.
Tony Romo
got an extra week to rest his busted ribs. And while the Cowboys were sitting home Sunday, the Eagles and Giants both lost. Dallas comes out of its bye week with a 2-2 record and still behind Washington in the division, but the Cowboys have reason to believe they're positioned for big things the rest of the way. Certainly, the opportunity is there.
2. Redskins run game.
Who will get the start?
Tim Hightower
, the starter from the first four games?
Ryan Torain
, the dazzling sub from Week 4?
Roy Helu
, the talented rookie? Each is eager to get at that Philadelphia run defense, and whether one of them is the bell cow or all three share carries this week, Washington coming off its bye will have a perfect opportunity to do exactly what it wants to do against the Eagles' soft defense -- run, run and run some more.
3. Jason Pierre-Paul.
Amid the mess that was the Giants' inexcusable home loss to Seattle was another stellar game by the Giants' second-year pass-rusher. With
Osi Umenyiora
and
Justin Tuck
both missing time so far because of injuries, Pierre-Paul has been a mainstay at defensive end and a key reason the Giants' pass rush has remained the strength of its defense. Another 2.5 sacks Sunday gave him seven for the season, and even when Umenyiora and Tuck are healthy together, it's going to be hard for the Giants to take Pierre-Paul out of the defensive line rotation much, if at all.
October, 11, 2011
10/11/11
1:00
PM ET
»
NFC Stock Watch
:
East
|
West
|
North
|
South
»
AFC
:
East
|
West
|
North
|
South
FALLING
1. Ray Horton, Cardinals defensive coordinator.
The Cardinals' defense hasn't made the necessary improvements five games into the season. Arizona allowed 172 yards rushing and fell behind 28-0 during the first quarter of its 34-10 defeat at Minnesota. Horton hasn't gotten much on defense from the team's two high-priced additions on that side of the ball, rookie cornerback
Patrick Peterson
and veteran linebacker
Stewart Bradley
.
2. Ken Whisenhunt, Cardinals head coach.
This marks two weeks in a row for Whisenhunt on the "falling" list. His Cardinals are now 3-13 in their last 16 games. At 1-4, Arizona is two games worse than it was through five games last season, despite committing a five-year, $63 million contract to quarterback
Kevin Kolb
. It's tough to say Whisenhunt had his team ready to play against the Vikings.
3. Coaching discretion.
Seattle's Pete Carroll and San Francisco's Jim Harbaugh enjoyed signature victories in Week 5, but both also paid for putting key players at risk unnecessarily. Carroll lost quarterback
Tarvaris Jackson
to a pectoral injury after approving a brazen read-option play straight out of the college ranks. Harbaugh lost receiver
Josh Morgan
to a broken leg when the 49ers passed on fourth-and-3 from the Tampa Bay 20-yard line while leading 41-3 with 4:46 remaining. You're not playing UCLA or Oregon any longer, guys.
[+] Enlarge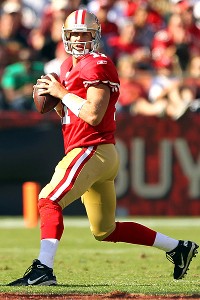 Ezra Shaw/Getty ImagesAlex Smith threw three touchdown passes in the 49ers' rout of the Buccaneers.
RISING
1. West Coast offenses.
The
San Francisco 49ers
and
Seattle Seahawks
both installed somewhat traditional versions of the West Coast offense this season. Both teams are lining up with written-off quarterbacks and young offensive lines featuring multiple high draft choices. And both teams are seeing real signs of progress on offense. The 49ers and Seahawks have combined for 110 points on offense since halftime of their Week 4 games.
Alex Smith
in particular could not have been much better Sunday.
2. Ball hawks.
Carlos Rogers
' 31-yard pick-six for the 49ers gave San Francisco a 14-3 lead over Tampa Bay, sparking a 48-3 rout. The 94-yarder
Brandon Browner
provided for Seattle clinched the Seahawks' upset road victory over the
New York Giants
. These were momentum-turning plays from cornerbacks new to the NFC West this season.
3. Doug Baldwin, Seahawks WR.
The undrafted rookie free agent from Stanford caught eight passes for 136 yards and the winning touchdown against the Giants. He has repeatedly stood up to hard hits, including one that drew a $15,000 fine from the NFL last week. Baldwin is giving the Seahawks a reliable slot receiver with speed and a hard-nosed mentality.

NFL SCOREBOARD
Sunday, 12/22
Monday, 12/23