NFL Nation:

NFL Nation: 4 Downs
March, 13, 2014
Mar 13
10:00
AM ET
By
ESPN.com staff
| ESPN.com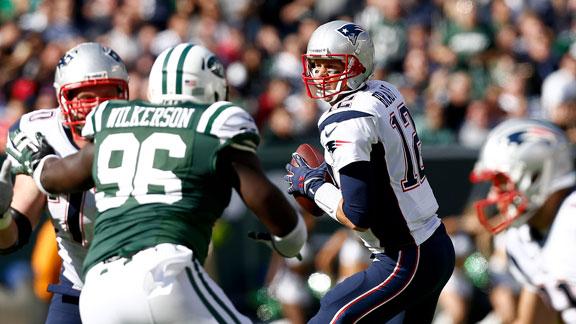 There's the
New England Patriots
... and then there's everyone else.
With a few exceptions, that has been the makeup of the AFC East since 2001, when Bill Belichick and
Tom Brady
won their first division title -- and Super Bowl -- for New England. Even when the Patriots lose, they win. One day after free-agent cornerback
Aqib Talib
left for Denver, New England replaced him with perennial Pro Bowl corner
Darrelle Revis
.
Belichick will turn 62 next month and Brady turns 37 in August. Both are closer to the end of their careers, so is it realistic to expect the Patriots to decline soon? The
Buffalo Bills
,
Miami Dolphins
and
New York Jets
are all surely hoping so, as recent history has been that they need to get past the Patriots to make a playoff run.
The AFC East hasn't produced a wild-card playoff team since 2010, when the Jets went on the road to upset the Patriots and punch their ticket to the AFC Championship Game. The Jets' success was short-lived, and they've since been cast back into the pack with the Bills and Dolphins.
Overall, this is a young division. All four teams, including the Patriots, were among the youngest in the AFC at the start of last season. That youth shows up most at quarterback, where
Ryan Tannehill
,
Geno Smith
and
EJ Manuel
are all green and looking to prove their worth in the NFL. Their teams' ability to challenge the Patriots might hang in the balance.
The four writers who cover the division -- Rich Cimini in New York, Mike Reiss in New England, Mike Rodak in Buffalo and James Walker in Miami -- offered their insights on the power structure in the AFC East and some other some key offseason topics. They also polled their Twitter followers to find out if they saw the issues differently.

Which AFC East team is closest to catching the Patriots?
Rich Cimini: The Jets, no question about it. The Jets, Bills and Dolphins are three teams with question marks at quarterback -- and quarterback play is everything in the NFL. So why the Jets? When rating teams, I like to look at which ones can be dominant on at least one side of the ball. Clearly, the defenses of the Bills and Jets (ranked 10th and 11th, respectively) are the best units among the three Patriots-chasing teams. Beyond the stats, I'd give an edge to the Jets because their defensive line has a chance to be the most dominant position group in the division. And the Bills lost their best defensive player, safety Jairus Byrd. Another reason I'd pick the Jets is the coaching staff. Granted, Rex Ryan has missed the playoffs for three straight years, but he has a veteran staff that experienced little upheaval. Continuity is important. The Bills have a new defensive coordinator and the Dolphins ... well, that situation is dysfunctional.

Mike Reiss
: Tough to answer, obviously, before we see how each team comes together after adding pieces in the draft and free agency. Last year, it was the Dolphins. Now, after a turbulent offseason and offensive line questions, I'll move off them to the Jets. Why the Jets? Respect for a very good defense and a belief they will address major deficiencies on offense, starting with a viable quarterback option to pair with shaky
Geno Smith
. All that said, I still see a rather wide gap between the Patriots and the next team in the division.
Mike Rodak: The Patriots hardly tore through the division last season, losing to the Dolphins and Jets on the road, while nearly dropping their season opener in Buffalo. But it's difficult to see the other three teams contending for a division title until their quarterbacks emerge as quality NFL starters. In Miami, Ryan Tannehill showed flashes last season. It's hard to predict much of anything season to season in the NFL, but I think the Dolphins are the closest to contending. The Jets and Bills are not that far behind.

James Walker: My short answer is no AFC East team is ready to catch the Patriots in 2014. As long as Tom Brady is healthy and Bill Belichick is coaching, the Patriots will be the favorites to win the division. But the team with the smallest gap is the Dolphins. They have the most talented roster to challenge New England and the second-best quarterback in the division in Ryan Tannehill. Miami's problem is it can't stay out of its own way with infighting and in-house controversy. Last year, there was the bullying scandal and coach Joe Philbin had a falling out with former general manager Jeff Ireland. Miami still split with the Patriots, mostly because of talent. But how can the Dolphins win consistently when they're fighting themselves?

@RichCimini Bills.If healthy, defensive line gives Patriots problems. Plus Offense not far off. Similar state as Jets. #FourDowns

- Mitesh Patel (@RunningMan_27) March 8, 2014
---

How justified is the AFC East's reputation as a weak division?
Cimini: I hate to say it, but it's justified. The division doesn't have much street cred these days. The Jets helped the cause with their little run there in 2009 and 2010, when Ryan was in his "I'm not kissing Belichick's rings" phase, but the AFC East has turned into a bottom-heavy division. Since 2011, the Jets are 22-26, the Dolphins are 21-27 and the Bills are 18-30. In that span, the teams not named the Patriots have combined for a grand total of zero playoff appearances. The Bills haven't made the playoffs since 1999, which is practically prehistoric. The Dolphins haven't made it since 2008. Records aside, the division lacks star power, save for Brady, Belichick & Co. Each team has a handful of good players, but we're not talking about guys with a lot of box-office appeal. Everything is cyclical in the NFL, so I'm sure things will swing the other way. But right now, the AFC East is in a state of depression -- except for the Patriots.

Reiss
: I'll start with some stats. Last season, AFC East teams were 22-18 against out-of-division teams. That was the third-best mark of the eight divisions. As it turned out, AFC East teams were tied for the second-best record against non-division playoff teams. So while I wouldn't call the AFC East an elite division, I'd strongly counter any line of thinking that the division is a doormat. What impresses me the most about the division is the quality along the defensive line, which rivals any division in the NFL.
Rodak: Strength of divisions is always difficult to measure because it changes so often. The NFC West was considered a weak division for several years, but recently it has been the class of the NFL. The Seahawks groomed their young talent into a perennial playoff team, while the 49ers found a coach (Jim Harbaugh) who has brought his team to three consecutive NFC title games. They're a far cry from the Seahawks, but the Bills and Jets both had some of the NFL's youngest rosters last season. Let's see if those teams can make the next step before we label the AFC East as "weak." Plus, how many other divisions have a team that has been as dominant as the Patriots? That adds strength at the top of the division while making life tougher for everyone else.

Walker: Absolutely, the reputation is justified. I cannot think of another NFL division that was mostly owned by one team over the past dozen years. I've said since last summer that the 2013 Patriots were the weakest New England team in years. That Patriots group still won the AFC East by four games! That is more of an indication of poor football by the Jets, Dolphins and Bills than dominant football by New England. Here is all you need to know about the AFC East: No team other than New England has posted a winning record the past three seasons.

@mikerodak very justified. Buffalo hasn't been good in awhile and the jets/phins have had only fleeting success as of late #FourDowns

- Chris (@chris_mecca) March 8, 2014
---

Ryan Tannehill, Geno Smith and EJ Manuel: Which young QB will still be his team's starter in three years?
Cimini: I'll be blunt: I'm not confident that any of the three young quarterbacks will be starting in three years. They all have talent, but each one was thrown into a difficult situation. Smith and Manuel were rushed into starting jobs, and Tannehill was under siege last season, behind the worst (and most dysfunctional) offensive line in the league. Out of this group, I'd say Tannehill probably has the most staying power. I'm not saying he will be a star, because I've seen him throw passes that conjure up images of Nuke LaLoosh of "Bull Durham" fame, but he has a decent amount of talent and moxie. That said, Tannehill has a new coordinator, and he could have another one next year if the Dolphins decide to blow up the coaching staff. The same could happen to Smith next year if things go sideways on the Jets. Continuity is vital for a young quarterback. So is the quality of his supporting cast. Smith could overtake Tannehill in this category if the Jets surround him with better players. That, undoubtedly, would accelerate his growth.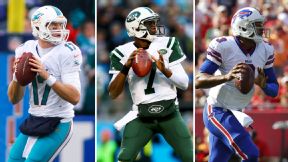 Reiss
: I'll go Tannehill, assuming the Dolphins protect him better than they did in 2013. I think he's the most naturally gifted of the three. When I watch him beat a Patriots game plan in December that dared him to make throws to the outside of the field, and he succeeded in doing so, it reflects a promising foundation on which to build. I'm interested to see how the presence of a new offensive coordinator, Bill Lazor, affects his development.
Rodak: The Bills, Dolphins and Jets have dealt with inconsistent quarterback play for the past decade. Of those three teams, only the Jets with Chad Pennington had a starter for more than three consecutive seasons since 2000. Three years is a very long time in the NFL -- enough time for young quarterbacks to see their stars rise and fall. Smith, Tannehill and Manuel were all high draft picks and have the potential to be long-term starters. Of the three, I think Smith is least likely to stick. Playing in New York can be tough, while the Jets' coaching situation remains volatile. The Bills might have the most stable environment for Manuel to grow, but his knee injuries are a concern. Tannehill has shown promise in Miami, but changes in the front office might bring different opinions. This might be radical, but I don't see any of the three quarterbacks starting in three years.

Walker: My first response hinted at my answer: I'm going with Tannehill, though the instability of the Dolphins' organization gives me pause. Joe Philbin might not be Miami's head coach in 2015, let alone in three years. That obviously impacts Tannehill's job security. However, I think Tannehill has the most pure talent of the three young quarterbacks. Tannehill set career highs in yards (3,913), touchdowns (24) and passer rating (81.7) last season. He also was sacked a franchise-record 58 times last season and had little help from the running game. I believe Tannehill can thrive with good pass protection and a stronger running game. He needs to work on his deep ball and make quicker decisions, but that might improve with time.

@JamesWalkerNFL Tannehill is by far the safest bet to be starting, he's improved each of his first two years in the league #FourDowns

- Jimmy Martin (@jlmjnp) March 9, 2014
---

The Dolphins, Bills and Patriots each experienced noteworthy changes to their coaching staff. Which will have the greatest impact?
Cimini: The Patriots lost a beloved assistant coach, Dante Scarnecchia, but let's be honest: As long as Bill Belichick is the HC of the NEP, the Patriots will be a highly competitive team. Assistants and coordinators come and go, but the Patriots remain the Patriots because of one man. I think the Bills' coaching change -- Jim Schwartz as the new defensive coordinator -- will have the greatest impact in the division. True, the Bills took a big jump last season under the departed Mike Pettine, but they still stunk against the run. Schwartz will fix that. The Dolphins' new offensive coordinator, Bill Lazor, has a chance to make a big impact, but it won't happen right away. Why not? Because the Dolphins' offensive line is in shambles (maybe you heard about the Richie Incognito-Jonathan Martin mess), and no offensive genius has invented a scheme that works without efficient line play. They addressed it in free agency by signing Branden Albert, but there will be growing pains for the offense.

Reiss
: I was going to say the Patriots because of the wide-ranging respect retiring offensive line coach Dante Scarnecchia has across the NFL, and also with linebackers/scout team coach
Pepper Johnson
landing in Buffalo. But the more I thought about it, how can it not be the Dolphins with a new offensive coordinator and two new offensive line coaches? The Patriots will miss their two assistants for different reasons, but that seems to pale in comparison to Miami based on the bigger role/responsibilities of offensive coordinator.
Rodak: I think the Patriots' changes are the least likely to have an impact given Bill Belichick's reputation to wield nearly absolute control. Assistant coaches come and go in New England, but Belichick keeps his staff small and his message consistent, so there typically isn't much change. It's a toss-up, then, between the Dolphins and Bills. The Bills have seen significant changes on their defensive coaching staff, but their personnel doesn't figure to change dramatically. The Dolphins have a new offensive coordinator, and while their skill positions could remain intact, their offensive line will be different next season. That, coupled with the need for a culture change after their bullying scandal last season, means the Dolphins' coaches have more to overcome this season.

Walker: I really like the addition of Jim Schwartz in Buffalo, and it goes beyond X's and O's. Schwartz brings head-coaching experience to Buffalo's coaching staff. Bills head coach Doug Marrone is entering his second year after a 6-10 record in 2013. There were some things last year that appeared a little too fast for him as a rookie head coach in the NFL -- and that's expected. Schwartz can help slow things down in Year 2 for Marrone, who is trying to make the transition from the college game. Schwartz experienced plenty of ups and downs with the Detroit Lions and can be a shoulder for Marrone to lean on. Mike Pettine also was a solid defensive coordinator, but he couldn't bring that element to Buffalo's staff.

@mikerodak Sherman for Lazor better have a huge gain or heads will roll in Miami

- Rob (@420wong) March 11, 2014
March, 6, 2014
Mar 6
10:00
AM ET
By
ESPN.com staff
| ESPN.com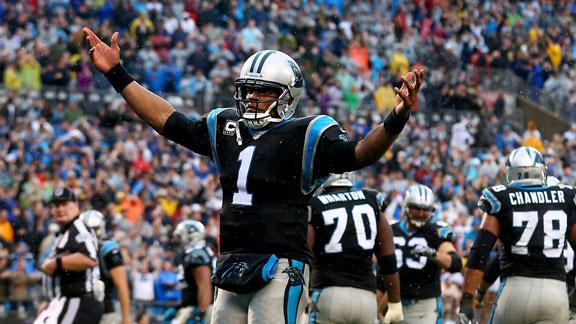 Drew Brees
is 35 years old. To date, he hasn't shown any signs of slowing down. But are his NFC South counterparts about to catch up to the
New Orleans Saints
' elite quarterback?
Atlanta's
Matt Ryan
will be 29 and Carolina's
Cam Newton
25 before the start of next season. Ryan has been trying to close the gap in recent years but played behind a lackluster offensive line and with a depleted receiving corps in 2013. Newton has shown signs of brilliance, helping the Panthers clinch the division title, but he hasn't been able to put it all together consistently for a Panthers team that's powered by an elite defense.
Maybe this is the year Ryan makes his move. Or maybe this is the year Newton takes a huge leap forward. If either of those quarterbacks gains ground on Brees, the NFC South could have a whole new look.
The uncertainty is in Tampa Bay, where the Bucs are looking at
Mike Glennon
, who did some nice things as a rookie but still lags behind Brees, Ryan and Newton. The Bucs have the nucleus of a good defense, but they need some stability at quarterback to make their offense click. If they can get that -- they have made noise about drafting a quarterback or signing a veteran free agent -- they might be able to make the NFC South a four-team race.
The four writers who cover the division -- Vaughn McClure in Atlanta, David Newton in Carolina, Mike Triplett in New Orleans and Pat Yasinskas in Tampa Bay -- offered their insights on the quarterback situations and some other some key offseason topics. They also polled their Twitter followers to find out if they saw the issues differently.

Who would you want as your quarterback for the next three years: Cam Newton, Drew Brees or Matt Ryan?
Vaughn McClure: This is tough because Drew Brees is the only one who's among the elite, but he's the oldest at 35. At some point, he's going to slow down. So, I'm not sure I want to ride with him for the next three years. Matt Ryan has some great qualities and could be right up there with the right protection in front of him and a healthy group of receivers in his arsenal. But I'm all for the younger, multidimensional quarterbacks of today, and that's why I would ride with Cam Newton. Sure, he has to become a better decision-maker and leader. But Newton, who turns 25 in May, has all the tools to be a great quarterback. And with a strong defense and solid running game in Carolina, the pressure's not totally on Newton.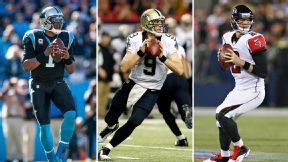 David Newton
: If all were 24 years old like Newton, I'd say Brees without thinking twice. But he's 35. Not that he's over the hill --
Peyton Manning
had the best season of his career at 37. But with the improvement Newton showed in game management, with his versatility as a runner and overall durability, I'd have to go with him. A lot depends on the weapons around whomever we pick. There's no doubt Brees had better receivers and arguably better backs. Same for Matt Ryan when
Julio Jones
was healthy. But going on pure potential for the next three seasons, I'd have to go with the one who likens himself to Superman.
Mike Triplett: Brees -- and I really don't even think it's close. He has been head and shoulders above those guys up to this point. So the only argument against him would be predicting a drop-off in the next year or two. I don't see that coming yet. He just turned 35 in January. And he had another excellent season in 2013 (5,162 yards, 39 TDs, 12 INTs). He had some quiet games down the stretch -- but that was more because the Saints played at Seattle twice and at Carolina once than it was a sign of career regression. That's not to say that Newton and Ryan are slouches. They're both very good quarterbacks -- probably among the top 10 in the NFL. I just think they're both clearly a tier below Brees.

Pat Yasinskas: After a lot of deliberation, I'm going with Brees. Yeah, I know he's 35, but I'm betting we don't see a drop-off from him in the next three years. Brees has always taken good care of himself, and his only serious injury, to his shoulder, came a long time ago. Brees and head coach Sean Payton are a dynamic combination, and I don't see that changing.

@DNewtonespn Cam. Because, you know, he can actually play outside.

- Mr. Baker (@JBwhync) February 26, 2014
---

Are the Panthers and Bucs following the best model for success -- stingy defense and sturdy run game, just like Seattle -- or can the Saints and Falcons contend by heavily investing in the passing attack?
McClure: Seattle's Super Bowl win definitely turned heads around the league and has coaches dreaming about having tough, rugged defensive players such as hard-hitting Seahawks safety Kam Chancellor roaming the field. The Falcons understand the reality and are doing all they can to follow the model by targeting "tougher" players in free agency and the draft. A more balanced offense and stouter defense are what the Falcons believe will equate to a resurgence following a 4-12 season. So balance across the board is key, no matter how high-powered your passing offense might be.

Newton
: There's a reason the Saints hired Rob Ryan last season and the Falcons are talking about shoring up their defense in free agency and the draft. They see what works. If you look at the past three Super Bowl winners, each was built around the aforementioned model. If you look at the history of the Super Bowl, that has been the best model. This isn't a huge secret. And if you want to get more specific with the model, the defense is built around a front seven that can stop the run first. This shouldn't be up for debate.
Triplett: It's hard to argue against the Seahawks' blueprint after the way they completely shut down great passing teams like Denver and New Orleans down the stretch. But it's easier said than done to try to mimic them. Their defense played at an all-time-great level last season. I'm still a believer that great passing teams -- like the Saints and Packers in recent Super Bowls; like Denver for most of last season -- can win big. The best-case scenario would be having a great quarterback and a great defense. I think that's possible this season for both New Orleans (if its defense continues to rise) and Carolina (if Cam Newton continues to rise).

Yasinskas: Everyone talks about how it's now a passing league. But the Seahawks showed defense still wins championships. I think Carolina and Tampa Bay are taking the right approach. They're going to need contributions from their offense. But I think each team has the nucleus of a defense that can carry it a long way.

@MikeTriplett Gotta have a respectable running game to make this passing O more lethal and potent. #Balance

- Beetlejuice (@WhoDat_225) February 25, 2014
---

How will the return of Julio Jones, the NFC South's most talented receiver, change the complexion of the division? Only New Orleans faced him in 2013.
McClure: I spoke to both Bucs coach Lovie Smith and Panthers coach Ron Rivera about this subject during the NFL combine. Both agreed how dynamic a player Jones is and how much more dangerous the Falcons will be with him back in the lineup. Now, Jones can't do it all alone. But his ability to stretch the defense will open up so many other options for the Falcons, provided they upgrade the offensive line. If Ryan has time to get him the ball, Jones should be the most dangerous deep threat in the division, if not the league.

Newton
: I'll refer back to the previous question. If the Falcons don't improve on defense, it won't matter. You don't win consistently ranking 31st in the league against the rush and 27th in points allowed. Jones can't score when he's on the sideline watching the other team control the clock. The bigger issue for Atlanta is finding a way to replace tight end
Tony Gonzalez
. Without him, teams will have an easier time doubling down on Jones.
Cris Carter
and
Randy Moss
were two of the greatest receivers in NFL history. How many Super Bowls did they win for Minnesota? Enough said.
Triplett: I think the Falcons can get back to pushing for a playoff spot if they find their 2012 offensive groove. Obviously, Jones' injury wasn't the only reason they fell from 13-3 to 4-12 last year; they dropped off in a lot of areas, from the run game to the offensive line to the defense. But I think it would be fair to say Jones was the biggest reason. And it had a ripple effect. For example, the Saints used their top cornerback, Keenan Lewis, to silence Roddy White during their second matchup last season since they didn't have to worry about Jones.

Yasinskas: There's no question that getting Jones back will be a big lift for the Falcons. He and Roddy White form one of the best receiving combinations in the league. But Jones isn't going to change the Falcons' fortunes all by himself. This is a team that needs to be a lot better along the offensive and defensive lines if it wants to make a return to the playoffs.

@PatYazESPN it doesnt change much if ATL still cant run the football and address the defense.

- Jim Rathernot (@BlackSaiyan440) February 26, 2014
---

Addition or attrition: What will your team experience more of in free agency?
McClure: The Falcons will lose some familiar faces -- and already have, with the releases of Asante Samuel, Stephen Nicholas and Garrett Reynolds. Safety Thomas DeCoud's imminent release will mean the team has rid itself of three defensive starters from the 2012 NFC Championship Game appearance. Again, the Falcons have the theme of getting tougher this offseason, so losing a handful of players who fail to meet those requirements, while adding a couple of rugged difference-makers -- thanks to some added cap space -- will only make the team better.

Newton
: Addition based simply on the math. With 21 unrestricted free agents, the Panthers have to either re-sign their own or sign players from other teams. You can't replace that many players in the draft and hope to be successful. They've already lost left tackle
Jordan Gross
to retirement, and in all likelihood they'll look to replace him through free agency and the draft. General manager Dave Gettleman was highly successful last year signing midrange free agents to one-year deals. With the salary cap tight, that will be the formula he uses again this year.
Triplett: It will probably be attrition for the Saints -- but only slightly. They've already released several veterans, most of whom had become part-time players. And they will almost certainly let one or two starters -- from the group of right tackle Zach Strief, center Brian De La Puente and safety Malcolm Jenkins -- get away in free agency. But I expect the Saints to keep tight end Jimmy Graham and to stay aggressive by adding one or two mid-level free agents from other teams who can be upgrades elsewhere. That's what they've done the past two years under similar salary-cap restraints.

Yasinskas: The Bucs will come out ahead of where they were. They don't have any high-profile free agents they'll be losing, and they'll be active in bringing in players. The Bucs might not go after the big-ticket free agents like they have in landing Vincent Jackson, Carl Nicks and Dashon Goldson the last couple of years, but they're not going to sit still. They need to add some free agents that fit the new offensive and defensive schemes.

@PatYazESPN Saints will have more attrition but not a bad thing since they're cutting lots of fat.

- Craig Jackson (@craigjackson422) February 26, 2014
February, 27, 2014
Feb 27
10:00
AM ET
By
ESPN.com staff
| ESPN.com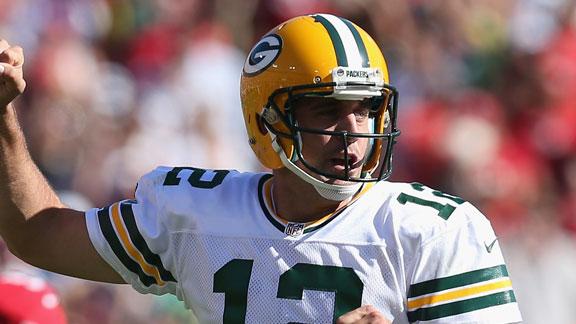 When the 2014 season opens, Green Bay's Mike McCarthy will be the only coach in the division with more than one season under his belt with his current team. Does the Packers' coaching stability give them a leg up on the rest of the division?
Some would say it has more to do with
Aaron Rodgers
than McCarthy, but the coach-quarterback relationship is an important one. Throw in general manager Ted Thompson, and Green Bay has the type of triumvirate that will keep it as a division contender for the foreseeable future.
Will Jim Caldwell be able to harness the impressive amount of talent in Detroit and finally solve the Lions' late-game meltdowns, turning them into a contender?
Detroit's offense is loaded, but so is Chicago's. With
Alshon Jeffery
emerging as a star receiver, do the Bears have the most potent offense in the division?
In Minnesota, the big question is whether
Jared Allen
will be back and what impact his departure would have on the team.
NFL Nation's NFC North reporters -- Rob Demovsky in Green Bay, Ben Goessling in Minnesota, Michael Rothstein in Detroit and Michael C. Wright in Chicago -- tackle all of these topics in 4 Downs.

The Packers' stability in their coaching staff gives them a leg up on the rest of the division.
Rob Demovsky
: True, but that's not the biggest thing that does that. Sure, having consistency on the coaching staff is important. The Packers reload -- they don't rebuild -- every year, in large part because of their stability. But more important is having it at the quarterback position. That was evident last season when
Aaron Rodgers
broke his collarbone. The Packers still won the division, but it wasn't easy.
Ben Goessling
: True, although their stability extends past the coaching staff. The Packers are also the only team in the division where the coach and GM have worked together longer than a year, and they've had Aaron Rodgers in their system as long as they've had Ted Thompson and Mike McCarthy. The Thompson-McCarthy-Rodgers triumvirate probably does more for the Packers' success than anything else, but McCarthy's synergy is a big factor, too.
Michael Rothstein
: False. Stability helps, sure, but it all comes to quarterback play and talent in the NFL, and this is what makes Green Bay such a difficult out for the rest of the division. The Packers have the best passer and decision-maker in the division in Aaron Rodgers and have the most overall talent around him as well.
Randall Cobb
,
James Jones
and
Jordy Nelson
are all reliable receivers, and
Eddie Lacy
turned in a performance as a rookie that hints he'll be a consistent rusher for Green Bay. The defense has some holes entering free agency, but this is an offensive league.
Michael C. Wright
: True. Obviously there are new coaches in Detroit and Minnesota, and a second-year coach in Chicago. Since the start of 1999, there have been 13 new coaches in the NFC North. None made the playoffs in the first year with the team, and only Mike Sherman had a winning record in his first year. Interestingly, not including Bears coach Marc Trestman (and Ray Rhodes lasted only one season), four of those 13 coaches made the playoffs in their second year.
@RobDemovsky true; coaching stability usually means scheme stays the same...less to learn schematically so players grow more in same system.

— Danielle Lewandowski (@hooshouse) February 24, 2014
---

With Jay Cutler locked up and Alshon Jeffery emerging, the Bears will have the most potent offense in the division
Demovsky
: False, but perhaps only because Cutler remains mistake-prone. That's the reason you might say the same thing about the Lions and
Matthew Stafford
. If Randall Cobb remains healthy and the Packers either re-sign
Jermichael Finley
or find another capable tight end, then they should have the most potent offense in the division, especially given the emergence of Eddie Lacy.
Goessling
: False. The Bears are certainly in the conversation -- Jeffery looks like a star in the making -- but I'm not ready to give them that honor until I see what Jim Caldwell can get out of Matthew Stafford,
Calvin Johnson
and
Reggie Bush
and what the Packers can get out of a full season with a healthy Aaron Rodgers and Eddie Lacy. The Vikings could also join that mix quickly, too, if they can put a competent QB with
Adrian Peterson
,
Greg Jennings
and
Cordarrelle Patterson
.
Rothstein
: True (at least for now). This is a pretty interesting question. Every team in the NFC North has a reason to believe it could be the most potent offense in the division, from Minnesota (Adrian Peterson) to Green Bay (Rodgers) to Detroit (Matthew Stafford, Reggie Bush, Calvin Johnson). But the Bears have the most established contingency of stars at each position, be it Cutler at quarterback,
Matt Forte
at running back and Jeffery and
Brandon Marshall
as two tall, dynamic pass-catchers. It'll be interesting to see if this holds after free agency and the draft.
Wright
: False. It's true the Bears will be in Year 2 of the offense under Trestman, so they should be better. But you've also got to take into account the rest of the division now has plenty of game film on the Bears and will go into 2014 with a good idea of their strengths and weaknesses. If Detroit adds another receiver opposite Calvin Johnson, the Lions are just as dangerous. Also, Green Bay is always potent with No. 12 in the mix.
@mikecwright Chose your poison. Forte,Marshall,Jeffery,Bennett..no other team in division has that. #NFCN4Downs

— DR (@DRICH1986) February 24, 2014
---

Jared Allen will leave the Vikings, but the impact will be marginal.
Demovsky
: True. We saw that last season against the Packers, a team that he had been dominant against since he came to the Vikings in 2008. In his first 10 games against the Packers, he recorded 14.5 sacks. In the two games last season, he had none. Both times, he was shut out by rookie left tackle
David Bakhtiari
. That said, the Vikings still have a capable pass-rusher in
Brian Robison
.
Goessling
: True. Allen had a $17 million cap hit last year, and he looked like he'd lost a step. He'll probably sign a short-term deal with a team that's closer to a title. But if the Vikings bring
Everson Griffen
back to go with Brian Robison -- and shore up their defense under Mike Zimmer -- they'll be better off. They could wind up signing Bengals defensive end
Michael Johnson
, who turned into a solid performer under Zimmer in Cincinnati.
Rothstein
: True, but with a contingency. This statement has nothing to do with Allen's production, which was still pretty good in 2013 with double-digit sacks (11.5) and 52 tackles. As long as Minnesota is able to bring back Everson Griffen -- another unrestricted free agent -- he should be able to pick up the production Allen provided during his time in Minnesota. Between Griffen (if he returns) and either a free-agent signee or drafted prospect, they should fill similar roles to what Allen and Griffen filled last season.
Wright
: False. If Allen leaves, the impact definitely won't be marginal from a standpoint of production on the field and leadership in that locker room. Allen accounted for 28 percent of Minnesota's sacks last season. If you thought the Vikings were horrible on defense, just think of what that unit would've been in 2013 without him in the mix.
@GoesslingESPN False. Allen was overpaid, yes, but he took up a double-team every snap and that kind of edge production is hard to replace.

— Jake (@jakeallen47) February 24, 2014
---

Jim Caldwell will fix the Lions' late-game meltdowns and guide Detroit to a division title.
Demovsky
: True. There's too much talent on that team for it to continuously underachieve. Caldwell will instill the discipline necessary for the Lions to finally break through and seriously contend for the NFC North title. With a dominant defensive front and a playmaker like Calvin Johnson, the pieces are in place. Caldwell inherited a good situation.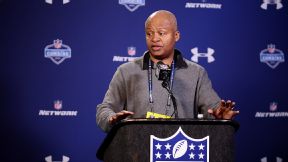 Goessling
: False. If Caldwell can shore things up in Detroit, that's definitely a possibility. There might be more talent here than on any roster in the division. But I'm inclined to stick with the Packers until the Lions can show they're a different team. As many issues as Green Bay needs to solve defensively, when you start with a healthy Rodgers, you'll be the team to beat until somebody knocks you off.
Rothstein
: False. Caldwell will likely fix the late-game meltdowns -- if he doesn't, his time in Detroit might end up being short -- but winning a divisional title will be difficult for Detroit as long as Aaron Rodgers is around. Even when Green Bay has off seasons, like the Packers did in 2013, they still find a way to end up in the playoffs and often with a divisional title. The Lions will have a lot of talent, but until the draft and free agency transpires, they feel like a team one or two pieces short of knocking off Green Bay. But a playoff berth is a definite possibility entering 2014 with the offensive and defensive talent Detroit has.
Wright
: True. Well, sort of true. With Caldwell at the helm, I think the Lions can
eventually
win the division. But I'm not expecting that in 2014. I think Caldwell will work wonders for Matthew Stafford, and overall I think he'll be able to quell some of the disciplinary issues the Lions have been plagued with over the years. Hey, if
Peyton Manning
endorses Caldwell, I believe he's the real deal.
@mikecwright Fiction: Until I see otherwise, I saw the Colts go down hill under his leadership. Prove me wrong, Jim! #NFCN4Downs

— Shelton Reid (@wobblebody) February 24, 2014
February, 20, 2014
Feb 20
10:00
AM ET
By
ESPN.com staff
| ESPN.com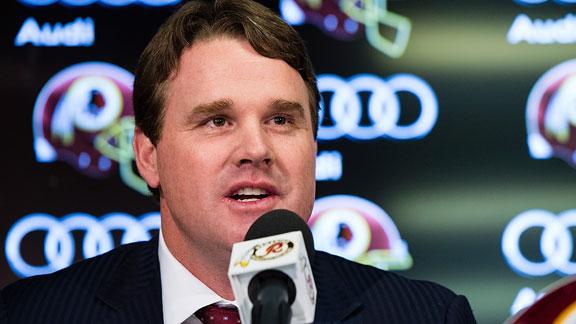 In 2013, first-year
Philadelphia Eagles
head coach Chip Kelly made an immediate mark on the NFC East landscape. Kelly's team beat the
Dallas Cowboys
on the final night of the regular season to win the division title and create, for the moment, a new pecking order.
This year, Washington is the team with a new head coach. Former
Cincinnati Bengals
offensive coordinator Jay Gruden was hired to replace Mike Shanahan and to get Washington heading in the right direction.
Dallas stayed the course with Jason Garrett, but moved Rod Marinelli to defensive coordinator. The
New York Giants
brought Ben McAdoo in as offensive coordinator, replacing Kevin Gilbride, Tom Coughlin's lieutenant for two Super Bowl titles.
So where does the NFC East stand after a lackluster season in which the Eagles (10-6) posted the only winning record? Can Kelly establish dominance? Can Coughlin regroup and make another run with
Eli Manning
as his quarterback? Will Garrett and
Tony Romo
finally get over the hump? Can Gruden get
Robert Griffin
III back on track to stardom and have the kind of instant impact Kelly had in 2013?
The four writers who cover the NFC East teams -- Todd Archer in Dallas, Dan Graziano in New York, John Keim in Washington and Phil Sheridan in Philadelphia -- offered their insights on some key topics. They also polled their Twitter followers to find out if they saw the issues differently.

Will Robert Griffin III return to form next season?
Todd Archer
: Everything was a mess for Griffin in 2013. Did he feel pressure to return quickly? Did the team feel pressure to get him on the field too quickly? His mechanics were bad. His decision-making wasn't good. From the outside looking in, he tried to be perfect and it weighed on him. The decision to bench him at the end of the season might actually help Griffin, especially with a new coach in Jay Gruden. He gets a fresh start with a new system and coach. The talent is evident, but it has to be refined. Gruden did a nice job with
Andy Dalton
in Cincinnati and Griffin is more talented. Sometimes you need to take a step back to go forward. There's no doubt Griffin can return to form in 2014 but he has to rely on others around him to get there.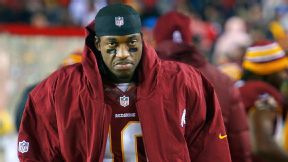 Dan Graziano
: I think Griffin is a great player who is going to have a terrific career, and I see no reason not to believe he'll play much better in 2014 than he did in 2013. One more year removed from his knee surgery, he'll be able to go through an offseason focused on football and not recovery. And I think the coaching staff change will serve to lessen the noise and the drama around the team and the young man himself. Much of his success, short term and long term, will rest on the ability of his team to provide him adequate protection, and to that end they need to work on the offensive line this offseason. But yes, I expect a bounce-back year in 2014 from this extremely talented player.
John Keim
: He will return to being a much more consistent playmaker than he was in 2013 and comparable to 2012. In reality, though, he must be better than in '12 when a lot of passing yards were left on the field because he'd take off and run -- also, defenses won't play him the same as they did that season. Griffin has a ways to go to become the sort of pocket passer the Redskins need him to be, but it's difficult to look at this past season and say that's who he now is as a quarterback. He's already done more work this offseason to improve than he did all of 2013 when he had to rehab his right knee. And he'll be doing a lot more, including working with quarterback-training guru Terry Shea. Plus he'll get a full preseason's worth of games, unlike last season. Griffin likely won't be wearing a brace, perhaps restoring some explosiveness (being a year further removed from surgery will help, too). He's a smart player who works hard and is getting his first legitimate NFL offseason and he'll benefit greatly.
Phil Sheridan
: There is just too much talent there for Griffin not to get back on the right path. Next season? Well, that's another matter. Can't say I went into the offseason thinking, boy, that Jay Gruden is just the guy to get the most out of RG III. Greg Roman or Darrell Bevell, the coordinators who work with mobile quarterbacks in San Francisco and Seattle, respectively? Either of them would have been a much better fit. That said, things seemed incredibly toxic at the end under Mike Shanahan. A fresh start with a new staff may be all Griffin really needs in order to let that talent take over again.
@john_keim Yes, reasons: Full offseason, plays in preseason, no more cap penalty so more talent around him, healthier knee and no brace.

- David Bovey (@DavidBovey) February 12, 2014
---

Can NFC East offensive head coaches improve the defenses?
Archer
: They better. Speaking from the Cowboys' perspective, Jason Garrett must have a better defense in 2014 in order to be the coach in 2015. Will he get his hands dirty with the scheme? No. This will be Rod Marinelli's defense. There will be some tweaks from what Monte Kiffin did but not that many. All of these defenses need better pass rushes. The Redskins might be in the best position to get it done with
Brian Orakpo
and
Ryan Kerrigan
younger than what the Giants, Eagles and Cowboys can offer. I'm not one of those "defense wins championships," kind of guys, even after what Seattle just did. But your defense can't be in the bottom half of the league in points allowed, like they all were in 2013, and be a true contender. The offensive coaches can help their defenses by keeping them in mind as they run plays. The Cowboys, for sure, did not do enough of that in 2013.
Graziano
: I think each of these coaches has a vision for what he wants his defense to be and do, and I think that's a big step in the right direction. The Eagles' defense was never intended to be a finished product in 2013 and it outperformed expectations. The Giants' defense got it together after a rough September and should be fine if the front office makes the right moves to keep the line strong. The Cowboys made the right move elevating Rod Marinelli to defensive coordinator and would be fine with better health from
Sean Lee
and others. And the Redskins have needed to upgrade the personnel in the secondary for years. I don't think defensive neglect by head coaches is an issue.
Keim
: I'm split on this one. In the Redskins' case, any defensive improvement won't stem from having an offensive-minded head coach; after all, they had one the past four years and the defense was never above average. Rather, it'll stem from the simple fact that their defense was bad and the team will devote more resources to it than the past couple offseasons. I suppose one theory would be that they would give more help to the defenses. If you look at the division, three teams have bigger problems on defense than offense with only the Giants being the opposite. That should prompt those organizations to want to fix those issues, regardless of whether the head coach is offensive minded or not. Also, it's not even about their division. The top teams in the NFC are defensive minded, so the copycat theory will be in play. The problem for Dallas will be improving a defense without much salary-cap space.
Sheridan
: They had better. And I think, for the most part, they will. Speaking strictly about the Eagles, I think Chip Kelly has as deeply entrenched beliefs about what he wants his defense to look like as the offense for which he's better known. He delegates to defensive coordinator Bill Davis, but he definitely has had input into the general philosophy and the kind of players he covets. I think Seattle's Super Bowl win has led to a bit of an overreaction regarding the return of defense to prominence in the NFL. A truly superb defense can occasionally carry the day -- the 1999 Ravens, the 1985 Bears -- but offense still drives the NFL train. A great offense and a playmaking defense are the ideal formula, and I think all four NFC East teams strive for that.
@SheridanScribe @john_keim Joe Gibbs was an offensive coach. Hired a great DC in Petitbon and it worked out pretty well. #hiresmart

— Jim Bradshaw (@jimbradshaw4) February 19, 2014
---

At 67, can Tom Coughlin keep up with the younger coaches?
Archer
: I don't see why not. I don't think the Giants' woes last year were due to Coughlin's age. He doesn't have to run sprints with these guys, and his experience, to me, is a bonus. Heck, I think he's the best coach in the division and not because he has two Super Bowl rings. He knows how to put his team in position to win games they shouldn't. That's the mark of a good coach. I don't know if Garrett, Kelly and Gruden have that ability. I look at the Giants' 2013 season as a one-year thing, not the sign of some downturn. Coughlin doesn't sound like a guy lacking energy for the job, which is something Bill Parcells wrestled with just about every year.
Graziano
: Careful! This is where Coughlin challenges anyone who thinks he's too old to meet him at 5 a.m. and go through his workout and his day with him. (Though I offered to take him up on that last year and was told no by the team's media relations staff.) But honestly, Coughlin's age is not an issue here. He just hired a 36-year-old offensive coordinator who's never called plays before and is giving him the keys to the offense. He's no stick in the mud. He'll change things if he thinks he needs to change them in order to win or survive. Coughlin is a high-energy coach who still connects with his players, and the evidence for that is the 7-3 finish that followed the Giants' 0-6 start in 2013. Coughlin hasn't lost his coaching touch. He needs better players.
Keim
: Well, two years ago it was Coughlin raising the Vince Lombardi Trophy so I don't know that in 2014 he should be intimidated or worried that he can't keep up with younger coaches, none of whom have won a playoff game. Besides, the Giants have been run well for a longer time than any of their division foes and ultimately that's what wins. But I also wonder if facing new (and younger) coaches won't energize Coughlin just a little to keep pace and show them he hasn't lost his so-called fastball. Also, Coughlin's ability to keep up probably has more to do with which team
Eli Manning
will throw to next season. Turnovers will make any coach feel older than his birth age.
Sheridan
: I don't see why not. Coughlin was a grumpy old man before he was all that old. It's part of his, let's call it, charm. I do wonder why he still wants to keep grinding after winning a couple of Super Bowl championships. It seems like a good time to take a step back and enjoy a well-earned retirement. But if Coughlin feels driven -- and he obviously does -- then there's no reason he can't continue to hold his own against the rest of the NFC East coaches. Kelly is 50 -- not exactly a wunderkind. Garrett and Gruden are younger, but neither has done anything to belong in the same conversation as Tom Coughlin just yet.
@toddarcher TC has shown an ability to make enough adjustments to his philosophy to remain relevant. Coaching changes show he still can

- Michael H (@bigharb06) February 12, 2014
---

Which NFC East offense will be the most prolific?
Archer
: It's a two-team race. It's the Eagles and the Cowboys. I can't put the Redskins in that mix because we don't know about Griffin, even if I think he can bounce back. I can't put the Giants in that mix because Eli Manning will have a new offensive coordinator for the first time. The Eagles make a lot of sense as they enter their second year with Kelly's offense. They can do so many things and have an electrifying back in
LeSean McCoy
, a deep threat in
DeSean Jackson
and good tight ends. Will
Jeremy Maclin
be back? More importantly, is
Nick Foles
the real deal? I still can't get that performance he had against the Cowboys in October out of my head when he was just terrible. And now the Cowboys. Scott Linehan directed a prolific offense in Detroit with
Matthew Stafford
and
Calvin Johnson
. With the Cowboys he'll have
Tony Romo
and
Dez Bryant
. He'll also have
Jason Witten
and
DeMarco Murray
. Too many times the Cowboys shrugged off Bryant when he was double covered. I think Linehan will have more answers than Bill Callahan for that. But if there will be growing pains with the Giants, there will be growing pains with the Cowboys. I'm going with the Eagles, even if I'm not 100 percent sold on Foles.
Graziano
: The obvious answer here is Philadelphia, which put up 27.6 points per game in Chip Kelly's first year. I think it's clear Kelly knows what he's about, and I expect the Eagles to score points in bunches as long as he's their coach. But I absolutely HATE going with the obvious pick. So I'm going to go out on a limb and say that the
Dallas Cowboys
, with a healthy Tony Romo, a healthy DeMarco Murray, a studly young wide receiver corps led by Dez Bryant and an offensive line that improved drastically in 2013, will score the most points of any team in the NFC East in 2014. Crazy? Not as crazy as you might think. The Cowboys were right behind the Eagles in 2013 at 27.4 points per game.
Keim
: The easy answer would be to say Philadelphia, with another year in Chip Kelly's system (following a rather strong one in his first season). The Eagles led the NFL in yards per play at 6.33 (warning: the Redskins led this category in 2012). They have explosive talent, too. But it's hard to duplicate what they did and I'm not ready to fully believe in Nick Foles. I think any offense in this division is capable of emerging as the best one. If Griffin rebounds (or even if they don't turn it over as much), then the Redskins have the necessary talent with
Pierre Garcon
,
Jordan Reed
and
Alfred Morris
to be the most prolific. The Giants were a consistent top-10 offense when it came to points scored before 2013, but they have some holes to fill. So I'll go with Dallas. Like the Eagles, the Cowboys have a strong line and a dominant playmaker on the outside as well as at running back. Tony Romo will make his share of mistakes, but he is excellent at putting up big numbers, even with sometimes spotty play-calling from the sideline.
Sheridan
: At the risk of being accused of homerism, I'd have to say Eagles here. Their 2013 offense was proof of what Kelly can do with this pool of talent, and I don't see any reason the Eagles should be any less productive in 2014. The offensive line will be back intact unless Kelly chooses to upgrade somewhere (right guard, maybe). Nick Foles will have a full offseason to build on what he did in 2013. LeSean McCoy, DeSean Jackson and
Zach Ertz
aren't going anywhere. Kelly himself will have a season's worth of NFL experience to draw from. The Cowboys could be in the mix here, too. They certainly have the tools to be very powerful on offense. But I'm going Eagles until proven otherwise.
@DanGrazianoESPN Birds easily. Probably getting maclin back, ertz in second year, wr from draft, best rb in league

- Rob Christian (@eaglesrob84) February 12, 2014
NFL SCOREBOARD
Sunday, 2/2
WEEKLY LEADERS