NFL Nation:

NFL Nation Says
December, 5, 2013
Dec 5
9:30
AM ET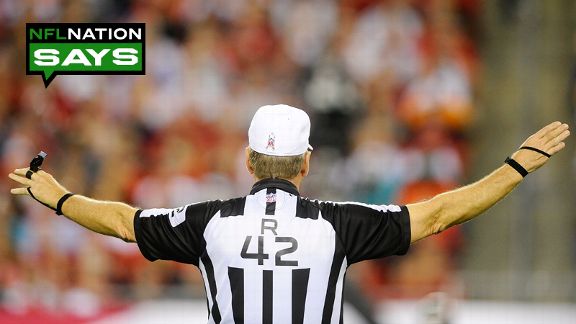 AP Photo/Brian BlancoOfficiating has come under fire this season. What should the NFL do to address these issues?
Everyone complains about officiating in the NFL and, really, every sport at every level. Without that outlet, we would be forced to accept simply that our favorite player or team failed on their own merits rather than some nefarious turn of events.
Yet there is something different about the grumbling we've heard and participated in during the 2013 season. On top of the usual questionable-pass-interference calls, borderline holding penalties and missed sideline catches have been a collection of fundamental errors.
Over the past three months, we've had one veteran referee misapply a rule regarding dead-ball fouls and another issue the wrong penalty for an illegal challenge. A third lost track of an exception to rules regarding defensive substitution. The list goes on. Most recently, referee Jeff Triplette's crew was confused about the correct down during a two-minute drill by the
Washington Redskins
.
That mistake came in the same week when two coaches, the
Arizona Cardinals
' Bruce Arians and the
Tennessee Titans
' Mike Munchak, spoke publicly about calls they forwarded to the NFL for review. Meanwhile,
Pittsburgh Steelers
coach Mike Tomlin was fined $100,000, and the team was put on notice for modification or forfeiture of draft picks, after he illegally stood on the white sideline marker -- even as referee Clete Blakeman's crew missed the corresponding penalty call during the game.

NFL officiating, veteran Washington Redskins receiver Santana Moss
said this week,
is "the worst by far since I've been in the league."
Until Amazon invents drones to replace human officials, we should expect and accept performance below perfection. But is it reasonable to expect more consistency and fewer mistakes? Members of ESPN's NFL Nation sought suggestions for doing just that.
Better technology:
The NFL is a multibillion-dollar business that has access to the best technology in the world. It makes you scratch your head, then, when you see officiating blunders such as the one that came late in the New York Giants-Washington Redskins game Sunday night. Why is the country's most successful sports league still using a clunky, archaic chain system to measure yards to go and signal downs?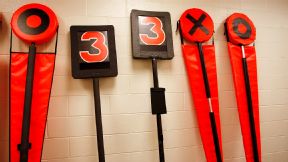 That's just one glaring example of where the NFL could make an investment to keep up with the times. But there are others. For one, is there any better way to determine when the ball has broken the plane of the goal line? True, any part of the football can cross first, so adding a sensor or chip at each end of the ball wouldn't do much good. But in 2013 -- almost 2014 -- shouldn't there be better technology available to make the right call?
To the NFL's credit, the league has embraced technology in other parts of its game. We saw instant replay in football long before we saw it in baseball, there are now iPads in locker rooms in place of playbooks, and coaches on the sideline have quick access to photographs of preceding plays. But when it comes to spotting the football and measuring first-down yardage, the officials might as well bring a bundle of yardsticks onto the field and tape them together. The chain system is simply outdated.
Given the size of the league and the amount it has grown over the past two decades, the technology used in officiating must keep pace with the overall product. There's too much money involved, from television contracts to ticket prices, for the NFL to settle for anything less.
-- ESPN.com Bills reporter Mike Rodak
---
Full-time officials:
Practice makes perfect.
It's a sports motto that has survived throughout the eras, but it's not just fitting for players. At least not anymore. With the recent inconsistency in NFL officiating this season, it's time to look at how officials can improve, and one obvious way stands out.
The men they preside over, both on the field or on the sideline, dedicate more hours to their jobs in a week than the average employee does in two or three. Being a player or a coach is a full-time job. So why isn't officiating? It's time for that time to change.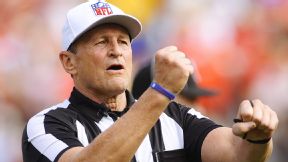 Officials fly in for the weekend, prepare together Saturday and officiate Sunday and then they're are whisked back to their full-time jobs. Sure, like the players and coaches, they watch tape and discuss their performances. But that's usually after they put in a full day at their actual full-time job. For example, the face of NFL officials, Ed Hochuli, is an attorney in Phoenix. According to his firm's website, he has tried more than 150 cases to verdict in 30 years. There's no doubt that keeps him busy. These men are professionals, but the stress induced by a career can be an easy distraction.
How can any of the officials put in the necessary time to master their craft as the players and coaches do if they don't work on it on a full-time basis?
"There is really limited time for them to prepare," said
St. Louis Rams
coach Jeff Fisher, co-chair of the NFL's competition committee. "We don't have NFL Europe where we were getting a lot of good training and pulling a lot of good officials out of."
By requiring officials to be full-time employees, the NFL would ensure year-round training and education that would lead to a better product on the field.
Part of the resolution to the 2012 officials strike was the option for the NFL to hire full-time officials starting this year. They hired only one, Carl Johnson.
The officials would rather bring in two incomes, but they wouldn't be scraping by. This season, a first-year official made $3,800 per game, which comes to $64,600 for 17 games. An official with more than 20 years of experience makes $9,800 per game, or $166,600 per season.
That's not a bad salary for a part-time job. Instead of letting the officials double-dip, pay them what's in line with their full-time salaries and help them get better. The game will only improve as a result.
-- ESPN.com Cardinals reporter Josh Weinfuss
---
Better instant replay:
The NFL can never make officiating perfect.
Lasers and electronics and high definition just won't get that accomplished. The game is run by humans, played by humans, officiated by humans. That brings a human element, which by definition makes it flawed.
In any workplace environment things go wrong. Words are misspelled, files misplaced and bills paid late. It happens, because humans are an imperfect group prone to imperfection.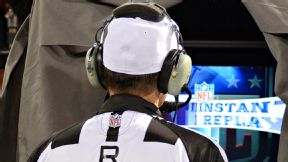 Guys were on the field with imperfect officials when Johnny Unitas and Bart Starr played; they are now. Players have to get past questionable calls in every sport and in every game. That doesn't diminish a mistake such as the one that took place in the Giants-Redskins game, but it might make it more palatable.
Football is a fast game that is best played and viewed fast. It's not meant to be broken down to a frame-by-frame analysis. Stopping the game over and over for more and more reviews is counterproductive.
If the NFL wants to improve replay, though, it could look at the college system, which is infinitely better. It's quick, it's fast, it takes care of important plays. There is none of the nonsense with the referee going under the hood. A replay ref in the booth buzzes down, stops the game for a quick look and makes a quick decision.
The NFL could improve its system by reducing the challenges, putting two guys in the booth and telling them to handle replay the way the colleges do.
A buzz, a quick look, a decision -- in less than a minute.
If the league wants, give the guys in the booth the authority to look at down markers, at hits to the head, at in bounds or out of bounds. But streamline the process so it focuses on clearly bad calls and eliminates the long delays.
That would be an effective use of technology that would make officials and replay better.
It would not, though, make everything magically perfect.
-- ESPN.com Browns reporter Pat McManamon
---
Rewrite the rulebook:
Get officials, the competition committee and the head coaches together for a major review and rewrite of the NFL rulebook. It has been added to and added to, and were at a point where many officials and coaches lose track of permutations in a way that hurts the game. It needs to be pared down and simplified. The experts on clear language many of us grew up with as guides -- E.B. White, Sheridan Baker, William Safire, Ken Macrorie -- are deceased. Find a modern version of one of them for this undertaking. I suggest Susan Orlean or Malcolm Gladwell.
Nothing stays in the rulebook or is added to it if the wording is not approved by the NFL Rulebook Czar of Clarity, Simplicity and Understanding.
Start with the creation of a fundamental definition of a catch that is one sentence. One simple sentence. A reception is a basic element of the game. We all need to know what it is without a half-dozen replays, a parsing of the rulebook and the presence of a former official in the broadcast booth to talk us through it.
As part of the push for clarity, referees will be required to explain calls on working microphones, for all in attendance or viewing on TV to hear. And officials will be available after every game to field questions from any credentialed reporter who feels it a more important interview than the coach or quarterback. Let's take accountability for officials out of the secret shadows and put it on the table.
-- ESPN.com Titans reporter Paul Kuharsky
"I would let guys play more. I would say, you know, you see it sometimes in basketball. You get into a big game and you let guys play and it gets physical. I'd like to see some more of that in the league. I think we're so driven right now with the rules that we don't let people create, you know what I mean?"
[Reporter: More open then?]
"I think so. When I first got into the league, they never called defensive holding. It helped me out, for sure. But, you know, I think that's fair. That's part of it."
-- Anonymous Player 1
---
"First thing is, they should be full-time. If they were full-time then they have to be fully invested in the job. It's their livelihood, you know? A lot of those guys they have corporate jobs, they're bank presidents or whatever and working an NFL game is a part-time thing. They are the only part-time people on the field. If it was their job, their full-time job, I think it's just different how they go about it. I think in any job, you can tell the people who don't really need the job to get by."
Asked what officials should do in offseason if they were full-time (a familiar complaint from owners when the topic is raised):
"Work on their craft. That what's we do. That's what coaches do. That's what scouts do, everybody in this league. And if we don't perform, we're out. It should be the same way; they should have to fix the mistakes they make or at least look at the mistakes in the offseason and talk about what happened. It's terrible the NFL is so huge, so big, and you have plays like Sunday [in the Giants-Redskins game]. That's just terrible. What if that's for home field? What if that's the Super Bowl? You gonna just send a memo and say it was a mistake and you're sorry?"
-- Anonymous Player 2
---
"I would say maybe be more consistent, everybody. I think just in general the calls across the league should all be even. Some refs' calls are real good, and some are bad like hits on the quarterback. It should just be the same across the league. ... I'd say the biggest [inconsistency] right now is the hits on the quarterback. It seems to me that you can't really hit them anywhere. Some refs will call it if you hit them in the chest and slide up, some won't. Some refs will call a hand to the helmet, some won't."
-- Anonymous Player 3
---
"I'm getting a staff in the [press box], so every bad call we're going to call down and reverse those plays. I don't want to say I'm blaming the officials, because they're only calling what they've been coached up to call. But we're going to get another crew to kind of back them up. It's not going to cost that much, we've got the money to do it. Well, I shouldn't say 'we.' They've got the money to do it.
"Any bad call would get reversed. They would have the ultimate authority in the booth to overturn what the official call on the field. For the most part, the downside would be the games take a little longer. But who cares? ... The offense is finding a way to get a leg up on everything we're doing. We're reactors on defense and they are taking advantage of these rules. I'll trade a little bit longer of a game for more right."
-- Anonymous Player 4
November, 21, 2013
Nov 21
9:30
AM ET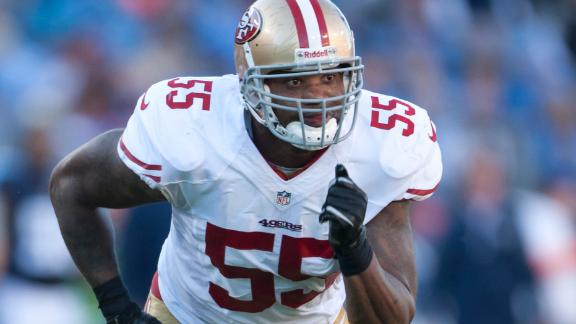 Ahmad Brooks
did just about everything the NFL can expect from a modern pass-rusher Sunday at the Mercedes-Benz Superdome. On one of the game's most important plays, Brooks approached
Drew Brees
with the combination of ferocity and caution that should have allowed him to navigate the league's extensive rules to protect quarterbacks.
Brooks, the
San Francisco 49ers
linebacker, blew past
New Orleans Saints
right tackle
Zach Strief
and aligned his head behind Brees. To initiate contact, Brooks slammed his right shoulder into Brees' right shoulder, and to wrap up, he extended his right arm across Brees' chest.
Brees' upper body snapped back, including his head in a whip-like fashion. In the process, Brooks' arm slid slightly in the direction of Brees' neck.
The ruling from referee Tony Corrente: Personal foul against Brooks, whose slight slip of the arm had violated Rule 12, Section 2, Article 9(c) -- which was amended last spring to specify that a penalty for a hit to the neck of a passer could be called even if the initial contact began below it. The penalty reversed a turnover and gave the Saints 15 yards on the way to a game-tying field goal. Brooks had hit neither Brees' head nor his knees, but he and the 49ers still feel victim to a technicality within the NFL rule labyrinth.
Did the play signify a turning point in the league's efforts to protect quarterbacks? Has it gone too far with its rules in the pocket? Is it unfairly penalizing hits like Brooks' when most quarterback injuries this season
have resulted from scrambles or designed runs
?
Speaking to reporters later, Brooks said he "basically bear-hugged" Brees and added: "That's just how football is played."
The NFL confirmed that sentiment, fining Brooks $15,575 for the play.
Brees, meanwhile, implied the penalty was justified because it was violent and left him with a bloody mouth.
"I don't think what Ahmad Brooks did was intentional at all," Brees told reporters. "I think he's a heck of a football player and a clean football player. A hard-nosed, clean football player. But you look at the result of that … and again in real-time … You can slow it down all you want and watch it and say, 'Look where the [arm is].' But I can tell you how I felt when I got hit. It felt like I got my head ripped off. And I get up and I've got a mouth full of blood. So there was no doubt in my mind that, 'Hey, it's gonna be a penalty.'"
Brees' reaction enraged earlier generations of NFL players, who saw nothing but a standard football play. ESPN analyst
Trent Dilfer said on ESPN Radio
that the penalty was an example of how "the NFL product sucks" and suggested that "roughhousing" is now illegal in the NFL.
Dilfer called Brees a "dear friend" but added: "You're not preventing Drew Brees from getting a concussion by making that call. You're preventing him from getting a bloody lip.
"I was insulted when he came into the presser and said, 'I expected to get the flag thrown.' I can't tell you how many retired quarterbacks texted me … We played a game where we had to stay in the pocket and get hit in the face. We're not saying we're as good as Drew Brees. We're not saying he's soft. We're not saying the guys he is playing with are soft. But part of the badge of honor of playing quarterback in the NFL was standing in there and taking shots in the face and throwing a 20-yard dig route. That's what separated you from the other guys. Now that's just not part of the game."
Has the NFL gone too far? Has it substantively changed the game even as quarterbacks find new ways to get injured? ESPN's NFL Nation asked quarterbacks and defensive players to address the topic.
"I think the most important thing is that the league is protecting all players and making sure of the players' safety. The quarterbacks are in one of the most vulnerable positions and whatnot so they definitely deserve that. And that's what it really comes down to, player safety."
-- Detroit Lions DT
Ndamukong Suh
, as told to ESPN.com Lions reporter Michael Rothstein
---
"It makes it extremely difficult for pass-rushers and I think safeties. Especially I'd say guys going after the quarterback, because there's so many compromising positions that guys are in. You know, you're battling a guy, and all of a sudden the quarterback's there. And a lot of times, they're swiping at the ball and they catch a part of your head. I mean, there's things like that that are, 'OK, that's just a glancing thing. That was unintentional. No big deal.' I think it's the 'lead with the head' or 'explode up through your head/chin area' [that they're trying to prevent]. And again, I don't think what Ahmad Brooks did was intentional at all. I think he's a heck of a football player and a clean football player. A hard-nosed, clean football player. But you look at the result of that, and again it's in real time. You can slow it down all you want and watch it and say, 'Look where the ...' But I can tell you how I felt when I got hit. It felt like I got my head ripped off. And I get up and I've got a mouth full of blood. So there was no doubt in my mind that, 'Hey, it's gonna be a penalty.'"
-- New Orleans Saints QB
Drew Brees
, as told to ESPN.com Saints reporter Mike Triplett
---
"Quarterbacks are the bread and butter of the league. I guess you have protect your investment. It's definitely not easy, but I guess you have to play within the rules. As a pass-rusher, I saw nothing wrong with [Brooks' hit on Brees], but there was a flag and whatever else came along with that, it did. It's tough, but we to play within the confines of the rules."
-- Indianapolis Colts LB
Robert Mathis
, as told to ESPN.com Colts reporter Mike Wells
---
"No. I mean, I'm the wrong guy to ask, but no. They're trying to protect all the players, I think. No one wants to see injuries, no matter what position you play. But no team wants to see its quarterback get hurt. That's the way it goes. I'm sure San Francisco doesn't want to see their quarterback get hit either. Most defenses won't like it, but I'm sure every coach, every GM and every owner will appreciate what they're doing to protect quarterbacks."
-- New York Giants QB
Eli Manning
, as told to ESPN.com Giants reporter Dan Graziano
---
"I feel there's a strike zone running from the shoulders to the knees for a quarterback. If you go down to the knees of a quarterback, you're going to get called. You go up to the head, you're going to get called. It's tough. You're playing full speed and at the last second we're trying to avoid a tackle and duck and move. Sometimes, things happen."
-- Kansas City Chiefs QB
Alex Smith
, as told to ESPN.com Chiefs reporter Adam Teicher
---
"Yup. They are. They definitely are doing way too much, going way overboard to protect quarterbacks, and it's crazy, because we can't play the way we want to play. There's nothing you can do. You can change the way you play, but they're just going to make another rule."
-- New York Giants DE
Jason Pierre-Paul
, as told to ESPN.com Giants reporter Dan Graziano
---
"Yes. I think if you look at the play, I didn't see any helmet-to-helmet [contact]. I'm not an expert on the rulebook. But from looking at the rulebook, you're not supposed to hit the quarterback with your helmet or lunge or torpedo. But I didn't see any of that happen on that play. And of course as a defensive person, they do overdo it when it comes to quarterbacks. They're playing football just like we are. I always think about it: When am I defenseless? I don't think I'm ever defenseless on the field. But you can't hit [quarterbacks] too low, you can't hit him too high, you can't hit him too hard, don't slam him too hard, don't touch his helmet, don't hit his arm. Play football."
-- Miami Dolphins defensive end
Cameron Wake
as told to ESPN.com Dolphins reporter James Walker
November, 14, 2013
Nov 14
9:00
AM ET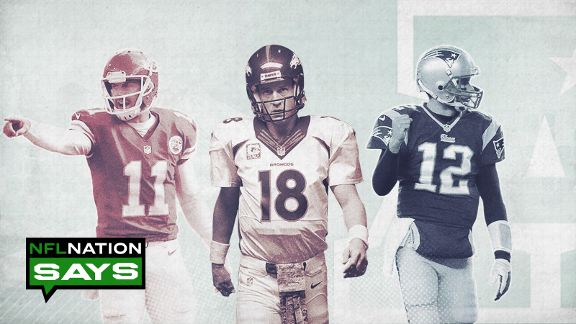 ESPN IllustrationThe AFC's top teams could be in a four-way race for the conference's top seed.
Peyton Manning
's weekly exploits this season have crafted a narrative that assumes the
Denver Broncos
are the NFL's top team.
A quick look at the standings, of course, reveals they are not even atop their own division. If the
postseason began today
, the Broncos would be the AFC's No. 5 seed and would be preparing for a wild-card playoff game at the
Cincinnati Bengals
.

The AFC playoff race could be upturned as early as Sunday night, when the Broncos (8-1) host the West-leading
Kansas City Chiefs
(9-0). And with seven weeks remaining this season, it's more than reasonable to project a four-team race for the AFC's top seed and home-field advantage throughout the playoffs.
The Chiefs hold a two-game lead over the
New England Patriots
, a three-game lead over the
Indianapolis Colts
, and four over the Bengals. Keep in mind, however, that the Chiefs have feasted this season on a schedule filled with average (or worse) teams. The Broncos' schedule hasn't been much different.
In fact, as John Parolin of ESPN Stats & Information points out, the Chiefs and Broncos are a combined 17-0 against teams that are currently .500 or worse. On the only occasion when either team has faced an opponent with a winning record, the Broncos fell 39-33 to the Colts.
Meanwhile, four of the Bengals' six victories have come against teams that have winning records. The Colts have three such victories, including the only losses suffered by the Broncos and
Seattle Seahawks
. The Patriots have two such wins.
All of this suggests the AFC could be headed toward a more dramatic finish than it might otherwise seem. How will it turn out? Let's turn it over to ESPN's NFL Nation:
KANSAS CITY, Mo. -- The
Kansas City Chiefs
may not be the most intimidating of teams, but they do a lot of little things that add up. They do enough of them well that it's reasonable to believe they could emerge from the AFC to represent the conference in the Super Bowl.
The Chiefs play some good defense, which actually isn't a small thing. They allow some yards and give up some big plays, so their statistics aren't always pretty. But the Chiefs pressure the opposing quarterback (league-high 36 sacks), create turnovers (league-high 23 takeaways ) and are great playing inside their own 20 (they allow opponents a touchdown a league-best 23 percent of the time).
But the Kansas City defense doesn't settle for stopping opponents or putting them in bad situations. This D also scores. The Chiefs have five defensive touchdowns, or almost one-half of the 11 touchdowns they have allowed.
The Chiefs have been strong on special teams. They've scored two touchdowns in the kicking game, but perhaps more importantly, they're consistently winning the field-position battle. The Chiefs have started 21 possessions on their opponents' side of the field. Their opponents have started just four drives on Kansas City's side of the field.
Turnovers can explain some of that disparity. Strong kick returns and good kick coverage explains the rest.
Offensively, the Chiefs aren't scoring many points but they also aren't messing up a good thing. The Chiefs have committed just eight turnovers, fewest in the league. The offense has been at its best while protecting a lead and running out the clock in the fourth quarter.
That's another quality that isn't very impressive on the surface. But it is another little thing that makes the Chiefs tough to beat.
-- ESPN.com Chiefs reporter Adam Teicher
ENGLEWOOD, Colo. -- There are plenty of coaches in the league who will say, whenever faced with a choice between one team or another, always go with the quarterback.
And among the AFC front-running teams, the quarterback who is playing the best and has done the most -- sore right ankle or not -- is
Peyton Manning
. So, until such time as that is not the case, the Broncos remain the best bet in the conference to make the Super Bowl.
Yes, they have lost a game, but they were a
Ronnie Hillman
fumble on the Colts' 2-yard line from making it a six-point game with just over three minutes to play. Yes, Manning has been hit more over the last four games, and yes, his ankle is a concern as the Broncos brace for a three-game stretch that includes the
Kansas City Chiefs
twice and the
New England Patriots
.
But as cornerback
Champ Bailey
has put it: With a guy like Peyton, you always feel like you have a chance in any situation, that you're always going to be in position to do great things. As a player, that's as good as it gets.''
And despite all the concerns from near and far about how much Manning's throws do or don't wobble, the Broncos are still the only team averaging more than 40 points per game (41.2) and Manning is still on pace to break every significant single-season passing record.
His 33 passing touchdowns are more than any other team has scored this season, and three Broncos receivers already have nine touchdown receptions each, which ties them all for second in the league, with
Calvin Johnson
.
Plus, they have blocked two punts on special teams and scored three times on special teams, so the Broncos can force the issue in other ways. And beyond their ability to keep Manning healthy, the team's defense is generally regarded as the weak link in the chain.
But the Broncos continue to believe
Von Miller
will round into form after missing the first six games due to suspension, that Bailey will get back in the lineup, and that they will find the same groove the unit had for much of the 2012 season when the D finished at, or near, the top of every major defensive category.
Front to back, from the quarterback through the entire depth chart, the Broncos are the most well-rounded team in the AFC.
-- ESPN.com Broncos reporter Jeff Legwold
FOXBOROUGH, Mass. -- Bill Belichick-coached Patriots teams have traditionally become stronger in November and December, which has been a key ingredient in their decade-long success. When the weather gets colder, and the magnitude of the games become greater, they are often at their best.
On top of that, one of the main things the Patriots have going for them is they are 7-2 without having played a game in which their top three skill-position players not named Brady (tight end
Rob Gronkowski
, running back
Shane Vereen
and receiver
Danny Amendola
) have been on the field together.
That day is coming, possibly as soon as this upcoming Monday night, which means the explosive offense many thought we would see in 2013 could become a reality. Gronkowski, it should be noted, is still working his way back and is not yet at 100 percent participation in games (he's averaged 44 snaps per game in three contests since returning).
So the potential for greater things on offense is clearly there, while the injury-ravaged defense remains a bit of a question mark. But then one remembers that cornerback
Aqib Talib
, who was part of ESPN's MVP Watch before injuring his hip on Oct. 13, has missed the last three-and-a-half games. The return of Talib could cure a lot of the team's recent defensive ills.
Furthermore, it always helps to play one of your top competitors at home (the Broncos on Nov. 24). The Patriots have one of the NFL's best home-field records over the last decade-plus.
Overall, while there are several new players, this Patriots team has a familiar look to past clubs that won the AFC: They fare well in the turnover differential, aren't heavily penalized, and rise up in the critical situations. Add it all up and that makes them a top AFC contender.
-- ESPN.com Patriots reporter Mike Reiss
INDIANAPOLIS -- The Colts have been at their best when they've played the best teams in the league. They've beaten San Francisco, Seattle and Denver, all likely playoff teams, proving that they know how to rise to the challenge.
Indianapolis' Super Bowl aspirations appeared to take a substantial hit when receiver
Reggie Wayne
went to the ground with a torn ACL in the final minutes of the Oct. 20 victory over the Broncos. Losing Wayne leaves quarterback
Andrew Luck
with
T.Y. Hilton
and a group of inexperienced and unreliable receivers to go with an offensive line that's had a difficult time blocking. You would think those issues would make it virtually impossible for the Colts to have any chance of advancing out of the AFC.
That's not the case when Luck is your quarterback. He simply knows how to win. Luck played behind an offensive line that gave up 41 sacks during his rookie season, but he still managed to set rookie records in passing yards and touchdowns while leading the Colts to 11 victories and the playoffs. Indianapolis has a favorable schedule over the final seven weeks of the season, which means Luck has an opportunity to develop the same kind of continuity with his receivers that New England's
Tom Brady
has with his. Only three of the Colts' final seven opponents currently have a winning record. Luck obviously isn't on the same level as Brady, but the young QB can take a page out of the future Hall of Famer's book about getting the best out of a group of inexperienced receivers.
The defense has been solid when the entire unit has been together. Starting cornerbacks
Greg Toler
and
Vontae Davis
and safeties
LaRon Landry
and
Antoine Bethea
feed off each other's energy and aggressiveness. Linebacker
Robert Mathis
, the league leader in sacks, has been on a mission all season to prove he can still produce without
Dwight Freeney
. The defense seems to come up with a big play when necessary. Just ask Peyton Manning.
-- ESPN.com Colts reporter Mike Wells
CINCINNATI -- OK, it's true. The last two weeks haven't been very kind to the
Cincinnati Bengals
as they have lost consecutive games to teams they probably should have beaten. But here's the reason why they have as much of a shot at winning the AFC as anyone else: Mike Zimmer.
Cincinnati's defensive coordinator has been nothing short of brilliant this season. The adjustments he's had to make because of the bevy of major injuries have kept the Bengals afloat this season and allowed the defense to maintain its spot among the league's elite. Entering Sunday's Week 11 showdown with the Browns, the Bengals' total defense ranks fifth in the league. Among the current division leaders, the
Kansas City Chiefs
are the only other team with a top-10 defense (at No. 10).
Doesn't that old adage about championships say something about defense winning them?
Another reason the Bengals could win the conference in the postseason has to do with the following. Quarterback
Andy Dalton
hasn't been as sharp in the last two games as he has been overall this season, but he has shown that he can put together a string of four straight good games. In the playoffs, that's all a quarterback has to do. It's been said all season that however Dalton goes, so go the Bengals. When he's good, they are very good because of that dominant defense. When he's bad, they aren't very good.
Dalton and his top target, receiver
A.J. Green
, are the type of players who perform best when they are being discounted and when they feel their proverbial backs are against the wall. For that reason, expect the quarterback to come to life in the coming weeks and to snap out his recent funk. If that happens and Zimmer continues to call strong games, the Bengals will win this conference.
-- ESPN.com Bengals reporter Coley Harvey
November, 7, 2013
Nov 7
9:00
AM ET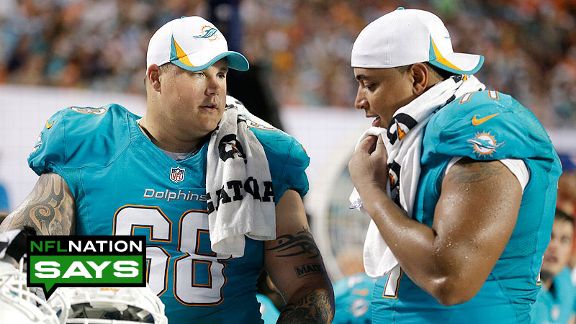 AP Photo/Wilfredo LeeThe NFL is investigating the troubled relationship between Dolphins offensive linemen Jonathan Martin, right, and Richie Incognito.
How did the
Miami Dolphins
' locker room descend into a pit of apparent bullying and harassment, amid racist undertones, less than halfway through the 2013 season? Perhaps a better question is this: In this country's most primal game, what prevents such instances from happening more often?
ESPN's NFL Nation sought an answer this week as
the Dolphins dealt with fallout
of a seedy voicemail from lineman
Richie Incognito
to teammate
Jonathan Martin
, part of a larger story that culminated when Martin left the team last week. The consensus: Coaches maintain ultimate responsibility for the locker room, but in reality, players handle and police the interaction within.
That job falls to veteran leaders and/or captains; Incognito was considered both by the Dolphins. That twisted dynamic, said retired NFL linebacker Ben Leber, helps explain how the situation got out of hand in Miami.
"The Dolphins are a young team," said Leber, who played 10 seasons for the
San Diego Chargers
,
Minnesota Vikings
and
St. Louis Rams
. "Richie was elected a team captain, and in that situation, I wonder if many of their guys felt intimidated by him indirectly. You're not going to tell an older captain what to do. From the sounds of it, he's a hard guy to deal with anyway.
"It's almost as if their culture in the locker room assisted in Richie getting away with this. No one else his senior could step up and tell him not to do it. If you have a thug as a team captain, it's hard to tell him to cut it out."
When the season began, the Dolphins
had the NFL's ninth-youngest roster
. Their offense was particularly youthful, with an average age lower than all but four teams. Another retired NFL linebacker,
Bart Scott, told ESPN Radio in New York
that Incognito's age -- he is 30 and in his ninth season -- put him in a natural and significant position of power.
"Everybody else is younger than him," said Scott, who played for the
Baltimore Ravens
and
New York Jets
over 11 seasons. "So he's kinda the guy they are looking to be a leader. And that's bad when one of your oldest guys is one of your worst guys and having to lead. ..."
Below, you'll find thoughts from active players around the NFL, all of whom were asked this question: "Who's more responsible for making sure hazing/bullying is kept under control in NFL locker room: the players or the coaches?"
Coach [Marc Trestman] got his point across from the first day he got here. Coach is like: "I want my guys, I don't care if it's a 12-year veteran or a rookie, I want you focused on football." So all that other stuff, do that on your own time. But when we're here, in this building a rookie, he's another man, and he's important to this team. He's not less of a man than any other guy.
-- Chicago WR
Brandon Marshall
, as told to ESPN.com Bears reporter Michael C. Wright
---
In this situation, it's hard for me to believe another grown man was bullied unless you allow it to happen. You give that situation a chance to spread. It's a messed up situation. I don't see anything wrong with Martin coming out and having a little brawl with the guy. You show you're a man, you show you still have a place here. When dudes overstep the boundaries, there's so many outlets. You've got player developmental directors, you've got other players, you've got coaches. That situation got out of hand. ... You're not supposed to break a guy. You're not supposed to make him feel he has no way out of a situation. Absolutely, he does. He's a man at the end of the day, and he has to provide for his family.
-- Philadelphia CB
Cary Williams
, as told to ESPN.com Eagles reporter Phil Sheridan
---
If there's a problem I hope the guys around here would be able to come to me or Poz [linebacker
Paul Posluszny
] or [center
Brad] Meester
or whoever they feel is the leader and say how they feel without getting any backlash. ... Now I'm not a big hazing guy. I'm not a big hazing guy at all, but at the end of the year we are going to have a running back dinner. Granted, we're not going to spend -- let me put it this way, your money goes off where you were drafted. We're not going to have a fifth- or sixth-rounder pay $30,000. Come on, let's be reasonable. ... You've got to go through it and that's just part of being -- I don't want to say it's part of being accepted -- but it's just part of our culture, this NFL culture.
-- Jacksonville RB
Maurice Jones-Drew
, as told to ESPN.com Jags reporter Michael DiRocco
---
If somebody sees something, you have to kind of handle it internally. Somebody needs to step in and take care of it before it gets turned into a real problem. I guess that's what didn't happen there. ... Let's separate a voicemail from hazing because that's not hazing. That's an anomaly. That's a tremendous lapse in judgment. It has nothing to do with hazing in my opinion. Hazing is haircuts, hazing is filling a guy's car with package bubbles, putting water under their door at the hotel. It's pranks, it's carrying a helmet, all that stuff but all the while being respectful of that person and also sensing if somebody isn't well equipped to handle that and kind of tapering off a little bit.
-- St. Louis DE
Chris Long
, as told to ESPN.com Rams reporter Nick Wagoner
---

We're not a hazing team. That's not what we are about. Anybody who comes into our locker room is a teammate. You don't have to earn your stripes that way. ...
Ray Rice
is huge into the anti-bullying campaign. It's all of us who have kids who feel very strongly about that. So, as older adults, parents, coaches, teachers, I would think that we would be all over that in our society right now, especially with computers and all the different things that are going on with social media. That's our responsibility to train our kids how to treat one another.
-- Baltimore coach John Harbaugh, as told to ESPN.com Ravens reporter Jamison Hensley
---
If what is said is true, I think it's completely unacceptable, 100 percent. And it's on a lot of people. It's on players in that locker room that allow it to go on. It's on anyone that knew about it that didn't step up and say something. Look, all I have to go on is what a voicemail said. And if the voicemail is indicative of the other things that are being said, absolutely 100 percent unacceptable. There's no excuse for it. If that's said at any point, under any circumstances, it's just not right. And that's not a football issue, that's not a locker room issue. That's a life issue.
-- New Orleans T
Zach Strief
, as told to ESPN.com Saints reporter Mike Triplett
---
Everybody is different. Everybody is not built the same. What may affect you, it may not bother me and vice versa. It's the same way with how coaches deal with players. Some players can take getting cussed out and yelled at in front of everybody. It'll make them play better. And then some players, they go into a shell and they get worse. So you've just got to know your personnel and who you're dealing with. But you know, you see a little hazing here and there. We joke around in the D-line, but we all love each other. If you mess with one of us, you're going to have all of us on your head. That's the main thing.
-- Cincinnati DE
Michael Johnson
, as told to ESPN.com Bengals reporter Coley Harvey
---

I think I've got a pretty good feel for the guys in there. Obviously, that's something that you always want to keep a close eye on and keep monitored. But I don't think we have any issues with any of that type of stuff on this football team. And really that was a point that we tried to make in training camp: not really hazing the rookies. We need everybody and if we're going to get this culture the right way and if we're going to win football games like we believe we're capable of winning, then we're going to need everybody in that locker room. I think ultimately that's my responsibility.
-- Oakland coach Dennis Allen, as told to ESPN.com Raiders reporter Paul Gutierrez
---
It's the players. But how do you police it if you have your most esteemed vets doing it? Others have to have the responsibility and step up. It's the same line that's drawn across the line in society. You don't put your hands on somebody. You don't say racial things or derogatory things about their family. It's the NFL. I think the rookie dinners are part of the game, especially if you're a high draft pick. That's a big deal. Now, if it's a rookie dinner every week? No. It's either one at the beginning or one at the end. But it's not, "We're going to Vegas and give me 15." That makes the players not want to be around you.
-- Washington LB
Nick Barnett
, as told to ESPN.com Redskins reporter John Keim
---
There's only so much the coaches can do. They are not in the locker room every day. They only hear so much about what's going on so what can you do if you're getting everything secondhand. ... I think it falls on the players and you've got to police it. Like I just said, there's a decent way to do everything. Even if you are going to do hazing, there's a decent way to do it. I feel like this is part of being a rookie but we still love you like a brother. That's a way to do it versus saying it's part of being a rookie and you're not equal to us.
-- Detroit WR
Nate Burleson
, as told to ESPN.com Lions reporter Michael Rothstein
October, 31, 2013
Oct 31
9:00
AM ET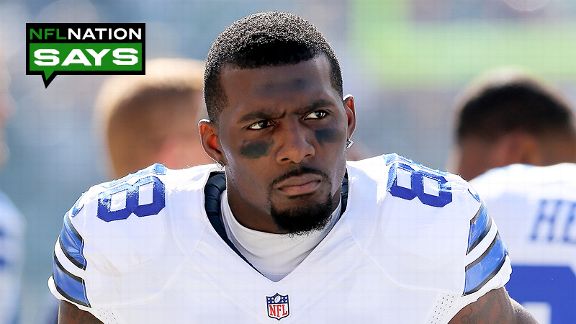 Elsa/Getty ImagesWhat's the best way to handle a player who loses his cool, like Dez Bryant did on Sunday?
Did
Dez Bryant
cross the line Sunday at Ford Field? Did his emotional release on the
Dallas Cowboys
' sideline look worse than it was? Did it distract the Cowboys' focus and contribute to a late collapse in a
31-30 loss
to the
Detroit Lions
? Or is it merely an excuse to cover for the Cowboys' deficiencies?
Reasonable people can disagree on the substantive impact of Bryant's prolonged expression of outrage.
Speaking on ESPN
, former NFL receiver Keyshawn Johnson said Bryant had a right to be upset about the Cowboys' failure to get him the ball in critical situations.
ESPN columnist Jason Whitlock wrote
: "He was clearly out of bounds on Sunday. He was too caught up in the one-on-one duel he was having inside his head between himself and [Lions receiver
Calvin Johnson
.]"
What's indisputable is that sideline outbursts, and even fights among teammates, long have been a part of NFL culture. Coaches often get into the act,
as we saw earlier this season
between the
Green Bay Packers
' Mike McCarthy and quarterback
Aaron Rodgers
, and sometimes it devolves into coach-on-coach crime. (See: Buddy Ryan and Kevin Gilbride, Houston Oilers, circa 1994.)
If you accept the premise they are part of the game, you move on to what might be a more important question: How should they be dealt with in the heat of the moment? Bryant's episode provides instruction on the various possibilities.
Cowboys receivers coach Derek Dooley quickly snapped at Bryant and moved on. Quarterbacks coach Wade Wilson didn't acknowledge him, while head coach Jason Garrett kept Bryant at arms' length while trying to speak with quarterback
Tony Romo
.
Tight end
Jason Witten
lost his cool, matching screams with Bryant, while defensive end
DeMarcus Ware
-- in street clothes because of injury -- quietly stood face-to-face with him.
What's best when a player is out of control? ESPN's NFL Nation tried to find out:
"I've had to calm somebody down before. I think the best way to handle it is just pull him aside and say. 'Yo, calm down, you've got cameras all around, you don't want people to think we've got a problem out here.' I think you have to look at it like if you've got something to say, let's say it without all the extra stuff. Let's deal with it and move on. You've got to keep everybody in the game, no matter what."
--
Denver
safety
Mike Adams
, as told to ESPN.com Broncos reporter Jeff Legwold
---
"Maybe we can get a shot clock on it, right? I don't know. If it becomes the helmets [are] off, then it can be a little destructive, but I can't say enough. I've thrown my helmet plenty of times. I've been nose to nose with coaches plenty of times, with other players. It happens, you know? And again like I said, that's a sign of someone that's invested. I have a bigger problem with people that are detached that are just like, counting butterflies on the side when you're trying to get a win. So, yeah, maybe you shouldn't go on all the time, but honestly I saw the clips, I didn't think it was that big. Now all of a sudden the audio comes out and everybody's like, 'Oh, he's so passionate.' Give the kid a break. He was hot, for a minute. It's just like family. You're around each other every day, all the time, sometimes you need a vent session. [But] sometimes you need to just, hey, L-E-T it, let it go. Move on."
--
Minnesota
defensive end
Jared Allen
, as told to ESPN.com Vikings reporter Ben Goessling
---
"Usually, the guys are comfortable with the other guys. So ... because [we] know the guy's personality, we'll know more about what's going on than the people watching on TV. So just deal with it like any confrontation, whether it's positive or negative. Hand gestures and mouths moving, you can't really hear what's going on. People just see. For us, it's just like any conversation. You just talk to them like a regular person."
--
Chicago
tight end
Martellus Bennett
, as told to ESPN.com Bears reporter Michael C. Wright
---
"You've got to control your emotions. You can't show up your quarterback, but [when] you're passionate about winning sometimes that's going to happen as competitors. That's why you've got to have leaders and guys around to make sure you stay positive and make sure the common goal is winning and helping the team win.
--
Pittsburgh
receiver
Antonio Brown
, as told to ESPN.com Steelers reporter Scott Brown
---
"The most important thing is that you have to cool everybody down and address the issue. There is no reason to get into a bickering or a fighting match with one another, because if you do that, the next series you're up you're still thinking about the problems on the sideline. So the most important thing is calm yourselves down, address the issue -- talk about it, write about it -- and move forward. If you do that and allow that, then it makes the game smoother throughout the course of the game."
--
New England
defensive end
Andre Carter
, as told to ESPN.com Patriots reporter Mike Reiss
---
"We have those all the time. I think people need to understand that happens on every team.
Tom Brady
has had it happen. We have those every game, every team has those guys with a lot of emotions. You just have to know everybody is looking at you and get yourself so that you stay in the game mentally. If you're a leader, you can't make a habit of losing your composure. You can be mad, upset, but you can't get so far out [that] you lose your composure, get yourself out of the game. Because when it's over you still have to go play."
-- Denver cornerback
Chris Harris
, as told to ESPN.com Broncos reporter Jeff Legwold
---
"It's a tough balance between being super passionate about what you do and wanting the ball and wanting to win, but also coming across the right away. ... Sometimes it's like a family that fights. My wife's family, they all sit there and yell at each other every day and then two seconds later they say, 'I love you,' and hug."
--
Green Bay
linebacker
A.J. Hawk
, as told to ESPN.com Packers reporter Rob Demovsky
---
"If he's going to do it, pull him to the side. Don't do it on live TV. I understand being emotional and all that. You got to understand we're all grown men. You've got to respect each other. ... Sometimes it needs to be done, especially on the defensive side. There's a good way to do it and a bad way to do it. When people are listening to you, it's a good thing. If you do it all the time, I don't think people will listen to you."
--
Carolina
defensive end
Charles Johnson
, as told to ESPN.com Panthers reporter David Newton
---

"If he's yelling at me, I'm going to have to tell him something, obviously. But you don't want it to be a big whole thing on the sideline at the same time. You might try to tell him something, but not [something] that could fire him up. You already know that he's fired up."
--
Miami
receiver
Mike Wallace
, as told to ESPN.com Dolphins reporter James Walker
---
"I've been one of those guys. I just think that's a part of the game. It's an emotional game. I think Dez Bryant is a tremendous player. I think he's just a guy that wears his emotion on his sleeve. To a degree, when you're young like that, that's the way you know how to express yourself. I've dealt with those things and still deal with those things today."
--
Philadelphia
cornerback
Cary Williams
, as told to ESPN.com Eagles reporter Phil Sheridan
---
October, 24, 2013
Oct 24
9:00
AM ET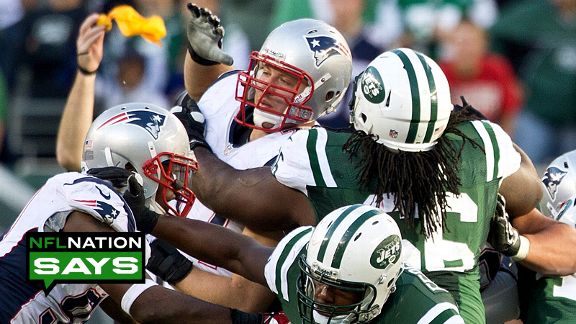 Matthew J. Lee/Getty ImagesThe penalty on Chris Jones brings up the question: Are NFL rules too complex?
Knowing the rules seems the most essential requirement for NFL players, coaches, executives and, yes, officials. So why has 2013 brought so much confusion about the league's official rulebook -- what it says, what it means and how it should be applied?
In examining the issue this week, ESPN's NFL Nation learned that the league will analyze and possibly streamline a set of rules that has grown unwieldy with exceptions, specific scenarios and archaic applications. Indeed, even some of the league's most experienced officials have tripped this season in applying rules.
The issue should come as no surprise, according to former NFL referee Gerry Austin, now an ESPN analyst. A decade's worth of adding nuances to prevent specific instances, not to mention the expansion of instant replay, have taken its toll.
"Over the last 10 or 12 years there have been some changes in rules and interpretations," Austin said. "Up until that point, there were some truly basic guidelines that an official on the field could follow and apply in application of the rules. Now, one overriding factor is that every rule has numerous exceptions. Those all came about when an instance would occur and decision would be made to incorporate it into the rulebook. Now the NFL rulebook has such a large number of exceptions and that adds to the complexity of things. We always had a hard-core basic set of application guidelines and process, and I think that maybe over the past 12 years those got messed with some."
According to Austin, there is hope that NFL vice president of officiating Dean Blandino will conduct "an in-depth analysis and see where they can bring some of those changes back to the center, so you can get back to a core application of the rules instead of saying, 'This rule applies
except …
"
In a statement, NFL spokesman Michael Signora said the league is "constantly studying ways we can improve all facets of our game, including officiating. … That includes a rigorous review of the rules, which we analyze each season to identify areas for improvement. The goal of our officiating department is the consistent application of the rules across the board. If there are aspects of the rules we can simplify to aid in that effort, we will work with the Competition Committee to recommend those changes."
The complexities have at least contributed to a series of incorrect decisions, several of which occurred last weekend. Among the examples:
None of these mistakes were issues of judgment. Coaches and officials weren't arguing whether a receiver was interfered with, or if an offensive lineman was holding or whether a running back got the ball past the first-down marker. They were a simple confusion of facts by officials who take weekly rule tests and discuss the answers in pregame meetings.
Technically, there are 17 rules listed in the 2013 NFL rulebook. Those 17 rules, however, are spread out in tiny type over a 121-page document in PDF form. That should give you some idea of the nuance now inherent in playing, administering and managing an NFL game. Is it reasonable to expect officials, let alone coaches and players, to have it all on quick mental recall during a game? ESPN's NFL Nation questioned a cross-section of the league to find out:

"You've got to be able to take what's on the page [of the rulebook] and you've got to be able to say, 'OK, how are we going to coach this?' That's a process I go through with the officials every week. You send stuff into the officials for a reason. You don't send it in and say, 'You guys were wrong.' You send it in for, 'Now we have to coach our team going forward. Tell us what you're going to do here.' That [push play] is a great example. We're going to show that play to our team and reaffirm what you can and can't do and what the officials' interpretation is going to be."
-- Cowboys coach Jason Garrett, as told to ESPN Cowboys reporter Todd Archer
---

"I think the hard part is there is no real consistency in the way it's called, because it's a human [element], and the referees have to interpret. They do the best they can. That's the thing you have to understand. It's hard. … I don't think there are too many rules. The rules that are being made is because of the safety element."
-- Panthers coach Ron Rivera, as told to ESPN Panthers reporter David Newton
---
"I heard that that one [field goal rule] was voted on by the players. So that's a rule that you have to abide by. They're stated pretty clearly. Sometimes you obviously have issues with some calls, but for the most part you understand all the rules. Sometimes some rulings can be ambiguous, but if you're penalized for something, especially at your own position, you know [the rule]."
-- Bills center
Eric Wood
, as told to ESPN Bills reporter Mike Rodak
---

"The whole game has become more sophisticated over time, you've got to try to stay on top of things. I haven't gone back to count or anything, but the rulebook is thicker now, for sure. But playbooks are thicker now, too, on both sides of the ball. Things evolve, that's how it is."
-- Broncos coach John Fox, as told to ESPN Broncos reporter Jeff Legwold
---

"There's a lot of [rules], all right? There's a lot of them and sometimes it's hard to keep them all straight, but that's part of what our job is and that falls on me as the head coach to make sure our players are informed of what the rules are and make sure that we don't have those costly penalties. But yeah, there's a lot of rules."
-- Raiders coach Dennis Allen, as told to ESPN Raiders reporter Paul Gutierrez
---
"There's a lot rules. We're asked to keep track of them, so I'm sure it's not too many for the referees and officials to keep track. It is difficult. It is difficult for us to know each and every time what is the right play in that situation. The rules are put in to protect the game, protect the players so you have to adhere to them."
-- Steelers safety
Ryan Clark
, as told to ESPN Steelers reporter Scott Brown
---
"You could pull out something that happens on every play, but they're not going to throw that flag on every play. So it is a little weird at times with some of the calls, but they're trying to do the best they can in protecting people and getting all the rules straight. But it does get to the point where you're like, 'Huh? What?' Because all these games are real close. All these games are very close and games are going into overtime and everything matters. So if it's a little ticky-tack foul that they think they can just call or whatever, that can hurt the game."
-- Bengals WR
Marvin Jones
, as told to ESPN Bengals reporter Coley Harvey
---
"Yeah, I do actually [have a grasp or know all the rules], because you know why, because our coaches talk about it. Now, the better question is: Do I think New England knew that was the rule [prohibiting pushing a player into the line on a field goal attempt] and tried to get away with it? Most definitely. They coached it. And that's fine, because you're gonna get away with some things."
-- Saints guard
Jahri Evans
, as told to ESPN Saints reporter Mike Triplett
---
"On a business side, I'll say no, I don't think they have too many rules because they have to cover themselves. From a player's point of view and just playing, I think there are too many rules."
-- Lions guard
Rob Sims
, as told To ESPN Lions reporter Michael Rothstein
---
"It's probably tougher on [officials] to remember everything or it's tougher on them to make the call when they know it's an infraction that could change the game. It puts a little stress on then. But they definitely know it. And if they don't, a lot of time they've got help with replay and all kinds of stuff."
-- Packers DT
Ryan Pickett
, as told to ESPN Packers reporter Rob Demovsky
.
October, 17, 2013
Oct 17
9:00
AM ET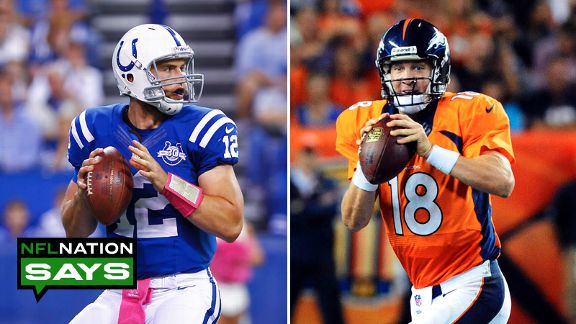 Getty ImagesAndrew Luck has shown some of same skills as Peyton Manning. How do they compare?
The past, present and future quarterbacks of the
Indianapolis Colts
will meet Sunday night at Lucas Oil Stadium, and ESPN's NFL Nation spent part of this week asking players if
Andrew Luck
is the next
Peyton Manning
.
Most of us should agree: There will never be another quarterback with Manning's combination of instincts, football intelligence, pocket presence and quick release. Let's not bother with that discussion. But can Luck provide the same essential service to the franchise? Will he guide the Colts at a high level through parts of two decades, as Manning did from 1998-2010?
Luck is off to a good start, having won 15 of his first 22 NFL games. Nine of those victories have come via game-winning drives in the fourth quarter, a topic we will inspect later this week, and he currently is the league's fourth-ranked quarterback via
Total QBR
. If he continues on that path, history tells us the Colts would have accomplished a rare feat in modern NFL history.
The chart illustrates the immediate transition from each of the nine Hall of Fame quarterbacks whose careers began after 1980. (We took the liberty of adding
Brett Favre
, eligible in 2016, as a 10th entry. Manning would be No. 11.) Usually, these transitions have failed and teams have taken decades to find a true franchise replacement. (Think: Terry Bradshaw to
Ben Roethlisberger
in Pittsburgh, Dan Fouts to
Philip Rivers
in San Diego and -- yes --
John Elway
to Manning in Denver.)
In some cases, they're still looking. (We're looking at you, Miami and Buffalo.)
The
Green Bay Packers
have proved to be the exception. If
Aaron Rodgers
plays out his seven-year contract, the Packers would have achieved 28 consecutive years of elite quarterback play from him and Favre. Can Luck be the Colts' version of Rodgers? Will he add a two-decade career on top of Manning's tenure?
Here's what ESPN's NFL Nation found:
October, 10, 2013
Oct 10
9:00
AM ET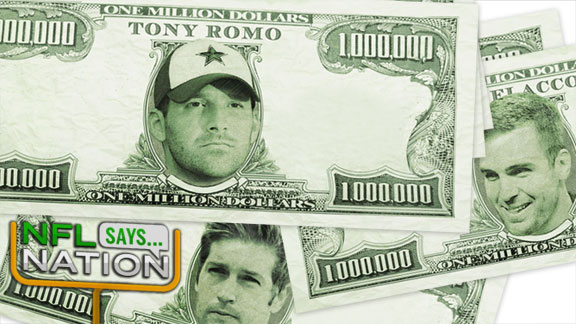 ESPN IllustrationWhich quarterbacks are providing the best value to their teams based on their contracts?
The dichotomy of NFL quarterback compensation was on full display Sunday.
First, we saw two of the league's better quarterbacks battle at Lucas Oil Stadium. The
Indianapolis Colts
'
Andrew Luck
plays under a contract that averages $5.527 million per season, while the
Seattle Seahawks
'
Russell Wilson
averages $749,000.
Later that afternoon, another pair of top quarterbacks squared off: The
Denver Broncos
'
Peyton Manning
($19.2 million) and the
Dallas Cowboys
'
Tony Romo
($18 million).
At the moment, at least, we can agree that the highest-paid player among the four -- Manning -- would be the preferred starter for all 32 NFL teams. As with any industry, however, the highest-paid employees are not always the most effective. So after five weeks of NFL games, ESPN's NFL Nation sought to determine which quarterbacks are providing the best value -- the proverbial bang for the buck.
This task proved to be a highly subjective analysis, but it did include a few objective facts for parameters. I considered the average per year (APY) compensation for each starter, provided by ESPN's Roster Management System, and compared it to his
Total QBR
as well as his team's win total.
We also took into account the natural advantage a team has with a young starter drafted in 2011 or later, on his first contract under the new collective bargaining agreement. Those contracts are lower by NFL rule and have helped spur a spike in the second and third contracts of established starters. But in some cases, cheap contracts are not of much value if they come with sub-par performance.
What follows is one rendering of the football's best value at the position, based on those parameters. NFL Nation team reporters provided their take and I offered a comment to explain my ranking and any discrepancies that might have arisen.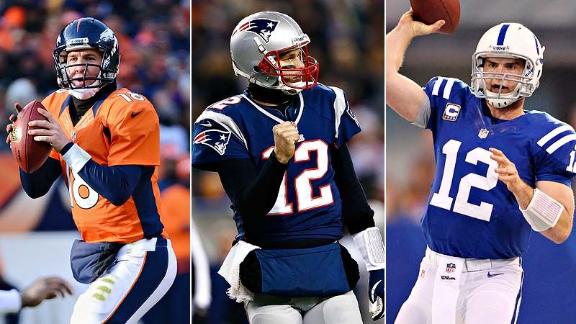 October, 3, 2013
Oct 3
9:00
AM ET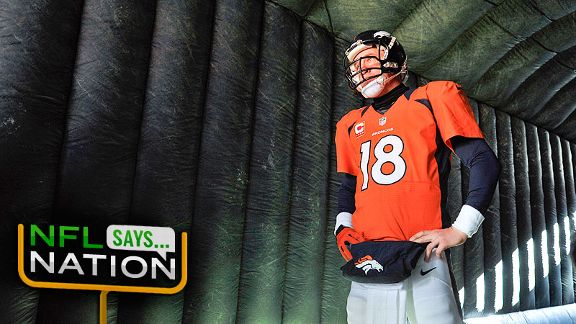 AP Photo/ Eric BakkePeyton Manning is having a historical start to his season -- can any team slow him down?
Every problem has a solution. Every problem has a solution. Every problem has a solution.
Mathematicians have drilled those five words into our heads for centuries. They provide minimal comfort, of course, for NFL teams charged with slowing what to this point in 2013 has been The Perfect Quarterback.
Peyton Manning
has led the
Denver Broncos
to a 4-0 start by throwing for more yards (1,470) and touchdowns (16) than any quarterback has over a season's first four games. He has completed 75 percent of his passes, the second-best mark after four games in history, hasn't thrown an interception and has taken just five sacks in 161 dropbacks. According to ESPN Stats & Information video charting, only 14 of Manning's 39 incompletions have been off-target. The rest were deemed catchable or throwaways.
Every problem has a solution.
What about a problem that seems to counter at every step?
Defenses have played two deep safeties extensively this season, guarding against big downfield plays. Manning has adjusted by emphasizing underneath routes. His average pass has traveled a modest 7.9 yards past the line of scrimmage, ranking No. 21 among NFL starters, and his receivers have accounted for an NFL-high 723 yards after the catch.
When opponents use a "light" box of six defenders or fewer, putting more defenders in pass coverage, Manning has checked into running plays. About two-thirds of the Broncos' total rushing yards (314 of 477) have come against those favorable alignments, according to ESPN Stats & Information. Only four NFL teams have more carries against light boxes.
Every problem has a solution.
How to solve this one? It's worth remembering what the German philosopher/mathematician Ludwig Wittgenstein wrote: "The problems are solved, not by giving new information, but by arranging what we have known since long."
What have we long since known about Manning? For one, that his typically stellar regular seasons have usually been stopped in the playoffs, where the league's best defenses await.
The 11 teams that have handed Manning playoff losses had an average rank of No. 8 in scoring defense in their respective seasons. Six were in the top six and 10 of the 11 were among the top 15. As a result, Manning's teams have averaged 16.1 points in those 11 games.
Every problem has a solution.
Well, almost always. In 2006, Manning and the
Indianapolis Colts
won Super Bowl XLI by scoring 29 points against a
Chicago Bears
defense that finished the season ranked No. 3 in scoring defense.
So what can good defenses do to slow down Peyton Manning in 2013? What is his kryptonite? Here is what NFL Nation says:
---
Score faster than a speeding bullet
[+] Enlarge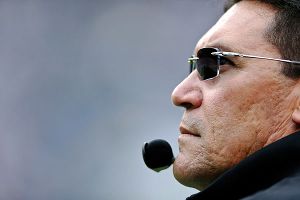 AP Photo/Gregory BullRon Rivera says the best way to beat Manning is to score faster than he does.
Ron Rivera gave a simplistic but realistic answer when asked for the secret to slowing down Manning before the
Carolina Panthers
faced Denver last season.
"Boy, I tell you what, hope he has a bad day," Rivera said at the time.
Rivera saw Manning have a couple of his worst days when he was with San Diego and Manning was at Indianapolis. The first came in 2007, when Manning threw a career-high six interceptions in a 23-21 loss. The second came in 2010, when Manning threw four interceptions in a 36-14 loss.
Manning has had four seasons in which he has thrown 10 or fewer interceptions, and he's working on another with none through four games. Rivera saw him have 10 in two games.
"There are some things that you can do against him, but you've got to have a group of guys that can handle it," Rivera said on Wednesday.
Rivera would not go into specifics, but he was adamant it was not all about schemes.
"People want to look at those games and say, 'Oh, defense, defense,'" Rivera said. "But … we scored points and put them in position where he had to throw the ball."
Rivera was the inside linebackers coach on that rainy November night. Manning still passed for 328 yards and two touchdowns, and had the Colts within a missed 29-yard field goal of winning.
"We tried to attack the way they protected, and tried to get immediate pressure on him and make him throw the ball before he wanted," Rivera said. "But as far as all the other stuff, it's an encompassing team effort."
The same was true in 2010 when Rivera was the defensive coordinator. Of Manning's four interceptions, two were returned for touchdowns.
The Panthers were too inexperienced and fell behind too far, too fast (29-7) to have a chance last season as Manning passed for 301 yards and a touchdown in a 36-14 victory in Charlotte.
"To beat a Peyton Manning team it's got to be a complete effort," Rivera said.
---
Slow down the locomotive's rhythm
[+] Enlarge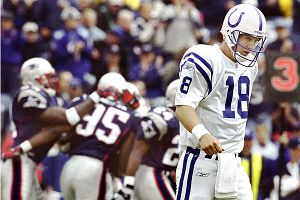 AP Photo/Winslow TownsonThe Patriots say breaking up Manning's rhythm by being physical against his receivers is key.
In speaking with past and present
New England Patriots
players about what worked best in games against Manning, all started at the same place: It's about disrupting the rhythm of the passing game.
Because Manning has traditionally been one of the toughest quarterbacks to sack, with his ability to diagnose defensive intentions early and get rid of the ball quickly, one of the more effective tactics for the Patriots has been physical play against his receivers. By decisively jamming them at the line of scrimmage, it can affect the quick rhythm and preciseness that is a trademark of any Manning-led offense.
That physicality theme usually resonates any week the Patriots are preparing to face Manning.
One of the classic examples came in a 2001 Patriots-Colts game when linebacker
Bryan Cox
delivered a thunderous hit on receiver
Jerome Pathon
that some pointed to as a catalyst for the team's turnaround that season. The Patriots were 0-2 at the time, a second-year quarterback named
Tom Brady
was making his first career start, and the defense had to pick up more of the slack. The Patriots pummeled Manning and his receivers to post a 44-13 win.
In addition to physicality, Patriots players past and present discussed the importance of mixing packages and coverages because Manning is so smart.
Add it up and it's no wonder that, in 2010, former Patriots defensive coordinator Romeo Crennel was dubbed as
"Peyton Manning's kryptonite"
by SI.com. The title was deserved considering there was a stretch of six straight games from 2001-2004 in which New England beat Manning, and Manning turned in some of the worst games of his career over that stretch.
A big part of that was that the Patriots had a talented defense, and NFL rulebook didn't favor the offense as heavily then as it does now. Some bone-chilling New England weather helped too.
But most of all, it was the ability to disrupt the rhythm of the passing game, usually with a heavy dose of physical play.
---
Force his vision to the middle
[+] Enlarge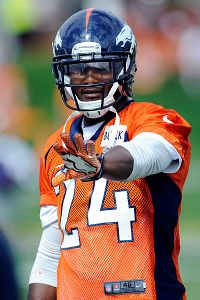 AP Photo/Jack Dempsey, FileChamp Bailey says Manning's precision passing has as much to do with his success as his ability to dissect defenses.
Earlier this season Broncos defensive coordinator Jack Del Rio, who gets an up-close-and-personal look at Manning every day, answered the question with only a slight smile. "I've said all along if I see a way to attack him, and I'm not saying I do, but if I see a way, I'm not saying. I just know I like the view a whole lot better now."
So do the Broncos. In back-to-back playoff losses to close out the 2003 and 2004 seasons, they largely attacked Manning with man coverage in the secondary and tried to spice some pressure up front. Former offensive coordinator Larry Coyer said he would try to "unleash mortal hell" in 2004. The totals for the two games: 49-of-59 passing for 835 yards and nine touchdowns.
Former Broncos coach Mike Shanahan, who coached the team in each of those playoff losses to Manning, also coached Manning at the Pro Bowl following the 2005 season. He has said, even in that informal setting, Manning was "trying to pick the brains of every player there to learn something he could come back to later … and a lot of people learn in the present, but he learns and retains. He doesn't just memorize, he learns and can apply it later."
But, no, he is not perfect. He has a 9-11 playoff record and lost his first game of a postseason eight times -- he misses throws, he tosses interceptions, things happen. It is just, as many defensive coaches around the league say, that you have to be in the right spot when he is wrong.
Those who find a way to get pressure in the middle of the field -- with a four-man rush so seven defenders can remain in the pattern -- fare the best against him. Manning tends to see edge pressure coming long before the snap and rarely holds the ball long enough for the outside blitzer to get there.
But those who prevent him from sliding forward as he works through his progressions can get him off his rhythm. Teams that have chosen coverage over pressure have fared better, at times, if they get a little weather on their side as well. But the defensive backs cannot make mistakes and have to limit the catch-and-run opportunities.
Broncos cornerback
Champ Bailey
, who started the Broncos' playoff loss against Manning to close out the '04 season, has been to 12 Pro Bowls in his career and has seen some of the game's best quarterbacks come and go. He always speaks of Manning's ability to solve defensive riddles in seconds at the line of scrimmage. He also says the quarterback's accuracy may be under-valued because so much attention is paid to how Manning thinks the game.
"He always, especially right now, but always puts the ball where it needs to be," Bailey said. "You can have the right technique, have good footwork, body position, maybe even beat the receiver to the spot, but he fits the ball in the one place it needs to be. So, he wins a play when you did everything right on defense. So, he wins all of them when you make a mistake, because he always finds the mistakes, and then he wins a lot of them when you do everything right. Add it up and you do what he's done."
---
Find strength in success
[+] Enlarge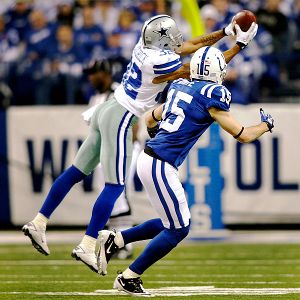 AP Photo/AJ MastOrlando Scandrick had a pick-six against Manning the last time Dallas played him, but the Cowboys still gave up 365 passing yards.
The
Dallas Cowboys
do not have to go back too far to see a human Peyton Manning.
They can just punch in Dec. 5, 2010, on a Google search for a refresher course as they are being reminded this week that the Broncos quarterback is playing better than any quarterback in the history of the game.
"It's the Indianapolis Colts instead of the
Denver Broncos
, he's a different kind of player -- all that kind of stuff -- different supporting cast," Cowboys coach Jason Garrett said. "But you know, you go back to games when you've had some success against a player or against a team or a scheme and you evaluate that, and you also evaluate when you haven't had success and make sure that you remedy those things."
The Cowboys did not sack Manning in that game, but they did move him around and show him different looks. He also happened to be in a major funk. In three straight losses to New England, San Diego and the Cowboys, Manning was intercepted 11 times.
"I thought we did a good job of executing and getting at least some pressure on him and making him move around a little bit," said linebacker
Sean Lee
, who had two picks of Manning and returned one for a touchdown. "With any quarterback, pressure is huge. With your coverage against a great quarterback you have to be detailed with your fundamentals. That's something we're going to have to be."
It was not a virtuoso defensive performance. Manning completed 36 of 48 passes for 365 yards and two touchdowns. Despite Manning's four interceptions, the Cowboys still needed overtime to beat the
Indianapolis Colts
that day 38-35, but they were playing with backup quarterback
Jon Kitna
and lost
Dez Bryant
to an ankle injury in the game.
"They scored 35 points on us," cornerback
Orlando Scandrick
said. "I don't want to trade four interceptions for 35 points though."
In the 24 games he has played since seeing the Cowboys, Manning has only three regular-season games with more than one interception.
The Cowboys are in a different scheme now than they were in then, and only the starters from that game who will start Sunday are
DeMarcus Ware
and Scandrick, who returned an interception 40 yards for a score against the Colts. Lee, was a backup, as were
Jason Hatcher
and
Barry Church
.
---
Rely on divine powers?
[+] Enlarge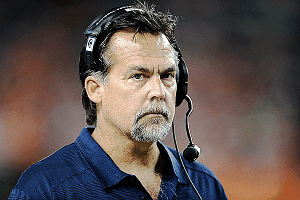 Ron Chenoy/USA TODAY SportsRams coach Jeff Fisher has a poor track record when facing a Peyton Manning-led team.
When dealing with Manning, it's all about tempo. Manning dictates it and the defense deals with it.
If there is an answer to be found in stopping Manning or even slowing him down, it is not to be found in St. Louis. From 2008-2010, Rams coach Jeff Fisher suffered a five-game losing streak against Manning when he was coach at Tennessee and Manning was leading the Colts.
In 18 meetings, Manning had a career record of 13-5 against Fisher's Titans. He threw for 4,559 yards, 31 touchdowns, 13 interceptions, a 70 percent completion rate and a 101.2 quarterback rating.
The Rams have not played Manning in a regular-season game since he got to Denver but they did play him this past preseason. In that game, Manning pushed the pace at a rate that had Rams defenders grasping for air in Denver's altitude -- ticking off 30 plays in the first quarter and 49 for 290 yards in the first half.
While Manning likes to go fast, it seems the biggest thing is not so much the speed as it is the way it's used to create an advantage.
When Manning wants to slow things down, he forces defenses to be more patient than they are usually willing to be and as soon as one defender makes a move, Manning identifies it and takes advantage of the pre-snap read.
"He kind of reads your mail, so to speak," middle linebacker
James Laurinaitis
said. "He knows how to get defenses to show their hand and tries to get them in the best play possible."
Still, it seems as though the best way to deal with the tempo is to be as patient as possible and to try to find the right timing to attack the snap count.
For teams looking to slow Manning, the best answer is to take advantage of the rare occasions when Manning makes a mistake. In that preseason meeting, the Rams forced a pair of turnovers, including an interception by
Alec Ogletree
. It left the Broncos with a 20-10 halftime deficit.
One other suggestion that was offered and probably isn't a new one for teams dealing with Manning: prayer.
---
A breath of freezing air
[+] Enlarge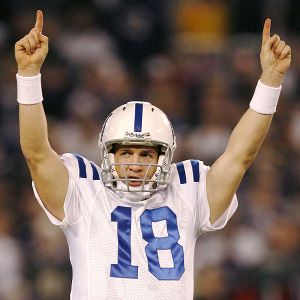 Jim Rogash/Getty ImagesManning did not throw a single touchdown during a cold 2006 playoff game -- but the Colts still managed to beat the Ravens.
A team's best chance to control Manning is to get him late in the season. Preferably outdoors in the cold. The
Baltimore Ravens
have beaten Manning just once since 2007 but their best game came against him in the 2006 playoffs.
In an AFC divisional playoff game in Baltimore, the Ravens kept Manning and the Colts' offense from reaching the end zone and picked him off twice. The Ravens lost 15-6, but they took pride in holding Manning to 15-for-30 passing for 170 yards.
Their lone win over Manning over the past six years came in last season's AFC divisional playoff game in Denver. Baltimore intercepted Manning twice and held him to one touchdown pass in the second half. That dropped Manning to 0-4 in playoff games when the game-time temperature dips below 40 degrees.
Manning is a quarterback who played most of his career in a dome in Indianapolis and has a history of not performing well in less-than-ideal weather. He is also a 37-year-old quarterback whose arm is not as strong in January as it is in September and October.
September, 25, 2013
Sep 25
6:55
PM ET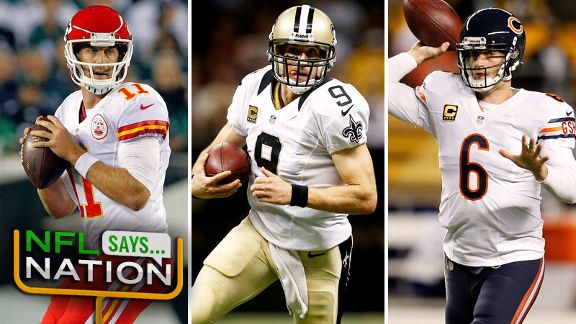 Getty ImagesAlex Smith, Jay Cutler and Drew Brees have led their teams to a 3-0 start.
The danger in getting excited about a 3-0 start is that pesky little thing known as "The Other Thirteen Games." Victories in the first three weeks can lead to a 15-1 season, as they did for the
Green Bay Packers
in 2011. Or they could mean a 2-11 finish and a fired coaching staff, as the
Arizona Cardinals
found out last year.
So let's keep our wits as we analyze the seven teams that have started this season 3-0. It has been four years since that many teams were still perfect after three weeks. The 2009 season offers another lesson in early conclusions: One of the seven (the
New Orleans Saints
) won the Super Bowl but two finished 8-8 and missed the playoffs altogether (the
New York Giants
and
Denver Broncos
).
So who is this year's version of the 2009 Saints? Are there any candidates to emulate the 2012 Cardinals? NFL Nation has some thoughts.
If there is anything to glean from the first three weeks of this season, it's the emergence of two early powerhouses. The
Seattle Seahawks
and the Broncos have outscored opponents by a combined 213-98, and their individual point differentials of 59 and 56, respectively, are by far the best in the NFL. (The next best is the
Kansas City Chiefs
at 37).
The Seahawks' path to Super Bowl XLVIII seems clear: Clinch home-field advantage at CenturyLink Field, where they have won 10 consecutive games, and book their ticket to New York. The Broncos, meanwhile, have scored the second-most points through three games in NFL history and only figure to improve as defensive stalwarts
Von Miller
(suspension) and
Champ Bailey
(injury) return to the lineup.
What about the rest?
Has Andy Reid built an instant Super Bowl contender in Kansas City, or will his Chiefs level off? Has
Ryan Tannehill
really developed into a championship-caliber quarterback for the
Miami Dolphins
?
Are the
Chicago Bears
for real after two fourth-quarterback comebacks followed by two defensive touchdowns in their victory over the
Pittsburgh Steelers
? The
New England Patriots
are fortunate to be 3-0, right? And has Sean Payton restored the Saints' magic? Let's take the pulse of NFL Nation.
Which 3-0 teams are legitimate Super Bowl contenders?
The Saints should definitely be considered as legitimate Super Bowl contenders, based on their offensive track record under coach Sean Payton and quarterback Drew Brees. Not only did they win the Super Bowl in 2009, but their offense was even better in 2011, when they finished 13-3 and set the NFL record for yards gained in a season (7,474). I don't expect an exact repeat this year, but I think that's closer to the norm than last year's 7-9 season.


Especially with tight end
Jimmy Graham
healthy again and back to being one of the most difficult matchups in the league. Clearly, however, the Saints need to improve a run game that has been practically non-existent to keep defenses honest and keep Brees upright.
Meanwhile, the Saints' young defense has been one of the biggest surprises in the NFL this year under new coordinator Rob Ryan. I still expect a few growing pains before the season is over. But they don't need to be dominant for the Saints to succeed. And I think they can continue to come up big in some big moments. Players are clearly responding to Ryan's energetic approach and versatile schemes. And they have some bona fide talent to work with in every unit -- including emerging young pass-rushers
Cameron Jordan
and
Junior Galette
. That was the biggest question mark heading into this season. If the defense can keep playing anywhere near this level, the Saints could run away with the NFC South title.
The undefeated Miami Dolphins are arguably the biggest surprise in the NFL.

But can the Dolphins be serious Super Bowl contenders? Let's temper those expectations. The Dolphins absolutely have playoff potential. This is a franchise that hasn't made the postseason since 2008. Ending that streak and having a winning season should be Miami's primary goals.


A 3-0 start is terrific, especially after beating the talented
Indianapolis Colts
and
Atlanta Falcons
in back-to-back weeks. But the Dolphins certainly have holes.
Depth is an issue in several areas and will be tested. Miami could be without several defensive starters -- defensive end
Cameron Wake
(knee), defensive tackle
Paul Soliai
(knee) and cornerback
Dimitri Patterson
(groin) -- against the
New Orleans Saints
on "Monday Night Football." The Dolphins also face issues such as pass protection (14 sacks allowed) and having the 28th-ranked rushing attack.
In addition to the undefeated Saints, Miami has tough games against the defending champion
Baltimore Ravens
(2-1),
New England Patriots
(3-0) and
Cincinnati Bengals
(2-1) before the end of October. The Dolphins cannot rest on their early success. They must continue to improve.
The health and production of second-year quarterback
Ryan Tannehill
is the biggest key. However, the Dolphins have a lot to prove over the course of 16 games.
Miami has a perfect record, but it's far from perfect.
Judging strictly from the numbers, the Kansas City Chiefs are legitimate Super Bowl contenders. They are No. 1 in the AFC in scoring defense, No. 2 in the conference in scoring differential and, most importantly, tied for first place with a 3-0 record.


But it's another number, one that will be impossible to sustain, that's feeding the Chiefs' success and threatens to reveal them as pretenders once it begins its inevitable correction.
The Chiefs are leading the league in turnover differential at plus-9. They are one of two NFL teams yet to commit a turnover. That's a statistic capable of making a good team look great as long as it lasts. The trouble is, it never does last, at least not at this rate. Once their turnover differential starts to balance out, here is the advantage the Chiefs will lose:
The Chiefs have started 10 possessions on their opponents' end of the field. Their opponents have started one in Kansas City's territory, and even that drive began at the Chiefs' 49.
Such consistently favorable field position can make life easy for a team, and credit to the Chiefs for enjoying the ride while it lasts.
It won't forever. When it ends, the Chiefs will have to make their own way.
Their defense looks capable of doing that, but their offense needs a boost. When it doesn't get one, the Chiefs will suddenly look mortal.
This 3-0 team is better than the Bears squad from 2012, which started 7-1, and is a legitimate Super Bowl contender for a variety of reasons. The Bears have already scored three defensive touchdowns, but the major difference is the club is getting contributions from both sides of the ball and special teams.

Chicago provided evidence of that with quarterback Jay Cutler engineering back-to-back, come-from-behind victories over Cincinnati and Minnesota to start the season, before coming through in the clutch on the road Sunday, bailing out a struggling defense to clinch a victory against the Pittsburgh Steelers.


The Bears racked up nine defensive touchdowns last season, which tied for the second most in NFL history. But at this juncture last year, the unit had only one score, yet basically carried the entire team through its impressive first half.
Through the 7-1 start in 2012, skepticism existed because the Bears simply hadn't played good teams. This year, the combined record of the teams first three opponents is 2-7. But don't be fooled, this is a better Bears team.
Cutler is one of the main reasons for that. He's matured. He's accepted the coaching. He's putting in more time to sharpen his craft, while shedding the enigmatic gunslinger persona for a more controlled approach. His protection is better. The front office has surrounded him with more weapons and an offensive-minded coach in Marc Trestman, who is the architect of a system Cutler believes in.
If there has been one constant of Bill Belichick-coached Patriots teams since 2000, it's that they usually get better as the season progresses. Surely, there have been exceptions (2009 comes to mind), but there are no indications this year's team is headed down that path at this point.


The defense has exceeded expectations through three games, although a lingering question is how much of the unit's success is a result of playing weaker competition. Sunday night's game on the road, against the fast-starting
Atlanta Falcons
, should tell us more about the unit. And while the offense has struggled to find its groove, the return of tight end
Rob Gronkowski
should provide a boost and with
Danny Amendola
saying he envisions being 100 percent shortly, big-time reinforcements are on the way.
So if you're judging on the present picture, it's understandable that one would say this team isn't a Super Bowl contender. In a game against the
Denver Broncos
, right now, you would have to pick the Broncos. But this is about projecting what the Patriots could be, and at this point, there's no reason to think they won't evolve as past Belichick teams have. Many of those clubs have been Super Bowl contenders.
September, 11, 2013
Sep 11
8:50
PM ET
So we went around and polled NFL players Wednesday on the question of whether the
Philadelphia Eagles
' new up-tempo offense under former Oregon coach Chip Kelly is sustainable. You know, since it looked so good in the first half Monday night against the Redskins' mediocre defense and has become the talk of the league on the most overreactive week of the season, right?
The question of sustainability is a significant one to the
New York Giants
, who don't face the Eagles in September but do face them twice in October. They get them Week 5 at home and Week 8 on the road, so if they can't handle them the first time it'll be fresh in their memories for the second. And while it might be nice to have more than four games' worth of tape to assess before the first time they face them, four is better than the zero with which the Redskins were working when Kelly,
Michael Vick
and
LeSean McCoy
showed up Monday night and ran them out of their own building.
So the Giants will at least be in a position to plan for the Eagles and it's likely that by the time they face them they will have put some failure on film. And it's always possible, of course, that Vick gets hurt and either isn't 100 percent or isn't able to play. That's a Vick thing, no matter what kind of offense he's in, and this particular one looks willing to make a lot of sacrifices in pass protection in exchange for its determination to run plays as quickly as possible.
My sense is that you'll soon start to hear the same things about Kelly's manic offense that you heard last year and this offseason about the read-option -- that if you can hit the quarterback, you can derail this or any other offense. And the Giants' whole defensive plan is based on the importance of hitting the quarterback. The Giants also made beefing up their run defense a major focus of their offseason, and they have a deep stable of defensive tackles with which to combat the brilliant McCoy.
When the Giants do finally get their first up-close look at the Eagles, they're going to have to do what they always have to do -- pressure and hit the quarterback as quickly and effectively as possible so he's unable to do whatever he's supposed to do on a given play. If the speed of Kelly's offense makes that more difficult, it's going to be on
Justin Tuck
and
Jason Pierre-Paul
to out-athlete the Eagles' offensive players and make life miserable for Vick.
September, 11, 2013
Sep 11
8:30
PM ET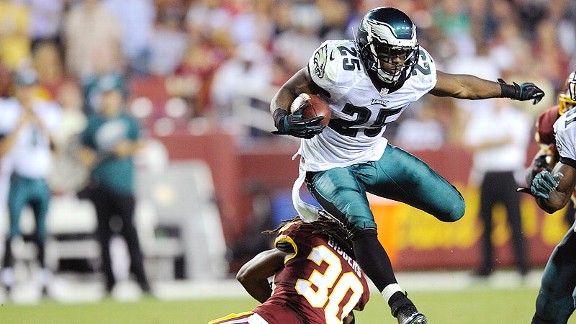 AP Photo/Nick WassThe Eagles ran 53 plays in the in the first two quarters but only 24 in the second half.
With the solar panels and wind turbines on their stadium, the Eagles have been concerned about one kind of sustainability for a while. Now they have to be concerned with another kind.
After months of debate about whether Chip Kelly's Blur offense could work in the NFL, the Eagles showed in one breathtaking game that it can. In the wake of their 33-27 win at Washington, the discussion has shifted:
Yes, it can work for a half, but is Kelly's system sustainable over the course of a 16-game NFL season?
It's a three-part question: Can the Eagles maintain the hyperdrive speed throughout a game? Can they do it week in and week out, especially with two games in five days? Can they avoid injuries to key players --
Michael Vick
,
DeSean Jackson
and
LeSean McCoy
all missed substantial time last year with injuries -- while running so many offensive plays? Kelly, for his part, doubled down on his belief that speed kills. He said Tuesday that his team can play faster, and that future opponents might already be playing catch-up.
"I know our team is in shape," Kelly said. "I know how we train. We're very specific in how we do that. We can keep up what we're doing right now because we've been doing this since April. If you're going to wait until the week before we play to say we need to get some extra sprinting in, it's probably too late."
Can the Eagles keep up the pace? Within the Eagles locker room, no one is 100 percent sure.
"We'll see when it comes," wide receiver
Jason Avant
said. "We'll continue to work hard, continue to live right off the field. A whole bunch of things play into us playing well on Sunday and playing fast. If we consistently do the right things that coach tells us to do, we'll be fine."
We've put our NFL Nation network of reporters to the test and asked players and coaches their opinions on Kelly's offense. Here's a sampling of what they had to say:
---
"I don't know. It's just one game, but they looked damn impressive doing it. It's a lot of plays in a short period of time, so I would think that stamina has to come into it at some point. But all you hear is that they're all in the best shape of their lives. So if they're doing that, who knows?"
-- Justin Tuck, Giants defensive end
---
"It's a league of adjustments and they are made fast. When you're putting up big plays and big points like that, coaches who play you six weeks from now are watching tape of you to prepare. That's the type of league it is. Defenses catch up to you sooner rather than later."
-- James Ihedigbo, Ravens safety
---
"I think that the speed of that offense isn't gonna be like that for four quarters. What they're gonna do is they're gonna come out, and they're gonna punch people in the mouth with that tempo. That's what we did at Oregon. We wanted to come out and set the tempo and dictate to the other team what the game was gonna be like. They jumped out and they scored all those points and you just hang on. You play sound, fundamental football for the other three quarters. Then you can hopefully get away with a win."
-- Kyle Long, Bears guard who played for Kelly at Oregon
---
"We'll see. Sustainable? It'll be interesting. He's a great coach and I think he's got a lot of great weapons there. It will play out during the year. Obviously, they had a really good night Monday night. I did see it up close. It was really fun to watch in college and I'm sure it will be successful in the pros too. He's a great coach."
-- Chris Long, Rams defensive end and Kyle's brother
---
"The pace isn't going to change. I promise you he won't slow down for anyone. But I feel like, especially being one of his former players, it's more important for the defense to step up a lot more. Those are the guys who help him out and get him the ball back."
-- Dion Jordan, Dolphins defensive end who played for Kelly at Oregon
---
"It all depends on the health of their players. Just watching the game from the outside you could already see Vick struggling getting off the field every once in a while. The guys are a little older in the league, so they could start breaking down. [It's a] longer season [than in college], so you don't ever know. It's going to be a trial and error, and it will be up to their organization and coaching staff to monitor that and see what they do all week in practice to counter balance it all."
-- Jordy Nelson, Packers wide receiver
---

"I watched most of that ballgame and they do get up to the line. I think you better get ready. You don't get to substitute or you don't get to match up as well. That's always been when you look at the Red Ball or the no-huddle. That's always been a challenge for a team. Some combination of that is pretty sound, relative to getting plays off, keeping the defense a little disjointed. I think it's also sound, too. It's a good crisp way to run a football team. I don't know if that's a fad. That stepped-up play is one that may have a place."
-- Jerry Jones, Cowboys owner, on his radio show
---
"I think it all depends on how much success they have with it. If it works, I'm sure they'll stick with it. But defenses are smart, and we'll learn to adapt. It could work, but I don't think it would over a long period of time. They'll have to adjust and come up with some other kind of trickery."
-- Desmond Bishop, Vikings linebacker
---

"The version that Chip Kelly has brought to Philadelphia is in itself new to the NFL. We've all had the two-minute offense where quite frankly we are snapping the ball at that speed, the idea of playing for a full game like that, you know, is new for me in watching it in the NFL. They're putting the pressure really on the defense to get lined up and communicate and recognize again what all the options are and be in position. Even when it isn't something that is going what I call Mach speed, it still forces you without a huddle to do a great job communicating."
-- Tom Coughlin, Giants head coach
---
Manning
"I still think it's about the execution. I know there's a lot of talk about tempo, but the plays we get graded with a plus it's because everybody did their assignment, when we get a minus it's because somebody didn't do their assignment, whether you huddled for that play or didn't huddle or whatever it was, I really think is irrelevant. Some teams play better when they go faster; that helps their execution, then so be it."
-- Peyton Manning, Broncos quarterback
---
"I think it's a great change up. I don't know if that pace is sustainable. I guess we'll see here shortly. I know Chip Kelly, just reading the things he said, he wasn't too impressed with what they did at that fast of a pace. I know it's a great change up. Defense, get them on their toes, get them playing vanilla defenses, that helps the offense out. It's definitely beneficial."
-- Cortland Finnegan, Rams cornerback
---
"I'd have to see them do it for a whole game first, but they did it for the half and it was impressive. I think they have the right pieces and parts for it. They allow people like Shady McCoy, DeSean Jackson, Michael Vick to be one-on-one with defenders in space. As long as they can create those matchups, it's going to be really effective."
-- Ryan Clark, Steelers safety
---
Hali
"I don't think you're going to go through a season running twice as many plays as [the opponent] every week. That's a lot of games stacking up. I don't think they will do that. I think they'll try to come out, outcondition the opponent, keep them off balance, try to get points now. Once the game gets under their control, they'll get back to what they do at a normal pace. In college, it works. You play 12 games and you have a bunch of players on your team. You don't have that many players [in the NFL] to wear them down. But the mindset of coming out and playing fast and getting [a lead] early, that goes a long way.''
-- Tamba Hali, Chiefs linebacker
---
"I'm not sure. I have never seen it happen, so I don't know. Seventeen seconds? Yeah that's pretty fast. I don't know, I hope they can. Because then the head coach will be able to keep his job. I'm always rooting for people."
-- Arian Foster, Texans running back
---
"You got to wait to see. I can't tell you, it' s my first time running tempo. Obviously our tempo wasn't what we wanted it to be because we didn't get any positive starts. Tempo only works when you get positive gains. Obviously you see the Eagles in the third quarter, I think they only had eight plays. So that's what happens. It's a good thing and sometimes it's like if you can't get going, it doesn't work out for you. Obviously you've got to be able to hold up for 16 to 20 games, however many games you have to play, if that's going to be something you use to your advantage."
-- Maurice Jones-Drew, Jaguars running back
---
"It's a faster pace offense. For the original style of how the NFL game is played, as far as the huddle offense, they say this style wouldn't work, but I think if you have the right group of guys in there, which Philly has with Vick, Jackson, McCoy, I think it fits. With Chip Kelly bringing what he has in his tool box, I think the sky is the limit for as far as what offensive coordinators are doing now. Next thing you know teams are going to start doing the option again."
-- Greg Toler, Colts cornerback
---
"Yeah, I think it is, but it's a long season for those guys. If you run 90 plays a game in the NFL, first of all you wear out your quarterback and then you wear out everybody around him. I don't know if it's going to last for too much longer, but they definitely got to get their play count down because the quarterback, he's subject to get hit 70 out of 90 plays."
-- Tyrann Mathieu, Cardinals defensive back
---
"It's something that the NFL hasn't really seen, it's a new approach to offense that coach Kelly is bringing from college. Just like the read-option has been successful, until defenses start to catch up with it, I think their offense is going to have success until defenses have a chance to stop them on first down. That messes up their tempo, I think that's the key, not letting them get those completions, stuffing that run. I think that's the only way to slow them down."
-- George Wilson, Titans safety
---
"I don't think so. It's crazy. They ran 50-something plays in the first half and only 20-something in the second half, so it shows you they can't keep that type of pace."
-- Bobby Wagner, Seahawks middle linebacker
NFL SCOREBOARD
Thursday, 12/5
Sunday, 12/8
Monday, 12/9
WEEKLY LEADERS