May, 19, 2013
5/19/13
5:37
PM ET

The
Buffalo Bills
nearly have their entire 2013 rookie NFL draft class under contract.
Buffalo reached a four-year agreement with second-round pick and rookie receiver
Robert Woods
, a source tells ESPN.com's AFC East blog. Woods was in Los Angeles for the NFLPA's Rookie Premiere this weekend, and is expected to sign the contract with Buffalo in the next few days.
Woods, a USC product, is considered one of the most NFL-ready receivers in this year's draft. He is the favorite to win the No. 2 receiver job in Buffalo opposite veteran
Steve Johnson
.
The Bills now have contract agreements with seven of their eight draft picks. First-round pick
EJ Manuel
, who was taken No. 16 overall, remains the only unsigned player from the 2013 class.
July, 5, 2011
7/05/11
1:00
PM ET
Will the
Cincinnati Bengals
have to spend their full resources?
We could find out soon if the NFLPA has its way with mandatory spending of the salary cap, which is one of the biggest sticking points remaining in the new collective bargaining agreement. The league wants a rookie wage scale, which the players are open to. But in return, veteran players want to make sure owners do not take all the extra money saved and keep it.
Mandatory spending could affect the Bengals perhaps more than any NFL team. Cincinnati often maintains a low payroll and searches for cheaper alternatives in free agency.

Here are some additional thoughts on Cincinnati and mandatory spending:
The Bengals may want to hire a general manager. Cincinnati is known for making shaky personnel decisions, and that will only be amplified with increased spending. I've made the case for years that it's more cost-effective for the Bengals to pay a GM to make good decisions than it is to have ownership make costly mistakes such as signing receiver Antonio Bryant. According to ESPN.com senior writer John Clayton, the Bengals have about $36 million in cap room and would have about $54 million available if embattled quarterback Carson Palmer ($11.5 million) and receiver Chad Ochocinco ($6.35 million) came off the books. A smart and talented GM could make that money go a long way. But don't expect the Bengals to view it that way.
This could be good news for in-house free agents Johnathan Joseph and Cedric Benson. Because of the high price good corners have fetched in the free-agent market ($8-$10 million per year), Joseph probably was a goner after Cincinnati failed to reach a deal before the lockout in March. But mandatory spending could put Joseph back in play for the Bengals and increase Cincinnati's chances of matching any offers. The same goes for Benson, who wants to return and was the Bengals' leading rusher the past two years.
Overall, proposed mandatory spending could be a victory for Bengals fans. The Bengals have gone 20 consecutive years without winning a playoff game, and there is doubt in Cincinnati whether the Bengals are truly committed to winning a championship. Spending to the salary cap every year would at least force the Bengals to spend more money on their product, as opposed to annually searching for bargain-basement free agents or troubled players down to their last strike.
May, 23, 2011
5/23/11
1:00
PM ET
Baltimore Ravens
linebacker
Ray Lewis
is one of the most influential players in the NFL. But
until his recent interview
with ESPN's Sal Paolantonio, Lewis had not commented publicly on the league's work stoppage.
[+] Enlarge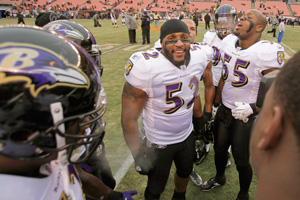 AP Photo/Amy SancettaRay Lewis' motivational skills may be just what is needed to move labor talks forward.
Lewis has a unique perspective on the troubles between the NFL and NFLPA. He believes huge egos from both sides are getting in the way and crime could rise in our country if a full season is lost.
"Do this research if we don't have a season," Lewis told Paolantonio. "Watch how much evil -- which we call it crime -- watch how much crime picks up if you take away our game."
Lewis has not participated in mediation sessions but said the "time is coming." Could Lewis be the right voice to help end the lockout?
The future Hall of Famer is well-respected on many different levels. Lewis is closely in tune with the players and common fans, while his name and star power also are enough to grab the owners' attention. This might be the proper combination to bring the two sides closer together.
Lewis' intense pre-game speeches to help motivate the Ravens have become famous to football fans. But if Lewis can find a way to motivate the owners and NFLPA to put pride aside and reach a new collective bargaining agreement this summer, it could be Lewis' biggest speech of all.
March, 3, 2011
3/03/11
5:59
PM ET
Here are the player reps for each AFC North team,
according to the NFLPA
:
Baltimore Ravens:
WR
Derrick Mason
Alternates:
CB
Chris Carr
, C
Matt Birk
Skinny:
Mason is one of the most experienced and outspoken players on the Ravens. Therefore he fits great in this role. Carr and Birk are also two great alternatives from Baltimore.
Cincinnati Bengals:
LT
Andrew Whitworth
Alternates:
G
Bobbie Williams
, TE
Reggie Kelly
Skinny:
This trio comprises Cincinnati's locker room leaders. Whitworth has taken an increased role and is usually the one who briefs the rest of the Bengals on player issues. Williams and Kelly are both elder statesmen and combine for 25 years of NFL experience.
Cleveland Browns:
TE
Robert Royal
Alternates:
OT
Tony Pashos
, CB
Sheldon Brown
, TE Ben Watson
Skinny:
Lately the Browns have been a strange team when it comes to union reps. With three regime changes the past few years, it's been a rotating door. Royal was
recently released by the Browns
, meaning Cleveland will have another player rep next season. All the alternatives spent their first year with the Browns in 2010.
Pittsburgh Steelers:
S
Ryan Clark
Alternates:
WR
Antwaan Randle El
, LT
Max Starks
Skinny:
Like Mason, Clark is never afraid to speak his mind. He recently had a lot to say on the pending NFL lockout during Super Bowl week. Randle El and Starks are both intelligent alternatives, as well.
March, 3, 2011
3/03/11
12:39
PM ET
Jeff Saturday
is the most powerful current AFC South link to the NFLPA. He's one of 11 players or former players on the union's executive committee.
With the CBA about to expire, I thought we'd look at the team representatives from around the division. These are guys beyond Saturday that you may spot walking in and out of meetings or hear from -- even if the union decertifies -- as the player try to articulate their positions.
Houston
Rep:
DeMeco Ryans
; co-alternates:
Eric Winston
,
Matt Schaub
Ryans is recovering from a torn Achilles. He's highly respected in his locker room and looks to be a great communicator. Winston's been outspoken and smart on labor issues recently (I hope to hit on that more later) and having the starting quarterback in the mix is not insignificant.
Indianapolis
Rep:
Gary Brackett
; co-alternates:
Deshea Townsend
,
Anthony Gonzalez
Brackett too is a great communicator. A rare long-term Colts linebacker, he's a crucial piece of the team. Townsend's not under contract going forward, but that doesn't eliminate him as a factor. Gonzalez is a smart guy coming off a couple injury-plagued seasons.
Jacksonville
Rep:
Rashean Mathis
; co-alternates:
Jordan Black
,
Aaron Kampman
Heading into his ninth year, Mathis remains a key player for the Jaguars and a respected voice in the locker room. Kampman's a year more experienced and has worked in two small markets -- Green Bay and Jacksonville. Black's still listed on the union website, but was recently cut and should be being replaced.
Tennessee
Rep:
Jake Scott
; co-alternates:
Jason Babin
,
Ahmard Hall
From a team with two Hall of Fame linemen on the coaching staff, it's fitting that the union leader comes from the offensive line group. (Over at the NFC West HQ, Mike Sando points out that 12 of 32 reps are offensive linemen.) Scott has been with the Colts and Titans, so he's got a more varied perspective than any other rep in the division. Babin and Hall are both heading towards free agency.
February, 28, 2011
2/28/11
1:30
PM ET
Last week the
Oakland Raiders
paid cornerback
Stanford Routt
$31.5 million
over three years
, which is an average of more than $10 million per season.
Most AFC North fans are probably asking, "Who is Stanford Routt?" And that is the point.
It's a great year to be a free-agent cornerback in the NFL. Even low-profile ones like Routt are getting a ton of money this offseason, which does not bode well for the
Pittsburgh Steelers
.
The reigning AFC champion and Super Bowl runners-up have begun
preliminary negotiations with Ike Taylor
, who is Pittsburgh's No. 1 cornerback. The Steelers are very thin at that position, and it is perhaps their biggest need entering next season.
But when players like Routt, who recorded two interceptions last season as Oakland's No. 2 cornerback, are getting more than $10 million per season, that drives up the market for all free-agent corners. Taylor is not a shutdown player, but he is solid at the position. He recorded 66 tackles and two interceptions last season.
The
Cincinnati Bengals
have
the same issue with
pending free agent
Johnathan Joseph
, who is 26 and in his prime. Cincinnati only has one player (quarterback
Carson Palmer
) making more than $10 million per season, and the Bengals probably won't go that high for Joseph.
Now that the
franchise tag has gone
to outside linebacker
LaMarr Woodley
, the Steelers will be negotiating with other teams for Taylor, who will soon become an unrestricted free agent.
Would Taylor ask for more than $10 million per season? If so, it becomes questionable that he would return to Pittsburgh. It's also possible Taylor, who spent his entire career in Pittsburgh, would accept a "home-team discount," despite the high going rate for corners.
We won't have any firm answers until the NFL and NFLPA reaches a new collective bargaining agreement. But keep an eye on this development in Pittsburgh.
July, 26, 2010
7/26/10
10:51
AM ET
By
ESPN.com staff
| ESPN.com
NFLPA president and free agent
Kevin Mawae says players are worried

about losing their benefits more than salary numbers. Mawae also describes his involvement in the talks.
July, 13, 2010
7/13/10
11:00
AM ET
On Monday ESPN.com reported
Pittsburgh Steelers
Pro Bowl linebacker
LaMarr Woodley
will
not get a long-term extension
before the start of the 2010 season. Since Pittsburgh rarely negotiates with players during the season, Woodley has a good chance to hit free agency next year.
So what's next for Woodley and the Steelers? Here are three possibilities:
[+] Enlarge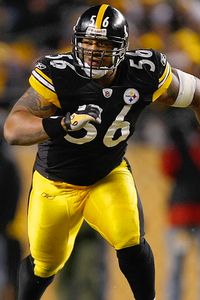 Scott Boehm/Getty ImagesLaMarr Woodley could be headed for the free-agent market after next season.
1. Try to negotiate a short-term deal
Analysis:
The 30 percent rule during an uncapped year is making long-term negotiations extremely challenging. This is especially the case for Woodley, who was a second-round pick and could only make a maximum salary of $598,000 this season. A short, two-year deal could be a way around it. Pittsburgh can provide Woodley enough of a raise in short-term bonuses, while the base salaries wouldn't be as big an issue compared to a five- or six-year deal. But the Steelers have already closed the door on negotiations, so chances are very slim.
2. Wait for the new collective bargaining agreement
Analysis:
This is a more likely route for the Steelers. Once a new CBA is in place, that can provide a road map to reopen contract talks with Woodley. One issue is it's unknown when a new CBA will be completed. Another is Woodley could price himself out of the Steelers' range with another Pro Bowl season. For example, would another season of double-digit sacks from Woodley this year command
Terrell Suggs
($63 million) or even
DeMarcus Ware
($78 million) type money on the open market? If so, are the Steelers willing to pay it?
3. Franchise tag
Analysis:
If Woodley has another monster year, there is a chance he could get the franchise tag. This option for teams has been the bane of a lot of top-flight players in the past. The tricky part is it's unknown whether teams will be able to use the franchise tag next year. NFL teams want it. The NFLPA wants it to disappear. This is one of many points of contention between the two groups. If the franchise tag sticks, that gives the Steelers one more option to consider with Woodley next year.
March, 3, 2009
3/03/09
1:44
PM ET
Posted by ESPN.com's Paul Kuharsky
In a visit with Colin Cowherd on ESPN Radio

Tuesday afternoon, Colts center Jeff Saturday said the $4 million boost in the NFL's salary cap helped him get a new deal with the Colts before he could become a free agent.
Saturday is super private about his contract details, which have not surfaced for his three-year deal.
He also talked about how much he was in touch with Peyton Manning, a huge advocate of Saturday's importance to the offense.
"We kept communication open. Especially up to the last portion, he would call and ask me where it was and what I thought. You know, I was very frank with him. We have that relationship where you just kind of put it all out there. And he made it very clear he wanted me to be here and he was going to do whatever he could do to try to push it. But there was only so much you could do. Really, kind of the saving grace of the whole thing came with the additional cap money. Cap space is what really kind of broke the thing loose."
Saturday, an executive committee member of the NFLPA, also discussed the pending CBA negotiations and the bearing the economy will have on them.
"I don't think there [are] any winners with lockouts or whatever's been threatened and said. I think everybody is cutting their own throat at that. We all make a very good living and with the economy we are all sitting in and with what America is going through, I think the worst thing you could do is show that none of us are going to do what we say we are going to do. I mean show up, let's get something done, and we'll probably all have to take some lumps that we don't want to take. But that's the business, and football will be better for it if we keep that perspective in mind. That we're an entertainment industry and people pay hard-earned dollars to come watch us play and perform on Sundays and that's what we're here for. And whatever we've got to do to get our business squared away, we've got to get it done."
August, 21, 2008
8/21/08
3:05
PM ET
Posted by ESPN.com's Tim Graham
New York Jets fullback Tony Richardson is a member of the NFL Players Association's executive committee and serves on the league's player advisory committee.
The 14-year veteran shared his thoughts on the passing of NFLPA executive director Gene Upshaw.
On his initital reaction to learning Upshaw had died:
Richardson: We didn't know anything [about Upshaw's pancreatic cancer]. I guess he just found out a few days ago. People are still in shock. We haven't had a chance to speak to anyone from the league yet or our union office. We're definitely going to miss Gene because he was a tremendous leader for our organization.
On Upshaw's legacy:
Richardson: Hopefully, everyone in this locker room recognizes that they're a lot better for having Gene as their leader. He did so much. Every guy in this locker room can say they benefited from his leadership. The league has benefited from his leadership. The salaries are ... it is what it is. Our game is better from his leadership. He is definitely going to be missed.
On if he thinks players sometimes were unfair in their criticism of Upshaw:
Richardson: That's part of it. Whenever you're in a leadership position sometimes there are going to be things that are said or written about you that are sometimes true and sometimes are not. That's just the nature of it. Gene was a man's man. He spoke what was on his heart and he wore it on his shoulder. From a leadership standpoint he did a tremendous job for us.
On what it was like to be around Upshaw:
Richardson: We had a lot of great meetings. There were a lot of times when we obviously had to take care of work. It was a serious approach, but behind close doors we would sit and laugh and talk. Really he is a player, and I think sometimes people forget that Gene Upshaw was a Hall of Fame offensive lineman. He was one of the guys. We had a good time and he is definitely going to be missed.
On the stories Upshaw used to tell of his playing days with the Oakland Raider:
Richardson: You really couldn't get him to talk much about his Raider days. He would shed a little bit of light on it. Most Hall of Fame players let you know they're in the Hall of Fame. If you're around Gene long enough -- obviously I remember because I remember watching him play -- but he wasn't the type of guy that would always talk about his accomplishments. His main focus was the union, and that's what he lived for.
August, 21, 2008
8/21/08
1:49
PM ET
Posted by ESPN.com's Mike Sando
The 49ers released a statement today on the passing of Raiders great and NFLPA union chief Gene Upshaw (the statement includes a quote from 49ers owner John York):
The San Francisco 49ers are deeply saddened to learn of the untimely death of Gene Upshaw.

Today, the 49ers stand side-by-side with our cross-Bay rival team, the Raiders, in mourning the passing of a great player on the field and a great leader off the field. For 14 years, Upshaw set the standard on one of the best offensive lines in the game. And after he retired, he devoted 25 years to being an outstanding advocate for his fellow players as executive director of the NFLPA.

"This is a loss for the entire NFL. Gene was the epitome of what the NFL stands for," said team owner John York. "He was not only a man who gave his very best on the field every game during his great career, but he was a man of integrity and service off the field. The thoughts and prayers of everyone in the San Francisco 49ers organization are with his family today. Gene passed away far too young, and he will be greatly missed."
Upshaw's sudden passing from pancreatic cancer has rocked those who knew and respected him, including on-field opponents such as the 49ers.
August, 5, 2008
8/05/08
8:20
AM ET
Posted by ESPN.com's Mike Sando
Jim Thomas of the St. Louis Post-Dispatch says Rams running back Steven Jackson is taking a big risk by holding out past Tuesday. Thomas previously reported that Jackson needed to show up no later than 30 days before the Rams' regular-season opener to receive credit for the final season of his contract. This new story says Jackson, demanding a new deal as he enters the final year of his contract, must show up within 30 days of the NFL's regular-season opener, which makes the deadline today, not the previously reported Aug. 8.
Discussions of such matters invariably explain what players must do to earn "accrued seasons" toward free agency. Jackson's contract expires after the 2008 season; he needs one accrued season to become an unrestricted free agent.
An NFLPA memo dated June 10 says: "Players earn an Accrued Season for any season in which they are on full pay status for at least six regular season games."
But wait. The collective bargaining agreement reads: "A player shall not receive an Accrued Season for any League Year in which the player is under contract to a Club and in which he failed to report to such Club at least thirty days prior to the first regular season game of that season ..."
We have not heard the end of this one. ...
Also from Thomas: A look at how Rams quarterback Marc Bulger is learning Al Saunders' offense, right down to the tests Bulger received via FedEx earlier in the offseason.
Matt Maiocco of Instant 49ers provides the transcript to a fantastic interview with right tackle Jonas Jennings. Maiocco also turned the interview into a story for the Santa Rosa Press-Democrat. Jennings isn't happy about moving from left tackle to right tackle. He doesn't have anything nice to say about coach Mike Nolan, describing their relationship as one of necessity (Nolan as coach, Jennings as player). Jennings also takes issue with how people portray him. Winning makes a lot of things better, but the 49ers haven't won enough.
Clare Farnsworth of the Seattle Post-Intelligencer gets into what Chris Gray has meant for the Seahawks. Mike Holmgren and Lofa Tatupu offered kind words. Clare and I were standing along the sideline at practice on July 26 when Gray, in obvious pain, walked past us toward the locker room. He was walking with his back angled awkwardly. The look on his face suggested wooziness, as if Gray had been involved in a collision. All he had done was hit a blocking sled. We had no idea at the time that Gray's career was finished. Gray had no idea. As Holmgren said, the sudden ending comes as a shock.
The 49ers' coaching staff has released a tentative depth chart showing rookie Josh Morgan buried behind Bryant Johnson, Jason Hill and Ashley Lelie at one receiver spot. Isaac Bruce is the other starting receiver. The depth chart shows Alex Smith, Shaun Hill and J.T. O'Sullivan as the starting quarterback. A referee would see this as 13 men on the field. The depth chart also shows the injured Mark Roman ahead of Dashon Goldson at the free safety spot. Jeff Ulbrich is the starting "Ted" linebacker. Fullback Moran Norris is ahead of Zak Keasey. As I've said before, stuff this one under the mattress. Do not take it to the bank.
Tom FitzGerald of the San Francisco Chronicle quotes 49ers offensive coordinator Mike Martz as saying Cam Colvin has emerged, unexpectedly, as a receiver to watch in camp. Colvin caught six passes practicing against the Raiders.
Matt Barrows of the Sacramento Bee quotes 49ers tight end Vernon Davis celebrating the human race's inability to cover him. Davis averaged 9.8 yards per reception last season. That ranked tied for 210th in the NFL.