April, 4, 2013
4/04/13
1:00
PM ET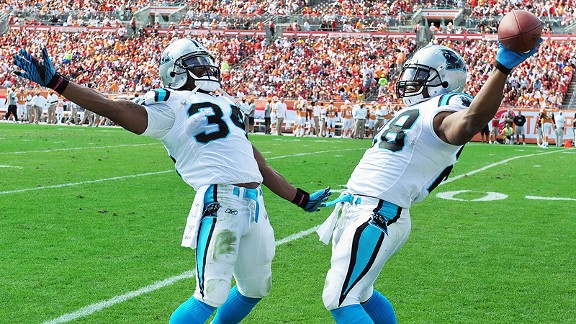 Al Messerschmidt/Getty ImagesDeAngelo Williams, left, and Jonathan Stewart led the NFL's most expensive backfield last season.
It's Trivia Thursday, so let's jump straight to the question.
What NFC South unit in 2012 was the most overpriced and underutilized, and helped get a general manager fired?
The answer is the Carolina Panthers' backfield. Yes, in 2012, the trio of
DeAngelo Williams
,
Jonathan Stewart
and
Mike Tolbert
was more useless and more expensive than even former Atlanta defensive end
Ray Edwards
.
That's saying a lot because Edwards, who the Falcons dumped midway through last season, will go down as one of the all-time busts in division history. The difference is the situation with Edwards, who was messing with locker room chemistry, moved past the point where it could be repaired.
Carolina's backfield still has a shot at redemption. A very good shot. For that to happen, though, coach Ron Rivera and his staff need to let Williams, Stewart and Tolbert be running backs, and let quarterback
Cam Newton
be a quarterback.
"That's something we have to work on," Rivera said when asked about his situation at running back during the recent NFL owners meetings. "We've been talking about that. We reviewed the season, looked at how things unfolded. We have to find a way to really be able to rotate those guys and make sure everybody's getting enough quality touches. We'll continue to try to develop it, because our running back position is loaded, and at the end of the year we had a lot of success with it. So, we've got to make sure we find the right formula."
The formula shouldn't be that difficult to find, because the talent is there. Williams and Stewart are very good tailbacks (with first-round draft status and 1,000-yard seasons on their résumés) and Tolbert can make an impact at tailback and fullback. Rivera and his staff simply have to let Williams, Stewart and Tolbert run.
But that was a problem last season. According to ESPN Stats & Information, the Panthers used a league-high $15.3 million in salary-cap space on running backs. But Newton ended up leading the team in rushing, yards per rush, runs of 20 yards or more, and rushing touchdowns.
For reasons that never have been fully explained, the Panthers came out of the gate last year letting Newton run the read option and ignoring the power-running game. It would have been one thing if that was translating into wins, but it wasn't.
The Panthers lost six of their first seven games, and general manager Marty Hurney was fired in October. It's easy to look at the backfield and Carolina's salary-cap situation and blame all the Panthers' problems on Hurney.
But shouldn't Hurney, Rivera and the rest of the coaching staff have been on the same page when Williams was given a huge contract coming out of the 2011 lockout, when Stewart was given a big extension last summer and when Tolbert was signed as a free agent from San Diego last offseason? Shouldn't it have been automatic that all three would get plenty of touches?
That didn't happen, and here's another stat for you: The Panthers spent $12,179 per rushing yard by their running backs last season. Only Jacksonville ($12,402) spent more per yard, and the Jaguars finished 2-14.
The Panthers finished 7-9, but that's only because they started to change their offense in the second half of the season. They won five of their final six games because they went back to the power-running game. Williams had 210 yards in the season finale against New Orleans.
Rivera and new offensive coordinator Mike Shula need to keep that in mind, or else they'll end up following Hurney out the door. I'm not saying the Panthers need to go back to the John Fox days and bring back Nick Goings to run draw plays on third-and-long. But there needs to be a little balance to this offense.
I'm not saying the Panthers should completely scrap the read-option. Newton is a threat any time the Panthers even give a read-option look. But when Newton's a threat too often, Williams, Stewart and Tolbert aren't threats at all.
They're way too talented to waste another season. Besides, Rivera, who barely survived last season, needs to win this year.
The way to do that is to let Williams, Stewart and Tolbert run. Newton can run a little from time to time to keep defenses off balance, but the guy has an incredible arm, and the Panthers need to let him focus on being a quarterback.
Let the running backs do the running, and everything else will fall into place.
June, 13, 2012
6/13/12
10:29
AM ET
CHARLOTTE, N.C. -- There seems to be a lot of confusion among fans of the
Carolina Panthers
about what position
Mike Tolbert
will play.
The Panthers keep saying he is a fullback and then rave about his versatility. Throw in the fact that Tolbert carried the ball 121 times for San Diego last season and it's understandable where the confusion stems from.
[+] Enlarge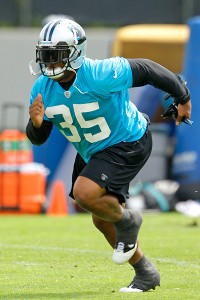 AP Photo/Chuck BurtonMike Tolbert prides himself on his versatility.
Carolina still is a relatively new franchise. For much of its existence,
Brad Hoover
lined up at fullback and blocked for a variety of runners including
Stephen Davis
,
DeShaun Foster
, Williams and
Nick Goings
. The roles were clear. The running backs ran the ball and Hoover blocked. Hoover was a fan favorite and it's a little difficult to imagine the Panthers using a fullback any way other than they used Hoover.
But the days of Hoover and former coach John Fox are long gone. This is the second year for coach Ron Rivera and offensive coordinator Rob Chudzinski, who never will be confused with former coordinators Dan Henning or Jeff Davidson. One of the first things Rivera and Chudzinski did this offseason was reach back into their past. Both previously were assistants in San Diego and they went out and lured Tolbert to Carolina.
Rivera and Chudzinski know Tolbert well and they have a clear vision of how they want to use him. He'll block for Williams and Stewart at times, but that's not all Tolbert will be asked to do.
"I think the different things 'Chud' has him incorporated in as far as running the ball and catching the ball and blocking, splitting him out and moving him around and those types of things, I think those are positives,'' Rivera said. "When you have a guy that versatile, it helps your football team.''
That still may sound a bit vague, so I asked Tolbert to describe the role he expects to play for the Panthers.
"Just a versatile player that helps in any way I can -- special teams, fullback and running back," Tolbert said. "I pride myself on being able to do it all. Letting my game evolve over the last four years in San Diego has really helped me to get to where I'm at today.''
You could make a case that Carolina's backfield already was overcrowded before Tolbert arrived. Williams and Stewart, who each have been 1,000-yard rushers in the past, had to share carries last year in an offense that suddenly turned pass happy with rookie quarterback
Cam Newton
. Stewart was on the field for 55.2 percent of the offensive plays, while Williams took part in 42.7 percent of the plays. In San Diego, Tolbert took part in 44.4 percent of the Chargers' offensive plays.
But Tolbert insists there is enough room for all three backs to get plenty of playing time and he throws out some scenarios that Carolina fans might have trouble picturing right now.
"I think we mesh well together,'' Tolbert said. "They are different types of backs. DeAngelo is more the slicer and Jonathan is more of the power guy and I kind of fit in between. It's going to be fun for all of us to get in the backfield at the same time or myself with DeAngelo or with Jonathan or just one out of there at times. It's going to be fun to put it all together and see what happens.''
All three of them in the backfield at the same time? Tolbert playing tailback in a single-back set?
Yeah, it's all possible. We'll have to wait until the fall to really see it. But you're going to see some unique things out of the Carolina backfield in 2012. Don't believe me? Think back to last year when Chudzinski first arrived. Did anybody really expect to see Newton throwing for 400 yards in each of his first two games?
Of course not. But this is a different Carolina team and as we move into the second year of Chudzinski's offense, we're going to see it evolve even more.
I'm heading out to the practice field shortly to catch another session of Carolina's minicamp. I'll be back with more this afternoon.
September, 22, 2011
9/22/11
10:43
AM ET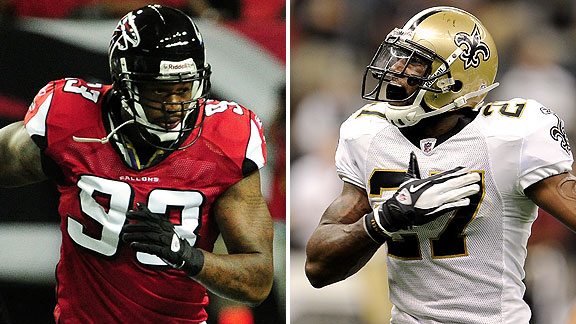 Getty ImagesWill Ray Edwards (left) or Malcolm Jenkins step up and help their teams dominate the division?
Now that the
Carolina Panthers
have stepped into this century, the NFC South has a new look from top to bottom.
Cam Newton
is flinging footballs, the Panthers are scoring points, and the days of John Fox signing off on a third-and-long draw play to
Nick Goings
are history. The Panthers have their franchise quarterback in Newton, which gives them something in common with the Saints, Falcons and Buccaneers.
Newton joining New Orleans'
Drew Brees
, Atlanta's
Matt Ryan
and Tampa Bay's
Josh Freeman
just might make the NFC South the league's only division with four franchise quarterbacks. That's great.
But, now that everybody has a franchise quarterback, this division isn't going to be settled by a quarterback. All four teams now are capable of scoring points in bunches.
[+] Enlarge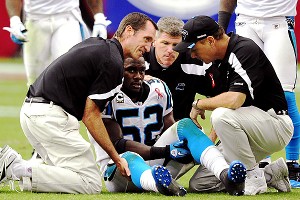 Zuma Press/Icon SMIThe division's best defensive player, Jon Beason, is out for the season with a torn Achilles.
The team that wins the NFC South this year will be the team with the best defense. Think about that for a second. Suddenly there is no clear-cut favorite. The division filled with elite quarterbacks doesn't have a blue-chip defense or anything close to it.
The days of Fox taking the Panthers to the Super Bowl purely with defense and Monte Kiffin doing the same with Tampa Bay were almost a decade ago. While the NFC South was becoming a quarterback-driven division in a quarterback-driven league, everybody sort of forgot about defense.
It's time to remember the old adage that "defense wins championships,'' because that's what it's going to come down to in the NFC South. That's a scary prospect no matter which of the four teams you root for.
None of them are loaded with defensive talent, and none of them are off to great defensive starts. Based on yardage allowed through two games, the NFC South has three bottom feeders.
Carolina is No. 26 at 406.5 yards a game. Atlanta is No. 27 at 412 and Tampa Bay is No. 28 at 414.5. The Saints are No. 12 at 322.5, but before Who Dat Nation gets too carried away, let's remember the Packers hung 42 points on New Orleans in the opener.
There's not even a truly dominant defensive player in the NFC South. On offense, you can go beyond the quarterbacks and point to guys like Atlanta receiver
Roddy White
, Carolina left tackle
Jordan Gross
, Tampa Bay tight end
Kellen Winslow
and Atlanta running back
Michael Turner
. You can say they're in the top five in the league at their position and nobody's going to give you much of an argument.
Try that on defense? Tampa Bay cornerback
Ronde Barber
and Atlanta defensive end
John Abraham
are the biggest names, but they're at the end of their careers. New Orleans safety
Malcolm Jenkins
and Carolina defensive end
Charles Johnson
are budding stars, but they haven't done it long enough.
The best overall defensive player in the division might be Carolina linebacker
Jon Beason
, and he's out for the season with an injury. So who's going to step up and play enough defense to win the NFC South?
Let's take a look at the candidates.

New Orleans.
This is a defense that can go two ways, as evidenced by the Super Bowl championship in the 2009 season and the playoff collapse at Seattle last season. The Saints are never going to be one of those defenses that shuts you down for an entire game.
With Brees, they don't have to be that type of defense. They just have to be opportunistic like they were in 2009. Coordinator Gregg Williams is an aggressive guy, and he's going to take chances and call blitzes all season long.
If this defense can just come up with some turnovers at key times and stop a few drives, the Saints could go a long way. But they'll need the pass rush to force some mistakes so players like Jenkins, linebacker
Jonathan Vilma
and cornerback
Jabari Greer
can come up with the big plays.

Atlanta.
This is the one defense that I think has the potential to be good all the way around, but it's not there yet. It's kind of ironic that coach Mike Smith comes from a defensive background, but hasn't been able to totally play his kind of defense in his first three seasons.
That could change this year. Abraham still has a little left and he's starting to get some help from defensive end
Ray Edwards
, the Falcons' big acquisition in free agency, and defensive tackle
Peria Jerry
, who is starting to remind people why he was a first-round pick in 2009.
If defensive tackle
Jonathan Babineaux
can get healthy, the Falcons could have the type of defensive line that allows linebackers
Curtis Lofton
and
Sean Weatherspoon
, cornerbacks
Brent Grimes
and
Dunta Robinson
, and safety
William Moore
to become playmakers.

Tampa Bay.
Like Smith, Raheem Morris comes from a defensive background. Like Smith, his defense is a work in progress. But Tampa Bay's defense might not be as close to breaking through as Atlanta's.
The Bucs are incredibly young in the front seven. But there is plenty of potential. Defensive ends
Adrian Clayborn
and
Da'Quan Bowers
were the team's first two draft picks this year, and defensive tackles
Gerald McCoy
and
Brian Price
were the top two draft picks last year. The Bucs are starting rookie
Mason Foster
at middle linebacker and he's already flashing potential.
It might take the Bucs some time to get this defense going. Then again, Morris and his staff have been known to get quick results from young players. They won 10 games last season when Freeman was in his first full season as a starter.

Carolina.
Ron Rivera also has a defensive pedigree, but he's been dealt a tough hand. Beason and fellow linebacker
Thomas Davis
are out for the season, and the Panthers started losing defensive tackles in training camp.
But there's hope because Carolina potentially could have the division's best pass rush with defensive ends Johnson and
Greg Hardy
. They could force some turnovers and give Newton some help. A little defensive help is really all that's needed in the NFC South.
The offenses are going to dominate this division. But one defense is going to decide it. Which one? It's too early to say.
They all have potential, but the one that maximizes it at the right time and makes itself a little bit different from the rest is going to be the NFC South champion.
March, 31, 2011
3/31/11
1:30
PM ET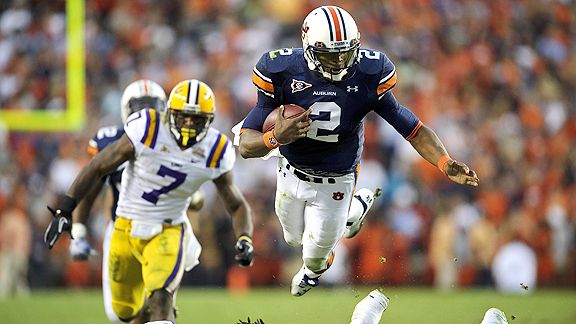 Paul Abell/US PresswireAt Auburn, Cam Newton proved to be a dangerous athlete who could throw and run.
There was a time when you could read the
Carolina Panthers
like a book. The title was "Third and Long: A Draw Play to
Nick Goings
.''
Take any situation -- on or off the field -- and you could ask yourself, "What would Jerry Richardson, John Fox and Marty Hurney do?'' The answer was obvious -- the most conservative thing possible. That's why what I'm about to say still shocks me.
The Panthers need to use the No. 1 overall pick in this year's draft on Auburn quarterback
Cam Newton
.
There, I said it, even though I was thinking
just the opposite
only a few weeks ago. What's changed?
Well, Fox is gone as coach and Ron Rivera is in his place. That's significant. But it's about more than that. The world has changed and I think the Panthers finally have realized it.
I'm not saying the Panthers absolutely will take Newton -- they haven't made any final decision. I'm just saying they should take Newton. I'm also sensing that's a very real possibility because the Panthers have been doing heavy homework on Newton, pretty much since the moment
Andrew Luck
said he wasn't entering the draft, and all indications are they'll continue to do their homework on Newton right up until draft time.
That's exactly what they should be doing. For too long (at least Fox's nine seasons), the thinking in Carolina was you don't draft a quarterback early because they take too long to develop and you go out and win with defense, a ball-control offense and a game manager at quarterback. It worked at times, but it also ended up being the reason Fox is gone.
At the same time Fox was refusing to embrace last year's youth movement or adjust in any way, I believe Hurney and Richardson took off the blinders. When they looked around, they realized they're in a league driven by quarterbacks.
We're talking quarterbacks who can throw and quarterbacks who can run. Green Bay won a Super Bowl with a mobile quarterback,
Aaron Rodgers
. Tampa Bay won 10 games last season with
Josh Freeman
, who can throw and run. Rules have changed and they've changed in favor of quarterbacks and offenses in general. It's way past time for the Panthers to change and that's why they're playing catch-up now.
New Orleans has
Drew Brees
and Atlanta has
Matt Ryan
. You do the math, but my quick calculations say three out of four NFC South teams have a franchise quarterback who will be around for the foreseeable future.
That's why the Panthers need to take Newton. He is the only guy in this year's draft with a chance to be a true franchise quarterback. The No. 1 pick is a gift designed to help the league's worst team get better and, at least in theory, you have to take your shot when it's there because you shouldn't be sitting at No. 1 repeatedly.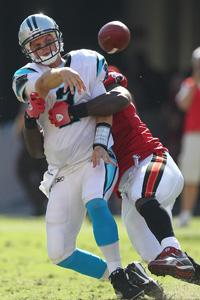 AP Photo/Margaret BowlesThe Panthers took Jimmy Clausen in the second round last year and he struggled: throwing just three touchdowns to nine interceptions while getting sacked 33 times.
Newton's sitting right in front of the Panthers and they need to just go ahead and grab him. Yeah, I know there are questions about Newton's background and character and there are even questions about his ability to adjust to an NFL offense because he had such a short college career.
But do you really think the Panthers still would be in the Newton mix if they viewed Newton's background as a bright red flag? Yes, a big part of this column is about how the Panthers are changing right in front of us, but one thing hasn't changed. That's Richardson's position on character.
He has been a stickler on that subject ever since the
Rae Carruth
saga. Richardson has his hands full with the league's labor negotiations, but trust me, the man has seen and heard everything Hurney and his staff have gathered on Newton. To date, Richardson hasn't come out and told his general manager to scratch Newton off the list.
We're less than a month away from the draft and the Panthers are still going down the Newton road. It's one of several scenarios -- Missouri quarterback
Blaine Gabbert
, several defensive linemen, LSU cornerback
Patrick Peterson
and Georgia receiver
A.J. Green
-- still in the mix.
The old Panthers automatically would have gone with a defensive lineman because the general rule of thumb is you don't take a cornerback or receiver at No. 1 and the quarterbacks would not even have been a consideration.
But Newton and Gabbert are still very much in consideration and that says a lot. Even if you take the next step and narrow it down to the two quarterbacks, the old Carolina rule of thumb would have dictated that the Panthers go with Gabbert. He doesn't have the background questions.
He also doesn't have the upside Newton does. At best, Gabbert's going to turn out to be something like
Mark Sanchez
, a solid quarterback, but not a guy who is going to carry you to the Super Bowl on his own. Believe it or not, the powers that are still with the Panthers think
Jimmy Clausen
, a second-round pick last year, could turn out to be something comparable to Sanchez.
Newton can be more than that. At best, Newton's going to be Freeman or
Ben Roethlisberger
or maybe even something better than we've ever seen.
And don't give me that old line about how missing on a quarterback will set back your franchise for five years. And I sure don't want to hear that you're three years away from winning when you draft a quarterback at the top of the draft.
The Bucs started winning in Freeman's first full season as a starter and the rest of the roster wasn't all that talented. The Falcons, who were about as low as a team can be in 2007, drafted Ryan, played him right away and immediately started winning in 2008.
Speaking of Ryan, he is the prototype quarterback in Hurney's eyes. When Ryan was coming out in that draft, Hurney was saying he hadn't seen a more sure-fire prospect in years, maybe even ever. He had studied Ryan and he had some strong inside knowledge because Hurney's nephew was the equipment manager at Boston College and a close friend of the quarterback. Hurney had a pretty similar view of Luck right up until the moment he said he was staying at Stanford.
When you're out of Luck, there's only one thing left to do in this brave new world in which the Panthers are living.
You take a chance. You aim straight for the sky, instead of worrying about the floor collapsing.
You take Newton.
Posted by ESPN.com's Pat Yasinskas
At the 10-year anniversary of the ESPN The Magazine cover of Mike Ditka and Ricky Williams posing as bride and groom, the NFC South -- which didn't even exist back in 1999 -- has another wedding.
This time, it's Raheem Morris and
Josh Freeman
.
"I am married to him,'' Morris said when he was asked if drafting the quarterback meant the two were going to be married. "There's no 'going to be.'''
That's only a slight stretch. At very least, Morris and Freeman are going to be linked to each other for eternity and they hope this union ends up better than the Ditka-Williams nuptials.
The Saints, who have spent much of the past decade trying to recover from that, didn't have nearly as big a ceremony. They took the methodical approach and, just like the Falcons and Panthers, focused heavily on defensive needs.
The Saints took defensive back Malcolm Jenkins in the first round and the Falcons selected defensive tackle Peria Jerry. The Panthers didn't have a first-round pick in this draft, but they traded next year's choice away to get Florida State defensive end Everette Brown in the second round.
In a way, all four teams now are wed to their top picks.
Best move
| | |
| --- | --- |
| | |
| | Matthew Sharpe/Getty Images |
| | Drafting Ole Miss tackle Peria Jerry was a safe bet for the Falcons. |
It wasn't flashy in any way, but Atlanta's selection of Jerry with the 24th pick was the most fool-proof move by any NFC South team. While there's a bit of uncertainty about whether Jenkins' future is at safety or cornerback, or whether Freeman is polished enough to make an immediate impact or doubts that Brown has the size to be an every-down player, there really isn't much to worry about with Jerry.
He may not have the kind of upside that Freeman, Brown and Jenkins do, but there is little or no downside. Jerry already is what he is. He's a run stopper and a player whom every other team in the NFC South would have been happy with if they had drafted him.
The Falcons got him by patiently waiting for Jerry to come to them. His job will be simple. He'll be expected to come in and take up space in the middle of the defensive line. That's something the Falcons needed after letting veteran Grady Jackson leave.
Coach Mike Smith, who built much of his resumé with Marcus Stroud and John Henderson in the middle of Jacksonville's defensive line, wasn't able to completely build the type of front four he wanted in his first season. This is a big step in getting there because Jerry and Jonathan Babineaux, who was signed to a contract extension midway through last season, have the skills to make Atlanta solid in the middle for a long time to come.
Riskiest move
Nothing else is even remotely close to the Freeman selection when it comes to risk. When you draft a franchise quarterback, something the Bucs hadn't done since Trent Dilfer in 1994, you're obligated to try to build your team around him.
The result almost always is either great or terrible. I'm not doing the math here, but it seems like for every Matt Ryan, there are two or three Joey Harringtons or David Carrs. Tampa Bay's own history with first-round quarterbacks isn't spectacular. Doug Williams worked out for a short stay, but Vinny Testaverde and Dilfer never really prospered in Tampa.
At a time when patience isn't a strong point for most NFL owners, Morris is staking his future on a quarterback who came out of college a year early and is viewed as a raw prospect by a lot of personnel people.
Most surprising move
Carolina trading its 2010 first-round pick to get Brown in the second round this year. That's a gutsy move, but it also is risky. It worked out well last year when the Panthers traded this year's first-round pick to get offensive tackle Jeff Otah. But you can't go without first-round picks for too long without sacrificing talent. But there still is a lot of time between now and next year's draft and I'm guessing the Panthers probably will try to parlay defensive end Julius Peppers into a first-round pick (and more) after this season.
File this away
How many guys does it take to replace Nick Goings? Apparently, two. Goings wasn't a name, but he had a very nice run with the Panthers as a role player, getting time at running back, fullback and on special teams. The Panthers released him in a salary-cap move after last season, but they recognized that created several voids.
That's why they went out and used fourth-round picks on Texas A&M's Mike Goodson and Syracuse fullback Tony Fiammetta. Goodson has some return skills and, like Goings, can catch the ball out of the backfield and provide some depth behind DeAngelo Williams and Jonathan Stewart. Fiammetta is a blocker and might be able to provide some relief for Brad Hoover.
April, 26, 2009
4/26/09
1:59
PM ET
Posted by ESPN.com's Pat Yasinskas
The NFC South stayed focused mostly on defense in the fourth round, the first round in which all four teams have made a pick.
Six players were selected and only two of them were offensive players. Both of those were chosen by Carolina as the Panthers took Texas A&M running back Mike Goodson and Syracuse fullback Tony Fiammetta. That makes sense because the Panthers need to replace versatile veteran Nick Goings, who was released after last season.
The Saints also had two picks and they followed the defensive path that was started when they took defensive back Malcolm Jenkins in the first round. They went into Carolina's backyard to take two Wake Forest players, linebacker Stanley Arnoux and safety Chip Vaughn. Arnoux brings some fresh legs to a veteran group of linebackers and Vaughn gives the Saints some flexibility in the secondary as they decide if Jenkins is a cornerback or safety.
Tampa Bay took Southern California defensive end Kyle Moore, who started to show some pass-rush skills last season. However, I think there's still a decent chance the Bucs will bring back veteran defensive end Kevin Carter, who remains a free agent.
But Atlanta's pick might be my favorite of the fourth round. The Falcons chose Richmond defensive end Lawrence Sidbury. Yes, this small-school guy might be a project, but I think Mike Smith can coach him into being a big contributor.
February, 17, 2009
2/17/09
5:32
PM ET
Posted by ESPN.com's Pat Yasinskas
If all goes according to plan, the Carolina Panthers will re-sign offensive tackle Jordan Gross and place the franchise tag on Julius Peppers sometime in the next 24 hours. Then, things could get really interesting.
Making Gross one of the league's top paid tackles likely will cost about $9 million a year and tagging Peppers will cost an immediate $17 million against the salary cap. Assuming Gross' deal gets finalized, the Panthers are going to have to make a series of moves to get under the salary cap.
They are about $10 million under the cap right now, but signing Gross and tagging Peppers would put them more than $20 million over the cap. That's going to lead to some cap-cutting moves and it could get painful.
The most obvious target is cornerback Ken Lucas, who didn't play well the second half of last season and could be getting closer to the end of his career. Cutting Lucas would free up $3.3 million in cap room. Some other potential targets could include offensive lineman Jeremy Bridges, receiver D.J. Hackett, linebacker Landon Johnson and running back Nick Goings.
The Panthers also are likely to restructure the contracts of several veterans to get under the cap.