August, 10, 2013
8/10/13
8:10
PM ET
EARTH CITY, Mo. -- Working as the color analyst for Cleveland's preseason television broadcast, former Browns quarterback
Bernie Kosar
did not hold back with his observations and opinions during Thursday night's game against the
St. Louis Rams
.
Through the course of the broadcast, Kosar was regularly critical of the Rams, focusing much of his ire on the team's wide receivers and backup quarterback
Kellen Clemens
.
[+] Enlarge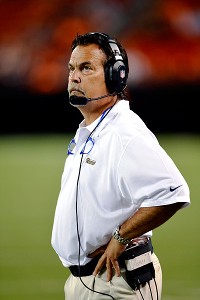 AP Photo/G. Newman LowranceJeff Fisher said he isn't fretting over the high amount of penalties that his Rams committed during the preseason.
Asked about it on Saturday, Rams coach Jeff Fisher first noted that he believes the Browns to be a "first-class organization" before making it clear he was none too pleased with Kosar's idea of color commentary.
"I guess I'm a little disappointed," Fisher said. "I feel bad for them that they had someone doing the broadcast who would feel the need to speak that way about players, specifically on our team, and coaches for that matter. I'm just surprised that Bernie has such a lack of respect for players and for this game. So I lost a lot of respect for him."
Kosar didn't waste much time in trashing the Rams, and did so repeatedly throughout the evening.
After an incomplete pass intended for
Tavon Austin
: "I really think that he didn't overthrow him and that Austin has to make that catch in the NFL. I see why Sam [Bradford] has been struggling watching how bad these receivers have been for him."
After
Nick Johnson
dropped a pass: "This is actually not a bad throw. These St. Louis receivers are horrible. That's a drop there."
When play-by-play man Jim Donovan asked Kosar what he'd think if he knew that some of the Rams receivers' parents were watching, Kosar said he "would be embarrassed."
Kosar then turned his attention from to receivers coach Ray Sherman.
"I'm checking through the itinerary here of guys and coaches to see who the receivers coach is to make sure I don't know who this guy is because he's not doing very good either," Kosar said.
[+] Enlarge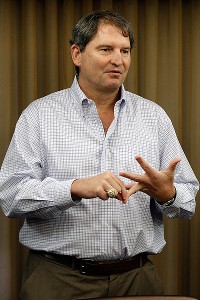 AP Photo/Mark DuncanA former quarterback, Bernie Kosar said particularly harsh things about Rams QB Kellen Clemens.
Kosar did offer praise to Rams quarterback
Sam Bradford
, but he didn't feel the same way about Clemens. In fact, many of Kosar's comments came off as though he held a personal vendetta of some sort against Clemens. When Donovan told Kosar, who had been asking for the use of a telestrator throughout the evening, that he might get one if he were on his best behavior, Kosar responded with a seemingly out-of-nowhere shot at Clemens.
"I must not be because the next quarterback in, me and him haven't done too well with each other, too," Kosar said.
Clemens wasn't in the game at the time.
Later, when Clemens entered the game, Donovan relayed a story about Clemens giving an autograph to Pope Benedict XVI. Kosar said he didn't think he'd ever want it, and then took another shot at Clemens.
"Bless me, Father, for I have sinned," Kosar said. "I have to watch him the whole fourth quarter."
On Saturday, Fisher said he didn't believe Kosar had studied the Rams well enough to be making such sweeping generalizations.
"I didn't think they were justified," Fisher said.
Some notes from practice:
August, 5, 2013
8/05/13
8:27
PM ET
EARTH CITY, Mo. -- The Rams returned to the practice field Monday afternoon after a day off Sunday.
Unlike last week when they returned to the practice field on the heels of a day off, Rams coach Jeff Fisher was pleased with how his team did in bouncing back from a little down time.

"(It was) better than the last time we had a day off," Fisher said. "Last time it took us awhile to get 'em going. We talked about it and they came out and started making plays to start practice. I was pleased."
The turnaround this week will be short as the Rams prepare to travel to Cleveland for the preseason opener on Thursday night.
As is the norm, there won't be a whole lot of planning or scheming over the next couple of days.
"We are just going to carry some basic things into the game," Fisher said. "We have to prepare for their defensive front out of fairness to our guys and the quarterback so we'll do that and then try to keep things pretty simple."
In other Rams' news:
Safety Matt Daniels came off the physically unable to perform list and returned to practice Monday afternoon for the first time this camp. He's returning from a knee injury suffered against New England on Oct. 28 of last year but is unlikely to play Thursday night.
Receiver Nick Johnson (hamstring) and defensive tackle Al Lapuaho (hand) also returned for Monday's workout.
Isaac Bruce, the team's all time leader in nearly every receiving category, is still in town working with the team's young receivers. Torry Holt, Bruce's long time running mate, is also in town as he prepares to provide analysis for Thursday night's broadcast. Former Rams tackle Grant Williams was also in attendance Monday.
Wideout Brian Quick has been up and down in camp but Monday was one of his up days. He caught a long pass down the middle in team drills in which he elevated over cornerback Quinton Pointer for a big gain and followed with catch deep down the sideline in a soft spot in the zone.
It was running back Isaiah Pead who made the catch of the day, outmuscling linebacker Alec Ogletree for the ball and tapping his feet in the corner of the end zone for a touchdown during red zone work.
Cornerback Janoris Jenkins, who has had some major battles with receiver Chris Givens during camp, came up with an interception after battling Austin Pettis for a pass. Jenkins batted the ball a few times before ultimately hauling it in.
The Rams continue to take precaution with some of their veteran offensive linemen. Center Scott Wells, guard Harvey Dahl and tackles Jake Long and Rodger Saffold get regularly breaks during the course of practice in an effort to keep them fresh.
There will be one more practice Tuesday afternoon before the Rams depart for Cleveland on Wednesday.
March, 29, 2013
3/29/13
12:00
PM ET
»
NFC Eight in the Box
:
East
|
West
|
North
|
South
»
AFC
:
East
|
West
|
North
|
South
How does each team look at wide receiver and what still needs to be done?

Arizona Cardinals:
Larry Fitzgerald
,
Andre Roberts
and
Michael Floyd
comprise a solid top three.
LaRon Byrd
and
Kerry Taylor
are the only other receivers on the roster. First-year coach Bruce Arians has said receiver is one position he doesn't worry about. Floyd's continued development after an encouraging finish to the 2012 season will be important. The former coaching staff envisioned moving Roberts to the slot, with Fitzgerald and Floyd on the perimeter. That could still happen. Arians also plans to move Fitzgerald around the formation the way he moved
Reggie Wayne
in Indianapolis last season. Drafting a receiver for depth would make sense, but there's no need to chase one early. The Cardinals released veteran
Early Doucet
, who struggled with drops last season.

St. Louis Rams:
Chris Givens
,
Brian Quick
and
Austin Pettis
are the top three.
Nick Johnson
and
Raymond Radway
are the only other receivers on the roster. The Rams are eager to develop young players. Givens had five receptions of at least 50 yards during his 2012 rookie season, matching the combined total for wide receivers from every other team in the division. Pettis made a difference around the end zone. The Rams still must add to the position after letting
Danny Amendola
and
Brandon Gibson
leave in free agency. Having two first-round picks should give the Rams an opportunity to consider a highly rated prospect at the position. It's clear the team is committed to youth regardless. We should remember, too, that recently added tight end
Jared Cook
lines up at receiver quite a bit. He made all but six of his 42 receptions from the slot last season.

San Francisco 49ers:
Michael Crabtree
and
Anquan Boldin
are clearly the top two receivers.
Mario Manningham
is coming off ACL surgery, took a pay reduction recently and might not figure prominently this season. The 49ers, like the Rams, could use more contributions from a receiver drafted early in 2012.
A.J. Jenkins
, chosen 30th overall and three spots before the Rams selected Quick, did not catch a pass during his rookie season. What's ahead for him? The 49ers aren't saying much. No one is quite sure. Coach Jim Harbaugh recently sounded more excited about former practice-squad wideout
Ricardo Lockette
, whose size-speed combination sets him apart from most prospects. Lockette flashed ability with Seattle previously, but his career never took off with the Seahawks.
Kyle Williams
,
Chad Hall
,
Joe Hastings
and
Marlon Moore
are the other receivers on the roster.

Seattle Seahawks:
The addition of
Percy Harvin
changed the outlook for the position quite a bit. He and
Sidney Rice
appear to be the top two receivers, but
Golden Tate
is gaining momentum heading into his contract year. Rice and Tate each caught seven touchdown passes last season. Both averaged 15-plus yards per reception.
Doug Baldwin
needs improved health to factor as a slot receiver. Even then, opportunities could be scarce. The team thinks
Phil Bates
and former Cardinals receiver
Stephen Williams
have the potential to become contributors.
Bryan Walters
,
Charly Martin
and
Jermaine Kearse
are the other receivers on the roster. Drafting for the position would help for long-term planning given Tate's contract situation. Also, injuries have limited Harvin, Rice and Baldwin at times in recent seasons. Rice did stay healthy last season, however.
August, 31, 2012
8/31/12
10:04
PM ET
Click
here
for the complete list of
St. Louis Rams
roster moves.

Most significant move:
The Rams released No. 2 quarterback
Kellen Clemens
even though Clemens knew the offense better than any player on the roster. Clemens, who spent time with the
New York Jets
when Rams offensive coordinator Brian Schottenheimer held the same job there, lost out to impressive undrafted free-agent quarterback
Austin Davis
.
Davis, drafted by the Boston Red Sox this year, stood out during preseason for his poise. Some players appear as though they belong. Davis did, at least initially. The preliminary assumption here is that Davis fared well enough to win the No. 2 role, although rosters remain fluid and the Rams will consider veterans at every position as they become available. The Rams also released
Tom Brandstater
, who was initially thought to be competing with Davis for the third-string role.
Onward and upward:
Clemens could catch on with another team. Overall, however, the Rams had more holes than front-line talent to fill those holes. The players they released will not be coveted elsewhere. That was partly because the suspension
Austin Pettis
faces for the first two games bought the Rams time at wide receiver, where the team has quite a few mid-level prospects. With Pettis on the reserve/suspended list and not counting against the 53-man limit, the Rams kept the six receivers considered most likely to stick, including veteran
Steve Smith
and second-year pro
Greg Salas
.
Veteran fullback
Ovie Mughelli
received his release and could appeal to the dwindling number of teams valuing a traditional blocking fullback. The Rams kept only four running backs on this initial 53-man roster. They parted with
Chase Reynolds
after coach Jeff Fisher lauded the 24-year-old back as someone with the ability to close out a game.
The Rams also cut
Aaron Brown
,
Cornell Banks
,
Cory Harkey
,
Jamaar Jarrett
,
Jose Valdez
,
Scott Smith
,
Mason Brodine
,
Nick Johnson
,
Ben Guidugli
,
Kendric Burney
,
Deangelo Peterson
,
Sammy Brown
, T. Bob Hebert,
Tim Barnes
,
Bryan Mattison
,
Vernon Gholston
and
Joe Long
. Gholston could be running out of chances.
What's next:
The Rams need help throughout their roster. They have the No. 2 priority in waiver claims. Expect them to put that privilege to use. The Rams should be active in pursuing help at defensive tackle after losing first-round pick
Michael Brockers
for a month (estimated) with a high-ankle sprain.
Trevor Laws
is already on injured reserve.
The Rams have only eight offensive linemen, one fewer than teams generally prefer to keep. They could use another one. They kept six linebackers, on the low side. The team is carrying 11 defensive backs at present. I wouldn't be surprised if they shopped former starting corner
Bradley Fletcher
, who was playing deep into games in preseason.

NFL SCOREBOARD
Thursday, 12/18
Saturday, 12/20
Sunday, 12/21
Monday, 12/22
WEEKLY LEADERS