November, 24, 2012
11/24/12
9:09
PM ET
Every NFC West team ranked among the NFL's top 11 in punt-return average last season. Each averaged at least 11.0 yards per return, 1.5 above the average.
Only the
San Francisco 49ers
have maintained their performance this season. They rank seventh with an 11.3-yard average, down only modestly from 12.4 in 2011.
Arizona's inability to spring
Patrick Peterson
for long returns this season has resulted in a 7.4-yard, 48.6 percent reduction per return this season. Only Chicago has suffered a greater percentage decrease in punt-return average from last season. The Cardinals have fallen from second to 22nd in punt-return average.
The
St. Louis Rams
rank third in both gross decline (4.5 yards) and percentage decline (40.5 percent). Seattle's average has dropped from 11.1 yards to 8.7, a reduction of 21.4 percent, 10th-greatest in the NFL.
I haven't seen a great explanation for why prolific punt returners see their averages swing wildly from season to season. It's happening for Peterson and the
Chicago Bears
'
Devin Hester
this season.
Hester has throughout his career experienced two highly productive seasons at a time, followed by two down seasons. That has happened twice. If the cycle continues, his average will balloon again in 2014, provided he remains a productive player.
Hester is averaging 8.0 yards per return this season after averaging 16.2 (2011), 17.1 (2010), 7.8 (2009), 6.2 (2008), 15.5 (2007) and 12.8 (2006) previously.
Peterson is averaging 7.7 yards per return with no touchdowns this season, down from 15.9 yards with four touchdowns last season. His 80-yard return for a touchdown in Week 12 last season staked the Cardinals to a 20-10 lead at St. Louis. Arizona won the game, 23-20.
The teams play Sunday, also in Week 12, this time in Arizona.
St. Louis' average has fallen as well, dropping from 11.0 last season to 6.6 this season.
Nick Miller
, no longer with the team, had an 88-yard touchdown return last season.
Greg Salas
, also no longer with the team, had a 29-yard return.
Austin Pettis
, who has only one return this season, had a 9.3-yard average on 15 of them last season.
Danny Amendola
leads the Rams this season with an 8.4-yard average and a long return of 22 yards.
Janoris Jenkins
has a 4.8-yard average on nine returns. Amendola is not expected to play against Arizona. He has a foot injury.
September, 12, 2011
9/12/11
10:50
PM ET
DENVER -- Oakland's starting receivers are
Jacoby Ford
and
Darrius Heyward-Bey
.
There were questions about it heading into the game and coach Hue Jackson wouldn't discuss who his starters would be. Starter
Louis Murphy
is hurt and
Derek Hagan
is inactive.
It wasn't a good start for Ford as he fumbled on Oakland's first play after making a catch. He was tackled by
Von Miller
. What a start for the No. 2 overall pick of the draft. Denver converted it into a field goal to take a 3-0 lead.
Oakland defensive tackle
John Henderson
started the game as the Raiders used a five-man defensive front.
As expected,
Sebastian Janikowski
's and
Matt Prater
's first kickoffs sailed out of end zone.
Oakland is playing safety
Jerome Boyd
Oakland's punt returner is
Nick Miller
.
The Broncos started four rookies for the first time in team history: Miller, safety
Rahim Moore
, tackle
Orlando Franklin
and tight end
Julius Thomas
.
September, 3, 2011
9/03/11
10:35
PM ET
Check
here
for a complete list of the Oakland Raiders' roster moves.

Surprise move:
Oakland cut several defensive backs, including
Lito Sheppard
,
Walter McFadden
,
Jeremy Ware
,
Stevie Brown
and camp star
Sterling Moore
. Veteran running back
Michael Bennett
and receiver/returner
Nick Miller
survived the cuts, which was somewhat unexpected. Oakland kept linebacker
Darryl Blackstock
, who had been out of the league. He played for Oakland defensive coordinator Chuck Bresnahan in the UFL. Quarterback
Trent Edwards
was cut after he was signed this summer with designs of being the backup. But
Kyle Boller
separated himself from Edwards. It's a bit surprising Edwards was cut now with
Terrelle Pryor
starting a five-game suspension. Still, if he's not picked up (perhaps Kansas City will be interested), Edwards could always be brought back to Oakland before Pryor joins the roster.
No-brainers:
There was speculation receiver
Chaz Schilens
and safety
Mike Mitchell
(a second-round pick in 2009) could be on the chopping block. They made the team as they have. Both have been dealing with injuries, but both players have potential. Now, if we're still talking about injuries and untapped potential this time next year, their futures could become cloudy. But they both deserve to be in Oakland this season.
What's next:
I think Oakland will continue to look for cornerbacks and safeties. They will also still look at weakside linebackers, and they will look to upgrade the offensive line. And I know Oakland likes its receivers, but I could also see it keeping an open mind about the position.
August, 28, 2011
8/28/11
9:45
PM ET
OAKLAND -- Notes from halftime as the New Orleans Saints lead the Oakland Raiders, 17-10 in a preseason game:
New Orleans quarterback Drew Brees, a long-time Raider killer, ripped the Raiders apart again. He threw for 189 yards before being taken out late in the half. The Saints were 6-for-8 on third-down conversions with Brees in the game. New Orleans tight end Jimmy Graham had five catches for 73 yards in the first half.
The Raiders' offense looked great on their first series. Everyone looked sharp as they cruised down the field 91 yards for a touchdown. Running back Michael Bush was tremendous as he had 32 yards on five carries in the first half. He looks to be in midseason form.
Rookie Taiwan Jones had 10 yards on four carries and he had a nifty run on a short pass called back by penalty. Yes, he is as advertised -- the fourth-round pick can fly. Expect Oakland to feature him on third-down screen plays during the season.
Oakland kicker Sebastian Janikowski showed off his monster leg with a 57-yard field goal. I'm not one to make outrageous predictions, but mark me down for this one: Janikowski breaks the NFL record for the longest field goal this season. He has the leg and Oakland coach Hue Jackson trusts him. The record is 63 yards.
Brees picked on rookie DeMarcus Van Dyke at will. Van Dyke is getting great experience, but if he doesn't make fast strides, teams will challenge him early and often when he is on the field.
Veteran receiver Derek Hagan scored on a 35-yard pass from Jason Campbell on the team's first possession. The journeyman receiver is having a strong summer and he could be in Oakland's receiving rotation.
Campbell was sharp. He completed 12 of 17 passes for 150 yards. He looked good in the two-minute drill on the final drive of the half before he was picked off on a deflected pass. Campbell did well in the two-minute drill late last season.
Oakland's offensive line looked solid. It's a work in progress, but it is making strides. I like rookie Stefen Wisniewski at left guard and veteran Samson Satele at center. Wisniewski is very athletic and seems to play with a nasty streak. He excelled in the first half in run blocking.
Defensive lineman Richard Seymour is being held out with a hamstring injury.
Running back Darren McFadden and receiver Jacoby Ford also are among those not playing. They returned to practice this week, but they are being held out as a precaution. Expect to see them when the regular season begins in Denver.
Pass-rusher Trevor Scott played for the first time since suffering a knee injury in November.
Oakland second-year middle linebacker Rolando McClain looks very active. He is always near the ball.
Nick Miler muffed the opening kickoff. Not a great move for a guy on the bubble.
NBC reported during its telecast that quarterback Terelle Pryor will not play Sunday night, but he will play Friday in the preseason finale at Seattle. Oakland took the former Ohio State quarterback in the supplemental draft Monday.
Jeff Miller, the head of NFL security, is at the game as part of the league's investigation into the fan violence following the Raiders' game at San Francisco last week. He said the league hasn't made a final decision on whether or not the annual preseason series between the two Bay Area teams will be postponed next year. That recommendation has been made.
November, 7, 2010
11/07/10
11:28
PM ET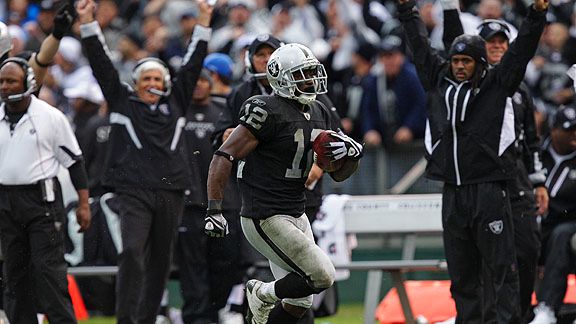 AP Photo/Marcio Jose SanchezJacoby Ford returned four kicks for 158 yards and added 148 yards receiving.
OAKLAND, Calif. -- It's as simple as this: The
Oakland Raiders
are making more plays than their opponents.
That's why Oakland is a legitimate playoff contender.
In a sloppy, physical, intense game that had the feel of a playoff primer, the Raiders moved within a half-game of first place in the AFC West with
a 23-20 overtime win over Kansas City
that served notice to the Chiefs and the rest of the AFC that this team now has the fortitude to win games on a regular basis.
Kansas City is 5-3 and Oakland sits at 5-4. San Diego is 4-5. This game conjures the possibility of a delicious Week 17 rematch in Kansas City that could decide the AFC West and end the Chargers' four-year stranglehold on the division crown. This became clear Sunday: The Raiders, who were led by fourth-round kick returner/receiver
Jacoby Ford
, are going to stick around.
"We're not the old Raiders," safety
Mike Mitchell
said. "We're going to fight all game long."
It may have taken a while, but the Raiders have learned how to win games in any situation. After hammering Denver and Seattle by a combined score of 92-17 in the past two games, Oakland had to fight until the final play to defeat the Chiefs. Oakland, which tied the score at 20 at the end of regulation on a 41-yard field goal by
Sebastian Janikowski
, won the game on a 33-yard field goal by Janikowski 2:53 into overtime.
This was a huge swing game in the division. Oakland's win means the Raiders probably will stay in the race all season. Had Kansas City won, it would have had a huge 2.5-game lead in the division. Oakland, which played without star cornerback
Nnamdi Asomugha
and standout tight end
Zach Miller
, is in fine shape with a 3-0 record against AFC West opponents. If Oakland wins one more game this season, it will win more than five games in a season for the first time since 2002, ending the NFL's longest streak of futility.
If Oakland continues to make timely plays, it will render that mark a distant memory. This was the Chiefs' game to win, but the Raiders lay in wait, looking to pounce when they needed to most.
At one point in the third quarter, Oakland had more penalty yardage than offensive yards. Kansas City led 10-0 at halftime and was dictating play.
It was the first time
Oakland has won after trailing 10-0 at the half in 18 years. But the Chiefs helped Oakland's comeback.
In a game that had 27 penalties for 240 yards (an NFL high this season), the Chiefs lost 10 points on penalties. The Raiders first showed life in the final minute of the first half when defensive back
Jeremy Ware
picked off a
Matt Cassel
pass in the end zone with the Chiefs poised to extend their lead.
Oakland continued the good vibes when Ford started to take over by returning the second-half kickoff 94 yards for a score. Two possessions later, the Raiders had their first long drive of the game, going 74 yards for a touchdown and a 14-13 lead. They extended the lead to 17-13 with a field goal in the fourth quarter.
After a questionable fumble by
Nick Miller
, the Chiefs scored a touchdown to take a 20-17 lead with 6:13 to go. But the Chiefs couldn't shake Oakland. After the Oakland defense made a huge stop, forcing the Chiefs to punt, quarterback
Jason Campbell
and Ford led Oakland on a field-goal drive after starting from its own 24 with 2:06 to go. The Raiders had their moments of misery on the drive, which they had all game, but they made the plays that mattered most.
The key play was a 29-yard pass from Campbell to Ford to the Chiefs' 22 to set up the tying field goal. After Kansas City was forced to go three plays and out on the opening drive of overtime, Campbell went back to his rookie receiver for a 47-yard pass play to the Chiefs' 15 on the Raiders' first play. The game was over two plays later.
Oakland was far from perfect Sunday, but it was clutch. It was very similar to Oakland's 35-27 win over San Diego four weeks ago. The Chargers could have run away from Oakland, but the Raiders wouldn't let them.
"It's been a process, but we know how to win games now," Oakland fullback
Marcel Reece
said. "We knew what was at stake in this game. We knew that if we're going to be a playoff contender, we had to hang in. But that's what we do."
Added defensive lineman
Richard Seymour
: "We're a different team. It started way back in training camp. People can see how this team plays now and know we have made a lot of progress."
The Raiders are entering their most joyous bye week in nearly a decade. It will be interesting to see where Campbell and Ford fit in when Oakland returns Nov. 21 at Pittsburgh. Campbell was playing for the fourth straight game because
Bruce Gradkowski
has a shoulder injury. Ford was starting because
Louis Murphy
is out with a lung injury. There is a good chance both Gradkowski and Murphy can return against Pittsburgh.
Ford has to stay on the field. He was the
first rookie since 1979
to have a kickoff return for a touchdown and more than 100 yards receiving in the same game. He had six catches for 148 yards. Murphy has been better than Oakland's other starter, 2009 No. 1 pick
Darrius Heyward-Bey
, so perhaps Ford will eat into Heyward-Bey's playing time. Heyward-Bey had no catches Sunday after having five catches for 105 yards last week. He has not been consistent at all.
And how do you take out Campbell after he has led the team to three straight wins? Campbell, the original starter in Oakland after being acquired in a trade from Washington in April, struggled early, but he did come through with big plays Sunday. Oakland coach Tom Cable has maintained that Gradkowski will be the starter when he is healthy. Sunday, however, he said he's not going to think about it right now, perhaps a signal that Campbell could remain the starter.
Campbell should keep the job. Oakland has a good thing going. It shouldn't be messed with.
November, 7, 2010
11/07/10
7:31
PM ET
OAKLAND -- There is nothing like a little controversy to accompany a game with more than 20 penalties and a touchdown reception by an offensive tackle.
Kansas City took a 20-17 lead with 6:13 remaining on a 20-yard pass from
Matt Cassel
to
Dwayne Bowe
.
Kansas City took possession at the Oakland 30 on a fumble by punt returner
Nick Miller
. There was a long, big scrum for the ball and the Raiders were furious the play was called a fumble, but coach Tom Cable was out of challenges. Replays showed the ball to come out before Miller's knee hit the turf.
September, 12, 2010
9/12/10
12:13
PM ET
NASHVILLE, Tenn. -- Four days after indicating to the Tennessee media that running back
Michael Bush
was on target to play in the season opener, Bush was among Oakland's inactive players.
Bush broke his left thumb Aug. 28 in a preseason game against San Francisco. He practiced on a limited basis last week. However, the thumb clearly wasn't healed enough for Bush to catch the ball and block effectively.
Darren McFadden
will start for Oakland.
McFadden missed much of training camp with a hamstring injury, but he has been healthy of late.
Other Oakland inactive players of note are receiver
Chaz Schilens
, who may be a few weeks away from playing after having arthroscopic knee surgery in August, and rookie offensive lineman
Bruce Campbell
, who appears to be out because of a coach's decision.
Here are the complete inactive lists for both Oakland and Tennessee:
Oakland
Tennessee
September, 4, 2010
9/04/10
7:01
PM ET
Check
here
for a full list of Oakland's roster moves.

Biggest surprise:
There wasn't a lot of surprising names on Oakland's cut list. Defensive end
Jay Richardson
can qualify as a mild surprise. Richardson's departure may mean
Trevor Scott
will play more end. He was an end who was moved to linebacker and was supposed to start at linebacker. However, he played end in the preseason finale Thursday night. Fullback
Luke Lawton
was cut and Oakland doesn't have a traditional fullback on its roster. Center
Chris Morris
was cut and the team announced rookie
Jared Veldheer
will be the starting center. The smalls-school Veldheer was drafted as a tackle and played on a limited basis at center in the preseason. But he is a better long-term player than Samsom Satele, who will be the backup. Still, Veldheer will have his hands full as a rookie playing center against NFL competition. Still, he is new blood and Oakland needs an influx talent on the line.
No-brainers:
The Raiders didn't cut any of their draft picks. Oakland really likes this class and if resurgence is under way in Oakland, this class will have a lot to do with it. Defensive tackle
John Henderson
was kept. There was talk he could be on the bubble. But he is too valuable. He may not be an every-down player, but he can help against the run in a limited role. Second-year receiver
Nick Miller
was kept. The Raiders really like this small, but tough player. With
Michael Bush
potentially out several weeks with a broken thumb, the team needed veteran running back
Michael Bennett
. He had a fine preseason.
What's next:
The Raiders could do anything. Remember, they shocked the league by trading for
Richard Seymour
last year the day after he roster was set. Expect Oakland to look at veteran receivers, including former Seattle receiver
T.J. Houshmandzadeh
. The team could also look for a veteran center to give Veldheer more time to develop. Also, veterans
Thomas Howard
and
Chris Johnson
could still be subject to trade talks if the right deal comes along.

NFL SCOREBOARD
Sunday, 12/28
WEEKLY LEADERS