May, 11, 2013
5/11/13
12:03
PM ET
Aaron Curry
's recent
signing
with the
New York Giants
invites a look back at the 2009 NFC West draft class, painful as it might be in some cases.
Four of the 29 players NFC West teams selected in that draft remain with their original teams:
Michael Crabtree
in San Francisco,
James Laurinaitis
in St. Louis,
Max Unger
in Seattle and
Rashad Johnson
in Arizona.
Unger is the only one of the 29 to earn Pro Bowl honors. Unger and Laurinaitis are the only ones to receive long-term contract extensions from their original teams.
NFC West teams have fired the head coaches and general managers associated with those 2009 selections.
Reasons for those firings went far beyond the 2009 draft, of course. Still, the massive turnover since that draft reflects poorly on what was, by most accounts, a weak class across the league. It also shows how frequently personnel turns over in the NFL. The league has 21 new head coaches and 19 new general managers since the 2009 season concluded.
Curry was widely considered the "safest" choice in that 2009 draft as a fearsome linebacker from Wake Forest. Seattle would trade him to Oakland for seventh- and fifth-round picks before Curry had finished his third season.
Jason Smith
, chosen second overall by St. Louis in 2009, supposedly had a mean streak and was a natural leader. The Rams would trade him to the
New York Jets
for
Wayne Hunter
after three disappointing seasons.
Beanie Wells
came to the Cardinals in the first round of that 2009 draft pretty much as advertised: highly talented, but not very durable. The Cardinals released him this offseason, and Wells remains unsigned amid questions about his knee.
2009 was also the year Arizona sought to upgrade its pass-rush by selecting Cody Brown in the second round. The 49ers tried to improve their depth at running back by using a third-round choice for
Glen Coffee
. Brown would never play in an NFL game. Coffee would retire after one season.
The chart shows how many regular-season NFL starts each 2009 NFC West draft choice has made, regardless of team.
April, 27, 2012
4/27/12
8:49
PM ET
From a talent perspective, Michigan State's
Jerel Worthy
was one of the best defensive line prospects entering the NFL draft. So why was he available midway through Friday's second round in the 2012 NFL draft?
Worthy
Here's part of the
Scouts Inc. report
on Worthy that might help answer that question:
Effort and motor can run hot and cold. 2011 film study was inconsistent. Looks like two different players versus Wisconsin (best game) and versus Michigan (arguably his worst). Will occasionally give second effort to get back involved in play, but would like to see it with more consistency.
A legitimate possibility in the first round, Worthy instead fell to No. 51 overall, prompting the defensive-needy
Green Bay Packers
to trade up and grab him. To move up eight spots, the Packers gladly gave up a fourth-round pick (No. 123 overall), still leaving them with nine picks remaining in the final five rounds of the draft.
The Packers have moved aggressively this offseason to address their front seven, especially from a penetration and pass rush perspective. They signed free agent
Anthony Hargrove
to compete at defensive end, drafted outside linebacker prospect
Nick Perry
on Friday and now have Worthy.
We'll await word from the Packers, but you would think Worthy could play end or nose tackle in the Packers' 3-4 front. He might not be a pure pass-rusher, but his size and athletic ability makes him a strong candidate to disrupt the line of scrimmage. According to the Packers, Worthy had at least one tackle for a loss in nine games last season for the Spartans. And the beat goes on …
October, 14, 2011
10/14/11
3:25
PM ET
The underworld of NFL injuries is a murky and mysterious place. You never know who or what to believe. With that said, the general consensus around the
Chicago Bears
this week has been that defensive end
Julius Peppers
' sprained knee would improve enough to allow him to play Sunday night against the
Minnesota Vikings
.

Peppers
That theory took a hit Friday when Peppers was unable to practice and was listed as doubtful on the Bears' injury report. Coach Lovie Smith said "we are still hopeful" but noted: "When a guy doesn't practice at all during the week, we're not too optimistic."
It's important to note that "doubtful" means there is a 25 percent chance of a player being available.
As we learned last year
, a player can be ruled out on the final injury report of the week and still wind up playing. So I'm not ready to rule out Peppers completely from this game. All we can say is that if he does play, he'll be on the field at far less than 100 percent capacity.
The Bears' already-struggling defense would be substantially weaker without its best player, especially when you consider that his likely replacement would be a 248-pound free agent with one NFL sack in two seasons.
Nick Reed
is a feisty reserve but hardly a player the Bears want in a premier position during a nationally televised game against an opponent that will be more than happy to test him with its power running game. If the Bears were giving up 135 rushing yards per game with Peppers in the lineup, then how many will tailback
Adrian Peterson
pile up without him?
We'll have the rest of the NFC North injury report a bit later, but this turn of events merited immediate response. Peppers has missed only six games in his 10-year NFL career, and none since 2007. But his availability doesn't look good for a key division game that will be the difference between a 2-4 and 3-3 record.
April, 25, 2011
4/25/11
11:45
AM ET
NFC West teams have drafted 22 defensive ends since 2002, a number smaller than I would have anticipated.
An even smaller number -- two! -- start for the teams that drafted them.
One,
Antonio Smith
, starts for another team.
A few notes relating to this latest item in
a series examining various positions
:
Kentwan Balmer appears as a defensive end because the San Francisco 49ers drafted him to play that position. Balmer played defensive tackle in college.
Darnell Dockett does not appear as a defensive end because the Arizona Cardinals drafted him to play defensive tackle. Yes, Dockett plays defensive end in the Cardinals' current scheme, but the NFL lists him as a tackle for Pro Bowl voting and he is not a typical defensive end even by 3-4 standards.
Of the 22, only Chris Long and Calais Campbell are starting for their original teams. Smith is starting for the Houston Texans.
Six of the eight most highly drafted ends since 2002 came from teams most recently affiliated with the ACC.
Long was the only player on the list drafted before the 28th overall choice.
Will Davis and Parys Haralson were listed as defensive ends coming out of college, but both projected as outside linebackers. That is why they do not appear below. Cody Brown also projects at linebacker.
I've used the term "not active" loosely in the charts to describe players who weren't on active rosters during the regular season recently.
Now, on to the charts. I've broken them up with italicized comments representing what NFL teams might have been thinking at corresponding stages of these drafts.
Playing it safe and hoping those NFL bloodlines pay off ...
Defensive linemen are at a premium, and we might find out why ...
The pure pass-rushers are gone by now ...
If these guys don't pan out, it'll be a while before we take another third-round end ...
It's an upset if we find a starter at this point ...
Time to fill out the practice squad, but you never know ...
September, 8, 2010
9/08/10
2:21
PM ET
Roster turnover is a leading topic for discussion in Seattle following the release of
T.J. Houshmandzadeh
in particular.
I've addressed the subject in depth across the division -- first
May 26
and again
July 30
-- and it's worth another look now that teams have reduced to 53 players for the regular season.
This time, I'm going to break down the changes by position, listing players no longer on the active roster at each main position group (with new players in parenthesis). Departures outnumber replacements because some players finished last season on injured reserve, meaning they were not part of the 53-man roster.
Some players no longer on the active roster remain with the team (they could be suspended, deemed physically unable to perform or part of the practice squad).
St. Louis Rams (34 off roster)

Defensive back:
Eric Bassey
,
Quincy Butler
,
Danny Gorrer
,
Clinton Hart
, Cordelius Parks,
David Roach
,
Jonathan Wade
(added
Kevin Dockery
,
Jerome Murphy
,
Darian Stewart
)
Defensive line:
Victor Adeyanju
,
Adam Carriker
,
Leger Douzable
,
Leonard Little
,
LaJuan Ramsey
,
James Wyche
(added
Jermelle Cudjo
,
Fred Robbins
,
George Selvie
,
Eugene Sims
)
Linebacker:
K.C. Asiodu
,
Paris Lenon
(added
Na'il Diggs
,
Josh Hull
)
Offensive line:
Roger Allen
,
Alex Barron
,
Ryan McKee
,
Mark Setterstrom
,
Phillip Trautwein
,
Eric Young
(added
Renardo Foster
,
Hank Fraley
,
Rodger Saffold
)
Quarterback:
Kyle Boller
,
Marc Bulger
,
Keith Null
,
Mike Reilly
(added
Sam Bradford
,
A.J. Feeley
,
Thaddeus Lewis
)
Running back:
Samkon Gado
,
Chris Ogbonnaya
(added
Keith Toston
)
Special teams:
Ryan Neill
Tight end:
Randy McMichael
(added
Mike Hoomanawanui
,
Fendi Onobun
)
Wide receiver:
Donnie Avery
,
Keenan Burton
,
Brooks Foster
,
Jordan Kent
,
Ruvell Martin
(added
Mark Clayton
,
Dominique Curry
,
Mardy Gilyard
)
---
Seattle Seahawks (33 off roster)

Defensive back:
Jamar Adams
,
Deon Grant
,
Ken Lucas
,
Josh Wilson
(added
Kam Chancellor
,
Kennard Cox
,
Nate Ness
,
Earl Thomas
,
Walter Thurmond
)
Defensive line:
Lawrence Jackson
,
Patrick Kerney
,
Cory Redding
,
Nick Reed
,
Darryl Tapp
,
Craig Terrill
(added
Kentwan Balmer
,
Raheem Brock
,
Chris Clemons
,
Dexter Davis
,
Junior Siavii
,
E.J. Wilson
)
Linebacker:
Leroy Hill
,
Lance Laury
,
D.D. Lewis
(added
Matt McCoy
; note that Hill is suspended for the first regular-season game)
Offensive line:
Trevor Canfield
,
Brandon Frye
,
Walter Jones
,
Damion McIntosh
,
Rob Sims
,
Steve Vallos
,
Ray Willis
,
Mansfield Wrotto
(added
Stacy Andrews
,
Evan Dietrich-Smith
,
Ben Hamilton
,
Russell Okung
,
Chester Pitts
,
Tyler Polumbus
)
Quarterback:
Mike Teel
,
Seneca Wallace
(added
Charlie Whitehurst
)
Running back:
Justin Griffith
,
Louis Rankin
,
Tyler Roehl
,
Owen Schmitt
(added
Quinton Ganther
,
Michael Robinson
,
Leon Washington
)
Special teams:
Kevin Houser
,
Jeff Robinson
(added
Clint Gresham
)
Tight end:
John Owens
(added
Chris Baker
,
Anthony McCoy
)
Wide receiver:
Nate Burleson
, T.J. Houshmandzadeh (added
Golden Tate
,
Mike Williams
)
---
Arizona Cardinals (24 off roster)

Defensive backs:
Ralph Brown
,
Bryant McFadden
,
Antrel Rolle
(added
A.J. Jefferson
,
Trumaine McBride
,
Brandon McDonald
,
Kerry Rhodes
)
Defensive line:
Jason Banks
(added
Dan Williams
)
Linebacker:
Monty Beisel
,
Bertrand Berry
,
Cody Brown
,
Karlos Dansby
,
Gerald Hayes
,
Chike Okeafor
,
Pago Togafau
(added
Paris Lenon
,
Cyril Obiozor
,
Joey Porter
,
Daryl Washington
; Hayes can return from the physically unable to perform list after six games)
Offensive line:
Mike Gandy
,
Herman Johnson
,
Reggie Wells
(added
Alan Faneca
,
Rex Hadnot
)
Quarterback:
Matt Leinart
,
Brian St. Pierre
,
Kurt Warner
(added
Derek Anderson
,
Max Hall
,
John Skelton
)
Running back:
Justin Green
,
Dan Kreider
(added
Jerome Johnson
)
Special teams:
Neil Rackers
(added
Jay Feely
)
Tight end:
Anthony Becht
(added
Jim Dray
)
Wide receiver:
Anquan Boldin
,
Sean Morey
,
Jerheme Urban
(added
Andre Roberts
,
Stephen Williams
)
---
San Francisco 49ers (24 off roster)

Defensive backs:
Dre' Bly
,
Walt Harris
,
Marcus Hudson
,
Mark Roman
(added
Phillip Adams
,
Tramaine Brock
,
William James
,
Taylor Mays
)
Defensive line:
Kentwan Balmer, Derek Walker
Linebacker:
Scott McKillop
,
Jeff Ulbrich
,
Matt Wilhelm
(added
NaVorro Bowman
,
Travis LaBoy
)
Offensive line:
Tony Pashos
,
Chris Patrick
,
Cody Wallace
(added
Alex Boone
,
Anthony Davis
,
Mike Iupati
)
Quarterback:
Nate Davis
,
Shaun Hill
(added
David Carr
,
Troy Smith
)
Running back:
Thomas Clayton,
Glen Coffee
,
Brit Miller
, Michael Robinson (added
Anthony Dixon
,
Brian Westbrook
)
Special teams:
Shane Andrus
,
Ricky Schmitt
Wide receiver:
Arnaz Battle
,
Isaac Bruce
,
Jason Hill
,
Brandon Jones
(added
Ted Ginn Jr.
,
Kyle Williams
,
Dominique Zeigler
)
---
The first chart shows how many players are back -- at least for now -- from Week 17 rosters and injured reserve lists. Seattle has the fewest number back with 26.
The second chart shows how many players each team has shed since Week 17 last season. This counts players who were on injured reserve. Teams with lots of players on injured reserve had more players to lose.
August, 24, 2010
8/24/10
10:41
PM ET
Initial reports suggested
Russell Okung
's ankle injury wasn't the more serious "high" variety, but we're talking about the hard-luck
Seattle Seahawks
, so of course it ended up being just that.

Okung
Injuries seem to wind up being worse than anticipated for Seattle. That was the case with
Walter Jones
and
Matt Hasselbeck
in past seasons, and it was the case on a lesser scale Tuesday with Okung and second-year pass-rusher
Nick Reed
. Reed, seen limping toward the locker room after the Seahawks' game Saturday, underwent arthroscopic knee surgery. Linebacker
David Hawthorne
, scheduled to start the opener while
Leroy Hill
serves a suspension, is also hurting and was scheduled to undergo an MRI exam for an injury the team did not disclose.
Okung's high sprain wasn't a particularly severe one, coach Pete Carroll noted, but it still wasn't clear whether the Seahawks would have their first-round draft choice and starting left tackle for the regular-season opener. High sprains are more serious than typical ones.
"When you asked the other night, I was hoping it wasn't (a high sprain), but it is, so we'll see how it works out," Carroll said Tuesday.
The Seahawks drafted Okung because they badly needed a front-line left tackle to protect Hasselbeck and the team's other quarterbacks. While two-plus weeks remain until the regular season, the team faces one of the NFL's best defensive fronts when visiting the
Minnesota Vikings
in its next exhibition game. Pro Bowl pass-rusher
Jared Allen
will be working against Okung's replacement,
Mansfield Wrotto
, when Hasselbeck is in the game.
Okung was extremely durable in college, making his injury after less than five quarters of NFL action all the more confounding. Seattle's run of bad luck with injuries has become a tiresome topic in recent seasons -- it's not the only reason the team has struggled, obviously -- but with Okung and backup right tackle
Ray Willis
out, and with veteran
Chester Pitts
trying to bounce back from a procedure similar to the one that ended Jones' career, tackle depth is a concern.
"With Ray (Willis) down, too, it's about as bad as it could have hit at that spot," Carroll said.
It can get much worse, actually, as the Seahawks found out last season when they replaced Jone with
Sean Locklear
,
Brandon Frye
,
Damion McIntosh
and
Kyle Williams
.
Carroll said he was "going to hold out hope" that Okung would be ready for the regular-season opener against the
San Francisco 49ers
. Meanwhile,
Mike Gibson
will replace
Ben Hamilton
at left guard against the Vikings. He could stay there, I think, based on what we've seen from both players to this point.
August, 12, 2010
8/12/10
3:06
PM ET
ESPN.com NFL Power Ranking
(pre-camp): 25
RENTON, Wash. -- Elevated speakers pump out PG-13 lyrics and hip-hop beats all through
Seattle Seahawks
practice.
"I'm fresh, I'm fly, I'm always high," boasts rapper Lloyd Banks of G-Unit fame, "got ya b----es waving at me when I roll by."
Later, it's a song from Usher creating the visuals: "Honey got a booty like pow, pow, pow."
And this from another rapper, Akon: "I'm the boss, it only takes one call for a driver to hit you up and drop you off and that's all. Guess what? I won't be takin' that fall. Homie, I got cake, that's what I'm payin' them for."
Thirty-six-year-old safety
Lawyer Milloy
, the second-oldest player on the team behind kicker
Olindo Mare
, grooves on the sideline during a break for the first-team defense. His head coach and the Seahawks' unofficial hype man, Pete Carroll, runs a spirited practice a few yards away. Afterward, I ask Milloy bluntly whether it's credible for a 58-year-old white guy from Marin County to like G-Unit. Milloy laughs. He played for Carroll in New England more than a decade ago and he jumped at the chance to play for him again.
"The thing about a leader, the leader has to understand and know the people that he is leading," Milloy explains. "[Carroll] is willing to step into our world a little bit and that's the sign of a good leader, man -- somebody that will get up there and rock to the music. He might not listen to the lyrics, but he can find the beat."
In theory, anyway.
"I'm not saying he's always on beat," Milloy says, "but, you know, it's just good to see that our leader is out in front. Everything he wants us to do, he's leading by example."
The big question upon Carroll's hiring was whether his enthusiastic style would translate from USC to the NFL. Carroll isn't running from his reputation as a rah-rah coach. He's embracing it and winning over players, at least so far, with an approach to training camp that represents a 180-degree turn from the tough camp Jim Mora ran last summer. Mora's own conditioning level was such that his resting heart rate was 41 and doctors couldn't make a stress test tough enough to bring his rate to peak levels. If he could achieve such fitness, shouldn't professional athletes half his age? The team
worked harder
during camp than anyone imagined. In retrospect, it's possible the 2009 Seahawks never quit on Mora so much as they ran out of gas.
Carroll has given players full days without practice. Two-a-days ended after about a week. There have been no three-hour practices.
"Best training camp I've ever been involved with," 10th-year receiver
T.J. Houshmandzadeh
said. "We go harder than any training camp I've ever been in when we're out there. Everything is fast, fast, fast. But he's giving us ample rest and I'm not used to that. It's very, very different, and I think it's good because we took a conditioning test and everybody passed it very easily. That showed everybody was in shape. So now it's just, work on your craft."
THREE HOT ISSUES
[+] Enlarge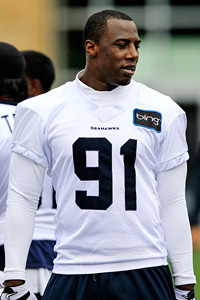 AP Photo/Elaine ThompsonThe Seahawks hope Chris Clemons can add to his 20 career sacks.
1. Where will this team get its pass rush?
Carroll is not sure and this might be the biggest weakness on the team.
Chris Clemons
, acquired from the
Philadelphia Eagles
in the
Darryl Tapp
trade, is probably the best pass-rusher on the roster. He has 20 career sacks and three starts in six NFL seasons with three teams.
"He has shown a lot of great things out there with his speed, and I think he has so much speed off that edge and I think people lose track of his strength," linebacker
Lofa Tatupu
said. "I've seen him hip-toss some people over almost like Reggie White used to do with that club move. And he has a good bull-rush on him."
Clemons thinks his career will blossom with additional playing time. It might, but that is no given. At one point in practice Wednesday, undrafted rookie center
Jeff Byers
caught the 254-pound Clemons off balance, lifted him off the ground and planted him on his back.
The best pass-rusher on the team after Clemons? Tatupu mentioned
Nick Reed
, who had one sack as a rookie last season.
"In practice, we have gotten to the QB a number of times," Tatupu said. "I know Matt [Hasselbeck] won't admit it, but we've given him fits. I think we'll be fine in that department."
2. Which running back gets most of the carries?
Probably
Justin Forsett
, a seventh-round draft choice left over from the Seahawks' previous leadership. Forsett showed an ability to make the first defender miss while rushing for 619 yards on 114 carries last season. He has a chance to become a 1,000-yard rusher because his style suits the Seahawks' full-scale conversion to Alex Gibbs' zone-blocking scheme. Seattle dabbled in the zone scheme last year, but the line lacked an overall identity.
Julius Jones
remains a factor, but Forsett and the newly healthy
Leon Washington
are commanding most of the attention at running back. Washington has recovered from the gruesome leg injury that threatened his career. He looks good and Carroll loves what he offers to the offense.
[+] Enlarge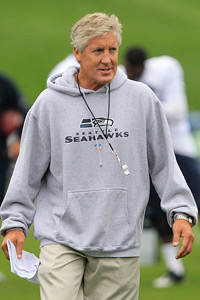 AP Photo/Elaine ThompsonThis year's Seahawks have experienced a different training camp under new head coach Pete Carroll.
3. Will Carroll's competition mantra hold up?
Carroll has put veteran players on notice by letting rookies command practice reps based on merit. That's easier to do during training camp, when wins and losses aren't at stake. Coaches often favor veterans when the games start counting because veterans tend to know their responsibilities and have a better overall feel for the game. I think Carroll will go young this season for several reasons. One, he has more than one year to turn around the Seahawks. The organization isn't going to give Carroll the Mora treatment, in other words. Two, an affinity for youth is one value that made Carroll and new general manager John Schneider a good fit together. When Schneider was with Green Bay, the Packers annually fielded one of the NFL's youngest teams. When Carroll was at USC, he was continually getting younger players ready to take over. Three, some of the Seahawks' best players are young. Rookie
Golden Tate
comes to mind.
BIGGEST SURPRISE
Red Bryant
's successful conversion. The 2008 fourth-round draft choice was a top-heavy defensive tackle until the Seahawks' new coaching staff took a look at him. Converting Bryant into a two-gap defensive end seemed somewhat dubious on the surface given Bryant's massive girth. Bryant proved up to the challenge, however. His body appears more proportional and he looks like a good fit for the five-technique spot on the line. "My worry was as far as speed," Tatupu said. "You get a really athletic or fast tackle and he gets around him and that edge isn't set. But with what we are asking Red to do, he is our two-gapper. I haven't seen anybody two-gap better than him. Oh, my God. If he's on one side, he will either throw that guy or he will push that guy into the running back and squeeze the hole. He'll do it with one arm. The running back can't go inside, so he'll go outside and Red will just make the tackle one-on-one. It's just impressive. That's why I'm a player and they are the coaches."
BIGGEST DISAPPOINTMENT
Injuries at linebacker. The Seahawks have proven again why restraint is appropriate when directing praise toward their talented group of linebackers.
Aaron Curry
missed 10 days of camp after suffering a concussion. He is only now returning. A knee injury has sidelined
Leroy Hill
. A hamstring issue has sidelined Tatupu recently. This potentially star-studded group failed to last even one game together last season. Curry was out after only one day of training camp, so the group hasn't gotten time together this summer, either. At least
David Hawthorne
is looking good. He'll start the opener while Hill serves a suspension. It's possible Hawthorne could remain in the lineup even after Hill becomes eligible.
OBSERVATION DECK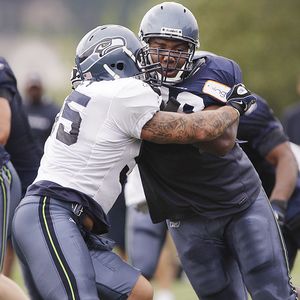 AP Photo/Elaine ThompsonRookie Russell Okung has lived up to his high draft status during training camp.
Rookie left tackle Russell Okung's strength is obvious when he locks onto a smaller man. He threw down Reed so violently that Reed's head almost took out quarterback J.P. Losman's left knee during practice Wednesday. Another time, Okung pulled left and couldn't find cornerback Walter Thurmond, who dropped under him and made the tackle.

Nose tackle Kevin Vickerson has worked with the first-team defense part of the time. The fact that the Tennessee Titans considered Vickerson expendable speaks to the state of the Seahawks' defensive line, but Vickerson has looked good in camp.

The Seahawks haven't had enough size at cornerback to match up with bigger receivers, especially Larry Fitzgerald. They took a chance on Oregon cornerback Walter Thurmond, who was coming off a catastrophic knee injury, and the gamble could be paying off. Thurmond has shown a fearless, aggressive style in breaking up passes. He could command playing time on passing downs as a rookie. Continued health appears to be the only issue for Thurmond, a fourth-round choice who might have gone in the second if not for the knee injury.

Seattle is running a 4-3 defense with 3-4 tendencies. Even players have a hard time labeling it.

Rookie strong safety Kam Chancellor picked up the defense quickly during organized team activities. He has old-school safety size at about 6-foot-2 and 230 pounds. Milloy will likely start at strong safety this season, but Chancellor is a long-term candidate at the position.

Earl Thomas has shown freakish range from his free safety spot. There's no question about the rookie first-round choice's physical ability as a coverage safety. Thomas has also shown a grasp of the defense. The Seahawks would like him to become more proactive in communicating his alignment to the linebackers, who need to know where their help is coming from. Thomas' abilities in coverage give the staff flexibility because Thomas can slide outside to cover wide receivers one-on-one.

Tate has made big plays just about every day in camp. He's at the point where rookies sometimes wear down, but the Seahawks' lighter camp schedule could help him sustain his fast start. "He's small, he's not the best route runner, but he makes plays," Houshmandzadeh said. "Every day, he makes plays. ... He just makes plays, period."

Curry's play as a rookie dropped off significantly once Tatupu, the quarterback of the defense, suffered a season-ending injury. Seattle has talked about using Curry as a pass-rusher, but it's also important for him to become a good strongside linebacker. "I think they have asked him to do that here," Tatupu said. "We have seen him excel at that."

Cornerback Marcus Trufant appears healthy after an injury-affected 2009 season. Seattle does not have enough talent, most likely, for Trufant to become a leading interceptor and challenge for the Pro Bowl. But there's reason to expect Trufant to become a good starter again.

The Seahawks have better quality depth at quarterback with Losman in the No. 3 role, but Charlie Whitehurst has yet to seriously challenge Hasselbeck for the starting job. That isn't a huge surprise. Whitehurst never beat out Billy Volek in San Diego. But it's important for Whitehurst to make progress. I think he'll play one way or another in 2010.
October, 11, 2009
10/11/09
7:10
PM ET

Posted by ESPN.com's Mike Sando
Matt Hasselbeck
makes a huge difference for the Seahawks, particularly against a bad pass defense.


And the Jaguars have a bad, bad pass defense (allowing 71.9 percent completions heading into Week 5).
This victory
was critical for the Seahawks because it gave them a chance to reach .500 heading into their bye following a Week 6 home game against the Cardinals.
Having Hasselbeck come back so successfully also provides a significant psychological boost for Seattle, particularly with the previously upstart 49ers getting blown out at home. Seattle was dragging after three consecutive defeats. The Colts humiliated them and the future appeared bleak with
Seneca Wallace
at quarterback. As a backup, Wallace wasn't able to overcome shortcomings elsewhere on the roster.
Hasselbeck proved he could overcome those shortcomings against this defense -- even with
Kyle Williams
, signed Saturday from the practice squad, playing left tackle.
These were the Jaguars, not the Colts, but the Seahawks had too many problems of their own to worry about what was ailing Jacksonville. They needed a victory -- any victory -- and they got one.
This performance should be cathartic for the Seahawks. Their offense dominated. Their defense dominated. Even rookie
Nick Reed
, the preseason hero, scored a touchdown (79-yard fumble return).
Hasselbeck played as though he hadn't suffered a broken rib during a Week 2 game at San Francisco. A victory over the Cardinals in Week 6 doesn't seem so unlikely at this point.
August, 23, 2009
8/23/09
1:30
PM ET
Posted by ESPN.com's Mike Sando
Seahawks seventh-round Nick Reed made another strong case for a roster spot Saturday night. He deflected a punt, had 1.5 sacks and forced a fumble. He nearly blocked another punt in the final 30 seconds of the Seahawks' 27-13 victory at Qwest Field.
Reed also drew a personal-foul penalty for hitting Broncos quarterback Chris Simms in the legs, injuring Simms. This is one penalty that will not count against Reed when the Seahawks evaluate which players to keep on their initial 53-man roster. The fact that Reed was around the quarterback and punishing him is what matters.
Reed's strong showings this summer prove he's better than the backups he has faced against the Chargers and Broncos. That doesn't necessarily mean he'll earn a roster spot, but I do think Reed's status as a draft choice works in his favor. No team wants to watch one of its impressive late-round draft choices catch on with another team.
The Seahawks held a roster spot last season for 2008 seventh-rounder Brandon Coutu even though Coutu never played in a regular-season game. They also kept 2008 seventh-rounder Justin Forsett on the initial reduction to 53 players, releasing him one week into the season only after injuries created a severe need at receiver.
Reed is competing with Michael Bennett and possibly Baraka Atkins for a roster spot. Bennett leveled Broncos quarterback Tom Brandstater for a sack. Atkins shared a sack with Reed.

NFL SCOREBOARD
Thursday, 9/18
Sunday, 9/21
Monday, 9/22
WEEKLY LEADERS