NFL Nation:

Nick Schommer
September, 12, 2010
9/12/10
12:13
PM ET
NASHVILLE, Tenn. -- Four days after indicating to the Tennessee media that running back
Michael Bush
was on target to play in the season opener, Bush was among Oakland's inactive players.
Bush broke his left thumb Aug. 28 in a preseason game against San Francisco. He practiced on a limited basis last week. However, the thumb clearly wasn't healed enough for Bush to catch the ball and block effectively.
Darren McFadden
will start for Oakland.
McFadden missed much of training camp with a hamstring injury, but he has been healthy of late.
Other Oakland inactive players of note are receiver
Chaz Schilens
, who may be a few weeks away from playing after having arthroscopic knee surgery in August, and rookie offensive lineman
Bruce Campbell
, who appears to be out because of a coach's decision.
Here are the complete inactive lists for both Oakland and Tennessee:
Oakland
Tennessee
September, 2, 2010
9/02/10
11:30
PM ET
NASHVILLE, Tenn. -- Some bullet-point thoughts on the Titans' 27-24 preseason win over New Orleans on Thursday night.
Impressive:
With Chris Johnson not dressing, Javon Ringer showed an ability to keep his feet moving and his eyes open on an early 47-yard run. He felt space open to the left side and took it, slipped a tackle attempt by Leigh Torrence, and moved back to the right. Samkon Gado got a lot of work relatively early with the first team, and broke off a 31-yard run.
Defensive tackle Jason Jones was very good again, with some nice pass rushes. He did well chasing stuff downfield when needed. If he stays healthy, he's looking like a guy who will be heard from outside of Nashville this season.
Gerald McRath showed his ability to cover pretty deep, breaking up a pass down field with Robert Johnson and Nick Schommer also arriving at the throw from Patrick Ramsey intended for Jimmy Graham.
Jared Cook and LeGarrette Blount had some nice yards after the catch by hurdling defenders. Eventually, though, one of the hurdlers will get crushed when he encounters a defender who anticipates it, stays upright and buries a helmet in his chest.
Unimpressive:
Kenny Britt dropped two early passes -- the first on a right-to-left short crossing route, the second on about a 22-yarder on which he was cutting left to right. Both throws were on target from Vince Young. A bit later, Britt caught a 7-yard pass with Jonathan Casillas draped on him and Malcolm Jenkins fast arriving. But then he had a false start penalty when Collins was in at quarterback. Craig Stevens and Lavelle Hawkins also dropped balls they should have caught.
Schommer, in a battle for one of the last safety slots, hurt himself on special teams. Lined up on the right of the line, he allowed Junior Galette to get past him and casually block a Brett Kern punt with one hand. Harry Coleman juggled a bit but kept it in play for himself and pulled it in for a 1-yard touchdown. Kern should have felt the pressure from two rushers on a second block in the fourth quarter.
Too many penalties. Marc Mariani had two nice returns, one undone by penalty against Stevens, one with 15-yards chopped off thanks to a personal foul call against Donnie Nickey. In all, Tennessee was flagged nine times for 133 yards. Schommer needlessly shoved a receiver out of bounds for a late pass interference call. Thankfully, the Saints didn't kick on the fourth-and-2 from the Titans' 16 that came after that with 11 seconds left.
July, 1, 2010
7/01/10
1:00
PM ET
»
NFC On the Radar
:
East
|
West
|
North
|
South
»
AFC
:
East
|
West
|
North
|
South
A player, coach or issue that should be on your radar as training camp approaches.
[+] Enlarge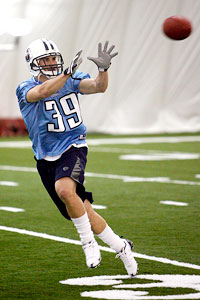 Joe Murphy/Getty ImagesTennessee 2009 seventh-round draft pick Nick Schommer will be vying for a roster spot in 2010 at safety.
A seventh-round pick for the
Tennessee Titans
out of North Dakota State in 2009,
Nick Schommer
spent last year on the practice squad. Defensive coordinator
Chuck Cecil
didn't get a great look at him because of an injury.
Though he was listed at 6-0, 201, I remember thinking he didn't have an NFL safety's build during training camp. He certainly didn't have good body language.
But Cecil said Schommer shined as the Titans wrapped up OTAs. Schommer got some time with the second team when
Donnie Nickey
got married. But he hurt a hamstring in the second-to-last practice.
If Schommer reports healthy and can stay that way, he could make the team ahead of a guy much more well known -- 2010 sixth-round pick
Myron Rolle
, the Rhodes Scholar. The Titans also selected
Robert Johnson
in the fifth round.
Chris Hope
and
Michael Griffin
, each a 2008 Pro Bowl selection, slipped badly in 2009. The Titans need to develop contingency plans and solidify the depth.
"Nick needs to be ready to go," Cecil said. "If he stays healthy and plays the way we think he's capable, then there might be a spot for him… He's totally unknown and during OTAs he couldn't do the thing that he's best at -- hitting is his calling card. He used to knock himself out all the time. He's my kind of guy."
April, 29, 2010
4/29/10
4:10
PM ET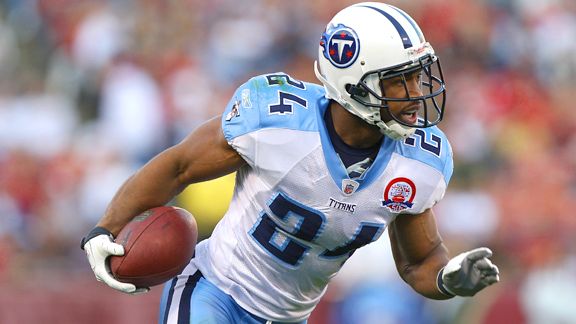 Jed Jacobsohn/Getty ImagesCoaches were concerned that Chris Hope may have prepared too much last season.
NASHVILLE, Tenn. -- As is often the case,
Chris Hope
was among the last Titans off the field after Thursday's practice. He'd set up some cones and worked with some defensive backs after the session ended, but even as he left the field he wasn't finished.
With hand gestures and footwork examples, he talked second-year safety
Nick Schommer
through a technique all the way to the walkway to the locker room.
That sort of devotion is what made Hope such a valuable addition to the Titans in 2006, when he was brought in from Pittsburgh as a free agent. It's what helped him earn a Pro Bowl spot in 2008 -- one of three members of the secondary to earn the honor.
Working just as hard, maybe harder, he was also in the middle of the defensive backfield's brutal drop-off in 2009. The league's ninth-best pass defense plummeted to 31st.
Hope was still a constant, but he didn't qualify as the same steadying presence in a group that featured some injury replacements and was going against opponents who had more time to find targets downfield.
"I didn't play consistently at a high level every game," Hope said. "Not the big year that I expected from myself and not the big year coming off the Pro Bowl season. When you lose, a lot of things get pointed out. I'm a professional about it. Every year I try to find something to get better at.
"The numbers are considerably close, but the game isn't about numbers, it's about how effective you are every Sunday and wins. …I feel like I played well enough to win every Sunday, but I didn't have those big spectacular plays and those consistent big hits that I was looking for coming into the season."
Defensive coordinator
Chuck Cecil
looks back on Hope's year and has come to a conclusion that he said he never has reached before as a coach.
Hope may have studied too much and gone into games overprepared.
"I don't even know how to say this without it sounding wrong, but I think it was almost to the point of being counterproductive because he was so prepared," Cecil said. "I think it became a situation where he was studying it so hard and so much, and putting in so much time that he was assuming when he saw something that he knew what the play was. Rather than just playing football and playing what happened, he was playing what was supposed to happen."
"…As far as what you tell him? 'Hey, don't study so much. Play ball.'"
Hope didn't completely agree with that assessment, and said he didn't have any plans to change his preparation style.
But he did say he found himself watching things unfold last year and sometimes felt helpless.
"It's sometimes frustrating, because you know what's coming, you know what's going to happen, you know you can make the play and you're not in position to make the play," he said.
"Sometime you may tweak your assignment or tweak your alignment a little bit. When you're a playmaker, and you're one of the leaders of the team you get a little frustrated. That was more of the problem than anything."
Cecil is one of several people in the organization who credit Hope with changing the tone of the defensive back meeting room and setting standards for work ethic and preparation for young players like
Cortland Finnegan
,
Michael Griffin
and
Vincent Fuller
.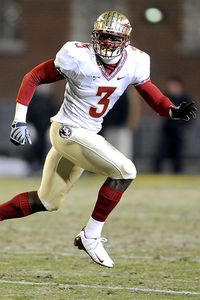 G Fiume/Getty ImagesRhodes Scholar Myron Rolle could learn a lot from Chris Hope.
The next time the veterans are on the field for an OTA the rookies will be mixed in. They'll include safeties
Robert Johnson
and
Myron Rolle
, a Rhodes Scholar the team may be viewing as Hope's eventual replacement.
It can be an awkward stage of a guy's career when he's in position to help train his successor, but Hope will be a guy who handles it gracefully.
"If I'm here to teach those guys how to play and get to be a professional, I embrace that," he said. "I feel like I owe it to the game. I didn't get here on talent alone."
Still, he believes he's got three to five years left, and he's determined not to fall into a trap he thinks hurt him in 2009.
With Finnegan and Griffin also coming off Pro Bowl years, Hope said he backed off, placing friendships ahead of football. It's a mistake he pledges he won't make again.
"We were experienced, we were all friends," he said. "Sometimes the leader had to take the bad side, and I didn't want to do that. I regret not doing it now. This year I will be more prominent and not really worry about friends and friendships as much as success and the growth of guys. I took a lot of pride in seeing Griff grow into one of the best safeties in the league and I feel like I kind of let him down."
Hope will turn 30 on Sept. 29, a number that's becoming a flashing warning light for teams no matter the position. He's got two years left on the six year-deal he signed when he came to Tennessee after helping the Steelers win a Super Bowl.
"Father Time is undefeated, he gets everybody," Cecil said. "I think Chris has been around long enough to understand that. His professionalism is almost unmatched. It's not a discussion that you have. But it's something that sooner or later everybody comes to understand."
Hope said he knows Kobe Bryant can still do a lot of what LeBron James does, but that the Laker now picks his spots.
"[Bryant] chooses when it's time to put the dagger in someone," he said.
Titans coach Jeff Fisher mentioned the possibility of giving Hope days off during the season next year. Hope said he'll pass on those. To glue a secondary together, to press guys to do the extra work, to train Rolle in the intricacies of the job, Hope needs to be on the practice field.
For Cecil to get him back to reacting to football as it unfolds rather than as it should unfold based on what he's seen on film, Hope will want to be in uniform.
May, 1, 2009
5/01/09
8:32
PM ET
Posted by ESPN.com's Paul Kuharsky

NASHVILLE -- Nineteen Titans rookies practiced twice Friday. The second session was open to the media and held in the practice bubble because it was pouring outside.
With such limited numbers it was far easier to get impressions of skill guys than linemen or, say, fourth-round linebacker Gerald McRath, the lone player at his position.
Even these early impressions do not mean a lot given the context, so please don't get overly excited about any of this.
Here then are five quick observations and notice of one more to come:
1. Receiver Kenny Britt looked the part of a first-rounder, carrying himself with confidence, breaking down comfortably and making several nice catches. Jeff Fisher called "Rutgers vs. Rutgers" on the final play of a passing period and Britt lined up against college teammates Jason McCourty, a sixth-round pick.
Quarterback Alex Mortensen threw it up in the back left corner of the end zone from 12 yards and Britt did just as advertised -- he went up and got it with a twisting, acrobatic catch. It was the sort of grab the Titans rarely got last season.
Alas, it was incomplete, as Britt came down with one foot out of bounds.
"Last year it would have been good," Fisher said of college's one-foot rule.
2. Third-round tight end Jared Cook looks very much like a receiver.
Fisher said he could envision Cook adding 15 to 20 pounds to his 6-5, 246-pound frame. Cook's arms are very long and he ate up over-matched seventh-round safety Nick Schommer in a few one-on-one chances. In combination with Britt, the Titans sure look to have upgraded their quotient of go-up-and-get-it pass catchers.
3. Fifth-round running back Javon Ringer was not well-served by getting No. 3 on his uniform. It makes him look very narrow. He said he hasn't seen what he looks like in it yet, but laughed about it after practice, saying he definitely aspires to a two-digit number, hopefully in the 20s.
4. Sixth-round receiver Dominique Edison made a couple nice catches in one-on-ones by coming back to the ball and going to the ground to collect passes.
5. Third-round cornerback Ryan Mouton is almost fully recovered from a hamstring injury, but coaches told him to be smart and he didn't do much at full speed.
That left room for McCourty to take the lead in some instances, and he looked comfortable doing so. He said the attention Britt drew as a prospect definitely increased opportunity for him to make his case to NFL scouts. McCourty has nice size and looked to transition into and out of his backpedal and break on balls well.
Undrafted rookie defensive tackle Mitch King gets a blog entry of his own. Look for it soon.

NFL SCOREBOARD
Sunday, 2/2
WEEKLY LEADERS