NFL Nation:

Nick Sundberg
July, 18, 2014
Jul 18
11:00
AM ET
Examining the
Washington Redskins
' roster:
Quarterbacks (3)
Jay Gruden only had two quarterbacks in each of his three seasons with Cincinnati, but Griffin still needs to prove his durability. If something happened to him, they woulld still be in good shape with Cousins and McCoy. If they go with two then McCoy gets left off.
Running backs (4)
The Redskins could also stash
Chris Thompson
on the practice squad as further insurance. Thompson can easily bump himself onto the roster with a good summer; he's a good fit in Gruden's offense and the new coach liked Thompson coming out of college. But durability is an issue. By keeping four here, the Redskins can go with an extra player at another spot. This means
Evan Royster
is on the outs, but he doesn't give the Redskins anything they don't have in better players. He is insurance only.
Receivers (6)
I am not cutting
Leonard Hankerson
, rather I'm just not sold that he will be on the active roster at the start of the season. If he shows this summer that he can play, then, yes, I would have him on the 53-man roster. But the Redskins were not sure what to expect from him and when he might be healthy. Therefore, I can see him taking a little longer to return. Gruden likes Moss and they drafted Grant. Robinson needs to take a step.
Tight ends (3)
Rookie tight end
Ted Bolser
would head to the practice squad, where he can develop. He didn't look close to a roster spot just based on how he looked this spring. Reed is firmly entrenched as the starter with Paulsen their top blocker and Paul a special teams ace.
Offensive line (10)
In reality, I could see them keeping only nine offensive linemen. It all depends on how Long and/or LeRibeus looks at guard. They love Long -- Gruden has said he could compete immediately -- so if he shows he can play, then they could cut Chester. Compton is a little surprise, but they like him as well. This position will be fluid and I'm not sold on the 10 I have listed.
Defensive line (6)
This one is fluid as well because it depends in part on Bowen's health. I like
Chris Neild
and so do they, but can they keep him? Golston is more versatile and a key player on special teams, but he's also 30 and they must get younger.
Linebackers (9)
As of now I'd have
Rob Jackson
out, especially if Jenkins develops as a pass-rusher. But this will be a close race. And I have them keeping an extra guy inside in Hayward because of his special teams ability.
Cornerbacks (5)
Chase Minnifield
remains eligible for the practice squad.
Richard Crawford
is coming off a knee injury and it's hard to place him on here without seeing him play. The one benefit for Crawford is that he can play in the slot; they need depth at that spot.
Safeties (4)
I really don't feel good about this position and am not confident that I have this one right, at least for that final spot. Robinson's special teams ability gives him the edge over
Bacarri Rambo
, who must have a strong camp.
Akeem Davis
can help on special teams, but with no NFL experience he will be stashed on the practice squad.
Specialists (3)
The Forbath selection is based on never having seen rookie
Zach Hocker
kick in an NFL game. If Hocker is consistent this summer and shows a strong leg, then he can win the job.
October, 14, 2013
10/14/13
4:22
PM ET
ASHBURN, Va. -- The Washington Redskins' special teams has enough problems. Two more can be added to the list. They lost their top tackler,
Bryan Kehl
, and long snapper,
Nick Sundberg
, to season-ending knee injuries.
Both Kehl and Sundberg were hurt in Washington's 31-16 loss at the
Dallas Cowboys
on Sunday night.
Kehl tore his left ACL while Sundberg tore the meniscus in his right knee. They'll weaken an already weak crew under first-year coach
Keith Burns
. Sundberg is an excellent long snapper and gets the ball back quick. Kehl was one of the leaders on special teams, an area that has kept him in the NFL. The Redskins lack impact players on these units and therefore can't afford any loss of a good player. The Redskins have not yet signed anyone to take the place of either player.
Corner
David Amerson
suffered a concussion in Sunday's loss and will be monitored throughout the week.
October, 14, 2013
10/14/13
12:56
AM ET
ARLINGTON, Texas -- Observed in the locker room after the
Washington Redskins
'
31-16 loss
to the
Dallas Cowboys
.
Morris
Reality check:
For the fourth time this season the Redskins had a quiet locker room. But there was more of a shell-shocked look on the faces of the players. Nobody is more surprised by the 1-4 start than the Redskins' players and coaches. "Lack of execution is costing us games," running back
Alfred Morris
said. There's still a long ways to go, and perhaps that's why
Reed Doughty
spent several minutes "coaching" up
Jerome Murphy
in the locker room, going over scenarios and different plays. But they all know time is getting short.
Ouch:
Cornerback
David Amerson
left the game in the second half with a concussion. Coach Mike Shanahan did not have an update after the game, but Amerson will be evaluated throughout the week. Special-teamer
Bryan Kehl
said he felt something pop in his knee on the Cowboys' second-quarter punt return for a touchdown. The killer on that play: Kehl had the angle on returner
Dwayne Harris
. "I would have made the tackle," Kehl said. He'll undergo an MRI. Long-snapper
Nick Sundberg
suffered a knee injury as well. Shanahan was not sure how serious it was, but Sundberg could not finish the game.
Dead zone:
The Redskins had three trips inside the red zone, but settled for field goals of 20, 32 and 33 yards. Meanwhile, the Cowboys had four trips in the red zone and came away with three touchdowns. That's a 12-point difference. "I think we had a solid game, but we need touchdowns instead of field goals," Redskins center
Will Montgomery
said.
September, 16, 2013
9/16/13
2:59
PM ET
A review of four hot issues from the
Washington Redskins
' 38-20 loss to the
Green Bay Packers
on Sunday:
[+] Enlarge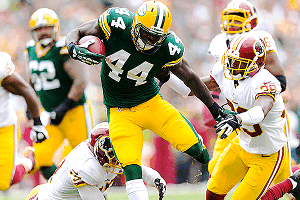 Jeff Hanisch/USA TODAY SportsPoor tackling plagued the Redskins in their loss to the Packers on Sunday.
Tackling woes:
The Redskins' defense already had flaws; it added another one with its tackling. The Redskins consistently give high-powered offenses extra yards because they fail to tackle; they have allowed the most yards after contact this season (208) after ranking sixth in this area last season, according to ESPN Stats & Information. The problem is that teams are able to spread them out, preventing gang tackling at times. They're not good enough, and not making enough plays, to overcome this issue. Teams will continue to get them in space, and Washington needs to prove it can tackle. Or else.
Quarterback runs:
Is
Robert Griffin III
not running on zone-read options because of his knee? Because of how defenses are playing them? Because deficits forced the Redskins to abandon it? It's a good question (why, thank you), and one we'll try to answer throughout the week. Griffin's timing in the pocket is off -- yes, a byproduct of missing so much offseason work from the knee injury. It can be subtle sometimes, but the difference in hitting a receiver on the correct shoulder can mean the difference between a 10-yard gain or 20. It adds up. One reason the Redskins gained so many yards after the catch last season was because of the chaos in the back end of defenses, fueled by late linebacker drops as they were worried about defending a multi-option run game.
Brandon Meriweather:
There's a dual issue here with Meriweather, starting with his health after leaving Sunday's game with a concussion. He'll now be monitored all week. So the Redskins will spend another week waiting to see whether Meriweather is able to play. Then you have to wonder what sort of punishment, if any, he'll receive from the NFL. He was not flagged for either of his big hits, but replays showed him leading with his helmet on the first one against Eddie Lacy. Regardless, when he returns they need him more under control with his tackling -- and he needs to prove he can play for longer than a half without getting hurt. His continual health issues make the loss of
Phillip Thomas
even worse. But just think of the learning curve for a secondary with three rookies in prominent roles.
UPDATE:
Meriweather will be fined, but not suspended
according to Adam Shefter
.
Special teams:
They've flown under the radar a little bit because of the problems elsewhere. But they shouldn't. The special teams have not done anything to help. That goes for the returns, where rookie
Chris Thompson
is averaging 19.7 yards on six kick returns and 4.7 yards on three punt returns; one good runback would boost either number. Gunner
Niles Paul
and long-snapper
Nick Sundberg
both received 15-yard unsportsmanlike conduct penalties Sunday. In Sundberg's case, the Redskins had pinned Green Bay at its own 10-yard line. It wasn't a death sentence for the defense that the Packers then started at the 25-yard line. But right now every yard is huge for this defense. And
Sav Rocca
shanked a 25-yard punt that gave Green Bay the ball at its own 35 in the first quarter.
September, 15, 2013
9/15/13
4:19
PM ET
GREEN BAY, Wis. -- Some thoughts on the
Washington Redskins
'
38-20
loss to the
Green Bay Packers
on Sunday.

What it means for Washington:
It's not just an 0-2 record, it's the way Washington has looked for most of the two games. The Redskins miss too many tackles and allow too many big plays on defense. The offense hasn't displayed any rhythm early in games, leading to big disadvantages at halftime. The Redskins dug out of a 3-6 hole last season, but they looked far better at that point than they have this season. The offense, at that point, was dangerous. The offense is only hurting the team now, giving no shelter for a struggling defense. And the special teams haven't helped one bit. Add it up and the Redskins' 0-2 hole feels much deeper.
Stock report falling:
The defense hasn't been helped by an offense that produces little to nothing in the first half of games. But a year ago the offense propped up the defense by producing with big games. This year the defense needs to help out an offense that takes way too long to get into a rhythm. They haven't been helped facing explosive offenses in the first two weeks, but the secondary continues to have problems, sometimes with communication and other times with missed tackles.
Piling up numbers:
In the first two quarters, quarterback
Robert Griffin III
completed 6 of 13 passes for 107 yards and no touchdowns. He threw for 31 yards on the first two series of the third quarter. After that point, with the Redskins trailing 31-0, Griffin threw for 182 of his 320 yards and three touchdowns.
Undisciplined play:
The Redskins had four penalties of at least 14 yards (one was half the distance) and it could have been more had the officials called a helmet-to-helmet hit on safety
Brandon Meriweather
. But they also had unsportsmanlike conduct penalties on long-snapper
Nick Sundberg
and gunner
Niles Paul
on special teams. And center
Will Montgomery
had a facemask penalty as well as one for a peel-back block. Coach Mike Shanahan once took pride in his team's disciplined play, but the Redskins have not played that way the first two games when it comes to penalties.
What's next:
The Redskins host Detroit on Sunday in a game that could be as important as any left on their schedule. Another loss and the Redskins could have major issues going forward. They need a win. Desperately.
July, 31, 2012
7/31/12
9:00
AM ET
EARTH CITY, Mo. -- Rules prevent NFL teams from holding the two-a-day practices that were once a staple of training camps across the league.
Teams now generally hold a walk-through session in the morning, followed by full practices in the afternoon.
That suits
St. Louis Rams
coach Jeff Fisher for a couple reasons.
"You're not going to play games in the morning," Fisher said after practice Monday. "Our preference is to get up, get going, make sure you've got at least a couple of meals in you. We're trying to take care of the nutrition-type things and hydration-type things, and make sure you're warmed up. In addition to that, in our studies, the injury rates, the pull histories were greater in the morning practices than they were in the afternoon practices."
That last part caught my attention. I've long sought more detailed information that might uncover patterns to injury rates. Are heavier or lighter players at a position more prone to getting hurt? Does kickoff time matter on that front?
The
Seattle Seahawks
have been practicing in the morning and holding walk-through sessions in the afternoons. The other NFC West teams have been holding their practices later in the day.
West Coast teams have
complained
about difficulties associated with Eastern time zone kickoffs scheduled for 10 a.m. PT. Might injury data suggest players from those teams have been at greater risk in those games?
Side note:
The
Washington Redskins
have moved their practices to the afternoons in part because they think teaching sessions are best held in the mornings.
"Long-snapper
Nick Sundberg
said he was told by team officials that studies show the learning process, information retention specifically, is better in the morning,"
Tarik El-Bashir wrote
for CSNWashington.com.

NFL SCOREBOARD
Thursday, 9/4
Sunday, 9/7
Monday, 9/8