August, 31, 2012
8/31/12
9:03
AM ET
Nike forgot about the uniformity part of uniforms.
[+] Enlarge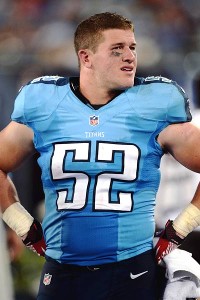 Don McPeak/US PresswireTitans linebacker Colin McCarthy's jersey appears two-toned following a preseason game against the Cardinals.
The Titans wore their light blue jerseys again Thursday night, and the new duds are a dud in my estimation.
Because they aren't light blue, depending on how wet they are. They are light blue and lighter blue.
You'll find a degree of color variation in all non-white jerseys -- something that exists because the NFL's new uniform supplier favors technology over appearance. Which sounds good, I guess, until you consider how many people like watching NFL football and not being frustrated by inconsistent uniforms.
The jerseys have different fabrics in different sections -- some of which don't hold moisture in order to be lighter.
"The fabric in the front panel is the same on all jerseys but the wet color variation you see (some more than others) is based on the way different athletes sweat (amount, pH, etc)," a Nike spokesperson told me. "For some teams the color of the fabric also makes the sweat more visible (i.e. some of the darker colors)."
Often, I am too particular. But this is taking me a while to get used to. And I don't feel like it's something any of us who are too particular should have to get used to.
August, 23, 2012
8/23/12
11:37
PM ET
NASHVILLE, Tenn. -- Some thoughts out of the Titans'
32-27 win
over the
Arizona Cardinals
at LP Field on Thursday night.
The Cardinals wanted to test out rookie left tackle D.J. Young as they look to replace the injured Levi Brown (triceps) for the season. Young failed this test, badly, as the Titans' big defensive free agent addition Kamerion Wimbley attacked him with great effect. Wimbley sacked John Skelton on his first play and Kevin Kolb on his first. He had a couple of hurries, too. The Cardinals' entire offensive line was bad in pass protection and the Titans rushed very effectively. Jurrell Casey is really turning into a well-rounded defensive tackle. He's an absolute handful.
Want variety? On the Titans' first four offensive plays from scrimmage, they lined up with an empty backfield, with two tight ends, with three wide receivers and with two backs. The only thing with the potential to make them predictable this season would seem to be down and distance.
Jake Locker was victimized by drops by Javon Ringer and Nate Washington, but finished the first half having hit on just 8 of 16 passes. Completing 50 percent, he still had a 115.6 passer rating since he had 124 yards and two TDs. Connections of 28, 29 and 35 yards have a way of helping out. He made better decisions and smartly took off a few times as he felt pressure.
On a first-quarter return, Marc Mariani suffered a gruesome broken lower left leg that was Theismann-esque. We'd been wondering about Darius Reynaud as someone putting pressure on Mariani for the return jobs. Reynaud comes out of the night as a lock to make the roster as the returner now because of Mariani's misfortune. I don't know whether Mariani would have been getting many, if any, receiver snaps at the expense of Kenny Britt (once healthy and when not suspended), Nate Washington, Kendall Wright, Damian Williams or even Lavelle Hawkins.
Middle linebacker Colin McCarthy has an excellent nose for the ball. But his two interceptions of Kolb on this night were absolute gifts. The first was thrown into an area filled with Titans, and he looked like the intended receiver on the second, which he returned for a 31-yard touchdown.
Aaron Francisco is a special-teams demon. I can't see how he won't be the fourth safety on this team, unless the Titans find better defensive depth elsewhere. If they do, special-teams coach Alan Lowry would surely shed a tear over losing Francisco.
Camp leg/kicker Will Batson was 3-for-4 on field goals, but accounted for only three points. He hit a 26-yarder in the fourth quarter, only to see it wiped away by a holding call against Taylor Thompson. Then Batson hit from 36... only to see it wiped away by a holding call against... Thompson. Then Batson hit from 46 and made it to the sideline without seeing a flag. Britt greeted him excitedly.
I don't know what's going on with the two-tone coloring of the Titans' light blue uniform tops. But it's incredibly distracting that the coloration is inconsistent from player to player. Quinn Johnson and Ringer, standing side-by-side, didn't look like they were wearing the same jersey. Honestly. Nike, are you reading?
The new "Titantrons" at LP Field are really impressive. It's a big benefit of the stadium's open-end zone configuration. -- finding room to fit giant HD video boards wasn't an issue. Some other buildings that might want to match these won't have a spot for them. Stadium game productions are updated and far better. But the lyrics of "Folsom Prison Blues" on the big screens, intended to produce a sing-a-long between the third and fourth quarter, appeared to fail miserably. Put that one on the shelf.
April, 3, 2012
4/03/12
2:43
PM ET
The Nike literature
regarding the new "Elite 51" uniforms made available to NFL teams Tuesday includes the following terms: technology, Thermoregulation, hydrophobic, aircraft-grade, zonal, articulated and Hyperfuse.
Phil Knight's writers could have been describing spacesuits instead of football uniforms, except there's a lot more money to be made from the latter.
Nike saved some of its most descriptive writing for the
Seattle Seahawks
' total uniform redesign, which has so far trumped subtler styling tweaks for the other 31 teams.
"The new uniform colors are rooted in Seattle's own environmental hues -- the deep blue of the ocean water that tucks into the harbor near downtown and the Seahawks' stadium," Nike proclaims. "The new color addition called Action Green represents the green of the ubiquitous trees, ferns and moss literally covering the Pacific Northwest landscape."
While the Seahawks underwent the most dramatic uniform overhaul, including 12 markings on the pants and collar to honor the 12th Man, all teams' uniforms are functionally identical (check them out via Nike for
Seattle
,
Arizona
,
San Francisco
and
St. Louis
).
"The uniform is completely engineered from the inside out, focusing on creating a system where the baselayer, padding, jersey and pant work in concert," Nike said. "A few of the new innovations include increasing sleeve articulation for better range of motion and integrating new four-way stretch fabrication to provide a streamlined shrink-wrap fit."
The numbers on the jersey also stretch, according to Nike.
The 49ers made available a shot of
their white away jersey
. It looks about like the ones we've
seen the 49ers wear
previously. While
this shot
of
Alex Smith
makes him look like a bad dude, the Seahawks are the ones calling their threads "the new look of intimidation" on their website.
A read through the comments section on
our previous item
shows a range of opinions on the Seattle redesign. I asked those leaving comments to disclose their ages, figuring younger fans might be more apt to welcome what Nike obviously considers to be a cutting-edge concept.
A sampling, with listed ages:
dizzog22 (age 24): "LOVE them. Gives the hawks a tougher look... Much better than the shiny blue... That was ridiculous."
luckier_12thman (no age listed): "I love these jerseys! The Hawks and Nike are just setting the tone, everyone outside the NW will hate the hawks look as always, but all the more reason to love them."
J3ffro19 (31): "I think they all look pretty good, the blue on blue or white on white especially."
Willy2535 (22): "LOVE THEM!!!!!!!"
nwdave (28): "At first I was like 'ugh,' then I was like 'meh,' and now they're growing on me. I like the gray alternates, and I like the helmet design. The overall look is pretty busy, though."
shorne25 (29): "Why do I think Arena Football League?"
SirDro (26): "I'm in the minority, but these look like MLS uniforms circa 1996. To each their own, I guess. Just glad my Niners aren't wearing anything like that."
NickMinnott (24): "Horrible, just awful. I'm embarrassed."
linemanmax64 (22): "I'm really digging the away and alternate jerseys. The home might take a bit more getting used to; I feel like it'll look good in the sunlight."
usceahawk (29): "Initially a little shocked, I think I like them."
bkbailey76 (36): "I had bigger hopes for the unis. I'm glad the Seahawks are doing something different, but not sure if this was the way to go."
Stormballa1986 (25): "We are in an ever changing world. NASCAR couldn't use 1934 Ford Coupes forever. Point is, the new uniforms are going to be something that when they change them again in 10 years, I am going to be the one saying, 'They were fine the way they were' about these new ones. They have to change, we can't wear the same uniforms we wore in 1992. Whether you like it or not, it is going to happen. Might as well be optimistic about how much of a beast Money Lynch looks in them."
crus9041 (no age): "Awesome of them to remember the 12th Man!"
Flynnsane in the Membrane (23): "I would have liked the home one more, if it wasn't for the neon green patch on the shoulder. I did like the grey ones the best. Might be getting a kam or lynch grey jersey."
ser4ph1m (26): "I completely agree, the neon green patch is distracting."
daveb_dc (32): "I think it'll take a while to get used to the new 'Nike' look, rather than the classic NFL look. I like the gray as the alternate, and I like the all whites. I hate the name across the back."
BaneDaBakBreakah (30): "These are the ugliest uniforms in the history of the NFL. The Nike logo is on the uniform more times that our own. If the jersey didn't have the actual word 'Seahawks' on it, then I wouldn't be able to discern it from a generic high school jersey. I think I'll save my money and skip buying a Matt Flynn jersey and stick with my retro Jim Zorn one."
Charbonneau85 (18): "Seahawks are so close to having perfect uniforms. The helmet is absolutely beautiful. The green should be darker, but otherwise the design is fantastic."
Battles 4 Seattle (26): "The helmet exceeded my expectations. Think it looks so sleek and yet very cool. The uniforms did not meet my expectations. I dislike the green and some of the other detail pieces."
SFC_12thMan (32): "At first I was bothered, but then I remembered that they were showing three uniforms, and not just one. The new dark jerseys look AWFUL when worn with the new dark pants, but are actually kinda cool with the gray or white pants. I LOVE the all-gray look. The helmets were the best change by far!!"
cubicalhabitation (no age): "So if the Seahawks are joining the XFL, who is going to replace them in the NFC West?"
Thanks for sharing. We haven't heard the last on this subject, I'm sure. Most of the reviews I read through seemed positive.
April, 3, 2012
4/03/12
11:56
AM ET
The new Seattle Seahawks uniforms from Nike are ... different.
If Nike gets this right, younger players will
love
the changes
right
away,
with
others
realizing at some point that Nike was simply
ahead of the game
.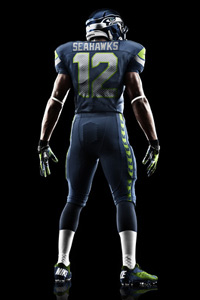 NikeThe new Seahawks uniforms were unveiled on Tuesday.
And let's face it: Reebok didn't exactly set the bar high with some of its offerings. Take
this jacket
, for instance. Take it into a time machine and give it back to 1991.
"How many Reebok uniform reveals did you follow?"
@robertlong asked
.
Point taken.
Those wanting to check out Seattle's full redesign can do so
on the team's website
.
The fit is definitely trimmer, the look cleaner. They're showing
blue-on-blue
,
white-on-white
and
other
combinations
.
"New unis are nice!" Richard Sherman, 24-year-old Seahawks cornerback,
tweeted
. "Glad I'm on the team that is spearheading the movement.
One unrelated observation: Marshawn Lynch appears to be in fighting shape. His weight climbed late during the 2010 season, but he reported in top condition last season and apparently took this modeling opportunity seriously.
Your thoughts? And please give your age range when opining. Bet we'll see a split by age demographic.
NFL SCOREBOARD
Thursday, 11/20
Sunday, 11/23
Monday, 11/24
WEEKLY LEADERS