NFL Nation:

no-huddle offense
December, 10, 2012
12/10/12
2:00
PM ET
FOXBOROUGH, Mass. -- One of the biggest games of the regular season will take place at Gillette Stadium when the
New England Patriots
(9-3) host the
Houston Texans
(11-1) on "Monday Night Football."
Here are three keys to watch in this game:
1. Tempo, tempo, tempo: This game could come down to which team sets the pace. Great teams dictate tempo, and that is something both the Patriots and the Texans are very good at. New England runs a fast-paced, no-huddle offense that thrives on getting more offensive plays than its opponent. As a result, the Patriots lead the NFL in scoring and have the top-rated offense. Houston likes the set a physical tone by running the football. The passing game feeds off the run and is capable of making big plays through the air. Pace will be key for both teams.
2. Big-game QBs: We know what Patriots quarterback Tom Brady brings to the table in big games. But Houston quarterback Matt Schaub is a major unknown in this area. This game, by far, will be the biggest of Schaub's career. He's never won a playoff game but this will be the closest thing to it considering how much is on the line. Schaub, who has been good this season, still needs to prove he can thrive under these circumstances. A win over Brady in Gillette Stadium will silence many of Schaub's critics.
3. Home-field advantage: Speaking of Gillette Stadium, the Patriots rarely lose at home in December. New England is 22-1 at home in December since 2001, according to Elias Sports Bureau. The Patriots have won 19 straight, and their last home loss in December came a decade ago against the New York Jets. Gillette Stadium has been a house of horrors for opponents this time of year. New England has the best December home record in the NFL since 2001.
The AFC East blog will bring you all the latest from Gillette Stadium. Be sure to check back Monday night four our live chat in addition to postgame reaction. You also can get live updates by following on Twitter
here
and
here
.
August, 30, 2011
8/30/11
10:25
AM ET
Perhaps the best thing we saw out of the
Atlanta Falcons
in Saturday night's preseason loss to the
Pittsburgh Steelers
was this year's
debut of the no-huddle offense
.
The Falcons used it on three different drives, with each resulting in a field goal. This might not sound like that big a deal, but I think it is. I think more regular use of the no-huddle offense could be a very valuable tool for the Falcons.
[+] Enlarge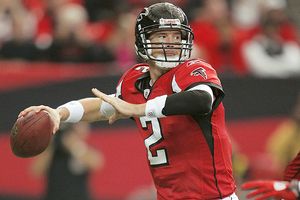 Todd Kirkland/Icon SMIMatt Ryan has performed well operating out of the no-huddle offense.
They are loaded at the offensive skill positions. Throw in some heavy doses of the no-huddle system and that's going to put a huge strain on defenses.
The Falcons have used the no-huddle offense at various times ever since the current coaching staff and quarterback
Matt Ryan
arrived in 2008. I don't have statistical breakdowns available on what the Falcons have done when they've huddled compared to when they haven't. But memory tells me the Falcons have had plenty of success when they don't huddle. Memory also tells me the Falcons probably used the no-huddle system more in Ryan's rookie year than either of the past two seasons.
I asked coach Mike Smith at one point in 2009 if the Falcons were using the no-huddle offense less than in 2008. He said that wasn't necessarily the case, but explained his philosophy on the system. He said he didn't want to use the no-huddle system all the time. Instead, he wanted to use it occasionally to keep defenses off balance, sort of like an NBA team that sometimes walks the ball up the court and sometimes relies on the fast break.
I think that's a good philosophy because variety can be a wonderful thing. But I'd like to see the Falcons go without a huddle a little more. Again, I don't have statistical breakdowns available, but my own observations tell me Ryan runs the no-huddle very well and the Falcons have had success with it.
Ryan was able to run the no-huddle offense nicely as a rookie and he's entering his fourth year now. He has an offense that's filled largely with veteran players.
The Falcons don't have to suddenly turn into the Colts and go without a huddle all the time. But it would be nice to see them do it a bit more often.
They have very good offensive personnel, and receiver
Roddy White
has commented several times that the Falcons can be sort of like the
St. Louis Rams
, back when they were known as "The Greatest Show on Turf."
I'm not sure about that. But mix in a little more of the no-huddle offense and the Falcons are going to be able to confuse a lot of defenses.
August, 27, 2010
8/27/10
9:36
PM ET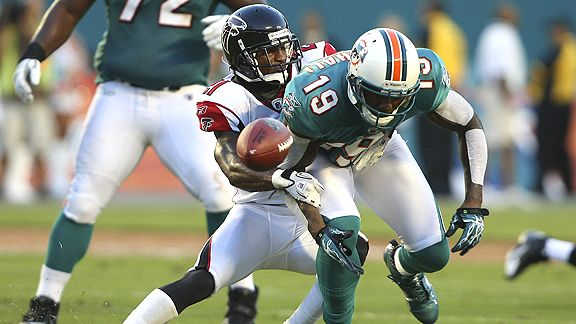 AP Photo/Hans DerykCornerback Christopher Owens' preseason performance may have earned him a starting job.
I had to get very creative because
Atlanta's game at Miami
wasn't available on local television at NFC South Blog Headquarters. I'm watching the Saints and Chargers on local television, but I kept up on the Falcons throughout the night.
With a little help from satellite radio, the wonderful work of my buddies Daniel Cox and Jay Adams at the Falcons' team website, some live stats and play-by-play and a bunch of text messages from a Falcons official who is in the press box in Miami, I was able to get a feel for what the Falcons did. Here are my thoughts and observations:
Cornerback Dunta Robinson didn't play for the third straight preseason game, even though there was some speculation he might go against Miami. I wouldn't be too worried about this one. My Atlanta official in the press box said the team is just being cautious with its high-priced free agent. The main goal is to make sure Robinson's healthy for the start of the regular season.

Speaking of cornerbacks, it sure seems like Christopher Owens has done what he needed to in order to earn the starting job opposite Robinson. Owens stripped a ball away from Brandon Marshall and brought enough pressure on a blitz to allow Kroy Biermann to sack Chad Henne.

Speaking of Biermann, he's had a sack in each of the first three preseason games. Could be part of what the Falcons need to upgrade their pass rush.

Speaking of the pass rush, it sounded like the Falcons were using lots of blitzes, including a couple by rookie linebacker Sean Weatherspoon. Hope we see a lot more of that in the regular season. The defense looks a lot faster and that's largely because of Weatherspoon's arrival.

It's only the preseason and you never should read too much into that. However, if you're going to try to read anything into one preseason game, do it for the first half of the third game, when most of the starters play all the way. That's why Atlanta fans should be encouraged by the following defensive numbers from the first half: The Dolphins converted on only one third down in the first half. The Falcons also held Miami to 10 rushing yards.

Trey Lewis got the start at defensive tackle next to Jonathan Babineaux, but Peria Jerry came into the rotation and got his first playing time since tearing up his knee early in his rookie season. Didn't sound like Jerry made any big plays, but all indications were he seemed to be moving around quite nicely. He also got to play against his brother, John, who is a rookie offensive guard for the Dolphins.

Eric Weems had a big kickoff return to set up Atlanta's first-quarter touchdown. This guy's got a roster spot as a backup receiver. But, more importantly, he's become a core special-teams player.

Quarterback Matt Ryan started off a little rough and his receivers had a few drops. But Ryan came on and threw a touchdown pass to Roddy White. He also had a nice throw to Harry Douglas, who is coming back from injury, and made some other nice plays. Once again, Ryan looked good in the no-huddle offense. I hope we see a lot more of that this season and I hope we don't see any more of that ugly 2-yard run Ryan had Friday night.

Good to hear defensive backs Brian Williams and William Moore, who both had major injuries last year, made their preseason debuts early in the second half.

All right, I'm going to go ahead and post this now that the backups are taking over, so I can focus in on the New Orleans game because I'll also have an observation package on the Saints later Friday night.
August, 19, 2010
8/19/10
11:00
PM ET
The
Atlanta Falcons
have been a trendy pick lately to win the NFC South and maybe go deep into the preseason.


If you put any stock at all into preseason games, it might be time to tone down the Atlanta hype a bit. In Thursday night's
28-10 loss
to New England, there weren't many bright spots for the Falcons. A few observations:
A defense that looked good in the preseason opener, suffered a major letdown against the Patriots. The run defense was not good at all and the pass defense was no better. But keep in mind, the Falcons were playing without defensive tackle Peria Jerry and cornerbacks Dunta Robinson, Brian Williams and Brent Grimes.
The one bright spot for the defense might have been the play of defensive end Kroy Biermann, who had a sack and a tackle for a loss on a run play. Biermann's one of several defensive linemen the Falcons think can emerge this season and, so far, he's been doing that. Lawrence Sidbury, another young defensive end the Falcons have high hopes for, came up with a sack late in the game.
The first-team offense didn't look bad. Matt Ryan was sharp and Michael Turner ran well and caught a couple balls out of the backfield. The Falcons even got receiver Harry Douglas into the lineup for the first time since he tore up his knee in training camp last season. But the Falcons weren't able to get the ball into the end zone with the first offense.
One thing I liked that the Falcons did while Ryan was in the game was use a lot of the no-huddle offense. Ryan did well when the Falcons used that in his rookie year, but they kind of got away from it last season.
In a sign that they haven't decided on a backup quarterback, John Parker Wilson followed Ryan and got extensive playing time. They know what they have in veteran Chris Redman and wanted to see more of Wilson. He did some good things, particularly showing his ability to throw on the run. But Wilson was far from perfect and I don't know if he did enough to win the backup job just yet.