January, 17, 2013
1/17/13
3:53
PM ET

Any
Buffalo Bills
fan with a pulse knows the team
desperately needs linebacker help
. For starters, Buffalo lacked toughness and was 31st against the run in 2012. Second, new defensive coordinator Mike Pettine will mix in more 3-4 alignments next season.
Most Bills fans are also aware that for weeks -- and perhaps months -- Notre Dame middle linebacker Manti Te'o has been linked as a possibility for Buffalo in April's NFL draft. Te'o, it was thought, brings physicality, instincts and natural leadership. Those are all traits the Bills could use on defense.
But
this week's bizarre story
about Te'o and an apparent girlfriend that never existed raises a lot more questions than answers. Was Te'o
the victim or perpetrator
?
Here is another important question: Should the Bills still consider Te'o with the No. 8 overall pick? That is where ESPN draft guru
Mel Kiper Jr. pegged Te'o
before this strange story became public. Buffalo is starting a new era under rookie head coach Doug Marrone, and drafting Te'o with the top pick in April would be an interesting first move.
Te'o was projected to be a top-15 pick before this week. But that can always change during this pre-draft process. Te'o will be perhaps the hottest commodity at next month's NFL combine. NFL scouts, executive and media will want to know the real story from Te'o behind this controversy.
The Bills will have their choice of a variety of top prospects with the No. 8 overall pick. Te'o was once considered a safe pick at the top half of the first round, but that may no longer be the case.
May, 5, 2011
5/05/11
11:15
AM ET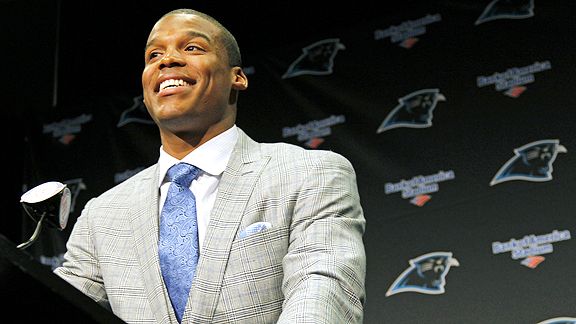 AP Photo/Bob LeveroneCam Newton was all smiles during his introduction in Charlotte. The smiles may continue into the season.
At a kickball game in Charlotte on Sunday,
Cam Newton
and
Jimmy Clausen
were on common ground for perhaps the first and last time in their lives.
The future and current quarterbacks of the
Carolina Panthers
(or is it already the current and past quarterbacks?) got together for a charity event that included some other players. It's kind of ironic, because Newton and Clausen have virtually nothing else in common, and, despite the fact they're going to be teammates, things already are setting up for them to be competitors, maybe even rivals.
You could see that building last Friday as Newton was introduced to the Charlotte media and asked what jersey number he wants to wear. At Auburn, Newton wore No. 2. Clausen picked that number when he was drafted by the Panthers last year. In the world of the NFL, the veteran usually gets to keep his number, unless some sort of financial agreement can be worked out.
Newton didn't concede the number to Clausen and made some reference like "we'll see." That might lead you to believe the man taken with the No. 1 overall pick in the draft might flex his muscle to wear No. 2.
It might not come with a bad ending for the Panthers, but you can see Clausen and Newton, two guys with entirely different backgrounds and personalities, already lining up on a collision course. The ending won't be happy for both, because they're playing for one job as the long-term starting quarterback.
It can only be coincidence, but the kickball game came precisely one year to the day that Clausen threw his first NFL minicamp pass and many people thought the Panthers finally had found their franchise quarterback. A year later, the Panthers turned around and drafted Newton to fill that role.
That's the role Clausen has been groomed for all his life, while Newton's grooming process was far less traditional.
Let's start with Clausen. Chances are pretty good you first heard of Clausen when Sports Illustrated ran
this story
, titled "The Kid with the Golden Arm."
In it, the writer talks about how people viewed Clausen as the next great quarterback: "Others see the arm of
John Elway
, the composure of
Tom Brady
and the quick release of Joe Namath."
Former NFL quarterback Brian Sipe said, "I've never seen anyone with a quicker release than Jimmy has."
The story was written when Clausen was
a junior in high school
. It goes on to reveal details of his grooming -- how he worked with a private quarterbacks coach since junior high, how his brothers, Rick and Casey, made it as college quarterbacks at the University of Tennessee -- and the recruiting wars that were being fought over him.
Skip ahead a little more than a year. If you somehow hadn't heard of Clausen by then, well, that changed. He
showed up in a white limousine
at the College Football Hall of Fame to announce he would attend Notre Dame. Notre Dame, the school with Charlie Weis (the man who developed Brady) and all sorts of quarterback pedigree (forget
Brady Quinn
, we're talking the days of
Joe Montana
and Joe Theismann).
Weis didn't really win big, but Clausen had a respectable career. Although some thought he might go in the first round of last year's draft, he slid to the second and the Panthers grabbed him. For the first time in his life, Clausen wasn't in a position where success was assured, and it showed. Former coach John Fox -- fighting the youth movement imposed by management and throwing farewell gestures on his way out the door -- refused to play Clausen until injuries left him no choice. In the offense of Fox and coordinator Jeff Davidson, which looked like it was created for a 1950s high school team, Clausen struggled mightily and the Panthers finished 2-14.
Clausen clashed with volatile receiver
Steve Smith
. Media and teammates described Clausen as self-centered, aloof and not the kind of guy who commands respect in a locker room or a huddle. The Panthers swear they haven't given up on Clausen and still think he can turn into a decent NFL quarterback.
[+] Enlarge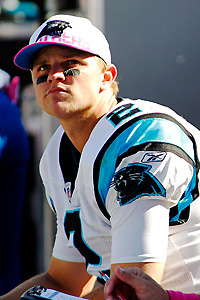 Geoff Burke/Getty ImagesJimmy Clausen could find himself watching from the bench again this season.
But they were saying that after they had drafted Newton, and logic says you don't go out and use an early pick on a quarterback if you think you have one on your roster.
Newton suddenly is the chosen one, and he's coming at it on a completely different track than Clausen. At his press conference the day after the draft, Newton was engaging and cracking smile after smile.
The Panthers talked about his charismatic personality and the passionate halftime speech that sparked Auburn to a win over Alabama last season. They talked of how Newton's teammates spoke about his leadership skills, and no one ever has questioned his physical skills. It's the kind of stuff Clausen can only dream about.
It's not as though Newton comes with a résumé that's empty compared to Clausen's. Newton won a national title and a Heisman Trophy at Auburn. He won a junior college national title at Blinn College. But he played only one year at each place, and neither program ran a Notre Dame offense, the kind of offense people said made Clausen the most NFL-ready quarterback in last year's draft.
Newton's résumé also included a brief stop at the University of Florida, which doesn't recruit quarterbacks from the bargain basement. But
Tim Tebow
already was there. Newton was involved in an incident in which a computer was stolen. There were reports of academic improprieties, reports Newton disputes. Newton left, went to Blinn, and, as he was looking to transfer back to a big-time school, things got murky.
There have been reports Newton's father, Cecil, sought money for the rights to his son, and the NCAA is investigating the matter.
The Panthers did all sorts of homework on Newton's background and decided that none of it suggests future problems. They put him under a microscope on and off the field and decided they loved what they saw.
If it means pushing aside the kid who grew up in a quarterback laboratory, the Panthers appear fine with that. In a best-case scenario, maybe Clausen rallies and pulls off something like
Drew Brees
did when he was in San Diego. Brees, at least temporarily, did a nice job of keeping
Philip Rivers
on the sideline.
But that's far fetched. The Panthers didn't draft Newton to sit, and, listening to them talk last week, you could read between the lines and see that they'd like nothing more than to open the season with their franchise quarterback as their franchise quarterback.
The labor situation could complicate things a bit. If there are no offseason workouts and a limited training camp, the Panthers might be forced to open the season with Clausen as the starter. But, seriously, how long is that going to last? Four games? Six, tops?
The smiles and relaxed atmosphere from the kickball game are over. Whenever the Panthers do get back to the practice field, Newton just has to show he's getting a grasp of the playbook and then he'll be the one on the playing field.
Really, it's all about pedigree. He might have taken an unconventional route through college, but Newton's got the upper hand now. Clausen, because he's had so much coaching already, might be as good as he's ever going to get.
Newton's the guy who has won championships and won over huddles. He's the one with potential that seems limitless. He's the one the Panthers picked in the spot that gives him the ultimate pedigree.
September, 24, 2010
9/24/10
4:00
PM ET
»
NFC Final Word
:
East
|
West
|
North
|
South
»
AFC
:
East
|
West
|
North
|
South
Five nuggets of knowledge about Week 3:
[+] Enlarge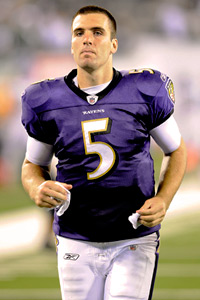 Rich Kane/Icon SMIJoe Flacco is looking to rebound against the Browns after a poor start to the season.
Baltimore Ravens quarterback Joe Flacco needs a solid outing Sunday against the Cleveland Browns.
The third-year player had the
worst performance of his career
, throwing a career-high four interceptions in last week's loss to the
Cincinnati Bengals
. Flacco's didn't look comfortable
and was pressing
, particularly in the second half. He's off to a very slow start, throwing for 402 yards, one touchdown and five interceptions in Baltimore's first two games. Flacco's passer rating is 41.2.
A key reason Baltimore's defense hasn't allowed a touchdown is its ability to dominate on third down.
In two games, the Ravens have held opponents to 4-for-29 (14 percent) on third-down conversions. That stuffs drives, helps Baltimore with field position, and gets the ball back in the hands of the offense.
One of the major issues with Cleveland's offense is its two starting receivers -- Brian Robiskie and Mohamed Massaquoi -- cannot get open.
Neither of the Browns' 2009 second-round picks has been fast enough nor experienced enough to shake free of coverage in the first two games. Robiskie and Massaquoi have been targeted 19 times and only produced five receptions combined this season. Backup
Josh Cribbs
has been the team's most explosive receiver. He caught a 65-yard touchdown reception last week in a loss to the
Kansas City Chiefs
. Tight ends
Benjamin Watson
and
Evan Moore
have also made plays.
When the Pittsburgh Steelers travel to play the Tampa Bay Buccaneers, they must be wary of the warm weather.
Tampa can be a hot place to play football this time of year. The temperature is expected to hover around the high-80s and lower-90s Sunday. There is also a 50 percent chance of rain. Browns Pro Bowl left tackle
Joe Thomas
told me after Cleveland's Week 1 loss to Tampa that it felt like it was 100 degrees on the field. AFC North teams aren't used to this kind of heat.
After facing two solid quarterbacks in Tom Brady and Flacco to start the season,
the Cincinnati Bengals catch a break Sunday with
Carolina Panthers
rookie quarterback
Jimmy Clausen
getting his first career start. The Bengals were relentless on defense last week and rattled Flacco. There's a good chance Cincinnati and defensive coordinator Mike Zimmer can do the same against Clausen. The Notre Dame product threw for 59 yards and an interception in relief against Tampa Bay last week.
April, 23, 2010
4/23/10
11:01
AM ET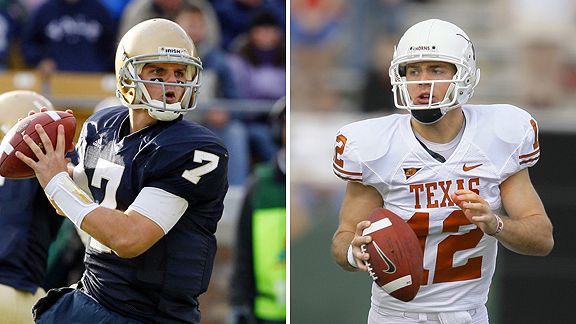 US PresswireCould Notre Dame's Jimmy Clausen, left, or Texas' Colt McCoy be available when the Browns are on the clock in the second round?
It's no secret that the
Cleveland Browns
are searching for their long-term solution at quarterback.
So could
Jimmy Clausen
or
Colt McCoy
be the answer?
Cleveland patiently watched the draft board fall heavily in its favor Thursday night as two of the top-rated quarterbacks of this year's class landed into second round. The
Denver Broncos
' surprising selection of
Tim Tebow
sent
shockwaves throughout the NFL
and perhaps sparked some celebration in the Browns' draft room.
Now Clausen and McCoy are there for the taking in Friday's second round, where Cleveland owns the sixth pick (No. 38 overall). The Browns have a legitimate chance to land either player and it would be hard to argue the type of value they'd get in return. Either prospect could sit a year in Cleveland and has the luxury to learn behind starter
Jake Delhomme
.
Clausen was projected by many to be a top-20 pick, while McCoy remains in his projected range of early in the second round. Cleveland president Mike Holmgren initially said he wasn't as impressed with Clausen as he'd like to be, although he somewhat
backed off those statements
recently. But Holmgren is in line with a lot of teams that weren't completely sold on the former Notre Dame star -- at least as a first-round pick.
McCoy is a player the Browns liked all along. He has tremendous accuracy and seems to be a great fit in a West Coast offense, which is a system Holmgren unequivocally believes in. Although the chances aren't great, it would be interesting to see who Cleveland would take at No. 38 if both players were available. An educated guess is the Browns might have Clausen rated higher on their draft board but still believe McCoy is the better fit for their offense.
A trade up Friday might be necessary.
Of the five teams ahead of Cleveland, the
Minnesota Vikings
(No. 34) and
Kansas City Chiefs
(No. 36) are both possibilities to take quarterbacks of the future. There are also teams like the
Buffalo Bills
and
Oakland Raiders
who may look to trade up and jump ahead of Cleveland for Clausen or McCoy.
Thursday's pick of former Florida cornerback
Joe Haden
was
solid but didn't create much buzz in Cleveland
. Yet, potentially adding a high-profile quarterback like McCoy or Clausen in the second round certainly adds excitement and intrigue to the Browns' 2010 draft class.
February, 26, 2010
2/26/10
3:22
PM ET
INDIANAPOLIS -- Few receivers in the draft were bigger playmakers than Notre Dame's Golden Tate last season. He recorded 93 receptions for 1,496 yards and 15 touchdowns as a junior.
[+] Enlarge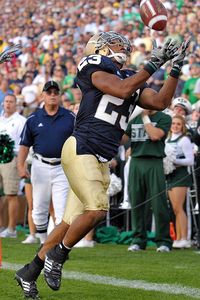 Matt Cashore/US PresswireGolden Tate proved to be a big-play receiver at Notre Dame, catching 93 passes for 1,496 yards and 15 touchdowns last season.
With both the
Baltimore Ravens
and
Cincinnati Bengals
searching for a big-play receiver, would Tate be a golden match?
Tate said he has scheduled interviews with the Ravens, Bengals and
Pittsburgh Steelers
this week at the NFL combine. But he doesn't have a preference.
"I want to play for whoever thinks I can help them next year," Tate said. "Whoever thinks I can come in, make a difference right away and help them go to a Super Bowl, that's who I want to play for."
Despite having two strong-armed quarterbacks in Baltimore's
Joe Flacco
and Cincinnati's
Carson Palmer
, the deep ball was very limited on those teams last season. Meanwhile, Tate averaged 17.2 yards per reception in his three-year career at Notre Dame.
On the field, Tate believes his skills are similar to
Carolina Panthers
receiver
Steve Smith
and
Percy Harvin
of the
Minnesota Vikings
, who are definitely big-play receivers. If Tate's projections are correct, he could be a potential prospect who could add excitement and playmaking ability that the Bengals and Ravens currently lack.
"I'm the kind of a guy who's going to go out there and make plays," Tate said. "I try my best to catch it and turn a 3-yard gain into a first down, or a 20-yad gain, or maybe even a touchdown."
February, 26, 2010
2/26/10
9:16
AM ET
INDIANAPOLIS -- University of Florida's
Tim Tebow
is expected to be among the quarterbacks interviewing with the media Friday at the NFL combine.
Tebow
This means a lot of hype and a lot of stern questions will come Tebow's way.
Tebow has been a lightning rod for discussion during the NFL draft process. He is arguably the most accomplished collegiate player of all time, yet many question if Tebow's skills will translate at the NFL level.
Expect Tebow to be grilled on his delivery, his poor performance at the Senior Bowl, and his choice not to throw at the combine. Currently Tebow is working on changing his mechanics in an attempt to improve his draft stock. The next time he will throw in front of scouts will be during his individual workout.
Either way, it should be an interesting day in Indianapolis with Tebow as one of the headliners. Other high-profile quarterbacks scheduled to meet with the media Friday include future first-round picks
Sam Bradford
of Oklahoma and
Jimmy Clausen
of Notre Dame.
| | |
| --- | --- |
| | |
| | Joe Robbins/Getty Images |
| | Brady Quinn has his sights set on being the Browns' starting quarterback. |
Posted by ESPN.com's James Walker
BEREA, Ohio -- It is not a stretch to say Brady Quinn waited most of his life to be the starting quarterback of the Cleveland Browns.
Raised in Columbus, Ohio, Quinn was a die-hard Browns fan growing up and dreamed of someday leading the team. His travels took him to a successful football career at Notre Dame before eventually becoming a first-round pick of the Browns in 2007.
But since joining the Browns, Quinn's career has yet to get off the ground. He stood on the sideline for a majority of his rookie year and started just three games in 2008 before breaking a finger on his throwing hand.
While competing with teammate Derek Anderson, this year will be the first legitimate chance for Quinn to win the job he's coveted since a youth. Recently Quinn sat down with ESPN.com's AFC North blog to discuss his approach heading into the 2009 season.
Brady, I will throw you a curveball right off the bat. With Charlie Weis at Notre Dame, and Romeo Crennel and Eric Mangini in Cleveland, why have you been unable to avoid the Bill Belichick tree your entire career?
Quinn: [Laughs] I love it. For me, I had success with [Weis] in college. And although things didn't necessarily work out the past couple of years, it's been time and time again a successful tree. The coaches come from a great pedigree. They command a lot of respect, and you know what you're going to get every day with hard work, discipline and smart football and people keeping each other accountable.
Does that mentality and style fit you well?
Quinn: Without a doubt. That's why it's easy for me, because it's all about the team. It's all about our team and putting it before everything else. That's something that I'm a huge advocate of, and I try to be as humble and selfless as possible.
It's fair to say you waited most of your life for this opportunity to lead the Browns. During the process of competing for the job, are you able to take this all in?
Quinn: It truly is surreal. I guess I kind of look back at my life at this point and having the opportunity to play for Notre Dame, which was a dream come true. That was a team I rooted for growing up and had an opportunity to play for them was a dream. Now being that the Cleveland Browns was a team I rooted for growing up, I'm 2-for-2 in that category. It's all surreal, and I'm trying not to get too caught up in it. I'm just trying to get better each day and try to do something special each day. So hopefully I can look back on something great.
Would it really have been any different if, say, you were drafted by the Oakland Raiders, San Francisco 49ers or Denver Broncos?
Quinn: I think it would. It would be special because you're playing in the NFL, and you're allowing yourself to have a job that you love. Playing football every day, that's unbelievable. But it doesn't have that same lure or aura about it, because it wasn't the same team you rooted for growing up. The 49ers, I grew up liking them as well because I was a Joe Montana fan.
March, 31, 2009
3/31/09
10:29
PM ET
Posted by ESPN.com's James Walker
If the Denver Broncos want a starting-caliber quarterback in return for Jay Cutler, the team must call the Cleveland Browns.
No other potential trading partner has a quarterback to offer who could give the Broncos anything close to the same value as Cutler. The Browns have two players: Brady Quinn and Derek Anderson.
Quinn, a Notre Dame alum, is a prodigy of Charlie Weis, whom Broncos head coach Josh McDaniels learned under while both were with the New England Patriots. The offensive system McDaniels will run in Denver should have similar concepts to what Quinn learned at Notre Dame. That makes for an easy transition.
Sure, Quinn lacks experience. But if McDaniels can tutor Matt Cassel and make him into a star in one year with zero starts since high school, McDaniels could certainly work with Quinn, who played four full seasons in college and has three NFL starts.
In the event Denver doesn't like Quinn, the Browns also have Anderson available. He is physically gifted in terms of arm strength. So if the Broncos want to go deep more often than not, Anderson would be the pick.
Anderson proved that with the right tools around him he could be a viable NFL quarterback. He won 10 games with the Browns and threw 29 touchdown passes in 2007, which is the year he made it to the Pro Bowl.
So take your pick, Denver, because the Browns have a lot to offer at the quarterback position.
Unless the Broncos believe drafting a rookie quarterback and letting him try to lead the team to the playoffs is wise, then working out a deal with Cleveland is the best move Denver could make.
November, 6, 2008
11/06/08
9:04
AM ET
Posted by ESPN.com's James Walker
Here are the most interesting stories Thursday in the AFC North:
Morning take: Rolle has had a tough go at it health-wise. But Baltimore can definitely use him in the second half of the season.
Morning take: This is a big decision for Pittsburgh. Roethlisberger will not be 100 percent and the Steelers need to think of their long-term goals. Yet, they can't afford to drop home games in November and December.
Morning take: We know why "Uncle Charlie" is excited. The Denver Broncos have the NFL's version of Navy's defense.
Morning take: Thanks to all the Bengals fans who participated. I felt like a counselor at times jotting down all the frustrations.
NFL SCOREBOARD
Sunday, 2/2
WEEKLY LEADERS