NFL Nation:

O.J. Brigance
January, 6, 2013
1/06/13
12:27
PM ET

Former Ravens linebacker O.J. Brigance inspires the Baltimore Ravens and shows strength every day as he battles ALS while continuing to work in the front office.
January, 3, 2013
1/03/13
6:18
PM ET
By
ESPN.com staff
| ESPN.com
Fans get a second helping of "Sunday NFL Countdown" as the playoffs begin this weekend.
In addition to the regular airing -- 10 a.m. to 1 p.m. ET on ESPN -- there will be an additional Saturday edition from 11 a.m. to 1 p.m. ET.
Get a sneak peek at this week's features below, and be sure to check out our
experts' picks
.
SATURDAY
Arian Foster's rise:
Before the season, the Texans signed their workhorse running back to a contract extension, and at the news conference to announce the deal, Foster became emotional when talking about the sacrifices his mother made in order for his family to survive. "Countdown" looks back at that moment, and talks to Foster's mother about what her son's rise to NFL stardom has meant to her family.
Adrian Peterson -- Soundtracks, Week 17:
Take an inside look at the MVP candidate running back during his impressive performance against the Packers in Week 17, when he fell nine yards short of breaking the single-season rushing record, but helped lift Minnesota into the playoffs.
SUNDAY
What Drives Alfred?
Redskins rookie
Alfred Morris
proved his value to the Redskins by rushing for 1,613 yards this season. But in a players' world of Bentleys and BMWs, Morris remains a man of modest transportation. He drives to work in a 1991 Mazda 626, with a blue book value of about $1,000. "Countdown" takes a drive with Morris to discuss his route to becoming an emerging star.
O.J. Brigance's fight:
After starting his NFL career with four seasons in Miami, linebacker O.J. Brigance joined the Ravens in 2000 and played in all 16 games in their Super Bowl season, mostly on special teams. Four years later, he joined the Ravens' front office, becoming the director of player development. Then in 2007, Brigance was diagnosed with ALS. Brigance has inspired those who know him with his passion and perseverance, and he's started a foundation to help others fight the disease and find a cure.
May, 1, 2012
5/01/12
1:41
PM ET
Somehow, and I'm still trying to figure exactly how, the
New Orleans Saints
have been dragged into yet another controversy.
Baltimore coach John Harbaugh was doing an
interview with a local radio station
Tuesday morning. Harbaugh was asked a question about the Saints' bounty program and the general concept of cheating throughout the NFL.

Harbaugh
Harbaugh didn't say a thing about the Saints. Instead, he turned his answer toward the
New England Patriots
, who had their own controversy with Spygate several years ago.
"In the end, everything is brought before the light of day, when it's all said and done," Harbaugh said in the interview. "What happens, even the thing in New England, no matter whether those things had any impact on whether they won their championships or not, they got asterisks now. It's been stained."
That set off a firestorm in New England, and the Ravens quickly moved into damage-control mode. The Ravens just sent out a statement from Harbaugh. Although the Saints didn't get mentioned in his on-air words, they do get mentioned in Harabaugh's latest statement.
"While on the 98 Rock show this morning to talk about the run to honor O.J. Brigance and raise funds for ALS research, I answered a question about playing within the rules and referred to the perception that the Super Bowl championships won by the Patriots and Saints have a stain,'' Harbaugh said. "My reference was to the perception out there that came as the result of the league's actions. I could have been more clear that I was referring to those viewpoints. I totally believe that the Patriot and Saint coaches and players earned those championships. Bill (Belichick) and Sean (Payton) both know that. There has been some distortion about what I said.
"The original tweet indicated I pointed the finger at Bill Belichick and mentioned Bill's name. I did not. I have so much respect for Coach Belichick and the job he does and has accomplished in his Hall of Fame career. I called him to remind him of my respect for him. I also reached out to Tedy Bruschi, who rightfully defended those Patriot players and coaches on ESPN, to tell him that I agree with him that the Patriots earned every victory."
October, 3, 2011
10/03/11
3:02
AM ET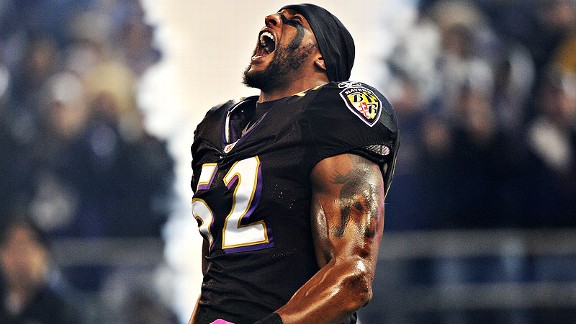 Patrick Smith/Getty ImagesRay Lewis and the Ravens' defense limited the Jets to only seven first downs and 150 yards of offense.
BALTIMORE -- The scariest part about the
Baltimore Ravens
' defense is that it doesn't fear anything.
The Ravens aren't afraid of blitzing on every play. They're not afraid of sending a safety or a nickel back after the quarterback. They're not afraid of leaving a cornerback one-on-one with a receiver.
After a couple of years of playing it safe, the Baltimore defense showed a national television audience and its former boss that the Ravens haven't just dusted off their old, aggressive game plan. They've expanded it.
Three defensive touchdowns in the Ravens'
34-17
victory over the
New York Jets
at M&T Bank Stadium came as the result of relentless pressure. Past Ravens defenses prided themselves on leading the NFL in fewest yards given up or setting the record for fewest points allowed.
This Ravens defense wants turnovers, and they want to turn them into touchdowns. Baltimore's defense outscored the Jets' offense 21-3. Actually, Baltimore's defense outscored its own offense.
So, how great can this Ravens defense become?
"We can be special," Ravens linebacker
Terrell Suggs
said. "It all depends on where we go from here."
Defenses in Baltimore are defined by championships, which means there is a ways to go before you can rank this group. All you can say is that Baltimore is on the right path.
The Ravens are relentless and it started with the defense's first snap. Baltimore safety
Ed Reed
came unblocked and stripped Jets quarterback
Mark Sanchez
from the blind side, which led to
Jameel McClain
's 6-yard fumble return for a touchdown.
In the second quarter, defensive tackle
Haloti Ngata
crashed into Sanchez's back, forcing the ball loose and leading to a 26-yard fumble return by
Jarret Johnson
. In the third quarter, Suggs' pressure caused Sanchez to hurry a throw to the outside, where cornerback
Lardarius Webb
jumped in front of
Santonio Holmes
and ran back the interception 73 yards for a touchdown.
"It reminded me of the 2000 and 2006 defenses," said Jets coach Rex Ryan, who was on the Ravens' staff for both of those defenses. "They were coming after us."
This defense, though, accomplished something the the defenses in 2000 (which set the NFL record for fewest points) and 2006 (which is the only Ravens defense that finished No. 1 in a season) never did -- score three touchdowns in one game.
It didn't matter that the special teams allowed a 107-yard kickoff return or quarterback
Joe Flacco
had an interception returned for a score. What made the Baltimore defense's effort amazing was how it carried the team.
In 2000, the Ravens' defense remained strong through a five-game touchdown drought. On Sunday night, the defense didn't bend despite a 35 1/2-minute drought for Flacco, who didn't complete a pass in the second or third quarters.
With the Ravens holding a 28-17 lead in the third quarter, Flacco fumbled to give the ball to the Jets at the Baltimore 27-yard line. On the next play, Webb once again showed there was no panic on defense when he delivered his interception return for a touchdown.
[+] Enlarge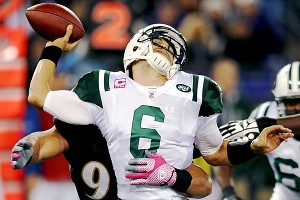 Mitch Stringer/US PresswireThe Ravens were able to pressure Mark Sanchez all night and forced the Jets to cough up three fumbles.
"Any defense that can create turnovers and score touchdowns is pretty much unstoppable," Ngata said.
This is a drastically different look from last season, when the Ravens had a more conservative approach under defensive coordinator Greg Mattison. They didn't give up many points (third-fewest in the NFL). But they didn't put much pressure on the quarterback (the 27 sacks were a franchise low).
When Mattison left to become the defensive coordinator at the University of Michigan, Baltimore promoted secondary coach Chuck Pagano, who said the Ravens would "wreak havoc" in his first news conference.
He has lived up to those words, especially against the Jets. According to ESPN Stats & Information, the Ravens blitzed at least one defensive back on 13 of Sanchez's 38 dropbacks. Only twice this season had a quarterback taken more snaps against blitzing defensive backs (
Jay Cutler
and
Sam Bradford
, both in Week 2).
Those blitzes resulted in nearly as many turnovers (two) as completions (three).
"He's not afraid of anything," linebacker
Ray Lewis
said of Pagano.
The real fear must be for quarterbacks when they watch the Ravens' defense get announced before the game. You get the sense that's what pitchers must have felt when they went against the Yankees' Murderers' Row in 1927. Out of the Ravens' tunnel comes Ngata. Then Suggs. Then Reed. And of course, Lewis.
What must quarterbacks think when they watch film of the Ravens hammering Sanchez,
Ben Roethlisberger
and Bradford?
"Get the ball out quick or you're going to get hit," Suggs said with a laugh.
But quarterbacks aren't getting the ball out quickly enough. Last week in St. Louis, Baltimore recorded 11 quarterback hits. On Sunday night, there were 10 quarterback hits which were delivered by seven players.
The performance was more special because it was against Ryan, the Ravens' defensive coordinator from 2005 to 2008.
"He created us," Johnson said, "now he had to deal with us."
Baltimore's defense could become stronger after this week's bye with the return of two injured cornerbacks, rookie first-round pick
Jimmy Smith
and veteran
Chris Carr
.
"I do sense something special with this defense and with this team," Baltimore head coach John Harbaugh said. "I think there's a spirit in this team that's hard to describe and I wish I could put it into words for you. I saw it the first day the guys came back. We'll see where it takes us."
Note:
Harbaugh handed out game balls to Pagano;
O.J. Brigance
, the team's director of of player development who celebrated his birthday last week while still battling ALS; and Pat Modell, the wife of former majority owner Art Modell. Pat Modell is seriously ill.

NFL SCOREBOARD
Sunday, 2/2
WEEKLY LEADERS