June, 21, 2014
Jun 21
11:00
AM ET
This is our post-minicamp edition of the mailbag. What say you,
New York Jets
fans?
@richcimini Has Rex vs Pettine reach level of Belichick vs Mangini? #JetsMail

- BIG ED (@NYCKING) June 21, 2014
@RichCimini:
I find it hard to believe the Rex Ryan-Mike Pettine relationship has deteriorated to the Bill Belichick-Eric Mangini level, but I think it's fair to say it took a wrong turn with PlaybookGate. Ryan was disappointed and hurt by Pettine's comments and, yes, he probably felt betrayed. Who could blame him? The Belichick-Mangini relationship, already strained before SpyGate, was completely severed when Mangini blew the whistle on his mentor's spying operation. Tough to top that in terms of acts of disloyalty. After that, the chill was on display for every post-handshake between them. It's too bad the Jets don't play the
Cleveland Browns
this season; the handshake would've been a must-watch event.
@RichCimini After the minicamp performance, is it safe to say Rex & Idzik are content with their CB's ? Or will they add a vet ?#JetsMail

- Henry Strawder (@HenryStrawder) June 20, 2014
@RichCimini:
I know most fans don't want to hear this, but they're content with the current cast. The coaches were almost giddy with
Dexter McDougle
's performance over the last two weeks, so they feel they can go four or five deep at corner --
Dee Milliner
,
Dimitri Patterson
,
Kyle Wilson
, McDougle and
Darrin Walls
. Defensive coordinator Dennis Thurman, not one to toss around compliments, talked about McDougle as if he's the next Darrelle Revis. As I've said, I'd be surprised if they get involved with
Brandon Flowers
. The brass feels comfy with the current situtation.
@RichCimini Rich, who do you think will be the surprise player of training camp...hill, coples, etc.. #jetsmail

- chris (@ChrisLowry518) June 20, 2014
@RichCimini:
Stephen Hill
and
Quinton Coples
wouldn't be considered surprises because they were highly-drafted players a couple of years ago. Keep a close watch on guard
Oday Aboushi
, who impressed during the spring. I think he will push for the starting job at left guard, which will affect incumbent
Brian Winters
(right guard in minicamp) and, possibly, returning right guard
Willie Colon
. If you're looking for a super surprise, remember this name --
Kerry Hyder
. The undrafted defensive lineman from Texas Tech really showed up in minicamp. At 6-foot-2, 280 pounds, he's undersized for the Jets' scheme, but Ryan & Co. have a way of finding roles for defensive linemen who can play, regardless of size.
@RichCimini Rich, how do you see the Wilkerson extension playing out? Any progress yet? #Jetsmail

- Doug Hayden (@BoogieDownDoug) June 20, 2014
@RichCimini:
It's an interesting situation because it's a new situation. The Class of 2011 (first round) is the first affected by the new CBA rules. Obviously, the Jets want to sign
Muhammad Wilkerson
to an extension, but there's no sense of urgency this year because he's under contract through 2015. His cap numbers for '14 and '15 are $2.2. million and $7.0 million, respectively -- team-friendly costs. John Idzik is a hard-line negotiator who likes to maximize leverage. Well, he has all the leverage in this case, so that tells me he will try to get a deal done by the start of the season. The question is whether he makes it sweet enough to satisfy Wilkerson. Keep an eye on the
J.J. Watt
situation in Houston; he's in the same boat as Wilkerson. If a Watt deal gets done, the Jets and Wilkerson can use that as a measuring stick. They might as well take advantage of all their cap room. An extension also would send a positive message to their best player and the rest of the locker room -- and the fan base, for that matter.
@RichCimini did any rookie WR stand out at camp? #Jetsmail

- Matt Mangold (@YaBoiMang) June 20, 2014
@RichCimini:
Without a doubt, it was
Jalen Saunders
. He's only 5-foot-9, 165 pounds, but he's one feisty dude. He has good short-area quickness and catches the ball well. He got a lot of reps with the first-team sub packages, getting on the field when they went to spread formations. It'll be interesting to see how he makes the transition when the pads go on, because like I said, he's just a wisp of a receiver. He's also one of the leading candidates at punt returner.
Shaq Evans
looked lost in minicamp, dropping a lot of passes, but he was understandably rusty, having missed the OTA practices due to school obligations. Of the rookies, he has the most complete skill set, so I'm looking forward to seeing him in training camp.
Quincy Enunwa
didn't jump out. He looks the part -- a solidly built 6-foot-2 -- but he's behind the others and could have trouble making the team.
June, 11, 2014
Jun 11
2:55
PM ET
FLORHAM PARK, N.J. -- Notes and observations from Wednesday's OTA practice:
1. He-e-e-e-re's Dex
: Third-round pick
Dexter McDougle
, who missed the final nine games of his senior year due to major shoulder surgery, made his practice debut for the
New York Jets
. After three weeks of wearing a red (non-contact) jersey, the rookie cornerback wore green with the rest of his defensive teammates and impressed Rex Ryan so much that the coach called him out in front of the team afterward. McDougle worked with the second-team nickel package and didn't seem tentative at all. This, of course, is good news for the Jets' revamped cornerback position.
[+] Enlarge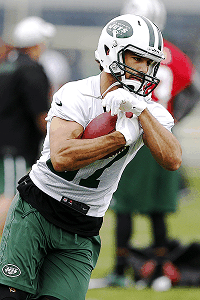 AP Photo/Julio CortezThe Jets will be counting on receiver Eric Decker to produce in the red zone this season.
2. Rex comes clean:
The Jets received mild criticism for taking McDougle in the third round, considering the time he missed at Maryland. Ryan admitted he, too, thought it was a risky pick, but others in the organization -- mainly defensive coordinat0r Dennis Thurman -- "eased my doubts" about McDougle. Ryan said Thurman, after watching McDougle on tape for the first time, came up to him and said, "I've got the guy right here." Ryan said they graded McDougle as one of the top "character" players in the draft. Assuming he has no setbacks, he will be able to participate in next week's minicamp.
3. Changing of the guards:
'Tis the time of year to experiment. With
Willie Colon
(arthroscopic knee surgery) sidelined for the remainder of the offseason, the Jets have been rotating players at right guard. On Wednesday, it was
Brian Winters
' turn. He traded places with
Oday Aboushi
, who moved to Winters' spot at left guard. No, this doesn't mean Colon is in danger of losing his starting job. Ryan acknowledged that Colon, who is expected to return for training camp, is a likely starter, but not necessarily at right guard. Interesting. Moving the players around in June creates competition and flexibility that could help in training camp.
4. Geno and Vick
: There was a concentration on the two-minute offense and the red zone in practice. Both
Geno Smith
and
Michael Vick
looked sharp in the red zone, each quarterback completing four of five passes in team drills. Smith got most of the work with the starters. His best moment came when he stepped up in the pocket and found wide receiver
Eric Decker
in the back of the end zone for a touchdown. Decker dominated in the red zone, one of the reasons why the Jets are paying him $7 million a year. Vick displayed his old form, scrambling for a touchdown. He also made a nice scoring pass to rookie wide receiver
Jalen Saunders
.
5. Two-minute hiccups
: Smith wasn't nearly as crisp in the hurry-up situation. He started off with a deep ball to Decker, but the drive stalled as he misfired on three of his last four passes. First-round pick
Calvin Pryor
came on a safety blitz to disrupt Smith on one play.
6. Rex on the QB competition/non-competition
: Not surprisingly, Ryan spoke glowingly on the Smith-Vick battle -- even though it's not really a battle, if you ask Vick. "Both guys are sharp," Ryan said. "They're pushing themselves and pushing each other. That's exactly what we wanted to have happen. ... I've been really impressed with it."
7. Attendance report
: Players that didn't participate in the voluntary practice included wide receiver
Jeremy Kerley
(personal), running back
Mike Goodson
(undisclosed), running back
Chris Johnson
(knee), running back
Daryl Richardson
(toe), wide receiver
Jacoby Ford
(undisclosed), Colon (knee), rookie wide receiver
Shaq Evans
(school obligation) and linebacker
Antwan Barnes
(knee). Ryan said he expects Goodson to show up for next week's mandatory minicamp. As expected, Johnson -- six months removed from knee surgery -- isn't expected to do much, if anything, in the minicamp. Ford will be full speed by next week.
8. Dee's cranky hammy:
Cornerback
Dee Milliner
, who sat out last week's open practice, participated on a limited basis. Officially, the team is calling it hamstring "tightness," not a pulled hamstring. Got that? Ryan said they kept him out for precautionary reasons.
9. Odds and ends
: Pryor continued to work with the starters. It was Pryor and
Antonio Allen
at safety, with
Dawan Landry
practicing with the second team. Landry already knows the defense; the plan is to let Pryor and Allen get as many reps as possible. ... The Jets are continuing their penalty/push-up tradition. When a penalty is committed, the entire team drops for 10 push ups. General manager John Idzik was among the non-players that did pushups. ...
Matt Simms
, battling rookie
Tajh Boyd
for the No. 3 quarterback job, threw an interception. ... Rookie tight end
Jace Amaro
, coming off a three-drop day last week, had another drop but looked much better catching the ball.
February, 13, 2014
Feb 13
10:00
AM ET
The right side of the
New York Jets
' offensive line is headed to free agency -- guard
Willie Colon
and tackle
Austin Howard
. With no plug-and-play replacements on the roster, it behooves the Jets to re-sign both.
Howard
They will try to get Howard locked up before he hits the open market. A former practice-squad player who came up the hard way, Howard, still only 27 (by opening day), is the kind of player you want to keep in your program. He's a two-year starter with many good years of football ahead of him, and he undoubtedly would draw considerable interest on the open market. He allowed only two sacks, tied for the league lead among right tackles, according to ProFootballFocus. Howard was an integral part of the running game. In fact, only one team ran behind their right tackle more often than the Jets did with Howard, according to NFL stats. How much is he worth?
New England Patriots
right tackle
Sebastian Vollmer
is a good comparison. A year ago, he signed a four-year contract for close to $17 million.
Colon's situation is complicated by a torn biceps in the final game. He will miss a good chunk of the offseason, but he should be good to go by training camp. Colon, who will be 31, is a good hold-the-fort player, certainly worth another one-year contract. He won't draw interest now, but he could be a factor in the secondary free-agent market.
Projected offseason plan
: The Jets will make a strong push to re-sign Howard, but they will take a wait-and-see approach at right guard. They have
Oday Aboushi
and
Will Campbell
waiting behind Howard and Colon, respectively, but neither player saw action last season. They were inactive for every game, basically rookie red-shirts. They were deemed developmental players, especially Campbell, a former college defensive lineman. It would be a stretch to think they would be ready for starting duty early in 2014, but general manager John Idzik kept them around for a reason. Aboushi and Campbell will be a good barometer of the Jets' scouting and player development.
Free agency:
Slim pickings at right tackle.
Zach Strief
(
New Orleans Saints
) would be the best option. There is not much at guard, either. Some scouting services rate
Richie Incognito
(
Miami Dolphins
) are the top free-agent guard, but do the Jets really want to go there?
Draft:
After drafting three offensive linemen last year, the last thing the Jets want to do is go back for more. But if they were to lose Howard, they would be able to replace him in the first round (18th overall). ESPN draft analyst Todd McShay has
six tackles rated among his top 32 players
. At 18, they could be in position for
Zack Martin
(Notre Dame) or
Cyrus Kouandjio
(Alabama). But with other needs on offense, they would be just spinning their wheels if they to use a premium pick to draft a Howard replacement.
August, 31, 2013
8/31/13
9:42
PM ET

Most significant move
: It wasn't a surprise, but the
New York Jets
waived
Greg McElroy
, their only quarterback not named
Mark Sanchez
who has started a game in the NFL. Granted, McElroy has only one career start, but the move is significant because it underscores the lack of experience at the position. If Sanchez (shoulder) doesn't dress for the season opener, it leaves the position to
Geno Smith
,
Matt Simms
and
Graham Harrell
, who have a combined total of four career pass attempts -- all by Harrell. The former Packers backup made the final cut despite having spent only three days with the Jets. McElroy was waived with an injury, so he wouldn't have been ready for Week 1 anyway. Still, this is a precarious situation to say the least.
Not much depth on offense:
Aside from quarterback, the Jets are perilously thin at a few spots. They have only five receivers, one of whom (
Santonio Holmes
) is a question mark because of his surgically repaired foot. The group includes a rookie free agent,
Ryan Spadola
. They also don't have an experienced backup at tackle.
Jason Smith
was supposed to be that guy, but he was atrocious in the final preseason game.
Vladimir Ducasse
can play some tackle, but that's not his best spot. Rookie OT
Oday Aboushi
(fifth-round pick) isn't ready to play. They have low numbers in the backfield -- only four backs, although
Mike Goodson
will be eligible to return from his suspension in Week 5.
What's ahead
: The Jets need help on offense. You can't go into a season with Aboushi as your No. 3 tackle, so look for them to address this over the next 24 hours. Anybody up for a
Wayne Hunter
reunion? The wide receiver situation is interesting. Right now, the Jets have only three healthy and experienced receivers. They're either confident Holmes will return for the opener or they have plans to add a veteran. The quarterback situation bears watching, too. If Sanchez is sidelined a few weeks, it might behoove New York to import an experienced backup. A couple of former Marty Mornhinweg-ites are available --
Vince Young
and
Trent Edwards
.
Jets cuts
: QB Greg McElroy (injured), RB
Mossis Madu
(injured), WR
Michael Campbell
, WR
Mohamed Massaquoi
, WR
Ben Obomanu
, WR
Zach Rogers
, TE
Chris Pantale
, C
Erik Cook
, OT
J.B. Shugarts
, OT Jason Smith, DL
Junior Aumavae
, DL
Lanier Coleman
, DL
Tevita Finau
, DL
Antonio Garay
, LB
Troy Davis
, LB
JoJo Dickson
, LB
Jacquies Smith
, DB
Royce Adams
, DB
Mike Edwards
, DB
Rontez Miles
, PK
Dan Carpenter
.
Placed on reserve/suspended
: RB Mike Goodson.

NFL SCOREBOARD
Thursday, 8/28
WEEKLY LEADERS