April, 25, 2012
4/25/12
3:30
PM ET
The
Buffalo Bills
reportedly
are "very interested
" in former Alabama safety
Mark Barron
just one day before the NFL draft.

Here are some additional thoughts on Buffalo potentially adding a safety at No. 10:
August, 22, 2011
8/22/11
10:00
AM ET


On Monday we learn the NFL future of former Ohio State quarterback Terrelle Pryor. Could he stay in the Buckeye state to join the
Cleveland Browns
or
Cincinnati Bengals
?
Both were among the reported 17 teams to send representatives to Pryor's workout. That indicates there is some level of interest from the NFL's two Ohio teams.
Earlier this summer, we provided all the reasons why the Browns should
take a flier on Pryor
. Browns president Mike Holmgren loves taking developmental quarterbacks. Pryor is a raw prospect who could use the tutelage of quarterback gurus Holmgren and head coach Pat Shurmur. If it doesn't work out, the Browns need help at receiver, too. Pryor ran the 40-yard dash in 4.41 seconds.
The Bengals also need as much talent as possible. They are starting rookie quarterback
Andy Dalton
, who is off to a slow start this preseason. Veteran journeyman
Bruce Gradkowski
is the backup, but the third quarterback spot is wide open.
Jordan Palmer
and
Dan LeFevour
are both expendable, and Pryor's athletic ceiling is much higher. He also spent time this offseason working with former Bengals quarterback
Ken Anderson
.
It would make sense for both Ohio teams to consider Pryor this afternoon in the supplemental draft.
June, 16, 2011
6/16/11
2:38
PM ET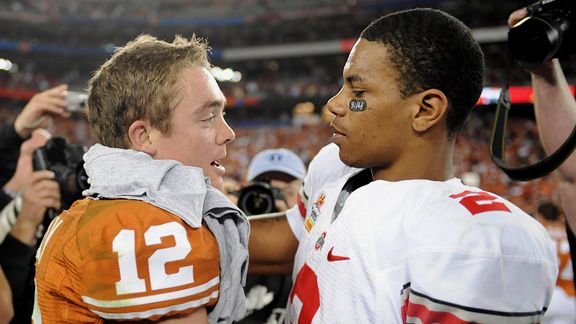 Kirby Lee/US PresswireEven with Colt McCoy in the fold, the Cleveland Browns should take a look at Terrelle Pryor.
Former Ohio State quarterback
Terrelle Pryor
shouldn't have to look far for his ideal NFL fit. If they're smart, the neighboring
Cleveland Browns
should be the first team in line to take the raw and talented prospect in next month's supplemental draft.
Cleveland, coming off back-to-back 5-11 seasons, is desperate for talent at any position. Pryor presents the perfect scenario for the Browns: He comes at no risk but could offer a high reward.
Pryor is projected to be a fourth-round pick in July's supplemental draft by everyone
not named Drew Rosenhaus
. That's a modest cost for someone with Pryor's athletic ability, big-game experience and pedigree. That is especially the case for the Browns, who have nine draft picks next year -- including two first-rounders --
following a cunning trade
with the
Atlanta Falcons
.
The Browns have draft picks to spare in 2012. Why not grab Pryor now and begin teaching him the nuances of the NFL game?
In Cleveland, Pryor would work with two quarterback gurus -- Browns president Mike Holmgren and head coach Pat Shurmur. The pair developed NFL quarterbacks such as
Brett Favre
,
Matt Hasselbeck
,
Donovan McNabb
and
Sam Bradford
, just to name a few. Like many observers, I have doubts about Pryor at quarterback in the NFL. But I like his chances a lot better working with Holmgren and Shurmur.
At best, Pryor turns out to be a viable starting quarterback in the NFL. Otherwise, Pryor could try his talents at wide receiver. Oh, by the way, the Browns need help there, too. They have arguably the league's worst group of receivers.
Holmgren said after the draft that his only regret was that Cleveland didn't select a developmental quarterback in the later rounds.
"I think philosophically, I always like to take a quarterback in the draft late," Holmgren explained. "But that also had to make sense. This year, based on our roster needs and what we had and what we needed to do, we did the right thing. Now, are we finished adding to the quarterback pile? I don't think so. ... I think we are going to try and figure out a way to get another guy in here."
Adding Pryor in the supplemental draft would address those concerns.
Despite his big name, Pryor would not be a threat to second-year quarterback
Colt McCoy
, who enters the year as the starter. Pryor and McCoy played in the 2009 Fiesta Bowl and developed a healthy respect for each other in college.
[+] Enlarge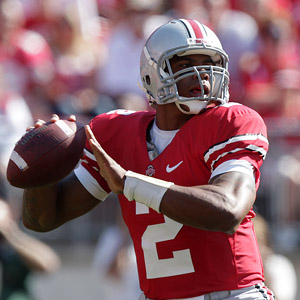 AP Photo/Jay LaPreteTerrelle Pryor finished his college career with 6,177 passing yards, 57 TDs and 26 interceptions.
Pryor would provide "McCoy insurance" for Cleveland, which is needed. The Browns are backing McCoy this season, but no one knows for sure if he is the long-term solution. With Pryor, the Browns would have two young quarterbacks to develop simultaneously and could double their chances of having one pan out.
Behind McCoy is backup
Seneca Wallace
, who signed a three-year extension in March and knows the West Coast offense better than anyone. But the third quarterback spot is there for the taking.
Struggling veteran
Jake Delhomme
, 36, is holding the seat warm until a new collective bargaining agreement is reached. After that, Delhomme's immense $5.4 million salary kicks in and Cleveland is
expected to terminate his contract
.
If you were general manager of the Browns, would you rather have an aging, overpaid veteran as the third-string quarterback, or an inexpensive player with upside like Pryor, who may develop into something greater down the road? The answer is a no-brainer.
The Browns are
not the favorites to land
Pryor. The current regime has taken a conservative approach to building the team's foundation -- and there's nothing wrong with that. Drafting Pryor is anything but conservative, but this would be a perfect calculated risk for Cleveland to take.
The worst-case scenario is that Pryor flops in the NFL and the Browns miss on a fourth-round pick, a spot that doesn't have a high success rate to begin with. Cleveland could wait to use that pick next year on a punter or a right guard and get the same result.
Opportunity is knocking in Cleveland. The team just has to be smart enough and willing enough to answer the door.
The Browns would be wise this summer to take a flier on Terrelle Pryor.
May, 31, 2011
5/31/11
4:00
PM ET
Living in Ohio since 2003, I had a chance to cover Ohio State football and former head coach Jim Tressel several times while working for the Columbus Dispatch. Although that's not enough to be an expert on Ohio State football, I probably have a better feel for Tressel than I do for any other college coach.
So as
Tressel resigned from Ohio State
this weekend following NCAA violations for players receiving illegal benefits, I wondered how he would fit in the NFL. After some thought and consulting with people who know the program better than I do, I came to the conclusion that Tressel wouldn't be a good fit.
[+] Enlarge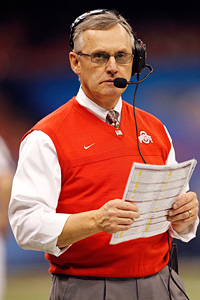 Matthew Stockman/Getty ImagesJim Tressel's coaching style may not be a fit for the NFL.
For starters, college head coaches rarely make a successful jump to the NFL. Bobby Petrino, Nick Saban, Butch Davis and Steve Spurrier are recent examples of failed attempts. It's a different game and a very different culture in the pros where coaches are more so facilitators than dictators. Many college coaches struggle not having that same power. You can't yank a player's scholarship and threaten to send them home, and many NFL players make more money than the coaches, often making the coach expendable.
One of Tressel's biggest assets -- recruiting -- also would be taken away. Ohio State was able to annually land some of the top talent in the country because Tressel and his staff were very good recruiters. Having better players than 90 percent of college football programs played a big role in Tressel's 106-22 record at Ohio State. The NFL playing field is much more balanced. The only recruiting that takes place is during free agency, and usually that comes down to which team is willing to pay the most money.
On the field Tressel was a conservative play-caller. Ohio State's offenses lacked imagination most seasons, despite Tressel having some dynamic players during his 10 years in Columbus. Tressel often described the punt as the most important play in football. In the pass-happy NFL, which is
shifting toward high-scoring offenses
, that philosophy could be a disaster waiting to happen.
Tressel is a great college football coach. But based on his track record, his style of coaching doesn't translate well to the NFL.
There is a good chance colleges will avoid Tressel for now until this most recent scandal fades. So if Tressel wants to immediately get back into coaching, and his only option is the NFL, his best fit would probably be as a position coach and not at the head of the team.
April, 13, 2011
4/13/11
4:00
PM ET
The AFC North blog continues its series with ESPN.com's college writers to take an in-depth look at potential prospects for the division.
On Wednesday we check in with
Big Ten blogger Adam Rittenberg
to get a scouting report on Ohio State defensive end
Cameron Heyward
, who is a potential target of the
Baltimore Ravens
and
Pittsburgh Steelers
.
Adam, after watching Heyward closely the past few years, how would you break down his game?
[+] Enlarge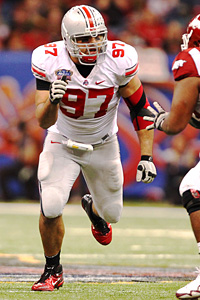 Matthew Emmons/US PresswireOhio State defensive end Cameron Heyward came through at big times for the Buckeyes.
Adam Rittenberg:
There's a lot to like about Heyward even though he didn't have monster numbers his senior season. He boasts excellent size and can play both defensive line positions, as he showed for much of his college career. Heyward is a big-game player, as he showed with dominant performances against both USC and Penn State in 2009 and again in the Sugar Bowl against Arkansas, which was his best performance with the Buckeyes. Pro teams will be looking for more consistency out of him. Heyward understands the NFL life. His father Craig played in the league, and he has a definite maturity about him. He'd be a good pick for a team that uses a 3-4 scheme.
Should Heyward's late-season injury be a concern?
Rittenberg:
The elbow injury isn't a concern to me. He suffered it in the second quarter of the Sugar Bowl and still went on to have his best game as a Buckeye.
Heyward has drawn some pro comparisons to Vernon Gholston, who was a star at Ohio State but a bust in the NFL. Fair or unfair?
Rittenberg:
The Gholston comparisons are a little unfair. Heyward is more than just a pure pass rusher and played quite a bit on the inside at Ohio State, which does a nice job of moving around its linemen. Heyward can affect games without solely pressuring the quarterbacks.
November, 16, 2010
11/16/10
2:55
PM ET
December, 11, 2009
12/11/09
12:00
PM ET
»
NFC Final Word
:
East
|
West
|
North
|
South
»
AFC
:
East
|
West
|
North
|
South
Five nuggets of knowledge about Week 14:
Collision course:
Expect a hard-hitting contest Sunday between the
Cincinnati Bengals
(9-3) and
Minnesota Vikings
(10-2). These are two of the most physical teams in the league, and both have a lot to prove. Minnesota is trying to rebound from a tough loss to the
Arizona Cardinals
, and Cincinnati is out to show it
deserves to be among the elite
. Points might be at a premium as both teams have top-10 defenses. The Bengals are ranked fourth in the NFL and first in points allowed. The Vikings are eighth but will be without middle linebacker
E.J. Henderson
. Therefore, look for the Bengals to shorten the game by giving tailback
Cedric Benson
30-plus carries, which would keep the ball out of the hands of Vikings quarterback
Brett Favre
and tailback
Adrian Peterson
.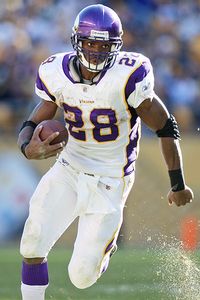 Jason Bridge/US PRESSWIRE
The Bengals will do everything they can to keep the ball out of Adrian Peterson's hands.
Division wrap:
The magic number for the Bengals is one to clinch the AFC North division. This would be the first time Cincinnati accomplished that feat since 2005, which was also the team's last playoff appearance. The
Pittsburgh Steelers
(6-7) were eliminated from the division race Thursday in a loss to the
Cleveland Browns
(2-11). The
Baltimore Ravens
(6-6) have to win out and Cincinnati would have to go 0-4 the rest of the way for the Ravens to clinch it, because the Bengals own the head-to-head tiebreaker.
Favorable schedule:
Despite losing six of their past nine games, the Ravens (6-6) are in a favorable spot when it comes to their schedule. Baltimore plays teams with losing records in its final four games. It starts Sunday against the struggling
Detroit Lions
(2-10). After that, the Ravens play the
Chicago Bears
(5-7), Pittsburgh (6-7), and the
Oakland Raiders
(4-8). These are all considered winnable games for the Ravens, who likely have to run the table to extend their season.
Landmark for Holmes:
Although Steelers receiver
Santonio Holmes
was in no mood to celebrate, he accomplished a goal Thursday that he has waited for his entire career. Holmes caught six passes for 93 yards against Cleveland to go over 1,000 yards receiving for the first time. He barely missed the milestone several times in the NFL and at college at Ohio State. This has been Holmes' most consistent year to date with Pittsburgh.
Cleveland's D shows up:
The Browns entered Week 14 ranked last in total defense. But the unit had its most impressive performance of the season Thursday, holding the Steelers to 216 yards. With nothing to lose, Cleveland defensive coordinator Rob Ryan constantly brought pressure and the defense recorded eight sacks of Steelers quarterback
Ben Roethlisberger
. Six different players notched sacks. It was the highest team total for Cleveland in seven years.
February, 16, 2009
2/16/09
10:14
AM ET
Posted by ESPN.com's James Walker
Here are the most interesting stories Monday in the AFC North:
Morning take: Interest? Sure. But should they do it? No. Cleveland has more pressing needs at linebacker.
Morning take: Any fan base in the NFL would take two rings in four seasons from their quarterback. I think the answer to this question is easy.
Morning take: Reporters in Texas can't make up their minds on Lewis. What's that all about?
Morning take: Fans are concerned about losing receiver T.J. Houshmandzadeh and rightfully so, because things appear to be heading in that direction.
July, 28, 2008
7/28/08
8:51
AM ET
Posted by ESPN.com's James Walker
Here is your one-stop shopping around the AFC North:
Morning take: Palmer thought he was looking forward to the USC-Ohio State game on Sept. 13 before. Now he probably cannot wait until it's over.
Ed Bouchette of the Pittsburgh Post-Gazette writes Steelers nose tackle Casey Hampton failed his running test Sunday and was placed on the training camp physically unable to perform list.
Morning take: This is not a good sign. There already is growing concern for Pittsburgh's aging defensive line, and now its longtime anchor comes into camp out of shape. Hampton becomes yet another Steelers lineman to watch closely this summer.
Aaron Wilson of the Carroll County Times provides Sunday's recap of the Baltimore Ravens' quarterback derby.
Morning take: Kyle Boller is showing his experience by playing it safe the first week of training camp. He doesn't take many chances, but Troy Smith and Joe Flacco have. It will be interesting to see if that strategy lands Boller the job.
According to Steve Doerschuk of the Canton Repository, Browns head coach Romeo Crennel believes defensive coordinator Mel Tucker is a rising star.
Morning take: That's high praise coming from Crennel, who has seen many coaches come and go. Tucker has a unique way of displaying high energy without being overbearing, and most importantly, players want to give Tucker their maximum effort.
July, 22, 2008
7/22/08
8:26
AM ET
Posted by ESPN.com's James Walker
Here is your one-stop shopping around the AFC North:
Morning take: Hmmm. This puts Palmer in a very odd spot. Most Bengals fans in Cincinnati happen to be big-time Buckeye fans, which means Palmer is essentially criticizing his own fan base. Palmer usually thinks things through before speaking, but our guess is he probably didn't put those two things together. Buckeye Nation likely will let him hear about this one for a while, at least until the two teams play on Sept. 13.
Morning take: This would be a bad move for Suggs. The deadline passed last week and there's nothing else that can be done. Suggs will make his point but at the risk of joining the team late and having a slow start to the season. If Suggs doesn't perform well in a contract year he will not get the type of money he wants next year, either. It's not worth it.
Morning take: As a former Browns beat writer, I can say this is the most optimistic I've seen the team, local media and its fan base in a long time. It's not even close.
Morning take: This was a predictable outcome to a bizarre offseason between Johnson and Cincinnati. The Bengals held most of the cards in this dispute from the beginning and played their hand well. Now, it's time for "Ocho Cinco" to focus on football.
NFL SCOREBOARD
Sunday, 2/2
WEEKLY LEADERS