NFL Nation:

On the Radar 52710
May, 27, 2010
5/27/10
1:00
PM ET
By
Matt Mosley
| ESPN.com
»
NFC On the Radar
:
East
|
West
|
North
|
South
»
AFC
:
East
|
West
|
North
|
South
A player, coach or issue that should be on your radar as training camp approaches.
In case you've been trapped under a rock or some other impediment recently, you know that
Washington Redskins
wide receiver
Santana Moss
has been connected to a Canadian doctor charged with supplying and smuggling human growth hormones. Moss hasn't addressed the topic publicly, but his teammates and head coach seem convinced that he'll be cleared of any wrongdoing. But while it looks like there's no threat of criminal charges, we all know about the swift hand of NFL commissioner Roger Goodell's justice. If he determines that Moss did anything wrong, the receiver could face a suspension.
[+] Enlarge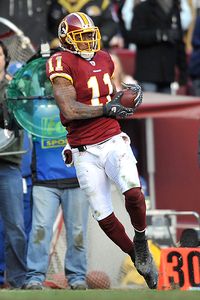 Larry French/Getty ImagesDevin Thomas started to produce in the second half of last season, including a seven-catch, two-TD game against the Saints.
And it's not like the Redskins are flush with proven receivers right now -- unless you count a guy like
Joey Galloway
who has been proving himself for 16 seasons in the league. Galloway's been on the downhill side of his career for at least the past four seasons, so it's unlikely he could turn back the clock and become a consistent deep threat. Moss led the Skins with 70 catches for 902 yards and three touchdowns last season, but his 12.3 yards per catch is a pretty benign number. That's why it's finally time for the faces of the '08 rookie class to show some consistency. Either
Malcolm Kelly
or
Devin Thomas
-- perhaps both -- need to step forward and make plays for
Donovan McNabb
.
The good news is that McNabb has had some success when surrounded with pedestrian receivers. In his pre-
Terrell Owens
years in Philly, he threw to the likes of
Freddie Mitchell
and the immortal
Todd Pinkston
. So chucking the ball to
Bobby Wade
, Thomas and Kelly might not look that bad to him. Plus, he'll have the talented combo of
Chris Cooley
and
Fred Davis
at tight end.
But even if Moss clears the Dr. Anthony Galea hurdle, the Redskins still need for Thomas and Kelly to emerge. I think fans are sick of hearing about their potential. Kelly won the starting job at the start of last season, but Thomas was the better receiver down the stretch. Thomas only had 25 catches, but three of them went for touchdowns and 16 went for first downs.
"Devin Thomas has been hurt through most of the minicamps and OTAs," Mike Shanahan told reporters last week. "It's good to get Devin back and watch him in these OTAs because I didn't get a chance to watch him except for the first day in our minicamp. Malcolm, it's like all of the receivers, learning the system, getting the chance to show their skills. It's going to be an interesting question here over the next two months, three months. We got a number of wide receivers that are competing for a position. I like what I have seen thus far."
If the commissioner decides to suspend Moss, don't be shocked if Shanahan looks to T.O. for help. We simply don't have enough drama in the NFC East, so it's important to reunite McNabb and his old buddy. As you know, their appearance together on a recent reality show laid the foundation for reconciliation. I have to stop now because I'm getting emotional.
May, 27, 2010
5/27/10
1:00
PM ET
»
NFC On the Radar
:
East
|
West
|
North
|
South
»
AFC
:
East
|
West
|
North
|
South
A player, coach or issue that should be on your radar as training camp approaches.
If it all starts up front -- and most quarterbacks will tell you it does -- NFC West fans will want to keep an eye on the men coaching their teams' offensive lines.
No division in the league features higher-caliber line coaches across the board. And in an unusual twist, NFC West teams used the offseason to play musical line coaches. A look at what it means for each team:
[+] Enlarge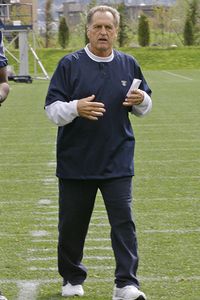 AP Photo/Ted S. WarrenSeahawks line coach Alex Gibbs is one of the most respected in the league.
Arizona:
The Cardinals were the only team in the division to keep the same coaching dynamic at the position, and why not? Russ Grimm ranks among the most acclaimed line coaches in the league and one of the few to command serious consideration as a head coaching candidate. When Grimm arrived in Arizona with Ken Whisenhunt for the 2007 season, he replaced Steve Loney, now the Rams' line coach. More on Loney in a bit.
Seattle:
For years, Alex Gibbs has ranked among the most highly regarded line coaches in the league. He's the absolute best for installing a pure zone blocking scheme. Gibbs is also 69 years old, so it's fair to wonder how long he'll stick around. Gibbs is a coaching lifer and an extremely intense personality. Gibbs' hiring has changed what the Seahawks want in their offensive linemen -- see
Rob Sims
' departure -- while more clearly defining the team's approach to offense. This is a zone team all the way.
San Francisco:
The 49ers were big winners this offseason when the Seahawks fired coach Jim Mora. The change from Mora to Pete Carroll led to Gibbs' hiring, displacing Mike Solari as offensive line coach. Solari was the perfect fit for the 49ers because he's an excellent teacher and he worked previously with San Francisco offensive coordinator Jimmy Raye. Raye largely had inherited the 49ers' offensive staff upon his hiring by Mike Singletary before the 2009 season. Solari gives Raye a trusted lieutenant at a position critical to the 49ers' success -- just as the 49ers were about to add two offensive linemen in the first round of the draft. Solari likes his linemen to have quick feet.
St. Louis:
The Rams felt good enough about Steve Loney to keep him around as line coach when Steve Spagnuolo took over for the 2009 season. Art Valero also stayed on staff, serving as Loney's assistant, but Valero left the Rams for the same job in Seattle this offseason. That makes Valero a potential heir-apparent to Gibbs.
May, 27, 2010
5/27/10
1:00
PM ET
»
NFC On the Radar
:
East
|
West
|
North
|
South
»
AFC
:
East
|
West
|
North
|
South
A player, coach or issue that should be on your radar as training camp approaches.
[+] Enlarge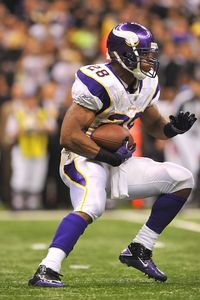 Larry French/Getty ImagesAdrian Peterson knows he must do a better job securing the ball.
We're now four months removed from the NFC Championship Game, an event that announced to the world that
Minnesota Vikings
tailback
Adrian Peterson
has
a fumbling problem
. Organized team activities have begun, training camp is two months away and no one can say what -- if anything -- Peterson has done to address the issue.
Coach Brad Childress long ago dismissed the possibility of a fundamental intervention, saying in February that "I'm not going to discourage that guy from running the ball with the style that he runs the football with." He expressed confidence that Peterson could resolve the issue mostly on his own and noted that Hall of Fame running back
Walter Payton
fumbled at a higher rate than Peterson during the first three years of his career. (Peterson has 20 fumbles in 915 carries, while Payton fumbled 30 times in 846 carries.)
I'm all for using statistics to provide context and explanation. In this case, Payton's fumble totals dropped dramatically after his third season. He cut his season total in half for Year 4 and needed more than five full seasons before he fumbled another 30 times. Clearly, something happened between Year 3 and Year 4.
Will something click for Peterson this offseason? During an
interview at the Pro Bowl
, Peterson vowed to do "a better job" protecting the ball, but to this point specifics have been scarce. That's nothing to be alarmed about or even question at this point. But if Peterson is planning anything significant -- carrying the ball a different way, for example -- now would be the time to work on it.
May, 27, 2010
5/27/10
1:00
PM ET
»
NFC On the Radar
:
East
|
West
|
North
|
South
»
AFC
:
East
|
West
|
North
|
South
A player, coach or issue that should be on your radar as training camp approaches.
Marc Mariani
comes into the league as a seventh-round draft pick from a less-than glamorous Montana program.
[+] Enlarge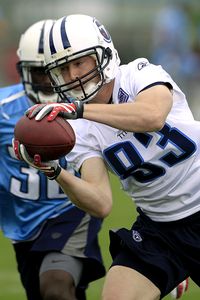 AP Photo/Mark HumphreyMarc Mariani has looked impressive in early offseason workouts.
The Titans are locked in at the top of their receiver depth chart with
Kenny Britt
,
Justin Gage
and
Nate Washington
.
Damian Williams
, a third-round pick from USC, figured to rank fourth in line while working as the punt returner.
Lavelle Hawkins
and
Paul Williams
could well have run out of time. If they figured to be battling for a potential fifth spot, their lives are now further complicated by Mariani.
Hawkins and Williams have had trust issues -- as in offensive coordinator Mike Heimerdinger can't trust them always to do the right thing and be in the right place. Mariani seems to be a fast learner who's already pretty comfortable, confident and smooth as a route runner and pass-catcher.
A guy that far down the depth chart at a position has to offer something on special teams. Hawkins and Williams don't offer anything above average, while Mariani could be the guy to field kickoffs for a team that was disturbingly poor on kick and punt returns a year ago.
I think Mariani came in as a coaching staff favorite and already has confirmed to them that he deserves the rating. Still, any early enthusiasm over a middle- or late-round receiver has to be tempered in Tennessee by memories of names like Eddie Berlin, Jake Schifino, Darrell Hill, Jonathan Orr and Joel Filani.
May, 27, 2010
5/27/10
1:00
PM ET
»
NFC On the Radar
:
East
|
West
|
North
|
South
»
AFC
:
East
|
West
|
North
|
South
A player, coach or issue that should be on your radar as training camp approaches.
[+] Enlarge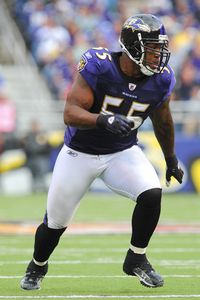 Al Messerschmidt/Getty ImagesTerrell Suggs had a career-low 4.5 sacks last season.
Terrell Suggs
of the
Baltimore Ravens
openly admits 2009 was a down year. But it also led to a bold proclamation for this upcoming season.
"Rest assured, it will never happen again,"
Suggs recently told reporters.
The hybrid linebacker/defensive end and three-time Pro Bowler is motivated to have a bounce-back season for the Ravens, who should be strong contenders in the AFC.
A variety of factors contributed to Suggs' subpar numbers last season.
At times Suggs was banged up with a knee injury, missing three games. He lacked his usual explosiveness and didn't look to be in the best of shape. There were points when teammates
Jarret Johnson
and
Trevor Pryce
, not Suggs, were Baltimore's best pass-rushers. Pryce (6.5 sacks) and Johnson (6.0 sacks) led the team, while Suggs recorded a career-low 4.5 sacks.
The sudden inconsistency from Suggs is baffling. He was one of the most dominant defenders in the NFL for the six years before last season.
"His pass rush, I just tend to think it was an anomaly," said Matt Williamson of Scouts Inc. "There wasn't somebody on the other side who took a lot of the pressure off ... But I don't worry about Suggs. If it happens another year in a row, then maybe I will say he's a declining pass-rusher.
"But I tend to side that he's going to come back to form in a hurry."
The Ravens are banking on Williamson's projection. Baltimore gave Suggs, 27, a six-year,
$63 million contract
last year, believing he is still in his prime.
Baltimore as a team was ranked a disappointing No. 18 in sacks last season. If the Ravens are going to have a resurgent pass rush in 2010, Suggs will be vital.
May, 27, 2010
5/27/10
1:00
PM ET
»
NFC On the Radar
:
East
|
West
|
North
|
South
»
AFC
:
East
|
West
|
North
|
South
A player, coach or issue that should be on your radar as training camp approaches.
One of the reasons for hope in Oakland is young receiver
Chaz Schilens
. The seventh-round pick in 2008 has shown nice flashes. Many league observers think he has a chance to develop into a solid No. 1 receiver. He is the best of Oakland's several young receivers.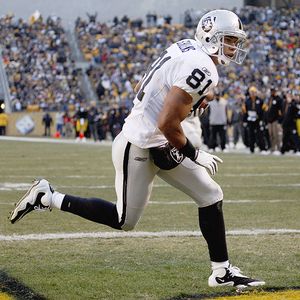 Gregory Shamus/Getty ImagesWhen healthy, receiver Chaz Schilens is a bright spot for the Raiders.
He has good hands. He's big, fast and runs good routes. And he's still learning. His upside is very high.
However, there is also a major injury concern. Schilens is still feeling the effects of a broken foot he suffered during training camp last year. He missed several games because of the surgically repaired foot. Then he had a follow-up surgery this offseason because of complications. He is expected to miss the rest of the offseason workouts, and he isn't expected to be ready until training camp.
This isn't disastrous news, but NFL teams have OTAs for a reason -- Schilens is missing valuable time. He has a new offensive coordinator, Hue Jackson, and he has to find a rhythm with new quarterback
Jason Campbell
. These things can be addressed during training camp, but it would be helpful for Schilens to have this time to work with the rest of the offense.
The biggest concern is if the foot will cause him any more problems during training camp. Two surgeries should do the trick. But the fact that he is still bothered by the injury nine months after it happened is cause for concern.
Oakland has to keep close tabs on Schilens and hope he is 100 percent once training camp arrives in late July. The Raiders are better team with Schilens than without him.
May, 27, 2010
5/27/10
1:00
PM ET
»
NFC On the Radar
:
East
|
West
|
North
|
South
»
AFC
:
East
|
West
|
North
|
South
A player, coach or issue that should be on your radar as training camp approaches.
[+] Enlarge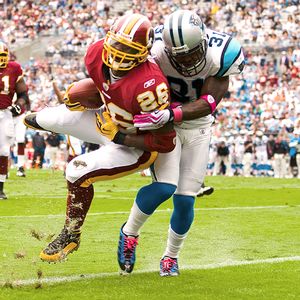 Chris Keane/Icon SMICarolina cornerback Richard Marshall has yet to sign his $1.8 million tender.
Cornerback
Richard Marshall
has been back working out with the
Carolina Panthers
this week, but that doesn't mean his contract situation has been resolved.
The only thing Marshall has signed is an injury protection agreement that would make sure he gets paid if he's injured during these workouts. Marshall has not signed his tender as a restricted free agent and he sure hasn't signed the long-term contract he's seeking.
But Marshall said he plans to sign the $1.8 million tender in the next few weeks. He doesn't have much of choice but to do it before June 15, when the Panthers can reduce the tender.
Coming off a decent first season as a starter, Marshall doesn't have all that much leverage on a team that just isn't giving contract extensions right now. Owner Jerry Richardson has made it clear that he's not locking anyone up until the labor situation is resolved, and established players like
DeAngelo Williams
and
Jon Beason
are well ahead of Marshall in the line for contract extensions.
Marshall's best shot at getting the long-term deal he wants is to sign his tender, stay quiet and go out and have a strong season. If the labor situation gets resolved, two seasons as a solid starter will give Marshall a lot more negotiating power than just one.
May, 27, 2010
5/27/10
1:00
PM ET
»
NFC On the Radar
:
East
|
West
|
North
|
South
»
AFC
:
East
|
West
|
North
|
South
A player, coach or issue that should be on your radar as training camp approaches.
ORCHARD PARK, N.Y. -- Rookie running back
Joique Bell
has been off the radar his whole life.
[+] Enlarge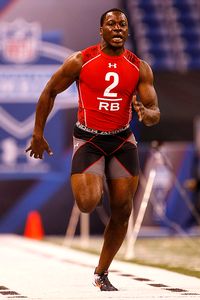 Scott Boehm/Getty ImagesJoique Bell chose to sign with Buffalo after receiving offers from six teams.
"It's always motivating me," Bell told me after
Buffalo Bills
practice Wednesday. "I was overlooked from high school, coming out of college. I just want to get a series in and show my talent."
Your eye might skip over Bell when scanning the Bills' roster for running backs, unless you're trying to figure out how to pronounce his first name (it's Joyk). He's on a team with two 1,000-yard rushers (
Fred Jackson
and
Marshawn Lynch
) and the ninth overall 2010 draft pick (
C.J. Spiller
).
But when the final roster is selected in early September, Bell has a decent chance to be on it. He's probably fourth on the depth chart now. Uncertainty surrounding Lynch's status could elevate Bell quickly.
"As long as I get a shot, that's all I wanted," Bell said. "Now it's up to me.
"I'm not getting caught up in the numbers or thinking 'They're about to cut this or that.' Regardless of whether you [speculate] or not, they're going to cut you if they want to. So I'm going to come out here and play my butt off every day and see where that takes me."
Circumstances kept him from being recruited like he wanted out of Benton Harbor, Mich. An injury to his high school quarterback forced Bell to fill in his senior year. Colleges didn't see him as a running back. Michigan and Michigan State projected him at safety. So he went to Detroit's Division II Wayne State where he could get the touches he craved.
Bell kept Division II record book editors busy. He rushed for 6,728 yards (eighth in NCAA history) and 88 touchdowns. As a senior, he won the Harlon Hill Trophy as Division II's best player. He ran for 2,084 yards and 29 touchdowns, while adding 293 receiving yards.
All of that -- against such schools as Ferris State, Hillsdale and Tiffin -- wasn't enough to get him drafted. The NFL invited him to its scouting combine. Despite a 40-yard dash time in the 4.6 range, he thought he might get drafted as high as the fourth round, but no team selected him.
Teams buzzed after the draft, trying to sign him as a free agent. He said he received six offers and nearly signed with the
New England Patriots
, but he and agent Manvel Trice thought the Bills provided the best opportunity.
"Obviously, I'm not too far under the radar because an NFL team has picked me up," Bell said. "That's a blessing."